All the news for Saturday 28 July 2012

In the Spotlight.... Great Britain Men

The last of 24 teams to be featured before the Games



Barry Middleton will be the heart of the GB team, and captain, in London (Photo: FIH / Grant Treeby)

In the Spotlight is a series that will profile each of the 24 participating teams at the London Olympic Games. It will provide a glimpse of what to expect as each squad begins its London quest. The Great Britain men are the 24th. and final, team to be featured in the series.

The Basics:
The Great Britain team plays and competes 12 months before every Olympics, the rest of the time the players are with England, Wales or Scotland. Of the trio, England is the powerhouse, weighing in at #4 in the FIH World Ranking a precious 12 points ahead of Spain. Great Britain has participated in an impressive 16 Olympics, with five medals to their credit, but most of the medals are from decades ago, with the most recent hardware haul coming in 1988. Since a fifth-place showing in Beijing the team has had success at other events. In 2009, England claimed the European title for the first time ever and a Champions Trophy silver medal followed in 2010 with European bronze capping the recent feats in 2011.

The Road to London:
The Road to London was a mere hop skip and jump for the Brits, they earned the automatic berth as the host nation.

Players to Watch:
Captain Barry Middleton is the heart and soul of the Great Britain team. Not only is he the most-capped player with 257 showings, he is also the man with the scoring touch, ranked third on the team with 75 goals. Ashley Jackson and James Tindall are also part of the 70+ goal club for Great Britain. Goaltender James Fair is among the best in the game when he is on his game. In the luck of the Irish category, is Iain Lewers, who changed his allegiance a few years ago from Irish to English and will be with Team GB at the Games. It was particularly lucky as Ireland missed making the Games in the last 10 seconds of their Qualifier final against Korea.

Coach:
London will be head coach Jason Lee's fifth Olympic appearance. He participated as a player in 1992 and 1996 before moving into the coaching ranks where he was the head coach in Athens and Beijing. Under Lee, Great Britain finished in 9th in 2004 before improving to a fifth-place finish in 2008. With Lee's guidance, the Great Britain squad has steadily improved and had their biggest triumph since the turn of the century when they took the silver at the 2010 Champions Trophy.

Strengths:
Great Britain has impressive veteran talent a lot of depth on its squad. Just how deep is this GB team? Consider that mainstays Richard Alexander and the Mantell brothers were left off the list of 16. The trio has nearly 500 caps between them. Great Britain also has the experience of Lee on the sideline, his vast Olympic experience is sure to have a calming effect on team, which will no doubt be spread thin as the host.

Weaknesses:
Just which Great Britain team is going to show up? It's anyone's guess. Yes, the team took silver at the 2010 Champions Trophy, but just one year later they finished sixth in the eight-team pool. Yes, they took bronze at the latest edition of the European Championship, but it was a pressure-free affair without the Olympic qualification at stake for the Games' host. Will this GB team be able to step up to the plate when the pressure is on?

Crystal Ball:
Great Britain must have a strong start to the tournament if it wants to be successful. Luckily for the team, they slowly build their way up to their toughest opponents, giving them a chance to build momentum. An early loss against one of the lower-seeded teams could effectively sink the GB ship, but if they play to their potential early on, the semi-finals, and a medal, are well within reach. With strong veteran presence on the team, look for poise to win out, and GB to set sail for a podium finish.

FIH site


---

Flagging off a show of champions

Errol D'Cruz

Hockey will have the honour of presenting two flag bearers at the 2012 London Olympic opening ceremony.

Both players are women, and legends in the sport.

One, Natascha Keller, is a German and the other, Luciana Aymar, an Argentinean, probably the female version of the Wizard Dhyan Chand.

Natascha is 35 while Luciana turns 35 on August 10, the day of the final of the Olympic tournament. If Argentina features in the gold medal match, and is on the winning side, the Luciana fairly tale will have the happiest of endings.

After all, the elegant Argentinean midfielder referred to as the Maradona of Hockey is the seven-time FIH Player of the Year and her nickname 'La Maga', meaning the magician, stems from her sublime skills that have set the hockey world alight in the 15 years she's taken stage.

Natascha, so uncharteristically European, dribbles and dodges like an Asian and has been the scourge of defences for 18 years and 400 matches. She has something that Luciana still craves for - an Olympic gold medal. The electrifying forward picked up the top prize at Athens 2004 when Germany shocked hot favourites The Netherlands in the final.

Natascha represents a glorious family tradition, something that could have contributed to her selection as flag bearer-a first for hockey in Germany.

Her grandfather Erwin won a silver medal at the 1936 Berlin Olympics, her father Carsten a gold at Munich 1972, older brother Andreas a gold at Barcelona 1992 and younger brother Florian, another gold at Beijing 2008.

Yet another gold would be a first, even among a family of firsts spanning three generations and 76 years.

And what a special moment it would be for hockey, or for that matter the Olympics at large, if Germany and Argentina meet in the final.

It would a golden ending, either which way. For Natascha or Luciana. Two of the greatest ever to wield the stick.

The Times of India

Note. Hockey had three flag bearers as Sohail Abbas carried the flag for Pakistan.


---

Eager Australia aim for hockey clean sweep

LONDON: Anger has given way to excitement as Australia's men's hockey team look to hold all the sport's major titles by winning gold at the London Olympics.

Heading into the Games, coach Ric Charlesworth was far from content.

Indeed he was furious when the draw gave his team three 8:30am games, which he said would require players to wake up at 5:00am in a major disruption to their daily tournament routine.

At the same time, reigning Olympic champions Germany avoided the early time slot altogether in the opposite group.

Hockey Australia fired in an official protest and the Federation of International Hockey said it has re-scheduled Australia v Pakistan on August 7 from 8:30am to 10:45am.

South Korea against the Netherlands will be switched to the earlier start while Australia begin their quest for gold against South Africa on Monday.

"I'm excited, I can't wait," said Australia's Simon Orchard, who is competing in his first Olympics.

"I don't struggle with nerves at all," added Orchard, whose cousin Stephen Holt played for the Australian hockey team at the 2000 Sydney Games.

In multiple world player of the year Jamie Dwyer, Australia have a potential man of the tournament but Charlesworth has concerns about the relatively recently laid blue and pink Olympic Park artificial pitch.

"The pitch is an issue," he said. "The ball bobbles a fair bit. It doesn't reward skill."

New Zealand appear to be timing their bid for Games glory in style after winning the prestigious Sultan Azlan Shah Cup in Malaysia with a 1-0 victory over Argentina.

The Black Sticks haven't won men's Olympic field hockey gold since 1976 and, although ranked seventh in the world to Australia's first, could pose a threat.

"It is great to have won our first Sultan Azlan Shah Cup," said New Zealand coach Shane McLeod. "But we still have a fair bit of work to do before the Games start."

Eight-time champions India return to Olympic Games hockey, having failed to qualify for Beijing four years ago, although, given the last of their gold medals came back in 1980, they are not expected to be on the podium in London.

In the women's tournament, Argentina, who face South Africa in their Games opener on Sunday, will hope to crown the brilliant career of seven times world player of the year Luciana Aymar, 'the Maradona of hockey', with a first Olympic gold.

"On the pitch she is magical and extra-terrestrial," said Argentina coach Carlos Retegui of Aymar.

Defending champions the Netherlands have been impressive in recent warm-up events but Great Britain's women are being tipped to do well in front of their own fans after only narrowly losing the Champions Trophy final to hosts Argentina in Rosario in February.

"We saw them in the Champions Trophy, where they were the best team there, and that is the level we expect we will see in London," said Hockeyroos coach Adam Commens.

The British men, ranked four in the world, are also medal contenders although it will be asking a lot to match the gold medal won by the 1988 side in Seoul.

Their opening match against Argentina takes place against the backdrop of the 30th anniversary of the war the countries fought over the Falkland Islands, a British overseas territory in the South Atlantic.

Argentina's Fernando Zylberberg caused controversy with a television advertisement that showed him training in the Falklands Islands.

"The video ended with the voiceover: "To compete on English soil, we are training on Argentine soil."

The Times of India

Fernando Zylberberg was dropped from the final selection of the Argentine National Squad.

---

GB in a special place

By Graham Wilson

GREAT BRITAIN'S women have trained with the Royal Marines, they have worked with business leaders and even been made to put on an impromptu comedy show to create a special kind of bonding that they hope will produce a medal at the Olympic Park.

Coach Danny Kerry has covered every facet of their play and mental state to make sure the players are in that special place when they open up against Japan tomorrow (Sunday).

And it is in their minds where victory would seem to lie. Reading's Helen Richardson, one of the world's best midfield players, says the squad have been preparing for the Asian teams they face this week by using the whole 28 pool of GB players and re-enacting the way their opponents play.

"Japan, Korea and China are in our group with Belgium and the Olympic champions Holland. The Asian teams have their differences but play in a similar way overall. So in our training matches we practised 11 v 11 with one team playing as the other nation to get used to how they play.

"And that means we will just think back to those practises and kind of replay them in our minds. That will help us get into our groove when it all starts and get that first game under our belts.

"The pitch has settled down a lot and it is playing nicely now, not so much bobble on it, like a few months ago. We are ready to go. We all just want to get out there now. It has been the longest build-up ever."

GB coach Danny Kerry may know the Japanese system but to some extent they represent an unknown quantity. "The Japanese have been crafty in that they haven't played anybody since the qualifier," said Kerry.

"It is very unsporting of them. I will have to have words with them," he added, jokingly.

Kerry admitted that four years ago in Beijing he might have been a bit more "precious" about teams knowing their style of play. But now he spends more time paying attention to his players.

"All the coaches know pretty much how the teams play," he said.

"There are so many decisions to be made out there, what's dangerous, what are the best options, that's the deal."

The top two countries go through to the semi-finals and Kerry said: "It would be wonderful if we can get to play against Holland in the last game next Monday and it is a dead rubber. It is a good thing for us that we are playing last because we will know exactly what we need to do."

Daily Express


---

Team GB women's hockey players gain a ruthless streak

Helen Richardson, the captain, is convinced that her Great Britain squad has turned into a mean machine

Sean Ingle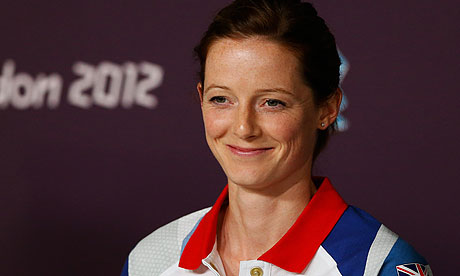 Helen Richardson, the Great Britain women's hockey captain, leads a squad who committed themselves full-time to Olympic glory. Photograph: Streeter Lecka/Getty

It started with a pow-wow and talk of sacrifice – in rural Berkshire, of all places.

Back in 2009, not long after Team GB's women's hockey team finished sixth in Beijing, they met to discuss the scale of their ambitions for London 2012. We should aim to be world-class, suggested one. "What about targeting a medal?" offered another. The discussion, according to Helen Richardson – a veteran of failures at Sydney and Beijing (the team failed to qualify for Athens) – was full of "fuzzy talk". She could not hold her tongue any longer. "Gold," she said firmly. "That's it."

"It was a difficult conversation," admits Richardson, a midfield playmaker, ahead of Sunday's game against Japan. "Some people were afraid to say they wanted to go for gold. I was not prepared accept anything else."

Her idea began to fly, even though such absolutism would require many of the squad to leave their homes, full-time jobs and, in some cases, their families, to move to Bisham Abbey to devote themselves to a sport not exactly fighting off big-money sponsors with a curved stick. The girls mulled it over and then decided: they would go all-in. "I remember sat there thinking: this is incredible," says the striker Alex Danson. "Thirty people in a room, all deciding to make big lifestyle choices and changes to chase a dream. It was very powerful."

The squad went full-time in November 2009. Before then, the best players from the home nations only came together under the Team GB banner for sustained periods close to Olympics. This time round it has been three years – time to develop instinctive understandings, tweak and tinker, and develop a system to beat the world.

They might just do it, too. Team GB's women have risen up the rankings, consistently made the podium in tournaments and laid down a marker by finishing runners-up at the Champions Trophy in February. They are probably the British team best-placed to go all the way in London 2012. Certainly the self-belief in the camp is off the scale. Listening to them you think: you are either strong candidates for a gold medal, or for an Oscar.

"We have the best hockey programme in the world, and I don't say that lightly," says the team's coach, Danny Kerry, rattling through the things he hopes will make a difference: practising twice a day on the same "smurf turf" used in the Olympic Park; vision training to improve reaction times; nutritionists and sports psychologists on tap; even improvised stand-up and Royal Marines courses to toughen up his girls. Kerry washes all the kit himself, using the money he saves to employ another coach. He is three-parts Sir Clive Woodward, one part Dot Cotton.

Significant changes in diet have helped too, altering players' body shapes and improving fitness. "We used to be a lot bulkier, but carrying muscle – not necessarily fat – around for 70 minutes is hard," explains Richardson. "Eating more protein and restricting starchy carbs allowed us to drop weight."

"It's made a massive difference," adds Kate Walsh, the team's captain, who has lost eight kilos. "Everything we eat is weighed and measured, so we get exactly what we need. Before a game we used to eat massive bowls of pasta – now I eat a chicken wrap and soup and take carb gels to maintain my energy levels." Kerry is happy to experiment too, adding: "The girls take colostrum which really boosts immunity and allows them to endure greater physical loads. We've also used beta alanine, which lets them train harder. Beetroot juice? Been there, done that. We are at the cutting edge."

It is all a far cry from when Kerry took over the women's hockey squad in 2004 – following the dog days when they failed to qualify for Athens – and found "a great number of retired or demotivated athletes and, rightly, massive cuts in funding". Out of the rubble, he built a squad so tightly knit that when it was necessarily hacked from 28 to 16 for the Olympics, those who missed out agreed to stay full-time when it would have been easier to pack their bags and head back to the real world.

Their schedule over the next fortnight leaves little time for rest or reflection: to win gold, they will have to play seven games – five group matches, a semi-final and a final – in 11 days. To reach the last four they must finish first or second in a group that contains the Netherlands, the gold medal favourites, as well as an improving China team. Not that Kerry is worried. "We will definitely take some stopping," he says with the matter-of-factness of someone describing buying a morning paper. "I don't talk up our medal chances lightly, but these are a special set of girls. I think they will genuinely inspire a generation. They really will. They are that amazing."

Those new to hockey, or whose last memory of the sport was watching Sean Kerly inspire Great Britain to gold in 1988, may be surprised at the speed of the slap and dash. Three rule changes – no offside, self-passing and rolling substitutes – ensure the ball is almost always in play. As Dave Faulkner, Team GB hockey's performance director, puts it: "The game never stops."

And nor does Kerry's brand of hockey. "We don't have the technical strength in depth of Holland and Argentina," he says. "So our style of play is based on physicality, speed and hard-running. We press aggressively, wear opponents down and work very hard in transition and counterattack. They basically have got a choice: match us physically or lose. Our conditioning is world-leading and we will keep going as hard in games six and seven as we do in games one and two." One player, Nicola White, puts it even more bluntly. "You have to be ruthless at international level when push comes to shove, sometimes literally, and we are ruthless."

That winning attitude – and the patronage of the Duchess of Cambridge, Kate Middleton, who met the squad earlier this year and plans to watch them compete at London 2012 – is likely to attract a great many to the sport. But even if the girls go all the way, greenbacks are unlikely to follow gold. Sometimes, though, other things matter more. "You don't play hockey to become millionaires," says Walsh. "We're not footballers, unfortunately. But I know that everyone in the squad has made the same sacrifices as me. They are putting their bodies on the line for a medal, and these are the people I want to be standing next to."

The Guardian


---

Women's hockey team can win Olympic gold, says Boston's Crista Cullen

Team GB'S Crista Cullen insists she has no intention of settling for just a podium place at London 2012 – claiming the women's hockey team have what it takes to win their first ever Olympic gold medal.

Cullen made her Olympic bow in Beijing in 2008 where a sixth-place finish represented a satisfactory outcome for a team ranked eighth in the world.

However, the defender from Boston, who finished Britain's top scorer in China, admits the progress made by Danny Kerry's side in the past four years should have them thinking big.

Their ranking of fourth in the world suggests they are genuine medal contenders and on England duty Cullen has podium pedigree, claiming bronze at the 2010 Commonwealth Games and another third-place in the European Championships last year.

But the 26-year-old is adamant only gold will do this summer. She said: "This squad has come a long way, from eighth in the world to fourth, so we now firmly believe we can win a medal and it's a very exciting place to be.

"As a kid you don't dream of yourself on the podium, I don't just want to be an Olympic medallist, I want to have a gold medal round my neck.

"When you've been working at something for four years to have it so close is so exciting. It's all about pursuing that medal.

"You can't take away that experience we have gained in those medal matches in recent times, it is important and that's what pushes you on to do even better.

"If you have experience of winning big matches that stands you in good stead when there is a bit more pressure on you at the Olympic Games."

That pressure will come from an expectant 16,000 sell-out crowd at the purpose-built Riverbank Arena within the Olympic Park, but Cullen wants to use that as a positive.

The last Olympic medal the women won was bronze in Barcelona 1992 but Cullen was equally keen to draw on the fact the eventual winners were the hosts, Spain.

"You can't put into words how much of an impact the home crowd can have on games," added the Leicester Hockey Club star.

"Every time we have hosted an event and got into a medal match we have inevitably won the medal just because of the sheer impact the public have had. It's a phenomenal time to be a Team GB member.

"Any Olympics is a high profile event, but the fact it is on home soil does give it that extra bit of panache behind it that does give you that extra lift.

"It's special to be the hosts, and we look at it as increasing our chances."

This is Lincolnshire


---

Doddington hockey ace Georgie Twigg wants top step on the Olympic podium

Georgie Twigg has vowed not to waste three years of hard work as she set her heart on becoming one of the golden girls of the Olympics.

The 21-year-old midfielder forced her way in Danny Kerry's side since a sixth-place finish in Beijing 2008 – helping Britain rise to fourth in the world rankings in the ensuing years.

The Champions Trophy silver in February has given Twigg a taste for the podium and with the chance to claim Britain's first Olympic medal since the bronze of Barcelona 1992 she can't wait to get going.

Japan will be the first test on July 29 and after making her international debut only two years ago the Clifton Hockey Club star admits it can't come soon enough.

"I'm really excited now, I think everyone of us is feeling really prepared and ready to step out onto the pitch," said Twigg, who is the youngest member of the women's hockey side.

"This is what I've been working towards for the past few years. We've been rising up the rankings so hopefully we can go out there and perform at the Olympic Games.

"We're definitely a genuine medal contender. Our ranking of fourth shows how much we have improved and it is so close up at the top level.

"We have put in the work, we have put in the hours and dedication, and hopefully we can go out there and get a medal.

"We have strived for that gold medal and that is what we want, that is what we have worked so hard for over the past three years."

If Twigg and co. can replicate the performance that saw them avenge their Champions Trophy conquerors Argentina in the test event in May then a gold medal is more than achievable.

That 2-0 victory at the Riverbank Arena whetted the appetite of Twigg who believes a sell-out 16,000 crowd, including members of her family, could prove the difference.

She added: "You dream of taking part in the Olympics, but for it to be at home is amazing.

"My family have been quite lucky because they have some tickets to come and watch which is nice.

"We are all so lucky we have such a strong support network behind us and we have to use that home advantage and I think it can only be a positive thing having 16,000 screaming fans in our favour."

This is Lincolnshire


---

King's Lynn's Danny Kerry believes his Team GB hockey women have raised the bar since Beijing

Michael Bailey



Great Britain women's hockey coach Danny Kerry, who hails from King's Lynn, will hope his rejuvenated girls can deliver an Olympic medal on home soil.

Danny Kerry believes Team GB's hockey women are a world away from the side that left Beijing without a medal – all they need to do is prove it.

The ex-Pelicans Hockey Club star has helped turn Britain around from their failure to make the semi-finals four years ago to leading his side to several major championship podiums since, representing the perfect build-up to their home Olympics.

King's Lynn's Kerry, 41, has been GB head coach since 2005. His side begin their campaign with a Pool A opener against Japan on Sunday evening. And whether driven by Beijing or not, it was clear from the look on the faces of Kerry and his girls that they really mean business this time around.

"On a personal level, as head coach leading aspiring Olympians you have to let go yourself," said Kerry. "You are like the flight steward – if there is a bit of turbulence and you look panicky, everyone panics.

"So I've tried to work hard on keeping us in a good place and making sure you're on the ball when things are starting to bubble up and nip them in the bud and manage things – whereas in Beijing I think I got incredibly tired and as a result got stuck into my work and ignored the people management of it all. I didn't lead that very well.

"On a team level the changes would take up the whole day to talk about. At it's most fundamental, we've got a group that has tried to measure every facet of playing performance and systematically progressed them all.

"There will not be a better conditioned team at the Olympic Games, full stop. And we've done a huge amount of work around team-building, character and self-awareness. That detail and work gets the really deep understanding and allows them to get in the right place and work under pressure."

Be it training with the Royal Marine Commandos or getting through the dread of putting on an improvised comedy show, GB's ladies have done it all in the pursuit of a return to Olympic hockey form.

There have been the standard preparations too: a warm-up clash with New Zealand and another "scrimmage" with Germany on Thursday, although not every preparation has been made easy.

"We play Japan first and the order of matches I'm quite OK with," said Kerry, with GB commanding popular evening slots for their pool games.

"The only thing is the Japanese have been very crafty," Kerry added in jest. "They've played no hockey since their qualifier – against anybody. Normally I like to be well armed with a good look at the opposition and they've been very sneaky and not played anybody, so it's very unsportsman-like of the Japanese – I'll have to have a word with them…

"We'll just have to get out there and make good decisions. If you take football, everyone knows how Barcelona will play. The point is it's the ability to do your game very well under pressure. It's not trying to be something you're not. All of the coaches in the Olympic competition know how people are going to play.

"We played the Kiwis and they were adamant the session was closed, and four years ago I might have been a little bit more precious about those things too. But genuinely, at this point, if you're hiding stuff people will still know what you're going to do. It's really about the players' ability to make decisions on the pitch."

As for his King's Lynn roots, Kerry has already had plenty of reminders ahead of Team GB's home Olympics.

"My mum and my family are absolutely delighted they're going to the games," said the former King Edward VII High School pupil. "I've had quite a few old team-mates and people contact me who I haven't heard from in years, so the jungle drums are beating. Sarah Juggins is running the press for the hockey here – and we grew up together playing for Pelicans.

"It's nice to have a local friendly face here. When you bump into someone you grew up with and played hockey with, who is now running the press centre, I thought 'Wow, that's a coincidence'. It's a small world – and it's quite nice actually, to have an ally in the corner."

EDP24


---

Black coffee, not lassi, is hockey to Sardar Singh & Co fitness

By Mihir Vasavda

The first time Sardar Singh was told to drink black coffee half-an-hour before a match, he thought it was a joke. Minutes later, he realised David John, the Indian hockey team's physio, was serious. Sardar drank the coffee reluctantly, but did not understand why he was being asked to do so.

Some matches later, he noticed a change in his teammates and him. They were running faster, their reflexes improved considerably and their energy levels were high. The training routine remained the same. It was then that Sardar understood why John insisted that the team drank black coffee.

It wasn't easy for John and chief coach Michael Nobbs to convince a bunch of guys, who always gulped down glasses of lassi, to switch to black coffee. But it was necessary.

"Black coffee acts as a stimulant and energises you... you turn out for your matches in a better frame of mind. It's a physiological fact. It used to be a banned substance (by the World Anti-Doping Agency) for that very reason. But it's not anymore and so, an hour before a match, the team has to have black coffee. They can also have plain milk without sugar," John told DNA.

The bitter drink alone is not the only reason why the team is among the fittest sides in the world.There has been a revolutionary change in the team's training methods and a total overhaul of the diet.

Unlike other teams, which prefer a carbohydrate-laden meal, the Indian players have been advised to increase their protein intake. Rice and potato, which used to be the core ingredient of each meal, are out. "It's challenging for the vegetarians in the side (there are eight). However, they are good with their protein shakes," John said.

It wasn't easy to convince the players. "Honestly, they didn't a choice. After we won the first tournament (the Asian Champions Trophy in 2011) with this diet, they thought something's going right. Maybe that's why they adopted it. Had we lost, it would have been difficult to convince them. The win helped players realise the importance of diet," said John, who has previously worked at the MRF pace academy in Chennai under Dennis Lillee.

Nobbs and John have also introduced the concept of 'hockey fitness'. The Australian duo has designed a programme which sees players at each position carry out specific exercises that optimises their performance. The full-backs and goalkeepers undergo exercises that involve a lot of lunging and lateral movement while the forwards are made to run more side-to-side. The training session lasts a maximum of 90 minutes.

"In the past, they would run around athletic tracks and train more like field athletes. My fitness is developed through skills," John said. "The results are visible. Our team can match any side fitness-wise. That gives a lot of confidence to the players and it translates on the field."

DNA


---

Pakistan hockey team poor show disappoints nation

By Mohsin Ali

ISLAMABAD - All the tall claims of Pakistan Hockey Federation (PHF) and team management brought down to earth as green shirts lost both of their practice matches against minnows Belgium and European superpower Holland to the much of disappointment of the Pakistani nation who were already not satisfied with the team selection.

One can argue that they were only friendly or practice matches, but green shirts should have taken them seriously and tried to built on these matches and mend their mistakes, but Pakistan team were completely outclassed by both Belgium and Holland is quite alarming, as competitive action in the Olympics is about to commence.

The most disappointing thing, noticed during these two matches, was the poor performance of Pakistan captain Sohail Abbas, who was selected just because of his ability to convert short corners into goals, but despite Pakistan getting a total of seven plenty corners, four against Belgium and three against Holland, Sohail failed to convert even a single of them.

If Sohail can't score on short corners what is the reason behind his selection in the national side even he has already past his best, as at 37 plus no one can except wonders from him. He was supposed to lead from the front and provide Pakistan goals on short corners, but he looked completely off color and all his attempts were easily saved by the goalkeepers.

It is pertinent to mention here that Pakistan team lost its first game by 2-0 against Belgium and 5-1 against Holland.

The PHF current management kept of befooling the masses ever since they took over the helm of hockey. Pakistan hockey had gone from bad to worse during these dark days. The only achievement the current management could claim is the lifting of Asia Cup after two decades, but that too was entirely done by the brilliant performances of some individuals and especially the goalkeeper Salman Akbar who played an outstanding tournament to bring gold for Pakistan, otherwise we could have return empty handed.

The entire selection of the team raises many question marks soon after the announcement of the Olympic-bound squad. Former greats had cautioned and raised their voices in concern and termed the selection wrong, but no one form the federation pay any heed to their genuine demands and now all their fears regarding the team are proving right.

Akhtar Rasool was a great captain and player and no one can argue on that but he is not a good coach and results under his short tenure speak highly of his performances. He could hardly move his feat because of the weight he had so gained how could he coach a national side.

Had the Prime Minister, who is also the patron in chief of the federation, taken timely decision and removed the entire management the things could have been far different.

The current management is the worst in the entire history of Pakistan. The country had to suffer both at national and international levels as from human smuggling to infightings, groupings and many more things, the current management had done nothing in practical for the promotion of hockey or players.

Now only a miracle can save the blushes of fast declining fortunes of Pakistan hockey.

The Nation


---

My Olympic diary

By Patrick Rowley

(Patrick Rowley first covered the Hockey competition at the 1948 Olympics - the last time they were held in London. He shares his experiences with us)

July 23. Four days to go.

BACK ON TELEVISION

Met all the bigwigs and many foreign media today when Sebastian Coe welcomed the press at the MPC (Main Press Centre).

It is an excellent building, open and bright. Far better than most I have encountered. They have even provided us with a shopping mall, and live entertainers.

Two of the rooms have been named after former influential British journalists. The main working room is called the John Rodda room, and the Steve Parry room is the bar.

Rodda was started on his career by replacing me in 1952 when I was called up for national service. He was sensibly a conscientious objector.

Parry was my boss at Reuters agency for many Olympics. We had a great understanding.

I had quite a day. A Japanese television crew interviewed me at the MPC and followed me round, even coming back to film at home

They were very complimentary; flattering me by saying I was a natural in front of the cameras.  (Well I knew that!). A 10 minute feature became half an hour. They have promised to send me a DVD of the whole thing after the Games.
They even made me speak in Japanese – Ta No Shin De (Day) Ku Da Sai.

I am happy to say they made quite a bit about the first Hockey Archives Museum which will be good publicity for our new venture. www.Hockeyarchives.co.uk,

Also a British TV crew filmed at the MPC when I was talking with Seb Coe.

I also met the head of the IOC press (Edgar) and the head of LOCOG press, Jayne Pearce. They were very polite to me considering my report on the Olympic test event had led to them having to make more than one major change in the media arrangements. We succeeded in persuading them to provide LAN lines and wireless, and provide (some) cover for the media in the hockey stand.

Much is being made of my being the longest serving journalist at 2012. Probably am for GB but I do wonder if I am in the whole world. We shall see.

July 24. Three days to go.

Foreign press WELCOMING PARTY.

Went to Riverside Arena (the Hockey stadium) to watch a warm-up game between GB women and New Zealand. GB usually object to the press watching a warm-up game, this time it was New Zealand who demanded it be a closed event.

Anyway I was able to chat with some of our players after the game. We won 2-1.

In the evening there was a Welcoming Olympic Media Service at St Bride's Church in Fleet St, which has always been known as the journalist's church. I used to go there in my early days at Fleet St but, more recently, to too many Memorial services for great journalist friends I have known.

So it was good to go to what was a happy non denominational service. It was a beautiful service, the choir were brilliant, and we all let ourselves go when the last hymn was Jerusalem.

Sir Michael Parkinson, the president of the (British) Sports Journalists Association, spoke the welcome. Before he became famous, I used to share a desk with him at the Sunday Times. I am sure he didn't recognise me after all the years.

Afterwards we repaired to the Stationers Hall for a reception. Lovely old place, all wood panelling and fine artwork. Fortunately it was such a warm evening, we had the reception outdoors in a courtyard.

Italian Gianni Merlo, the president of the AIPS (Association Internationale de Presse Sportive) was present and kindly presented me with a huge book on the History of the AIPS. I rather think he is too young to know that I formed the Hockey Commission of the AIPS!

He is the man who has arranged for the most experienced Olympic journalists to be honoured during this Olympics. The award is to be given on August 2nd at 8.30am in London because all journalists will be working flat out that day.

The evening was brightened by the arrival of fellow journalist Philip Barker who had been carrying the Olympic torch in Brentford earlier. He evidently strayed off the straight and narrow by taking the torch over to small children and letting them touch it.

I met up with a lot of journalists I had not seen for many years and we ended up in a group together, a lovely start prelim to the Games.

I was very happy that Dil Bahra, who is not accredited but a volunteer at the Games, was able to join us and meet up with his former media friends.

Also at the reception was one of my former Sports Editor, John Samuel, who reminded me that I was on their team at the 1972 Munich Olympics when the Black September terrorists attacked and killed Israeli athletes. Samuel sent me to lie in the grass compounds beneath the Israeli quarters to await developments. I lay there for six hours before someone came to relieve me. As soon as I went off for a cup of team, the helicopters arrived to take the Palestinians to the airport for their get-away. So that was one of the big stories I missed.

July 25. Two days to go.

A catch up day at home. Some hope of catching up.

Wrote a synopsis of my life at the request of The Guardian. (No, you can't see that).  My children have always said I should put something down on paper.

My wife said I should not have mentioned the problems I have had with ankylosing spondilitis in my life and how close I came to death during my two years national service in Africa. She's probably right – she usually is - but I think those things were a spur.

I had an email from Balbir Singh, the Indian centre forward who I saw score the goals that cut down Britain (4-0) in the 1948 Olympic hockey final at Wembley.

We have kept in touch over many years since I first met him. Unusually we failed to meet when he was over here this month. He said:

Dear Pat,

I had a three day break in London before returning to Canada. You were not there in any of the programmes I attended.  I know you will be very busy during the Games but, when I return, I am sure our friend Dil will find  some way for us to meet.

Best wishes & kind regards,

Balbir.

I replied:

Please be assured that I will make every effort to meet you when you return in August.

It is such a pleasure to know you.  My good friend Dil understands how much I enjoy meeting you.

If I hadn't been so thrilled in 1948, my life might have taken a completely different course.

I am very excited as we close in on the 2012 Games.

See you soon,  Pat

My daughter Alison rang to wish you me a great time at the Olympics. She is off to Mexico for a holiday. (How can a daughter of mine miss the home Olympics – and my award).

July 26. One day to go.

PUNCTURED

Frank Uijlenbroek, the Dutch hockey photographer, who is staying with us for a couple of days before the Games start, arrived about 9.30am, having come through the Channel Tunnel.

He was closely followed by my big buddy, Neil Mallett of sports manufacturers Grays.

No sooner had they arrived than we discovered my wife's car had a puncture. So four of us set to change the wheel but none of us could get the wheel off.

Frank is working for the International Hockey Federation and they have arranged for him to stay in their headquarters hotel, the very plush Grange St Paul's. They are charging him £275 for a double/twin room per night with breakfast for one person.

The Olympic edition of Push, the hockey magazine, arrived in the post. Good to find an article I wrote but, better still, about four pages on my baby, the National Hockey Museum.

My co-conspirator Dil Bahra has just put us on Facebook and amazingly we have had countless hits, including over 850 on one story we ran.

Now off to MPC and another welcoming dinner, given by sponsors Omega.

A Fieldhockey.com exclusive.
---

British soldiers develop interest in hockey while Americans retain superiority complex

Every day, our undercover Olympian will bring you the gossip behind the scenes – starting with why British soldiers have developed a keen interest in hockey.



Standing to attention: soldiers have been keeping a watchful eye on the women's hockey teams Photo: GETTY IMAGES

I hear there has been a little scandal relating to the security of the Games – but walking around our village, you would never have guessed.

G4S might have needed a bail-out from British soldiers, but all the troops who have been drafted in seem to be having a lot more fun, not least the army guys themselves.

Most of the athletes here are friendly enough, with some notable exceptions – I'm looking at you, Ukraine – but every single soldier you meet seems to have a smile on his face and wants to chat. Some of them told me that they got back from a tour of Afghanistan a few weeks ago and this was supposed to be their summer leave but they don't seem to mind.

They also said that they have developed a new game to help pass the long hours 'helping' at the security checkpoints.

Apparently they have devised a ranking system to sort out which team has the most attractive athletes. Early in the week the US swim team was the clear favourite – surprise, surprise – but then the women's hockey teams started arriving and I believe feature quite heavily in the medal positions. I'll keep an eye on it as we move through the Games.

On a more serious note, it's obvious that no risks are being taken with the safety of athletes. In fact, the Village is probably the most secure place I've ever been in my life.

As well as the soldiers, there are London police, another kind of police walking around with machine guns, the privately hired security people and enough 'Games Makers' to invade a small country.

Personally, I think the military and civilian police forces should have been involved from the start as G4S staff leave a lot to be desired. It's not their fault, I suppose, but the fact is the stakes are higher here than just walking around a shopping centre at night with a radio.

Of course, that doesn't stop some of the squads here going that little bit further than the rest. The Americans are conspicuous by placing their own security guys on the doors of their residential blocks: apparently they think they really are that special.

The Telegraph


---

Irish Hockey Vacancies.
CEO and National Team coaches wanted

The Irish Hockey Association (IHA) has enjoyed its most successful year to date with both National Teams moving up in the world rankings and securing spots in the final of their respective Olympic Qualifying Tournaments for the first time ever. Beyond the on pitch success the IHA has become more dynamic, forward thinking and goal driven than ever before and now is the chance for YOU TO JOIN THE TEAM. Irish Hockey is seeking applications for the following positions:

CEO

The IHA is now seeking a dynamic individual to continue to drive Hockey forward.  As Chief Executive you will be responsible for driving and implementing the vision for the sport with an emphasis on revenue generation, high performance systems and long term player development.  This is an exciting opportunity that provides a multi-faceted challenge for someone with a passion and commitment for the sport of Hockey.

The closing date is 12noon on Friday 24th August, 2012. Applications should be sent to: Angus Kirkland , Irish Hockey Association, Newstead, University College,  Dublin 4, Ireland or This e-mail address is being protected from spambots. You need JavaScript enabled to view it

Further job details can be obtained by clicking here.

Men's' National Coach & Women's National Coach

The IHA is now seeking two talented individuals to take on the roles of National Coach to Men's and Women's teams and lead our teams to the 2016 Olympic Games (including the 2014 World Cup).

Applicants should have:
-       Experience and success of international hockey
-       Relevant qualifications (ideally a Level 3 or FIH coaching award)
-       Energy, drive and a vision that will build on the significant progress made by the teams

Applications should be received by September 10th, 2012.  Interviews will take on Monday 17th September, 2012.  Please send a CV, 3 referees and a letter outlining what you could bring to this role and how you would set about achieving qualification to the Olympic Games.  Applications should be sent to: Angus Kirkland , Irish Hockey Association, Newstead, University College, Dublin 4, Ireland or This e-mail address is being protected from spambots. You need JavaScript enabled to view it

The position will be full time and remuneration will be commensurate with experience.

Further job details can be obtained by clicking here.

Irish Hockey Association media release


---

Field hockey searches for consistent growth in Colorado

Denver boasts largest club team

IAN MCCUE

For field hockey coaches throughout Colorado, keeping high school girls dedicated to the sport is to constantly vie for their athletic attention.

Only three club teams – Monument's Club Lewy, the Fort Collins Fire, and the largest club, the Denver Field Hockey Club – compete in the state in a sport with deep, extensive roots across the east coast. It was a mix of club and high school teams teams - including Cheyenne Mountain - that faced off Friday at El Pomar Youth Sports Park to kick off the final weekend of the Rocky Mountain State Games.

Field hockey is gradually expanding at the high school level, with 14 squads set to hit and sweep their way across turf fields (the sport's playing surface of choice) this fall. But the sport is still gaining traction along the Front Range, making it that much more difficult to launch a new program.

"If you don't have a varsity level coach to coach a program, the program's going to crash and die, which has happened to a number of schools including (Aurora's) Eaglecrest and (Denver's) Thomas Jefferson," said Regis Jesuit coach Spencer Wagner, whose team finished the day 1-1.

Also limiting growth, according to Spencer, is the shortage of early experience offered at the middle school level. Many Colorado prep athletes – particularly lacrosse players – added field hockey to the athletic calendar, but it is usually an entertaining team sport for the fall rather than their primary athletic focus. 

The Denver Field Hockey Club is only 15 months old but has seen its membership explode from 10 members to 150 over that span. The club travels to top events including February's Disney Field Hockey Showcase and November's National hockey Festival in Wellington, Fla.

Patty Imhoff, co-founder of the Denver Club, is responsible for managing the squad's activities. She got involved in the sport when her daughter, who now plays club at Wake Forest, first picked up a field hockey stick eight years ago.

"The only way to get seen by college coaches is to travel to these tournaments," Imhoff said. "So the girls that are really serious had to have an avenue to go to the tournaments."

Wagner estimates Colorado ships off anywhere from six to 12 players to NCAA Division I field hockey programs each year. He started the program at Regis Jesuit in 2009 and has not yet produced any D-I players, but identifies several younger players with potential to play at college's top level.

A key to field hockey's future growth, particularly in a city with strong Olympic ties, may be the 2012 U.S. Olympic Women's team. The national team has not medaled since the 1984 Los Angeles Games, but this year's team has a decent chance at the podium in London.

"I know that people that aren't just high schoolers and college-level are doing it," said Kate Powell, a senior at Cheyenne Mountain who hopes to play Division III field hockey. "It gets me more interested in it."

Eastern transplants like Cheyenne Mountain coach Dora Bennett, who has coached field hockey since 1972, believe the unique sport will eventually gain a stronger hold in the Rockies. 

"I think (high school players) are starting to see the global nature and not just, 'Well, it's something that's mostly played in Denver,'" Bennett said.

The Gazette