All the news for Sunday 5 August 2012
London 2012 Olympic Games - Hockey Competition Results

Saturday 4 August 2012

Pool     Time    Match   Result

B          08:30    Australia vs. South Africa 1-0    
A          10:45    Netherlands vs. Korea 3-2   
A          13.45    Japan vs. Belgium 1-1        
A          16:00    China vs. Great Britain    2-1
B          19:00    USA vs. New Zealand      3-2
B          21.15    Germany vs. Argentina         1-3


---
China stun GB hosts with corner mastery

Dutch delight - women into semi-finals; Japan and Belgium draw
2012 Olympic Games (women), London (Photo: Frank Uijlenbroek)
China v. Great Britain 2-1 (half-time: 0-0)

Stephen Findlater
China's penalty corner prowess saw them reignite their hopes of reaching the semi-finals as they stunned a packed house at the Riverbank Arena, eager to see Great Britain succeed. Their dreams turned to nightmares, though, in a five minute period when Fu Baorong and Yudiao Zhao finished off corner moves in the 42nd and 47th minute.
It lifts the Chinese to seven points and a win in their final group game could put the pressure on Great Britain to get a result against world number one side, the Netherlands. Christa Cullen's late consolation goal could also prove valuable should the group go down to goal difference.
GB welcomed back their captain Kate Walsh just six days since suffering a broken jaw that required a plate inserted and played with a protective chinstrap. Her defence was not overly tested in the first half as both sides cancelled each other out. Helen Richardson created the first attack in earnest just before the half hour mark, bursting into the circle only to be fouled by a mixture of Ma Wei and Li Hongxia to win a corner.
Walsh's first drag was charged down while a follow-up set-piece saw Zhang Yimeng produce a brilliant series of saves, twice from Christa Cullen and once from Laura Bartlett. But those proved the clearest chances – bar one Sally Walton slap-shot in the second half – as the defensive work of Ma Yibo and Xu Xiaoxu were immense to limit the chances, channeling most moves out to the corner flag.
And when they finally emerged from their shell, they won the corners they needed to push ahead. Li Hongxia won the first which was switched left before Fu Baorong was credited with a heavily deflected effort in the 42nd minute. Their third corner yielded a second goal as Ma Yibo placed her push to the right post where Yudiao Zhao slid home for a shock 2-0 lead.
Try as GB might, they found entering the circle a virtual no-go zone until the 68th minute when Sarah Thomas was felled. Cullen's powerful drag got one back but China took all the spoils.
For more information on CHN vs GBR,
click here
Netherlands v. Korea 3-2 (half-time: 2-1)

Eric Bailey
The Netherlands became the first hockey team to book a ticket in the semi-finals after earning a 3-2 win against Korea. With four wins in as many outings, the Dutch are a top the standings with 12 points, enough to guarantee them a top-four finish.
It was a barn burner early on as Korea and the Dutch treated the fans to an offensive-themed game. Korea's Cheon Seul Ki blasted a rocket of a shot into the upper corner of the net on a penalty corner chance to poen the scoring. But moments later the Dutch replied with two rapid fire goals. Lidewij Welten tipped in the 1-1 marker and Nami van As followed up moments later to give the Dutch the lead midway through the half.
The Dutch wasted no time getting down to business in the second half, scoring on their initial trip down the field. Carlein Dirkse vsn den Heuvel gave her team some breathing room and set the tone for the second half, essentially dashing the Korean's hopes for an upset with her strike.
Cheon Seul Ki scored her second goal of the game to pull Korea to within one and put the Dutch on their ties for the finale. But after battling penalty problems for much of the second half, the Koreans didn't have the gas to get the equalizer as the Netherlands hung on for another three points.
Germany, which plays later today is a virtual lock to join the Dutch in the semi-finals. The two European teams have dominated Group A, which was far more straight forward in its results. The Netherlands now has the luxury of having its semi-final place secure with four days to prepare. Korea will now focus on getting into the fifth-place match, which is easily within reach.
Japan v. Belgium 1-1 (half-time: 0-1)

Eric Bailey
With both teams well out of the playoff picture, it was a battle for pride in today's Belgium vs. Japan match. In the end both teams could hold their heads a little higher after they played to a 1-1 draw in an entertaining and competitive battle that had the intensity of a game with the semi's on the line.
Things got off to a slow start on both ends, but about mid-half Belgium picked things up a notch and were rewarded with a slew of chances, including a shot that dinged off the post on a penalty corner and a chance that had to be saved on the line by Japanese defenseman Rika Komazawa.
Ultimately, it was a penalty stroke from Jill Boon with two minutes left in the half that broke the scoring silence. Japan asked for a video referral on the call, but after review, it was denied and Boon calmly stepped up to the mark and fired the stroke in.
Belgium continued to cling to its slim lead through the second half, doing their best to fend off the speedy Japanese counterattack and they almost pulled it off until Yukari Yamamoto scored after the dove to reach a rebound, tying the game at one. Japan had a chance in the last minute to go for the win when a penalty corner was awarded, but the last minute effort went harmlessly wide and the two teams each came away with a point.
The draw leaves the bottom half of Pool A wide open as Korea, Japan and Belgium could all finish as high as seventh or as low as 12th. Korea currently has three points, Belgium sits with two point after two draws and Japan has one point. Monday's results will determine who gets plugged into which placement game.
FIH site
---
Argentina riding high after Germany victory

New Zealand and Australia stay in the semi-final hunt following wins over USA and South Africa
2012 Olympic Games (women), London (Photo: Grant Treeby)
Germany v. Argentina 1-3 (half-time 0-2)

Stephen Findlater
Argentina all but eliminated Germany while propelling themselves to the top of Pool B on goal difference with a display of elegance and power. First half goals from Sofia Maccari and Luciana Aymar put them on track before Nina Hasselman's scrambled effort could have made for a nervy close three minutes from time. But Rocio Sanchez Moccia killed off any such thoughts within 30 seconds as she danced around Yvonne Frank and nailed the sealing goal.
From the start, Germany had shown a nervous edge early on, making a series of uncharacteristic mistakes when passing around the back four. From one such loose pass, Argentina prospered, firing a cross that looked innocuous enough initially until Katharina Otte miscontrolled, under pressure from Sanchez Moccia. The ball slipped through Yvonne Frank's legs where Sofia Maccari gleefully smacked into an open goal for 1-0.
The South Americans duly earned four penalty corners, the last of which was beautifully finished by Luciana Aymar, using the same trick that worked against South Africa on the opening day of the tournament, flipping the ball over the number two runner's stick and short-hand hitting home.
Germany's openings were fleeting, creating panic in the opposition but never true shooting moments bar Julia Muller's flashing drive from a corner which went too high. As the second half wore on and their situation became more desperate, they eventually found some rhythm as Jennifer Plass, Kristina Hillman and Lisa Hahn went close in the final quarter.
Their lifeline came from a corner four minutes from time as the ball bounced around Florencia Mutio's pads before Hasselman eventually poked home. But it was a lifeline of brief hope due to Sanchez Moccia's delightful clincher.
For more information on GER vs ARG,
click here
USA v. New Zealand 2-3 (half-time 2-2)

Stephen Findlater
A Clarissa Eshuis drag-flick five minutes from time fired New Zealand to a crucial win over USA that keeps them very much alive in the semi-final hunt. That it took so long for the critical goal to finally come was a surprise as the kiwis pace and guile up front should have had them clear earlier but for the goalkeeping exploits of Amy Swensen.
She saved a glut of chances to keep the US in the hunt, grabbing two equalisers in the first half to cancel out strikes from Kayla Sharland and Gemma Flynn. But Eshuis got the only goal of the second half to claim a third New Zealand win of the campaign. They wasted no time in establishing a lead, Kayla Sharland sweeping home – via a defender's stick – from a penalty corner just 70 seconds in.
Their direct running, especially down the right flank, was causing all manner of problems with Alicia Punt to the fore. But they were stunned by the concession of a 17th minute equaliser as Katie O'Donnell impudently snuck a stick in to flip the ball over Bianca Russell. The chance appeared to have petered out after Paige Selenski's great run but Melody Cooper dallied allowing the striker to nip in. New Zealand's lead was restored soon after as another Sharland shot created havoc, pinballing off a defender to Stacey Michelsen to volley across goal to Gemma Flynn to tap in. The US argued danger but the video review denied that avenue.
Amy Swensen kept the US in the tie with saves from Punt and Katie Glynn while Samantha Harrison swept over a gilt-edge chance. But, once again, the Americans sucker-punched. First, Michelle Kasold's strike just got away from Shannon Taylor a yard out before Claire Laubach levelled in the 33rd minute. She did not seem to get full power behind her corner push but it ricocheted off Russell and her post-woman to dribble over the line.
The second half was equally open with the black sticks making most of the play after an early flurry from Paige Selenski and Michelle Kasold. Glynn again drew a fine reactions save from Swensen while Charlotte Harrison smashed the post from a corner rebound. A third goal was disallowed on umpire's referral when Stacey Michelson – twice sin-binned in the game, too – fired a high reverse which Glynn redirected into the goal. That touch was deemed dangerous by the video umpire to keep New Zealand nervy for the closing phases.
But Eshuis came to the rescue from the sixth corner, a key goal to push her side up to nine points and ahead of Australia on goal difference.
For more information on USA vs NZL,
click here
Australia v. South Africa 1-0 (half-time 1-0)
Australia continued its ascent in the standings and kept its hopes alive for a semi-final berth after earning a 1-0 win against South Africa in today's first game in the highly competitive Pool B. After dropping their first game, the Hockeyroos have won three in a row and are part of a four-team traffic jam along with New Zealand, Argentina and Germany that are fighting for two semi-finals places.
Australia dominated the first 10 minutes of action with two penalty corner chances and many more scoring opportunities. They took the 1-0 lead eight minutes in when Casey Eastham, making her 150th appearance for Australia, and Jade close out-ran the South Africa defense give Eastham the chance to thread a perfectly-timed pass to Close, who easily finished the play.
But after the goal, South Africa perked up and Australia got a bit complacent. The South Africans had ample opportunity to tie things up, but ultimately had to settle for the one-goal deficit at the break.
South Africa played some of its best hockey of the tournament in the second half and had the Australians scrambling to hold onto the lead. Despite some great chances, including camping out in front of the Aussie net the last 10 minutes, the South Africans could not solve the outstanding efforts of goalkeeper Toni Cronk, who led her team to the eventual 1-0 win.
With four losses in four outings, South Africa's goal is to play for a respectable final placement.
FIH site
---
Dutch into semis as China beat Britain
LONDON  - Defending champions the Netherlands moved into the semi-finals of the Olympic women's hockey tournament on Saturday by defeating South Korea 3-2 for their fourth successive victory in London. The Dutch were given a tough contest by Korea before sealing a win that gave them a maximum 12 points at the top of Pool A.
China came back into the race for semi-finals with a 2-1 victory that stopped Great Britain's winning spree. The hosts are still in second place with nine points from four games, while China boosted their tally to seven points. Britain's semi-final prospects now hinge on their last game against the Dutch on Monday, while China will play the group's bottom-placed team Japan, who held Belgium 1-1 to pick their first point in four matches.
Meanwhile Australia rode on Jade Close's early field goal to prevail 1-0 over South Africa and so move ahead of the pack in Pool B with nine points from four matches.  World champions Argentina, New Zealand and Germany, all of whom play later Saturday, are clubbed together on six points from three fixtures. South Korea's Cheon Seul Ki converted two penalty corners to trouble the Dutch, who got all their goals in open play.
Cheon opened the scoring by sending a drag-flick into the top corner in the fifth minute, but the lead lasted just five minutes, later with Kelly Jonker's reverse deflection of captain Maartje Paumen's shot drawing the Dutch level. Ellen Hogg's open-field strike four minutes later gave the Dutch the lead and Carlien Dirkse van den Heuvel made it 3-1 a minute after half-time. Cheon pulled another goal back with a penalty corner shot in the 64th minute to keep South Korea in the contest until the end. The Koreans though have just three points from four matches. "I'm obviously happy to be in the semifinals, but I want to see more goals," said Max Caldas, the coach of the Netherlands team.
Earlier, Close picked up a well directed shot from top of the circle to shoot home in the eighth minute and Australia then managed to defend the lead against the hard-working South Africans, yet to earn a point in four matches.
The Nation
---
Eastham Celebrates 150, Hockeyroos Lucky to Win
Casey Eastham in action against USA. Image: Grant Treeby
Congratulations to Casey Eastham who celebrated a milestone tonight but for the Hockeyroos it will be back to the drawing board after a disappointing display against the bottom side.
Australia 1 d South Africa 0
Goal: Jade Close
Best Players: Toni Cronk, Megan Rivers, Jade Close
Midfielder Casey Eastham celebrated her 150th international with a win today but the Hockeyroos were far from convincing defeating South Africa 1-0.
Australia started slowly with their opposition intercepting two passes out of defence in the first two minutes.
The Hockeyroos then steadied and were awarded their first penalty corner after the umpire deemed the defender deliberately put the ball out over the backline. Jodie Schulz could not convert however with her drag flick well saved.
Three minutes later, at the five minute mark, Australia forced another short corner, which was again saved by South Africa.
The Hockeyroos continued to press and forced their third penalty corner. This time they used a variation but the ball ended up on Australia's foot and consequently there was no score.
After a counter attack, Australia cleared the ball and Teneal Attard, Fiona Boyce and Eastham combined in a great build up that resulted in the opening conversion.
Eastham made a brilliant pass through to Jade Close who made no mistake from the top of the circle beating a defender and the keeper with a superb strike, nailing her first goal at the Olympics.
Shortly after the Hockeyroos forced a fourth penalty but when the shot sailed wide the conversion rate was not looking good.
Fifteen minutes in South Africa was awarded a penalty corner but once again Australian Keeper Toni Cronk made a brilliant save, one of many during the game producing another stand out performance.
South Africa continued to lift its intensity and pressured the Australian defence who turned the ball over too many times allowing their opposition too many chances in front of goal
After half time, South Africa continued its relentless pressure forcing the Hockeyroos into numerous skill errors.
Cronk was again forced to save a brilliant shot by Jennifer Wilson who had found too much space in the circle.
Whenever the Hockeyroos made it into their attacking twenty-five they were continually thwarted by the South African defenders led by Lenise Marais.
The Hockeyroos could only manage one corner in the second half compared to South Africa's three and it would have been four but one was disallowed after a video referral called for by Australian Captain Madonna Blyth
The Hockeyroos looked a little flat in this match and lacked the spark of previous games.
Megan Rivers worked tirelessly in midfield trying to lift her troops, who will be bitterly disappointed if they miss the finals on goal percentage.
Hopefully the Hockeyroos can improve on their penalty corner conversion rate and pick up their intensity for the next game against Argentina and secure a place in the medal round on their own terms.
Hockey Australia media release
---
Great Britain suffer first defeat against China
A penalty corner strike from defender Crista Cullen wasn't enough to prevent Great Britain slipping to a 2-1 defeat against China in this afternoon's Pool A encounter at the Riverbank Arena.
Second half goals for Baorong Fu and China's captain Ye Ren inflicted the home nation's first defeat of the hockey competition on the day that inspirational Great Britain Captain Kate Walsh returned to the starting line-up only days after undergoing surgery on a fractured mandible sustained against Japan.
Speaking after the game Great Britain head coach Danny Kerry said, "China did what they needed to do. They defended exceptionally well and executed their corners well. On such things games can hinge."
"I don't know how the Dutch will play it. I watched the footage against China and at times they were up and at times they dropped off, which is what they've seemingly been doing so far. Naomi van As has had one of her better tournaments and then Eva de Goede in the screen position has also been good for them.  Finally they've got Kim Lammers who is an exceptional goal scorer. I think they will play some hockey and they won't want to lose to us. Even though they've qualified for the semi they're a proud nation and they're the reigning Olympic champions. However they play, you can guarantee this lot will run through brick walls to get us into the semi."
China came into the game knowing that they needed a win to keep their hopes of progressing to the semi-finals alive and their approach to the game was clear from the outset.  Having seemed happy all week to sit back and let teams try and break their strong defence, today they came out fighting from the start, pushing forward at every opportunity.
The opening 15 minutes of the game saw few clear cut chances for either side. Leicester's Hannah Macleod probably with the best opportunity as she pounced on a short ball from China's defence just outside the circle. Unfortunately her touch was too heavy and goalkeeper Yimeng Zhang got out well to make a relatively easy save and clear the ball away from danger.
The chance seemed to spur Great Britain into action and there was some good link up play between the returning captain Kate Walsh and her Reading teammates Alex Danson and Helen Richardson. However the final ball into the circle always seemed to find a Chinese defenders stick first.
Both teams were working hard off the ball to close down breaks and stop the fluidity of play and China had a lot of success marking Great Britain's forwards entirely out of the game. With the likes of Danson and Richardson seeing little of the ball Sarah Thomas looked the liveliest player on the pitch for Great Britain as she tried to lift her side. However her searing runs from midfield could not penetrate a stalwart Chinese defence as they broke all of GB's moves down.
Great Britain continued to try and push forward though and their passion for a win in front of a packed home crowd never faltered. With six minutes to go they were rewarded with their first penalty corner of the game thanks to some skilful play from Richardson who went past three Chinese defenders before winning the corner.
The closing minutes of the first half saw four penalty corners, but unfortunately no goals to speak of.  Walsh stepped up for the first one, then Leicester's Crista Cullen committed herself to the next three. The second corner seemed to be GB's best chance; Cullen's initial shot was well saved by Zhang who got up quickly to then save again from Cullen who had moved in closer to unleash another shot on goal.  The final corner broke down and Great Britain were lucky to see China's counter attack falter and go into the break all even at 0-0.
The second half started in much the same way as the first, with China pushing forward and looking the more dangerous side in possession.  With six minutes gone they broke the deadlock thanks to a well worked penalty corner.  The injection came out to Baorong Fu whose shot went through a crowd of players and found its way past a diving Beth Storry to make it 1-0.
China certainly had the run of the play and just six minutes later they won another penalty corner as their attack found Cullen's foot in the circle. With a different line-up prepared, the ball came out to Yibo Ma whose shot towards Storry was deflected into the goal by Ye Ren to extend her side's lead.
With a two goal deficit Great Britain were left with no choice but to push forward. Thomas, was still looking the most dangerous player on the ball, but China were committed in their defence and continued to mark the forwards out of the game and frustrated Great Britain with their play. Danson seemed to have at least two players on her every time she was on the ball.
Great Britain didn't find the same level of creative play shown by them so far this tournament, but they never gave up. Leicester's Chloe Rogers did well to work a ball from the baseline to find Bowdon Hightown's Sally Walton at the top of the circle, but her shot was saved by Zhang.
With just two minutes to go Great Britain finally broke through the Chinese defence thanks to some great work from Thomas who forced a fowl from Qingling Song in the circle. The first corner saw Ren break the line and China reduced by one player on the goal-line.  The ball came out to Cullen again and this time she made no mistake as she fired the ball home past Zhang to make it 2-1. There were only seconds left on the clock and Great Britain had to accept their first defeat of the tournament so far.
Following the game, Great Britain Captain Kate Walsh, added her thoughts, "We all feel very disappointed with the result and the performance as well. We can play a lot better than that. The ball retention was poor from us today and I think we could have knocked it around and been a bit more patient. We have to bring our game to the Dutch with the belief that we have and come back fighting."
Walsh also commented on her injury, "I knew straight away [I'd broken my jaw]. You know how I play, I put my head in some silly positions. Sometimes you're going to get hit and it's my own fault. The surgeon, Simon Holmes, was very positive and so I had my faith in him. He said 'well I'm going to do my job and you've got to get back and do yours' and that's what I've done. He did exactly what he said and now I'm back fighting with everybody else to get what we want out of this group and out of this tournament."
"It's been a bit of a whirlwind to be honest. I was in hospital and had the operation on Monday morning and came out Wednesday and managed to do a little bit of training on Thursday and Friday to make sure I was fit for the game. The hospital (the Royal London Hospital) have been amazing and the team have been amazing just focusing on the job in hand. I was keen that I didn't want to be a distraction at all."
Great Britain remain second in Pool A, three points behind the Netherlands, who are their next opponents in the final match of the pool stage on Monday at 19:00. A win for China against Japan would mean Great Britain requiring a win or draw against their Dutch rivals to progress to the semi-finals.
Meanwhile, Great Britain's men will continue their Olympic campaign tomorrow evening at 19:00 when they play in a top of the table contest against world number one side Australia at the Riverbank Arena.
CHINA 2 (0)
Baorong Fu 41' (PC)
Ye Ren 47' (PC)

GREAT BRITAIN 1 (0)
Crista Cullen 69' (PC)

GREAT BRITAIN WOMEN'S SQUAD  v CHINA
Name (Club) [Position]

Started
Beth Storry (Reading) [Goalkeeper]
Kate Walsh (Reading) [Defender]
Emily Maguire (Reading) [Defender]
Crista Cullen (Leicester) [Defender]
Ashleigh Ball (Slough) [Midfielder]
Sarah Thomas (No Club) [Forward] 
Laura Unsworth (Reading) [Defender]
Helen Richardson (Reading) [Midfielder]
Georgie Twigg (Clifton) [Midfielder/Forward]
Alex Danson (Reading) [Forward]
Hannah Macleod (Leicester) [Midfielder]
Substitutes Used
Anne Panter (Leicester) [Defender]
Sally Walton (Bowdon Hightown) [Defender]
Chloe Rogers (Leicester) [Midfielder]
Laura Bartlett (Reading) [Midfielder]
Nicola White (Slough) [Forward]
Great Britain Hockey media release
---
Walsh back but British medal hopes suffer blow

By Annika Breidthardt
Great Britain captain Kate Walsh leads her side out against China at Olympic Games London 2012. Photo. GB Hockey
LONDON - Britain's Kate Walsh returned to play on Saturday just six days after breaking her jaw, but even the skipper's comeback could not save her team from a surprise 2-1 defeat against China that dealt a blow to the host's Olympic hopes.
Britain, who had won their first three matches, now need at least a draw in their last group-stage match against the Netherlands, who have already secured a berth in the semifinals.
With a slew of unforced errors and little determination in attack, Britain found it hard to penetrate China's defence, and six minutes before half time Walsh and fellow corner-specialist Crista Cullen wasted four consecutive penalty corners.
While at the break it still looked as though Britain's worst performance so far might have been enough against a Chinese side showing little ambition in attack, China came back stronger from the interlude and were clinical on set pieces.
Two goals from penalty corners, one by Fu Baorong in the 41st minute and one deflected into goal from short range by Zhao Yudiao, put China well in the lead with 24 minutes to go.
Just over a minute before the end, Britain reduced the lead with a penalty corner flick from Cullen that the strong Chinese goalkeeper Zhang Yimeng got her hands on but could not save.
"We know we can play a lot better. Ball retention was pretty poor for us today," said Walsh, who played with protective strapping on her face after having a titanium plate inserted into her jaw on Monday and only leaving hospital on Wednesday.
In Saturday's match, British midfielder Anne Panter was also hit by a lifted ball and was led off the pitch with blood dripping from her mouth. But she came back in the second half, having received stitches for the wound.
London's Olympic Games have been unusually hazardous for hockey, a sport in which most body contact is penalised but where the small and fast-travelling ball and stick contact can cause brutal injuries.
Spain's men, Beijing silver medallists, have already lost skipper Santi Freixa and striker Pol Amat, who are out with a broken arm and a dislocated shoulder.
Britain's surprise defeat on Saturday means China are trailing them by two points and could go through to the semifinals if the home team lose against the Dutch.
The Netherlands have already qualified ahead of their game against Britain, having won all four matches so far, though they looked patchy at times in their 3-2 victory over South Korea.
Reuters Africa
---
Great Britain's women's hockey medal hopes left in the balance after defeat to China

By Jessica Winch, Riverbank Arena

Floored: Crista Cullen (left) and Laura Bartlett react to Britain's surprise defeat Photo: GETTY IMAGES
Great Britain's smooth path to the semi-finals was strewn with stones by their own hand yesterday, as they failed to win a crucial point against China which would have taken them straight to the semi-finals.
A win or draw would have guaranteed the home side a place in the last four with one match to spare, but Great Britain's defeat means they need a win over defending Olympic champions Holland, who have already qualified for the semi-finals, in their final Pool A match on Monday to guarantee progression.
Captain Kate Walsh rejoined her squad on the pitch sporting a guard for her jaw, which was broken six days earlier when she was hit in the face with a hockey stick. Her return should have boosted the squad, but they struggled to reproduce the form that earned them 12 goals in their first three matches.
Walsh said: "I think we all feel very disappointed with the result, and with the performance as well. We know we can play a lot better than that. Ball retention was pretty poor from us today.
"But it's nothing magical that we have to turn out for the next game. We just have to bring our game to the Dutch. We'll recover; we are a fit side, and we'll come back fighting."
The 32-year-old Reading defender admitted her past week had been a "whirlwind" following her painful injury, which necessitated a titanium plates being fitted to her jaw, but claimed she felt no fear returning to the pitch, saying: "That's the game. It's dangerous. I just want the ball, and I want the ball to go in the goal. That's it."
The first half ended goalless despite several attempts from both sides. Britain had their best chance shortly before the end of the first half with a series of penalty corners, but great goalkeeping from Zhang Yimeng saved four attempts in quick succession, including a swipe from Crista Cullen.
Leicester midfielder Anne Panter was hit in the face minutes before the break and was quickly walked off the pitch for treatment, but she returned to the field after half-time.
It all went wrong for Britain in the second half, as well-worked penalty corner goals from Fu Baorong and Zhao Yudiao put China firmly ahead.
Cullen flicked home a penalty corner with less than two minutes to play, but it was too late for the squad to recover the match. Many Britain players fell to the floor in despair as the final whistle blew.
Cullen said: "If there was an extra five minutes at the end of the game, I genuinely think we could have got that draw. But we learn from our mistakes, we move forward. Holland is the next challenge. I'm sure we are all very determined to get ourselves in the semi-finals whatever it takes."
Britain remain second in the pool with nine points, followed on seven points by the Chinese, who face group minnows Japan tomorrow afternoon.
The Telegraph
---
Black Sticks Women clinch 3-2 win over USA
The Black Sticks Women have come away with a gutsy 3-2 win over the United States thanks to goals from Kayla Sharland, Gemma Flynn and Clarissa Eshuis. It was the win they needed to keep their Olympic semi-final hopes alive.
But there is still some way to go. The young New Zealand side now need to win against Germany on Monday to book a spot in the medal rounds. A draw could get them through, but they would be reliant on the results of other Pool B games going their way.
"We have got a big hill to climb. We will have to perform above ourselves if we are to beat them [Germany] in the next game. But I think it is a challenge this team is ready for and hopefully we can achieve that," said head coach Mark Hager.
"The United States are a tough team, we always knew that they would counter attack and create opportunities, they made it hard for us as they have with every team here. We are just pleased to come away with a win."
Co-captain Emily Naylor returned to the turf tonight after a back niggle took her out of the last game against Argentina. It was a big night for Naylor, playing her 200th test match while Capital's Anita Punt got her 100th cap.
An early goal is becoming a Black Sticks trade mark in this Olympic tournament. This time it was co-captain Kayla Sharland who scored in the second minute from a penalty corner drag flick.
American Katie O'Donnell equalised in the 16th minute, but New Zealand snatched the lead back three minutes later when Gemma Flynn found the back of the net at the break down of a penalty corner.
Claire Laubach was USA's answer when she converted a penalty corner and equalised in the 34th minute.
The start of the second half was much more settled than the first, with the Black Sticks unable to capitalise on the ball that they worked tirelessly to turn over.
There was a dramatic moment when Stacey Michelsen was standing at the post and deflected the ball in, but the goal was disallowed by the video umpire due to her high stick.
With 20 shots on goal compared with USA's two goals from only two attempts throughout the game, it was an Eshuis drag flick that saw the ball rocket to the back of the net and put the Kiwis 3-2 up with six minutes left on the clock.
The pressure mounted for the Kiwis when Michelsen was yellow carded for the second time in the game – this time it was later in the second half when the USA had pulled goal keeper Amy Swensen into the field of play.
The USA did all they could to equalise in the dying minutes, but the Black Sticks left the field with the win, even if it was by a smaller margin than they had perhaps hoped for.
The Black Sticks Women play their final pool game against Germany at 7.30pm on Monday (NZT).
RESULTS
New Zealand 3 (Kayla Sharland, Gemma Flynn, Clarissa Eshuis) United States (Katie O'Donnell, Claire Laubach) 2. HT: 2-2
Hockey New Zealand Media release
---
New Zealand puts U.S. out of medal contention
LONDON – The U.S. had had high hopes of contending for a medal in London, but tonight their Olympic dream was shattered. It was a match the U.S. had to win, and they came up one goal short against a strong New Zealand side.
In a post-game press conference, Head Coach Lee Bodimeade spoke about the devastating loss. "We trained four years to maximize our achievements at the Olympic Games and we know that tonight's result has put us short of our goals. The scenario today was that one team was headed forward in the tournament and the other team is going to really struggle. It is devastating for us."
Clarissa Eshuis's goal in the final minutes of the match put New Zealand up 3-2, and ultimately eliminated the U.S. from the medal rounds, while keeping the Black Sticks alive for a spot in the semi-finals.
"We came into this game knowing we needed to get three points to keep going in the tournament and tonight we feel short and didn't execute at the key moments," said captain Lauren Crandall.  
New Zealand was successful at capitalizing on penalty corners, scoring their first of three goals just 70 seconds after the first whistle blew.
A great run by Paige Selenski (Shavertown, Pa.) set Katie O'Donnell (Blue Bell, Pa.) up for the equalizer in the 17th minute.
New Zealand battled back, drawing a penalty corner immediately following the U.S. goal and once again capitalizing to take the lead, 2-1. Kayla Sharland's shot pinballed around the circle before sneaking past Amy Swensen (Grantville, Pa.). The U.S. argued danger, but the video review was denied and the goal was upheld.
The U.S. was awarded a penalty corner with two minutes remaining in the half. Claire Laubach (Centreville, Va.) netted her first goal of the tournament, when her shot was deflected off the pads of New Zealand's goalkeeper and a defender's stick. The match was back to even, 2-2, at the end of the first half.
New Zealand continued to attack and pressure the U.S. defensive unit in the second half.
"We were able to defend really well," said Bodimeade. "In the second half when we applied pressure, I thought we may have been able to get a result. But when you are playing at the Olympic Games and facing a side as good as New Zealand… if you don't take chances, the game slips away."
Swensen had a string a crucial saves that kept the U.S. in the game and hopeful of a victorious finish. However, after New Zealand tallied a third goal, Bodimeade made the decision to pull Swensen from the cage for an extra field player.
The U.S. created a number of chances, but couldn't get the goal they were looking for to at least draw the match. New Zealand added three points and a win to improve to a 3-0-1 in the preliminary rounds.
The U.S. will play in their final preliminary match against South Africa on Monday, August 6 at 10:45 a.m. The match will be broadcast live on NBC Sports Network at 5:45 a.m. ET. South Africa has yet to win a match at Riverbank Arena in London's Olympic Park. The U.S. will look to finish the preliminary rounds on a high note.
"The goal now is the same goal that we had when we came into this tournament, which is to win one game at a time," said Crandall. "I think taking that attitude into South Africa is what we really need to focus on. This is one that hurts, but we still need to come out in the next game and play our best."
USFHA media release
---
USA's 3-2 loss to New Zealand ends medal round dream

By Jawwad Qamar
A penalty corner goal for New Zealand by Clarissa Eshuis in the 64th minute put an end to any medal round hopes the USA had.  In a fast past paced and exciting game, things started quickly for New Zealand as they received a penalty corner in the second minute and Kayla Sharland's drag flick beat Amy Swensen in goal for the USA for a 1-0 lead. The Black Sticks were back the next minute for another penalty corner but USA were able to clear the ball.
After USA settled down, Katie O'Donnell and company started their own runs, mostly from the left and O'Donnell leveled score, lunging on a Paige Selenski's ball sending it over the New Zealand keeper, after a great run and penetration into the circle by Selenski from the left in the 17th minute.
However, two minutes later, the Kiwis were back with their third penalty corner. Sharland's variation try bounced high off the right shoulder of a diving Swensen and was volleyed across the goal by Stacey Michelsen to Gemma Flynn for an easy tap in and the 2-1 lead. Claire Laubach evened score at 2-2 in the 33rd minute for USA, also on a penalty corner, as her low drag bounced of Emily Naylor's stick into the goal.
The action packed game had scoring opportunities on both ends. However, New Zealand attacks were more cohesive and they should have scored more if it wasn't for the heroics of Swensen. Swensen kept USA in the game making key saves on Anita Punt, Katie Glynn and Samantha Harrison, who were creating havoc for the Americans constantly. New Zealand earned six penalty corners scoring on three while the American two out of three on set pieces.
The Americans on the other hand seemed to be going on instincts and individual skills, hitting the ball in and hoping it'll find a player. Credit however must also go the Black Stick defense.
In the last match of the day Argentina beat Germany 3-1 and took over the top spot in pool B on goal difference with 9 points. New Zealand and Australia also with 9 points each follow in the order. The results on Monday, the last day of pool play from New Zealand vs. Germany and Argentina vs. Australia matches will determine who advances to the semifinals from this group. USA is in fifth place and will face the winless South Africa, on Monday.
While the Netherlands are through to the medal round with 12 points from pool A, its last match against Great Britain will be crucial for the host as China is expected to easily beat Japan and secure 10 points. A tie for Great Britain should be enough to get them through from this pool.
Fieldhockey.com Exclusive
---
Crucial win for Black Sticks

By Dylan Cleaver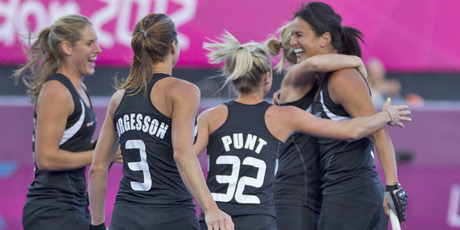 New Zealand Black Sticks captain Kayla Sharland celebrates the first goal against USA. Photo / Brett Phibbs
They left it really late, but the only thing New Zealand will be worried about is they've given themselves a grand chance of making the semifinals of an Olympic tournament for the first time.
New Zealand beat USA with a late Clarissa Eshuis goal after squandering more chances than they would care to count. The Black Sticks made 31 circle penetrations to the USA's eight, got 15 shots on target and a load more that didn't come within cooey.
According to the official stats, the USA had two shots on target and scored both.
"We should have had the game won at halftime, we had enough opportunities," said coach Mark Hager. "But that's the nature of the game.
"I'm just pleased we came away with three points."
New Zealand are now equal top of Pool B on nine points, along with Australia and Argentina. When they meet Germany tomorrow night, their destiny is in their own hands.
Win and they go through, draw and they will go through, lose and they'd need great fortune.
As has become tradition at this tournament, New Zealand scored early. Forcing a penalty corner in the first minute, they worked a nice variation that saw Kayla Sharland drill one into the bottom corner.
New Zealand looked the superior side but were also guilty of turning over possession too easily. They paid the penalty midway through the first half when USA made a rare attacking foray. Melody Cooper could not deal with a tricky cross and was robbed in front of goal by Katie O'Donnell.
New Zealand calmed their nerves with a second almost immediately, this time a scruffy penalty corner that was flicked back across goal by Stacey Michelson and poked home by Gemma Flynn.
New Zealand then had several chances to give themselves a nice little buffer before halftime but somehow contrived to mess up every gilt-edged chance. US keeper Amy Swensen was having a strong game, but some of the misses were glaring, including one by Samantha Harrison that looked easier to score than miss. Hager said the ball had bobbled just before impact.
You could almost see the equaliser coming as a form of rough justice. Aided and abetted by Argentine umpire Caroline de la Fuente, who seemed to take great umbrage any time a New Zealand player tried to win the ball, Argentina were awarded a penalty corner that they somehow bundled over.
Earlier, de la Fuente had green-carded Clarissa Eshuis and, more astonishly, following the goal she yellow-carded Michelson for the most tenuous offence. Rub of the green tends to go in swings and roundabouts, but it wouldn't have helped the coaches' humour that one of the teams that would benefit most from New Zealand misfortune would be Argentina.
The second half was tense and increasingly physical. Both sides had chances to break the deadlock, but it was New Zealand who again spurned the better opportunities.
Amazingly, Michelsen was yellow-carded for the second time by de la Fuente.
"Obviously two yellow cards in a match is not something you want to do to your team," she said. "The first one my stick just got caught between her legs, but the umpire must have seen something different.
"The second one? I'm not even sure."
The Black Sticks were awarded a goal late in the match, but it was correctly overruled on referral, increasing the nerves.
Finally, with six minutes to go, the breakthrough. From a penalty corner Eshuis dragged the ball into the bottom corner.
The relief was palpable. Now Germany wait.
POOL B
Argentina - 9 points (goal differential - 8)
New Zealand - 9 points (goal differential - 4)
Australia - 9 points (goal differential - 3)
Germany - 6 points (goal differential - -1)
USA - 3 points (goal differential - -2)
South Africa - 0 points (goal differential - -12)
The New Zealand Herald
---
Black Sticks secure late victory over US

SIMON PLUMB IN LONDON
Gemma Flynn and Kayla Shrland celebrate against the USA. LAWRENCE SMITH/Fairfax NZ
The women's Black Sticks have moved to within 70 minutes of a guaranteed shot at an Olympic medal with an important, but nervy, 3-2 win over the United States.
A draw against Germany, the world's third best team, could now be enough to seal a place in the semi-finals. But New Zealand have to win to be sure of their place in the final four.
On a milestone night for Emily Naylor and Anita Punt, collecting their 200th and 100th caps respectively, it was a late goal from Clarissa Eshuis which eventually sealed what should have been a very comfortable win.
The result keeps New Zealand at the top of Group B, level with Australia on nine points after four games.
Argentina and Germany, both on six points with a game in hand, play against each other later today (NZT) in a match which will heavily influence end of pool permutations.
Mark Hager's side may still look back on the match with regret though, having missed a golden chace to ramp up their goal differential.
Early goals have proven to be regular features in New Zealand games so far at London 2012, and Sharland continued the trend edging the Black Sticks ahead in the first minute from a penalty corner.
But in a first half which saw New Zealand create a myriad of opportunities, Hager will be frustrated by his side's toothless edge in front of goal finishing and moments of weakness at the back.
On the quarter-hour mark the USA equalised when the Black Sticks allowed Paige Selenski to weave her way down the left flank and cross for Katie O'Donnell.
Level terms were short-lived however, when Gemma Flynn fired straight back with a volleyed tap.
At that point chances started raining down, but Katie Glynn, Sam Harrison and Eshuis were all guilty of squandering good opportunities.
Harrison's miss was particularly bad, blazing high over the bar with the goal completely at her mercy.
Two minutes before the break Claire Laubach's made those errors count with a deflected shot finding its way over Kiwi keeper Nicola Russell.
At halftime New Zealand found themselves locked in a draw, when they should have been at least two goals ahead.
Frustration took over in the second half with New Zealand continuing to create chances but failing to retake the lead.
Glynn, Harrison and Stacey Michelsen all went close, but with the breakthrough refusing to drop-in, occasional American attacks started to create tension and sloppy errors.
Suddenly, there was relief as Michelsen deflected the ball home with 10 minutes remaining. But to New Zealand's horror, the umpire called for a referral and ruled the goal out for a high stick.
Again Michelsen came close but her bobbled shot wandered past the post, but finally, an Eshuis drag flick six minutes from time bagged three points which should have been wrapped up early.
New Zealand's crucial final pool game is against Germany on Monday, 7:30pm (NZT).
Stuff
---
Black Sticks have chance to create own fate

SIMON PLUMB IN LONDON

Beat Germany, and the women's Black Sticks are guaranteed a place in the Olympic semi-finals.
Otherwise, the medal shot is in the hands of the mathematicians.
From 7.30pm through to 8:15am tomorrow a fascinating script will unfurl on the women's Olympic hockey tournament.
And while the good news is the Black Sticks' fate is in their own hands. The bad news is, one of the world's best teams stands in their way.
Ranked third in the world, Germany traditionally cause New Zealand (6) big problems.
Over their last 10 meetings the Kiwis have lost six times, including a 5-1 pounding in Bremen last month.
After struggling to an important 3-2 win over the United States on Sunday morning (NZT) Black Sticks coach Mark Hager, the man who has turned around the national women's team in two years, pointed to the disappointing last performance in north-west Germany as a major warning.
Potentially, it's a game New Zealand could lose and still make it through to the medal matches - but they would also need Argentina to beat Australia to emerge from a log-jammed group.
However, Hager - honest and uncompromising - refuses to play the odds game. Tonight his girls will be briefed to go out and claim three points.
"The good thing is we're the masters of our own destiny. Win or draw, and we're in with a chance," Hager said.
"There'll be a nothing to lose attitude, we haven't beaten them at a major tournament, the girls know that.
"They gave us a flogging a few weeks ago, 5-1. We weren't in very good form at that stage but I feel we're playing a bit better.
"They're very disciplined and very structured. We're going to have to make sure we are as well."
To find success against the Germans, Hager also knows his side must be much more ruthless in front of goal.
Despite dominating most of the 3-2 win over the USA, it was a game which New Zealand should have polished off at halftime - but for a recurring lack of edge in front of goal.
The Americans had two shots on goal and scored them both. New Zealand had 20 shots, and still had to rely on a Clarissa Eshuis drag flick six minutes from time.
"Creating chances is the number one priority, if we weren't doing that I'd e more worried," Hager said.
"We've just got to make better shot selections.
"I'm pleased we've got a sniff, that was always the goal ahead of what we knew was going to be such a tight pool.
"We wanted nine points after four games, we knew if we did that we'd be a show.
"We've done that, we just need to finish it off now."
The situation:
The women's Black Sticks will qualify for the semi-finals if:
- They beat Germany
- They draw against Germany and Argentina beat Australia
- They draw against Germany and Argentina draw with Australia
- They lose to Germany by four goals or less and Argentina beat Australia
The women's Black Sticks will miss the semi-finals if:
- They draw against Germany and Australia beat Argentina
- They lose to Germany by more than five goals
- They lose to Germany and Australia beat Argentina
Stuff
---
World awakens to Black Sticks' style

By Michael Burgess
Of all Mark Hager's achievements as the Black Sticks women's coach, perhaps his greatest has been putting the team back on the map.
The team, in strong contention for a spot in the Olympic semifinals, have risen from 12th to sixth in the world over the last two years.
Yet it is the manner in which this has been achieved that has been most meritorious, with a blend of style and success.
Over the previous decade, New Zealand women's hockey was often pretty stodgy fare. They worked hard, defended stoutly and scrapped for goals. New Zealand would struggle to combat the flair of teams like Argentina and rarely competed with the well-drilled hockey superpowers like Holland and Germany. The Beijing Olympics campaign was a disaster in 2008. New Zealand lost all five matches and finished 12th of 12 teams.
Hager took over the following year and rebuilt the team. He put his faith in youth, clearing out some of the players who were past their prime, and oversaw the emergence of a generation of young talent like the Harrison sisters, Gemma Flynn and 2011 FIH young player of the year Stacey Michelsen.
This team, with an average age of just over 23, has belief and spirit. Most importantly, Hager has revolutionised the style and approach of the Black Sticks women, and the hockey world has noticed.
"They play a lot like Mark used to play," Argentine coach Carlos Retegui told the Herald on Sunday. "They have flair, skill and pace. New Zealand has become a very dangerous opponent."
"Four years ago, I didn't know [what] style New Zealand played," says Natascha Keller, Germany's flag bearer at these games and the most capped female player in history. "The last two or three years they play like the Australian girls. They are very fast, they run and and they make a lot of goals. We [have] noticed that they are not easy to play against now."
"They have grown a lot and made a big step," says Dutch star Naomi van As, who took gold in Beijing.
"They have become more attacking and their skills are much better than before."
That is the crux of the Hager makeover. He has built a speedy, super-fit team and put the emphasis on positive attacking hockey. He expects this team will peak in the next couple of years. Hager is loyal to his players but has been careful to create a competitive environment.
In December, Hager identified five players who were certainties for his London squad. A few days later he asked the Herald on Sunday if we could leave that part of the interview out of the story, as he didn't want anyone in his team getting complacent, thinking that they had already made it.
He also doesn't suffer fools, and is not afraid to read the riot act. At the end of the disappointing Champions Trophy campaign in Argentina earlier this year, he raised questions about the mental toughness of his team.
"We are not tough enough at the moment," Hager said. "We get in front, but we can't hold it and it is an issue we have to address going forward.
"Mental toughness comes from within. It comes from digging deep; the will to win, and win every one-on-one contest. At the moment we have players who do that, but I don't think collectively as a team we are doing it well enough. We'll have to dig deep when we get home and they'll be put through the wringer."
The former Australian striker, who scored a record 179 goals for his country, retains the ability to see what might unfold before most of the players. His halftime talks are incisive and passionate. He has also turned his players into students of the sport, with an increased focus on their foes.
"With [previous coaches], it was very planned and structured, but it was mostly about us," says veteran striker Krystal Forgesson. "Mark is very good at keeping up with what other teams are doing and we are always learning about them. He is always on our case about looking on YouTube and websites to follow what other teams are doing."
The New Zealand Herald
---

Women's hockey Magician out to do a Messi
Argentina's Luciana Aymar is to hockey what Diego Maradona is to football. Mike Hutchings / Reuters
Argentine hockey icon Luciana Aymar may be the only woman from Rosario to rival Lionel Messi's popularity, but the three-times world footballer of the year has something she wants: Olympic gold.
Aymar, who beat Messi to the 2010 Argentine sports personality of the year award, may have her last stab at Olympic gold on her 35th birthday, the day of the women's final at the London Games.
"I want to win the gold, it's the only medal I'm missing," said Aymar, who won hockey's player of the year award a record seven times. Whether she will even get the chance to play for the gold is another matter as Las Leonas (the Lionesses) have had an uninspiring start to the Olympics, Aymar's fourth.
Argentina lost 1-0 to the United States earlier this week in a physical match that they never quite found their way into.
A defeat to the Americans last year was written off as a slip-up, but the United States' win at the Olympics was no fluke.
Beating New Zealand put Argentina back on track but Group B of the tournament is set to go down to the last game, with two of six teams reaching the semi-finals.
Having announced she would retire from international hockey after the Games, Aymar does not know what comes next. She is seeing a psychologist, partly to prepare her for retirement.
"Hockey is the only thing that I know. I think about it but I don't know what exactly I'm going to do," she said. "Maybe I'll continue playing, just not internationally."
Argentina's flag bearer in London, Aymar has a hockey resume to envy with two World Championships, an Olympic silver and two bronze medals, and four of the last five Champions Trophy titles.
Coaches and players around the world say she is one of the few female players, possibly the only one right now, who can single-handedly turn a match.
"She's one of those players who could not touch the ball for 69 minutes and in the last minute they make something happen and that's why they're the best in the world," Lauren Crandall, the US captain, said. "Aymar is the best player in the world."
Germany coach Michael Behrmann said Aymar brought something special to the field.
"She can carry along her team and electrify spectators. Now we will see whether at the end of her career she will be able to do it again," he added.
Sometimes compared to football great Diego Maradona, Aymar's unmatched stick skills have earned her the nickname "The Magician". The technique that takes her past three or four players with ease looks natural, but she has worked hard and sacrificed much to get here.
Aged 13, Aymar would travel 300 kilometres by bus several times a week to Buenos Aires to train with the national junior squad.
Later she gave up her business administration studies to be able to train more. Anyone who falls below her standards of commitment and dedication to the sport could come under fire.
Earlier this year she made headlines when she chided Argentina's goalkeeper for getting pregnant ahead of the Games.
"She could have waited three months," she was quoted as telling an Argentine sports daily, though added she wished the player well.
Still, her teammates have only good words to say about her.
Martina Cavallero, 13 years her junior, was honoured to play alongside her captain.
"She's fantastic. She's the No 1," Cavallero said with a beaming smile.
"When I was young, I learnt hockey from watching her. I'm a lucky girl to play with her."
While some believe Aymar has the potential to break into television when she gives up the game - her boyfriend is an actor - others speculate she could become a coach although her trainer says he thinks that is unlikely.
Yet there is hope that women's hockey may not lose its leading light. Aymar said Beijing would be her last Games, but after the team crashed out in the semi-finals she had a rethink and decided to continue her quest for Olympic gold.
The National
---

Day 8 Olympic Preview - GB v Australia
Olympics 2012 GB v South Africa
GB men's fourth match of the Olympic Games is against world number one ranked side Australia.
Fixture: Great Britain v Australia
Date and time: 05/08/12 - 19.00
Location: Riverbank Arena
Watch live on BBC: Olympics 7 (red button for Sky, Virgin and Freesat)
World Rankings
Great Britain #4
Australia #1

Head to Head Record
Played: 47
Won: 5
Drawn: 13
Lost: 29
Goals For: 53
Goals Against: 116
Great Britain has played Australia 47 times but unfortunately has only ever come out victorious on 5 occasions. The last time GB beat the Kookaburras was at the 1988 Seoul Olympic Games, where GB impressively won the gold medal! In the last Olympics, Beijing 2008, the final score finished 3 – 3 with Barry Middleton, Rob Moore and Richard Mantell scoring – all who feature in the 18 man squad for this year's Olympic Games.  The most recent fixture between the two sides was in the Champions Trophy in May 2011, which GB lost 4 – 1.
Player to watch: Great Britain
Olympics 2012 Daly against Argentina
London 2012 will be Matt Daly's second Olympic Games having been part of the side who took fifth place in Beijing.  Matt has a prolific goal scoring ratio to international appearances with a total of 57 goals in 143 appearances. Since winning gold at the European Championships in 2009 Matt has been blighted with injuries which ruled him out of both the Commonwealth Games and World Cup in Delhi in 2010. Over the last 12 months he has spent more time off the pitch being treated than playing, but despite this, he still managed to score on his return to the GB squad at the Sultan Azlan Shah Cup in May. His commitment and dedication to battle through his injuries has since been further rewarded when he was deservedly announced in the 16 man squad for the London 2012 Olympic Games.
Players to watch: Australia
We asked the GB team who they consider the players to watch are:
Jamie Dwyer Australia
Name: Jamie Dwyer
Position: Attacking midfield
Dwyer has impressively been voted FIH World Player of the Year for the past three years and five times in total. He is a fast player, who has great vision and good all round stick skills. He has earned over 250 caps for Australia and scored over 150 goals. A superb talent.
Fergus Kavanagh Australia
Name: Fergus Kavanagh
Position: Defender
Kavanagh like Dwyer is a highly experienced player for Australia but deemed to be somewhat underrated. His composure on the ball and calm presence in defence is crucial to Australia's success. He was part of the team that won bronze in Beijing 2008 and gold at the Commonwealth Games in Delhi 2010. 
Great Britain Hockey media release
---
Kookaburras Face Host Nation in Epic Showdown
Flying commitment from Chris Ciriello. Image: Grant Treeby
The excitement is building for what is expected to be a thrilling game between Australia and Great Britian....It's an early one but you'd be crazy to miss it!
Game: August 6, LIVE 4am(AEST)
Australia v Great Britain
Players to watch: Jamie Dwyer, Mark Knowles, Nathan Burgers
The Kookaburras have reloaded and will need to fire in tomorrow's match when they take on host nation Great Britain in front of a packed stadium.
Australia had a scare against Argentina drawing 2-all and could have easily lost the match in the dying minutes but the wake-up call is sure to stir Coach Ric Charlesworth's men into action.
Last time the two teams met was this year at the London VISA International Invitational Tournament, a test event leading up to the Olympics where they played out a thrilling 3-all draw.
In that match Ashley Jackson scored with four minutes to go to the delight of the home crowd but perhaps the most telling statistic was that Great Britain scored each of its three short corners, while the Kookaburras reaped no reward from six.
Great Britain's goalie James Fair was also a stand out and is likely to once again be crucial to his team's chances of winning.
This outfit will be determined to impress in front of their fans and one can expect another thrilling game that should go down to the wire.
The last 12 months before the Olympics the Great Britain men train and play together but outside that the athletes reside at home at England, Wales and Scotland.
England are ranked number four in the world and confirmed they will play in the Champions Trophy that Australia will host in December this year.
Great Britain's captain Barry Middleton is his team's highest capped player with over 250 internationals under his belt and is also one of the most prolific goal scorers in the team.
Jackson and James Tindall will also be players to watch and will be desperate to finish in the medals after a fifth place finish in Beijing in 2008.
Australia will need to go in to the match all guns blazing and star players like Jamie Dwyer and Mark Knowles will need to fire.
Strikers Kieran Govers and Matt Gohdes are due for a score after both producing excellent shots on goal in previous matches.
It will be interesting to see how Australia's athletes respond in this sensational showdown!
Hockey Australia media release
---
Pakistan aim to humble South Africa with big margin today

By Muhammad Ali
LONDON: Pakistan are aiming for a big margin victory when they take on South Africa in their fourth Pool A match of the London Olympics 2012 Men's Field Hockey Tournament at Riverbank Arena, Olympic Park here on Sunday (today). Pakistan, who lost their crucial match against Britain 4-1 due to heroics of Ashley Jackson on Friday, are at third place in the points table.World champions Australia are leading the group with seven points from their three matches.
The heavy defeat against Britain does not quite end the greenshirts hopes of a top-four finish, but if they continue with the kind of play that they displayed against the hosts then the scenario for them is not really heartening. To stay in contention, it is mandatory for Pakistan to win the South Africa encounter, if possible with a good margin to make up on one-minus in goal aggregate. Pakistan opened their campaign at the Olympics with a 1-1 draw against Spain followed by a 2-0 win over Argentina. One is nonplussed as to why there was no game plan in the crunch game against Britain. What the team coaches were doing? It was rather strange that after two decent games, the greenshirts were found quite mournfully inadequate when actually they should've had their tails up. When you play top teams you have to adapt and see which pattern works, but against Britain there seemed no game plan or strategy.
Coach Khawaja Muhammad Junaid asserted on Saturday that his team had a game-plan to overpower Britain in their crucial match. "Britain had the home ground advantage and our team came under pressure when our opponents scored the first goal," Junaid told Daily Times. But the game plan was chucked into the dustbin. Even after playing international hockey for so many years, the professional greenshirts can still come 'under pressure' is a lame excuse. Junaid added that Britain had sixty percent chances of winning against Pakistan. "We have a plan to beat South Africa with good margin to keep our hopes alive for a semi-final berth. If our strategy clicks we will get positive result in this game to enter the medals race."
Pakistan were beaten well and truly by the hosts. But the event is not over yet. A similar show against South Africa could be disastrous. The main concern remains the utilisation of opportunities. A lot will depend on how the greenshirts cash in on their chances. They had several goal-scoring chances against Spain, Argentina and Britain, which were missed. Therefore, they have to improve in this area and take full advantage of chances they get in the coming games. Pakistan are still way behind the top quality teams. May be we are not good enough yet to get a medal, but at least we can play well and to our strengths. Pakistan must go into their next match in high spirits and go for the win by playing attacking hockey. If Pakistan are to able to defeat South Africa today, then they can also surprise Australia like Argentina. One should always hope for the best.
Today's matches:
1:New Zealand vs Belgium (12:30 pm PST)
2: Pakistan vs South Africa (02:45 pm PST)
3: India vs South Korea (05:45 pm PST)
4: Netherlands vs Germany (08:00 pm PST)
5: Britain vs Australia (11:00 pm PST)
6: Argentina vs Spain (01:15 am PST)
The Daily Times
---

'Pakistan have to be fearless now'

Salman Akbar
The term 'out of sorts' could best describe Pakistan's performance against Great Britain. -Photo by AFP
Salman Akbar is a veteran goal-keeper who made his debut for Pakistan's hockey team in 2001. Termed by Olympian Shahid Ali Khan as one of the most hard-working players in the game, Akbar has won the 2005 Rabo Trophy and the 2010 Asian Games gold medal with Pakistan. He was adjudged the 'best keeper' in both events. Here, he reviews Pakistan's performance against Great Britain and previews the next match against South Africa on Sunday.
Much like every Pakistani who got their hopes high after a great start by the Greenshirts at the London Olympics, the result against Great Britain (GBR) has left me thoroughly disappointed. But all is not lost and Pakistan can still make it to the semis, provided they put in that extra effort. The fans should stand together with the team at this crucial stage.
Humbled by the hosts
Pakistan were looking sharp as the two teams stood together for their respective national anthems. But when play began it was a completely different story. The term 'out of sorts' could best describe Pakistan's performance.
GB got onto the score sheet just after four minutes of play through James Tindal as Pakistan failed to get out of the blocks for a good 10-15 minutes before they settled somewhat. After that they managed to hold possession and make plays but their efforts came to nothing when, against the run, Jonty Clarke scored the second goal in 26th minute. Pakistan created some chances of their own but went into half-time with nothing to show.
They were not as sharp as they were in the first two games – average in counter control and the defense was very static. They were ball-watching on several occasions, which put them under tremendous stress. In the second-half, Pakistan played much better and created penalty corners (PCs). The first one came when the scoreline was 2-0, and the game could've changed there and then. But captain Sohail Abbas failed to convert three in a row which came one after the other. This can be put down to a lack of planning and communication from the bench because, ideally, an indirect variation was required after the first miss. After that Pakistan failed to stop GBR's incursion and they scored two more goals from PCs through Ashley Jackson in the 50th and 67th minute. It can be safely said that all departments were not up to the mark. Penalty corner defense, which was really good in the past matches, was very average as was the goal-keeping from Imran Shah. There was no connection between the midfield and strikers. Pakistan scored their only goal in the 70th minute through Abbas' low shot on a PC. There were no movements from the front line, which meant the defenders were under constant pressure and the midfielders were unable to build up the attack. When they could, the midfielders were not delivering the ball quickly enough. Unity and discipline were clearly lacking.
A much bigger effort was required from Pakistan's goalkeeper but he also failed to deliver. It was a coaching error, as they should have implemented a different, better plan after half-time. But they failed to read the situation. Even when goal-scoring opportunities presented themselves, the Greenshirts were found wanting. They failed to counter GBR's PC defense and should definitely have employed indirect variations. GBR's goal-keeper James Fair stopped PCs with much more confidence which eventually spurred his team on to score two more goals in the second-half.
The junior-most player in the Pakistan side has been with the team for the last one and a half year so I don't think this team is an inexperienced squad by any stretch. All these players need to step up to plate now and should not rely on the performances of the big names alone. One positive from this match was the tireless attitude of the Pakistani players which should serve them well in the coming games.
Coping with South Africa's variation
They are ranked 12th in the world but they have a great fighting spirit. They don't have big names but play well as a team and don't give up even after conceding goals. South Africa have enjoyed a good run against Pakistan in the recent past, most notably when they beat us in the 2010 World Cup and then in the Commonwealth Games the same year. They have in their ranks, Justin Reid-Ross and their captain Smith, who make a very good PC attack. They are particularly good with indirect variations on the top of the circle so Pakistan should come with a solid plan and keep changing their running formation on corner defense. South Africa try to build up the game from their right side and play long balls on the line. Their strikers employ a lot of horizontal switches to receive the ball on the flank. Their captain is their main player in the build up and should be the one constantly marked. They don't force the attack from the center and enter the circle from the flanks and use the base line well.
One area where Pakistan can really make them pay is their defense. They tend to freeze on odd occasion and normally run in a 3-1 formation on PCs but sometimes change it to a 2-2. High balls from Justin Reid-Ross should be taken seriously.
Make room to attack
Pakistan should play an attacking game from the very first minute. They should not wait for the opportunities, rather make the opportunities. Pakistan should play this game with confidence but not underestimate their opponents. South Africa has looked decent in London so far and the fact that they have beaten Pakistan twice should give Sohail Abbas' men no room for complacency. South Africa's defense is weak on its left side so the game plan for Pakistan should be pretty obvious. Quick restart on free hits will be very effective against them and will help create PCs also.
Pakistan must plan the PC and defense well. The defenders need to particularly look out for the horizontal switch and high balls, which is likely to be a pattern from South Africa. Goal keeper Imran Shah should communicate with defenders to make sure that Pakistan is effective with its counter control and should also adjust the defenders in the right positions.
Pakistan's strikers really need to make themselves counted now. So far the Greenshirts have scored just one field goal. They cannot keep running the same line and should create off the ball movement and some switches to make space which will ultimately help the midfield and the defense. Once this happens the defenders and midfielders can build up play and South Africa will no doubt be left wanting.
Spirited teamwork essential
The midfielders have an important role and they should join the attack rather than just acting as a barrier for the attacking South Africans. Pakistan should play high speed, pressing hockey and get on the score sheet early. Even when that is achieved they should not sit back and, ideally, try to go for more goals and force the opponents to change their plan. This is will surely create more space for Pakistan to exploit the weak South African defense.
Shakeel Abbasi should be playing as right midfield with Fareed Ahmed on the left and Rizwan (Sr) should be placed as a left striker.  Muhammad Touseeq has not been seen in action in the last two games and he should be used to give rest to some players in the midfield. Touseeq is very talented and can be used anywhere in the midfield.
Muhammd Imran should be used deep in defense and Sohail can be placed on the right-half position with Rizwan (Jr) as his replacement. Pakistan have to show good teamwork in the remaining matches and if they try to change the game individually, then the results will be for the worst. Imran Shah should give solid support to the team which will boost the confidence of the rest of the team and they will play with less fear and display more aggressive intent.
Pakistan should put the match against GBR behind them and enter the field with a new spirit and passion. They must tell themselves that they can still make it to the semis and rest assured, the whole nation is praying for a Pakistan win.
Players to watch
Waseem Ahmed, Muhammad Irfan and Rizwan (Sr).
Dawn
---
Let the best team win

By A. Majid Khan
Australia and Spain from Pool A while Germany and Netherlands from Pool B are considered strong favourites to qualify for the semi-finals. -Photo by AP
The Pakistan hockey team is once again making the effort to regain the Olympic hockey gold which it had won 28 years ago for the third and last time in 1984 Los Angles Games.
However, chances look bleak, given its recent performances. Also, it doesn't help that Pakistan hockey could not even win a bronze medal in Olympics in the past 16 years.
The last bronze we brought home was from the Barcelona Games in 1992.
Pakistan is bracketed in the six-team Pool A with world champions Australia, Beijing Olympic silver medallist Spain, host England, Sultan Azlan Shah Cup runners-up Argentina and South Africa. The Pool B consists of Olympic champions Germany, The Netherlands, India, Belgium, Azlan Shah Cup winners New Zealand and South Korea. The top two teams on the points table will qualify for the semi-finals Pakistan, currently ranked eighth, faces an arduous task to qualify for the semi-finals. Matches against Spain and formidable Australia as well as against hosts Britain, against whom Pakistan lost in Malaysia, would be tough and require an outstanding performance for an upset victory that appears beyond its potential. By the time this article is published Pakistan's matches against Spain, Argentina and Great Britain would have already been played. Although we stand a better chance of beating South Africa, we have to win three matches to cement a place in the semi-finals, provided there are no surprises in this pool.
Prediction is a risky business, but Australia and Spain from Pool A while Germany and Netherlands from Pool B are considered strong favourites to qualify for the semi-finals. Given that there are no upsets, the likeliest finalist can be defending champions Germany against either Australia or Spain. However, one cannot say with any amount of certainty as to who would be London hockey gold medallist.
Pakistan's hockey team may have given patchy performances after the dismissal of the Dutch coach Michel van den Heuvel barely three months before the London Olympics but the national squad, led by penalty corner specialist Sohail Abbas, who holds world record of scoring 345 goals, has been strengthened with the inclusion of Olympians Rehan Butt, Shakeel Abbasi (both forwards), left half Waseem Ahmed and fullback Mohammad Imran. All of them had captained Pakistan teams without any notable achievements.
According to the management the team is a combination of seasoned players and talented juniors and the squad is capable of overcoming challenges. The team has entered the Olympics with all the preparations needed for the event. The players had their last camp in the high altitudes of Abbottabad for its training and for improving its level of fitness that is of paramount importance.
The inclusion of seasoned Olympians bear testimony to the fact that the much publicised junior players failed to come up to the expectation of the Pakistan Hockey Federation (PHF) which had spent huge amount of public money in the build up of Olympic team despite the fact that the juniors have been given hard training and enough exposure. But their failure in Malaysia was a very disturbing factor both for the selection committee of which former Olympian Hanif Khan is the chairman and the team management is headed by former Pakistan captain Akhtar Rasool who is also the chief coach.
Whether the Olympians whose performances in the major tournaments for the past one decade had not been a matter of satisfaction would be able to give better show in London Olympic is a big question mark. They may not have the strength to withstand the pressure of the top flight hockey on the fast Blue Turf being used for the first time.
Dawn
---
Rome Olympics — Pakistan's glory and the gold

Qamar Ahmed
IN and around London, the buzz is all about Olympics. Even at Headingley as the second Test between England and South Africa moves on at a snail-pace, the thoughts of the mediamen and that of the crowd are lot more focused on the winners and losers of the medals that are on offer for various events at the Games.
At various intervals in the ground here, I constantly heard a huge roar or a cheer from the crowd, though there was no boundary scored by century-maker Alviro Petersen. And that is when everyone of us in the press box realised that Great Britain has bagged another medal.
Though Pakistan's campaign to get amongst the medal winners continues, their only hope hockey suffered a 1-4 drubbing at the hands of hosts Great Britain on Friday, which also dented their chances of making the podium now. Hockey is our national game and continues to enjoy the same status despite having suffered greatly due to the politics in the ranks of its governing body, the PHF, and the team's many poor performances in recent times.
Miracles, however, do happen but I loathe to say that the present-day hockey in Pakistan is not up to it at all.
Having said that, we all are really proud of our glorious past in the game and what Pakistan achieved when they bagged their first gold in the 1960 Rome Olympics by beating India in the final — thus ending the arch-rival's run of six successive gold medals at the Olympic Games.
Pakistan had been taking part in Olympics since the 1948 London Games and for the first time bagged a silver in the 1956 Games at Melbourne. But before the 1960 Olympics, they did get a huge boost by winning gold in the 1958 Asian Games in Tokyo.
Hockey was played on grass then and the skills and technique differed a lot than the modern-day game with changed rules and artificial surfaces of various colours.
Pakistan hockey team, led by Abdul Hameed Hamidi — a military man and brilliant player all round — however won the hearts of the whole nation when they won the Rome Olympics gold.
The Green-shirts were brilliant on the field as they beat Australia 3-0, Poland 8-0 and Japan 10-0 to reach the quarter-finals.
Bashir Ahmed, who had replaced Munir Dar as a substitute, played superbly in the quarter-final against West Germany. A fantastic goal by forward Abdul Waheed Khan put Pakistan ahead but the Germans equalised. In the end, however, Ahmed Naseer Bunda netted a much-needed winner.
In the semi-final, Pakistan had a 1-0 win over Spain when Manzoor Atif, another military man, converted a corner. Hamidi was as brilliant. Of broad and strong shoulders, Hamidi excelled in the field saving a penalty bully.
India, led by the Anglo-Indian wizard Leslie Claudius, were confident enough to once again prove their supremacy in field hockey but were stunned in the end by a match-winning goal from the diminutive Naseer Bunda in the end as Pakistan clinched its first gold in the Olympics.
Bunda was his nickname and he belonged to Rawalpindi. A deft dribbler and a foxy little character, left-in Bunda was waiting for the opportunity to bring glory for his country.
Right-in Hamidi had passed the ball to Nur Alam, the right-out, who in a flash and with a brief run hit the ball in the direction of the ever alert Bunda who dodged one to flick the ball on the left of the net to uncrown India.
I remember well the stalwarts who comprised that Pakistan team including Anwar Khan, the legendary defender, Ghulam Rasool Chaudhry, father of the present coach Akhtar Rasool, and Habib Kiddie, not forgetting the great Abdul Waheed Khan — the finest centre forward of his time who scored six goals in the competition. Hamidi scored nine and Bunda five.
Pakistan's dominance can be gauged from the fact that they scored 25 goals in the games and conceded only one.
They were given a heroes welcome upon their return. Hamidi though retired after four Olympics, the others continued to bring Pakistan laurels in the game.
I watched for the first time the Olympic gold winning team at my hometown in Hyderabad when they came to play an exhibition match.
All eyes were on Bunda, the Rome hero who received the greatest applause from the crowd. He was hailed similarly, no matter where he played in Pakistan, as the team toured the country.
Those were the days. The more I think of it the more I rejoice to have seen the greats of Pakistan hockey and its legendary figures.
Dawn
---
"Don't be content just being Olympians", Nobbs tell his players

Reet Oberoi
"Are you content just being the Olympians?" asked Michael Nobbs moments after India's loss to Germany in the Olympic Games Group B event. The question was directed to his players, who had lost their third game in a row.
India's show in the London Games has been pathetic so far, and the team will have to punch above their weight if they are to avoid the wooden spoon in the quadrennial event. The nation has waited for eight years to see an Indian team at the Olympics, but it has been more heartbreak than before.
Nobbs, who has advocated attacking hockey in the past one year, is now at a loss to understand what is going wrong. "I don't really understand why we are playing like this. We are only doing well in the second halves.
"I asked the boys after the game yesterday. Are you up for the challenge, or are you all only happy getting the Olympian tag? It seems they do not have the stomach to fight, the character to overcome challenges and the mental ability to survive against the best," Nobbs said.
"The only area we are good at at the moment is skills, but the rest seems lacking. It is a test of character and the players will need to show that they are up for it."
India's display at the Olympic Games has also brought under the scanner Nobbs' role as a coach. The Australian has backed the attacking style of play since his induction last year, but what has transpired on the field is far from it. In fact, India are struggling in both attack and defence, and working around a gameplan appears a thing of the past.
Asked to assess his own form as a coach, Nobbs said "it was a work in progress". "We have put in a lot of hard work in the last year, and the results are not showing immediately.
I was not expecting a 2-5 margin against Germany and it shows we are way behind," the coach said.
India's trouble does not end here. The team management is clueless on the way ahead. With two matches to go, solutions don't seem forthcoming. The two-goalkeeper theory has left them short on a player, while the form of some senior players is also hurting the team.
"I am frustrated and very annoyed," said Nobbs. "We started 11 months ago and the patterns aren't showing on the field. It is a question of playing with a lot of heart and showing it on the field. Mentally, we will have to go several notches up to match the rest.
"We need really committed players, like Sardar Singh. He is the bar, a complete modern player and he never complains. He is where the rest have to be.
"I have thrown the boys a challenge today and asked them to show the hard work put in so far on the field. I am hoping they will take it up and prove me wrong."
Stick2Hockey.com
---
Nobbs enraged at Indian players' lack of commitment
Indian coach Michael Nobbs with the players during a training session. File photo
India's hockey coach Michael Nobbs is furious at the lack of commitment shown by his players in the first three games at the London Games and said there were some players in the team who are just happy to be Olympians.
India has suffered defeats in all three matches they played in Group B so far and are already out of the reckoning for a place in the semifinals of the men's hockey competition.
"We've got some players out there just wanting to be Olympians, but international hockey demands heart for a fight," Nobbs said as India brace for their next game against Asian opponents South Korea on Sunday.
"The national team needs players who show the character to take up a challenge and are willing to commit their heart and body for the country's prestige," said the Australian, who was seen singing India's national anthem before the match against Germany on Friday.
Nobbs has strictly asked the players to make a decision whether they were willing to make that commitment to the nation and the team.
"The players need to make a decision whether they are satisfied just to be Olympians and return home, or are they willing to be tough and make that commitment for the team's cause," he said.
"If you are happy to go home having just turned up at the Olympic Games, the team cannot expect much from you," said Nobbs, who was a teammate of present Australia coach Ric Charlesworth in the 1980s.
"I come from a sporting culture where players are willing to line up their coffins on the side of the pitch. That's their pride in representing the country."
The coach said until and unless the players take up challenges, Indian hockey will continue to suffer.
"Only the good players take up challenges. If these Indian players take up the challenge, they can improve," he said.
"But that needs absolute commitment forgetting about injuries and the stuff."
Nobbs said the Indian players were not showing the attitude of winners.
"Every champion and every team goes through defining moments against the odds. There are no excuses when you are on the pitch," he said.
"We need players who have attitudes of winners. Otherwise they are a waste of time where the team is concerned," he asserted.
"I am not going to pander to egos. That's not what I am with the team for. I want absolute success for the boys. They have worked hard and given their blood and sweat to be here.
What I find surprising is the way they go soft when engaged in hard encounters," Nobbs added.
Nobbs acknowledged that Indian players were not physically tough enough.
"We're not tough, but it is a matter of self confidence. We have talent but need to be mentally tough, and that comes from performing under pressure," he said.
Looking to salvage some pride from the ongoing Olympic campaign, India will need to produce an improved show in tomorrow's match against South Korea, who started with a 2-0 victory over New Zealand, but have lost two matches thereafter.
The Hindu
---
Declare Hockey as national game, urges Shivraj Chouhan

Mahim Pratap Singh
Surprised that hockey was not officially recognized as India's national game, Chief Mnister Shivraj Singh Chouhan has urged the centre to accord the game the status of national game.
In a letter to union sports minister Ajay Maken, Mr. Chouhan said he was surprised to read in newspapers that the Central Government had not given hockey the status of national game.
"The central government has disappointed crores of hockey lovers by...not giving the status of National Game to hockey, which has a glorious history. Efforts are needed to lift hockey from the neglected state of affairs witnessed during last several years so that it can regain its past glory," Mr. Chouhan wrote.
A recent Right to Information query by a class VII student to the sports ministry had the ministry revealing that India had 'no national game'.
In popular imagination as well as school texts, however, hockey has been perceived as a national game and generations of Indians have grown up believing it was so.
"Hockey is not a game, but the symbol of our pride and glory. India has been pioneer in hockey in the world," the Chief Minister wrote.
An avid sports fan, Mr. Chouhan is particularly fond of hockey and wears his love for the game on his sleeve.
Earlier this year, Mr. Chouhan also announced the setting up of a museum in the memory of hockey legend Dhyan Chand.
He had also recently initiated a debate by saying Dhyan Chand deserved a "Bharat Ratna" before Sachin Tendulkar.
As the CM, he has consistently made efforts to promote the game in the state.
Over the last few years, the state government has provided economic assistance worth Rs.1.73 crore to promote hockey in Madhya Pradesh.
Further, an assistance of Rs. one lakh each has also been provided to senior Olympians and international hockey players hailing from the state.
The Madhya Pradesh government has also established a women's hockey academy at Gwalior and a men's hockey academy at Bhopal, besides having hockey astro-trufs installed at various stadia in Bhopal, Gwalior and Seoni.
The Hindu
---
Bain`s hat-trick against Austria
Kenny Bain, the former Glynhill Kelburne striker who now plays for Dutch first division side Hurley, scored a hat-trick in Scotland`s 3-3 draw with Austria in Poznan, the next stage in the build-up for the first round of the World League in Portugal at the end of next month.
"We had plenty of chances to win, but paid the penalty of being dragged down to their level, we were unable to kill them off when we had the chance," said Eugene Connolly, Scotland`s manager.
The Scots took the lead in 12 minutes, the build-up came from Fergus Dunn and Kenny Bain, the latter finished off the move with a low shot past the goalkeeper from the top of the circle.  The Austrians equalised but Scotland took a 2-1 lead just on the interval, a pass from Russell Anderson found the unmarked Bain in the circle and he dispatched a low shot into the net.
The Scots seemed to have sealed the victory when an excellent free hit by Willie Marshall by-passed the Austrian defence and Bain notched his third with a simple tap-in. 
The Austrians were allowed back into the contest and brought the score back to 3-3.   The Scots had their chances at the close, another Bain shot was saved by the keeper and Gordon McIntyre had a golden chance but unfortunately missed the ball, and an overtime penalty corner came to nothing.
Scottish Hockey Union media release
---
Petrotrin drills Dames, regain hockey lead
Four different players were on target as defending champions Petrotrin whipped Notre Dame 4-1 to regain top spot in the T&T Hockey Board Men's Championship Division at the National Hockey Centre, Tacarigua, on Friday night. However, it did not looked too convincing early on as it was the Dames who took a shock 1-0 lead via Akil Nancoo, before Wayne Legerton tied up the score for both teams to go in 1-1 at the end of the first 35-minute half. On the resumption, it was all Petrotrin as it added three more goals via national trio, Tristan Grant, Dwain Quan Chan and Atiba Whittington to complete the come-from-behind victory which pushed its points tally to 30 from 12 matches, the same as Paragon which has only one match left to the reigning's champs, two. The Oilmen also have a superior goal-difference of plus-40 to Paragon's plus-34 while Queen's Park and Defence Force are next with 24 points each from 13 and 11 matches respectively.
In the lone Women's Championship Division match, Shandy Carib Magnolias kept its slim hopes of lifting the title alive when it gathered three points without breaking a sweat after scheduled opponents, Defence Force failed to show for their 7 pm meeting. Magnolias default win improved its points total to 18 in fifth spot from ten matches, ten adrift of leader Notre Dame which has played a match more. Defending champion Malvern in third with 23 points from 12 matches while fourth placed Harvard Maritime Checkers has 19 from ten matches. Today, two Championship Division matches are scheduled with Ventures versus Magnolias from 4.30pm while Malvern and Notre Dame men tangle from 6pm. (NS)
Results Friday
Men's Championship
Petrotrin 4 (Atiba WHittington, Tristan Grant, Dwain Quan Chan, Wayne Legeron) vs Notre Dame 1 (Akil Nancoo)
Women's Championship
SC Magnolias 3 vs Defence Force 0 - By Default.
Standings
Men's Championship
Teams P W D L F A Pts
Petrotrin 12 10 0 2 62 22 30
Paragon 13 10 0 3 57 23 30
QPCC 13 8 0 5 59 35 24
D/Force 11 8 0 3 33 22 24
Notre Dame 12 5 1 6 22 29 16
Fatima 11 2 1 8 33 58 7
Paradise 12 1 3 8 19 69 6
Malvern 12 1 1 10 16 46 4
Women's Championship
Notre Dame 11 9 1 1 48 10 28
Malvern 12 7 2 3 37 23 23
Paragon 11 7 1 3 34 14 22
Checkers 10 6 1 3 16 7 19
Magnolias 10 5 3 2 26 13 18
Ventures 11 3 1 7 19 30 10
D/Force 9 1 0 8 4 39 3
Paradise 12 0 1 11 4 46 1
The Trinidad Guardian