All the news for Tuesday 7 August 2012

London 2012 Olympic Games - Hockey Competition Results

Monday 6 August 2012

Pool Time Match Result

B 08:30 New Zealand vs. Germany 0-0
B 10:45 USA vs. South Africa 0-7
A 13.45 Japan vs. China 1-0
A 16:00 Korea vs. Belgium 3-1
A 19:00 Great Britain vs. Netherlands 1-2
B 21.15 Argentina vs. Australia 0-0


---

New Zealand reach first ever Olympic semi-final

Goal-less draw enough for kiwis to knock out Germany; Argentina finish top of Pool A after a lacklustre goalless tie against Australia; South Africa smash USA



2012 Olympic Games (women), London (Photo: Frank Uijlenbroek)

New Zealand vs Germany 0-0 (half-time: 0-0)

Stephen Findlater

New Zealand reached the semi-finals of the women's Olympic Games for the first time as they got the draw they needed to qualify in the top two. In the process, they eliminated Germany who will end Pool B in a disappointing fourth place. It was a tie that ebbed and flowed with the kiwis looking to get an early lead to ease their nerves while the Germans took the initiative for much of the middle periods as they needed a big win to have any chance of progressing.

But goals never came despite a glut of chances as Yvonne Frank and Bianca Russell had huge games between the posts. Early on, Charlotte Harrison had a golden chance inside 30 seconds but only found the outside of the post from Anita Punt's pullback. Katie Glynn was also set free one-on-one but Yvonne Frank timed her dive superbly to nudge the ball away. Harrison's follow-up went dangerous as the kiwis were unable to capitalise despite being well on top.

Germany came back into the tie, winning a couple of corners while Lisa Hahn, Christina Schuetze, Maeke Stoeckel were all denied by Bianca Russell before the half's main talking point. Two minutes before half-time, Stoeckel felt she had broken the deadlock, claiming a touch to Mandy Haase's crash ball that whizzed into the backboard. The video replay, however, was inconclusive and so no decision possible, leading to a free out.

New Zealand continued to live on their wits in the second half as somehow Celine Wilde's volley went over from less than a metre out from a Keller punt at goal. Krystal Forgesson's arrowed cross was almost turned home by Glynn but for Frank's excellent stop before Russell denied Kristina Hillmann and Marie Maevers – in her 50th international.

Julia Mueller had the ball in the net once again from a corner but it was once again disallowed for being too high – a hopeful referral once again went against the Germans. And as the goal-rush failed to materialise, German efforts became more ragged and less threatening, allowing the kiwis to play out time with few more worries in the closing phases, securing an historic result.

For more info on NZL vs GER, click here

Argentina vs. Australia: 0-0 (half-time: 0-0)

Yan Huckendubler

Unlike the last match of Pool A, where both teams were already qualified for the semi-finals and playing for position, only a win would qualify Australia in this last match of Pool B, any other result would qualify Argentina for the semi-finals.

Australia were threatening in the opening minutes, Emily Smith had an early chance on a ball stolen by Megan Rivers but the pass arrived slightly behind her. Both teams were playing cautiously in the first twenty minutes, avoiding taking any risk in defense. Play was somewhat scrappy and the numerous Australian and Argentinean fans in the stands had little opportunity for excitement.

Luciana Aymar tried to shake the proceedings with some of her trademark long runs, and Argentina was awarded a penalty-corner on a rough tackle by Anna Flanagan. They tried an option but the hit was well handled by Toni Cronk in the Australian goal. A few minutes later, Aymar ran away from the Australian defense but pushed the ball just a little too far to unleash a shot.

Half-time was reached on a goalless score, a worrying situation for the Australian team. Argentina started second period at full speed and thought that they had scored on a goalmouth scramble but Anna Flanagan managed a desperate save on a line to push away the danger. Argentina seemed to have decided that the best defense was the attack and maintained a sustained pressure on the Australian team, but there were no real threats for Toni Cronk.

At the tail end of swift counter-attack between Luciana Aymar and Carla Rebecchi, Rocio Sanchez Moccia forced a penalty-corner, but Cronk was again up to the task on Noel Barrionuevo's low flick. With time running out, Australia had a desperate surge to score the precious goal they needed but somehow could not manage to threaten Florencia Mutio in the Argentinean goal, even after replacing their goal-keeper with an extra field-player with 4 minutes to go and Argentinean Sofia Maccari received a green card.

Soon the Argentinean fans were singing in the stands, while the Australian players were left bitterly disappointed. With the 0-0 tie, Argentina finish on top of pool A with the same number of point as New Zealand, but a better goal difference (+8 against +4), leaving Australia at the door of the semi-final.

For more information on KOR v BEL, click here.

USA 0 South Africa 7 (half-time: 0-4)

Stephen Findlater

South Africa ran riot in their final group game to lift themselves off the basement and into the ninth place play-off, getting the big win they needed to leap-frog USA. Initially, their target was a five-goal win and they were virtually there by half-time. Tarryn Bright got them on the board in the 14th minute and they never looked back, the first time South Africa had scored at corner time in the tournament.

Further goals from Lesle-Ann George, Jen Wilson and Pietee Coetzee made it 4-0 at the break. Bright nabbed her second early, mopping up from Damons' initial shot while Dirkie Chamberlain tapped in a corner rebound fro number six. Coetzee's second – and her 248th in her international career – from another corner completed the rout on a miserable morning for the US with the Africans had their first win of the campaign.

South Africa go into Wednesday's playoff for ninth place, defying their rankas the tournament's lowest seeds, while the USA are back in action on Friday as they bid to avoid the wooden spoon.

For more info on USA vs RSA, click here

FIH site


---

Japan hand hosts present with China win

Komazawa strike sees Britain through to semis despite loss to The Netherlands; fighting Belgium lose to Korea



2012 Olympic Games (women), London (Photo: Grant Treeby)

Japan vs China 1-0 (half-time: 0-0)

Stephen Findlater

Rika Komazawa's scrambled effort 16 minutes from time ultimately handed Great Britain the second semi-final berth from Pool A, ending China's hopes of reaching the final four. It was the only goal of a tight-knit, arm-wrestle in which defence was on top as the thronged Riverbank Arena became Japan fans for a day, hoping they could do GB a favour.

In the first period, Kaori Fujio was Japan's creative spark, twice firing in testers for Zhang Yimeng to deal with while Fu Baorong led the Chinese charge. She won the only corner of the half, one that Ma Yibo saw blocked by Sakiyo Asano. Similarly, she denied Jiaojiao De with just two seconds to go in the half to keep the game in the balance at the break.

The early impressions from the second half were that the tie would open up as Fujio won her side's first corner inside 20 seconds of the restart while Zhao Yudiao drew another stop from Asano. But Japan slowly ground the Chinese down, camping in the 25 for long periods. And they finally got their reward from their third corner of the game. The initial shot took two ricochets before deceiving Zhang and Komazawa was waiting on the back post to score. The crowd erupted and they managed to play out the closing phases without too many scares.

The win lifts them temporarily to fourth in the table but they await the results from Belgium and Korea's game to determine which playoff game they will play in. For China, they end the group third and play again on Friday for either fifth or sixth.

For more information on JPN vs CHN, click here

Great Britain vs. The Netherlands: 1-2 (half-time: 1-0)

Yan Huckendubler

After Japan's win over China earlier in the day, both teams were already qualified for the semi-finals and playing for 1st and 2nd place in Pool A.

The match started in a fiery atmosphere in a Riverbank Arena full to capacity, with the Dutch fans valiantly trying to compete with the mainly British crowd. The Netherlands had most of the early ball possession and Kim Lammers inherited a ball in the circle on a free hit quickly taken, but she was promptly overwhelmed by the defenders.

Play became more balanced and very intense, neither team holding back their punches. On a decisive play from Naomi van As entering the circle on the right, The Netherlands earned a penalty-corner but their complicated option uncharacteristically fizzled. Van As was running the show in midfield, however the British defense was holding tight, anchored by Kate Walsh, playing despite the broken jaw suffered earlier in the competition.

Great Britain progressed mainly with counter-attacks but were rarely threatening the Dutch circle. They however earned a penalty-corner on one of their rare circle incursions and Crista Cullen slammed it in goal, triggering a massive roar from the crowd. The Netherlands had a penalty-corner of their own in the next breath. They did not go for the fancy option this time, but Beth Storry in the British goal made a superb stick save on Maartje Paumen's low flick. Great Britain had the momentum going into the break, with a tenuous, but precious one-goal lead.

The Netherlands were immediately dangerous in second period, Kitty van Male setting up Kim Lammers arriving at full speed at the top of the circle but she was covered by Beth Storry rushing very fast out of her goal. Faced with a flurry of Dutch attacks, Great Britain maintained their defensive structure but had to concede another penalty-corner in the 43rd minute. Maartje Paumen aimed for the post where Naomi van As was on hand to slam the ball in goal for the equalizer.

The Netherlands maintained their pressure and increased their lead half way through the period by Kitty van Male, deflecting in goal a superb pass from Maartje Goderie who had work hard in the circle to elude three defenders. The Dutch were back in a more familiar territory, ahead on the scoreboard and controlling play. They showed all their experience in the final ten minutes, smothering all the more and more desperate British attempts while the Dutch fans in the crowd boldly outsang their British counterparts. The Netherlands nearly scored in the final minute, on a counter-attack that started innocuously then swept the whole pitch with 6 or 7 players touching the ball.

With the win, The Netherlands finish unbeaten in five matches in Pool A, while Great Britain take second place of the group and will play the winner of Pool B in semi-final.

For more information on GBR v NED, click here.

Korea vs. Belgium: 3-1 (half-time: 2-0)

Yan Huckendubler

Belgium fought hard and to the bitter end, but could not avoid a defeat to Korea that condemned them to the bottom place in Pool A.

Both Korea and Belgium were already out of semi-final contention and playing for the far less motivating objective of avoiding the wooden spoon in Pool A. The match started on a slow pace and it took a while for the crowd to get something to be excited about. Korea had two penalty-corners in the first ten minutes, but Cheon Seul Ki misfired the first and their option on the second fizzled.

In the 10th minute, Park Mi Hyun progressed on the right of the circle, attracting the Belgian defense. Kim Jong Eun was left unmarked and she had no problem beating from close range Aisling D'Hoogue in the Belgian goal to open the scoring. The Belgian players seemed unhappy about the play and Stephanie de Groof picked up a green card for her arguing.

Korea had most of the ball possession and a few chances on open plays and penalty-corners, but it is only in the 25th minute that Lee Seon Ok increased their lead on another penalty-corner earned after a desperate clearance by the Belgian defenders. Belgium had a few quick counter-attacks, including one by Charlotte de Vos running 50 meters with the ball amid defenders, but they could never really threaten the Korean defensive block.

Belgium were quick off the block when returning from the half-time break and it took them less than two minutes to reduce the gap by Erica Coppey. They earned a penalty-corner soon after but could not make use of it. The crowd however had now something to cheer for and started to loudly encourage the Belgian players in their quest for the equalizer.

Jill Boon had a good chance after beating Korean goal-keeper Jang Soo Ji one-on-one, but could not turn quick enough to adjust her shot on goal, and Charlotte de Vos also created havoc a few times in the Korean defense. Korea reacted to protect their lead and Belgian goalkeeper Aisling D'Hoogue was called into action a few times, including on a spectacular intervention at the top of the circle against a forward arriving alone with no defender in sight.

Belgium were determined to get the equalizer and kept pushing. They however soon ran out of time and tried replacing their goal-keeper with an additional field player with 3 minutes left in the match. Charlotte de Vos earned a penalty-corner with one minute to go but they could not convert it and, on the counter-attack, Kim Jong Eun scored in the empty Belgian net to put the contest out of doubt.

The win pushed Korea to the 4th place in Pool B. They will play for 7th-8th on Wednesday, while Belgium ended in 6th place in the group and will play for 11th-12th position on Friday.

For more information on KOR v BEL, click here.

FIH site


---

Black Sticks Women through to semi-finals

The Black Sticks Women made history today by reaching their first ever Olympic semi-final after a nail-biting scoreless draw against third ranked Germany.

The statistics didn't go their way and it wasn't a win, but it was all smiles for the Kiwi side at full time today at Riverbank Arena, Olympic Park. They finish second in Pool B, sitting on 10 points.

"It is a huge result. I don't think anyone expected us to make the semis, I think we were always possibly seen as a threat. We started the tournament on a roll and that has continued," says head coach Mark Hager.

Kayla Sharland said to get through to the semi-finals means so much, especially considering how far they have come since their disappointing Olympic campaign at Beijing Olympics four years ago where they finished last.

"We were nervous coming into this game, we knew what it meant. It is a special group and we have played hard throughout this tournament and that last ten minutes was no different. We just needed to chase, chase, chase and work together as a unit and that's what we did," says co-captain Sharland.

Goalkeeper Bianca Russell had an outstanding game, as did the other New Zealand defenders with Hager saying the defensive effort at this tournament is the best he has ever seen from his side. And they needed to defend well, as Germany had 11 shots on goal compared to the Black Sticks' five.

New Zealand's best two chances came to Charlotte Harrison and Katie Glynn but they were unable to finish off and find the back of the net.

With the introduction of the video umpire during this Olympics, decisions have frequently been referred upstairs and in this game it resulted in Germany having two goals disallowed.

Both Hager and Sharland said although they will enjoy the moment for now, tomorrow their focus will immediately turn to their next game. It is still to be determined who the Black Sticks will meet in the semi-final with the Netherlands and Great Britain currently top of Pool A and due to face off at 6am Tuesday morning (NZT).

RESULTS
FT: 0-0

Hockey New Zealand Media release


---

Black Sticks make history

By Dylan Cleaver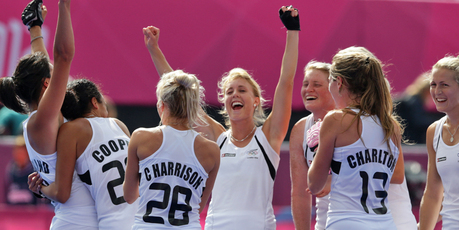 The Black Sticks celebrate qualifying for the semifinals of the women's Olympic hockey tournament. Source / Brett Phibbs NZ Herald

It was bit of a mean trick, but it worked - New Zealand coach Mark Hager decided to let his team think they needed to win to advance to advance to Thursday's semifinal, most likely against the Netherlands, thinking an attacking approach was most likely to upset Germany.

When, late in the match, he decided it was time to let his captain Kayla Sharland know a draw was okay, she nearly didn't believe him.

"That was why I was trying to run off and score a goal at the end," she said.

Hager didn't like the idea that his players might get comfortable in the knowledge that one point, not three, would get them through.

"We felt that if we told them too much we might go into our shells and defend the whole game - which we bloody did anyway in the second half, so we knew we had to go out for a win.

"At the end I was trying to get a message to Kayla that it [a win] didn't matter. You don't have to score. She looked at me a bit strange when we got the corner and told her to get back to halfway. She looked at me and said, 'Don't we have to win,' and I was like, 'No, leave it, leave it'."

With the 0-0 draw, this is the first time a New Zealand's women's team has made it out of pool play in six Olympic tournaments. At the previous Games in Beijing they lost every game and by the end, looked a broken team.

Sharland was part of that side, as was Krystal Forgesson, Emily Naylor and Gemma Flynn.

"It's huge for [those] players - though Gemma was only a baby at the last Olympics so probably didn't really take it in. The other three have been to two or three Olympics each and it's the opportunity for them to play for a medal."

The Black Sticks are one of the underdog stories of the tournament. They were expected to be a pesky opponent, but nobody outside of New Zealand seriously contemplated they would advance from a group including Argentina, Germany and Australia.

"The sport has built up over this past week and non-hockey people are watching it and it's great for the sport and great for New Zealand," Sharland said.

On balance, Germany were the better side in their 0-0 draw, but a huge helping of grit and a dash of good fortune kept New Zealand in it. Bianca Russell played her part too, making 11 saves, while her German counterpart Fanny Rinne was called upon to make just five.

"It is the best, touchwood, we have defended at a tournament," Hager said. "It would be more pleasing if we could put our chances away up the other end and take a bit of pressure off our defence, but at this stage our defence is doing well."

The match started at 8.30am local time. Hager said he planned to let the girls "stay on a high" for the rest of the day before he brought them back down to earth to start preparing for either the Netherlands or Great Britain on Thursday (NZT).

The New Zealand Herald


---

Beijing survivors savour hockey redemption

Robert Lowe

The Black Sticks women's achievement of making the Olympic hockey semi-finals is particularly sweet for Kayla Sharland and three others in the squad.

Sharland, fellow co-captain Emily Naylor, Krystal Forgesson and Gemma Flynn were part of the disappointing campaign four years ago.

In Beijing, the Black Sticks finished bottom in the 12-nation tournament, losing every match.

This time around, making the last four - where they will met defending champions and world No.1 the Netherlands on Wednesday for a berth in the final - represents New Zealand women's hockey's best Olympic result.

Sharland, 26, says trying to erase the disappointment of Beijing was a major motivator for her, so getting to the medal rounds is "huge".

"I was so frustrated after the last one and so down that I was just like, `why am I playing', that kind of thing," she told NZ Newswire.

"This is why - to get into these positions from hard work and wanting to achieve more. I wanted a successful campaign and so far we're going well."

Ranked sixth in the world, New Zealand were considered outsiders for a medal when the tournament began.

But Sharland, whose 174 caps make her the second most experienced player in the squad after double centurion Naylor, says there was belief within the group that they could get this far.

"I knew we could, but probably didn't want to portray it too much, because I thought we were going to do really well in Beijing as well," she said.

"But this group has grown so much over the last couple of years. We're doing it for each other. We're like a tight family."

While there might have been some ups and downs in results, she feels the Black Sticks' consistency has been a feature of their performances in London.

She knows they will have to lift their performance against the Dutch from what they produced against Germany on Monday in a 0-0 draw that sent them into the semi-finals.

That includes retaining possession better and not giving up cheap turnovers.

What won't change is the effort.

"We'll just continue to put the pressure on," she said.

"We'll chase chase chase, run run run. That's our philosophy and hopefully we can have another first with this group."

Yahoo Sport NZ


---

Kiwis in first semis as Germany go out

LONDON - New Zealand's women booked their first ever ticket to the Olympic hockey semi-finals on Monday, knocking out Athens champions Germany with a goalless draw.

In the other pool, Britain can progress to the last four with a draw in their final preliminary match against favourites the Netherlands (1800 GMT). However, if China beat Japan by five goals or more at 1345, Britain will need a victory over the Netherlands, who are already through to the next round. Germany only had an outside chance of going through to the semi-finals, having already lost to Australia and Argentina. They would have needed to beat New Zealand, pre-tournament outsiders ranked sixth in the world, by a three-goal margin to proceed. A bit of bad luck - having two goals disallowed - and a strong Kiwi defence held the Germans back.

The Kiwis, only needing a draw, started off positively and hit the post but then focused mostly on defending and launching counter-attacks. Germany had the ball in the Kiwi net two minutes before halftime but it was ruled out after a video referral called by the umpire failed to prove Maike Stoeckel had got a touch inside the circle. In the second half, Germany enjoyed a strong passage of play, managing to hold the ball in the New Zealand half, but could not convert any of their six set-piece penalty corners and a slew of free game chances. Germany called - and lost - their video referral on one corner, the first push-in from the left in this tournament, when Janne Mueller-Wieland raised the ball above the goal board.

At the final whistle, New Zealand's women cheered and high-fived in front of a near-full Riverside Arena, while most of the German girls cried over their country's worst result since the Sydney Games in 2000. "We were total outsiders before the tournament," New Zealand goalkeeper Bianca Russell told reporters. "The attitude of the team is thrilling to see, such a talented bunch of girls. I think half of Auckland is in London at the moment."

Australia and Argentina will compete for the remaining semi-final berth in Group B. Australia need to beat world champions Argentina in their match at 2015 if they want to prevent Argentina and New Zealand taking the two top spots. At the lower end of Group B, South Africa sent the United States to the bottom of the table by thrashing them 7-0, South Africa's first win in the tournament having only scored two goals in their previous four games. The United States had caused an upset when they beat world champions Argentina 1-0 earlier in the competition.

The Nation


---

Great Britain qualify for Olympic Semi-final despite Dutch defeat

Great Britain women qualified for their first Olympic semi-final since Atlanta in 1996 despite going down to a 2-1 defeat against the Netherlands at a packed Riverbank Arena this evening.

Second half goals from Kitty van Male and the impressive Naomi van As gave the Dutch a fifth straight win in Pool A, but with China losing 1-0 to Japan earlier in the day, the home nation were already guaranteed a place in the last four of the hockey competition before the game got underway. Crista Cullen scored Great Britain's only goal from a first half penalty corner.

As runners-up behind the Netherlands, Great Britain will now play the winners of Pool B, Argentina or Australia, for a place in the final. Meanwhile, the reward for the Dutch is a last four clash against New Zealand. Both semi-finals will take place on Wednesday.

Kate Walsh, Great Britain Captain, reflected on tonight's performance by saying, "I thought we started quite brightly. You know you're not going to have a lot of the ball against the Dutch so you need to cherish it when you get it. As the game continued we turned over possession too easily but I think we looked reasonably strong on the whole."

She continued, "We did limit their chances. They're the reigning Olympic champions, and they're a good side. At times we've shown what we can do, we've just got to have a lot more belief in our abilities and what we can do going forward and back ourselves."

With the Netherlands' captain Maartje Paumen and Naomi van As looking in menacing mood, the Dutch set the pace in the opening period of the first half. In the ninth minute, they had two opportunities to score following dangerous crosses from the left hand flank, but neither tournament top scorer Kim Lammers or Kelly Jonker could make a connection in the scoring circle.

In the 17th minute, Great Britain and Reading goalkeeper Beth Storry was called into action for the first time when she made a clever stop to deny Maartje Goderie, but a previous foot infringement from Leicester's Anne Panter in the build-up gave the Netherlands their first penalty corner. The Dutch had failed to score from a penalty corner in over twenty attempts and their wretched record was to continue when a strong challenge from Leicester's Hannah Macleod on Paumen cleared the danger from the set-play.

With the Netherlands looking the most likely to open the scoring, Reading's Alex Danson forced a penalty corner for Great Britain in the 29th minute after her shot cannoned off Sophie Polkamp's foot. Against the run of play, Great Britain notched the first goal of the game when Leicester's Crista Cullen stepped up to unleash an unstoppable low drive past helpless Netherlands' goalkeeper Joyce Sombroek to give Great Britain a 1-0 lead.

Two minutes later, Macleod was penalised by the Japanese umpire Chieko Soma for a foul on Carlien ven den Heuvel in the circle. However, Storry was once again the heroine in goal when she produced a fantastic one handed save to deny Paumen's penalty corner strike and enable Great Britain to retain their 1-0 lead at half-time.

The commanding Storry was called upon once again three minutes into the second half when van Male broke forward from midfield to send an enticing pass into space for Lammers to run in on goal. However, the 34 year-old veteran was quick off her line to beat the Dutch striker in the chase for the ball and cleared the danger.

However, there was nothing Storry could do about the Netherlands' equaliser in the 43rd minute. Van Male dummied van As' cross in the circle and Clifton's Georgie Twigg was helpless to prevent the ball hitting her foot and conceding a penalty corner. A cleverly worked set-piece saw van As inject the ball to Paumen, who returned the ball to the former FIH World Player of the Year at the near post and van As' first time shot was guided into the far corner of the goal to make the scoreline 1-1.

With van As running the show, the Netherlands were always dangerous and they took the lead in the 52nd minute when Ellen Hoog's reverse stick shot evaded the outstretched Storry and van Male had the easiest of tasks to turn the ball home to make the score 2-1.

There was still time for another Storry save in the 68th minute when she denied Hoog a second goal and the score remained 2-1 to the Netherlands at the full-time hooter.

Following her excellent performance, Great Britain goalkeeper Beth Storry said, "[I have] mixed emotions really. You've got the high that we're in the semis, which is absolutely fantastic, but also slightly disappointed after the result. I don't think we played our best hockey but you've got to look forward to the next match. We've trained so hard over the past three years and being able to train full time has made such a difference."

With Great Britain women qualifying for the semi-final on Wednesday 8 August at the Riverbank Arena, they will also be guaranteed a medal match on the final day of the women's competition on Friday 10 August.

Meanwhile, Great Britain men will also be aiming to reach the semi-finals of the hockey competition when they entertain Spain tomorrow night at the Riverbank Arena (19.00). Victory for the home side will guarantee them a last four place.

GREAT BRITAIN 1 (1)

Crista Cullen 29' (PC)

NETHERLANDS 2 (0)

Naomi van As 43' (PC)
Kitty van Male 52' (F)

GREAT BRITAIN WOMEN'S SQUAD v NETHERLANDS

Name (Club) [Position]

Started

Beth Storry (Reading) [Goalkeeper]
Kate Walsh (Reading) [Defender]
Emily Maguire (Reading) [Defender]
Crista Cullen (Leicester) [Defender]
Ashleigh Ball (Slough) [Midfielder]
Sarah Thomas (No Club) [Forward]
Laura Unsworth (Reading) [Defender]
Helen Richardson (Reading) [Midfielder]
Georgie Twigg (Clifton) [Midfielder/Forward]
Alex Danson (Reading) [Forward]
Hannah Macleod (Leicester) [Midfielder]

Substitutes Used

Anne Panter (Leicester) [Defender]
Sally Walton (Bowdon Hightown) [Defender]
Chloe Rogers (Leicester) [Midfielder]
Laura Bartlett (Reading) [Midfielder]
Nicola White (Slough) [Forward]

Great Britain Hockey media release


---

Team GB qualify but Kerry delivers home truths to 'passive girls

Steve Tongue

For the second night running here a British team faced a technically superior side, ranked No 1 in the world, but this time class and form prevailed. Unlike the men in their 3-3 draw with Australia 24 hours earlier, the women's team did take the lead – with almost their only chance of the night – before succumbing to two second-half goals.

The upshot of what was effectively a dead rubber is not unsatisfactory, bringing a semi-final against either Argentina – the Dutch will meet New Zealand in the other semi-final – but the performance displeased coach Danny Kerry.

"I'm really disappointed," he said. "I've spoken to the girls and been very straight. It wasn't a rant. They were very passive in the second half and to give away an equalising goal like that was unacceptable."

Kerry did not feel that discovering earlier in the day that GB would definitely qualify was the reason for falling short. A British semi-final berth had been determined when China surprisingly lost to Japan, but it was just as well that the home side did not require a victory. For all the sterling defensive work done by captain Kate Walsh – the so-called Sheriff of Fractured Jaw was playing with a titanium plate in her face – and goal- keeper Beth Storry, the Netherlands, who are the defending champions, had the two best players on the pitch in Naomi van As and the captain Maartje Paumen.

Only a lack of proficiency from set-pieces threatened to undermine the Dutch. For such a gifted team, they have a shocking record from penalty corners, which have now brought only two goals from 23 attempts. To be fair to them, Storry made an outstanding save to keep out Paumen's shot from their second one last night, but by that point they were a goal down.

Britain, in contrast, had worked their only penalty corner perfectly for the prolific Crista Cullen to score her 55th international goal, shooting low into a corner of the net.

That and some dogged defending ensured a half-time lead, but the equalising goal – "a piece of suicide," said the coach – that so annoyed Kerry came within eight minutes of the resumption when Britain conceded a penalty corner and the Dutch at last scored from one, Van As finishing neatly.

Ten minutes later five defenders were unable to prevent Kitty van Male turning the ball in from close-range and it took another fine double-save by Storry to prevent a heavier defeat as the Dutch ended group winners.

The Independent


---

GB women's hockey through to semis as second ranked team after 2-1 defeat to Holland

By Jessica Winch

Great Britain women's hockey team have gone through to the semi-finals as the second-ranked team from their pool after a 2-1 defeat to Holland at the Riverbank Arena.

GB had already qualified for the next stage of the tournament before their final pool match, after Japan beat Beijing silver medallists China earlier in the afternoon.

It is the first time Great Britain have qualified for the Olympic semi-finals since 1996 in Atlanta. That team went on to finish fourth, missing out on a medal after losing to Holland on penalties.

British goalkeeper Beth Storry was the star of the match, saving a series of strikes at goal from the Dutch side. Crista Cullen put her side on the scoreboard with an excellent drag flick from a first-half penalty corner.

Holland supporters were out in force, draped in their trademark orange, and battled to out-cheer the British crowd.

Holland were dominant in the opening 10 minutes of the game with early attempts at goal - one early swipe went wide and headed straight for an umpire, who thankfully avoided injury.

Holland's Kitty van Male was then given a green card for a rough tackle against Helen Richardson.

Cullen scored her fourth penalty corner goal of the tournament as a trademark drag flick flew under goalkeeper Joyce Sombroek's right leg in the 28th minute to put Great Britain ahead.

Holland swooped the ball straight back up the right side of the pitch and a shot at goal from Van Male just went wide. Storry proved her worth as she saved a low flick from captain Maartje Paumen, considered one of the world's top penalty corner strikers.

Storry was forced out to save in the opening two minutes of the second half as Holland resolutely edged ahead in the game. Naomi van As scored an equaliser from a penalty corner in the 43rd minute.

Great Britain continued to look untidy in defence and when Kate Walsh lost her bearings 10 minutes later, Van Male slotted the ball into goal after standing at the far post to knock in Kelly Jonker's shot.

The goal difference would have been higher but Storry kept it 2-1 with two more excellent saves as Holland took a firm grip on the game.

The result puts Great Britain through to the semi-finals as the second ranked team in the pool. They will play the top ranked team from pool B, either Australia or Argentina, who are yet to play.

Holland have qualified top of their pool, now unbeaten after five pool matches. As the top team they will take on New Zealand on Wednesday.

New Zealand qualified for their first Olympic semi-final in 32 years after drawing 0-0 with Germany on Monday morning, knocking out the 2004 gold medallists.

China needed a victory to force Britain to draw with Holland, while a five-goal margin would have left the host nation requiring a win against the defending champions.

But Japan left China stunned when Rika Komazawa scrambled home a penalty corner midway through the second half.

The Telegraph


---

Australia Claim Draw Against World Number Two




Australia has finished their pool matches with a tense nil-all draw against world number two, Argentina.

Australia needed a win against Argentina to progress to the semi-finals where they would play off for a medal.

However, it was Argentina who only required a draw to progress and subsequently played accordingly, holding Australia scoreless for the 70 minutes.

The first half was dominated by Australia who attacked the Argentina goal on a number of occasions.

Georgia Nanscawen, Megan Rivers and Emily Smith proved hard work for the Argentina defense.

It was the dynamic Australian defense, comprised of Kobie McGurk, Jodie Schulz, Kate Jenner and Toni Cronk, which held firm throughout the match and intercepted any circle penetrations forced by Argentina.

A well-earned half time break gave Australia time to review ways of breaking down the Argentina defensive press.

The second half turned into an all-out attack from both teams as pressure mounted for a result.

With the majority of the play happening in the midfield, it was Teneal Attard and Kate Jenner who controlled this section of the pitch for the Australian's. Their tackling and disposal, as it has been all Olympics, was world class and restricted the impact of the Argentina strikers.

The final 10 minutes saw both teams penetrate their opposing circle, with opportunities gone begging. A last ditch effort by the gallant Australian team in the final minutes, couldn't crack the tight Argentina defense.

Australia finished off their pool matches with an outstanding record of 3 wins, 1 draw and 1 loss. Victories against world number 3, Germany, the USA and South Africa instil confidence in the group leading into the 5th v 6th playoff match on Friday.

Australia, Argentina and New Zealand finished equal on top of Pool B with 10 points each. As a result, goal difference is used to determine which team qualifies through.

With Argentina on 8 goal difference, New Zealand on 4 and Australia on 3, it was extremely unlucky for Australia to miss out.

Australia will face world number 5, China in the 5th v 6th playoff. China has had an up-and-down tournament with wins against Great Britain and Korea, but losses to Japan and Netherlands.

Australia will be hoping to secure a 5th place finish, 2 places ahead of their world ranking. The Australian women also claimed 5th at the 2008 Beijing Olympic Games.

Next match: 5th v 6th Playoff – 8:30pm AEST Friday 10 August 2012.

Televised LIVE on Foxtel from 8:20pm AEST of Channel 187, Friday 10 August 2012

Australia 0 dw Argentina 0

Best Players
Australia: Teneal Attard, Kobie McGurk, Kate Jenner
Argentina: Luciana Aymar, Macarena Rodriguez Perez, Rocio Sanchez Moccio

Hockey Australia media release


---

SA destroy Americans

NICK GORDON

The South African women's hockey team finally have a reason to cheer after they turned in their best performance of the Olympic Games by trouncing the United States 7-0 here yesterday.

Marsha Marescia's side, yet to register their first points of the competition heading into the match, produced a much-improved performance to see off the world No 10-ranked side comfortably.

The intent was clear to see early on as Bernadette Coston managed to get a shot off inside the first minute and although there were a few scares when the Americans managed to win early short-corners the South Africans really got going once Taryn Bright scored from a penalty-corner in the 14th minute.

Lesle-Ann George followed the first up with a field goal six minutes later before Jen Wilson got on the scoresheet shortly there after.

Pietie Coetzee inflated the margin shortly before halftime to give the side a comfortable 4-0 cushion at halftime.

The goals kept coming in the second half as Bright added her second with a well-worked field goal before striker Dirkie Chamberlain scored a goal of her own to make it 6-0. Coetzee rounded out the rout with a low drag-flick from the penalty corner.

Marescia's troops sealed the first win of their campaign in emphatic style to show that the saying "hell hath no fury like a woman scorned" is one to be wary of.

The victory now means that the side are on track for their best ever finish at an Olympic Games having always been considered as the wooden spoonists and will now feature in the play-off for ninth place with the win over the US giving them a superior goal difference.

"In today's game the focus changed from just having a good performance to pushing for the result," said Marescia.

"I think that definitely changed the way we prepared as individuals to take a lot more accountability on ourselves," she added before saying that the side had always known that a positive result was just around the corner and that the goals would start coming.

"In the previous games as the clock ticks away and you're not using your chances you feel the pressure more and more and it's hard to keep everyone motivated in those times.

In the last two games it was quite difficult particularly as we got closer to the end of the game and we knew we needed to dig deep to get a result," said Marescia.

"We always had the belief that once we could break the ice against the opposition it would flow and we'd get momentum. We've been able to make goal scoring opportunities but have not been able to convert them."

The men's side will feature in their last pool game of the competition today when they take on Argentina in a fixture they will be desperate to do well in, having let the game slip away from them against Pakistan on Sunday.

The Citizen


---

SA hockey women trounce the US

The South African women's hockey team finished their final preliminary match at the London Olympics on an emphatic note with a 7-0 victory over the United States on their final pool B match on Monday.

The women will now go into a play-off match for ninth and 10th place with the opposition yet to be confirmed.

The South Africans could finish their campaign off as the best Olympics yet if they manage a second victory in the global showpiece.

It was the team's first victory at the Games after they had suffered four defeats against Australia, New Zealand, Argentina and Germany.

While it was a markedly improved performance from the other matches, the US did not offer too much resistance.

The South Africans nevertheless staved off the embarrassment of finishing at the bottom of their pool.

SA were in an unforgiving mood as they led the US women 4-0 at the half-time break and almost doubled the score in the second half with three goals.

The SA women's defence stood firm and denied the Americans any attempts to score a consolation goal.

Tarryn Bright was the first to get on the scoresheet from a penalty corner in the 14th minute.

The women almost scored in intervals of five minutes, with Leslie-Ann George adding a field goal on the 20 minute mark to take the scores to 2-0.

Jen Wilson added her name on the scoresheet when she slotted the ball into the backboards four minutes later.

South Africa's most prolific goalscorer Pietie Coetze, took advantage of a penalty corner shortly before the half-time break to extend their lead to 4-0.

In the previous matches the SA women struggled to get into the circle, but turned the corner against the US.

While they had 10 penalty corner opportunities they only managed to convert four of them.

They nevertheless scored when it counted and continued their relentless attack on the US goal with Bright scoring her second goal of the match in the 43rd minute.

They, however, found more resistance from the Americans but not enough to stop the South Africans completely.

Dirkie Chamberlain scored their sixth goal with 16 minutes left on the clock from a penalty corner.

Coetzee finished the match off with a low flick to the right of the US goalkeeper for her second goal of the game.

While the scoreline may suggest that it was one-way traffic, the South Africans made a number of good saves to stave off the US.

The Citizen


---

'Goosebump' moment for our women's hockey side

By Mark Etheridge in London

They started off their Olympic campaign with a 7-1 thrashing at the hands of the Argentinians but Marsha Marescia's women's hockey side ended their preliminary round in seventh heaven.

The women produced an upset of note by beating the United States 7-0 at the Riverbank Arena on Monday, Making that win all the more significant is the fact that the US had beaten Argentina earlier in the tournament.

Manager Les Galloway said the mood in the camp afterwards had been awesome. "We knew we needed about a four-goal difference to make sure we didn't end in the 11-12th place play-off. So when we realised we'd done enough it was just unbelievable,

"One of the girls, Tarryn Bright, told me that it was such an emotional occasion that she played the entire game with goosebumps!"

So did the team go into their final pool game with a different approach?

"No not really, they went out there pretty much like normal, to look for the result and it's this team's positive mindset that tuned it around. It's been coming though, especially in the last two games where we lost narrowly to Germany and Australia. We just had to prove it to ourselves."

At this stage SA are expecting to play either Japan or Belgium in the ninth-10th play-off on Wednesday. "And of course we're focusing on nailing that ninth spot," says Galloway whose phone hasn't stopped ringing since the victory.

"People were even stopping me in the local shopping mall to say well done.

"The exciting thing is that the other coaches are starting to take notice and talking about what a threat we are whereas beforehand we were never seen as a threat."

And that's something that SA coach Giles Bonnet should rightfully be proud of after the amount of work that he has put into getting this group ready for both these Olympic Games and beyond.

SASCOC Road to London


---

Coetzee gets two as South Africa rout USA

By Gary Lemke

Pietie Coetzee closed in on 250 goals as South Africa routed the United States 7-0 at London 2012 on Monday. The scoreline flattered the Americans who left their best for the last Group B preliminary round match. It could as easily have been 15-0.

South Africa's dominance is clearly demonstrated in the fact they had 17 shots at goal from open play – and succeeded with three – while they were also awarded 10 penalty corners. Of those they converted four, with Coetzee getting two of them to take her world record goal-scoring tally to 248. She has every opportunity of hitting the milestone in the next match, which will be in the play-offs.

Going into the game the USA were placed fifth in the group, one ahead of South Africa on the rung after the Proteas had never recovered from their own shellacking (7-1) they received at the hands of Argentina in their opener. From there they suffered losses to Germany, New Zealand and Australia. But this victory saw them leapfrog the Americans to finish fifth on the table, with three points, on goal difference (-5 to -9).

On Monday morning under pregnant skies but no rain, South Africa quickly made their intentions felt. Bernadette Coston had an opportunity within the first minute, before the US had what was to prove a rare chance at the other end, via a short corner.

In fact, after the first 10 minutes there was an even balance to the game – both teams wasted two penalty corners – but when Tarryn Bright opened the scoring in the 14th minutes she also opened the floodgates. Her goal came from a penalty corner that was well executed and you could visibly see the pressure lifting off the shoulders of the South Africans.

The second goal came from Lesle-Ann George in the 20th minute and then Dirkie Chamberlain went close, but her shot was kept out by the US keeper. The respite for the Americans was short-lived as Jen Wilson made it 3-0 on 25 minutes. Sulette Damons then looked to have made it 4-0 but the goal was disallowed for dangerous play after a TV appeal and referral. No matter. Captain Marsha Marescia saw her shot saved but then Coetzee struck from a penalty corner and at 4-0 going into half-time the only question was how many more would be scored in the second half.

South Africa continued where they left off and continued to bully their opponents. Sharper, Quicker, Slicker could have been their Olympic motto today.

Damons, Coetzee and Bright all had opportunities to put further daylight between themselves and their opponents, but the goal was always going to come and it did through Bright's second of the match in the 44th minute. The US were now being run ragged and their cause wasn't helped when Shannon Taylor was shown a yellow card.

Kate Woods then three times was denied from a penalty corner, as was Lenise Marais as South Africa camped in their opponent's half and kept banging on the door of the defence. Finally, Chamberlain made a penalty corner count for 6-0 and then with eight minutes remaining Coetzee rattled home her second (and that famous 248th) to put a full stop next to a superb performance by South Africa. This was a day when those keeping their own score could have run out of ink, but 7-0 in a tough Olympic pool qualifier you'll take any time.

SASCOC Road to London


---

USA humiliated with 7-0 thrashing by South Africa in the final pool match

By Jawwad Qamar

South Africa humiliated the USA women with a 7-0 thrashing in a shocker to earn their first points of the Olympic hockey tournament while relegating the Americans to the bottom of pool B.

Tarryn Bright got things going for South Africa in the 14th minute on a penalty corner tally. Lesle-Ann George (20th minute) and Jen Wilson (25th minute) followed with goals on field play. Pietee Coetzee closed out the half with first of her two penalty corner goals for 4-0 lead. The Americans looked shell-shocked but relieved with the break hoping to regroup. However, it was more of the same in the second half as Bright scored her second nine minutes after resumption, this time a field goal off a rebound. 10 minutes later, Dirkie Chamberlain got into the act, tapping in a penalty corner rebound for the fifth goal. The veteran, Coetzee completed the rout with her second in the 62nd minute.

This was the worst defeat suffered by any team in the hockey tournament. Going into this match, USA had only conceded six goals in four games. Even thou it was the second game of the morning session, a 10:45 start, the Americans were slow to react to the South African's hitting and ball movement. Their passing was erratic on both offense and defense and there was much to be desired about their defensive marking. It was a lethargic performance by all except the goalkeeper, Amy Swensen. She did all she could under the circumstances. South Africa scored three goals from 17 field goal attempts and four goals from ten penalty corners while the Americans could only muster one shot on goal during field play but did receive five penalty corners.

The 12th ranked (lowest) ranked team in the tournament, the South Africans will play Japan for 9/10 place on Wednesday while the 10th ranked USA will face Belgium for 11/12 spot 8:30 am on Friday. Let's hope they will be awake for this one. They can and have played much better!

Fieldhockey.com Exclusive


---

U.S. determined to finish Olympic campaign on high note

LONDON - The U.S. suffered a 7-0 setback at the hands of South Africa this morning at Riverbank Arena in London's Olympic Park. The loss drops the U.S. to a record of 1-4, while South Africa improves to a 1-4 record and ranks above the U.S. by goal differential. The U.S. will play in their final Olympic match on Friday, August 10 for an eleventh place finish.

"We're extremely disappointed with the result today," said Keli Smith Puzo. "South Africa showed up to play and we didn't match their speed and quickness on the ball. At this level, you have to do that in order to produce a win. The best thing we can do now is finish off on a good note. We came in here to play one game at a time and that is what we are going to do. We are going to play this last game as hard as we can so that we can go out on a positive note."

Despite only scoring two goals in four preliminary matches, South Africa managed to score four in the first half en route to a 7-0 victory. Pietee Coetzee converted two penalty corners, increasing her world record to 248 international career goals. South Africa will play on Wednesday for a ninth place finish in the tournament.

"We got put on our heels at the beginning and we couldn't get back to our toes," said captain Lauren Crandall. "Sport is honest and South Africa came out pressing out wanting it more."

Even with the loss, Katie Reinprecht (Perkasie, Pa.) says she is proud of Team USA and is excited for the future of the U.S. program.

"South Africa came out really aggressive, they had a really good press and were lethal in the circle. I am proud of this team. We have been through a lot and we really competed in every game here. Outside of today, the scorelines have been super close and I think we showed we can play against the best teams in the world. It is now just a matter of learning how to win. This team is young and we will continue to grow the more we play together. I am excited to see what we will be able to do in the future," says Reinprecht.

USFHA media release


---

South Korea beats Belgium 3-1 in women's hockey

LONDON: South Korea beat Belgium 3-1 for its second group win in women's Olympic field hockey on Monday.

The victory lifted South Korea into the 7th-8th playoff against Germany.

Belgium, winless in its Olympic debut, finished last in Pool A and will meet the United States to avoid the wooden spoon.

Kim Jong-eun was set up by Park Mi-hyun for the opening goal after eight minutes and captain Lee Seon-ok made it 2-0 by halftime from a penalty corner goal.

A diving Erica Coppey hit in the loose ball in front of the goal to halve the deficit, but Kim gave the Koreans the last say with her second goal on fulltime.

The Times of India


---

Day 10 Olympic Preview...GB v Spain



Olympics 2012 GB men celebrating

After Great Britain's stunning comeback against the World champions Australia and Spain's fightback from a goal down to win 3-1 against Argentina on Sunday, it's all to play for in Tuesday evening's clashes at the Riverbank Arena. Put simply, a GB victory over Spain or a draw in the match will see GB through to a first Olympic semi final since Seoul 1988.

Fixture: Great Britain v Spain
Date and time: 7th August - 19.00
Location: Riverbank Arena
Watch live on the BBC: Olympics 7 (red button for Sky, Virgin and Freesat)

World rankings
Great Britain #4
Spain #5

Head to head
Played: 39
Won: 10
Drawn: 12
Lost: 17
Goals for: 67
Goals against: 89

Spain was Great Britain's last competitive fixture before the men moved into the Olympic Village in preparation for the 2012 Games. GB made a great start scoring two goals in the opening 19 minutes and deservedly held on to win 2 – 1. The two teams also met in the Champions Trophy in May last year, which GB lost heavily (8 – 1), despite taking the lead in the 23rd minute through Barry Middleton.



Olympics 2012 Ali Wilson

Ahead of tonight's game, we spoke to Head Coach Jason Lee, to find out his thoughts on GB's latest opposition:Jason Lee

Although Spain have been hit by injuries to their influential forward line with the experienced Santi Freixa and Pol Amat both leaving the Games, GB Head Coach Jason Lee has told his players not to believe for a second that those setbacks will lessen the danger posed by Spain.



Head Coach Jason Lee

"They've had a couple of injuries in this tournament, but if any of the players gave that any credibility in terms of the standard that Spain will be playing at then that would be a very big mistake," said Lee after his side's 3-3 draw with the Kookaburras.

"In the world rankings we're ahead of them but only by a fag paper so they're about the same [as us]."

And Lee reminded us that despite a 2-1 victory over their hosts in Santander last month, it wasn't long ago that GB suffered their biggest defeat to the Iberians.

"In December last year we lost 8-1 to them in the Champions Trophy, although we had predicted we'd play poorly because of the physical stage we were in," he said.

"It's going to be a tough game and if we have any lingering thoughts about what tonight [the 3-3 draw with Australia] was like then we'll struggle. They've got quality throughout the pitch, some really skilful and attacking forwards and solid defence."

Great Britain Hockey media release


---

Team GB's Jonty Clarke says 'we have a job to do'



Team GB's forward Jonty Clarke (left)

After the mixed performance of the men's hockey team, forward Jonty Clarke says that they have learned to deal with being tournament hosts.

Sunday's late comeback from 3-0 down to draw against world number ones and tournament favourites Australia felt like a victory as they were roared on by a fervent 16,000-strong crowd.

But Clarke said memories of a disappointing 2-2 draw with South Africa, immediately on the back of a comfortable 4-1 opening win over Argentina, meant they will be better prepared to face Spain this evening when a draw will put them in the semi-finals.

"We have to get ourselves refocused for the last game because we have a job to do," he said. "And the Australia result will mean nothing if we mess up the next one.

"Hopefully we have learned from going into game two from game one when we came off a big high and were guilty of not being quite at the races.

"We have to get ourselves ready and be bang up for it against Spain."

GB cannot afford to be off the pace again as the game against the Kookaburras was the second time in the group they had snatched a draw.

However, Clarke feels what they displayed in their rousing second-half comeback highlighted the qualities the squad have.

"It is a shame it took them getting 3-0 up to spark us into action really," he added.

"I thought we played really well and started to execute our game plan and it showed even though they are the number one side in the world they are fallible and we can take a lot of confidence from that.

"We have faith in ourselves. We are fighters and we know that. To be 3-0 down is a tough ask against anyone but what you know against Australia is that they just keep going.

"It goes one of two ways: either they just keep going away from you or you get back in the game.

"Thankfully we got ourselves composed and started to punch our weight and it got us back in the game."

GB's women slipped to a second successive defeat, losing 2-1 against Holland, but their semi-final place had already been secured by Japan's win over China.

Crista Cullen put them ahead from a first-half penalty corner but goals after the break from Naomi van As and Kitty van Male meant the hosts must now face world champions and Beijing bronze medallists Argentina in the last four.

The Independent


---

Men's Olympic Hockey Semi Final Decider




The Australian Men's Hockey Team faces a do-or-die clash against Pakistan (world rank 8th)in the final pool match for both teams.

Australia is currently placed 1st in Pool A, with Pakistan 2 points behind in 3rd. The situation that Australia faces is as follows: A win against Pakistan will all but guarantee Australia finish top of Pool A, provided Great Britain (2nd) don't defeat Spain (4th) by more than 6 goals. A drawn match will see the Australia finish first or second in Pool A, with their position depending solely on the result of Great Britain v Spain match. A loss will result in Australia failing to qualify for the semi-finals and bring to a close their quest for a second Olympic Gold Medal.

Australia began its 2012 London campaign in exciting fashion with two high scoring victories. Their next two opponents (Argentina & Great Britain) were able to match the Australian's high intensity and play equally brilliant hockey to force a draw in their matches.

Australia has scored more goals than any other team competing at the Games (16) and have the highest goal difference (11). Based on recent this form, Pakistan will need to score a number of goals to remain competitive with the high scoring Australian's.

Australia's recent history against Pakistan is mighty impressive. At the 2011 Champions Trophy in December, Australia defeated Pakistan 6-1 with Jamie Dwyer scoring a hat-trick. In a 3-match test series in 2011, the Kookaburras claimed the series 2-1, which included an 8-2 victory.

Pakistan is well known for their highly entertaining, attacking and skilful hockey which generally produces plenty of excitement and goals. The main danger man for Australia is preeminent drag flickers of the world, Sohail Abbas, who has already scored 3 penalty corner goals this tournament.

This is a match Australian's will not want to miss.

AUSTRALIA V PAKISTAN

Game: Tuesday August 7, LIVE 7:45 pm (AEST)

TELEVISED LIVE on Foxtel Channel 191 from 7:35 pm (AEST), Tuesday August 7.

Australian Players to watch: Jamie Dwyer, Eddie Ockenden, Mark Knowles

Hockey Australia media release


---

Group A wide open as Pakistan face Australia

Netherlands in semifinals, remaining three to be decided today

By Muhammad Ali




LONDON: Pakistan will be looking for a semifinal spot when they take on world champions Australia in their last Group A mach of the London Olympics 2012 Men's Field Hockey Tournament at Riverbank Arena, Olympic Park here on Tuesday (today). But is interesting to note that four teams of Group A – Pakistan, Australia, Britain and Spain – have equal chances to qualify for the last four stage. From Group B, Netherlands have claimed the first semifinal spot with a 3-1 win over Germany. The win guarantees the Dutch their seventh-consecutive top four finish and puts defending Olympic champions Germany in peril of not cracking into the semifinals. The Germans need to pick up at least one point in their game on Tuesday against New Zealand or hope for a South Korean loss to make the playoffs.

On Sunday Britain fought back from 3-0 down against Australia to earn a 3-3 draw with a goal five minutes from time that left the teams level at the top of Group A. Australia, on eight points, need at least a draw today against Pakistan, who have seven, to clinch a semi-final spot. If Australia unexpectedly lose, Britain, who also have eight points, would need a draw versus injury-hit Spain later that day to reach the last four.

Pakistan head coach and manager Akhtar Rasool told Daily Times on Monday that the greenshirts had a good chance of winning against the world champions as Pakistan defeated them 4-3 in the final of a 3-nation tournament in Perth, Australia in November 2011. "We have a psychological edge over Australia," he added. Argentina, who were defeated by Pakistan 2-0, held Australia to 2-2 draw. "If Argentina can play draw with Australia, the greenshirts with aggressive hockey have a good chance of beating the Aussies," he maintained. And that is not really impossible for the gold medallists in 1960, 1968 and 1984 Olympics. If Pakistan are able to show enough mental strength and firepower, and play as if there is no tomorrow, maybe they can after all upset the Aussies and give a real headache to the stats guys to work out on who goes to the semis.

Australia entered the tournament looking invincible with extremely strong start and every recent title under the sun, but the preliminary round action has chipped away at the armor and now they find themselves in an unusual tight spot for the last game of the group. Akhtar said the victory against South Africa was a breakthrough in his team's campaign. "Our boys did not falter and showed nerves by staging a comeback again and again against South Africa." He was also happy with the players' fitness levels. "It's the team that is criticised for fitness but look how they played in the final stages against South Africa."

There is no denying that a victory is victory. But Pakistan have its share of problems in most areas, most gravely in a relatively inexperienced Imran Shah under the bar and their senior forwards not proving worth their salt. And the Aussies are likely to exploit these shortcomings. "Australia are one of the best sides here. We cannot make any mistakes in that match," said Akhtar. "We have to play very carefully and if my forwards move like they did against South Africa, it will be a very good match."

If the lady luck smiles on the greenshirts, they might even qualify for the semis. Prospects of finishing third and getting into the playoffs for the 5th-6th slot are also very much there. Such has been Pakistan's plight in the last few years that they have slipped out of reckoning for the annual FIH event that they had created – the Champions Trophy. Given the circumstances, ending the London Games in the top half will at the least ensure qualification for that, keeping Pakistan abreast of the best in the global hockey. "It's do-or-die game against Australia but our spirits are very high," said Pakistan captain Sohail Abbas.

Today's matches :

1: Pakistan vs Australia (12:30 pm PST)

2: South Korea vs Netherlands (02:45 pm PST)

3: Argentina vs South Africa (05:45 pm PST)

4: India vs Belgium (08:00 pm PST)

5: Spain vs Britain (11:00 pm PST)

6: Germany vs New Zealand (01:15 am PST)

The Daily Times


---

'Australia can be beaten'

Salman Akbar



Pakistan will have to keep its composure and move on the pitch as a unit. -Photo by AFP

Salman Akbar is a veteran goal-keeper who made his debut for Pakistan's hockey team in 2001. Termed by Olympian Shahid Ali Khan as one of the most hard-working players in the game, Akbar has won the 2005 Rabo Trophy and the 2010 Asian Games gold medal with Pakistan. He was adjudged the 'best keeper' in both events. Here, he reviews Pakistan's performance against South Africa and analyses their next opponents Australia who they play on Tuesday in a fight for a semi-final spot.

What a fight back from Pakistan! They believed in each other and displayed great fighting spirit to earn three points against South Africa and remain in the hunt for the semi-finals. The last seven minutes of the game showed what Pakistan hockey is truly capable of, and scoring two goals in the dying minutes of the game was a great testament to their never-say-die attitude.

The start of the match, once again, was not ideal for Pakistan as South Africa managed a lead with just 1:37 on the clock. Pakistan sprung into action after that and upped the ante considerably. They managed to come back from being goals down on several occasions and that aspect of their game was particularly laudable.

They were very organized in the full press and even in half-court press. Waseem Ahmad is no doubt having a great tournament so far but it was heartening to see Fareed Ahmed step up too and provide the midfield with the much-needed impetus. He had an outstanding game. It was also great to see Haseem Khan scoring two goals and assisting two. Muhammad Rizwan (Sr) showed great skills on the left side. Muhammad Imran played like a mature defender and with him captain Sohail Abbas led from the front in the back. Communication was excellent in the front line when going for full press but Pakistan need to consistent throughout the match. They were good in patches and seemed to take the foot off the pedal on several occasions thus giving South Africa the chance to equalize.

Pakistan will need to keep their composure to avoid getting carded. It cost them against South Africa and against Australia it may open the gates. Once again Pakistan did not employ any indirect variation of PCs which was shocking to say the least. Another shocker was goal-keeper Imran Shah's performance. He should thank his teammates who scored five goals otherwise his pathetic effort would have been in the limelight. He needs to be stable under the bars.

Overall, it was a very good and important victory for Pakistan but they cannot afford to miss easy chances anymore.

Mighty but not invincible

Australia are the top-ranked team in the world and though they are beatable, there is no doubt that they pose the biggest challenge for all participating teams. They have been very consistent for the last few years and have won all major events in the lead-up to the Games. They have some outstanding players like Jamie Dwyer, Eddie Ockenden and Mark Knowles and the most successful coach in the world in Ric Charlesworth. Australia are renowned for playing very fast hockey and are very dangerous in the first and last 15 minutes of the game and normally score in this period. They solely play pressure hockey – their PC attack has not been good so far but they use lot of variations on the top of the circle. Christopher Ciriello is their main drag flicker and his favorite angles, the top left and bottom right, will really test Imran Shah. They have good first runners in PC defense and their defenders and midfielders connect seamlessly. Very famous for quick restarts, they can make the opponents pay dearly. After making a great start to the tournament, the last two games have seen them struggling somewhat. Great Britain came from 3-0 down to draw against them but the 2-2 draw against Argentina was the real upset of the Olympics.

It may seem they are having trouble holding their lead but they will definitely go for goals. There is great understanding between their strikers and the buildup to their attack involves the midfield. Pakistan should watch out for high balls as the Kookaburras move very well in the deep zone. They are very good in covering the second post and score a lot of goals like that.

Australia will most definitely be on the lookout for goals to close out their opponents and will play hard-hitting hockey in the Pakistani defense to get PCs and deflections in front of the goal mouth.

Hold fort and reap the rewards

As I said earlier, Australia can be beaten. Pakistan have always contested well against Australia and beat them in front of their home crowd in Perth last year in a 4-nation event. Pakistan should start with half-court press and try to hold them in the first 15 minutes which will irritate the Aussies. Pakistan have to show great patience and should realise that they will get plenty of scoring opportunities in the 70 minutes.

The Greenshirts should not try to beat the Aussie defense with individual skill but go on the offense as a unit as their defenders are very good in one-on-one situations. Pakistan have to be at their best in counter control as the world champions are very fast in turn overs. Communication will be key.

Pakistan will have to keep the Australian midfield under constant pressure to stop them from generating attacks and its defense will have to be at its best. For goal-keeper Imran Shah, this is a great opportunity to prove all the critics wrong and he should be aiming to be the hero for his country. Shah should put what's happened in the tournament so far behind him and stand under the bars with a big heart.

Pakistan's midfield should not hold the ball much and instead deliver it quickly as the Aussies love to put pressure in that area of the pitch to create goal-scoring opportunities.

Waseem and Fareed have been doing a great job in this department and they should keep improving

Time for penalty-corner change-up

In PC attack Sohail should still be the first choice and select angles after thorough video analysis of their goal-keeper and first runner. Even if Sohail is successful, Pakistan should look for indirect variations to ease the pressure on their captain.

When defending PCs, Imran Shah should wait longer for the ball before reacting and be stable on the first shot. Pakistan should run mostly 3-1 full and also change the position of their line stopper.

Fluid strikers needed

If Pakistan's strikers remain static, the Aussies will love it and will not have any problem in putting pressure on Pakistan's defense. So they have to do lot of running without the ball – same for the midfield – to create gaps for the build up.

Pakistan should use the referrals very smartly as they wasted them in the last match and missed out on some clear PCs.

Missing chances will not be acceptable in this match so strikers should be at their best and should finish at least 70% of the chances they get. Aussies defend with a lot of players so Pakistan should use the maximum number of transfers which will definitely give them a lot of space and opportunity to attack.

This will without any doubt be a high-pace game so a lot of rolling substitutions should be utilized.

Pakistan should treat this as the quarter-final of the Olympics and play with great intensity. It will be a great game to watch and the team which plays with more responsibility will win.

Players to watch:

No particular player can be singled out as Pakistan requires the whole squad to fire. My best wishes and prayers are with them, with a special 'good luck' for goalie Imran Shah.

Dawn


---

Pakistan aim to reach last four against all odds

By Raheel Hanif

LAHORE – The wild Group A is still wide open after Great Britain staged the best comeback of this Olympic hockey tournament to date, scoring three goals in a 19-minute span to recover from a three-goal deficit and draw current world champion Australia 3-3. James Tindall's goal with 4:30 left in regulation capped the improbable comeback and threw the Group A standings back into chaos.

Australia and Great Britain now lead the hotly contested group with eight points, while Pakistan and Spain sit on seven points. It means the two semi-final spots all come down to Tuesday's preliminary round finale when Australia take on Pakistan and Great Britain face Spain.

All the four teams in the group now are in a do-or-die battle on the last day of the group stage. Australia and Great Britain need a draw or victory to make it semi-finals while Pakistan and Spain need straight away wins to enter into the knock-out stage. In case of Pakistan, it is still an uphill task and odds are against them as they will face fast and furious champion Australia, who despite drawing two games still remain a team to beat and favourites to move on. Aussie slip-ups against Great Britain and Argentina have left them also on the brink and they will come hard on Pakistan as there is no room for complacency for any team.

Pakistan, who off to their Olympics campaign steadily despite the short comings met a heavy road block in shape of Great Britain who successfully exploited the weak points of Pakistan defence and inability of forwards to turn the chances into goals. After completely horrible performance against Great Britain, the Green Shirts showed the same weaknesses against South Africa and only positivity of the match was the hunger and self-belief that led them to in a position to get a shot at the Olympics podium.

Pakistan match against South Africa, in which where total nine goals scored and there were total 30 attacks on the goal posts from the both sides, was indeed the best match of this whole tournament so far and resulted in the favour green shirts but this victory shall not over shadow the shortcomings that we have seen again in this match.

The way defence has failed in last two matches is completely a nightmare before facing the haunting side of Australia. South Africa gained three penalty corners and they converted two of them into goals and allowing opposite side so many penalty corners at this stage of the match indicate that there is a lack of discipline in the D area of Green Shirts. Pakistan had the advantage of having senior players in their side, tough they have been a disadvantage too due to their stamina issues however senior players and their experience clicked during the most crucial situation of the match where Waseem Ahmed, Sohail Abbas, and Shakeel Ahmed attacked on the goals multiple times. However, the young guns like Abdul Haseem Khan and Shafqat Rasool must get the due credit for scoring first three goals for green shirts in first half.

Pakistan has throughout played attacking hockey in this tournament, apart from Team GB match where Green Shirts were completely helpless. The strategy of more players in mid-filed worked in first two matches but in the recent two games it seems as opposite sides have worked out on the loop holes in current field strategy of Pakistan. Therefore, Coach and senior team members must come-up with a better strategy against the favourite Australia. This factor must be kept in mind that Australian coach was special spectator of the match and it indicates that how closely Australia are looking at its opponents.

Pakistan must work on the most lacking side and that is defence especially the goal keeper department. Attack has been good in this tournament and to remain this attack effective it must be backed efficiently that was missing against GB. If Pakistan play their Asian-style, attacking hockey and match Australia's fast pace, they can even slow them down to control the match and turn it in their favour. Pakistan have to control poor stopping and cover the crossing of the forward line, both towards the right and left, as the forwards just aren't there on time to connect.

The recent two matches also showed that the goalkeeping choice is not even near to envious. Team's head coach also expressed the same concerns over Shah, then why he did not ask the selectors for a back-up goalkeeper too. Going into the competition with one goalkeeper will remain a major blunder as Imran makes one mistake after another but cannot be replaced for there being no option.

Group A standings
Team M W T L GF GA GD Pts
Australia 4 2 2 0 16 5 11 8
Great Britain 4 2 2 0 13 7 6 8
Pakistan 4 2 1 1 9 9 0 7
Spain 4 2 1 1 7 9 -2 7
Argentina 4 0 1 3 4 11 -7 1
South Africa 4 0 1 3 8 16 -8 1

The Nation


---

Pakistan can't make mistakes against Australia: coach

Shabana Saleem



On Tuesday, Pakistan tackle world champions Australia. -Photo by Reuters

Pakistan, hockey gold medallists in 1960, 1968 and 1984, stepped back into contention for a semi-final spot with a nail-biting 5-4 win over South Africa on Sunday.

It took their points tally to seven from four matches – one behind World Cup winners Australia and Great Britain.

On Tuesday, Pakistan tackle world champions Australia.

"Australia are one of the best sides here. We cannot make any mistakes in that match," said Pakistan coach Akhtar Chaudhry while talking to AFP.

"We have to play very carefully and if my forwards move like they did against South Africa, it will be a very good match."

In an earlier interview at Cannock Hockey Club, manager Khawaja Mohammed Junaid said that there have been difficulties and there is competition among the players.

He explained that individual weaknesses are criticized privately and team meetings are kept positive and constructive, but more notably "we watch uplifting movies and go for coffee together off pitch. I am very grateful to each player as we have become well connected."

Captain Sohail Abbas said that the players need to stay focused, especially at this stage of the tournament and asked the fans for their full support.

"Focus on being sincere to yourself both critically and mentally," the penalty-corner specialist said.

"What we need from Pakistan is their prayers and support. When you clap…clap with both hands," he added.

Dawn


---

Was expecting better show from India, says Pakistan's Rehan Butt

Reet Oberoi

Pakistan striker Rehan Butt wasn't sure about his participation in the London Olympic Games. Part of the controversial World Series Hockey, the 31-year had declared himself fit for the quadrennial event, but the Pakistan Hockey Federation was reluctant to pick him.

With India banning all its WSH stars, Pakistan followed suit. Some last minute changes and hefty fines on the players saw Pakistan include their WSH rebels – Butt, Waseem Ahmed and Shakeel Abbasi -- and the team are on a roll.

Their win over South Africa put them into contention for the semi-finals and Rehan says the team work was the reason behind it. Veteran Waseem Ahmad struck the all important winner in the 9-goals match.

"We are a team that see a lot of up and down. We had finished last in the 2010 World Cup in New Delhi, and became the Asian Games champions eight months later.

"But right now at the Olympic Games, it is a perfect mix. We have players like (captain) Sohail Abbas, Waseem and Shakeel, who are so important for us. The team is doing very well, and we are looking ahead to the upcoming matches," Butt told this website.

Rehan, who in the past has had stupendous success against India, said he was surprised to see the Men in Blue fare so poorly. "I was expecting a lot more especially in the manner India had qualified for the Olympics. The players are very talented and I consider them a good team.

"Even during the World Series Hockey, I came across a lot of players, who are very talented. Perhaps, they have been unable to work as a unit in London," he said.

At the Athletes' Village, Rehan has for company younger brother Imran, a goalkeeper, who was picked for the squad of 18, but could not make it to the final 16.

"He is still young, and hopefully the future goalkeeper for Pakistan. He was very keen to play, but is sad to watch the action from the sidelines.

"But I believe he has learnt a lot in these few days, staying with the Olympians and learning about what pressure is at this stage. He has a bright future and I will keep guiding him," said the elder brother.

Stick2Hockey.com


---

India hockey coach Nobbs slams team for shoddy show

India hockey coach Michael Nobbs slams team again for shoddy show; expresses helplessness at watching from the sidelines, but hopes for a better show in remainder of the mega event

http://www.mid-day.com/imagedata/2012/aug/disappoint.jpg
Indian players (in blue) look dejected after losing to South Korea at the Riverbank Arena in London on Sunday. Pic/AFP

India's chief hockey coach Michael Nobbs said he was deeply hurt with the performance of the eight-time Olympic champions in the 2012 London Games and was apprehensive about the future of the team.

The Australian was surprised with the sudden lack of form of the players, who did so well only three weeks back during their European tour. The Indian team is on a losing streak having lost four group matches.

"Where do we go from here? I am, of course, completely disappointed. We showed so much promise as we played during the past 12 months. Preparations and team building were going according to schedule and our results had showed we were improving. I don't know what is going wrong," he said.

"There's no excuses. There's nothing more we can do as coaches, we're not out there on the field. The players have to perform, and they have been performing throughout the year.

"They've let themselves down, they've let us down, and they've let the Indian people down too, and I apologise for that because it's something we've got to fix. What's coming is a lot of hard work and a lot of pain."

Nobbs said the lack of finishing and poor defence has proved costly for India.

"The same things that we all knew... lack of finishing in front of goals and leaking easy defensive goals... have proved to be costly. Maybe we were hoping it would all be alright on the day. Well this is the Olympic Games and this is where as an athlete you get the chance to show that you deserve to be here and establish yourself as an Olympian."

Play for pride
Nobbs said the Indians must now salvage pride in their last group game against Belgium followed by the classification matches.

"We still have two games to play to try and salvage something. This is the last chance for a number of players to stand up and be counted and produce the performances we all hoped they would," he said.

Nobbs said players should not lose faith in their abilities.

"It is important for our players not to lose faith in themselves and as a team as this is a tough time for the team but it's certainly not the end of the road.

"The next game will be against Belgium and they are no walkovers and are in a similar position as ourselves. They are a physically tough side with some skillful players and from watching their games — they play with the pride of a nation — so they will be a tough team to crack. Can we finally stand up and be counted? Well, we better, our performance to date is not acceptable," he said.

Mid-day


---

We've let India down, says hockey coach

LONDON: India hockey coach Michael Nobbs has apologised for his team's embarrassing Olympic Games performance, claiming they have let down the entire nation.

Eight-time champions India have lost all four of their preliminary round matches in London and are in danger of finishing last in the 12-team tournament.

The national mood has not been improved by seeing bitter rivals Pakistan move to the brink of qualifying for the semifinals.

India's 4-1 defeat to South Korea on Sunday left them with a record of six goals scored against 15 conceded and sitting rock bottom of Group B.

"It's tough, because there is an expectation of your senior players. You don't get many chances like this in a lifetime," said Nobbs.

"You have to give it everything you possibly can, because it's not often you get to play for your country and at the Olympic games."

"There's no excuses. There's nothing more we can do as coaches, we're not out there on the field. The players have to perform, and they have been performing throughout the year.

"They've let themselves down, they've let us down, and they've let the Indian people down too, and I apologise for that because it's something we've got to fix. What's coming is a lot of hard work and a lot of pain."

Meanwhile, Pakistan, the three-time champions, find themselves on the verge of a semi-final place in Group A, although they face a tough task if they are to get through to Thursday's knockout round.

Pakistan, gold medallists in 1960, 1968 and 1984, stepped back into contention with a nail-biting 5-4 win over South Africa.

It took their points tally to seven from four matches -- one behind World Cup winners Australia and Great Britain.

On Tuesday, Pakistan tackle Australia while Spain, the Beijing 2008 silver medallists who also have seven points, face the hosts.

Both Australia and Britain are unbeaten in the tournament.

"Australia are one of the best sides here. We cannot make any mistakes in that match," said Pakistan coach Akhtar Chaudhry.

"We have to play very carefully and if my forwards move like they did against South Africa, it will be a very good match."

Two goals in the last 10 minutes saved Pakistan's chances of making the semifinals in Sunday's win over South Africa, the tournament's highest-scoring match so far.

Captain Sohail Abbas made it 4-4 in the 64th minute with a trademark penalty corner flick into the top corner before Waseem Ahmad claimed Pakistan's winner three minutes later.

"It's do-or-die game against Australia but our spirits are very high," said Pakistan star Rehan Butt.

The Times of India


---

Sorry India, says hockey coach Nobbs

By Chander Shekhar Luthra

Hockey coach Michael Nobbs has been trying hard to figure out the reason behind the Indian team's sudden slump in form at the London Games. But he has vowed to implement a few plans on his return to India. Nobbs is offering apologies to the fans back home but has run out of ideas to lift the team's morale ahead of its last group game against Belgium on Tuesday.

"The players have let themselves, the team and the country down," said Nobbs, a day after India lost to South Korea. It was the fourth consecutive loss in the competition.

India's worst-ever performance in the Olympics was in Atlanta where they finished eighth. Looking at the current scenario there is every likelihood that the eight-time former champions could end lower.

Nobbs is surprised because the same bunch of players were doing well till a few weeks back during the European tour. On their arrival in London, the players have neither been able to attack nor defend. "We showed a lot of promise during the last one year or so. The team preparations were also going well and the boys were showing gradual improvements in the results," the coach said, adding: "Our penetrations into opposition goals have been not been up to the mark."

Nobbs specifically told his forward line to try and earn penalty corners but no one followed the instructions. The players went for possession for too long, trying to score field goals. Now that only the Belgium game is left, Nobbs is certain that the physically strong opponents would not make it easy for the Indians. "Belgians are no walkovers and are a physically tough side. But then this is our chance to stand up and be counted," said the coach.

But before signing off, Nobbs warned the players to get ready for some tough times ahead. "They (players) have let India down. Now what's coming for them is a lot of hard work and a lot of pain," Nobbs remarked.

DNA


---

There are no excuses: Nobbs

Rohit Mahajan in London

Years ago, India watched the Olympic Games only because of hockey – that must now change. Indian hockey is among the underlings, and not among the honoured guests, at this biggest celebration of sport.

At London 2012, Indians have done well in shooting, boxing and badminton. In one of these, shooting, body mass, muscle strength are not the decisive factors. In another, boxing, body size is, again, of a lesser importance – a 48-51kg boxer will fight only against a 48-51kg boxer. In events in which body size and mass, and muscle strength and lung-power, are decisive – athletics, rowing, swimming – we are nowhere. Should we add hockey to the list of excessively physical sports wherein we'd be only among the also-runs?

Michael Nobbs, the Indian coach, doesn't know what to do now – he can only promise more pain and much, much more hard work. "Where do we go from here? I, of course, am completely disappointed as we showed so much promise as we played during the past 12 months," Nobbs says.

"Preparations and team-building were going according to schedule and our results had showed we were improving. What is going wrong?" Nobbs wonders.

Nobbs puts the blame squarely on the players. He says the team has let themselves down, and also the coaches and Indians fans.

He doesn't think that the coaching staff could have done more. "There are no excuses. There's nothing more we can do as coaches, we're not out there on the field," he says. "The players have to perform, and they have been performing throughout the year."

Nobbs says he can't figure out why the players are continuing to make old mistakes. "The same things that we all knew – lack of finishing in front of goals, and leaking easy defensive goals – have proved costly," he says.

The Tribune


---

Former hockey players lambast `bunch of mediocre` Olympians

New Delhi: There is a dearth of quality hockey players in India and the present national team possesses a "bunch of mediocre" individuals who are just satisfied to be Olympians, feel yesteryear stars of the game.

The former players were scathing in their attack following India`s disastrous Olympic campaign. After losing four consecutive matches in Group B, the eight-time champions are staring at the worst-ever finish in the quadrennial extravaganza.

Former India captain Ajit Pal Singh said the Bharat Chetri-led side has been exposed in London and it has no excuses to offer for the dismal showing.

"The present players have got a lot of exposure, so they can`t blame anyone for their performance. They looked lethargic, the defense as usual was shaky, the team looked awful in all areas," the 1975 World Cup winning captain told PTI.

"The present team has a bunch of mediocre players who are just satisfied to be in the Olympics," said Ajit Pal, who was initially named as India`s Chef de Mission for the London Olympics but gave the mega-event a miss due to spondylitis.

Another former skipper Zafar Iqbal, who was part of India`s eighth and last Olympic gold medal-winning side in 1980 Moscow, agreed with Ajit Pal and said ace drag-flicker Sandeep Singh has been a big letdown in London.

"We don`t have many world class players in the team. We may have 2-3 quality players but they are not enough. A top team should always have 13-14 world class players," Zafar said.

"Sandeep may be a good penalty corner specialist but he is nowhere on the ground. He is found wanting in the defense. A quality player is one who has the ability to perform under pressure," he added.

Zafar agreed with chief coach Michael Nobbs, who had questioned the commitment of Indian players after the prolonged losing streak in the London Games.

"We have a long way to go to match top teams of world hockey. It seems we have forgotten our basics. How can we expect commitment from these players? Zafar asked.

"Only quality players are committed towards the game."

Son of hockey legend Dhyanchand, Ashok Kumar held the national selectors responsible for picking up rookie players in the Olympic-bound team.

"Our planning was completely wrong. We tried to introduce new things at the wrong time. By leaving out players like Rajpal Singh and Sarvanjit Singh, the continuity and combination of the team was broken," he said.

"We added some new players which was not necessary. For example, there was no need to make a young S K Uthappa an Olympian so early. He looked sub-standard. I hold the selectors responsible," Kumar said.

"Our forward line was a total flop. We did not show any spark. There is no combination among the players."

Kumar also came hard on Hockey India for ignoring the players of World Series Hockey from the national team.

Citing the example of Pakistan, who included Rehan Butt, Shakeel Abbasi and others in their Olympic team despite their WSH appearance, Kumar said Indian hockey is suffering because of the long-standing power tussle between two warring federations -- HI and IHF.

"Some very skillful players have come to light from the WSH but HI ignored them. Not a single player from the WSH was called for the national camp. They were termed as traitors by HI.

"Look at Pakistan. They have included their WSH players in the Olympic-bound team and the results are showing in the field," Kumar said.

India started their Olympic campaign with a 2-3 loss against The Netherlands, followed by humiliating defeats against New Zealand (1-3), Germany (2-5) and South Korea (1-4) to occupy the sixth and last position in Group B with still a game to play against Belgium later on Tuesday.

Zee News


---

Memories of 1986 World Cup return to haunt India in hockey



Indian hockey team during their preliminary round match against Germany at the Summer Olympics 2012. File photo

Memories of the bottom-place finish at the 1986 World Cup here returned to haunt the Indian hockey team, who will now have to lift their game to avert the wooden spoon at the London Olympics.

India, who play Belgium in their final Pool B fixture on Tuesday, will finish last in the group irrespective of the result of this match and will then have to play the bottom-place team in the other pool in the playoff for the 11th and 12th positions.

India are the only team not to have secured a point so far in the ongoing Olympic Games hockey competition, while all others in their group have four points or more. Even an Indian victory over Belgium, who are determined to move up the rankings, will leave India at the bottom.

"This is a reality we have to face now," says India's national hockey coach Michael Nobbs.

Nobbs said the players had worked hard and were fit to take on the top teams "but they have let themselves, the team, their supporters and the country down".

"It is not a God-given right to play for your country. It is an honour you earn through hard work," said Nobbs. "If they cannot play, we have to move on."

"Perhaps this is what was required to clean the slate," he said, expressing his disgust at the manner in which the Indian team had crashed to four successive defeats.

Not only the defeats, it was the manner in which India played that has disappointed it supporters, who turned up in large numbers at every match at these Games, only to return dejected by the poor show of the team.

London was the venue where the hockey team won independent India's first sporting honour by winning the gold medal at the 1948 Olympics.

Balbir Singh, the centre-forward who won three Olympic gold medals as a member of the Indian teams in 1948, 1952 and 1956 editions, came to the Olympic hockey arena to support the Indian team against South Korea, but like thousands of other supporters left the venue disappointed at India's performance.

It was not the glory of the 1948 Olympic gold medal, but the dejection of the 1986 World Cup at the British capital that has arrived on the horizon.

Under the new format that is being used at the Olympic Games, teams that fail to make the semifinals will play just one more match to decide their final standing in the tournament.

India will finish below their number 10 ranking as they will feature in the play-off for the last two spots (11th and 12th).

This will be the lowest position in the Olympics for eight-time gold medallists India, whose previous lowest was the eighth-place finish at the 1996 Atlanta Games.

India did not feature in the Beijing Olympic Games as they lost to Great Britain in the qualifier, which left them out of the top 12 teams.

Captain Bharat Chetri said he was hopeful of the Indian team picking up for the last two games -- the pool match against Belgium and the play-off for the 11th and 12th spots.

"I hope we can improve. We must put the four losses behind us and play well as a team to salvage something from the last two matches," Chetri said, adding that India had paid a heavy price for missing chances in their previous outings.

"We're a young team, most of the players did not have the experience of a big event like the Olympic Games," Chetri said.

Belgium defeated India in the final of last year's Champions Challenge in Johannesburg, and are looking to repeat that performance on Tuesday.

Winners of a bronze medal in the 1920 Olympic Games at Antwerp, Belgium returned to the Olympic Games in 2008 after 32 years.

The Hindu


---

Brendon Carolan announced as Interim Head Men's Coach

The High Performance Working Group are pleased to announce that Brendon Carolan will be taking over as Interim Head Men's Coach effective immediately and until a full time coach is appointed. Andy Smyth has been appointed Interim Assistant coach and Graham Shaw will join the support staff of the team to assist the two coaches during this period.

Irish Hockey Association media release


---

KLHC in hunt for foreign players

By Jugjet Singh

MALAYSIA Hockey League double champions Kuala Lumpur Hockey Club (KLHC) are in the hunt for foreign players to replace some of their ageing stars this season.

Coach K. Dharmaraj will also inject the front-runners for the League and Overall titles with two budding players.

"We want to keep both the titles, and that is why we need to replace some of the former national players with youth and also foreign players," said Dharmaraj.

KLHC are looking towards Sardar Singh and Sandeep Singh from India, both of whom are playing in the London Olympics now. But if they are unavailable, players from Australia would be hired.

"We are still at the talking stage, but if we can't get the India players we might hire Australians. This is because I believe Tenaga Nasional have many speedy players in their ranks this season, and if we want to retain the titles, we need fresh legs too," said Dharmaraj.

KLHC will retain at least 18 players from last season, and they include national players Azlan Misron, Tengku Ahmad Tajuddin and Razie Rahim.

The two new players are Najib Hassan and Azwar Rahman who were spotted during the recent Malaysia Games in Kuantan.

"Both the players are 17 and have shown tremendous improvement when training with the Project 2013 team. I believe their inclusion into the KLHC squad would not only benefit the club but also the country in the long run," said Dharmaraj who is also the Project 2013 coach.

This year only six teams will play in the Premier Division as Yayasan Negri Sembilan have pulled out, while UiTM and Armed Forces Airod have decided to play in the less gruelling Division One.

The MHL will start on Sept 1 and end on Oct 10, after which the players will go back to their respective states for the Razak Cup on Oct 14-21 in Kuantan.

Newly appointed national chief coach Paul Revington, who will arrive after the Olympics, has said that he will select his training side after watching the MHL and the Razak Cup.

Revington's first assignment with Malaysia will see him take the team to Argentina for the Champions Challenge on Nov 24-Dec 2 followed by the six-team Asian Champions Trophy in Doha on Dec 14-23.

New Straits Times