All the news for Wednesday 8 August 2012

London 2012 Olympic Games - Hockey Competition Fixtures & Results

Tuesday 7 August 2012

Pool Time Match Result

B 08:30 Korea vs. Netherlands 2-4
A 10:45 Australia vs. Pakistan 7-0
A 13.45 Argentina vs. South Africa 6-3
B 16:00 India vs. Belgium 0-3
A 19:00 Spain vs. Great Britain 1-1
B 21.15 Germany vs. New Zealand 5-5


---

GB survive dramatic finale to earn final four berth

Australia's magnificent seven seals semi-spot; Argentina overwhelm South Africa in goal fest



2012 Olympic Games (men), London (Photo: Stanislas Brochier)

Spain vs Great Britain: 1-1 (half-time: 0-1)

(Stephen Findlater)

Great Britain became the fourth men's semi-finalist at the expense of Spain in one of the most dramatic manners possible, overcoming a heart-stopping final minute of play. Needing only a draw to progress, the hosts were locked at 1-1 when Spain were twice awarded penalty corners only from umpire conferrals saw the decisions rightly over-turned, allowing GB to hold on for the result.

It left Spain distraught after a sterling fightback after Britain had held the upper hand for much of the first 55 minutes, taking the lead from Ashley Jackson's fifth goal of the competition. But when Pau Quemada pulled his side level 15 minutes from time, it set up a grandstand finish that set the home hearts racing.

Jackson's 33rd minute penalty corner gave Great Britain the first half ascendancy when Ramon Alegre conceded a soft penalty corner. Jackson drove low for his fifth goal of the tournament, taking a small nick en route to the backboard. Otherwise, it was an intense, physical tussle with both Pau Quemada and Edi Tubau green carded. It made for a tight, tentative affair but there was enough guile to carve out decent opportunities.

The first fell to Jackson off the back of James Tindall's drag-flick but the British talisman's snap-shot clattered only the outside of the goal. In response, Quemada and Tubau were putting in a huge stint while an innovative penalty corner saw James Fair in trouble, saved only by Iain Lewers diving clearance. Tindall and Martin tested Francisco Cortes a couple more times but Jackson's drive remained the only difference between the sides at the break.

Spain, though, transformed from a placid half-press to a much higher press and almost instantly drew dividends when Tubau robbed Richard Smith's loose pass. Fair blocked well, the first of a series of significant saves in the half. GB could have been out of sight in the 53rd minute from a manic third penalty corner, Iain Mackay bunting the ball off the crossbar while Barry Middleton and Jackson also had digs.

Within a minute, the momentum had shifted as Quemada found a low and true route past Fair and, from there, their need for the three points was accompanied by an all-out surge, winning a couple of corners before the controversial final minute. The stoppages dragged it out but GB held on and are now looking forward to a semi-final date with the Netherlands while Spain are destined for the fifth place play-off.

On a day of milestones, David Alegre played his 200th cap, Matt Daly his 150th; Iain Mackay in his 100th game and Iain Lewers lined out for GB for a 50th time.

For more information on ESP vs GBR, click here

Australia vs. Pakistan: 7-0 (half-time: 4-0)

Yan Huckendubler

Anything could still happen in Pool A, with four teams in contention for a semi-final spot (Australia, Great Britain, Pakistan and Spain) depending on the results on this last day of pool play. But it took less than 5 minutes for Australia to put the contest out of doubt.

Australia were prompt to stake their claim on the match, earning a penalty-corner within 4 minutes of play. Liam De Young picked up the rebound from the goalkeeper after the initial shot by Christopher Ciriello and managed to slip the bouncing ball in goal in a narrow angle. Less than a minute later, Mark Knowles added an unstoppable penalty-stroke under the crossbar and Pakistan were suddenly looking into a two-goal deficit with the match hardly started.

Imran Shah was kept busy in the Pakistani goal, while it took a while for Nathan Burgers to see any action at the other end. Australia were pressuring the Pakistani midfield very high on the pitch, preventing their attempts to develop any attack and reducing them to try and use tentative high balls.

Christopher Ciriello added a goal on another penalty-corner late in the period, then a forth one after a poor clearance by the Pakistani defense, and the Australians went into the half-time break with a comfortable 4-goal lead while the Pakistani team seemed at a loss to find a solution to threaten the Australian circle.

The same pattern prevailed in second period, with Australia having immediately another chance on penalty-corner. Ciriello's flick was this time way too high but it did not take long for Russell Ford to score the 5th Australian goal with a spectacular shot high in the opposite corner at the end of a long run. Jamie Dwyer added a 6th goal, Glenn Turner a last one, and there was not much that Pakistan could do to prevent the Kookaburas from cruising to spectacular 7-0 victory, establishing a +18 goal difference that pretty much insured them top spot in Pool A, as Great Britain would now have to score 13 goals against Spain to overtake them.

For more information on AUS v PAK, click here.

Argentina vs. South Africa: 6-3 (half-time: 2-2)

Yan Huckendubler

Argentina came back from a 2-goal deficit to severely punish South Africa (6-3) and leave them bottom of the group.

With both teams having three losses and a draw, they were out of contention for the semi-finals and playing to avoid bottom place. The contest was however heated from the start, with a green card to a South African player within a couple minutes of play.

South Africa drew first blood on a spectacular penalty-corner under the crossbar by Justin Reid-Ross, certainly one of the best corner flickers in this competition. They doubled their tally a few seconds later by Lloyd Norris-Jones from the field and Argentina were already looking at a steep uphill battle.

Facundo Callioni had a golden opportunity after a splendid pass from Agustin Mazzilli found him alone in the circle, but Erasmus Pieterse stood tall in the South African goal and thwarted his effort. Soon after Lucas Rossi was unlucky to hit the post after a decisive circle penetration, then Callioni failed again to beat Pieterse from close range before Gonzalo Peillat reduced the score on a penalty-corner in the 24th minute.

Both teams had other chances on penalty-corners before Lucas Rossi managed to catapult the ball in the roof of the net from a goal mouth scramble, levelling the score for Argentina. The score was tied at half-time (2-2), but Argentina had a better momentum after coming back in the match after their catastrophic start and Gonzalo Peillat added another penalty-corner, his second of the day, early in second period to give the lead to the South Americans in this lively contest.

Facundo Callioni deflected in goal a superb cross from Lucas Vila who had outrun the South African defense, then did it again soon after on a similar cross, this time from Agustin Mazzilli, and Argentina were suddenly in a very comfortable position with a 3-goal lead. The crowd were entertained by a flurry of goal in the final minutes. First Jonathan Robinson pulled back a goal for South Africa, then Gonzalo Peillat promptly re-established the 3-goal lead with his third penalty-corner goal of the match, a strong feat for the 19 year old playing in his first major competition.

With the win, Argentina finished 5th in pool A and will for 9th-10th on Thursday, while South Africa will play for 11th-12th on Saturday.

For more information on ARG v RSA, click here.

FIH site


---

Dutch success hands Germany semi-final pass

Germany advance at Korea's expense; Belgium cutting edge defies India for third



2012 Olympic Games (men), London (Photo: Frank Uijlenbroek)

Korea vs. Netherlands: 2-4 (half-time: 0-2)

Yan Huckendubler

The Netherlands were already qualified for the semi-finals while Korea needed a win to have a slim hope of going through, depending on the result of Germany later in the day against New Zealand. But they were unable to set up that opportunity as the Dutch victory eliminated the Asian side with the Germans profiting.

First chances were for Rogier Hofman after ten minutes of play. Following a powerful shot, he picked up the rebound from the goalkeeper and had plenty of time to adjust a second shot, but Lee Myung Ho in the Korean goal was up to the task on both occasions. The teams were offering an enjoyable display of attacking hockey, with superior individual skills on both sides, and the crowd quickly warmed up in the chilly early morning.

The Netherlands earned a penalty-corner mid-way through the period and Mink Van Der Weerden slammed it in goal to open the scoring. Soon after, Valentin Verga surprised the Korean defense with a sudden shot from the top of the circle and the Dutch team appeared on their way to a comfortable fifth win. Korea was however not ready to give up yet. They had a series of penalty-corners in the final minutes of the period, but Jang Jong Hyun's flicks were saved by Jaap Stockmann in the Dutch goal and the break was reached with the two goal gap.

Korea kept trying and had a few good chances early in second period, first for Lee Nam Yong on a ball rolling tantalizingly on the goal line behind Jaap Stockmann, then by Kim Young Jin who collected a long ball high behind the Dutch defense but failed to redirect it past Stockmann. Their hopes of coming back were dashed when Roderick Weusthof was fouled when progressing in the circle and converted himself the penalty-stroke to build a seemingly insurmountable 3-goal lead.

Nam Hyun Woo closed the gap on penalty-corner with still 16 minutes left in the period. He however injured himself delivering the flick and had to be taken away on a stretcher. Korea showed their depth in the exercise when Jang Jong Hyun was as impressive and efficient on the next penalty-corner chance, closing the gap to one goal. It was too close for comfort for The Netherlands and they promptly re-established their two-goal lead by Billy Bakker after a swift counter-attack that baffled the Korean defense.

With the win, The Netherlands finished unbeaten in the group stage and advanced to the semi-finals as winner of Pool B, while Germany were guaranteed a semi-final place at the expense of Korea.

For more information on KOR v NED, click here.

Germany vs New Zealand: 5-5 (half-time: 2-4)

Stephen Findlater

Christopher Zeller's late goal condemned New Zealand to fifth place in Pool B, denying the black sticks who led the game for all of 63 minutes of an incredible tie.

Nick Wilson's tip in and Richard Petherick's penalty corner strike had New Zealand 2-0 inside six minutes before Oskar Deecke got one back just three minutes later. Zeller stung the base of the post from a corner soon after in an all-action opening salvo before a two-goal wedge was re-established when Ryan Archibald's superb right-wing cross ended up on Stephen Jenness's stick for a simple finish and 3-1.

Florian Fuchs replied was a nicely worked three-on-one move, passed around Kyle Pontifex but Simon Child closed out the half with his first goal on the half hour, calmly flipping home a corner rebound. His second, making it 5-2, came just 45 seconds into the second period, cracking home from the edge of the circle.

From there, though, Germany discovered their scoring touch. Thilo Stralkowski drove home a penalty corner and Zeller got the deficit down to one, finishing off another indoor-style move. And his last act was to flip home his side's fifth goal from off the ground. It made little tangible difference for Germany who remain in second place and through to play Australia in the semi-final. They will fret over the health of captain Max Mueller who picked up a nasty thumb injury in the first half, not appearing for the duration of the second period.

But for New Zealand it means they are stuck in fifth and destined for the ninth/tenth playoff against Argentina rather than seventh against Pakistan.

For more information on GER vs NZL, click here

India vs Belgium: 0-3 (half-time: 0-1)

Stephen Findlater

Belgium moved a big step closer to third spot in Pool B as they had the clinical edge India lacked to run up a misleading 3-0 scoreline as Vincent Vanasch was by far the busier goalkeeper on the day. Superb strikes from Jerome Dekeyser, Gauthier Boccard and Tom Boon – on his 100th international appearance – mean the Belgians have a shot at fifth place in the competition having already massively improved on their pre-tournament ranking of 11th.They kept third spot by virtue of New Zealand's draw with Germany in the day's final game.

Dekeyser started the scoring in brilliant fashion in the 15th minute, racing onto Felix Denayer's through ball, finishing first time with a rocket over Bharat Kumar Chetri's shoulder. India's vitality on the counter attack should have yielded a couple of goals in response. Standing in their way, though, was the superb Vincent Vanasch while Shivendra Singh clipped the outside of the post.

While Indian chances went astray, Belgium snapped up their half-chances and Boccard profited from a superb piece of umpiring from Nigel Iggo. He held his whistle after Boon seemed to have earned a penalty corner, and the 20-year-old Boccard fired home through a narrow opening. And Boon closed out the win after more Vanasch heroics with two minutes to go with an excellent, low reverse-stick shot.

India end the pool phase with five losses from five and will now play South Africa for eleventh place on Saturday at 8.30am.

For more information on IND vs BEL, click here

FIH site


---

Australia, Netherlands storm into men's hockey semis

LONDON: World champions Australia outplayed Pakistan 7-0 today to ease their passage into the semifinals of the Olympic Games men's hockey competition, while The Netherlands also stormed into the last four stage with an all-win record after spiking South Korea 4-2.

The Australian victory dashed Pakistan's hopes of making the semifinal after 12 years, while the second semifinal spot from the Group A still has two contenders in hosts Great Britain and 2008 Olympic silver medallists Spain, who clash later in the day.

The winner of the Great Britain-Spain encounter will be the other semifinalist from the group, while a draw will take the home team ahead.

Australia, who were held to two draws in the preliminary league by Argentina and Great Britain, finished with 11 points from five matches and the runaway triumph almost assured them of the top spot in the pool.

Hosts Great Britain can catch up with Australia on points if they beat Spain, but Australia now have a 12 goal advantage over Great Britain on goal-difference and even an injury-hit Spanish side can prove a tough side to outplay by such a huge margin.

Christopher Ciriello scored twice in Australia's goal fest that left the Pakistan defenders stunned.

Ciriello came into the frame after Liam de Young opened the Australian account with a penalty corner conversion in the second minute and Mark Knowles placed a penalty stroke past Pakistan goalkeeper Imran Shah a minute later.

Ciriello's two goals came in the space of five minutes, first scoring on a penalty corner in the 29th minute and then firing in a field goal in the 34th to give Australia a 4-0 lead at the interval.

Needing a victory over Australia in their last league outing to make the semifinals for the first time since the 2000 Sydney Olympics, Pakistan were never in the hunt today.

Pakistan went to concede three more goals in the second session as Russell Ford (42nd minute), Jamie Dwyer (48th) and Glenn Turner (70th) made entries in the scoresheet.

The Netherlands, who were bronze medallists in the 2010 World Cup in New Delhi, continued their winning spree, but had to ward off a late South Korean charge which brought them within one shot of an eqauliser before they conceded the last goal when caution was thrown to the wind.

The Dutch were already assured of a semifinal place, but they went after the victory to storm into the semifinals with an all-win record, similar to their women's team which is the defending champion here.

The Netherlands duly took their points tally to 15, but in the process dashed Asia Cup champions South Korea's hopes of making the semifinals.

The defeat meant the Koreans were left on six points from five outings while Germany, with nine points from four matches, will take the second place in the group.

The result of the Germany-New Zealand match will not affect the top two positions, but a New Zealand victory can propel them in the pool standings.

Dutch penalty corner striker Mink van der Weerden, who has proved an able replacement for injured corner ace Taeke Taekema, opened the account with a rasping drag-flick into the top corner of the goal in the 17th minute.

Valentin Verga slammed the board with a firm shot from the top of the box in the 26th minute and Roderick Weusthof converted a penalty stroke that was awarded when a defender blocked him inside the striking circle in the 47th minute.

South Korea retaliated strongly and Nam Hyun Woo began their rally with a penalty corner conversion in the 53rd minute, but a minute later he was carried off the pitch on a stretcher.

Lee Nam Yong then proved his mettle with another stinging penalty corner shot that made it 2-3 in the 62nd minute.

Going all out for an equaliser, the Koreans suffered from a counter-attack two minutes later as Billy Bakker found himself infront of a unmanned goal in the 64th minute and duly placed the ball inside.

The Times of India


---

Netherlands top pool, Aussies rout Pakistan

The Netherlands defeated South Korea 4-2 yesterday to top their Olympic Games hockey pool with a fifth successive win which also allowed defending champions Germany to enter the semis.

World champions Australia also advanced to the last four by hammering Pakistan 7-0 to move to the top of Pool A.

The other spot from this group will be decided after the match between hosts Great Britain and Spain, who were silver medallists in the 2008 Olympics.

Britain, who have eight points, need just a draw to advance, but a Spanish victory will put them in second position in the pool with 10 points. Netherlands, assured of a semi-final spot before yesterday's game, spiked a late rally from Asia Cup holders South Korea to complete an all-win record in the preliminary round-robin league.

The Dutch emulated their women's team, which on Monday stormed into the semi-finals by winning all five matches.

Netherlands finished with 15 points, while the defeat shattered South Korea's hopes of staying in contention. The Koreans finished on six points from five matches.

South Korea's loss meant Germany, who have nine points from four games, will finish second in the group irrespective of the result in their last pool match against New Zealand later in the day. "We are happy, we feel strong and I have told the boys that I am proud to have 15 points," said Dutch coach Paul van Ass. "The semi-final is a new tournament, we want to reach the final," he said.

"I am very confident with the way we are playing. The penalty corners are going very smoothly and the attack is doing well as we like it." Young penalty corner shooter Mink van der Weerden became the tournament's top scorer with six goals when he opened the Netherlands scoring in the 17th minute with a rising flick into the top corner.

Valentin Verga fired from top of the circle in the 26th minute to make it 2-0 at half-time.

Gulf Times


---

Great Britain qualify for first Olympic semi-final since 1988

A 1-1 draw for Great Britain in their final Pool A match against Spain tonight was enough to secure them a place in the semi-finals of the London 2012 Olympics hockey competition.

Great Britain finished runners-up in Pool A behind world number one Australia and will now play Pool B winners the Netherlands on Thursday for a place in Saturday's Olympic final.

The home nation took the lead in the 32nd minute through an Ashley Jackson penalty corner before Pua Quemada equalised for Spain in the 54th minute, also from a penalty corner.

A succession of Spanish penalty corners in the last two minutes of the match had the packed Riverbank Arena on tenterhooks but the home nation survived to claim the vital point that sees them qualify for the semi-finals for the first time since Great Britain famously won the gold medal at the 1988 Olympics in Seoul.

Commenting on his side's progress, Great Britain Head Coach Jason Lee said, "It was a little bit nerve wracking but we've just held out. I think our quality for 50 minutes was strong and perhaps we'd have liked to have taken the game away from Spain. The expectation of what we might achieve by not losing the game perhaps came into the minds of some players. 1988 is a long time since GB were last in the semi final. Even though we've been planning for this, we knew it would be a bit of a fight to get there and we really did have to fight towards the end there. I'm very proud of the players; we'll just move on to the fun bit now."

With the two sides sizing each other up in the opening period of the first half, Great Britain claimed their first penalty corner of the game in the fifth minute when East Grinstead's Glenn Kirkham fired the ball into the danger area at pace and Alexandre Fabregas' illegal foot infringement was penalised. Surbiton's James Tindall collected the injection on the top of the circle and his fierce strike forced a strong left-handed save from Spain goalkeeper Francisco Cortes. However, the ball rebounded to East Grinstead's Ashley Jackson, who expertly controlled it only to put his shot wide of the target.

Jackson was integral to Great Britain's attacking play once again in the 15th minute. The 24 year-old's sharp break and cross at the baseline was partially blocked by Cortes, but none of the forward's team-mates could capitalise on an opportunity to pounce on the loose ball and the danger was cleared by the Spanish defence.

Spain engineered their first penalty corner of the game in the 23rd minute when Beeston's Ali Wilson couldn't prevent Roc Oliva's pass hitting his foot inside the circle. A cleverly worked set piece reached Xavi Lleonart in free space but the 22 year-old forward's shot on target was confidently saved by Great Britain and Cannock goalkeeper James Fair.

With Great Britain controlling most of the possession and Spain happy to sit back in their own half, they nearly made their dominance count to take the lead in the 28th minute. Old Loughtonians' Harry Martin dived to meet East Grinstead defender Iain Lewers' long pass but the midfielder's outstretched stick couldn't divert enough power on the ball to trouble Coates.

Spain were determined to get to half-time with the scores level, but Great Britain thwarted their defensive tactics in the 31st minute when they secured the opening goal of the game. Surbiton's Rob Moore struck Ramon Alegre's foot inside the circle with a dangerous cross from the left flank and it was left to penalty corner expert Jackson to fire an unstoppable low drive past the flailing left foot of Coates to give Great Britain the lead at 1-0.

Not content to rest on their laurels, Tindall almost doubled their lead on the stroke of half-time when his turn and first-time hit was turned over the bar by Coates for a long corner, leaving Great Britain to settle for a 1-0 advantage at the half-time interval.

Spain opened the second half with more attacking intent and in the 38th minute Eduard Tabau had the opportunity to find a Spanish equaliser but his shot from just inside the circle was easily saved by Fair.

In the 53rd minute, Great Britain almost scored their second goal of the game when excellent work inside the circle from Martin and Tindall led to a third penalty corner. Jackson's drag-flick deflected off a defender's stick to Tindall at the back post and his shot was parried into the path of Great Britain Captain Barry Middleton. With confusion rife in front of Coates' goal, the East Grinstead forward's first-time shot cannoned off a combination of a Spanish defender and Tindall's stick onto the bar and away from danger.

Great Britain's players were to rue their bad luck only a minute later when the Spanish struck an equaliser from a penalty corner. Martin was adjudged to have illegally cleared the ball with his wrist and Pua Quemada stepped up to dispatch a piercing drive just inside Fair's left hand post to make the score 1-1 in the 54th minute.

As the match entered the last ten minutes, the drama increased in intensity when Spain were awarded a number of penalty corners. In the 60th minute, Kirkham was penalised for playing the ball dangerously high but Oliva's subsequent shot was struck wide of Fair's goal. Six minutes later, Lewers was adjudged to have committed a foul in the shooting circle but again Oliva was unable to trouble Fair as the ball squirmed harmlessly wide from the set-piece.

However, yet another penalty corner to Spain in the 68th minute had the vociferous home crowd covering their eyes, but the ever dependable Fair palmed the resulting strike away from goal. The palpable anxiety inside the Riverbank Arena turned to elation when the final hooter sounded with the 1-1 scoreline enough to see Great Britain through.

The reward for Great Britain is a semi-final contest against the Netherlands at the Riverbank Arena on Thursday 9 August.

Looking forward to the game, Great Britain forward Ashley Jackson said, "We will play the same way. We'll try and score more goals than them and defend a bit better. They've got some class players and eventually they're going to break through a defence so if you're not set up to score goals you'll struggle to stay with them."

"We've played them hundreds of times before so they know what they're up against and we know what we're up against. We've beaten them in big games. It's going to be exciting."

Meanwhile, it's a massive game for Great Britain women tomorrow night when they play their semi-final Argentina at the Riverbank Arena (20.00) for a place in Friday's Olympic final.

SPAIN 1 (0)

Pau Quemada 54' (PC)

GREAT BRITAIN 1 (1)

Ashley Jackson 32' (PC)

GREAT BRITAIN MEN's SQUAD v SPAIN

Name (Club) [Position]

Started

James Fair (Cannock) [Goalkeeper]
Ben Hawes (Wimbledon) [Defender]
Alastair Wilson (Beeston) [Defender]
Iain Lewers (East Grinstead) [Defender]
Richard Smith (Loughborough Students) [Defender]
Ashley Jackson (East Grinstead) [Midfielder]
Glenn Kirkham (East Grinstead) [Midfielder]
James Tindall (Surbiton) [Forward]
Barry Middleton (HGC (Netherlands) [Midfielder/Forward]
Iain Mackay (Reading) [Forward]
Rob Moore (Surbiton) [Midfielder/Forward]

Substitutes Used

Matt Daly (Surbiton) [Forward]
Jonty Clarke (Reading) [Forward]
Nick Catlin (Reading) [Midfielder/Forward]
Dan Fox (Hampstead & Westminster) [Defender]
Harry Martin (Old Loughtonians) [Midfielder]

Great Britain Hockey media release


---

Britain in first semi since 1988



Mink van der Weerden © Gallo Images

Britain's men's hockey team reached their first Olympic semifinal in 24 years with a 1-1 draw against Spain in a tense game on Tuesday which was mired in late controversy.

Spain were awarded two penalty corners in the last two minutes but the umpires, encircled by British players, changed their decisions to give the hosts a free hit instead.

At the end, Spain coach Dani Martin stormed onto the pitch to confront the officials and keep his players from doing so.

He threatened "serious consequences" if the organisers did not explain the disputed decisions and implied favouritism towards the hosts, who were cheered on by a 16 000-strong crowd.

Earlier on Tuesday, world champions Australia booked a semifinal place after sending Pakistan packing with a crushing 7-0 victory that erased doubts about their billing as tournament favourites following two pool-stage draws.

World No 1 side Australia will play reigning Olympic champions Germany on Thursday in a battle between the world's top ranked teams, while Britain face the Netherlands, the only side yet to drop a point, in the other semifinal.

Britain needed a draw to progress while Spain, who lost two key players to injury at the start of the tournament, had to win and were perplexed over why the umpires changed their decisions.

"The (International Hockey Federation) needs to take this very seriously because it is a very serious situation," Martin told reporters after congratulating Britain.

"It cannot happen that an international official changes his decision twice just because he is surrounded by British players."

The FIH reprimanded British skipper Barry Middleton for failing to control his team and its technical director would speak with Spain on Wednesday, tournament officials said.

HOME SUPPORT

The crowds at Riverbank Arena have cheered the home team on so much that the men's hockey team manager Andy Halliday has dubbed them "Rodney Riverside", Britain's 12th player.

Britain took the lead with their second penalty corner just minutes before halftime with a low flick by Ashley Jackson, his fourth goal in the tournament.

With 16 minutes left in a nervy second half, Spain scored an almost identical equaliser with a penalty corner goal by Pau Quemada and then pushed hard for a winner by launching forceful attacks in a bid to reach the semis.

In the last five minutes Spain were awarded five penalty corners but failed to score from three while the other two were overturned after the British players surrounded the umpires.

Martin said the British players were within their rights to complain but that his side had been penalised in previous matches for similar behaviour.

"We are in a tournament where there are clear favourites and these countries are being favoured," he complained.

Britain's coach Jason Lee acknowledged that the umpires had been under pressure but thought they made the correct decisions.

"They decided the decisions on their own and I thought it showed good clarity of thought under pressure," he told Reuters.

"It's a well researched fact that officials in any sport go with the pressure quite often and there certainly was a lot of pressure out there."

While Spain's men cried, Britain's Middleton was elated to have led his side to their first Olympic semifinal since 1988 when they won gold at the Seoul Games.

"In Athens (in 2004), if you had told us we would be in the semifinals, we probably would have chuckled a little bit. We used to think it was just for the Aussies and the Dutch and the Germans to do it every time."

RESOUNDING VICTORY

Australia only needed a draw against Pakistan to reach the last four but the world's top-ranked team secured their third victory by five goals or more To nil after taking a 2-0 lead within six minutes and were always in control.

Two goals by Christopher Ciriello and one apiece from Liam De Young and Mark Knowles gave Australia a 4-0 halftime lead before a spectacular Russell Ford goal, a slide by Glenn Turner and a Jamie Dwyer strike sealed a resounding victory.

Australia coach Ric Charlesworth said: "We now have to play Germany, so we have a task ahead of us.

"They're a high quality team, they're physically strong, they're skilled and they have some match-winning players.

"It's going to be very tough. But when you get to this level of competition, whoever you play is very good."

Germany drew 5-5 against New Zealand in the late game in which their skipper Max Mueller was hit by a Kiwi stick and went off in the first half.

Team officials said he had a suspected fracture of his right middle finger and they would probably decide on Wednesday whether he could continue playing.

SuperSport


---

Spain accuse officials of bias as Team GB reach first men's hockey semi-final since Seoul

By Jessica Winch

Great Britain's men's team reached the Olympic semi-finals amid angry claims from the Spanish coach that the officials were biased.

The draw handed Great Britain the point they needed to reach their first Olympic semi-final since they triumphed in Seoul in 1988.

Spanish coach Dani Martin accused the umpires of bias and demanded an explanation from the international hockey federation in the press conference, after Spain thought they had two penalty corners in the closing minutes of the game which the umpire then withdrew.

Martin said: "We are in a tournament where there are clear favourites and these countries are being favoured. If the president of the FIH (Leandro Negre, coincidentally a Spaniard) does not give a public explanation of what has happened there will be very serious consequences."

Great Britain coach Jason Lee admitted it had been a difficult situation for the officials but rejected any allegations of bias.

He said: "It is not life and death out there but it is pretty important to people and that is why reactions come like they do.

"We played with honour and dignity and respect for the game."

Ashley Jackson put Great Britain ahead, with the East Grinstead forward flicking in a penalty corner to score his 81st international goal and fifth this Olympics. Pau Quemada equalised after the break but Great Britain held on to join the women's side in the semi-finals.

After Quemada's equaliser from a penalty corner, the tension went up several notches. Spain were awarded three more penalty corners in the closing 10 minutes as Great Britain's hopes rested on a knife edge, but the score remained level.

There was some frantic badgering of the umpires in the closing minutes as Spain pushed forward and thought they had won two more penalty corners but the hosts did enough to get the job done.

As GB and the crowd celebrated at the final whistle, Martin raced on to the pitch to confront the officials – but his protestations were to no avail.

Defender Ben Hawes said: "It was a bit nervy but eventually we got there.

"We had a little bit of luck and hopefully we can keep that for another two games."

The 31 year-old added: "Our aim when we started this tournament was to climb the rankings and be in the semi-final. We haven't lost a game since we've been here, so we're on a really good roll. We've got absolutely nothing to lose now."

As the second ranked team in the pool, Great Britain will face Holland in the semi-finals. The Dutch side qualified after five successive wins in the pool stages, culminating with a 4-2 victory over South Korea.

Australia, who crushed Pakistan 7-0 in their final group match on Tuesday morning, qualified top of pool A with 23 goals to their name. They will play Germany, the runners-up from pool B, in their semi-final.

Match details

Spain: Cortes; Enrique, Delas, Tubau, Oliva, R Alegre, Fernandez, Terraza, D Alegre, Quemada. Subs: Ballbe, Lleonart, Mir, Salles, Trenches (g).
Green card: Alegre, Quemada, Tubau.
Great Britain: Fair; Kirkham, Jackson, Moore, Hawes, Wilson, Middleston, Tindall, Mackay, Lewers, Smith. Subs: Martin, Daly, Clarke, Catlin, Fox.
Green card: Wilson.
Umpires: S Taylor (New Zealand), J Wright (South Africa).

The Telegraph


---

Black Sticks Men draw 5-5 and now face Argentina

The Black Sticks Men have come away with a 5-5 draw against second ranked Germany in their final pool game of the Olympics.

It was a gutsy performance by the Kiwi side, yet one they are disappointed with after they let a three goal lead slip, with German's equaliser coming in the final two minutes of the game.

Tonight's result means New Zealand will be in the 9th/10th playoff against Argentina on Thursday at 7.30pm (NZ time).

Head coach Shane McLeod said the team was hurting after not being able to clinch the win.

"You play teams like Germany, with the quality they have and it's never over. There's 70 minutes in a hockey game and you have to play well for the 70 minutes. Our guys are really disappointed, they don't consider that a draw, they very much consider it a loss," says head coach Shane McLeod.

Captain Dean Couzins said he was pleased the first half and the way his team fought so hard with such determination throughout the game.

"We played a reasonably good tactical game, guys worked their guts out, it's just the results are gut-wrenching. The desire is fantastic, we just didn't have the composure at the end to finish it off," said Couzins.

In a first half packed full of action, Nick Wilson scored in the fourth minute which was followed up two minutes later by a Richard Petherick drag flick.

Germany edged one back through Oskar Deecke and minutes later the second ranked side thought they had scored the equaliser, but Couzins asked for a video referral and the goal was disallowed.

The third goal for New Zealand came when Ryan Archibald passed it to Stephen Jenness who was perfectly positioned on the goal line to deflect it in.

Some clever play by Germany saw Florian Fuchs score a field goal in the 26th minute.

New Zealand kept piling on the pressure and taking their fifth penalty corner Simon Child picked up a loose ball and flicked it high over goalkeeper's Max Weinhold's head and into the back of the net. It was 4-2 at half time.

Child converted a penalty corner early in the second half, but from there the Germans started their comeback, slotting goals in the 46thand 50th minute.

In the rain and with the crowd right behind the Kiwis, the Black Sticks worked hard to cling onto a one point lead but a goal from German's Christopher Zeller in the 68th minute tied the game up 5-5 at full time.

RESULTS
New Zealand 5 (Nick Wilson, Richard Petherick, Stephen Jenness, Simon Child x2) Germany 5 (Oskar Deecke, Florian Fuchs, Thilo Stralkowski, Christopher Zeller x2) HT: 4-2

Hockey New Zealand Media release


---

Black Sticks men blow big lead to Germans

SIMON PLUMB IN LONDON



EVENS: New Zealand's Andrew Hayward (left) challenges Germany's Moritz Fuerste during their men's group B hockey match at the London 2012 Olympic Games which ended in a 5-all draw. Reuters

New Zealand's Black Sticks men have let slip a first-ever major tournament victory over reigning Olympic champions Germany.

Leading 5-2 just after half-time, three points would have lifted New Zealand's disappointing campaign from the depths of a ninth-placed playoff to have a chance of finishing seventh.

But they lost control of the match, leaking three second half goals, including one less than 90 seconds from the hooter, to let the Germans off the hook for a 5-5 draw.

The best the Black Sticks can now do at London 2012 is finish ninth, two places below their world ranking – throwing doubt over the future of their high performance government funding.

Germany meanwhile, progress to the medal matches.

In an extremely open, rain-soaked match, a glut of first-half goals saw New Zealand eke out an early 2-0 lead.

Nick Wilson opened the Kiwi account in the fourth minute soon followed by Richard Petherick who polishing off a penalty corner in the sixth.

Before the first 10 minutes of the match were over, the Germans, ranked third in the world and a team New Zealand traditionally struggles against, snatched one back through Oskar Deecke.

Stephen Jenness restored the two-goal cushion before the break and at halftime, New Zealand found themselves in a great position to claim a confidence-boosting win.

Shane McLeod's side have struggled at the Games and, even the Black Sticks coach admits, never recovered from an opening 2-0 loss to Korea.

But when his side went 4-2 up through Simon Child, and then 5-2 up through Child again with an exquisite close-range lob over Maximilian Mueller, it looked like they'd finally found their feet and were on for an historic win.

But summing up their campaign over the last fortnight, the Black Sticks faltered.

Ten minutes into the second half Thilo Stralkowski forced a German foot in the door and only four minutes later, started yanking it wide open when Christopher Zeller beat Kyle Pontifex.

With 20 minutes remaining the Kiwis desperately needed to ready the ship. And they did a decent job, repelling wave after wave of German attacks.

But 73 seconds from the end, the defences snapped – and it was Zeller again who hurt New Zealand.

The search for an elusive Olympic, World Cup or Champions Trophy win against the Europeans continues, as does men's Black Sticks' battle for something to cheer at London 2012.

The ninth-place playoff against Argentina is on Friday, 7.30pm (NZ time).

Stuff


---

Black Sticks to face Argentina after 5-5 draw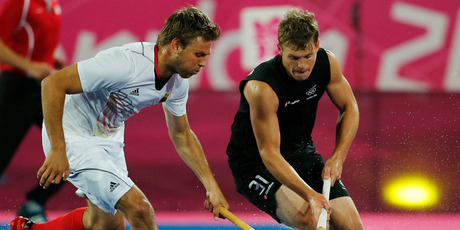 New Zealand's Steven Edwards, right, and Germany's Moritz Fuetrste vie for the ball. Photo / AP

Defending champion Germany came back from 5-2 down to draw with New Zealand 5-5 with less than two minutes left today after earlier advancing to the field hockey semifinals.

Germany qualified earlier in the day thanks to other results, and will meet Australia in the semifinals on Thursday.

New Zealand will play off for 9th-10th with Argentina, but had hoped to move up to the 5th-6th match with a big enough win.

The Black Sticks had a chance. They led 4-2 at halftime, after Germany had a goal disallowed and hit the post.

Simon Child's second goal a minute after the break made it 5-2 but Germany clawed back in the rain through Thilo Stralkowski's penalty corner and field goals by Christopher Zeller, the last with about 80 seconds left.

The New Zealand Herald


---

Australia's Men's Hockey Team Through to Olympic Semi Final

The Australian Men's Hockey Team has secured a berth into their 6th straight Olympic Games semi final defeating Pakistan 7-0. The victory seals top spot in Pool A for the world number one team, who will now face Germany (world rank 3rd).

With an Olympic Semi Final match on the line for both teams, it was Australia who made their intentions clear from the first whistle, scoring two goals in the opening 6 minutes of the match.

Australia's Captain for the match, Liam de Young, converted a penalty corner to get Australia off to the perfect start 5 minutes into the match. Veteran defender and Australian Co-Captain Mark Knowles followed suit and sent home a penalty stroke earned by Birthday Boy Matthew Butturini.

As the Australian's have managed to find holes in their opponents' defences early, tonight was no different. Australia's pressure going forward was relentless, forcing numerous penalty corner opportunities.

The breakthrough came via a classic Chris Ciriello penalty corner. His double came only moments later through a tomahawk shot from the top of the D. Half time sounded shortly after with Australia leading 4-0 and one step closer to a semi final berth against Germany.

Early second half pressure by Pakistan forced the Australian's into defensive mode, unable to intercept passes from Pakistan who were showing sublime ball handling skills.

A magnificent Russell Ford field goal against the run of the play swung the momentum back in Australia's court. Ford's 42 minute goal was followed by a brilliant tomahawk goal by 5 times World Player of the Year, Jamie Dwyer. In the dying minutes of the match, Glenn Turner chimed in with a goal of his own, after working tirelessly upfront for the entire match.

Australia's semi final match against Germany will be played at 00:30am AEST, Friday August 10.

Germany has won three of their four pool matches and lost one. Germany is the reigning Olympic Games gold medalist's from Beijing and bronze medalist's from Athens. A preview to Australia's semi final match will be released on August 9.

AUSTRALIA 7 def PAKISTAN 0

Goal Scorers
Australia: Liam de Young (5m PC), Mark Knowles (6m PS), Chris Ciriello (29m PC/34m FG), Russell Ford (42m FG), Jamie Dwyer (48m PC), Glenn Turner (70m FG).

Best Players
Australia: Mark Knowles, Liam de Young, Matthew Butturini, Eddie Ockenden
Pakistan: Muhammad (senior) Rizwan, Muhammad Waqas, Shakeel Abbasi

Hockey Australia media release


---

'Pakistan remain where they were four years ago'

Shazia Hasan



-Photo by AFP

KARACHI: The Green-shirts, who lacked spirit when playing against Australia, are still where they were four years ago, said Olympian Islahuddin Siddiqui soon after the national team were thrashed 7-0 by the world champions in their final group match at the London Olympics.

"It was sad to watch these lifeless forms unable to even receive or pass the ball in the first half," the former captain and coach reported to Dawn on line from London. "It looked like their legs had suddenly become very heavy when they couldn't even take the ball anywhere near the Australian goalkeeper.

"If that wasn't bad enough, in the second half they seemed in such a hurry that they just passed the ball here and there without any accuracy giving it to the Aussies whenever they got the ball.

"Meanwhile, Australia kept up their pace, which was obviously in contrast to ours. Amongst other things, it exposed the fitness level of our boys. Australia's own fitness can be gauged from the fact that they scored their first goal in the initial five minutes, followed by the second a minute later in order to take a grip on the game.

"Hence the 4-0 margin at the end of the first half, was a huge one by Olympic standards," he added.

"Pakistan got chances in second half but as usual our forwards Rizwan Sr and Abdul Haseem Khan missed out on them. And to think that goalkeeper Imran Shah made two to three saves, otherwise we would have lost by double figures instead of seven goals.

"From their body language, it looked as if the Green-shirts had accepted defeat even before they stepped on the field as Pakistan's forwards couldn't even take a single penalty-corner in the entire duration of the match. That way if they weren't able to score themselves, they could have at least given their captain Sohail Abbas a chance at scoring."

Islah also pointed out that Australia wasn't an unbeatable team as Great Britain and Argentina drew against them.

"You just had to play well against them on this particular day, which you didn't. Meanwhile they showed full skill in every department such as penalty-corner conversion, penalty-stroke conversion and field goals," he said.

"Pakistan, after having played all their five group matches, have scored nine goals and conceded 16. That brings everything down to permutations and it is very likely that Pakistan will be vying for the seventh position.

"This brings the Green Shirts back to where they were four years ago in the Beijing Olympics."

About the team's only goalkeeper Imran Shah, Islah said: "Today Imran Shah conceded seven goals after conceding four goals twice in the earlier two matches. You can get an idea of his game from this performance, but the team management couldn't even replace him after this as they never took a reserve goalkeeper with them."

"And speaking of the team management," Islah asked, "where was their game plan?

"Sadly the eighth-ranked Pakistan team only won two matches in their group, one to 11th-ranked Argentina and one to 12th-ranked South Africa. So after the team management's recently declaring that they are aiming for the 2014 World Cup, I can only say that out of the 12 teams here, only one, Pakistan, played like they were in a festival while the remaining 11 came to compete at the Olympics," he concluded.

Dawn


---

Pakistan crash out of Olympics after humiliating defeat



Australia's Liam De Young (2nd L) scores a goal past Pakistan's goalkeeper Imran Shah. -Photo by Reuters

KARACHI: Pakistan failed to qualify for the semi-finals of the men's hockey tournament at the London Olympics after a 7-0 thrashing at the hands of world champions Australia.

Australia started the attack as soon as the first half started and scored the opening goal in the fourth minute as Liam Young scored through a rebound off a penalty corner. One minute later, Mark Knowles doubled the score from a penalty corner.

Pakistan seemed to make an effort after the first five minutes but could not create any concrete chances. Goalkeeper Imran Shah was kept busy as Australia netted their third and fourth goals in the first half through Christopher Ciriello – one coming through a penalty corner.

The second half saw an even more listless performance from the Greenshirts which Australia took full advantage of. Russel Ford, Jamie Dwyer and Glenn Turner scored a goal each to complete the 7-0 rout and confirmed their top spot in Pool A along with a semi-final berth.

Pakistan held Spain to a 1-1 draw followed by a 2-0 win against Argentina, a 4-1 loss against Great Britain and edged past South Africa 5-4.

Dawn


---

Australia throw Pakistan out

By Anisuddin Khan

LONDON- Pakistan suffered nightmarish 7-0 defeat at the hands of a far superior and fiercely fast Australia in pool A of Olympics hockey that shattered dreams of the Asian nation not only for reaching the last four but even among the last six of the 12-nation competition here on Tuesday at the River bank side hockey arena.

The Netherlands defeated South Korea 4-2 to top the pool B with a fifth successive win which also allowed defending champions Germany to enter the semi-finals. Belgium moved a big step closer to third spot in Pool B as they had the clinical edge India lacked to run up a misleading 3-0 scoreline as Vincent Vanasch was by far the busier goalkeeper on the day. India end the pool phase with five losses from five and will now play South Africa for eleventh place on Saturday. Argentina came back from a 2-goal deficit to severely punish South Africa (6-3) and leave them bottom of the group. With the win, Argentina finished 5th in pool A and will play for 9th-10th on Thursday.

In the six-team pool A, Australia secured the semi-final spot after the win with 11 points while Great Britain and Spain will vie for the other semi spot later in the day. England has eight points and Spain seven. In case Spain upset the hosts it would jump to the semi-final spot relegating Great Britain to third spot in the table. But with the form and confidence that Great Britian had showed in earlier group matches it looks least likely that the team would lose as so far no upset results have been seen .In case of any other result one of the two teams will finish third on the table pushing Pakistan to the fourth placing which means that Pakistan would play for 7th to 8th position.

Australia led 4-0 at half time through goals from Liam De Young who converted a penalty-corner in 5th minute. A minute later Mark Knowles scored from a penalty stroke given after a penalty-corner. Christropher Ciriello scored in the 29th minute through a penalty-corner and just before half time he capped a fast field move to make it 4-0 as lemon time loomed.

Three more goals came in the second session with Russell scoring in 42nd minute and six minutes later Jamie Dwyer make the score 6-0. At the stroke of the final time Glenn Turner completed the score line. Pakistan's performance against Australia was extremely poor. The attackers could not make any move worthy of goal or that could pose any threat to Aussie goal. They even did not get any penalty-corner as against eight of Australia which got three goals from them. The defence was too brittle and dull to stop the Australians who freely moved into Pakistani territory from the flanks through fast combined moves.

Early reverses also brought pressure on the Pakistanis. Conceding two goals within six minutes of push off was enough for Pakistan to go into defensive mould and forget about attacking. The attacks from the Australians were so many and so fast that Pakistanis had no time to regroup to attack. They were pinned inside their 25-yard line. The more they defended the more they came under pressure.

None other than the manager-cum-chief coach of Pakistan team, a stalwart of Pakistan hockey, Akhtar Rasool described the performance of the team perfectly correctly when he said in a post-match media briefing that he had not seen such a poor performance from Pakistan team in his hockey career spanning four decades.

Akhtar Rasool who captained Pakistan to gold medal in Bombay world cup in 1982 told the media Pakistani failed in attack, mid field and defence .He had no words of any praise for even any individual player. He praised the Australians who he said had outclassed his team. He however was hopeful of future of Pakistan and vowed to make efforts to get better results in future. About his future planning, he said he was given the charge of the team just four month ago and it was not possible to make improvement in the team in that period. Pointing out at Ric Charlesworth who was also there to talk to the media, he said ask Charlesworth and even he would agree that it was difficult to make improvement in such a short period. Pakistan skipper Sohail Ababs when asked about his future in Pakistan, said he would make his decision after the Olympics.

Former international Ric Charlesworth was happy that his team won by a big margin. He said he was expecting a much better performance from Pakistan who, he said, had played good matches against Spain, Argentina and South Africa and were unlucky to lose to Great Britain. He said his team started with the plan to clinch a draw but after the team earned two goals early in the match, the game turned in that team's favour.

The Nation


---

Australia shatter Pakistan hopes with crushing 7-0 victory

Pathetic show puts Greenshirts out of Olympics medal race

By Muhammad Ali

LONDON: Australia shattered Pakistan hopes of entering the semifinals with a crushing 7-0 victory in their last Group A match of the London Olympics 2012 Men's Field Hockey Tournament at Riverbank Arena, Olympic Park here on Tuesday. The first half ended 4-0. With this biggest win of the tournament, Australia not only finished at top of group but also qualified for the last-four stage. The result was not unexpected keeping in view the strengths of Australia and weaknesses of the Greenshirts. But the way Pakistan took the hammering was beyond one's imagination.

The Aussies outclassed Pakistan in all departments of the game and at the same time taught hockey lesson to the four times world champions and winners of three Olympic gold medals. Skipper Sohail Abbas and his charges were not even able to earn a single penalty corner, which showed superiority of their opponents. Pakistan's head coach Akhtar Rasool Chaudhry called it the worst performance by a Pakistan side in 43 years but that was to underestimate the quality of the green-and-gold tank brigade that tore their game apart.

From the word go, Pakistan keeper Imran Shah was kept busy as Australia took just 10 minutes to put the contest out of doubt. Australia earned a penalty-corner within 4 minutes of play. Liam De Young picked up the rebound from the goalkeeper after the initial shot by Christopher Ciriello and managed to slip the bouncing ball in goal in a narrow angle. Less than a minute later, Mark Knowles added an unstoppable penalty-stroke under the crossbar and Pakistan were suddenly looking into a two-goal deficit with the match hardly started.

Australia were putting pressure on the Pakistan midfield, preventing their attempts to develop any attack and reducing them to try and use tentative high balls. Christopher Ciriello added a goal on another penalty-corner late in the period, then a fourth one after a poor clearance by the Pakistan defense. Australia went into the half-time break with a comfortable 4-goal lead while the Greenshirts seemed at a loss to find a solution to threaten the Australian circle.

The same pattern prevailed in the second session, with Australia having immediately another chance on penalty-corner. Ciriello's flick was this time way too high but it did not take long for Russell Ford to score the fifth for the winners with a spectacular shot high in the opposite corner at the end of a long run. Jamie Dwyer slammed the sixth while Glenn Turner the seventh to seal the fate of their rivals. With this spectacular triumph, Kookaburas established a plus 18 goal difference that pretty much insured them top spot in Group A.

The Daily Times


---

Netherlands humble South Korea 4-2

The Netherlands, who have already qualified for the semifinals, defeated South Korea 4-2 in Group B at Riverbank Arena in the first match of the day. Korea hopes were dashed as they needed a win of going through. Both teams gave an enjoyable display of attacking hockey, with superior individual skills on both sides, and the crowd thoroughly enjoying in the chilly early morning.

The Netherlands earned a penalty-corner mid-way through the period and Mink Van Der Weerden slammed it in goal to open the account. Soon after, Valentin Verga surprised the Korean defense with a sudden shot from the top of the circle and the Dutch team appeared on their way to a comfortable fifth win. Korea were however not ready to give up yet. They had a series of penalty-corners in the final minutes of the period, but Jang Jong Hyun's flicks were saved by Jaap Stockmann in the Dutch goal and the first half ended with the two goals gap.

Korea kept trying and had a few good chances early in second period. Their hopes of coming back were dashed when Roderick Weusthof was fouled when progressing in the circle and converted himself the penalty-stroke to build a seemingly insurmountable 3-goal lead.

Nam Hyun Woo closed the gap on penalty-corner with still 16 minutes left in the period. He however injured himself delivering the flick and had to be taken away on a stretcher. Korea showed their depth in the exercise when Jang Jong Hyun was as impressive and efficient on the next penalty-corner chance, closing the gap to one goal. It was too close for comfort for the Netherlands and they promptly re-established their two-goal lead by Billy Bakker after a swift counter-attack that baffled the Korean defense. With the win, the Netherlands finished unbeaten in the group stage and advanced to the semi-finals as winner of Pool B.

The Daily Times


---

SA hockey men lose to Argentina



South Africa's Justin Reid-Ross (in white) is challenged by Argentina's Ignacio Bergner. REUTERS

London – The South African men's hockey team once again let victory slip out of their grasp as Argentina came back from a two-goal deficit to win 6-3 in their final Group A match at the Riverside Arena on Tuesday.

The team seems to have problems holding onto a lead as they let it slip in the highest scoring match of the tournament.

The men finished last in their pool and will now be involved in the classification playoffs for the wooden spoon against India.

They started the match positively as they opened the scoring seven minutes into the match courtesy of a Justin-Reid Ross goal from a penalty corner.

The SA men's second goal of the match was scored less than a minute later by Lloyd Norris-Jones from a short corner.

At this point the South Africans looked comfortably in the driving seat until the Argentines decided to spoil the party.

The South Americans powered themselves into the match with two goals in the last 10 minutes of the first half to draw the scores level going into the half-time break.

Gonzalo Peillat opened their scoring with a goal from a short corner in the 25th minute while Lucas Rossi scored the equaliser with a field goal.

The Argentines took the match away from the South Africans as they scored three more goals in the first 15 minutes of the second half to give them a comfortable lead.

The South Africans struggled to get into the circle, receiving only three penalty corners, converting only one of the scoring opportunities from the short corner.

Argentina on the other hand had five penalty corners of which they converted three of their opportunities.

South Africa launched a gutsy fightback with seven minutes left in the match with Jonty Robinson scoring to narrow Argentina's lead to three goals.

Their efforts, however, were all in vain as the opposition scored another goal by Peillat for his second of the match in the 65th minute.

The South Africans have not won a match since the 2008 Beijing Olympic Games and will hope to finally secure a positive result.

Independent Online


---

Hockey men let lead slip once again

NICK GORDON

It's been their weakness throughout the tournament and the South African men's hockey side found themselves guilty of letting a lead slip once more as they went down 6-3 to Argentina in their final Olympic pool match yesterday.

Having raced to an early 2-0 lead, thanks to efforts from drag-flick specialist Justin Reid-Ross and a powerful strike from striker Lloyd Norris-Jones, inside the first 10 minutes it looked as if the world No 12-ranked side had enough fight left in them to end the pool stages on a positive note.

But it wasn't to be as they allowed the world No 9-ranked South Americans back into the game 15 minutes later as Gonzalo Peillat netted from a short-corner. The scores were level just before halftime as Argentina made it 2-2 thanks to a field goal from Lucas Rossi.

The side in blue then took control of matters early in the second half as Peillat added his second from a penalty corner before Facundo Callioni extended the lead to 4-2 and the South African side – yet to register a win in the competition –  were forced into a panic.

Callioni added a second before South Africa showed signs of a fightback but it was a case of too little too late event though Jonty Robinson closed the margin to 5-3. Robinson had a later chance to close the gap even further but his goal was disallowed following a video referral and the game was over with six minutes left as Peillat bagged his hat-trick.

"I don't know what to say. We've done it to ourselves again. Put our noses in front, played some incredible hockey but didn't come away with a result, its pretty much been the order of our pool," said  despondent coach Gregg Clark at the post-match press conference.

The side will now be forced into getting motivated for one last game, a classification encounter to avoid finishing the Games as the wooden spoonists when they play India tomorrow – a proposition that both Clark and captain Austin Smith admitted would be hard to get motivated for.

"We've been here before, we faced the same situation in Beijing. I think we've played much better hockey this time round but we find ourselves in the same position. Its an incredibly difficult period to remain focused and get the players motivated," said Clark.

"It's not going to be easy. We're still here representing SA and we'll definitely want to avoid finishing with the wooden spoon and finish on a high," said Smith.

The Citizen


---

Hockey men have themselves to blame: Clark

Ockert de Villiers

The South African men's hockey team's inability to hold on to a lead has been a recurring feature at the London Olympics, the side's coach Gregg Clark said after their 6-3 loss to Argentina on Tuesday.

The team suffered their fourth loss of their Olympic campaign.

"I don't know what to say, I suppose we've done it to ourselves again," a gutted Clark said.

"We got our noses in front, we played some incredible hockey but haven't come away with a result, it's pretty much been the order of our pool.

"It happened against Great Britain, it happened against Pakistan and it happened today [Tuesday]."

Clark said the team's inability to finish has been a major problem for the team throughout the Games.

"We just haven't had the intelligence and the focus to take the points that were on offer when we got ourselves ahead in the game," he said.

South Africa finished last in pool A and will now be involved in the classification play-offs for the wooden spoon against India.

Clark said it would be a major challenge to motivate the players for their final match.

"It's a very difficult part of the tournament for the players, we've been here before, we were in the same situation in Beijing," Clark said.

"We've played much better hockey this time around.

"We find ourselves in the same position and it is an incredibly difficult period to remain focussed, to get the players motivated for this last match."

The former SA player added that the team would nevertheless give it their best as they had pride to play for.

"It is something we'll have to do, we are still representing our country at an Olympic Games, so we're going to have to find the energy and the focus," he said.

Captain Austin Smith said he had been frustrated by the manner in which they let their lead slip.

"Today the last 15 minutes of the first half was very poor after starting off so well and then letting it slip," Smith said.

"The fact that we showed glimpses of really good stuff makes it more frustrating because we have the ability."

Smith said the most disappointing part of the series was the fact that they have shown improvement since Beijing with little to show for it.

"We were outplayed in Beijing, we were a long way off the mark but here I think we were a lot closer," he said.

"So that makes it so much more frustrating playing for 11th and 12th."

The loss means the side have not managed a win since the 2008 Beijing Games, a statistic Smith would like to change in their last match.

"I didn't win a game in Beijing so that is something I am working towards," said Smith.

"We are still here representing South Africa and there is a lot of pride, so we'll definitely want to avoid the wooden spoon."

The Citizen


---

National game now a national shame!

Despicable incompetence lets down fans

S. Thyagarajan

Among a handful of failures at the London Olympics, the performance of the Indian hockey team stands out as appallingly pathetic. Even the target of spot six has remained unachievable.

Talk shows featuring stars and the optimism generated by the media now sound exaggerated.

An apology, tinged with anguish, from the coach Michael Nobbs, appears the escape route to pre-empt calls for his sacking.

To be fair, Nobbs has refrained from blaming the weather or biased umpiring. Nor did he refer to an invisible hand to undermine India to protect the European hegemony. He questions the players' commitment.

The nation's disappointment at the disgraceful show is identical to what it was when India failed to qualify in 2008.

At the nadir

If that was historic so is London now. India will create 'history' by touching the lowest ever spot (11 or 12) since 1928. The previous lowest was eighth in 1996.

What can you expect from a squad that was deficient in defence, disoriented in attack and disgustingly inconsistent in the half-line.

Unable to sustain fluidity for less than a quarter of an hour in a contest, India tumbled from defeat to defeat to send passionate fans into a state of despair.

The hope after the fight-back against the Netherlands, the strongest in the pool, vanished against the Kiwis. Thereafter, it was a sequence of disasters with Korea heaping humiliation in the biggest theatre for the sport.

To blame anyone other than the players would be unfair. Everything was provided for them: adequate training, exposure to competitions in all climes and promise of generous rewards.

The Indians were wanting in every facet, particularly inside the circle. Any hint of pressure in the zone resulted in an error and led to penalty corners which they failed to defend. The goal-keeping was atrocious against Germany and did not improve significantly.

No one, including the king-pin, Sardar Singh, looked the part. Sandeep Singh flopped in penalty corners. Cohesion in the frontline was inconspicuous, contributing to numerous passes going to waste.

Persistent problems

Enumerating the flaws is frustrating. They should have been eliminated in training. These frailties have been plaguing us for decades. It matters little as to who the coach is.

Habituated as we are to viewing everything in a "so what, what next" syndrome, the obvious question is: where do we go from this forgettable odyssey?

Shortly, everything will be back to normal. The players who let the country down by their despicable incompetence will parade before cameras as if the fiasco was an aberration.

Calls for preparing for the Champions Trophy in December — many may wonder what yardstick did the FIH use to bring India into this prestigious competition — or the next World Cup at The Hague, will begin.

The unending polemics among the IOA, the Hockey India and the Indian Hockey Federation is poised for another round. Nothing, and nothing, is likely to change. For, there is no sense of shame among players, officials and administrators.

A fresh start can be effective only when the HI and the IHF are disbanded. A new administrative unit should be put in place without any from the two units claiming a berth of office. A similar move against the IOA will receive overwhelming public support.

It is painful that Indian hockey's epitaph is to be etched in London where independent India won its first gold in 1948.

The Hindu


---

Where is the match temperament

K. Arumugam

The reasons for the London fiasco do not exactly lie in River Bank arena alone. It goes beyond times. It's a bit of historical, bit of our tradition, and the one which warrant recalling, detailing. A disease was set in, but was hardly diagnosed it to be, not to question the remedy attempted.

It happened exactly 20 years ago, in the same European continent.

India was far more expected to set the turfs on fire in Barcelona in 1992 than what was projected for London in the run up.

Having won the Azlan Shah Cup, and having swayed all countries including Germany and Holland in the pre-Olympic tour of Europe, India was expected to be among the medalists in Barcelona. Coach Balkrishnan Singh was far more popular than Michael Nobbs was till now, so also captain Pargat Singh compared to Bharat Chetri. Pargat was even torch bearer of Olympic contingent in Barcelona.

First match was against Germany. India got a penalty corner. The best lot of the times, Mukesh Kumar, all in his youth and energy, pushed the ball hardly a few inches in the penalty corner sequence. Expectedly, we did not convert. We got one more. It also went the same way, Mukesh's push won't take the ball beyond a few inches and centimeters.

The trend was set. No player who was touted the greatest, and best in the world, even came near their ordinary level in Barcelona. The medal hopers were not even in the semis contention, first time so happened, after missing the semis on single point and on goal average in the previous two Olympics.

Fast forward to 8 years.

Same Mukesh was again in the thick of things. India needed a 2-2 draw or outright win over Poland in the last league of Sydney Olympics to enter the eluding semis. Ok Poland levelled 1-1, still five minutes left for the hooter. The same Mukesh who struck against Australia within 30 seconds from the whistle, thereby getting us a draw, failed miserably in front of the goal. He got two chances to give India the lead, but missed from close range. India was out of the semis.

Players go ordinary when they were expected to go extra-ordinary. Mukesh may be my pick here, and it applies to every Indian 'great'.

The match temperament, which turns ordinary teams in to extraordinary, is what lacks India over time and space.

Take any major FIH tournament in the recent times. 2002, 2006 and 2010 World Cups, Champions Trophies etc. Did we ever hear India played better than expected? Not at all. Are all our players bad, or all our coaches – India or not – incompetent? See on the other side of the world.

India almost outplayed the hosts in the 2006 World Cup in the opener. The score was 2-2, hardly 12 seconds left in the clock. Even as whole Indian team was defending, a ball goes inside the net, giving Germany the winner. Goalie Adrian rushes to Prabodh Tirkey and slaps him for not covering the angle. The Germans went on to win the World Cup.

Two years ago, the Australians did the same. We almost drew them. Hardly 10,15 seconds left, and we were attacking. Jaime Dwyer trapped a Ignace's mis-pass and struck, covering the whole ground in his solo. The hooter came as the ball went inside the net. The Australians went on to win the Olympics.

Same Australia was in a must win situation in 2010 Delhi World Cup. Pakistan played their best game that day. A couple of minutes left for the hooter. Then came the beauty, the winner. A forward instinctively sent an over head pass from one side of the D to other, other one picked up and struck. This goal the best 'rescue' goal I saw in recent decade. The Australians went on to win the World Cup.

What Germans and Australians, as quoted above, is true of many other teams. Every team that prepares for a target tournament, World Cup or Olympics, go there and give their best. Some may not have finished at top or in medal bracket, but never caved in, gave their best, even scaring the famed teams.

Teams prepare for years keeping a particular target tournament in mind. Once you are determined to be there, and spent lot of effort and money, you are expected to give your best, without bothering about results.

In how many tournaments of worth did Indian hockey team give its total, performed to potential? It was not there at Athens, Sydney, Seoul (wanted a draw in the last pool match, which was not to be, again 0-3 Vs GB) and even in Champions Trophies.

Missed out 14 Penalty corners against Pakistan in 1996 CT, when we needed a draw to enter first ever final of CT. But it was not to be, we lost 1-2. Three occasions we got a chance to win bronze in the CTs, but all the times, lost out.

Where is that killer instinct, where is that extra every player is expected to give when needed most, as Australian, German examples given above, prove. Under-performing, lack of mental toughness, failing at the last hurdle, whatever you call, its all there in London.

There is no point in casticating one player or two. Indian teams as a whole has been flop for want of that extra bit. Is there problem in our system?

Balkrishnan (1992 coach) called it 'treachery and indiscipline'.

Cedric D'Souza (1996 coach) called it 'greedy'

Baskaran termed (2000 coach) termed it 'lack of commitment'

Nobbs now let us all know its lack of' mental toughness and contentment'.

Whatever the issue is, we as a team do not deliver irrespective of the fact that whether coached by an Indian or not, we had enough exposure or not, the federation is one or more etc.

Unless we understand and iron out this, all other remedial measures will be knee jerk reactions.

The unanswered question is, why do we lack match temperament?

Stick2Hockey.com


---

Belgium blank listless Indian hockey team

By Chander Shekhar Luthra

Indian hockey team's disastrous run at the Olympics continued as they crashed to their fifth successive defeat against Belgium 3-0 at the Riverbank Arena on Tuesday.

Jerome Dekeyser 15th minute goal created havoc in Indian mind as they failed to create a single good opening in the first-half.

And when Gauthier Boccard made it 2-0 in 47th minute through yet another field goal, it was all but over for a demoralised Indian side. And just three minutes before the close, Tom Boon found the net for one last time to end India's miseries with the 3-0 scoreline.

Even the one penalty corner that India got in each half failed to make any difference to the scoreline. The Belgians, though out of the semifinal race, proved far superior to their opponents and in the process recorded their second win of the tournament. They defeated South Korea 2-1 in their third game while drawing the
next against New Zealand 1-1.

India will now take on the Group A bottom sitter South Africa in a play-off match to determine the bottom place finisher.

Unlike earlier matches, where Indian gave some fight to their opponents, Belgium experienced no such push from the Indian forward line. There was not even one good move that India created in the entire 70-minute duration. It was yet another display of Indian individual skills versus a combined team effort of the Belgians.

The Indian midfield and deep defence made some unpardonable lapses by allowing the opposition forwards to create space in shooting circle, thus conceding all four field goals. The Indian defence was repeatedly caught flat-footed by the small and clever passes that the Belgians employed with success.

India could only succeed in getting the two penalty corners, one in each half. And, coach Michael Nobbs repeated instructions in the team meetings, to try and get penalty corners than trying for a field goal, once again fell in deaf ears. The second half virtually witnessed a one-way traffic as Belgium kept most of the possession of the ball and never allowed India any space in the their half.

Other results: Group A: Australia bt Pakistan 7-0; Argentina bt South Africa 6-3; Group B: The Netherlands bt Korea 4-2

DNA


---

Indian hockey sinks to a new low

Three-goal drubbing in last match makes it 5 consecutive defeats

Rohit Mahajan in London

Indian hockey needs to pick up the pieces, be strong and work harder than ever before. The problem is that the pieces are so tiny, they're barely visible to the naked eye. It would take very, very long to pick them all up. The disintegration of Indian hockey is complete. Remember Namibia or Bermuda at the cricket World Cup? Yes, that's what we are in world hockey now - that loathsome term 'minnow' can now be safely applied to the Indian hockey team.

India lost their last group match 0-3 to Belgium today - five defeats in five matches at the Olympics is an unprecedented low for India. India is the sole team among the 12 in the draw here to end up without a single point. In their five matches, India have conceded 18 goals and scored just six. The team will now compete for the 11th spot. Is this less or more painful than not even qualifying, as happened for the Beijing Olympics?

India has made many rapid strides under coach Michael Nobbs over the last one year - what happened here is quite inexplicable, for the team isn't as bad as this. They had, in fact, made a very promising beginning, fighting top team Netherlands hard in a 2-3 loss. Then it all went horribly wrong. They were outplayed in attack, defence and finishing by everyone.

That this happened against the supposedly weakest team in the group, Belgium, may come a surprise, but it's clear that it's a broken team, physically and mentally crushed. The Belgians were quick and cohesive and combined well; the Indians seemed to play with neither plan nor purpose.

There were moments when India seemed dominant, even close to scoring, but the forward line was off-colour and the Belgian defence strong; their goalkeeper Vincent Vanasch was in excellent form, nipping Indian hopes at the goalmouth on several occasions.

The Belgians were quick on the counter, going through the Indian defence with ease. The Indians were outplayed in the field, as is confirmed by the fact that all three Belgian strikes were field goals. Jerome Dekeyser put his team ahead in the 15th minute when, after a move through the Indian defence, he put the ball in from the top of the circle. India got back into the game later in the first half but failed to equalise. Their only penalty corner of the half, in the 21st minute, was not taken by Sandeep Singh - it was an indirect attempt, but the deflection by Gurbaj Singh went out. Thereafter, India made strong attempts through Tushar Khandker, SV Sunil and Shivendra Singh, but goalkeeper Vanasch was unshakeable at the goal. India continued to attack but their finishing was bad - this is a very, very old complaint now.

After the break, Sandeep did get a crack at the goal through a penalty corner in the 39th minute but Vanasch was not to be beaten today - with lightning reflexes, he stopped the drag-flick. Gautier Boccard scored the second goal 47th minute against the run of play, and there was no way back for India from here.

The Indians attacked desperately, created space and opportunities on a few occasions but failed to score. The Belgians did, in the final stages of the match when Tom Boon beat Indian goalkeeper Bharat Chetri with a powerful reverse-flick in the 67th minute.

The Tribune


---

Hockey team suffers fifth straight loss on medalless day

India on Tuesday ended their Olympic Games campaign with an ignominious all-loss record, their worst in the history of the mega event, after they were drubbed 3-0 by lowly Belgium in their last pool match here.

Fumbling strikers continued to cause misery for India and their humiliation was complete at the Olympic Park arena as they muffed numerous scoring chances to finish at the bottom of Pool B after their fifth defeat on the trot.

The eight-time Olympic gold medallists finished their pool matches without a single point.

India's bottom finish in Pool B was a foregone conclusion irrespective of the result of this match as all other teams has earned four or more points in the previous games, but this loss was the first time India had failed to gain even one point.

India will now meet South Africa in the play-off for the 11th and 12th positions, slumping below their lowest previous Olympic finish of eighth in Atlanta in 1996. India had not qualified for the 2008 Olympics in Beijing.

Belgium scored through Jerome Dekeyser (15th minute), Gautier Boccard (47th) and Tom Boon (70th) to shatter India's hopes of salvaging something from the last game.

South Africa, who today lost 3-6 to Argentina, finished their five matches in Pool A with one point, leaving India as the only team not to have gained a single point in the men's hockey competition.

India's strikers continued to play an erratic game and muffed chances galore against Belgium, who had beaten India in their last encounter in the final of the Champions Challenge in Johannesburg last year.

The Asian Age


---

India crash to fifth successive defeat at London Olympics

LONDON: Belgium struck thrice to hand India their fifth consecutive defeat in the preliminary league of the Olympic men's hockey competition on Tuesday.

Goals by veteran Jerome Dekeyser (15th), Gautier Boccard (47th) and Tom Boon (67th) set up Belgium's second win which lifted them to third position in the group with seven points while a winless India finished sixth without a point and will play for 9-12 positions, their worst-ever finish in the Olympics.

India's league campaign thus ended on a sad note as the team failed to show any improvement even against a team that was considered the weakest of the six in the group, but Belgium showed that under Aussie legend Colin Batch's coaching, they are a side making good progress.

For the fifth time in a row, India failed to display any kind of plan or panache to give hopes of a victory as they came up against a Belgian outfit that was better organised in the defence and very fast on the break.

India did enjoy a few moments of supremacy, but yet again the forwards were abysmal at the finish while Belgian goalkeeper Vincent Vanasch was simply unbeatable on the day, bringing off several great saves.

The major difference between the two teams were that Indians, as in the past, depended too much on individual skills that were plentiful but totally ineffective against the Belgians who combined better, both in the defence and attack.

Though India had the better of exchanges in the first-half, success eluded them. Belgian goalkeeper Vincent Vanasch had a few busy moments and came up with a couple of good saves while the upright too denied India.

However, it was Belgium who held the upper hand at the start as they troubled the Indian defence repeatedly with fast attacks, one of which saw Dekeyser slotting home from the top of the circle following a swift move down the middle.

As in the previous games, it was lax marking that allowed the Belgian forwards a lot of space to make their play and the Indian goal survived two penalty corners that were poorly executed.

At the other end, India managed to seize the initiative in the latter part of the first-half when they came up with some pleasing moves. However, once inside the striking circle, it was the same old tale of failure to finish.

Shivendra Singh saw his deflection come off the post and then Vanasch managed to get a glove to another attempt besides blocking a 21st minute penalty corner to frustrate India.

The trend continued on resumption with India unable to convert their second penalty corner as Vanasch, displaying quick-silver reflexes, deflected Sandeep Singh's drag-flick.

The Belgians then retaliated with a counter-attack that ended with Boccard finding the boards with a reverse hit after a series of passes inside the scoring circle. The Indian defenders again were loose in their marking and goalkeeper Bharat Chhetri let the ball in between his feet.

The second goal effectively closed the match for India and though they tried hard, success eluded them. The Belgian citadel enjoyed slices of luck, especially in the last quarter when the desperate Indians applied pressure, but again to no effect.

Belgium effectively closed the match with a late strike as Boon sounded the boards with a reverse hit even as a backpedalling Indian defence was caught on the wrong foot.

The Times of India


---

Belgium beats India 3-0 in hockey

Belgium beat India for the first time in Olympic hockey on Tuesday, getting a 3-0 victory.

The Belgians finished third in Pool B behind semifinalists the Netherlands and Germany, securing a playoff for fifth-sixth and their highest placing in the Olympics since the 1928 Amsterdam Games, where they were fourth.

India, the faded eight-time gold medallist, was already assured of its worst Olympic result before its fifth straight pool loss. India will face South Africa to avoid 12th and last place.

Jerome Dekeyser lashed in the first goal, high to the far post after 15 minutes, his third of the games and a 182-match career. Gauthier Boccard made it 2-0 in the 46th when Tom Boon's shot bounced off a defender's foot and the defence hesitated. Boccard casually reclaimed the ball and whacked it home. Boon finished off the scoring in the 67th, blasting a backhand running away from the defence.

The Hindu


---

Current players need to learn basic first: Baskaran



Olympian V. Baskaran. file photo

Former coach Vasudevan Baskaran lashed out at the Indian hockey team for their dismal showing in the London Olympics, and said the current batch of players should first get their basics right before aspiring to play at the international level.

Eight-time champions India ended their league campaign at the Games with an ignominious all-loss record, their worst in the history of the mega event, as they lost all their five Group B matches.

"It is all about basics -- of trapping, dribbling, man marking and strong dodging etc. The players need to learn their basics first (before seeking selection to the Indian team)," Baskaran told PTI.

"We have conceded at least 23 penalty corners in the Olympics, which is unacceptable. Since 1984, we have been conceding penalty corners at will. It shows our poor skills and how weak our basics are," he pointed out.

Baskaran was particularly critical of ace drag-flicker Sandeep Singh's performance, who flopped big time in the Olympics.

"Sandeep can't be taught to play differently or change his style of play. He can play only in the 16 yards area, whereas all defenders in other teams play from the start line.

All these basics need to be imbibed at the junior level," he said.

The penalty corner specialist has scored just one goal in the Games till the end of the round robin phase as compare to the 16 he had slammed in during the Olympic qualifiers held in February-March in Delhi.

The skipper of the 1980 Moscow Olympics gold medal winning team, however, had words of appreciation for vice-captain Sardar Singh, saying he gave his heart and soul in all the matches but was let down by his team-mates.

"The team lacked a formation on the pitch. Traditionally our wingers used to be very good, but it was difficult to identify who were manning the wings. I am very sorry to say that except for Sardar Singh no player could claim that he did his job."

Baskaran felt the team's performance started dipping once it had lost their first two league games to The Netherlands and New Zealand.

"They were not able to come out of the losses to The Netherlands and New Zealand," the former coach said.

Baskaran felt half back Kothajit Singh should have been part of the Olympic team after having the regular left half over the last nine months, including the Games qualifiers.

"I think he was shaping up as a good and strong left half in all the games. You cannot afford to lose the service of a first choice left half," he remarked.

Baskaran was also surprised that captain Bharat Chetri was not a first-choice goalkeeper in the starting line up.

"I am surprised that our keeper did not play in the first eleven in some games. I do not understand as to why he was sitting out. He is the (team's) best goalkeeper and captain and deserved to be in the team."

He also refrained from blaming chief coach Michael Nobbs for the debacle and said the Australian had done a good job in the last one year, but might have made a few selection errors.

The Hindu


---

Need to go back to basics, says hockey captain Chetri

After finishing at the bottom of the group with five successive defeats in Olympic men's hockey, Indian captain Bharat Chetri today conceded that the players lacked in mental strength and they need to go back to the basics.

"We have major problems, we have to go back to India and learn more hockey skills that will improve our finishing," Chetri said after India's 0-3 loss to Belgium in which the Indian strikers missed several open chances.

"We need more mental conditioning, the players did not appear to be mentally strong and that was a major setback in such a big tournament," he said.

India finished their pool matches without a single point. They will now meet South Africa for the play-off for the 11th and 12th positions.

It will be the country's lowest finish in the Olympics, even below their eighth rank at the 1996 Games in Atlanta.

Chetri said India's performance was going down with every match.

"We are going down in every match, repeatedly missing chances and not able to defend well," said Chetri, appearing upset at the post-match media conference which was not attended by chief coach Michael Nobbs.

Assistant coach Mohammed Riaz, who came to the media interaction in place of Nobbs, said the team was feeling very low after the successive losses.

"The team's morale was totally down after losing consistently," said Riaz, a hockey Olympian himself.

"We missed three open chances in the first half itself. That put pressure on our own defence," Riaz said. "At this level, if you miss chances and concede goals it becomes difficult to come back into the game."

This was the first time Belgium had beaten India in the Olympic Games in four encounters. In 51 head-to-head internationals between these two teams, this is Belgium's sixth victory and the second in successive encounters.

The last time these two teams came face to face was in the final of the Champions Challenge in Johannesburg last year, when Belgium had defeated India.

DNA


---

Lifting players' morale a challenge ahead of wooden spoon tie

LONDON: Motivating players for the play-off match to avert the bottom spot, known as the "wooden spoon" contest, is a big challenge confronting the Indian team management and senior players.

Losing five successive games in the preliminary league, India finished at the bottom of the Pool B with no point. They now face Pool A's last placed team, South Africa in the play-off for the 11th and 12th position on Saturday.

The three-day gap could play a big role in helping soothe the pain of the team representing Olympic hockey's most successful nation and being pushed to the bottom by one reverse after another.

But the players will still need to lift themselves for the last outing of these Olympic Games. Coach Michael Nobbs and captain Bharat Chetri are confident that the players will lift themselves and play a good game.

"I'm confident the players' morale will be fine. It will not be an issue when the team goes out to play against South Africa," Nobbs said.

"The players are surely disappointed at the way things have gone, but they lifted themselves after four defeats to play a decent match against Belgium, even if the scoreline may not convey that impression," the Australian said.

"We've been having meetings with the boys. We've told them not to lose heart and try to play well," added Nobbs.

Captain Bharat Chetri said the players know that they cannot change what has already happened, but can try and do better in the next outing.

"We start fresh every time, everyday is a new day. We speak together as a team and try to forget what has gone," said Chetri.

Chetri also felt that India played a decent game against Belgium, but their poor marksmanship in front of the rival goal let them down.

Nobbs said the Belgian goalkeeper, Vincent Vanasch was outstanding and thwarted India's chances.

"The Belgian goalkeeper played an unbelievable game," he said.

Belgium's coach and former Australian player, Colin Batch said the scoreline did not convey the essence of the contest between his team and India.

"India did come close to scoring many times. Those who did not watch the match will see the 3-0 scoreline as an easy win, but it was not the case," said Batch.

"In the end it is about consistency in the attacking circle and scoring."

This was Belgium's first victory over India from four matches in the Olympic Games.

In 51 head-to-head international matches between these two teams, this is Belgium's sixth victory and the second in successive encounters.

The last time these two teams came face to face was in the final of the Champions Challenge in Johannesburg last year, when Belgium's victory earned them direct qualification for the Champions Trophy.

"We're very pleased to have won the Champions Challenge although we did not play very well in that tournament," Batch said.

The Times of India


---

Day 11 Semi-Final Olympic Preview - GB v Argentina



Olympics 2012 GB women lining up against NED

Great Britain women have qualified for their first semi-final in 16 years, having finished in second position in Pool A. Their opponents, Argentina, who are ranked second in the world, finished top of Pool B.

Fixture: Great Britain v Argentina
Date and time: 8th August - 20.00
Location: Riverbank Arena
Watch live on the BBC: BBC 3

World rankings
Great Britain #4
Argentina #2

Head to head
Played: 26
Won: 8
Drawn: 5
Lost: 13
Goals for: 38
Goals against: 42 

Great Britian women first faced Argentina in an Olympic Games in Seoul in 1988 where they won 1 - 0. At the last Games in Beijing 2008, Sarah Thomas scored in what was a close encounter which finished 2 goals a piece. In the Champions Trophy in January 2012, Great Britain lost out in the gold medal match 1 - 0. However, at the Olympic Test event in May 2012, GB came out victorius winning both the preliminary game and the final 2 - 0.   

Argentinian one to watch:


Luciana Aymar
Aymar is a permanent threat for the opposition - she scores goals, passes the ball with ease and just generally dictates the play. Unsuprisingly, she has won FIH Player of the Year an outstanding seven times. Her influence on the Argentinean team is irrefutable, however, if she has a poor game, the whole team is often effected.  

GB women's midfield maestro Helen Richardson explains why it is so important that GB try and stop Aymar from dominating the field:

"She's incredibly important to Argentina," says Helen, who is competing in her third Olympic Games. "If she's playing well they tend to play well. We'll have a big role to play on her. If we do stop her then it does make our life a littleHelen Richardson celebrates Great Britains first goal against Korea at London 2012 Olympic Games bit easier however they're not just a one man team, they've got talent throughout the ranks. We'll have to play very well to beat them; it's the semi final of the Olympic Games! We will have to play well, we'll have to play better than we did against the Netherlands but we've definitely got the game plan to do it, we've got the players to do it and having the backing of the crowd will be amazing. The time is now for the team to take stock and take a big deep breath."

Great Britain Hockey media release


---

The time is now, say Georgie & Helen



Georgie Twigg celebrates a goal for GB

Georgie Twigg (pictured above) was just five years old the last time Great Britain's women reached an Olympic semi final.  She was just two when GB won their only Olympic medal, bronze at Barcelona 1992.  Now, ahead of GB's first Olympic semi final in 16 years, the 21 year old from Lincolnshire hopes that she and her teammates can live up to the London 2012 strap line, Inspire a Generation.

"It's fantastic how this [the Olympic Games] has really attracted more attention for hockey," says Georgie, with the excitement evident in her voice. "We want to inspire more people to get out there playing hockey. It's such a fantastic, fast sport. If we can inspire new generations of hockey players that's just a brilliant thing for our sport. We just want to get more and more people involved because it's really important...just get out there and pick up hockey sticks."

Her own inspiration growing up was a certain Helen Richardson. The three times FIH World All Star Team midfielder left an impression on the young Georgie and now the pair are set to enjoy a "great battle" against the World Champions Argentina.

"I can still remember Helen turning up when I was playing for Midlands. She turned up to coach. She was the hockey player that I looked up to when I was younger. Helen is such a key player in our team, she is a role model to everyone out there, she's a leader on the pitch and off the pitch. Her skills are absolutely phenomenal – she could dribble around probably everybody on the team and she's so calm and focused on the pitch; she never looks phased by anything."



Helen Richardson celebrates a goal for GB at the London 2012 Olympic Games

Both Georgie and Helen (pictured above) look forward with heightened anticipation to the Olympic semi final and both acknowledge that the Riverbank Arena crowd will likely play its part if success is to come their way.

"We're really looking forward to getting out there," says Georgie. "Having the 16,000 British fans is just fantastic. They've been brilliant throughout this whole tournament so getting out there, playing in front of this home crowd and having them behind us to spur us on; it's going to be a great game. We know it's going to be a tough match against Argentina but it's going to be a great battle and hopefully we come out on top."

In seven times World Player of the Year Lucian Aymar, their captain, Argentina have their own key player and role model who is arguably the best hockey player of all time, as Helen explains.

"She's incredibly important to Argentina," says Helen, who is competing in her third Olympic Games. "If she's playing well they tend to play well. We'll have a big role to play on her. If we do stop her then it does make our life a little bit easier however they're not just a one man team, they've got talent throughout the ranks. We'll have to play very well to beat them; it's the semi final of the Olympic Games! We will have to play well, we'll have to play better than we did against the Netherlands but we've definitely got the game plan to do it, we've got the players to do it and having the backing of the crowd will be amazing. The time is now for the team to take stock, take a big deep breath.

"We've got to the semi final - that was our first goal - now we need to really refocus the mind, recover well and go into that game full of confidence, positive, knowing we can do the job."

Georgie began playing hockey at Lincoln Hockey Club while Helen started at West Bridgford in Nottinghamshire.

Great Britain Hockey media release


---

New Zealand the bolters as women's final four showdown

Netherlands, Argentina and hosts Great Britain contest crunch games with kiwi newcomers

Stephen Findlater



2012 Olympic Games (women), London (Photo: Stanislas Brochier)

And then there were four. The Riverbank roar is all set to salute some of the world's finest hockey as the women of New Zealand and the Netherlands (3.30pm) kick-start the final sprint for the medals before Great Britain and Argentina meet (8pm) in the second semi-final.

New Zealand offers a new element to proceedings, making it through to the final four for the first time in their Olympic history. Having finished 11th in Beijing, they came into the competition with a point to prove to themselves.

For the likes of Kayla Sharland, Krystal Forgesson, Emily Naylor and Gemma Flynn, China was a painful memory but they have provided the backbone to their emergence while players like Anita Punt and Charlotte Harrison have lit up this Games with their innovation and direct running.

How they fare against the world number ones and reigning champs, the Netherlands, will be a huge test of Mark Hager's charges and their resolve. Five wins from five have revealed few weak points around the field.

Max Caldas will be concerned that Maartje Paumen's direct shooting has yielded no corner goals but the variations are starting to function. Defensively, the side have dealt well with the absence of Willemijn Bos while Eva de Goede has shone in midfield throughout, leading the forward orchestra. There, Kim Lammers has led the line with four field goals, providing a powerful fulcrum to the front-line.

On the other side of the draw, Great Britain will hope to use the home support to full effect to get back the momentum that marked the initial phase of Pool A. Wiping out Japan, Korea and Belgium, they looked a formidable prospect, especially with Crista Cullen whipping home the drag-flicks – she shares the top-scorer mantle with Lammers.

But back-to-back 2-1 losses to China and the Dutch have tamed that rhythm to some extent. Kate Walsh has provided one of the stories of the Olympic Games, returning from a broken jaw inside six days to lead her side out in brave fashion, underpinning their defensive line.

Helen Richardson and Sarah Thomas are the creative sparks who will look to unlock the Argentina defence, led by Silvina d'Elia. For Las Leonas, the hunger is evident in their pursuit of a first ever-Olympic victory after a number of near misses. Their route to the semi-finals was a roller coaster from the moment they fell 1-0 to the USA, forced to endure a nervy 0-0 draw with Australia to eventually become the last side to reach the final four.

Totems Carla Rebecchi and Luciana Aymar have both provided a trio of goals each. For the latter, she has often been subject to a double-team, making space from midfield hard to come by but a couple of delightful penalty corner moves have aided her side's progress.

FIH site


---

Black Sticks eye historic win over the Dutch

JONATHAN MILLMOW IN LONDON



EYE ON THE PRIZE: Emily Naylor in action. Getty Images

Emily Naylor has chalked up 200 caps for the Black Sticks and now she has her eye on an Olympic hockey medal.

The Manawatu player and her Black Sticks team-mates will need to be at their very best when they tackle the Netherlands tomorrow morning (2.30am) in the first semi-final.

Naylor admits as much and to some nerves but she believes they have nothing to lose against the world No 1.

"It's going to be a tough challenge but it's also very exciting," she said.

"I'll get nervous, especially playing the Dutch, but we are playing well."

The Black Sticks were granted a rare sleep-in yesterday morning and Naylor admitted to dreaming she was in an Olympic semi-final. There was no clue to the result but recent history certainly favours the Dutch.

Of the last five games, the Dutch have won four and there was a scoreless draw at the Champions Trophy last year. The last time the two sides met was at the Champions Trophy in Argentina in February when the Dutch won 3-0.

"The way we are playing and the fact that it is an Olympic semi-final means we can rise to the occasion," she said.

The Black Sticks finished second in Pool B behind Argentina, while the Netherlands topped Pool A with five from five, although they had to come from behind to beat group runner-up Great Britain 2-1 yesterday.

Naylor has had a mixed tournament. She was supposed to play her 200th game against Argentina but a recurring back problem, diagnosed as a bulging disc, meant she had to sit out that game and achieve the milestone two days later in the 3-2 win against the United States.

"I got all these messages from people back home saying 'good luck' for 200 and I knew I wasn't playing, which was a bit sad," Naylor said.

"Playing 200 games is pretty special, especially when it happens at an Olympics.

"It is the first milestone I've had, that we have gone on to win the game."

Naylor is hitting top form in her deep defensive role. The Black Sticks' defence is certainly one of the reasons they are where they are, but it remains to be seen whether they can brush up on their finishing at the attacking end.

The Netherlands pose threats all over the turf, but they are lethal up front and have the undisputed queen of the penalty corner drag flick in Maartje Paumen.

The strength of the Black Sticks is their resilience, fitness and the form of some key players.

None more so than goalkeeper Bianca Russell, who has made any number of clutch saves. Kayla Sharland is leading by example and Clarissa Eshuis has struck twice from penalty corners.

Naylor has been to two previous Olympics, where the Black Sticks finished sixth in Athens and 12th and last in Beijing.  Sharland, Gemma Flynn and Krystal Forgesson were also in Beijing and though they have righted that nightmare they thirst for more.

"We are not content to finish fourth, we are aiming for gold. It's anybody's now," Naylor said.

Last five games versus the Netherlands:
lost 4-0, Rabo Trophy, Netherlands, June 2010
lost 3-1, Champions Trophy, England, July 2010
lost 3-7, World Cup, Argentina, September 2010
drew 0-0, Champions Trophy, Netherlands, July 2011
lost 3-0, Champions Trophy, Argentina, February 2012-08-06

Stuff


---

Black Sticks women's coach full of pride

JONATHAN MILLMOW IN LONDON



WINNING MOMENT: Mark Hager (right) congratulates Charlotte Harrison after the Black Sticks win over the USA at the London Olympics. Lawrence Smith/Fairfax Media

They say a coach is never happy.

But the coach of the Black Sticks women, Mark Hager, can't speak highly enough of his team heading into tomorrow's Olympic hockey semifinal against the Netherlands.

The Black Sticks might not be doing everything perfectly, but it is hard to imagine there is a more resilient, hard-working and successful hockey team currently in London.

Hence, the pride Hager is feeling.

"I am pretty happy for the girls," he said.

"Just being able to coach a team like this, a team that is unified.

"My biggest love of this group is that they try so hard and sometimes I have to check myself because I am pretty hard on them."

The Black Sticks get two bites at a medal now. If they can't knock over the world No 1 Dutch side, then they drop to the bronze medal playoff against either Great Britain or Argentina.

Before these Olympics, the best finish by any Black Sticks side was sixth. Captain Kayla Sharland was in Beijing when the team finished 12th and last. Expect her to play a storming game tomorrow morning (NZ time).

"This is huge," said Sharland.

"Coming last in Beijing wasn't good for me and that is why I am back here and that is why I wanted to change it around and do something special."

Belief in themselves and converting their chances are the key areas if the Black Sticks are to continue their record-breaking run. Since the Beijing Olympics, the Black Sticks have played the Netherlands five times for four losses and a scoreless draw.

Hager admits beating the Netherlands is a mental hurdle his young side has to overcome.

"We have nothing to lose, they are No 1 in the world and we just have to go out play and hopefully play well and make the final.

"It is always a hurdle because we haven't [beaten them] but this team has achieved a lot of firsts." Coming here the Black Sticks were regarded as a side that scored goals but also conceded their fair share. Right now, the roles are almost reversed, partly because of some outstanding goalkeeping by Bianca Russell.

"We aren't renowned as a defensive group but they are defending pretty well," Hager said. "It is the best we have defended in a tournament ever and we need to continue that."

Like Sharland, Emily Naylor is playing in her third Olympics. Others like Gemma Flynn and Krystal Forgesson were in Beijing when it went horribly wrong.

You get the impression the team has another trick or two up its sleeve yet.

Stuff


---

Black Sticks packing attitude to push Dutch for finals spot

By Dylan Cleaver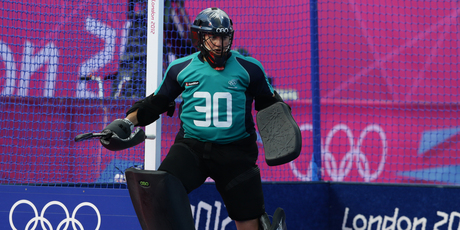 Bianca Russell and the Black Sticks have held two of the world's best teams scoreless in this competition. Photo / Brett Phibbs

You could take a glass half-full or half-empty approach to New Zealand's semifinal against the Netherlands tomorrow morning.

If you need to know what has happened to the rest of your drink, you'll focus on the fact that New Zealand have never beaten the Dutch in a major tournament. If you're just grateful for any chance to slake your thirst, you'll hang on to the belief that the Black Sticks are due a win.

The Black Sticks went back to work yesterday after being given a few hours to bask in the glory of becoming the first women's team to make the semifinals of an Olympic tournament. As well as brushing up on some technical shortcomings - like the current case of the yips in front of goal - coach Mark Hager's toughest job might be getting inside their heads and convincing them they can beat the team in orange.

"That's always a hurdle, because we haven't," Hager said, "but as I said earlier in the week this team has achieved a lot of firsts and this is [a chance for] another first."

Hager would call on his own experiences as a player for Australian sides who were expected to go on and win tournaments but found themselves tipped out before they even made the final.

"You just don't know. If we go out and put in a good performance and put the work in and run hard, if things fall our way, all of a sudden you find yourself in a final."

What New Zealand have in their favour is the attitude that they have nothing to lose. The lack of expectation has proved liberating thus far, but you cannot keep flying under the radar in a semifinal.

The Netherlands have won five from five in London and if they prove too strong, New Zealand will still have the chance to playoff for bronze, against either Argentina, who beat them 2-1 in pool play, or hosts Great Britain.

This has been a ground-breaking tournament for New Zealand. They've had a reputation in the past for buckling under pressure, but here they've held Germany and Australia, two of the best teams in the world, scoreless.

They've also appeared a happy and unified bunch, something that hasn't always been the case in the past. It's not as important as results - sports history is littered with unhappy, successful teams - but the two are not necessarily mutually exclusive.

"My biggest love of this group is that they try so hard," Hager said. "Sometimes I have to re-check myself because I'm pretty hard on them. I can see that at times.

"I'm just so pleased for them at the moment."

The New Zealand Herald


---

Pakistan hockey chief selector to step down

KARACHI: Pakistan Hockey Federation (PHF) chief selector Olympian Hanif Khan has said that he is no longer interested in continuing with his post.

Soon after the Pakistan hockey team went out of medal contention in the London Olympics hockey event following their 7-0 loss to Australia, Hanif said that his contract with the federation was already expiring after the Olympics and he wasn't interested in seeing it renewed.

The selection of the current team featuring in the Olympics has raised many questions as among other things the team went into the Games without the seasoned goalkeeper Salman Akbar while only taking along one goalkeeper, a decision that has completely backfired for them after goalkeeper Imran Shah conceded 16 goals in five games.

But according to the talk in hockey circles, Hanif as selector was never in complete command anyway.

Dawn


---

Ex-Olympians want PHF officials head

By Azhar Khan

LAHORE – Former hockey Olympians lashing out at Pakistan Hockey Federation (PHF) and Pakistan hockey team said that they were very disappointed with the team's worst show and demanded the PHF officials to resign immediately.

Talking to TheNation here on Tuesday, former Olympian and golden player Manzoor Junior, who won gold medal as captain in 1984, said: "Pakistan team though played well in the first four matches and there was a chance for them to beat Australia and qualify for the semi-finals but they played very poor game which was worse than a club level team. The 7-0 defeat in the hands of Australian team was a historic one for Pakistan team which never conceded as many goals as they conceded in this match. They also lost the chance to qualify for the Champions Trophy. It was really very disappointing for me as well as for 180 million Pakistani people who had great expectations from hockey team," he said.

"It was a great chance for the senior players to perform well and help the team to win medal and then quit the game with great honour and respect but they just disappoint the whole nation and hockey lovers."

"When people started saying that I could not play more than 15 minutes in the field, I had decided to prove my critics wrong and played 100-minute match in 1984 Olympics and helped the team win the gold medal with my performance and brought laurels for the country. After that historic victory, I had quit the game with great honour and respect," he added.

"After this dreadful defeat, now the PHF officials and especially selection committee should immediately resign as in their tenure, hockey saw its worst period and was at the edge of decline so they must resign and give chance to those who may run the system sincerely and skillfully and not only help rebuilding the new team for next Olympics but also do their best to regain the lost hockey glory," Manzoor Junior concluded.

Talking to this scribe, former Olympian Naveed Alam said that the team did not play like a unit as there was no coordination between the players. Pakistan team failed in all the departments like bench, defence, mid field and forward as they did not play their due role to help the team win the crucial and important match.

"Even Australian team won the match by 7-0 yet they did not play their full-fledged hockey as continuity was not seemed in their game. They just played their best game till first two goals and put pressure on Pakistanis fully and then getting maximum benefit from it hammered five more goals to win the match and did not allow green shirts to get a single plenty corner. So poor show of Pakistan team allow Australia fully score historic victory," he claimed.

He said that now the target of the current PHF body to remain in power till London Olympics 2012 was completed no matter how much they destroyed the national game. Now after this worst show, they must resign immediately and give chance to those who are serious to save hockey from further decline, revive it in the country and to regain Pakistan's past glory in the field of hockey, Naveed concluded.

The Nation


---

PHF overhaul must to revive hockey

By Mohsin Ali

ISLAMABAD – Superb Australia handed Pakistan 7-0 thrashing to end all hopes of making it to last four stage of the Olympic hockey event on Tuesday.

It was feared that Pakistan goalkeeping department will cost team dearly and Imran Shah never looked like the perfect selection. He was preferred over the likes of Salman Akbar due to personnel grudge with Pakistan Hockey Federation (PHF) secretary Asif Bajwa, who wanted to punish Salman Akbar. Green shirts displayed poor show against superb Australian who totally dominated the match.

Australians never looked back after scoring early goals while it was the worst-ever performance of green shirts in the tournament. The team management, selectors along with the PHF top brass are responsible for such a humiliation despite several warnings by the former Olympians and all their advices were fallen on deaf ears.

Sohail Abbas completely failed to deliver for Pakistan and missed numerous short corners as he was selected for his shooting abilities despite making tall claims prior to the mega event. Secondly, Pakistan's exit solely rested on the worst goalkeeping by Imran Shah. It was felt that he was not present in the ground. His body language was confusing as he never anticipated the moves of the opponents and left stranded and found it hard to tackle the situations.

Salman Akbar should have been given the nod ahead of all the others in the goal as his presence in the goal could have had a huge physiological impact on the defenders as his past track record also spoke itself but secretary Asif Bajwa chose this huge occasion to settle his personnel scores with Salman Akbar, rather than waiting for some other time.

Such was the dominance of Kangaroos that Pakistan failed miserably and didn't even manage to get a single plenty corner in the entire match. Pakistan had to return home form the London Olympics with empty handed as their only real hope of earning a medal rest on the shoulders of hockey team.

The time is ripe that prime minister, who is also the patron of Pakistan Hockey Federation, must take notice of such humiliating performance of the team and show the door to entire management including the president and secretary and impose an ad-hoc body comprising of former greats to run hockey affairs smoothly and in a transparent way.

This is the only solution to revive the fortunes of hockey in Pakistan and to attract the youngsters towards playing hockey which is still the national game of the country.

The Nation


---

Spain field hockey player receives death threats for comments about Spain

By Matt Norlander



Spain's Alex Fabregas during a game last Monday. (AP/Eranga Jayawardena)

Catalan field hockey -- or as it's referred to solely for the Summer Games: hockey -- player Alex Fabregas told Spanish news site ara.cat that's he's received death threats for his statements about playing for Spain at the Olympics.

The online remarks directed at Fabregas stem from the fact he's been openly inhibited about being part of Spain's field hockey team, when he is in fact not, in totality, Spanish.

He's Catalan.

So this has caused some stirring among the diehard field hockey fans in Spain. Or at least the jingoes who blindly and angrily go full bore in support of their country for all things international sport.

The Guardian translated the report and passed it along Tuesday.

Fabregas told the newspaper Ara: "I play in the Spanish team because there's no other team I can play with, I have no other choice. I feel Catalan. I do not feel the same way listening to the Spanish anthem as I do listening to Els Segadors."

He added: "I enjoy playing in the team for myself, for my peers and for the people who come to see me. But at no point do I feel I am playing for Spain."

This led to more-reasonable fans merely calling for Fabregas to be taken off the national team, instead of, you know, outright killing him. Here's to wishing neither will happen. Most of the harassment was directed as Fabregas' Twitter account, which had to be taken down due to the latest example of fan cyber bullying. Last week, a teen was arrested after tweeting harassing and downright mean messages to a British diver.

Fabregas is one of the team's best players, so his statements have come with some impact more than if others had said it. Spain's field hockey team played Great Britain Tuesday to a 1-1 draw. Surprisingly, though, all but two players on Spain's team are Catalan, meaning Fabregas is most likely not alone in his feelings.

CBS Sports


---

Too modern for wood and grass, hockey pushes on

Annika Breidthardt

LONDON - Move over wooden sticks and grass-green pitches, make way for a slew of changes in technology, rules and equipment, such as video referrals and a new pink-blue surface. This is hockey in the 21st century.

Usually perceived as a traditional sport that Britons carried to many colonial corners of the world, hockey has actually pushed its boundaries over past decades, constantly conceiving ways to become faster, safer and easier to watch.

Ads by Google
London's blue pitch, framed in bright pink - a first for big international tournaments - is just one example of the long way hockey has come since its first Olympic appearance in 1908.

After initial complaints about the pitch - any new turf can be bouncy and hard to play on - athletes quickly took the ground in their stride and a South African player said last week: "We were watching footage from a green pitch last night and that seemed strange already. It's a nice pitch."

New colors are the smallest of the changes for players who have long swapped out their wooden sticks for alternatives made mostly of carbon and aramid.

Hockey got rid of offside in the 1990s, introduced rolling substitutions at almost any time of a match in 2009 allowed players to take a free hit as a self-pass, so the player can dribble on. Still, coaches want more.

"We can't be happy with what we've got just because we're better than soccer. Well, soccer hasn't done anything for 100 years. I'm always looking for improvements," hockey veteran and Australian men's coach Ric Charlesworth told Reuters.

He would like to see the sport turn more offensive but less dangerous. He has tried out nine-aside tournaments in Australia, wants a bigger goal and has ideas about new penalty corners.

In fact, while changes come at snail's pace in larger sports such as soccer, it is not unknown for a rule to be adjusted if it turns out not to work in practice. The 1990s substitution rule was soon changed so to prevent teams from making swaps before a penalty corner.

Britain's Calum Giles, for instance, had made an international career of flicking the set-pieces, and little else.

WHAT'S THREE TIMES EIGHT

That hockey is innovative comes as no surprise. Soccer coaches have long copied its training methods, and have been able to win coaches from the less popular sport by offering better wages. It's only a matter of time until they pick on this latest training method by German men's coach Markus Weise.

When making his players practice penalty corner flicks, a tedious task down to thousands of repetitions, he flings them a quick arithmetic task - such as three times eight, which they have to solve before taking the ball.

He wants the flick to become so automatic that the pressure of being in a real match with defenders storming at them, won't distract them. As the only coach to have taken both a women's and a men's team to Olympic gold, Weise should know.

Weise, though, would sometimes like to see a little less modernity. "Sometimes hockey is even too progressive. It would be good to keep a rule for a few years before changing it."

In fact, the latest new introduction to the sport could take a few more years before it runs smoothly. Teams can now call one video referral per game for some offences in the last quarter of the pitch, which will only expire if they are overruled.

While players and coaches, including Weise and Charlesworth, welcome the rule in principle its Olympic debut in London has been all but smooth.

Two of the women's teams that crashed out of the tournament on Monday, Germany and Australia, blamed the video referrals for their elimination.

Australia's coach Adam Commens said an "unacceptable" error in using the system in their first pool match against New Zealand had cost his team dearly.

"We were quite unfortunate in the first match with video referral going against us - an umpire error," Commens said.

"Then there was a penalty stroke disallowed" on which Australia could have used their referral if the team had not lost it unjustly earlier. Australia lost the first match to the Kiwis by 1-0 and only conceded one more goal throughout the tournament but still dropped out ahead of the semifinals.

Other peeves included the video judges not being able to come up with a conclusive answer despite seven HD cameras - which means the umpire's original call stays - and language barriers - teams have to specify what exactly they want the judges to look at.

The international hockey federation FIH also said one problem was the use of inexperienced TV crews, rather than their own, which meant spectators saw different footage to the judges and were often left wondering why a decision was made when the judges saw a more precise angle.

Puzzled spectators may in fact be one of the biggest side effect of repeated changes to the hockey rule book.

"The rules have changed so much since I stopped playing ten years ago, I have no idea what the umpire is on about," one former player was overheard after during an early game.

Chicago Tribune


---

Youth caught for hockey turf arson



COSTLY DAMAGE: Hockey goals at the Twin Turfs complex were targeted by arsonists in June. DAVID UNWIN/Fairfax NZ

A manager at Manawatu Hockey Club wants to have a word with the teen who caused $25,000 damage to its turfs.

A 16 year old male has admitted to an arson at the Manawatu Hockey Club in early June. He has been referred to police youth aid.

Club operations manager Warren Banks said he wanted to meet with the youth to talk about the consequences of his actions.

''I would like the opportunity to meet the boy to tell him how irresponsible be was and the impact he had on people who like to play hockey,'' he said.

The fire happened about 6.30am on June 2. Two hockey goals at the southern end of the fields had been set alight. Goal posts, nets and a section of astroturf were destroyed.

Mr Banks said the fire had been disruptive and the facilities had been repaired thanks to ''a lot of hard work'' from club members with assistance from Palmerston City Council, the club's insurers and turg manufacturer STI. Further work would be needed over the summer to complete repairs he said.

The $25,000 worth of damage was ''not a small amount'' for the club, though if the fire had been in the centre of the turf it would have been significantly more expensive to fix.

The club received about 100,000 visits each year he said with more than 2000 players registered for both its winter and summer leagues.

Police said the boy would be referred to police youth aid and they were not looking for anyone else in connection with the crime.

He was found following a tip off from a member of the public.

Stuff