All the news for Thursday 9 August 2018

2018 Test Matches : CAN v FRA (M) - 2nd test
Burlington (USA)

CAN v FRA     2 - 2

FIH Match Centre


---

Teams confirmed for Buenos Aires 2018 Youth Olympic Games




The International Hockey Federation (FIH) has confirmed the 12 women's and 12 men's teams that will participate in the Buenos Aires 2018 Youth Olympic Games Hockey5s events taking place between 7 and 14 October.

In the women's event, hosts Argentina will be joined by Australia, Austria, China, India, Mexico, Namibia, Poland, South Africa, Uruguay, Vanuatu and Zimbabwe.

The men's event will see Argentina welcome Australia, Austria, Bangladesh, Canada, India, Kenya, Malaysia, Mexico, Poland, Vanuatu and Zambia.

"The Youth Olympic Games are a fantastic opportunity for the world to see the future of our sport, whilst also giving these athletes the first taste of Olympism."
Thierry Weil, FIH CEO

The confirmation of these teams follows the conclusion of all continental qualifying events, the last being the African Youth Games, which concluded on 28 July.

Thereafter, each qualified National Olympic Committee (NOC) was invited to send a Hockey5s team to the event in Buenos Aires, which will take place within the Youth Olympic Park in the southern area of the city.

As NOCs are only allowed to send one team sport, the FIH had to wait on confirmation before publishing the official list of qualified nations.

The range of teams participating in this event once again highlights hockey's global reach, with nations participating from every continent, including many nations who will be participating in their first ever Youth Olympic Games. This includes Argentina, Austria, India, Kenya, Malaysia, Mexico, Poland and Vanuatu in the men's event and Australia, Austria, India, Mexico, Namibia, Poland and Zimbabwe and in the women's competition.

While all of the teams will have different squads to the ones that participated four years ago, Nanjing 2014 Youth Olympic Games medallists Australia (gold) and Canada (silver) men and China (gold) and Argentina (bronze) women will be hoping to add to their Hockey5s success.

Speaking about this, FIH CEO Thierry Weil said: "This is going to be a fascinating event, combining raw talent with great potential. The Youth Olympic Games are a fantastic opportunity for the world to see the future of our sport, whilst also giving these athletes the first taste of Olympism. We can't wait to get underway in Buenos Aires this coming October."

Fans wanting to attend the Buenos Aires 2018 Youth Olympic Games can now apply for free access to all events via the official website. For more information, click here.

For more information about the Buenos Aires 2018 Youth Olympic Games, visit the official website.

#YOG2018

FIH site


---

'Pakistan Hockey Team Capable of Winning Gold at Asian Games'



Pakistan players celebrate their 2-2 draw against India after their men's field hockey match between India and Pakistan at the 2018 Gold Coast Commonwealth Games on the Gold Coast on April 7, 2018. Anthony WALLACE / AFP

It may come as a surprise to many that Pakistan International Airline's Country Manager in Qatar, Khalid Hamid, is a famous former hockey Olympian who was a member of Pakistan's national hockey team that won the gold medal at Olympics in Los Angeles in 1984.

Hamid joined Pakistan's national carrier in 1989. He worked as a marketing manager in Dubai from 2001 to 2004. Later, he worked as a district manager at Sialkot in Pakistan. During his tenure, Sialkot airport started its operation in 2007. Born in Gujranwala, Hamid arrived in Doha in May 2013 and since then the PIA's Doha office has achieved many milestones.

Hamid's career as a professional hockey player before joining the national carrier has been full of laurels and triumphs. He played at the left wing position representing Pakistan from 1981-88 including two Olympics. He also won a gold at the 1985 Asia Cup Champions Trophy. The event was a high-profile International Hockey Federation (FIH) tournament where the world's top 6-7 teams vied for honurs. Hamid made three appearances — in 1983, 1984 and 1988 — and clinched silver medals each time. In recognition of his services to the game of hockey, he was awarded Presidential Medal in 1988 by the government of Pakistan.

He also had stints in coaching. During the Pakistani team's visit to Japan in 1988, Japanese hockey clubs and youngsters got the benefit of Hamid's expertise and skills in the game.

Hamid was one of the assistant coaches with the Pakistan national team when they won the Champions Trophy in 1994 in Lahore. During his stay in the UAE, he remained actively engaged in hockey coaching. Since assuming his position at the Doha office in 2013, Hamid has been imparting training to players at different clubs in Qatar.

In an interview with Qatar Tribune, Hamid spoke about his expectations from Pakistan's national team in the backdrop of its disappointing performance in the World Champions Trophy at Breda, Netherland, in June-July 2018. Pakistan, the winner of the first two editions of the Champions Trophy, finished last in the last edition. Excerpts:

How do you see the role of Pakistan Hockey Federation in supporting the national team?
The Pakistan Hockey Federation (PHF) is trying to provide the best facilities to the team. PHF has acquired the services of Roelant Oltmans, one of the most successful hockey coaches in the international arena. He has been given a free hand in all respects. On his recommendations, PHF has hired Daniel Barry, a renowned Australian physical trainer. Moreover, the team was sent to Holland, two weeks prior to the Champions Trophy for training. They received specialized goal keeping and penalty corner training by the famous goal keeper trainer Dennis Van de Pol and the legendary drag-flicker Bram Lomans.

Do you think the PHF's efforts will bear the results?
I am hopeful that the sincere efforts of the PHF would bear fruit. The next assignment is the Asian Games slated to be held in Jakarta and Palembang from August 18 to September 2. In my opinion, Pakistan is capable of winning the Asiad gold. Winning the gold will give Pakistan an automatic qualification for the 2020 Tokyo Olympics.

Don't you think Pakistan's national team could have performed better in the World Champions Trophy?
I believe they should have done better and certainly didn't deserve the wooden spoon. It was Pakistan who had started this event, donated the beautiful trophy and also won the first two editions of the Champions Trophy. All this makes it very disappointing that they finished last in the last edition.

What could be the possible reason for Pakistani team's poor performance?
I personally think they had the capability to reach the victory stand. In quite a few matches, Pakistan conceded late goals. It depicts poor physical fitness. Weak finishing was another major flaw. With better strategy during certain stages, Pakistan might have earned better results.

How do you see the Pakistan team's matches with its opponents?
In the opening fixture against India, Pakistan were trailing 0-1 with just six minutes left. At that point, they conceded another goal. The management replaced the goal keeper with an outfield player. The decision backfired as the Indians managed two more goals to win 4-0. It was a demoralising score. Pakistanis had otherwise played well and created more opportunities than the Indians. This ploy of substituting goal keeper with an outfielder in the final phase of the match is usually employed in the knock-out games or in the latter stages of pool/league games when it is a do-or-die situation, not in the first league game.

Pakistan did well in the next encounter vs Australia, the World Champions, going down 1-2 with the winning goal coming in the dying minutes. A little better strategy towards the end would have fetched Pakistan one point.

Holland outplayed Pakistan in the third game 4-0. However, they immediately bounced back with a resounding 4-1 win over Argentina, the Olympic Champions.

In the last league match, Pakistan twice led Belgium but let in two goals in the last quarter to go down 2-4. Then, it was the 5th/6th position play off, also against Belgium. It ended 2-2 in the regular time. Belgium won the penalty shootout.

Qatar Tribune 


---

Germany's Eagles run up 17 goals against English rivals



©: Frank Uijlenbroek/world Sport Pics

Germany's Under-21 Eagles produced a superb series of results against England as they won three games out of three in London last weekend, scoring 17 goals in the process.

"The offensive focus of the team has paid off - in addition to the good performances in all three games - absolutely," said coach Valentin Altenburg. "17 goals in three matches speaks volumes!"

They opened up with a 5-1 win over the English, netting three times in the first half before completing the win in the second with goals from Jesper Kamlade (2), Luis Gill, Uhlenhorst Mulheim's Malte Hellwig and Moritz Rothländer.

They scored two more in the second game, a 7-1 success with Mannheimer HC's Teo Hinrichs starting the scoring. Henrik Mertgens added two before the end of the first quarter and another Uhlenhorst player, Laurens Halfmann added the fourth before England got on the board.

Yet another Mulheim player – one of four in total in the squad – Jan Schiffer stretched out the lead further and he also got the sixth and seventh late in the game.

They closed out the series on Sunday with a 5-3 win. It was 1-1 at half-time but second half goals from Hellwig, Michael Hummel and Mertgens built a 4-1 lead and Kamlade got his second of the game towards the end.

Euro Hockey League media release


---

English junior star Jack Waller back at Wimbledon



©: Frank Uijlenbroek

Wimbledon will welcome back Jack Waller to the club as the former England Under-21 captain returns to the club following his university days at Durham.

He led the English side at the 2017 Sultan of Johor Cup but is now back in the fold of the south west London club where he spent his youth.

Off the field, there are changes too. Ben Marsden has moved on from the Hockey Director role after 11 years with the club, transforming their fortunes as they rose from the regional divisions to being national champions and being involved in the last three editions of the Euro Hockey League.

He will be replaced by Simon Organ who is back in England after a 14-year spell working with different top level teams in South Africa, Belgium and the Netherlands.

Organ has also previously overseen a hockey section as a Technical Director at HC Klein Zwitserland, responsible for the hockey education plan for their youth section for six-year-olds to 18.

Wimbledon are looking forward to their EHL ROUND1 campaign in Barcelona where they will meet Mannheimer HC and Dinamo Elektrostal.

Euro Hockey League media release


---

Passmore names a 27 strong squad for U21 England Tests

As the dust settles on an amazing campaign and silver medal for the senior Irish team the U21s start their preparation for next year's EuroNations Championship next July with a three match series in Stormont against a Paul Revington coached England team.  The matches are on Thursday 9th Aug at 7pm, Sat 11th at 3pm and Sunday 12th at 12 Noon.

Coach David Passmore has selected 27 players including a number who played for the U18 team in their Europeans in Santander last month.  The squad sees the welcome return of Queen's Erin Getty after a long lay-off due to injury but Passmore has chosen to rest a few key players who were involved in the senior squad during their build-up to London (Emma Buckley, Ellen Curran and Sarah Torrans).

Passmore Commented "these are ideal selection and development matches for our squad for the forthcoming year.  We played England twice back in June and only loss the second match narrowly by the odd goal so I hope that we can find those performance levels despite the group being larger"

1, Michelle Barry, Cork Harlequins
2, Nadia Benallal, Banbridge
3, Michelle Carey, Railway Union
4, Niamh Carey, Railway Union
5, Jenny Clein, University College Cork
6, Alanah Doyle, Ards
7, Katherine Egan, University College Dublin
8, Amy Elliott, Railway Union
9, Laura Foley, Catholic Institute
10, Erin Getty ©, Queens
11, Niamh Gowing, Muckross HC
12, Nina Heisterkamp, Railway Union
13, Hannah Humphries (GK), University College Cork
14, Mia Jennings, Loreto
15, Suzie Kelly, Monkstown-Hermes
16, Jane Kilpatrick, Loughborough University, England
17, Jade Lamont (GK), Belfast Harlequins
18, Erica Markey, Trinity
19, Hannah McLoughlin, Loreto
20, Grace McLoughlin, Railway Union
21, Lizzie  Murphy (GK), Monkstown-Hermes
22, Siofra O'Brien, Loreto
23, Caoimhe Perdue, Cork Harlequins
24, Abigail Russell ©, University College Dublin
25, Caitlin Sherin, Loreto
26, Holly Taggart, Ballymena
27, Emma Young, University College Dublin

The matches are at Stormont:

    Thursday 9th Aug at 7pm
    Saturday 11th Aug at 3pm
    Sunday 12th at 12 Noon.

Irish Hockey Association media release


---

Kirandeep Kaur, 15, selected for Asian Games

By Jugjet Singh




KUALA LUMPUR: Kirandeep Kaur (pic), at 15, will become the youngest hockey player in Malaysia to play in the Asian Games, thanks to revolutionary coach K. Dharmaraj.

There were many obstacles in her way to gaining the historical spot, and a last minute frantic appeal had to be made to include her in the 'long list'.

(Long List is names of athletes submitted by the respective National Sports Associations in January and it can contain as many names as the associations want).

Kirandeep Kaur was only called up for training by Dharmaraj in May, and the Form Three student of SMK Bukit Bandaraya in Bangsar was promptly included in the World Series in Singapore a month later.

She played in all six matches and scored a goal in the final against Thailand, which Malaysia won 6-0.

She was then selected for the hockey playing tour in Brisbane recently, where Malaysia drew two matches and won three -- Kirandeep Kaur also scored Down Under.

However, since she was not listed in the Long List sent to the Olympic Council of Malaysia (OCM) the Malaysian Hockey Confederation (MHC) had to make an appeal for her inclusion.

And after a few days of Red Tape and some bungling, the Olympic Council of Asia (OCA) finally agreed to give her accreditation Wednesday.

She will not only be the youngest Malaysian women, but also the youngest among the men who made their international debut at the age of 14 in Singapore, celebrated her 15th birthday during the Brisbane Tour, and now representing the country at an Olympic Qualifier.

However, the lanky lass did not have it easy, as she did not even play in the National Under-16 in March due to various reasons, but in the end, she beat the odds and coach Dharmaraj's brave break deserves a standing ovation.

MHC are expected to name the women's and men's squad on Thursday.

Jugjet's World of Field Hockey


---

OPRO announce partnership with South African Hockey and Premier Hockey League




OPRO, the world's largest manufacturer of the most technically advanced mouthguard, today announced a new partnership with South African Hockey and the CTM Premier Hockey League.

As the official mouthguard providers for South African Hockey and the CTM Premier Hockey League, the long-term partnership will see OPRO supply elite level mouthguards to national teams. In addition, the scope of the partnership will include all CTM Premier Hockey League teams in a bid to ensure each player has the very best protection for their teeth.

The partnership comes at an exciting time for South African Hockey after their recent involvement at the 2018 FIH Women's Hockey World Cup in London, and for the CTM Premier Hockey League as it goes from strength to strength as a key contributor to the growth of hockey in the country.

Specifically, the CTM Premier Hockey League features 240 of the best South African players, forming part of the South African Hockey Association's (SAHA) high performance pipeline which is aimed at unearthing new talent and better equipping the national men's and women's teams for international competition.

With over 20 years' experience, dedicated to bringing leading technology and safety to athletes at all levels of sport, OPRO's partnership will run in unison with this vision, to aid the development of the game from grassroots level through to international level.

OPRO are the official mouthguard partner of over 60 teams including England Hockey, Hockey Ireland, Great Britain Hockey, the Ultimate Fighting Championship (UFC), Australia Rugby and New Zealand Rugby.

OPRO Chief Executive Officer, David Allen commented: "It's an exciting time for the game of hockey in South Africa and we're delighted to be a part of it.

"At OPRO, providing the most comfortable, best fitting and reliable mouthguards is our passion and of course, safety is paramount. We look forward to what's to come through this partnership."

Marissa Langeni, CEO of SA Hockey, had this to saay about the partnership, "As South African Hockey we are pleased to be associated with OPRO as a leading premier brand of mouthguards. It is imperative to recognise the critical safety needs of our players and this association will assist us to ensure that players have the required adequate protection as they play the sport they love."

For more information visit www.opromouthguards.com.

SA Hockey Association media release


---

Upper Hill set eyes on podium finish

By Elizabeth Mburugu



Upper Hill's Elisha Ogacha clash with Onesmas Biketi (left) Goalkeeper of St Anthony. [PHOTO: JONAH ONYANGO/STANDARD]

Having been overshadowed at the regional games for the past two years, national boys hockey finalists Upper Hill are determined to settle for nothing less than a top three finish.

They are hoping to exorcise demons that might have had a hand in their 2016 and 2017 fourth-place finish. 

They will be up against five other sides that will be battling in this year's Federation of East Africa Secondary Schools Sports Association games that begin on Sunday in Musanze, Rwanda.

Upper Hill coach Jane Amisi said their main objective is to finish in the medal brackets.

"We have had enough with that spot (fourth). This year we must improve on our performance because the boys are ready to prove they can do better than a fourth place finish," said Amisi.

"We narrowly missed the national title but now want to have some consistency at the regional games."

Get the latest World Cup news updates. Subscribe to our SMS sports service by texting 'SPORTS' to 22840.

She added that they have been training hard since qualifying for the games in April and their game plan will yield success.

"We have our game plan and we are only waiting to execute. We had good preparations ahead of the games and the boys are yearning to play their hearts out and excel."

They will face off in a round-robin format against five-time East Africa champions St Anthony's Boys Kitale, who beat them 2-1 to be crowned national champions during April's Term One games at Kangaru School. 

They will also be looking to defeat compatriots Musingu and gain more points, which will help them achieve their objective.

"Every point will count because playing in a round-robin format we will be need all points so as to achieve our purpose," said Amisi.

"Unlike the last two championships where we started well but lost our footing along the way, we will play every match as if it were a final," Amisi added.

In addition to seeking victory over compatriots St Anthony's and Musingu, Upper Hill must also overcome Ugandan sides which will be out to end Kenya's dominance in hockey.

Ntare School, who finished sixth in last year's competition, will lead Uganda's onslaught against the Kenyans in the absence of silver medallists St Charles Lwanga Kasasa.

Ntare, alongside Kakungulu Memorial and Sir Samuel Baker, will fly Uganda's flag. Kasasa have been Uganda's most consistent side that has for many years, threatened to snatch the trophy.

St Anthony's, who won bronze medal, will be only 2017 top finisher in the championships after winners Kisumu Day and Kasasa failed to qualify for the games.

The Standard Online


---

Players and fans not in tune with Women's Hockey World Cup music

By Richard Bright




Players were not in tune with the loud music played during the Women's World Cup while "inane blasts" during play did little for the experience, according to one ticket holder.

The recently-concluded event featured music while play was ongoing, possibly for the first time at a hockey event.

But one disgruntled spectator, writing in the Evening Standard, has taken exception to the spectator experience, saying that the endeavour and skill of the players were disrespected.

"Instead of allowing more than 10,000 spectators to enjoy top-class women's hockey uninterrupted, we were greeted with inane blasts of "muzak" during play – encouraging us among other things to "clap your hands"," David Stewart wrote in a letter to the paper.

"Professional sport is inundated with this sort of nonsense at the moment. Keep childish wannabe DJs away from the PA system and trust spectators to have sufficient attention spans to concentrate on the exciting play unfolding in front of them.

"Speaking to one official and a parent afterwards, they confirmed the players hate it and they cannot hear calls from their teammates, a fundamental element of hockey."

One hockey fan, William Morris, wrote on Twitter: "Stop the music during play!! Must put players off and fans don't need it."

THE HOCKEY PAPER SAYS …

It has to be said, the loud music and voluble and excitable MC did become a tad draining after two weeks, but as a one-off experience it would no doubt be bearable as spectator experiences go, especially in keeping kids entertained.

When music continued in-play, meanwhile, there were occasions when the media did look around at each other with a 'is this right?' look. It certainly had a US Sports-style ring to proceedings, albeit without the ice hockey organ.

Other than that, the music for video reviews, including the Who Wants To Be A Millionaire theme, seemed to prove popular.

The Hockey Paper


---

Australia show youthful intent at Women's Hockey World Cup

By The Hockey Paper



Spain celebrate as Australia finish fourth PIC: World Sport Pics

Defender Jodie Kenny says the Hockeyroos' top four finish at the Women's World Cup is a sign of the youthful team's growth, but adds there's plenty more to learn.

Australia lost their semi-final to world No 1 Netherlands in a shoot-out before losing the bronze medal match 3-1 to Spain in London.

Veteran defender Kenny said the fourth-place finish was a step forward for Paul Gaudoin's side as they continue to evolve towards the 2020 Tokyo Olympics following their disappointing quarter-final exit at the 2016 Rio Olympics.

"We've come a very long way," Kenny said. "I'm extremely proud of all the girls.

"It's extremely disappointing to end up fourth but in the overall scheme it's a good effort from us.

"It shows we've still got a lot of learning in the bigger matches.

"We need to play really well throughout to get over those hurdles at the end, the tough final matches that show physical and mental strength as well."

Gaudoin refused to use Australia's heartbreaking semi-final shootout loss to the Dutch on Saturday as an excuse for Sunday's loss to Spain, which was the side's only World Cup defeat inside regulation time.

"Spain were very good and we weren't quite there," he said. "We will learn a lot from Sunday's performance. We can't use Saturday's match as an excuse."

The Hockeyroos will now enjoy a break from training, ahead of a series in Japan in September.

The Hockeyroos have risen up two spots to third on the latest FIH Hero World Rankings.

Australia had entered the 2018 World Cup in London ranked fifth.

The ranking represents the Hockeyroos' best since August 2016.

The Hockey Paper


---

Holland star Kitty van Male undecided over Tokyo 2020 future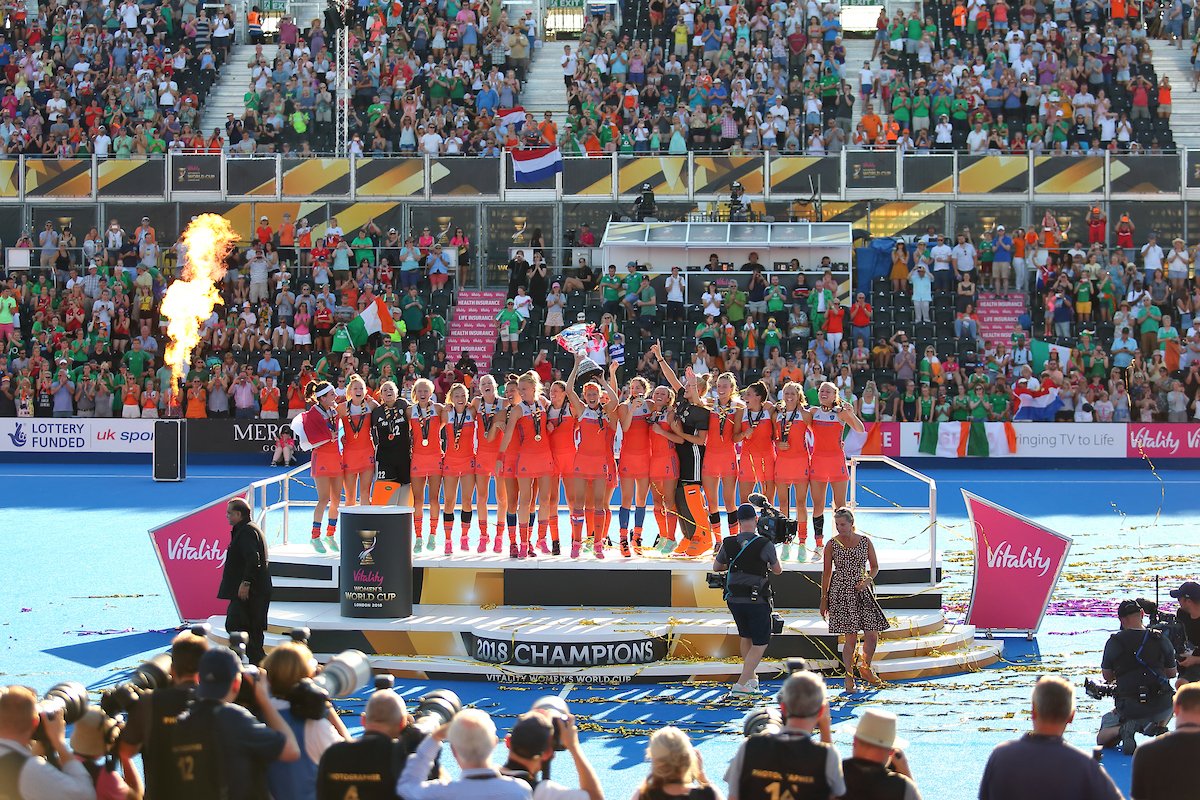 Holland celebrate successful defence PIC: England Hockey

Despite finishing as top goalscorer at the World Cup, Kitty van Male says she is undecided over her international future.

Van Male, who made her debut in 2009, smashed in her eighth of the competition from close range in the second quarter during Holland's 6-0 final win over Ireland.

This was Van Male's first World Cup after being overlooked for the past two editions.

"I am an emotional person", Van Male told reporters. "And if things are right in the group, crazy things can happen to me."

"This is an extra gift [finishing top scorer]. We just played hockey as a collective."

The 30-year-old said she was proud of the team after Alyson Annan's side successfully defended their title.

She said: "We worked hard for it. We have a new team, a young team.

"In the semi-final with Australia we had a hard time, but sometimes it does not matter how you win. It's about winning."

But she admitted that she was unsure over her future role with the Oranje ahead of Tokyo 2020

"I will first enjoy the party. Then I will evaluate with national coach Alyson Annan and then we will look further."

The Dutch retained their world No 1 status following their almost peerless performance in London. England remain as world No 2.

The Hockey Paper


---

No Stormont means no extra cash from Sport NI

By Mark Simpson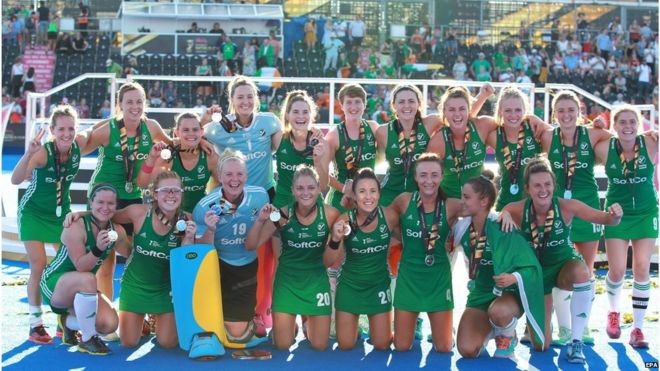 Ireland's women's hockey team celebrate their silver medals at the World Cup. EPA

It is not possible for the sports authorities in Northern Ireland to provide extra funding for Ireland's women's hockey without a return of Stormont ministers.

Sport NI chief executive Antionette McKeown said it could not match the extra funding announced in the Republic of Ireland for the all-island team.

Six of the 18-strong World Cup squad come from Northern Ireland.

Ms McKeown said that Sport NI already provides financial support for hockey.

She said: "In the absence of a minister it is very, very difficult for us to increase that amount because we will need ministerial approval for it but we are due to meet Ulster Hockey and Irish Hockey in the coming weeks."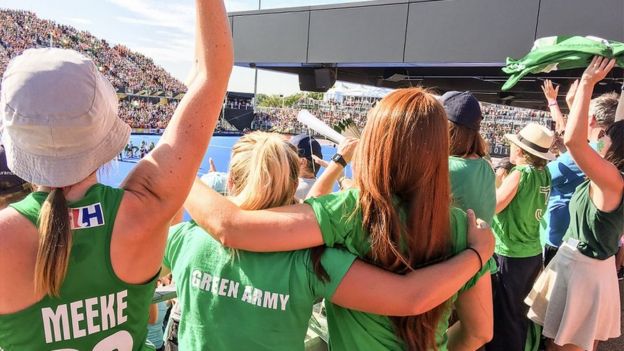 Fans cheer on the Irish team at the Hockey World Cup final in London

Last Sunday was the biggest day in Irish hockey's 130-year history as the women's team took on favourites the Netherlands in the World Cup final in London.

The Netherlands won the match 6-0 but Irish fans outnumbered and out-sang the Dutch in the 10,000-seater Lee Valley stadium.

On Monday, Irish sports minister Shane Ross pledged to give Irish hockey extra money, as part of 1.5m euros (£1.35m) investment in elite sport.

'Specialist services'

Ms McKeown told the BBC: "Any increases in funding that we're receiving from the Department for Communities, our sponsor department, is along the lines of decisions already taken previously by ministers. That is the hard reality.

"However it doesn't prevent Sport NI from continuing to put in the specialist services and support that we have been offering in terms of talent development, workforce development, club development.

"This has been a decade of investment from Sport NI, and Ulster and Irish Hockey. We will continue that.

"But in terms of the types of investment that were made on Monday afternoon in Dublin, we cannot provide that in the absence of a minister here."

Northern Ireland has been without a government since the DUP- Sinn Féin coalition collapsed in January 2017.

BBC Sport


---

Ayeisha McFerran's dancing feet keep hockey star on her toes

Fresh from her World Cup heroics, Ireland's outstanding goalkeeper targets Olympic Games

Mary Hannigan



Ireland goalkeeper Ayeisha McFerran saves from Spain's Carlota Petchame in the World Cup semi-final shoot out in London. Photograph: Christopher Lee/Getty Images

Justine Sowry, coach of the University of Louisville hockey team, had a look at Ireland's World Cup draw and reckoned Ayeisha McFerran would be ready to return to college come Wednesday of this week. So that's when her goalkeeper booked her flight back to Kentucky.

"She thought we'd be out by the crossovers, so she was like, 'come back by the eighth, you'll have had plenty of rest'," McFerran recalls.

It's not that Sowry was being disrespectful about Ireland's prospects. No more than anyone else who looked at that draw, the very best that could have been hoped for was a second-place finish in the pool behind overwhelming favourites England, a crossover game on July 31th, at which point Ireland's interest in the tournament would, surely, end.

But then McFerran, goalkeeper of the tournament, and her team-mates turned the hockey world on its head and reached the final.



Ireland's Ayeisha McFerran with her Silver Medal and her Best Goalkeeper of the Tournament Award after the World Cup final against the Netherlands in London. Photograph: Christopher Lee/Getty Images

"She came over to watch me and said to me afterwards, 'right, I think you need a few more days off', so I changed my flight to next Saturday."

And the 22-year-old, back home in Larne this week, needs all the breathing space she can muster.

"It's literally been non-stop. Since after the quarter-final we've barely had a chance to stop and think about what we've done, and we've been doing so much media since we got home too. But we've loved every single moment of it, the homecoming in Dublin was just magical, we couldn't believe the number of people who were there. The support has been amazing.

"There were so many memorable moments for us in London, endless highs, but the one that stands out for me was in the final when the stadium announcer asked 'who's here for Holland?', and there were a few cheers. And then 'who's here for Ireland?' and the whole place erupted, the roar, the excitement, it was unbelievable. I'll never forget it. It's giving me goosebumps even thinking about it now."
 
I'm going to enjoy everything that I do. Because that's what she [her mother] would have wanted

Her father, George, was in the crowd too for the big day, along with her sister Tamara, former teachers from Larne Grammar School, lots of friends and former club-mates from Randalstown and Pegasus. Her Dad had, at first, been unable to get time off work.

"He watched the shoot-out against Spain on his phone during a break," she says. "But once we made the final his boss told him to get to London. So, he was able to come over and he got a ticket at the last minute, in the fan zone, it was brilliant to have him there."

Absent, but at the very centre of her thoughts, was her late mother Sandra who died when McFerran was just 15. There was much talk during those moments of high drama at the tournament, especially during the shoot-outs against India and Spain, about how a smiling McFerran was revelling in it all, rather than being overcome by the magnitude of the occasion.

Enjoy everything

She credits her mother with that outlook on not just sport, but on her life as a whole.

"My Mum always really encouraged me to give my all in everything I did, and to enjoy every moment. Her life was cut so short, she had so much left to give to me and my siblings and everyone who knew her, so my attitude is that I'm not going to waste any opportunity I ever have.

"I'm going to enjoy everything that I do. Because that's what she would have wanted. She wouldn't have wanted me or my siblings to sit back and waste our lives, we've all accomplished a lot in different ways, and I know that she would have wanted us to go on and achieve even more. I miss her every day."

And it was her mother who first took her to Irish dancing when she was a child, partly in the hope that it would result in her daughter expending some her ceaseless supply of energy.

"My granddad used to sing in shows when I was younger, I would sit and watch videos of him, and then these girls would come out and do Irish dancing and I would try and copy them. I was a crazy kid when I was younger, I had so much energy, so my Mum said 'come on, try Irish dancing!' So she took me to the local dancing school in Larne – and I loved it. I kept it up for 11 or 12 years. I took it really seriously too, I competed all around the country."

Did you have ringlets?

"I did – for one competition. Most of the time I wore my hair straight, but it was the Ulster finals and I decided to curl my hair, but when I got to the competition all the other girls had theirs straight. I definitely stood out," she laughs.

You could have been in Riverdance instead of the World Cup?

"I wouldn't say I was that good at it …. but it was the dream at one point."

And Irish dancing, she reckons, helped with that nifty footwork we saw on display in London, particularly during the shoot-outs.

"It probably did," she laughs. "I have quick feet, and I'm always, literally, on my toes, so I think a lot of that would have come from the dancing. But I played every sport under the sun when I was younger and I think that helps a lot too, especially with learning about your motor skills.

"And that's how you learn to pick out what you most enjoy, for me it was between athletics, soccer, Irish dancing and hockey, and I think they all helped me improve in each. In the end, though, I focused on hockey – and it's being going okay so far."
Highest honour

It's being going a little more than okay, both on the international front and with the University of Louisville.

Last December McFerran was picked, for the second year running, by the National Field Hockey Coaches Association for their 'All-American' team of the year, the highest honour in US college sport.

She has just one year left at Louisville, where she went on a hockey scholarship in 2015, majoring in Health and Human performance, but she is already giving some thought to the future.

"I have to, really, because I need to start thinking about what I'll do next year, so I'll look at clubs and see what options there are for me, maybe think about playing abroad [in one of the major European leagues] if that was possible. But right now I'll enjoy the moment and enjoy my season with the girls in America, I love being with them."

Beyond that? Qualification for the 2020 Olympic Games would be good.

"That's the dream, and I hope we've made it a bigger possibility by what we did in London. And I think that's the most important thing we've done, kind of putting Irish hockey on the map and, hopefully, helping make hockey in Ireland even bigger than it is."

Riverdance's loss is Irish hockey's gain.

Previous Sportswoman of the Month winners (awards run from December 2017 to November 2018, inclusive):

December: Fiona McHale (Gaelic football). McHale was the driving force behind Carnacon's victory over Mourneabbey in the All Ireland Club final, their first title since 2013. The Mayo midfielder earned the Player of the Match award for her tireless performance in a 0-15 to 1-10 win at Parnell Park, having also shone in the Connacht club final and All-Ireland semi-final.

January: Phil Healy (Athletics). The Cork woman had an encouraging start to the indoor season when she knocked over a second off her 400m personal best at a meeting in Vienna, and she maintained her excellent form through the summer, improving her 200m and 400m outdoor personal bests, having already set a new Irish record in the 100m.

February: Cora Staunton (Australian Rules). Staunton made such an impression in her first season with the Greater Western Sydney Giants, when they just missed out on a place in the Grand Final, that the club has signed her up for a second campaign. The 36-year-old's 24th Championship campaign for Mayo, though, ended prematurely when she was among a group of 10 players to leave the panel in a dispute over "player welfare" issues.

March: Katie Walsh (Horse racing). Walsh won't forget in a hurry the six week spell she had from March 14 – first she rode her third Cheltenham winner, then she was one of just 12 finishers in the Aintree Grand National, then, in April, she rode another winner at Punchestown – after which she announced her retirement following an outstanding career.

April: Leona Maguire (Golf). The 23-year-old from Cavan closed out her spectacular amateur career on a high, winning the Atlantic Coast Conference Championship for a record-equalling third time and finishing her time with Duke University with the best scoring average (70.93) in Division I women's golf history. She made a promising professional debut at the ShopRite LPGA Classic in New Jersey where she finished eight under, tying for 15th.

May: Natalya Coyle (Modern Pentathlon). The Meath woman achieved a lifetime's ambition by winning Ireland's first ever medal in an individual Modern Pentathlon World Cup event when she took silver in Sofia in May. And she came agonisingly close to taking another medal at the World Cup final in Kazakhstan where, in the end, she finished fourth. Come July, she led the Irish team, completed by Eilidh Prise and Sive Brassil, to silver at the European Championships, Coyle finishing fifth in the individual standings.

June: Sarah Healy (Athletics). In what has been a stunning summer for Irish youth athletics, with Rhasidat Adeleke, Sophie O'Sullivan, Sommer Lecky, Molly Scott, Gina Akpe-Moses, Ciara Neville and Patience Jumbo-Gula all among the medals at either the European Under-18 or World Under-20 Championships, Healy has been in exceptional form too, her highlight coming at those under-18 Championships when she won both the 1500m and 3000m titles.

The Irish Times


---

Irish hockey team will inspire future stars

Graham Shaw's squad's legacy can prove the blueprint for future success in the sport

Joanne O'Riordan



Ireland's Shirley McCay and Xan de Waard of the Netherlands in action during the World Cup final at Lee Valley Centre in London, England. Photograph: Christopher Lee/Getty Images

And so, the dust settled, the hockey field was rewatered, and in among the Dutch celebrations, Irish pride was at an all-time high.

After a blistering and pulsating tournament (where Google searches contained the words hockey, penalty corners, FIH, Ayeisha McFerran, Shirley McCay, Graham Shaw) the new-found Irish heroes were greeted with cheers, high fives, hugs, tears and of course, the incredible visionary that is Shane Ross . . . but more on him later.

Yes, I was one of those that hopped on the bandwagon too. As did my father, brothers, sister, nieces and really, whoever was in close proximity to me rambling on about how cool hockey is and did you see Gillian Pinder as cool as a breeze or Ali Meeke with the skillz4dayz to practically seal a semi-final place.

Ireland may not be the actual world champions, but they are on merit, on unity, charisma, fun and everything you tell your kids about when they sign up to a sports camp or start training with their first-ever team.

Rather than pushing through the World Cup relying solely on skill and individual brilliance, the Irish team were able to overcome every obstacle and every hurdle through their unity. They embarked on a journey together – theirs was marked by tales of working their asses off in the dark behind closed doors with nobody watching.

After all, champions aren't born on the field in front of the photographers, lights, fans, cameras and action; champions are genuinely formed in the small hours with blood, sweat and tears.

The team's bond was highlighted day by day, with Ali Meeke singing Justin Bieber's Baby live on TV; Shirley McCay saying in an interview that a stick to the face just adds beauty; and goalkeeper of the tournament Ayeisha McFerran squealing with excitement on TV just after she put in a Player of the Match-level performance against India. You see, these girls definitely deserve your support and everything that comes with it.

We have seen how doing well in an international competition can fundamentally inspire young people and children to take up sport. But these figures are even more critical for women in sport.

It has been over a year since the Dutch women's football team won the Euros on home ground against the Danish. The growth of women's football in the Netherlands increased by 2,034, with the spike coming post-European Championships.

Ironically, football in the Netherlands is competing with the most popular sport, field hockey. The point is, more success and more visibility and recognition will always translate into growing participation rates and, most importantly, a higher fan base.

Equal pay

Take the Danish side that lost to the Netherlands. Sure, they had a massive fight on their hands when bargaining for equal pay and a new collective bargaining agreement, but overall their average national team game attendance is 2,152.

The figures don't lie, and the best part is it highlights one thing that every women in sport fan, player, coach, referee, official will tell you – the more recognition and the more visibility a sport gets – then you will begin to see the results on the field through underage structures and beyond.

Now, the key thing for Irish hockey and Irish sport, in general, is how they can capitalise on the explosion in positive PR and how the funding can help results and be translated into success for this generation and upcoming generations.

However the way Shane Ross swanned in like a wanna-be Prince Charming and dished out the funding Oprah-style is the epitome of bandwagoning. If you're going to bandwagon, Mr Ross, remember that time you mixed up the Kearney brothers or misunderstood when Katie Taylor was fighting at the Rio Olympics and wished her luck after she was knocked out?

Not only was Ross's demeanour that day weird and slimy, who actually thought was a good idea to put him on a podium in front of the girls announcing funding as if he had just offered them loaves and fishes?

Who thought it was right having Shane Ross standing and smirking in front of these women who had done their country proud , dangling money in front of them the same way you a dangle a carrot in front of a donkey?

Shoestring budget

For me, that whole showman, Bachelor-esque PR is awful and honestly offensive to the women who put their lives on hold to put smiles on the nations faces.

I agree in theory every sport should be given money based on performance and participation. But that throwing over a million euro in funding after heroic displays in a pulsating tournament is not the best way to conduct business.

The hockey women are entirely within their rights to get their money back, but all I can do is hope the good people of Irish Hockey don't do the most Irish thing ever – blow the money on the current reaction, thus leaving hockey back on square one. I see it all the time in my activism work.

National sporting bodies are the same everywhere, they rely on putting out forest fires on a shoestring budget and rely on the excellent work done by volunteers. It's time we changed that. It's time the money given is put towards what it was meant for, for the development and continued success of Irish Hockey.

Success doesn't happen overnight; this hockey team are a testament to that. But here's hoping this success will continue and inspire more generations to come along. Put heads together and seek to extend this fantastic, unprecedented change. Because this team did it, and they deserve to have their legacy become the blueprint for future success.

The Irish Times