All the news for Tuesday 4 November 2014

Ireland make it 2 from 2 against Scotland




Ireland took a second win over Scotland winning 2-1 in a match that the Green Army dominated. Ireland's first goal came just at the half time when Deidre Duke roofed in a deflection off Captain Megan' Frazer's penalty corner drag.

Ireland should have given themselves a bigger lead but a solid looking Scottish defense coped well with the onslaught of Irish attacks to keep the scoreline to 1-0 until they were able to convert a chance of their own thanks to a Nikki Kidd drag flick. Ireland responded immediately and Aine Connery converted off a pass from Anna O'Flanagan to make it 2-1.

Ireland continued with wave after wave of attack showing great pace and intensity but the final shot continued to evade them and the match closed out 2-1.

Ireland will play their third and final test against Scotland in this series on Wednesday at 12.15pm in Alexandra College as they continue their preparations for World League 2.

Ireland Starting XI: Emma Gray GK; Shirley McCay; Megan Frazer Capt; Naomie Carroll; Aine Connery; Chloe Watkins; Nicci Daly; Hannah Matthews; Katie Mullan; Anna O'Flanagan; Gillian Pinder
Reserves: Stella Davis; Chloe Brown; Nikki Evans; Deirdre Duke; Kate Dillon; Ali Meeke;  Emily Beatty

Scotland Starting XI: Emma McGregor; Amy Brodie; Sarah Roberston; Rowan Sinclair; Kareena Marshall; Rebecca Merchant; Nikki Kidd; Susan McGilveray; Alison Howie; Nicola Skrastin; Aileen Davis
Reserves: Nicki Cochran; Kirsten Peters; Jenny Morris; Maisie Morris; Robyn Collins; Amber McNeil; Louise Campbell

Irish Hockey Association media release


---

India to begin tough test against Australia

PERTH: High on confidence after being crowned Asian Champions, India's men's hockey team will test its skills against world number one Australia in a four-test series, beginning on Tuesday.

The series will prepare the side for the prestigious Champions Trophy, scheduled for next month in India.

India captain Sardar Singh said this series was good opportunity for a few young players to impress the selectors ahead of the Champions Trophy.

"Champions Trophy is an important tournament for all of us, as we will see world's best teams fighting it out for the title. It is a good opportunity for the junior players as this four-match series is majorly going to benefit them by helping them learn the nitty-gritty's of hockey at international level," Sardar said.

"The training sessions have concluded pretty well and the whole team is performing well as a unit. We are working on the finishing at all positions, be it defence, mid-field or forward. It's good see the enthusiasm of the junior players as they are really keen to learn more. We as a team do not hesitate in discussion any issue and help each other learn and work on each other's weaknesses together," he said.

Coach Terry Walsh, who created ripples recently by quitting his post before agreeing to continue, said it was "exciting times" for his players being up against the best team in the world.

"It is the best exposure for the young boys, as it will help them learn and grow. Playing against Australia is a bench mark and will bring out the best of the players. Training sessions have been going good so far and we are all growing as a team and it will be a good show coming up in this tournament," he said.

Speaking on tomorrows match, Indian drag-flicker Gurjinder Singh said, "I have mixed emotions for tomorrow's match, as I feel excited to be playing on an international platform and that too against Australia, at the same time a feeling of adrenaline rush to give my best in match and live up to the expectations of my seniors especially VR Raghunath and Rupinder Pal Singh."

The Times of India


---

Griffiths and Smith set for Champions Trophy




David Condon and Ashley Jackson celebrated their call-ups to the English Champions Trophy squad with a goal each in East Grinstead's 4-0 win over Southgate in the only game to be played in their domestic league last weekend.

Scoreless at half-time, Jackson broke the deadlock from a corner before Condon scored from play a minute later. Andy Bull and Glenn Kirkham were also on the mark late in the game.

It came a couple of days after England released their panel for the Trophy which will be played in Bhubaneswar, India from Saturday, December 6 to Sunday, December 14.

The EG duo of Chris Griffiths and Patrick Smith, pictured, are among new faces in the panel after impressing Crutchley during their Great Britain debuts against France two weeks ago. Griffiths will make his England debut at the tournament.

Beeston's Tim Whiteman, who was forced to miss the Commonwealth Games following a broken thumb, comes back into the line-up.

The other addition to the squad isReading's Tom Carson, who comes back into the fold after missing out on selection for the Commonwealth Games. Carson will be no stranger to England fans after making 49 appearances and scoring 14 times since making his debut in June last year.

Euro Hockey League media release


---

USWNT Selection Changes from Weeklong Series to Three Day Trial

After much deliberation from U.S. Women's National Team Head Coach Craig Parnham and Assistant Coach Janneke Schopman, USA Field Hockey is excited to announce that the format of the 2015 Women's National Championship (WNC) will be changed from a weeklong series of games to a three day selection camp in January. The three day trial for 2015 will take place January 9-11at Spooky Nook Sports in Lancaster, Pa.

Among many other factors for the format change, congested international schedules throughout May, June and July of 2015 and 2016 (which includes Olympic Qualification) make it very difficult to coordinate a week long Women's National Championship.

The intention behind the upcoming Women's National Team trial is that all players who attend and are selected will be able to join the Women's National Team full time on or before August 1, 2015. This would mean relocating to the Lancaster area in order to train full time at the squad's training site at Spooky Nook Sports. The timing of the trial allows those players coming out of college the opportunity to be assessed earlier in the year, and it also ties in with the calendar year, streamlining budgets and athlete payments. The trial is open to any player, including those who have not previously been part of the Women's Olympic Pipeline.

In order to attend the trial, athletes must be nominated by their NCAA College Coach. Nominations for athletes will be taken November 1 - December 1, 2014. Please keep in mind that nomination decisions should be based on the highest level of international standards (e.g. top 6 teams in the world).

An email will be sent to all NCAA DI, II, and III Coaches on November 3, 2014 with nominating instructions and criteria for nominated athletes.

More information regarding the implementation of this new USWNT process can be found on usafieldhockey.com in the coming days.

USFHA media release


---

Future Black Sticks set to play India in Stratford



Future Black Stick player Erin Goad.

The Future Black Sticks Women are taking on the Junior Indian team in a six test series at the TET Multisports Centre starting tomorrow.

It was just over two weeks ago that the Black Sticks Women started their USA series in Stratford and now the Futures will be following in their footsteps when they head onto the turf in Stratford at 3pm tomorrow.

Head coach Jude Menezes said the team can't wait to get onto the field and see how they foot it against a top quality international side.

"We are pretty excited about it – the girls are definitely looking forward to the challenge, the team sees it as a huge opportunity," said Menezes.

"The more games we can give players at this level, the better. It's a chance for players to put their hand up and be noticed by the national selectors."

Both teams arrived in Taranaki yesterday and the Kiwis have had had three training sessions already.

"This week is as much about international competition as it is about fitness – we had fitness testing this morning and then the team will do more fitness on Monday. It's important that players know that if you want to play at that next level and be part of a medal-winning team, your fitness and nutrition needs to improve," said Menezes.

The squad of 21 players, captained by Canterbury's Cass Reid, will be rotated throughout the six games with the aim of exposing players to international competition.

"Cass has been in the programme for a couple of years now, she knows what the expectations are and we wanted someone who has been there and done it to be the leader of the squad."

Menezes is under no illusion that it will be a tough series - India have five players who have played at the Commonwealth Games and four who are in the National Squad.

Taranaki Hockey operations manager Tracy Collier said to have so much high profile hockey on a regular basis in their community is fantastic.

"Our volunteers pull out all the stops to support these incoming teams and make them feel welcome so we hope that they enjoy coming to Stratford and want to come back.

"The benefits of these events are enormous to the Association and we have experienced a 20 per cent increase in player numbers this winter season post Oceania Cup. It's certainly an exciting time and it will be interesting to see what next year's increase will be!" said Collier.

Schedule
Free entry for all games
All games at TET Multisports Centre, Stratford
3pm, Wed 5 November
6pm, Thursday 6 November
3pm, Saturday 8 November
3pm, Sunday 9 November
3pm, Wednesday 12 November
11am, Thursday 13 November

Future Black Sticks Women's Team
India Series, Stratford

Stephanie Dickins
Kayla Bradey
Su Arn Kwek
Alex Conway
Alia Jacques
Tessa Jopp
Rachel McCann
Victoria Methven
Erin Goad
Kelsey Smith
Danielle Sutherland
Maddi McLean
Kate McCaw
Siobhan Nuzum
Felicity Reidy
Deanna Ritchie
Brooke Roberts (GK)
Lydia Velzian
Sarah Matthews (GK)
Melissa Harris (GK)
Cassandra Reid (C)

Hockey New Zealand Media release


---

Indian Oil, Punjab Police win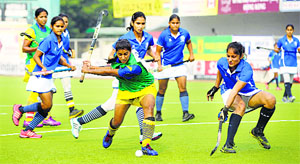 Rail Coach Factory, Kapurthala (Green) beat Haryana XI 6-3 on Day Six. Malkiat Singh

Jalandhar - Indian Oil Mumbai beat Rail Coach Factory Kapurthala 5-3 and Punjab Police Jalandhar beat Bharat Petroleum Mumbai 4-2 to earn full points in the 31st Surjit Hockey Tournament.

In women section, RCF Kapurthala registered their second consecutive victory beating Haryana XI 6-3.

In men's section, last year's runners-up Indian Oil Mumbai beat RCF Kapurtahala 5-3. In the 10th minute, Indian Oil's Parabhjot Singh netted the ball from left flank (1-0). In the 15th minute, Indian Oil's Vikas Sharma scored from the top of the circle (2-0). In the 20th minute RCF's Simrandeep Singh converted the penalty corner to reduce the margin (1-2).

In the 22nd minute, Indian Oil's Sunil Yadav sounded the board with a penalty corner conversion (3-1). At half time Indian Oil was leading by 3-1. In the 49th minute of the second half, RCF's Raman Singh netted the ball from right flank to make it 2-3.

In 61st minute of the play, Indian Oil's Gagandeep Singh scored the goal via penalty corner conversion (4-2). In 66th minute, IOC found another goal through Gagandeep Singh to make it 5-2. In the dying minutes of the game, RCF's Sanjay Bir reduced the margin to 5-3. In the second match in men section, Punjab Police Jalandhar, after losing their first match to Army XI, beat Bharat Petroleum Mumbai 4-2. Punjab Police took lead in 13th minute when Captain Simranjeet Singh converted the penalty corner (1-0).

In the 27th minute, Jagmeet scored a field goal for Punjab Police (2-0). In the 33rd minute, Bharat Petroleum reduced the margin through Harjeet Singh.

The Tribune


---

Pakistan players shaken after Wagah blast

Deepkamal Kaur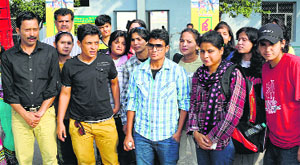 Pakistan hockey players share their views about Wagah blast on Monday. Sarabjit Singh

Jalandhar - Having crossed the Wagah border just hours before yesterday's blast, the Pakistani hockey teams playing in the ongoing Olympian Surjit Hockey Tournament had barely checked into their hotels here when they heard the tragic news.

A contingent of 49 individuals — including 18 men's team players, 19 women's team players, coaches, umpires and the manager – had crossed the border yesterday at 10 am. "We had crossed walking into the Indian territory, where the organisers of the hockey tournament were there to receive us. Hardly had we reached and settled in our rooms that we got to know that there had been a blast at the site that we had crossed hardly nine hours earlier," said Olympian Anjum Sayeed, manager of the teams.

Binish Hayat, the 25-year-old international women's hockey umpire, said: "We all got panicky. We had not yet purchased Indian phone SIM cards so that we could talk to our families and tell them that we had reached safely. But we of course used WhatsApp, Viber and email to connect with whosoever we could. Still, our families were relieved only after taking to us this morning."

A third-time visitor to India for the tournament, international umpire Atif Malik too said that the team had been distressed at the news. "We all had come here to give a message of peace and brotherhood. But no sooner had we reached, we started hearing about the stepping up of tension all over again. As a member of the contingent, I talked to everyone and told that come what may, we have to show the spirit of sportsmanship and do our duties well," he said.

Sayeed added, "Our players were also a bit shaken watching news on TV and in the papers in this morning. But then I counselled them and told them that they must continue to practise and perform to the best of their abilities." The Pakistani men's team, which includes five Olympians, expects to do well in the tournament, said vice-captain Waqas Sharif.

The Tribune


---

Paragon women do indoor sweep

…rampant Army takes men's title

Nigel Simon

Paragon women completed the double in the T&T Hockey Board National Indoor Championship after ending with a perfect 3-0 record in the "Super Indoor" at the Jean Pierre Complex, Mucurapo, on Sunday.

After securing wins over Courts Malvern (3-2) and Ventures (2-0) on Saturday, Paragon returned to the courts on Sunday morning and hammered Shandy Carib Magnolias 7-1 to complete their three-match campaign with maximum nine points.

Leading the way for Paragon, which also won the National Indoor Women's Open a week ago at the same venue was Arielle Williams (2nd & 28th) and Kristin Thompson (6th & 16th) with a goal in each half.

The trio of Avion Ashton (26th), captain Alanna Lewis (32nd) and Gabrielle Thompson (37th) added one each for Paragon, while Elise Olton netted a 34th minute consolation for Magnolias.

…Defence Force batter opponents

Defence Force was also a dominant force in the Men's Open competition blasting Queen's Park 7-4 and then crushing Petrotrin 19-5 to also end with a 3-0 mark and nine points.

In the win over the Parkites, the "Teteron Boys" who eased past Paragon 8-1 in their opener got a hat-trick from Marcus James in the 14th, 21st, and 27th minute while Mickel Pierre got two and Nicholas Wren and Marcus Campbell, one apiece.

James then went on a rampage against the Oilmen with goals in the 1st, 3rd, 17th, 21st, 27th, 37th, 37th and 39th while Javon Woodward added goals in the 13th, 15th, 24th, 32nd and 36th.

Wren and Gerard Ferguson added two each, and Campbell and Pierre the others.

Results and standings

Sunday:

Women's Open:

Paragon 7 (Arielle Williams 2nd, 28th, Kristin Thompson 6th, 16th, Avion Ashton 26th, Alanna Lewis 32nd, Gabrielle Thompson 37th) vs SC Magnolias 1 (Elise Olton 34th)
Ventures 4 (Karissa Wyke 13th, 29th, Jade Piper 19th, Anya Sealy 23rd) vs Courts Malvern 4 (Krizia Layne 14th, 24th, Danielle Martin 22nd, Penelope Sharpe 37th) Ventures won 2-1 on a penalty shootout.

Mixed Veterans:

Defence Force 8 (Nicholas Wren 15th, 19th, 25th, Anthony Morales 2nd, 29th, Gerard Ferguson 27th, 30th,Roger Daniel 20th)
Notre Dame 7 (Selwyn King 7th, 12th, Dunston Rattansingh 20th, 28th, Nigel Providence 10th, Scott Dopson 23rd, Ian Edwards 14th) vs Fatima 0

Men's Open:

Paragon 3 (Terrance Baptiste 13th, Akim Toussaint 33rd, Cogie Butler 35th) vs QPCC 2 (Shawn Lee Quay 14th, Stephan Mouttet 37th)
Defence Force 19 (Marcus James 1st, 3rd, 17th, 21st, 27th, 37th, 37th, 39th, Javon Woodward 13th, 15th, 24th, 32nd, 36th, Nicholas Wren 8th, 12th, Gerard Ferguson 20th, 29th, Marcus Campbell 26th, Mickel Pierre 38th) vs Petrotrin 5 (Arielle Bowen 23rd, 23rd, 30th, Nathan Callender 12th, 16th)

Saturday late scores:

Mixed Veterans:

Defence Force 6 (Roger Daniel 7th, 8th, 21st, Nicholas Wren 19th, 22nd, 28th) vs Fatima 4 (Roger Gomes 6th, Brian Garcia 21st, Wayne Nieves 23rd, Colin Young 28th)
QPCC 5 (Gary Griffith 3rd, 21st, Jerry Bell 7th, 20th, Paul Weekes 23rd) vs Notre Dame 2 (Scott Dopson 4th, Nigel Providence 15th)

Women's Open:

SC Magnolias 7 (Elise Olton 25th, 26th, 38th, Brianna Govia 3rd, 39th, Brittney Hingh 4th, Jessica Lee 30th) vs Courts Malvern 3 (Krizia Layne 9th, Andrea Jackson 14th, Penelope Sharpe 21st)

Men's Open:

Paragon 9 (Syl Sinnette 4th, 17th, 23rd, 27th, 36th, Cogie Butler 1st, 2nd, 5th, 18th) vs Petrotrin 6 (Wayne Legerton 25th, 35th, 38th, Dwain Quan Chan 10th, Otis O'Connor 11th, Arielle Bowen 32nd)
Defence Force 7 (Marcus James 14th, 21st, 27th, Mickel Pierre 24th, 37th, Nicholas Wren 4th, Marcus Campbell 30th) vs QPCC 4 (Jordan Reynos 2nd, 38th, Stephan Mouttet 20th, 29th)

standings

Teams P W D L F A Pts

Paragon 3 3 0 0 12 3 9
Ventures 3 2 0 1 6 7 6
Magnolias 3 1 0 2 9 12 3
Malvern 3 1 0 2 9 14 2

Men's Open:

Defence Force 3 3 0 0 34 10 9
Paragon 3 2 0 1 13 16 6
Petrotrin 3 1 0 2 24 34 3
QPCC 3 0 0 3 12 23 0

Mixed Veterans:

Defence Force 3 3 0 0 21 12 9
QPCC 3 2 0 1 12 11 6
Notre Dame 3 1 0 2 13 12 3
Fatima 3 0 0 3 5 16 0

The Trinidad Guardian


---

Warriors thrash Parkroad in lopsided league match

By BRIAN YONGA



Butali Sugar Warriors celebrate a goal against Parkroad during their Kenya Hockey Union (KHU) Premier League match at City Park Stadium on November 2, 2014 . Butali Sugar Warriors, formerly Kisumu Simba, thrashed Parkroad 6-1. PHOTO | MARTIN MUKANGU |  NATION MEDIA GROUP

Butali Sugar Warriors, formerly Kisumu Simba, on Sunday thrashed Parkroad 6-1 in a Kenya Hockey Union (KHU) Premier League men's match at City Park Stadium in Nairobi.

The win gave the lakeside team maximum points from their weekend matches after they beat Nakuru Sikh Union 2-1 in Nakuru on Saturday.

These were the Warriors' first engagements this season. Warriors fell behind to a Gilbert Langat second minute goal from a penalty corner.

However, a brace each from Kenyan international Emmanuel Simiyu and Joeren Stoel and two more strikes from Vincent Odhiambo and Frank Wanangwe earned the Kisumu side a comfortable win.

Butali coach Cliffe Okello praised his charges for proving their worth having not played competitive hockey for many months, adding that they intend to build on the momentum going into the next games as they chase a play-off spot.

"The players responded well after falling behind to get the points. We will now start preparations for our next game," Okello said.

Simiyu equalised for the visitors in the 20th minute through a penalty after Wanangwe was fouled inside the box. They almost went ahead a minute later but Odhiambo just failed to convert Wanagwe's cross.

NICE FINISH

Wanangwe again created another chance for the lakeside team in the 30th minute but Stoel failed to apply the final finish as the teams went into half time level.

Warriors went ahead in the 39th minute when Simiyu finished off a well worked move after Nixon Amadi did all the hard work by beating Parkroad keeper Morris Musyoka.

They made it 3-1 in the 57th minute when Odhiambo sounded the board following a corner with Parkroad defence all over the place.

The impressive Wanangwe scored his team's second penalty firing into the roof of the net. Stoel atoned for his earlier miss with two superb strikes.

His first in the 63rd minute was pure genius as he picked the ball outside the box, turned his marker before placing the ball past Asimba.

Two minutes to the end, he was the first to react after Asimba blocked Simiyu's first time shot to score the rebound and cap off an impressive performance.

In an earlier match, Wazalendo thrashed Bay Club 6-2 in a one sided clash to move closer to a play off spot. Bay had lost 3-1 to Mvita on Saturday.

In the women's league, Kenyatta University thrashed Mount Kenya University 5-0 to earn their first win of the season.

Daily Nation


---

Arul, umpires slammed

By Jugjet Singh



UniKL's Shazrul Imran Nazli (l) challenges Terengganu's Faizal Saari in an MHL match at the National Hockey Stadium in Bukit Jalil on Friday

THE Malaysia Hockey League (MHL) Premier Division is just a weekend old, but two glaring issues need to be addressed before the situation gets out of hand.

One is national juniors and seniors coach Arul Selvaraj coaching UniKL, and the other is the declining standard of umpiring.

Malaysian Hockey Confederation (MHC) vice-president Datuk Nur Azmi Ahmad was asked the question of Arul wearing three hats during the Sultan of Johor Cup, and his answer was: "It's my personal opinion, but I feel a national coach should not be coaching a club side. But this has been happening for a while now, and I will try and sort it out before the MHL starts."

But there was no solution forthcoming and the MHL has started, and now Negri Sembilan coach S. Chandran and Old La Sallians Association of Klang team manager Joseph de Silva are questioning his selection methods.

"Negri were the silver medallists in last year's Malaysia Games and only one player was selected for national juniors training and he was dropped. I watched the Sultan of Johor Cup, and as a long-standing development coach, I know that the best players in the country were not at the SOJC and that is why we finished fifth.

"The SOJC players were mainly from Kuala Lumpur, and now instead of scouting for talent from the stands during the MHL, national coach Arul is coaching UniKL which I believe is not the right thing to do.

"The perception is quite bad, and I think instead of giving coaches to select players for the national juniors and seniors training squads, an independent panel needs to be formed, like previously, to make sure players from all over the country are selected, and not from one or two clubs exclusively," said Chandran.

The MHL has always been the final frontier for a player to shine before he is called up for national training.

Joseph also felt it was not right for Arul to be the judge, jury and executioner.

"I am finding the situation a bit comical, but it's not hilarious as the country will suffer in the end if the national coach is allowed to also coach a club side. "There is bound to be conflict of interest when selection is done. And currently, there are better players around the country than what we have in Kuala Lumpur," said Joseph.

As for the umpiring, Sapura are fuming with the standard of officiating even though they beat UniKL 2-1 on Sunday, while issuing a walk-out threat.

"The chairman of the umpires committee (Faithal Hassan) is nowhere to be seen during the first week of matches. Is he above or too good for all the participating teams?

"The MHC must make sure he is around to address any potential problems. Team officials need someone on match days to answer and address critical situations. Right now, there seems to be no communication between teams and the Umpiring Committee," said Sapura assistant manager S. Kuhan, a former national skipper.

FRIDAY: Sapura v KLHC (6pm, Pitch I), UniKL v Tenaga (6pm, Pitch II), Maybank v Terengganu HT (8pm, Pitch II).

SUNDAY: Maybank v UniKL (6pm, Pitch I), KLHC v Terengganu HT (6pm, Pitch II), Tenaga v Sapura (8pm, Pitch II) — (All matches at national Hockey Stadium).

New Straits Times


---

Malaysia are top seeds in Olympic hockey qualifying event

By S. Ramaguru



Malaysia's Muhd Razie Abd Rahim scores a penalty in the match against South Korea at the 2014 Incheon Asian Games recently. - Filepic

KUALA LUMPUR: Malaysia will be the top seed during the World Hockey League round two in Singapore from Jan 17-25.

Malaysia, ranked 13th in the world, will have for comapny familiar foes as they seek to qualify for the semi-finals. The World League is a qualifying tournament for the 2016 Rio Olympics.

The other teams in the fray are Bangladesh, Japan, Poland, Singapore, Oman and Ukraine. One more team have yet to be announced.

This will be the winner of the final round one tournament which will be played in Suva, Fiji from Dec 6-13. The teams involved are Fiji, Samoa, Papua New Guinea and Vanuatu.

Malaysia need to finish in the top three to make the semis cut and play either in Belgium or Argentina.

The national team, coached by A. Arulselvaraj, will start training after the Malaysia Hockey League ends on Dec 14.

Malaysia are not expected to face too many problems in Singapore. They had beaten the hosts, Japan and Bangladesh in the Incheon Asian Games recently.

Poland are seen as a potential threat while Ukraine are an unknown quantity.

Meanwhile, Vietnam and four other countries – Burundi, Cameroon, Sierra Leone and Haiti – have become an affiliate of the International Hockey Federation.

The Star of Malaysia


---

KL still alive in U-14 hockey meet

By S. Ramaguru

KUALA LUMPUR: Former champions Kuala Lumpur kept alive their semi-final hopes in the 1MAS-MHC-Milo Under-14 hockey championships with a 4-1 win over Perlis at the National Hockey Stadium in Bukit Jalil.

KL, champions from 2007 to 2012, were whipped 7-1 by Sabah in their opening tie on Saturday.

They still have matches ahead against east coast teams Kelantan and Terengganu who are also in the mix for a semis spot along with Sabah.

In their Group B match yesterday KL opened accounts in the 17th minute through a penalty corner goal from Mohamed Adib Abu Bakar. Perlis equalised in the 35th minute through Mohamed Adam Akhir but it came to vain as KL wrapped up the match in the second half.

Mohamed Iqhwan Haqim scored in the 38th minute and Mohamed Anas Ramlan added another in the 49th minute.

KL team manager K. Embaraj said they showed some improvement but still not good enough.

"We have tougher matches ahead and every game is crucial from now. For the moment our semi-final hopes are still there. It is up to us to make it happen," he added.

In the only Group A match yesterday, Pahang defeated Malacca 3-1 to share top spot with Selangor.

All the goals in the match came in the second half. Pahang took the lead in the 48th minute through Mohamed Ariff Syafie. Then Makmurmasuha Faisal increased the advantage in the 55th minute before Malacca reduced the deficit in the 59th minute goal through Mohamed Muhibuddin.

Mohamed Safuan Ibrahim ensured full points for Pahang in the 66th minute.

The Star of Malaysia


---

The end of a great innings



Laurie Mumford, Romford HC

We've all played somewhere where there is a player who's been there seemingly since the club was formed. They've held almost every position on the committee and played in every team. They are, rightly lauded as club legends and are what make many clubs across the land tick. Romford Hockey Club is no exception and recently saw the retirement of Laurie Mumford at the ripe old age of 83.

Having made his debut back in 1959 after making the transition from football, Mumford has managed over 1200 games across 55 years, stopping only for a short break from playing after heart surgery. Retirement is not a decision he has taken lightly and not something that has been a gradual development. The Romford defender has played over 20 games a season for the last two campaigns and is still very active within the club as President and Treasurer.

By his own admission he has never been one to wow the crowds with dazzling stick skills or creative flair but that hasn't stopped him from enjoying a successful and storied playing career:

"Having never acquired a high level of stick skills I did my best to compensate with energy and effort. Perhaps one of the best compliments paid to me was by an opposing centre forward who near the end of a frustrating game for him turned to one of our full backs and said "Doesn't he ever give up?!" he recalls.



Laurie Mumford, Romford HC

Mumford's final game was against East London, a side picked due to their captain, Roger Lillystone being part of the Romford team alongside Laurie back in 1972-1974. Mumford played with his usual energy and enthusiasm and finished on a winning note when teammate Dave Brazier, himself a sprightly 64 years of age, slotted in the only goal of the game to give his team mate his fairytale send off. It was a poignant day for the Romford defender as his family were in attendance and he was given a guard of honour by both sides as he entered the field.

Although his playing days are now at an end, he will continue in his role as President and Treasurer of the club and will remain a staunch supporter from the sidelines. Fittingly, the last word should go to the man himself:

"Romford has been a great club to play for and I have never felt the need to change or move elsewhere. Playing for all the XIs from top to bottom at different times over the years has provided me with lots of enjoyment." he adds "To say I will sorely miss playing is an understatement but will continue my support from the touchline and console myself with the many happy memories of games and friends made over the past 55 years."

England Hockey Board Media release


---

Now a film on hockey player Sandeep Singh



Actor Chitrangada Singh (left) is set to turn producer with a biopic on Indian hockey player Sandeep Singh (right). File photo

After the success of Mary Kom, former India hockey captain Sandeep Singh is the latest sportsperson on whom a biopic has been planned and the ace drag-flicker wants Ranbir Kapoor to portray his role in the movie.

Actress Chitrangada Singh is set to turn producer with this planned film.

"Chitrangada Singh has bought rights for making a film on my life. I am very excited that people will see my story on celluloid," Sandeep, who is currently playing for Hampshire county in UK, told PTI Bhasha.

"I am a big fan of Ranbir and I want him to play the lead. He has played the role of a Sikh in Rocket Singh and looked very convincing. However, the producer will take a call on this," said the former skipper.

Sandeep made headlines when he made a successful return to the hockey field after being hit by a bullet in a freak incident. He was seriously injured after being hit by an accidental gunshot in Shatabadi Express in August 2006 while he was on his way to join the national team due to leave for the World Cup in Germany two days later.

Sandeep was almost paralysed and on wheel chair for two years. He not only recovered from the serious injury, but also made a stunning comeback and established himself in the Indian team.

"I want this movie to convey a message to the youngsters that nothing is impossible if you have will power. No one had imagined that I will be able to make a comeback after that accident but I did. I hope that youth will get inspired from my life story," he said.

The Hindu