All the news for Thursday 20 November 2014

The women's Champions Trophy by numbers

Statistics are addictive for all sports fans. Here we have a smorgasbord of facts and figures from the women's Champions Trophy: statistics guaranteed to elevate you to the level of super fan.



(Photo: FIH)

This will be the 21st edition of the women's Champions Trophy after it was introduced to run alongside the men's competition in 1987. A total of 12 teams have participated in the event during its history, with the Netherlands only missing one edition and the Hockeyroos missing two. Other teams to have participated are: China, Great Britain – who now compete as England, Argentina, Germany – who first competed as West Germany, Japan, Korea, Spain, New Zealand, South Africa and the United States.

When it comes to home advantage, the jury is out. Of the 20 editions to date, the home side has won seven titles. In 2012 the event was held in the Argentine city of Rosario and Argentina duly carried the honours, while the 2011 edition was played in Amstelveen, in the Netherlands, and an orange-clad crowd cheered the Netherlands to victory. Quite what impact the passionate crowd at Mendoza will have on the matches is hard to judge.

Netherlands women and Australia women hold six Champion Trophy titles apiece, although the Netherlands have the most medals in total with a further four silver medals and eight bronze medals to their name.

The biggest scoreline in a Champions Trophy final was the 6-2 victory by Argentina over Germany in 2008, although the biggest defeats in a Champions Trophy match were the 8-0 victory by Australia over New Zealand in 1987 and, more recently, a 7-0 win by China over England in 2009.

At the other end of the scale, New Zealand women have never beaten either the Netherlands or Argentina in a Champions Trophy match. Japan's only two winning matches at the Champions Trophy was a 4-3 win over the Black Sticks in 2012 and a 1-0 victory against the Netherlands in 2008.

The record for the most medals won by a player at the Champions Trophy is held by Minke Smeets of the Netherlands, with 11 medals won between 1999 and 2010. She is trailed by fellow Dutch player Kim Lammers who won her 10th medal in Rosario in 2012. Lammers will be joined on 10 by Luciana Aymar so long as the Argentine legend arrives in Mendoza injury-free and Las Leones pick up a medal of any colour. While the two Dutch players may have more medals, Aymar has bragging rights when it comes to the colour – along with Australian duo Rechelle Hawes and Juliet Haslam, she has five gold medals in her trophy cabinet. Smeets has three gold medals, while Lammers has four.

Aymar also holds the record for the most appearances at a Champions Trophy. She first played in the competition in 1999 and this year she will record her 15th appearance. Fellow Argentine Soledad Garcia and Germany's Natascha Keller have each made 12 appearances.

When it comes to goal scorers, one name dominates. Maartje Paumen currently holds the record for the most goals scored at Champions Trophy matches, with 25 to her name. Three of that total were scored during the 2011 final against Argentina. Paumen's hat trick sent the game into extra time, which the Netherlands won. Barring injury, you can expect that figure to rise during the Mendoza edition, as the Netherlands drag flicker continues to impress.

Finally, if you are playing the percentage game to predict match outcomes, then these are the figures you need. The Netherlands and Australia share a 56 per cent win rate. The Netherlands have played 111 Champions Trophy matches, winning 63, losing 22 and drawing 26; in comparison, the Hockeyroos have played 105, won 59, lost 26 and drawn 20.

The next most successful team on paper is Germany with a 50 per cent win rate, followed by Argentina on 45 per cent. The lowest success rate among this year's teams are New Zealand (15 per cent), with China, England and Japan on 25, 26 and 27 per cent respectively.

Twitter: twitter.com/fih_hockey #BestOfTheBest

A statistical look at the men's Champions Trophy will appear on the FIH website later this month.

FIH site


---

Pakistan in crisis ahead of FIH Champions Trophy

KARACHI: With the FIH Champions Trophy a little more than two weeks away, the Pakistani hockey players are headed for a showdown with their national federation (PHF) over its failure to award them new contracts and non-payment of dues.

A senior player said the final straw came today when they were informed that due to the financial crisis, the national team might have to travel by a bus from Lahore to Amritsar via Wagah border for the Champions Trophy, to be held in Bhubaneswar, as the PHF couldn't afford the air fares and other expenses.

"The players have decided enough is enough and we will only go to India for the Champions Trophy on December 3 by air," the player said.

He said the players were holding meetings to decide future course of action but they will start wearing black arm bands in the ongoing training camp for the Champions Trophy to convey their feelings to the PHF and government via the media.

The crisis crept up after a reception for the team by Prime Minister Nawaz Sharif was cancelled at the last moment.

The Prime Minister was due to host a reception for the recent Incheon Asian Games silver medallist and it was expected he would announce a special grant for hockey, which is presently going through its worst financial crisis.

"It is very disappointing that after being told the Prime Minister was going to meet us in Islamabad we learn nothing is happening," another player said.

The PM is the chief patron of the PHF and hockey remains Pakistan's national game.

Pakistan captain Muhammad Imran said the cancellation or postponement of the PM's reception was a big blow to the players as they were hopeful of a positive outcome from the meeting.

"We wanted to tell the Prime Minister that he needs to save this sport from obliteration in Pakistan as it is dying," he said.

The Times of India


---

Non-payment of central contract dues agonising for players, says Imran




KARACHI: National team captain Mohammad Imran on Wednesday said that financial worries owing to non-payment of the dues by the Pakistan Hockey Federation (PHF) were troubling the players ahead of high-profile Champions Trophy tournament being staged in Bhubaneswar, India next month.

"We have been waiting to receive our central contract payments for the past 18 months; things have gone too far now," Imran said in an interview at the Hockey Club of Pakistan here on Wednesday.

While acknowledging that there was serious resentment among the players who had been facing great financial hardship also due to not receiving the payments, the skipper however dispelled the impression that a rebellion was brewing up among the senior players.

Imran hoped that the Pakistan Sports Board and the Pakistan Hockey Federation (PHF) will now come forward to resolve the longstanding issue of the unpaid dues on urgent basis.

Players have been waiting to receive payments for 18 months

"The players are now seriously concerned over the [non-] payment issue because many promises were made in this regard but were not fulfilled," he regretted, adding that being the captain and bracketed in the 'A' category central contract, the PHF owed him Rs900,000.

The skipper however made it absolutely clear that the payments issue would not stop the players from performing their national duty.

"No doubt the players are facing monetary problems [due to non-payment] but we will be featuring in the Champions Trophy," the full-back ensured. The eight-nation Champions Trophy will be held from Dec 6 to 14.

According to some reports, senior players including Imran Butt, Mohammad Irfan, Umar Bhutta, Shafqat Rasool, Waqas Sharif and the captain Imran himself had a secret meeting, and they were thinking different options to express their dismay over the non-payment.

"We have no plans to pull out of the Champions Trophy. But how will our families survive without [receiving our] payments from the PHF," he questioned.

The captain reminded the authorities concerned that the players, despite not receiving their payments, had been sacrificing to represent Pakistan in international hockey.

"We got to think about the future of our families. We are surviving by earning some amount by participating in foreign leagues," said Imran, who quit his league contract halfway in Hong Kong to return to play for Pakistan.

"Being Pakistan players we deserve better treatment. But rather things are going worse for us," he lamented.

Commenting on national team's progress, Imran who led Pakistan to silver medal in the Incheon Asian Games last month, said the team was improving but they needed regular exposure against European teams.

"By only playing regularly against European teams, our players can raise their game," he insisted. "Our players desperately require international exposure to make themselves strong to qualify for the 2016 Olympics."

He said though featuring in the European leagues would benefit Pakistan players, "but on that basis you cannot become world beaters".

Underlining Champions Trophy as the toughest tournament in field hockey, Imran said the team looked forward to showing their potential in the elite event.

Dawn


---

Players are still high in spirits, says coach Sheikh

By Nabil Tahir

KARACHI: Despite another postponement of their meeting with Patron-in-Chief Prime Minister (PM) Nawaz Sharif, the Pakistan hockey team and its management are still eager to showcase their skills at the upcoming Champions Trophy in India.

The meeting, scheduled for November 19 to discuss delayed payments and other rewards, was deferred for a second time due to the PM's engagement with other matters.

Pakistan Hockey Federation President Akhtar Rasool confirmed the reason while adding that he was in talks with Sharif's office about setting a new date.

"The meeting was delayed as he [Sharif] had other commitments to attend to, but I'm in contact with the PM's representative and have requested them to rearrange the meeting either prior to the team's departure on December 2 or once it returns on December 17," Rasool told The Express Tribune.

Meanwhile, head coach Shahnaz Sheikh confirmed that the players were extremely disappointed after hearing the news, and since he was the bridge between them and the federation, it is his responsibility to keep their morale high.

"The players have already faced many disappointments by missing major hockey events in the past year so this just adds to their discontentment; it's hurting their confidence as they feel the government is not paying attention to hockey, while they, on the other hand, are fighting for its survival."

Players focused on training

Notwithstanding the lack of acknowledgement from the government, the players want to serve the country.

"We all had expectations from the PM, we were hoping to get something before our departure since we left our leagues for the Champions Trophy," said goalkeeper Imran Butt.

"Our coach has promised us that he will do his best from his end to make the meeting happen, but for the time being, he wants us to focus on our training.

"We love this sport and all the players are doing the best they can for its survival, but this can't go on for long if the government keeps neglecting the sport."

The Express Tribune


---

Walsh's exit leaves players worried

The players feel his exit will hurt the performance and the rebuilding process of the team

Sabi Hussain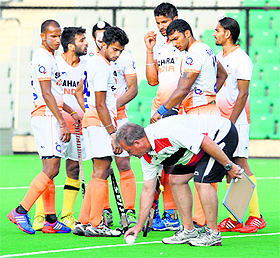 The Walsh fiasco could derail Indian hockey that has just started to look up. file photo

New Delhi, - Just when it appeared Indian hockey was heading towards better times, the sparring between the Sports Authority of India (SAI) and Hockey India claimed another victim in Terry Walsh, the head coach of the men's hockey team.

Walsh is the fifth foreign hockey coach to leave midway in a decade. Germany's Gerhard Rach, Australian Ric Charlesworth, Spaniard Jose Brasa and Australian Michael Nobbs too left abruptly without completing their tenure.

Incidentally, MK Kaushik, under whom India won the gold medal in the 1998 Asian Games after a gap of 32 years, was sacked, too, a few days after the golden feat. Perhaps it's time for both the SAI and Hockey India to introspect why all their coaches fail to complete their tenure.

The worst affected in this latest fiasco, as usual, are the players. With the prestigious Champions Trophy around the corner — it starts from December 6 in Bhubaneshwar — Walsh couldn't have left at a worse time.

"Players are the biggest losers in this entire episode. We don't know where things went wrong, or what led to Walsh's exit. But one thing is certain, the performance and rebuilding process will take a huge hit," a senior player of the Indian team told The Tribune.

The players are worried about their future, more so about the preparations for the Rio Games as they don't know who would take over in case the Australian doesn't return.

"The mood in the camp is really sad. We are disheartened by the unfortunate turn of events. It's a pity that the babudom has claimed another good coach. We all wanted him to stay, the team has shown improvement under him," said another player on condition of anonymity.

The players also don't know who would coach them for the Champions Trophy. However, it has been learnt that High Performance Director Roelant Oltmans would double up as the coach, with Jude Felix supporting him.

Some former India players, however, are of the view that such confrontation could be avoided if Hockey India starts recruiting Indians as coaches. "The standard of Indian hockey is going down because of the foreign coaches. They are unaware of the strengths and the weaknesses of the Indian players. Indian coaches can do a much better job," said Dhanraj Pillay, a former India skipper. Harinder Singh, an Olympian, said Walsh was wrong in demanding financial autonomy and permission to operate from Perth.

Nevertheless, it can't be denied that the Indian team had begun to show some improvement under the Australian, the highlights being the gold medal at the Asian Games, a Test series win against world champions Australia and a silver medal at the Commonwealth Games.

So it's surprising what provoked Walsh to take the extreme step, especially after it seemed that almost all the issues had been thrashed out in the two marathon meetings the Sports Ministry-appointed committee had with the coach. Apparently, it was HI president Narinder Batra's strong accusation against Walsh over his 'financial misdeeds' with his former employer USA Field Hockey that proved to be the deal-breaker.

That Hockey India, which brought Walsh as the head coach after the exit of Nobbs, suddenly became so much disinterested in his continuance is pretty baffling.

SAI to send Walsh a fresh contract

The Sports Authority of India (SAI) executive director Sudhir Setia today said they would send a fresh proposal to Terry Walsh within the next 48 hours for his consideration. Setia said Sports Minister Sarbananda Sonowal, after meeting Walsh on Tuesday, felt the Australian could take Indian hockey forward, and agreed in principle to a majority of his demands. "Walsh will soon receive a new contract from us, with majority of his demands incorporated," Setia told The Tribune. "He said he would have a look at the contract and get back to us." Setia, however, ruled out SAI mediating between Walsh and HI. "If the two parties have any differences, they have to sort it out on their own," he said.

The Tribune


---

The ball is now in Terry Walsh's court, says SAI

NEW DELHI: With sports minister Sarbananda Sonowal agreeing in principle to Terry Walsh's demands, the ball is now in the Australian's court to take a call on whether to continue as India's chief hockey coach and the SAI expects him to make up his mind in the next 4-5 days.

In a major setback for Indian hockey, the men's national team chief coach Walsh on Tuesday decided to fly back to Australia after his contractual talks with Hockey India and his employer, Sports Authority of India (SAI) broke down.

Walsh, however, insisted that he might rejoin the team before the Champions Trophy and was waiting to receive and study a fresh proposal in the next two days.

But SAI Executive Director (Teams) Sudhir Setia ruled out sending Walsh any fresh proposal and said they are now waiting to hear from the Australian's side.

"He met the sports minister yesterday and the minister has agreed to all his demands in principle. But he said he wants to go home for a few days. He said he needs a break," Setia said on Wednesday.

"We are not going to send any fresh proposal to him. Everything has been discussed in detail. Now he will have to get back to us.

"He said he will have a re-look at the proposal once he returns to Australia and get back to us with 4-5 days. The ball is in his court now. It is now upto him whether he wants to continue or not," said Sethia, mincing no words.

Walsh, who replaced fellow Australia Michael Nobbs as India's chief coach in October last year, had resigned from his post last month, demanding more autonomy and decision making powers.

The Australian's month-long notice period ends on Wednesday but he left for Perth without signing a fresh contract after talks between him, SAI and HI failed to make any breakthrough.

Even though the Walsh's demands have been agreed in principle, his return might not materialise as Hockey India is not too keen on to have him back in the fold.

Differences between Walsh and Hockey India crept up after national president Narinder Batra brought up allegations of financial irregularities against the Australian during his stint with USA Field Hockey.

Walsh, however, has completely denied these allegations and termed them as baseless. But an official who was present in these talks has indeed confirmed that Walsh's differences with HI was the bone of contention for the deadlock.

"His demands were not such an issue. He was even ready to compromise on some of his demands. But it is the internal difference between Walsh and Hockey India which really is the main reason for the deadlock," the official said.

Under Walsh, Indian hockey has made considerable progress in the last one year having qualified for the 2016 Rio Olympics after winning the gold in the Incheon Asian Games and rare Test series victory over Australia.

The Times of India


---

It's Terry Walsh vs Narinder Batra now

Rutvick Mehta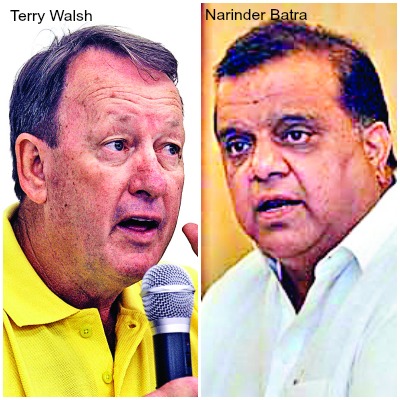 The Aussie, who has resigned from his position as head coach, maintains there is a clear lack of trust between him and Hockey India president

It's not just about hockey now. Operational issues aside, Terry Walsh's return as head coach of the Indian hockey team will depend on one man — Hockey India president Narinder Batra.

A day after deciding to stand by his resignation and fly home, the Australian said on Wednesday there is a clear lack of trust between Batra and him, and that the former's conduct lately smacks of ulterior motives.

"While, I greatly appreciate the efforts put in by the government and Sports Authority of India (SAI) over the last few days in trying to implement the changes that are so badly required in Indian hockey," Walsh told dna on Wednesday. "Obviously, the same can't be said about HI. There is clearly a lack of trust between Batra and me, and there are clearly some ulterior motives behind his allegations lately that are directly attacking my reputation."

The HI president has, over the last few weeks, accused the Australian of trying to blackmail HI and the country, and also of committing "financial fraud" during his time with USA Hockey for using a software which Walsh had developed along with a company named Sportstec.

"I am deeply hurt by his conduct, to be quite honest. Those are some serious allegations, and none of which are true," Walsh said.

According to Walsh, Philip Jackson, the managing director of Sportstec, has already refuted Batra's allegations. Why, he has even written to Batra, saying that the statements he made were factually wrong and that the matter was closed two years ago.

"The letter itself proves that the allegations are completely false. But that still doesn't stop all the muck that has been thrown around my name. That's a big problem. I want him to come out and clear the air on this and take back his statements. He should really stand up and say what he wants. And he should do that pretty darn soon," Walsh said.

The 60-year-old Australian is set to fly home on Wednesday evening, and said he will look at the fresh proposals and arrive at a final decision by the weekend.

"Look, I have been left really confused and frustrated by all the developments lately. I haven't seen the fresh proposal, but it should reach me by the time I land in Australia. It will require concentration, some serious reading, work and manoeuvring, and also a large degree of alteration from their part. There seems to be friction between Batra and the programme. I mean he talks about his vision and agreement with the programme, but he should back his words with action. He is making all these allegations, but there hasn't been even a sentence of appreciation from him on our Asian Games win. What does that say?" Walsh said.

Clearly, the issue seems to have shifted from functional autonomy and paid leave to the animosity between Batra and Walsh now.

"Well, I have no animosity towards him. It is all from his end, and the timing of it tells me clearly that there are ulterior motives," Walsh said.

The two-time Olympian had two rounds of meetings with the six-member committee after his arrival from Australia. He also met sports minister Sarbananda Sonowal on Tuesday, who agreed to all his demands in principle but talks still remained inconclusive.

Is he disappointed that things could not be sorted in time? "Yes, of course," Walsh said. "But as is the case with most things here, they were left to the last minute. And then, suddenly, Batra started singing a different tune. It's almost like something new keeps cropping up every single day!" Walsh said with a chuckle.

So what were the issues that remained unresolved? "Firstly, the trust mechanism is the most important of all things. That is the one major piece of the puzzle. Second, there has to be a serious delegation of authority. One person can't be making all the decisions. Mind you, I'm not interested in that; my role is to coach the Indian national team. There's a high-performance group which needs to be entrusted with the responsibility to taking decisions," Walsh said.

The Australian reiterated that the issue of Batra will be needed to be addressed primarily before he can even look at the other proposals. "Well, there are some changes that I've suggested which they promised to put in the new proposal. But it doesn't matter what is in the proposal now. It's the other part which has to change," Walsh said.

Despite all the mud-slinging and failed negotiations, Walsh said he wants to come back to India to fulfill his promise of building an efficient team.

"We've completed a significant part of the job by producing the results that we have. Our task was not only to go to the 2016 Olympics, but have an efficient team that can compete there. I want to build a structure that focuses on longevity. A lot of people can hardly see that. But that's not my role. I am keen about Indian hockey. I'm keen about converting a team that can compete from a team that everyone knows will be beaten. Strangely, it's become attractive to me. I've become so attached with the group. I feel for it," Walsh added.

So is he hopeful that he will be back, despite the adverse circumstances? "Well, I was the one that initiated this. So I'll be the one to decide. Let's see where we are once I get the fresh proposal. I'm in a much better position today than I was 48 hours ago, where it looked completely out of sorts. But I can't be putting up with all this every single time," he said.

DNA


---

Terry Walsh unlikely to return

Hockey India has made it clear that it won't budge unless it receives complete clarification on "outstanding issues" from former Indian men's hockey coach Terry Walsh.

The national federation president Narinder Batra was categorical in his rejection of Walsh's claims of innocence.

"He got a mail sent from the software company Sportstec that there were no outstanding financial issues and the matter has been resolved. But Sportstec is neither the accused in this case nor the accuser. The matter is between US Hockey and Walsh and he has to clarify his stand.

"He says he has documents to do so. If he does, great. I don't have any personal enmity with him, he has done good for the team. But no individual can claim 100 per cent credit for success. There is Roelant Oltmans, there is the rest of the staff and there are the players. True, winning is a habit and the success in Australia is a big boost for the team. Credit to Walsh for that. But there can be no compromises on matters of financial irregularities," Batra said.

Federation sources claim that the whole issue has reached a point of no return, so much so that the federation is already on the lookout for a new foreign coach.

"Two-three have been shortlisted and talks have already begun. A decision is likely by January since the team has no assignment for a few months after the Champions Trophy," sources said.

Walsh, too, had been curt on Tuesday, saying the entire fiasco was not only a non-issue but something that was slanderous and should be retracted.

"What has been going on in the press is unacceptable...in my view it's just an unacceptable situation," Walsh had said.

Batra agreed. "I told him if he proved his innocence in the entire matter, I would issue a public apology.

"But as a stakeholder in Sportstec, there is not only a clear conflict of interest on his part but also ambiguity on the entire deal," he said.

The Hindu


---

Telkom Orange chasing seventh continental crown in Zimbabwe

By BRIAN YONGA



Margaret Rotich (right) of Telkom Orange vies for the ball with Strathmore University players in the women's final of Vaisakhi hockey tournament at City Park Stadium on June 5, 2014. Orange will be chasing an unprecedented seventh crown and third in a row which will see them take the trophy for keeps on November 22, 2014. PHOTO | CHRIS OMOLLO |  NATION MEDIA GROUP

Kenya's representatives to the Hockey Africa Cup of Club Championships (ACCA), Telkom Orange and Strathmore Scorpions women teams have named their final squads ahead of the event that gets under way on Saturday in Bulawayo, Zimbabwe.

Defending champions Telkom Orange will be chasing an unprecedented seventh crown and third in a row which will see them take the trophy for keeps.

Orange coach Jos Openda has retained the squad that beat compatriots Strathmore in Kampala back in January to lift its sixth title.

Kenyan captain Bettsy Omalla will skipper the team in Bulawayo and also marshal the defence for the league champions.

"We had set a target of not conceding a goal during the last event but we ended up conceding one. We will work hard to achieve that feat," Openda said.

Openda will parade an array of talent in attack led by veteran international Jacqueline Jow Wangeci who will be taken part in her seventh continental championship.

KENYA FORWARDS

Jow scored the famous goal that saw Kenya beat Ghana to book their place in the second round of the 2016 Olympic qualifiers early this year in Nairobi.

Also among the forwards are Lillian Aura, Margaret Rotich, Judy Apiyo and Hellen Chemtai. The squad of 18 players and three officials will jet out of the country this afternoon at 1pm.

Silver medalists Strathmore Scorpions, on the other hand, have three new faces from the team that lost 2-0 to Orange in January.

Gilly Okumu, the league's current top scorer with 10 goals, will be eager to make her debut on the continental stage.

The former Sinyolo Girls captain's goals have propelled the varsity side into this season's play-offs and if she can carry her form to Bulawayo, Scorpions can go all the way.

NEW FACES

The other new faces in the team are Pauline Amutebi, who will join Okumu in attack, and defender Winnie Ingati.

The students have been in fine form scoring 30 goals in the league this season but coach Meshack Senge has warned his charges against underestimating their opponents.

"We have prepared well for this tournament and we will approach every game like a final," Senge told Daily Nation Sport.

Strathmore, who left for Zimbabwe last night, are the top seeds in Pool B and will get their campaign underway against hosts Bulawayo Athletics Club (BAC) on Saturday.

Strathmore were the losing finalists in the last edition of the tournament in Kampala back in January.

Daily Nation


---

Hungry Strathmore Scorpions target African title in Bulawayo

By BRIAN YONGA



Strathmore University women hockey player Damaris Namulanda in action during their training session on November 18, 2014 at City Park Stadium. PHOTO | CHRIS OMOLLO |   NATION MEDIA GROUP

Could this be the year that Strathmore Scorpions finally clinch their maiden African Hockey Club Championship?

Last year's national women's league runners up and silver medallists at the continental hockey bonanza will fancy their chances of lifting their first title when they make their third appearance at the club championship in Bulawayo, Zimbabwe starting this weekend.

The varsity queens - who finished sixth in their first appearance at this level in Bulawayo, Zimbabwe in 2010 before being cast in the wilderness for three years after poor performances locally - made a return to the African secen in January 2014 in Kampala where they went all the way to the final before falling 2-0 to fellow Kenyan side Telkom Orange.

The university side are looking to go one better this time and based on their current form, they certainly look stronger than they were back in January.

The Scorpions have been impressive in the league campaign this season winning all their pool matches where they scored a massive 30 goals in the process, the highest in the league this term. Ten of those goals have been scored by prolific striker Gilly Okumu.

The tall and lanky striker who has an eye for goal has terrorised defences this season and her goals have helped her team reach this season's league play-offs set for next month. If she can replicate her league form on the continental stage, Scorpions can definitely dream of their first club title.

"We were disappointed after losing out in Kampala (to Orange) but we have learnt from our mistakes and we want to make amends and lift the title. Everyone is hungry to get their hands on it ( title)," Okumu told Daily Nation Sporton Tuesday.

WARNED HIS PLAYERS

Strathmore coach Meshack Senge has however warned his charges against underestimating any team at the tournament noting that all teams have a chance at the title. Senge took charge of the team's last training session ahead of their departure Wednesday night.

"We have worked on our set plays and penalty corners which are the main areas that we needed to improve on and we are now good to go. We have worked hard in all the sessions and hope to do better," Senge said.

The silver medallists are top seeds in Pool B and will get their campaign under way against home side Bulawayo Athletics Club (BAC) on Saturday. They will then take on Twende from Tanzania in their second game before matches against Plateau Queens (Nigeria), Shams of Egypt and Ghana Revenue Authority whom they beat in Kampala on their way to the final.

Daily Nation


---

OZ aiming to retain lead into Winter break

Oranje Zwart will look to confirm their place at the head of the Dutch Hoofdklasse for the winter break next weekend when they take on Push in the 13th round of matches.

They eked out a three-point lead at the top with a 4-2 win over Den Bosch last time out thanks to Mink van der Weerden's pair of goals in the last ten minutes, one from the penalty spot and one from a corner.

It meant they moved clear of Kampong who suffered their first loss of the season against Rotterdam. Timmo Kranstauber's 63rd minute goal made the difference in a 2-1 win after Bjorn Kellerman and Constantijn Jonker had shared the first two goals.

Kampong have another tester at Amsterdam to finish the first half of their season. Bloemendaal sit in third thanks to their 2-1 win over Pinoké, Tom Boon scoring another two goals, and they conclude 2014 with a game against Den Bosch.

Rotterdam and Amsterdam are waiting in the wings two points further back while HGC will hope to get back into the EHL race when they meet Hurley next Sunday.

Euro Hockey League media release


---

KLHC's Razie aims to bag MHL Premier Division title

By Aftar Singh



Mohd Razie Abdul Rahim's (No. 17) main mission is to help the Kuala Lumpur Hockey Club (KLHC) retain the Malaysia Hockey League (MHL) Premier Division title.

KUALA LUMPUR: Penalty-corner specialist Mohd Razie Abdul Rahim has set two targets for himself.

One is to help the Kuala Lumpur Hockey Club (KLHC) retain the Malaysia Hockey League (MHL) Premier Division title.

The other is to represent Malaysia in the World League Second Round in Singapore from Jan 17-25. (The World League is the qualifying tournament for 2016 Rio de Janeiro Olympics.)

So, he is not overly concerned about not being considered for the prestigious Hockey India League, which begins on Jan 22.

The Kuala Lumpur-born Razie played for the Mumbai Magicians in the Hockey India League this January but dislocated his shoulder after a nasty fall during a match.

He was out of action for more than two months and did not feature in two tournaments – the Sultan Azlan Shah Cup in Ipoh in March and the Champions Challenge I tournament in Kuantan in April.

The 27-year-old Razie, who featured in the World Cup in The Hague in May, said that he is not disappointed at not being considered for the Hockey India League.

"What's important is to play well in the MHL and to keep scoring from penalty corner drag flicks," said KLHC skipper Razie, who has converted eight penalty corner goals in six matches.

"Although I've netted eight goals in the league, I believe I need to do much better in defence."

KLHC, who are gunning for a record sixth consecutive league title, are leading the standings with the maximum 18 points after winning all their six matches.

They have four more matches to go – against Maybank on Friday and Sapura on Sunday. The other matches are against Terengganu and Universiti Kuala Lumpur (UniKL) next weekend.

Razie, who has been playing for KLHC since 2007, admitted that they cannot afford to stumble in the next four matches "if we want to retain the league title".

Once that is done, Razie, who has 192 international caps, hopes to don national colours again in the World League Second Round.

The Star of Malaysia


---

Terengganu to play without guidance from Lissek

By Aftar Singh



Paul Lissek (right) has returned to Seoul to continue his job as the consultant for the South Korean national team.

KUALA LUMPUR: The Terengganu hockey team have lost the services of consultant Paul Lissek at a crucial time.

With just four more matches to go in the Malaysia Hockey League (MHL), the German has returned to Seoul to continue his job as the consultant for the South Korean national team.

Terengganu are in second spot in the six-team Premier Division with 15 points from five wins and a defeat – three points behind leaders and defending champions Kuala Lumpur Hockey Club (KLHC).

Terengganu's remaining four home matches are against Tenaga Nasional on Friday and Maybank on Sunday. Their other two matches are against KLHC and Sapura next weekend.

The departure of Lissek has left Terengganu in a quandary as Lissek, a former Malaysian national coach, was hired as a consultant to help them win their first silverware in the MHL.

Terengganu coach Sarjit Singh admitted to being concerned with the loss of the vastly experienced Lissek.

"Lissek has returned to South Korea early because the Korean national team are scheduled to play a few friendlies against the visiting Pakistan team," said Sarjit on Wednesday.

"It looks like we will have to do it on our own now ... win the four remaining matches and end our title drought in the league."

Sarjit is also worried about the wet weather in Kuala Terengganu.

"There is a downpour almost every day and we can't train because of that. It's also difficult to train on the heavy pitch at the Kuala Terengganu Hockey Stadium after the rain. Some parts of the city gets flooded at times also," said Sarjit, whose team are powered by seven Malaysian internationals and five South Koreans.

"We won't have much of an advantage playing at home in the next four matches," he lamented.

The Star of Malaysia


---

NCAA DI and DIII Final Four Round Up

Maybe it's the brisk fall air in the US or maybe it's the twinkle in your coach's eye, but post-season is the most exciting, most unpredictable and most heart-pounding time of the year. Whether you had an undefeated season and broke records or your squad just never found that rhythm of perfect synchronization, none of that matters come tournament time. Post-season is do or die. One loss and you're done. Your season, and maybe playing career, comes to an abrupt end with a shrill whistle. But a win, a win means you're still alive, still competing to make your run at the dance and live in the record books as a champion.

Post-season is a game of inches and seconds, rebounds and post shots. Now, more than ever, each game is the only game that matters, so you battle and you sweat and you pour more of yourself into each pass and defensive tackle than you knew you had. Your body takes over and muscle memory prevails to derail potential mental mishaps. There's no place on the field for nerves or stiff hands, even if the temperatures are below freezing.

After months of preparation and hard work, seemingly endless hours of practices, film, lifting sessions and team runs, a total of eight DI and DIII squads remain on the pitch, still practicing as a team in the hopes of lifting that heavy golden trophy high above their heads. You are among the best teams in the country. You have achieved a level of success than many programs in the country have yet to see. Enjoy it, revel in it and thrive on the air of possibility.

Here is a round-up of this upcoming weekend's DI and DIII Final Fours. Best of luck to all of the squad's competing!

DI

NCAA DI Semi-Final play will open up with a matchup of ACC Powerhouses. No. 4 Syracuse (17-6) will take on No. 1 North Carolina (19-3) at 2 p.m. on Friday, Nov. 21 in College Park, Md. It is the second time in three seasons for the Syracuse Orange to make an appearance in the Final Four. The Final Four trip is the sixth in a row for UNC and the 19th in program history. The two squads have met twice earlier in the year and have split the matches with 1 win a-piece.

The defending 2013 National Champions, the UConn Huskies, are hoping to make a repeat performance of national titles. The 18-2 Huskies will play in the Final Four for the fifth time in the last 9 seasons. UConn matches up with the University of Albany on Friday, Nov. 21 at 4:45 p.m. in College Park. The Albany Great Danes are in the midst of making history with their first-ever appearance in the NCAA Final Four. No. 12 Albany (20-2) stamped their ticket to the Final Four with an incredible upset over No. 2 Maryland last weekend.

The DI NCAA National Championship game will take place at 1 p.m. on Nov. 23 in College Park, Md. Visit our DI College Headquarters page for more updates and information.

DIII

The NCAA DIII Final Four weekend kicks off with a rematch of 2013's National Championship match. No. 1 Salisbury (19-1) will take on defending champion Bowdoin (18-2) at 11:00 a.m. at Washington and Lee University in Lexington, Va. This year marks the Salisbury Sea Gull's 13th trip to the NCAA semi-finals. The Bowdoin Polar Bears advance to their eighth Final Four in the last 10 years and improve to 26-7 all-time in tournament action.

No. 4 TCNJ (21-1) matches up against No. 2 Middlebury (19-1) in the second DIII semi-final game of the day at 2 p.m. The TCNJ Lions have advanced to the Final Four a total of 21 times, with their latest national title in 2011. 2014 marks the sixth visit to the national semi-finals for the Middlebury Panthers, who advanced to the Final Four after a commanding victory over Ursinus.

The NCAA DIII National Championship match will take place at 1 p.m. on Nov. 23 in Lexington, Va. Be sure to check out our DIII College Headquarters page for the latest news and information.

DII

We didn't forget about DII NCAA field hockey, but their post-season is still well underway and a championship bracket has yet to be announced. The DII field hockey Final Four will be part of the NCAA DII National Championships Festival in Louisville, Ky. Six fall sports, including field hockey, will battle it out at Bellarmine University from Dec. 4-6 for the title of National Champion.

USFHA media release


---

Nottingham Uni Men's Hockey Club Strips Naked To Combat Homophobia In A New Video

By Tim Isaac




We've tried to battle homophobia through riots after the Stonewall Inn was raided, through Pride parades, court battles, laws, activism and advertising campaigns. However what we haven't tried until now is getting some male hockey players to strip naked.

It's got to be worth a try through, right?

The hockey players in question come from the University Of Nottingham, and the video is part of the student-led projects Voice Your Rights, which seeks to look at human rights.

Our two favourite things about the video? Firstly, how much more difficult it is to play hockey when you have to use one hand to cover your genitals, and secondly, the fact the guy in goal is allowed to be naked except for major protection over his groin.

Take a look at the video below. In all seriousness though, its great to see a sports team making a stand against homophobia, and if that means showing some skin, then so be it.

https://www.youtube.com/watch?feature=player_embedded&v=edb0_mdlNk0

Big Gay Picture Show

Also:-

University of Nottingham hockey team strip off against homophobia

Joseph Patrick McCormick

Adding to the trend of sports teams stripping off for good causes, the University of Nottingham has now made its own naked video against homophobia.

The men's hockey team strip off in the video, which was produced by one of the University of Nottingham's Students' Union student-led projects Voice Your Rights.

Voice Your Rights is a voluntary project concerned with human rights, and features the University of Nottingham's male hockey team naked.

The Warwick rowing team earlier this year released a new naked calendar, and later went on to win the PinkNews Award for Community Group of the Year, presented by Equalities Minister Nicky Morgan.

Pink News

And:-

University Of Nottingham Men's Field Hockey Team Plays NAKED To Stand Against Homophobia In Sports!




The men's field hockey team at the University of Nottingham in the UK have the right idea about sports!

Sports should be about teamwork, and being inclusive, and trying your best, and shoving really long hot dogs into our mouth.

Speaking of really long hot dogs… the hockey team wanted to send a message about combating homophobia in sports, so they took to the hockey field: NAKED!

That's right, these boys stripped down to their genitals and ran around a field to prove how much they love gay people.

The gesture is certainly appreciated. We actually think this was such a powerful and moving message, all sports should be done in the nude! LOLz!

Athletes tend to be pretty ripped, so we don't think anyone would be complaining! Ha!

Check out the video (below) and try to see if you can spot any penises!

https://www.youtube.com/watch?feature=player_embedded&v=edb0_mdlNk0

Perez Hilton