All the news for Saturday 9 January 2016

U-21 USWNT Split First Two Test Matches

COLORADO SPRINGS, Colo. - The U.S. U-21 Women's National Team split their first two games in the five-match test series against Great Britain's U-21 squad held at the Home of Hockey at Spooky Nook Sports in Lancaster County, Pa.

The first game of the series began fast as both teams pressed and passed at a high tempo. The U.S. U-21 Women's National Team managed to outlet the ball in some tight situations and created some quality opportunities in the attacking end.

Great Britain's first goal came in the 23rd minute on a turnover from Team USA's defense. Great Britain's Meg Crowson converted on the opportunity off a strong backhand shot to put them up 1-0. Team USA fought back and created a lot of chances inside the penalty circle. Just before halftime, Catherine Caro (Martinsville, N.J.) made key eliminations on the right sideline before crossing the ball to Sophia Tornetta (Plymouth Meeting, Pa.) who cut in front of her defender to tip in the equalizer.

Team USA came out strong in the second half with fluid ball movement through the backfield and midfield. USA's forward line found a lot of chances in front of the goal but were unable to capitalize on the opportunities. Midfield battles continued between Great Britain and Team USA players with strong tackles and exciting passing patterns. Great Britain put a chance away in the 66th minute on a shot from the top of the circle from Crowson. In the waning minutes of the game, the U-21 USWNT kept up the pressure and secured a penalty corner and more chances on turnovers but were unable to finish those opportunities resulting in a 2-1 loss for Team USA.

All in all, game one was a good first step for the U.S. U-21 Women's National Team. All though disappointed with the result, Team USA felt good about individual performances and are working on tweaking the big picture items.

Heading into the second match eager to make a stamp, the U.S. U-21 Women's National Team started fast and furious applying a full press off of the initial back pass. The first ten minutes were marked by midfield battles, strong tackles and quick play by both teams. The tenacity of Team USA paid off as in the 11th minute Erin Matson (Chadds Ford, Pa.) managed to find herself breaking through at the top of the circle where she converted on a clever quick shot on goal.

Though Team USA held a 1-0 lead, Great Britain did not slow down creating several strong chances on breakaways. Still pressuring, Tara Vittese (Cherry Hill, N.J.) notched the U-21 USWNT's second goal off a sharp feed from Caro across the circle. Vittese received the pass, eliminated a defender and scored to the near post to put Team USA up 2-0.

The second half highlighted good skill from Team USA's midfield and forward lines as the quality of the ball movement in the backfield helped propel the level of play. Taking advantage of ball possession, the U-21 USWNT worked hard to earn penalty corners and on the second one of the half Anna Bottino (Clifton Park, N.Y.) scored off a tip from the right hand side of the goal. The scoring trend continued just one minute later as Caro gained control of a Great Britain aerial that she flipped to Matson who pulled right and scored making the final score USA 4 - Great Britain 0.

Very happy with the second performance, the U.S. U-21 Women's National Team and coaching staff will have a rest day today before play resumes on Saturday, January 9 at 2:30 p.m. EST. Admission to all games is FREE but Spooky Nook Sports will be charging a $5 parking fee at both Saturday and Sunday games.

USFHA media release


---

Selectors will keep a close eye on Hockey India League: Jay Stacy

By Adit Ganguly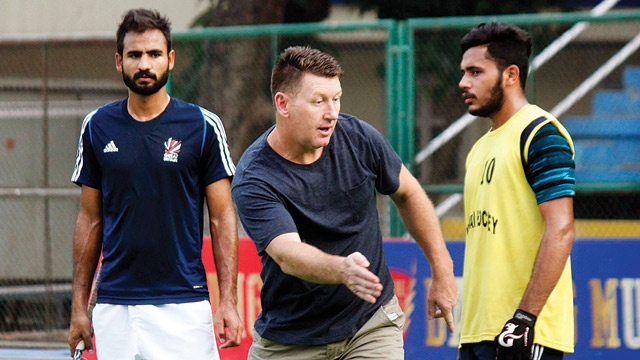 Dabang Mumbai's new coach Jay Stacy says players will be more motivated to perform with places for Rio Olympics in mind

Having finished rock bottom in the last season of Hockey India League (HIL), it was perhaps not surprising to see Dabang Mumbai's new coach, Jay Stacy, get right into the thick of things during the team's first practice session at the MHAL Stadium in Churchgate on Friday.

With ball boys and helpers at his disposal, the Australian didn't really have a reason to shift the goalposts himself during training, but his sense of urgency showed he wanted to lead from the front.

The four-time Olympian knew the importance of not wasting time, with only a week to go before Mumbai play their first game against the Kalinga Lancers in Bhubaneswar on January 16.

"Ten days (of training) is difficult because we don't have all of our players here as they currently have national commitments. What makes up for that is the quality of players. I don't have to teach them the fundamentals, they are already good hockey players. I just want to create an environment where they get the opportunity to go out and express themselves naturally and at the same time in the best interests of the team," the 47-year-old said.

Having finished at the bottom last year, Stacy believed the only way for Dabang Mumbai was up.

"I have some strategies and areas that need to be implemented. But before that, and this is important too, I need to know the positions of these players as far as the team is concerned. Maybe, their preferred playing position might not be in the best interests of the team," added the former midfielder, who replaced current Germany coach Valentin Altenburg.

With this being an Olympic year and places up for grabs – especially in the Indian team – Stacy was hopeful that motivation and drive amongst the players would be at an all-time high.

"With every good performance, you're one step closer to retaining your place in the national side or closer to staking a claim for the starting spot. Most teams already have their Olympic squad ready but tournaments like these can change the team composition. I'm sure selectors will be keeping a close eye here," he said.

As far as India's chances in Rio are concerned, the Victorian said they might probably be battling with five other teams for the semifinal spots.

"There are probably six teams for a semifinal berth, so it's going to be a thriller of a contest. You have Holland, Germany, England, Australia, Argentina and India. I think the Indian team is growing and they showed that by winning bronze at the Hockey World League Final," said Stacy, adding that he wasn't eyeing a coaching role with any national team for the time being.

DID YOU KNOW?

Jay Stacy won one silver (1992) and two bronze medals (1996, 2000) in the four Olympics that he represented Australia

DNA


---

Young brigade to add valour to 2016 HIL

NEW DELHI: A host of promising players are all set to showcase their talent against some formidable names of the game in the fourth edition of the Hockey India League to be held across various cities of the country from January 18 to February 21.

One such youngster is 17-year-old defender Dipsan Tirkey, vice-captain of the Indian junior team. He is expected to begin his campaign against Uttar Pradesh Wizards in the opening match of the league. Dipsan, who is yet to make it to the senior team, will hope to make a mark in the upcoming HIL where selectors will keep a keen watch on youngsters who might make it to the probable's list for the Rio Olympics.

Another formidable name in the young brigade this year is Dabang Mumbai's 20-year-old drag-flicker Harmanpreet Singh. Harmanpreet, who hails from Punjab, will represent the Mumbai outfit for the second consecutive year. In his stint last year, Harmanpreet left a strong mark in the Indian hockey circle by slamming five goals for the side.

Half-back Arman Qureshi, 21, along with Varun Kumar, representing Jaypee Punjab Warriors, are two youngsters who also are expected to turn heads this season. Harjeet Singh, 20, captain of the India's junior side and one of the most promising faces of the future, will be seen in action this year representing Delhi Waveriders. The Punjab midfielder, who rose up the ranks to lead the junior national team, is known for his prolific performances against formidable teams.

The six team annual franchise based hockey league is scheduled to be played across six venues in the country from January 18 to February 21. The six franchises battling for supremacy in the richest field hockey league in the world are Jaypee Punjab Warriors, Delhi Waveriders, Kalinga Lancers, Uttar Pradesh Wizards, Dabang Mumbai and defending champions Ranchi Rays.

The Times of India


---

Garcia to take on Alster coaching role

Russell Garcia will coach Club an der Alster next season with his contract getting underway on July 1, 2016.

The Englishman – who won gold at Seoul Olympics in 1988 – makes the move having parted company with Bloemendaal in October after sticky spell saw the side drop to eighth place in the rankings.

He will work with an der Alster club legend Jo Mahn, who has been involved with the club's men's first team for over two decades and another ten years with the women.

Club an der Alster executive member Lars Brenneke said Mahn will work together with Garcia to ensure continuity: "It is important that we can continue to count on Mahn's experience at Alster as he helps to shape the future."

Garcia links up with the club in the summer with a productive coaching career under his belt, working with Max Caldas as the Dutch men's assistant coach while he has also been a men's and youth coach in Germany with Großflottbeker THGC when they rose to Bundesliga level.

Speaking about his move to the club, Garcia said: "I am very pleased to work with one of the greatest hockey clubs in Europe."

"Alster has an immense amount of potential and I hope we can make another step forward together"

Mahn added: "Russell and I have known for several years and feel, when it comes to hockey philosophy, we are relatively close to each other. At first, I will certainly be a little more involved with working on the team, but I am also looking forward to being able to further develop and improve the overall performance sports structures in our club."

Euro Hockey League media release


---

Leaders Telkom Orange tackle Sliders in high stakes clash

By BRIAN YONGA



Telkom Orange skipper Betsy Omalla (left) leads her teammates in celebration at the Jomo Kenyatta International Airport after their arrival from the Africa Cup of Club Hockey Championship in Zambia on December 20, 2015 after arrival. PHOTO | MARTIN MUKANGU |   NATION MEDIA GROUP

Leaders Telkom Orange take on second placed Sliders in a top-of-the-table clash on Saturday at the City Park Stadium as the Kenya Hockey Union (KHU) league resumes after the festive season with seven matches lined up.

Fresh from winning their eighth Africa Cup of Club Championships title last month in Lusaka, Orange will fancy their chances of beating Sliders and extending their lead at the top to 10 points.

The African champions won the reverse fixture 9-0 on May 10 last year, their highest ever win in the fixture, and will be out to complete the double.

Orange skipper Betsy Omalla has urged her teammates to collect three points as they chase an unprecedented 18th league crown.

"We ended 2015 on a high by winning the continental crown and we want to start the year with that kind of form," Omalla said.

"It will be a difficult match against a tactical side but we are looking forward to claiming another three points."

Sliders coach Nixon Nyangaga is however optimistic his team can inflict Orange with their first defeat of the season and avenge the huge loss in the first leg.

Nyangaga will however miss the services of first-choice keeper Flavian Amuhaya who will sit out due to work commitments.

"It will be a tactical match between two great sides with experienced players but we are looking forward to face the champions and I believe we can cause an upset tomorrow (Saturday)," Nyangaga said.

CUT LEAD

A win for Sliders will see them cut Orange's lead to four points.

The 2013 men's premier league champions Kenya Police will look to go top of the men's premier league with victories in their two matches against Parklands Saturday evening and Strathmore University's Gladiators on Sunday at the same venue.

Victory over Parklands on Saturday will see the law enforcers draw level on points with Butali ahead of Sunday's clash against former champions Strathmore.

Police coach Kenneth Kaunda has challenged his forwards to score more goals so as to improve their chances of reclaiming the league title.

The law enforcers have scored 40 goals, 19 less than Butali who have sounded the board 59 times, though the leaders have played a game more.

"We are in the second leg and we need to score more goals and win all matches if we intend to regain the trophy," the coach noted.

In other matches this weekend, 2012 champions Sikh Union Nairobi take on Strathmore Saturday afternoon.

On Sunday, Vikings take on Strathmore women's team, Wazalendo Youth face Thika Rovers and Parklands tackle Sikh Union. All matches will be played at City Park Stadium.

FIXTURES (All matches at City Park Stadium)

Saturday

National women: Orange v Sliders- 2pm
Premier men: Police v Parklands - 4pm, Strathmore v Sikh Union- 6pm

Sunday

National women: Strathmore v Vikings- 9am
National men: Wazalendo Youth v Thika Rovers - 11am
Premier men: Sikh Union v Parklands - 1pm, Police Strathmore- 3pm

Daily Nation


---

Stadium rental too steep

By Jugjet Singh

HOCKEY clubs are crying foul at Stadium Malaysia Corporation for raising the price of rental at both the National Hockey Stadium pitches in Bukit Jalil as well at the Tun Razak Stadium.

And with the Junior Hockey League (JHL) starting on Jan 15, the Malaysian Hockey Confederation (MHC) is trying its best to negotiate a lower price.

Last year, it was RM130 for the MHC to rent for one match (two hours) at Bukit Jalil, but the new season will see teams paying RM250 to RM300.

And at Tun Razak, which is also under the Stadium Corporation, the rates for night remains at RM120, but the minutes have been reduced from 90 to 60 minutes.

However, for daytime it has now doubled to RM80 per hour, from RM40.

All these rates are exclusive of Goods and Services Tax (GST).

An MHC official said he was shocked last year itself, as when he booked for the JHL it was RM130, but bookings for the Malaysia Hockey League went up to RM300.

Clubs have been venting their frustration on social media, and MHC CEO K. Logan Raj said they are in discussion with the Stadium Corporation to get a better deal for their affiliates.

"After we received the revised rates, we met Stadium Corporation members and had a few discussions. The Corporation said the increase is because of certain factors, but they are looking at giving MHC and our affiliates a better rate," said Logan.

One club official, who declined to be named, said: "We hope  the Stadium Corporation would have a re-look at the high rental and lower time allotted at their hockey stadiums.

"This is because teams use their facilities to compete in the JHL, MHL, social matches, university games and certain schools and clubs training projects.

"From our (clubs) point of view, the high rates and lesser playing time would make teams train less for tournaments and this would bring down the quality of players over the long run," said the official.

For private clubs at Bukit Jalil its now RM300 for two hours while schools are charged RM150 for two hours. Last year it was half the rate.

Comparatively, at the Kuala Lumpur Hockey Stadium the rates are much lower. Its RM40 per-hour for bookings from 8am to 4pm, and RM50 per-hour from 4pm to 7pm. At night under the floodlights, its only RM90 per hour.

Jugjet's World of Field Hockey


---

Different paths to hockey goal

Steve Butler



Aran Zalewski and Anna Flanagan, with coaches Graham Reid, Brendyn Appleby. Picture: Nic Ellis/The West Australian

Australian hockey's constant search for the next big thing is a story well told through the respective journeys of Anna Flanagan and Aran Zalewski.

Flanagan grew up dreaming on Canberra's frozen morning fields. Much of Zalewski's childhood was spent soaking up the summer sun on the beaches near his Margaret River home.

But both ultimately trailed their way to Australia's home of elite hockey in Perth and are now well on their way to the Rio Olympic Games in August, while the wide reach of the national talent network remains ever-poised to find more of their kind.

Flanagan started playing "minkey" when she was just four and was coached by her father Fred until she moved to Perth to join the national squad at the age of 18. Not even an accident he suffered in his playing days, which left him blind in one eye, could blunt Flanagan's love of the game and now even her parents have made the move to live in WA.

Her early days in Perth were not easy, but the Hockeyroo rewards have eased her well past her troubles.

"My first year was extremely difficult, moving out of home and across the country," Flanagan, 23, said.

"Playing for Australia and moving to Perth ... your whole life was sort of changing in that direction, but you're not really sure if it's going to be a solid thing.

"You never have that security and you're always on the edge, but I'm very grateful for the opportunity and I'm loving what I do."



Anna Flanagan is tackled by a Malaysian player during the Glasgow 2014 Commonwealth Games. Picture: Getty Images

Zalewski said he fast-tracked his progression in the game by moving to Perth at the age of 13 and has not looked back from his Margaret River youth.

"I started on the grass fields down there and just loved it ever since I was a grommet," Zalewski, 24, said.

"One of my earliest memories is playing on the grass in Margaret River on a wet day, I was covered head to toe in mud and mum wouldn't let me get in the car until I took all my clothes off. There's not too much grass going around any more, most of it is played on the AstroTurf.

"There are a lot of different squads and stepping stones in hockey ... generally it's just one small step after another and one milestone and one goal, just ticking off those boxes. But it's the best job in the world."



Aran Zalewski dives into a tackle as Australia go on to beat India to win gold at the Glasgow Commonwealth Games. Picture: Ian Munro/The West Australian

Hockey Australia and the Australian Institute of Sport have developed a framework known as "FTEM" (or Foundations, Talent, Elite and Mastery) to provide an "holistic and multidisciplinary hockey model" which embraces an active lifestyle, sport participation and sport excellence.

National pathway manager Michael Crooks said young talent was primarily developed through the game's State systems and an identification process then moved them into national programs from the age of 14.

Crooks said targeted funding had increased in the past three years to allow the identified teenage stars of the future to participate more at the levels required to help them fulfil their potential.

"At every step we keep scraping the cream from the top," Crooks said. "It's almost like a pyramid where they are talent identified over months and years all the way to transitioning into the Perth environment."

Crooks believed having hockey's high performance centre based in Perth added extra incentive for young WA players to pursue careers in the sport. He said strong emphasis was placed on areas such as sports development, personal influences and motivations to be a professional athlete and life influences.

"We think about the sport and we think about how they reflect and develop as individuals and with all the people around them in their lives," he said.

"It's absolutely critical they become good citizens to enhance our hockey community - it's non-negotiable. We put a huge emphasis on developing the people and making sure our athletes are abiding by the culture we've established over a long period of time.

"It existed before they came into the system and it will exist long after they leave the system. They are almost transitional through our world."

It was a sentiment Kookaburra's coach Graham Reid, who recently led his team to a maiden World League hockey crown in India, backed unconditionally.

"One of the things we always talk about is actually producing bloody good people," Reid, a dual hockey Olympian for Australia in his playing days, said.

"When I look back over the last 30 years that's been a real key factor to our success, but also something we can be proud of. Humility is also something I talk about a lot because with humility comes the ability to learn.

"It's a matter of trying to get them to understand 'Kookaburra culture' without wanting to take away too much of their natural flair. It;s always a tough part because people always feel as though their wings are being clipped.

"We also talk a lot about 'competitive uncomfortableness'. You have to be never quite comfortable because once you become comfortable, we lapse off."

Reid said a major area of improvement in the national hockey system would be to retain players long enough for them to flourish, but the game was reaping the benefits of having like strategies implemented across different levels of the game during the past decade.



Hockeyroo Anna Flanagan with elite junior hockey player Sage Rogers. Picture: Nic Ellis/The West Australian

Hockey Australia's head of conditioning Brendyn Appleby said the beauty of the game was that star players came in all shapes and sizes, like diminutive superstar Jamie Dwyer. Sustained running ability, stop-start agility and a solid strength foundation from the gymnasium were a player's biggest assets and training towards them could start as young as five.

"Durability is huge," Appleby said.

"Hockey has a good, solid history of aerobic endurance. Players need to be able to handle high volumes of on-pitch training and because they are running around sprinting while they're bent over, it's also about undoing a lot of the flexibility patterns they develop on the pitch.

"The skills they use pull them into poor postures that can manifest into tightness and then injuries down the track."

The West Australian


---

Girl boss, Anna Flanagan, is on top of her game




23 year old hockey star Anna Flanagan has a pretty impressive list of credentials including Olympian, dual Commonwealth Games gold medallist, World Young Player of the year and one we felt needed to be added, "the definition of girl power". She shared with WF her tips for fit women who want to perform at their best, achieve their goals and stay motivated.

When it comes to being at your best on the field and in training, what would you say are the three most important factors for you?

Diet- Eating a healthy balanced diet is a must. I look to my food to give me the energy I need for training, so incorporating iron-rich beef into my meals has been a really important change as I used to be iron-deficient. Also important to have a better body composition so I do not carry around the extra weight.

Recovery- When I was younger I was able to get away with a small amount of stretching and being diligent in warm down. Stretching has become crucial for me to be able to get up to full pace and improve my strength in the gym. It is an area I have had to work hard on as I did not put enough time into my flexibility.

Motivation- Being completely determined each and every session to get the best out of myself. It is something that ebbs and flows and when it is early or the end of the week I find it difficult to get myself up- but also know that there is no point going if I do not give 100 per cent. I always feel so much better after a session knowing I have made steps forward.

You've shared your experience with iron deficiency in the latest Australian Beef campaign. How did this deficiency affect your physical performance?

I was tired majority of the time. If I got through the training I was sleeping a lot in the day and also trying to juggle study. I wasn't able to put in as much as I could due to the fatigue that also impacted upon the motivation to train. As I moved out of home young I needed to be educated on how to eat for performance and this included more red meat such as beef as part of a balanced diet.

Speaking of being tired, how do you balance training and all of your commitments so that you get downtime?

Downtime is hugely important for an athlete to mentally recharge. It is still a learning curve for me to find that balance, as with many people, but I am learning to say no more often to give myself that time and space that I need to perform on all levels. I love the outdoors so getting to the beach is always somewhere for me to reset.

For women like you who want to achieve their fitness goals while balancing a career, family commitments and financial pressures, what is your advice to them?

Believe in yourself, and have people around you that support your goals. The last thing you need is the best friend meeting you for lunch a fast food restaurant. Tell people your goals and get them to help you, when there are obstacles in your way, reach out and use the resources that will get you there. If a friend reached out for you of course you would help, so don't do it alone and enjoy the journey, the hardships make it all that more worthwhile.

Women's Fitness


---

Special Hockey + providing equality of opportunity in Spain




Last year the Special Hockey + initiative based in Catalonia, Spain, won the prestigious Infanta Sofia award for its work with people with learning difficulties. Here, we take a look at the project and how it has progressed since it was first introduced in September 2007 after an amalgamation between the Catalan Hockey Federation, Jeroni de Moragas – a school in Catalonia – and the hockey section of FC Barcelona. The project also had the backing of Barcelona City Council.

The aim of Special Hockey +, as explained by one of its founders Jordi Lobo, has always been about equality of opportunity. It is the creation of opportunities for people with learning difficulties to learn and play competitive hockey.

The first coaching sessions were held at the Jeroni de Moragas school and, just two months later, a second school took up the activity. As Lobo says: "On 30 November 2007, we held our first match, a spectacular experience."

Explaining the rationale behind the project, Lobo says: "We called it Special Hockey +; by the 'plus' we give hockey opportunities to our players and, above all, by the plus we mean we are contributing to the lives of people with disabilities through hockey."

From its beginnings in 2007, Special Hockey + has grown to a point where 23 teams from six clubs within the Catalan Hockey Federation are now involved in the project. These clubs are: FC Barcelona, FC Junior, Egara HC, Athletico de Terassa, RC de Polo, Iluro HC and Catalonia Hockey Club.

In all, about 300 players of all ages regularly enjoy hockey coaching and matches thanks to the initiative.

Now, Special Hockey + is looking to expand to other regions in Spain. Introductory sessions have taken place in Valencia, Madrid, Bilbao, Cadiz and Granda.

Within the clubs in these cities, hockey coaching sessions are now taking place and the next steps will be organising competitions between club sides. In fact, this summer, the Josaleta club from Bilbao will be taking part in the Memorial Gabriel Arias tournament in Catalonia.

The hockey scene for people with learning disabilities in Catalonia has continued to push for ever more opportunities for the players. Since 2007, all six participating clubs have regularly held tournaments, while in 2013 a 'little league' was set up between teams from FC Barcelona and RC de Polo.

Not content with domestic competition, the founders decided to give their players access to international tournaments. And so, in 2010, a group of players travelled to Holland to take part in G-Hockey (adapted hockey) at a tournament in Amsterdam.

The next year the players went to Germany to participate in the European Championships for Special Hockey, held in Monchengladbach. Teams from Special Hockey + have participated in international competition ever since.

Speaking at an international summit of the sporting charity, The Laureus Foundation, Lobo spoke of his feelings on taking players to international events: "Imagine 150 participants from 34 countries on five continents sharing life experiences, using sport as a way of offering opportunities to people who are often socially excluded?"

"It was an exceptional experience. I had the opportunity to meet people with attitudes and values that we have always tried to promote at the club. It gives great satisfaction to see how Special Hockey + is enabling sporting chances for people with learning difficulties."

In an article outlining the values of Special Hockey +, it is stated that: "Athletes with learning difficulties have the right to share in all aspects of sporting life, the social life, competitively, it is the right to equal opportunity. It is exciting to see everyone sharing across the hockey clubs, in the fields, the locker rooms, in the bar."

Special Hockey + has already engaged hundreds of people across Spain and considering its success and the passion of the people behind the initiative, it will touch the lives of many more.

For more information about Special Hockey +, visit the Real Federacion Espanola de Hockey (national governing body for hockey in Spain) by clicking here.

FIH site


---

Barbara Rylands

It is with great sadness that England Hockey reports the death of Barbara Rylands, who died on 31 December aged 90.  Barbara was an outstanding player, coach & administrator at all levels of the game and will be fondly remembered by all who knew her.

Barbara had an impressive international record, playing for England from 1952-60 and again in 1965, gaining 56 caps and scoring 5 goals. She was captain in 1958-60 and 1965.  She attended three IFWHA World Tournaments in 1953, 56 and 59 and toured with England to South Africa in 1954 and South Africa/USA in 1961.

She continued to be fully involved in hockey after retiring from playing and became an honorary Advanced Coach and a B Umpire. Working tirelessly for her County (Lancashire) and Territory (North) Barbara took on many demanding roles including the Presidency of both. She will be remembered as a commanding and skilful player, a successful and hardworking coach and administrator and someone who was liked and admired by all.

Barbara's funeral is to be held at St James Church, Arnside, Lancashire at 2pm on Friday 15 Jan, 2016.

As part of the announcement there was a request for family flowers only but donations can be made, if desired, for two of her favoured Charities, Cancer Care and National Trust (North West), c/o Fishwicks, Beetham Hall, Milnthorpe. LA7 7BQ 015395 63108.

Barbara's host of nephews, nieces, and still later great nephews and nieces are pulling together a montage and discovering that her innate modesty hid the fullness of her life experiences and the beacon of what can be done with a will and sense of adventure.

England Hockey Board Media release