All the news for Tuesday 19 January 2016

Hockeyroos draw with Germany

Grace Stewart scores on debut; Kellie White returns after 14 months out



Photo Credit: TPG Academy

A goal on debut from 18 year-old Grace Stewart and the return of Kellie White from a 14-month injury layoff were among the highlights for the Hockeyroos in their 1-1 draw with Germany at the TPG International Tri-Series in Singapore on Monday evening.
 
With exactly 200 days to go to the start of the Rio 2016 Olympic Games, it was the team's first competitive outing of the Olympic year.

Debutant Stewart broke the deadlock early on as she finished off a penalty corner in the tenth minute but Germany's Julia Muller levelled the score before half time with a penalty corner of her own.

Australia's front line created a number of chances throughout the match, which pleased Head Coach Adam Commens.

"It was a pleasing performance. We created a lot of opportunities with a team that was a blend of less experienced athletes, as well as some of more experienced players. It was a really promising start to the tournament for our forwards like Grace Stewart, Laura Barden and Kellie White, who was playing her first game in 14 months. She had some good touches and it was an excellent start for her," said Commens.

"We couldn't ask for much more from Grace than what we saw. She scored a goal and it was a wonderful start for her. She had lots of involvement in the game; she's got the speed and physicality that we want from our forwards."

Explaining what he is looking for from the ten-day camp and tournament, Commens added, "We're looking to discover more about our playing group to test our thoughts about the best combinations and players as we hone in on our strongest 16 leading in to Rio."

It was a welcome return for Kellie White. The 24 year-old hadn't played a competitive match for the Hockeyroos since helping Australia's women to Commonwealth Games gold in August 2014. Three months later, in preparation for the Champions Trophy, she injured her anterior cruciate ligament, forcing her to miss the tournament in November 2014 and all of the 2015 season.

The Hockeyroos' second match of the series is against the Netherlands, coached by Hockeyroos legend Alyson Annan, on Wednesday.

TPG International Tri-Series
Singapore

Match 1

HOCKEYROOS 1 (1)
Grace Stewart 10 (PC)

GERMANY 1 (1)
Julia Muller 23 (PC)

Fixtures & Results
Monday 18 January, 10pm AEDT - Hockeyroos 1-1 Germany
Tuesday 19 January, 10pm AEDT - Netherlands v Germany
Wednesday 20 January, 10pm AEDT - Hockeyroos v Netherlands
Thursday 21 January, 10pm AEDT - Hockeyroos v Germany
Friday 22 January, 10pm AEDT - Netherlands v Germany
Saturday 23 January, 10pm AEDT - Hockeyroos v Netherlands                                         
                                                                                       
Hockeyroos' squad v Germany
Started
Edwina Bone (Evatt, ACT) 90/2
Jane Claxton (Adelaide, SA) 79/9
Madison Fitzpatrick (Cabarita Beach, NSW) [QAS athlete] 12/3
Jodie Kenny (Wamuran, QLD) 154/93
Georgina Morgan (Armidale, NSW) 22/3
Gabrielle Nance (Kingscliff, NSW) [SASI athlete] 17/1
Ashleigh Nelson (Wagin, WA) 191/66
Casey Sablowski (South Coast, NSW) 229/44
Kathryn Slattery (South Stirling, WA) 34/9
Ashlee Wells (Moe, VIC) 64/0
Mariah Williams (Parkes, NSW) 30/4

Used Substitute
Laura Barden (Kew, VIC) 7/3
Kate Hanna (Constitution Hill, NSW) 5/0
Rachael Lynch (Melbourne, VIC) 138/0
Brooke Peris (Darwin, NT) 71/12
Grace Stewart (Gerringong, NSW) 1/1
Renee Taylor (Everton Park, QLD) 9/0
Kellie White (Crookwell, NSW) 90/29

Hockey Australia media release


---

Untried SA hockey men nearly upset Irish

JONATHAN COOK

The South Africa men's hockey team, who fielded six debutants, came within six minutes of inflicting their first Test match defeat on Ireland in more than a decade at Hartleyvale in Cape Town Monday night.

Rio 2016 Olympic Games qualifiers Ireland recovered from a 2-0 half-time deficit and then 3-2 down to maintain an 11-match unbeaten run against South Africa that goes back to 1997. Chris Cargo nailed the final equaliser with six minutes left on the clock for Ireland to earn a 3-3 draw.

Lloyd Norris-Jones put SA in front in the sixth minute when he got a touch in front of Ireland goalkeeper Jamie Carr from a crash ball. Fellow striker Keenan Horne made the score 2-0 five minutes into the second quarter (20th minute) when he flicked home after picking up the ball in mid-circle.

Six minutes into the second half (36th), Kyle Good pulled a goal back for Ireland with a reverse-stick shot before finishing off after good work from Lee Cole for the 2-2 equaliser four minutes into the final quarter (49th).

Seven minutes from the end (53rd), Daniel Bell regained the lead for South Africa with a powerful penalty corner drag-flick into the bottom corner, but Chris Cargo ensured the entertaining match finished all-square just a minute later (54th) when he turned the ball over in midfield before surging forward and unreeling a great shot that rattled the backboard.

SA head coach Fabian Gregory praised the maturity of his young team.

"The boys played without fear. You have to earn respect and that's what they went out to do. I think half of the boys don't even know the Irish team.

"Seeing that we not going to the Olympics we might as well start building now for the future and the boys showed that they are eager and up for it. Overall I was pretty impressed with their performance.

"The boys would have loved to start off [the Hartleyvale Summer Series] with a victory; nevertheless their hunger and determination was exceptional."

 I'm pretty chuffed," Gregory concluded.

The early game was a training match, Spain edging Belgium 3-2.

SA meet Spain in an official Test match at 6pm Wednesday.

SA line-up: Gowan Jones, Robin Jones, Daniel Bell, Rhett Halkett (capt), Dylan Swanepoel, Owen Mvimbi, Dan Sibbald, Jonty Robinson, Keenan Horne, Ryan Crowe, Lloyd Norris-Jones.
Rolling subs: Taine Paton (7th), Bili Ntuli (8th), Tevin Kok (9th), Reza Rosenberg (10th), Ryan Julius (10th), Alex Stewart (11th), Rob McKinley (did not play).

* Debutants in bold.

SA Hockey Association media release


---

Green Machine Draw 3-3 With South Africa

The Green Machine and South Africa shared the spoils in a close contest in Cape Town this evening, the fourth match of the Green Machine warm weather series.

South Africa enjoyed an early goal when a route one ball into the circle was deflected in in front of Carr in the 8th minute. Kyle Good was the first to trouble the South African defence with a shot skimming past the post before Sothern fired his PC effort over the bar. Ireland was unlucky to go into half time 2-0 down, the second South African goal an unstoppable shot flicked high into the net.

Jamie Carr continued his impressive run with several stunning saves throughout, paired with Gormley marshalling the backline and sweeping any loose shots. Kyle Good mounted the Irish come-back with a powerful reverse shot in the third quarter and a second goal early in the fourth to tie the match 2-2. South Africa pulled into the lead briefly before Cargo dashed through midfield and blazed the ball into the bottom corner, 3-3. A late penalty corner and some chances gone amiss meant victory was within reach of the Green Machine but the final whistle sounded and the game finished 3-3.

Ireland 3 (Good x2, Cargo)
South Africa 3

Squad: Carr (GK), Fitzgerald (GK), Harte, Bell, Loughrey, Gormley, L Cole, Jackson, Shimmins, Cargo, Magee, Carlisle, Robson, Good, Glassey, Watkins, Cockram, Sothern.

Match Schedule (GMT):

14th January 16.00 Ireland 2 v 0 Canada
16th January 14.00 Ireland 1 v 1 Canada
17th January 14.00 Ireland 2 v 3 Spain
18th January 18.00 Ireland 3 v 3 South Africa
20th January 18.00 Ireland v Canada
21st January 16.00 Ireland v Canada
23rd January 12.00 Ireland v Belgium
24th January 12.00 Ireland v Belgium

Irish Hockey Association media release


---

Green Army Beat Spain 3-2

The Green Army produced an impressive comeback, scoring 3 goals in the second half, to beat Spain 3-2. The victory was all the more notable by the young side when one considers the squad was without McCay, Frazer, O'Flanagan and Evans, who have combined caps of 543!

Tost swept the ball into the goal from a simple cross in the 7th minute and the Irish looked under pressure at times when in possession. Segu made it 2-0 in the 18th minute when the initial PC shot was saved but the rebound went in. Similar to the previous 2 tests, the Green Army created chances, Daly and Carroll with the pick of the bunch, but the clinical finishes eluded them.

The second half saw Ireland take to the pitch with a sense of composure and patience unseen in the opening half. UCD team-mates Pinder and Duke linked up to create the first chance of the quarter as the final ball evaded Daly, its intended target, but this was signs of things to come. Carroll went on a darting solo run through the centre and won a PC. Mullans' initial strike was saved but Watkins was lurking at the post and dispatched the rebounded ball, 2-1.  Watkins, captaining the squad, produced a pin-point pass to find Carroll in the circle who scored on the reverse, a bullet of a shot at mid height gave the keeper no chance, 2-2. The Green Army turned up the pressure on Spain and earned another PC in the 56th minute which Zoe Wilson, earning her 3rd cap, smashed into the goal from the top of the circle, scoring her first international goal. FT 3-2.

The final match of the series is tomorrow morning at 11:30am (GMT).

Ireland 3 (Watkins, Carroll, Wilson)
Spain 2 (Tost, Segu)

Squad: McFerran, O'Byrne, Tice, Wilson, Mullan, Watkins (Captain), Daly, Brown, Mulcahy, Carroll, McDonald, Smithwick (GK), Pinder, Lloyd, Beatty, G Frazer, Duke, Meeke,

Match Details (All times GMT):

January 15th Ireland 0 vs 3 Spain 17.30.
January 16th Ireland 1 vs 2 Spain 18.00.
January 18th  Ireland 3 vs 2 Spain 11.30
January 19th Ireland vs Spain 11.30 Watch Live Here

Irish Hockey Association media release


---

U-21 USMNT Players Continued to Raise Level of Performance During Four-Game Series

CHULA VISTA, Calif. - Heading into the final match of the four-game series, Canada had had the distinct edge on the scoreboard. That score line has been narrowing every game with a Team USA squad set out to build upon each match as they gain international experience in preparation for the 2016 Junior Pan American Games.

"We showed that we can play very competitive hockey and will look to build on this experience for the next time we face Canada," said USMNT athlete Ethan LaSala.  "The 8 days gave the team a great opportunity to improve and utilize the information given to us by the coaches in our meetings and trainings to allow us to close the gap. We need to be sure to implement these lessons moving forwards."

Match four started with a battle of the midfield. From 25 to 25 yard line, Team USA and Canada were trying to win the edge and take advantage of their opportunities. USA defended their circle with strength and poise, limiting Canada's opportunities to a couple penalty corners and shots that USA's goal keeper, Hamzah Hashimi handled with confidence. Shortly before the the half, with confusion in Team USA's defensive end, Canada played a ball to cage that deflected off his pads and was rebounded well by Zaiq Rana, for Canada to go up 1-0 in the 31st minute of the 1st half. The half would end 1-0 in favor of Canada but the momentum was even and USA went into the locker room ready to keep the pressure on in the second half.

Entering the last half of this four game series, Team USA showcased passion and commitment to building on their first half effort. Team USA was knocking at Canada's door and were increasing the pressure on the Canadian defense as the game wore on and created a penalty corner however were unable to capitalize in this chances. In the 53rd minute after an outletting error, Canada pounced on the ball on the USA defensive 25 and drove baseline and found Thomas Harris in front of the cage who pushed the ball into the corner. Determined to get a result, Team USA continued to pressure and again earned a chance with another penalty corner however Sean Cicchi's flick was well saved. The intensity of the game increased greatly and in USA's favor off a long corner Ajit Parmar fired the ball into the circle and found George McGuigan who deflected the ball into the top corner of the goal in the 66th minute.

Team USA continued to mount pressure on the Canadian goal and created another couple of chances with the biggest chance in the 69th minute being slammed home by Nick Richardson only to have it declined due to hitting a USA player's body in the circle.

"We showed that we can play very competitive hockey and will look to build on this experience for the next time we face Canada," said USMNT athlete Ethan LaSala.

"The 8 days gave the team a great opportunity to improve and utilize the information given to us by the coaches in our meetings and trainings to allow us to close the gap. We need to be sure to implement these lessons moving forwards."

"The time together for the group was invaluable this week," said USMNT Head Coach Chris Clement. "The players raised their level of performance considerably from the beginning of the week to the final match.We will continue to build on this moving forwards and credit to the entire group for making the progress that they did."

USFHA media release


---

Pakistan to send near full strength hockey team to SAF Games

KARACHI: Pakistan is planning to send a near full strength hockey squad to the South Asian Games to be held in India next month in a bid to restore some pride in the sport at home.

Around 45 players are presently training at the Hockey Club of Pakistan in Karachi under the supervision of coaches Muhammad Saqlain and Rehan Butt to prepare for the SAF Games to be held from February 5-16 in Guwahati and Shillong.

"Obviously we know only one match is important for us in the SAF Games and that is the one against India and we are preparing keeping that in mind," Saqlain told PTI.

He said he was trying to get the players to get back to playing to their strength of natural hockey with skills. "I get the feeling that if Pakistan is to become a force in world hockey again we need to work hard on our skills and using them in competitions," he added.

Pakistan Hockey Federation has announced that the national whites squad will go to India for the regional meet. Former Olympian Rehan Butt, who has featured in many memorable clashes with India, said that the idea was to pick a full strength side for the SAF Games to give India a tough fight.

"Presently we have around five to six players of the senior team that appeared in the World Hockey League last year and we have recalled three very good senior players for the camp," Butt said.

He said the camp also included around 18 totally new youngsters who had not played for Pakistan as yet. "The established players in the camp include Muhammad Irfan, Muhammad Rashid, Zohaib Ashraf, Hasim Khan, Arsalan Qadir, Ehsanullah, Ali Shaan, Imran Butt," he said.

He said the selected players would go to Islamabad on February 2 and from there they are expected to go to Shillong and Guwahati for the Games by an Air India chartered flight for Pakistani athletes. "We know the Indian hockey set up has improved a lot and is getting stronger and we are ready for a tough challenge but we also know how important it is for us to do well as it would be a big boost to Pakistan hockey at this stage," Butt said.

The Times of India


---

HIL 2016: M.No.1: Late goals spoil Kalinga party

K. Arumugam




Exciting hockey marked the opening match. Three field goals were struck in the first quarter. Kalinga cancelled out two goal deficit and then took a lead. Both teams messed up six penalty corners and a stroke over all. Yet there were five goals on board. Just 40 secs left in the clock for the hosts' celebration. But things turned upside down. Edward Ockenden and Akashdeep Singh came out with guns blazing. Two gem of goals each to turn the tide. UP Wizards, which even missed out a stroke, walked away with a 8-6 victory (4-3 on goals). Today hockey won.

undefined Opening match at Kalinga stadium, played against full stands, turned out to be thriller. Defender Wouter Jolie, who ultimately got the Best Goal Scorer award, struck off a long ball to set the scoring spree, and then Kenny Bain added one. At the closing moments of first quarter, Pardeep Mor, with lot of guile and reflex, scopped an entangled ball high into the goal from backline to narrow down the lead (4-2) at first quarter end.

Glen Turner, almost single handedly turned the tide in favour of his side with a twin strikes.

A rough tackle by Gurjinder Singh, who otherwise had a great game, led to a stroke when UPW were trailing by 4-6 scoreline. Kalinga went for a referral which they lost, but Raghunath, who made a many a good saves, pushed wide even after getting goalie Carter on wrong side.

At that point of time, just 40 secs left in the clock. Probably the Kalinga's were lax after Raghu's mishap, but the Wizards showed their killing instinct in those seconds coming up with two goals, one by Ockendon and the last second goal by costliest Indian player, Akashdeep Singh.

Akash collected a rebound, handled it for good direction and then hit to the right of goalie, and even before the ball entered the cage, he was so sure that he preferred to lie on the turf, throwing hands skywards.

For a side that had the likes of Argentinean penalty corner expert Gonzalo Peillat and our own gem Raghunth could not convert five penalty corners, but with never say die attitude won the day.

Glenn Turner, almost single handedly turned the tide in favour of his side with a twin strikes.

Kalinga was on upper hand in the third quarter, but could not add a goal, which in the ultimate analysis proved their undoing.

After prolonged spell of subdue, UPW came out strongly in the last five minutes or so, especially after Raghunath pushed the controversial stroke-- which survived a scare of referral-- wide, even after getting the goalie misjudge his move.

Last minute proved to be the game changer. Egged on by Ramandeep Singh, who missed out a couple of sitter earlier, UPW forwards made frequent inroads, leaving Moritz Furste and Co in the defence in jitters.

Left alone, Carter could prevent only the first shot but with lacking support, he was beaten twice in the last minute.

The crowd was silenced. Kalinga once again start their campaign on a losing note.

Glen Turner won the Man of the match award.

Stick2Hockey.com


---

Akash crashes Kalinga party

With field goals counting as two, India forward scores late to help UP to 8-6 win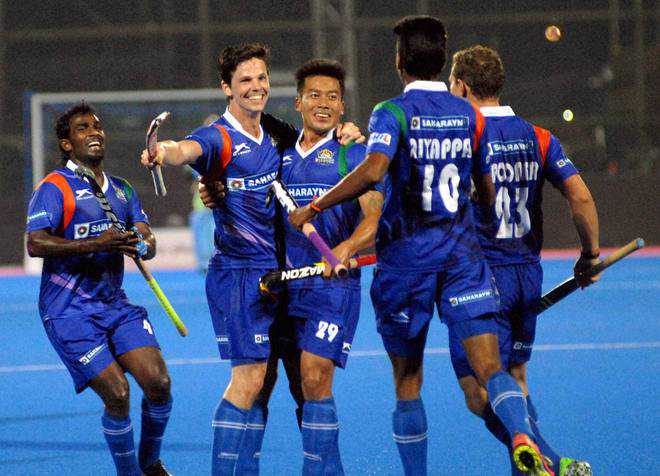 UP Wizards' Wouter Jolie (2nd from left) celebrates after scoring against Kalinga Lancers in Bhubaneswar on Monday. PTI

Bhubaneswar - Uttar Pradesh Wizards pulled off a dramatic 8-6 victory over Kalinga Lancers with four goals coming in the final minute as the fourth edition of Hockey India League made a sensational start here today.

It was goals galore in the inaugural match, which produced seven field goals.

With an aim to make it more exciting for the fans, the organisers had introduced the innovative rule of one field goal counting as two. All the goals scored today were field goals and the crowd could not have asked for a better start to the tournament, though the home supporters would have been disappointed with the end result.

Fortunes fluctuated in the edge-of-the-seat match with the Wizards 4-2 up at the end of the first quarter before the Lancers made a remarkable recovery to lead 6-4 till the final minute. Just as it seemed that the home side would run away with a victory, the Wizards struck two field goals in the final minute to win the match in dramatic fashion.

Wouter Jolie (9th minute), Kenneth Bain (14th), Edward Ockenden (60th) and Akashdeep Singh (60th) struck for the Wizards, while Pardeep Mor (15th) and Glenn Turner (29th and 37th) found the target for the Lancers.

There were also some dramatic moments towards the close as Wizards captain VR Raghunath missed a penalty stroke three minutes before the final hooter when his side were trailing 4-6. Gurjinder Singh fouled Akashdeep Singh inside the circle, but then Raghunath shot it wide to waste the chance. It looked like the match would end in Lancers' favour but it was not to be — Ockenden made it 6-6 before Akashdeep finished off a move, which he had started, with a cheeky reverse hit that went in off a Kalinga defender's foot.

The Tribune


---

Jolie hits the bounty with wonder strike

Bloemendaal's Wouter Jolie got the honour of scoring the first goal of this year's Hockey India League with a stunning strike for the Uttar Pradesh Wizards as they defeated the Kalinga Lancers 8-6 on day one of the competition.

He latched onto a brilliant cross-field pass from Royal Leopold's Agustin Mazzilli before firing a rocket into the roof of the net. With field goals counting double to corner goals, it gave the Wizards a 2-0 lead.

It also brought an added bounty of 50,000 Indian rupees (about €680) for the Coal India Goal of the Match Award.

Amsterdam's Kenny Bain – the first Scottish player to line out in the HIL – got the second field goal in the 14th minute for a 4-0 lead. Pradeep Mor and Glenn Turner tied the game up before the latter got his second for a 6-4 lead.

His Australian country-man Eddie Ockenden levelled it for the second time before Akashdeep Singh struck the winner in the fourth quarter.

The next match of the league will be played between the Jaypee Punjab Warriors and defending champions Ranchi Rays in Chandigarh on Tuesday.

Euro Hockey League media release


---

PHF slams Sardar's statement

ISLAMABAD: The Pakistan Hockey Federation (PHF) on Monday reacted strongly to Indian skipper Sardar Singh's controversial statement on the 2014 Champions Trophy incident, asking the Indian Hockey Federation (IHF) under which capacity their skipper had given such an immature and unethical statement.

Sardar in a recent statement to media asked the Pakistan players to apologise for the incident that took place during the Champions Trophy held in the Indian city of Bhubaneswar in December 2014.

Two Pakistan players — Mohammad Tousiq and Ali Amjad -- were handed a one-match ban while team-mate Shafqat Rasool was reprimanded by the International Hockey Federation (FIH) for making obscene gestures after their team's 4-3 win over India in the semi-final of the 2014 Champions Trophy.

The undesirable incident was very much closed when Shahnaz Sheikh, then Pakistan head coach, during the event expressed apology for the undesirable development.

However, the uncalled for statement coming from Sardar has stirred up the controversy again.

The Indian skipper, according to the reports, said Pakistan players were suffering for what they did during the event, and reckoned they shouldn't be allowed to participate in the Hockey India League (HIL).

PHF secretary Shahbaz Ahmed Senior, reacting to the Indian captain's word, said a statement like this from Sardar was absolutely inappropriate and highly condemnable.

"It is not a player's prerogative to issue statements like this against players of [any] other country," Shahbaz maintained.

Shahbaz further said that more than a year had passed since the 2014 Champions Trophy incident, adding now Sardar was recalling that which did not make any sense.

"Sardar has completely lost it and such attitude is against the sportsman spirit," reckoned Shahbaz.

In reaction to the Bhubaneswar incident, he said, the FIH had suspended the Pakistan players, so now there was no need of this sort of statement from Sardar again.

"I am surprised why the IHF has taken so much time in taking any notice of Sardar's statement," wondered Shahbaz.

Shahbaz said if the IHF did not take any action in this regard it would imply that they themselves were exaggerating the matter.

Dawn


---

Jamali blasts 'corrupt' PHF regime

Kashif Abbasi

ISLAMABAD: Former prime minister of Pakistan Mir Zafarullah Khan Jamali on Monday came down hard on Pakistan Hockey Federation (PHF), saying the federation despite spending millions of rupees has failed to give required results.

The veteran politician, who is also a former president of the PHF, during a question hour session of the National Assembly, said that incumbent federation has been misusing millions of rupees of funding and have ruined the game.

He said that no one is taking action against the current federation because it has close association with the Prime Minister's office.

It is relevant to note here the incumbent PHF president Brig (retired) Sajjad Khokhar was the choice of Prime Minster Nawaz Sharif who being patron of the PHF, had nominated him for this slot.

Jamali said that previous federations had been given a grant of 100 million and made massive embezzlement while the current set up which has also been provided with 700 million rupees is spending the money without any results or accountability.

Federal Minister for Inter-Provincial Coordination Riaz Hussain Pirzada tried to respond to the veteran politician in details but Jamali refused to listen and said that action should also be taken against the federal minister's 'silence' over the corruption in PHF affairs.

However, Pirzada said that the matter should be referred to the concerned Standing Committee. To this, Speaker of the National Assembly Sardar Ayaz Sadiq referred the matter to National Assembly Standing Committee on IPC, which will deliberate on the issues raised by the former prime minister.

After holding discussions with stake holders, the committee is likely to submit its report in the National Assembly.

Dawn


---

Strathmore gain ground as title race hots up

By BRIAN YONGA



Allan Odongo (left) of Parklands Sports Club challenges Solomon Mbendi of Kenyatta University during the Kenya Hockey Union men's National League match at the City Park Stadium on January 16, 2016. PHOTO | MARTIN MUKANGU | NATION MEDIA GROUP 

Strathmore University Scorpions moved back into second place in the Kenya Hockey Union (KHU) women's National League standings after weekend matches.

Wazalendo moved to third place in the KHU men's Premier League table while debutants Parklands moved two points clear of the relegation zone.

Scorpions continued with their fine start of the second leg, making it two wins in a row after an emphatic 6-0 victory over Jomo Kenyatta University of Agriculture and Technology (JKUAT) at City Park Stadium on Saturday.

Despite missing a number of key players, Scorpions put on an impressive display during the match which saw coach Meshack Senge field a number of fringe players and new signings.

"The players are giving their best. If we maintain this consistency to the end of the season, we might as well be serious title contenders but for now we are taking a match a time," Senge said.

THIRD-PLACED SLIDERS

The university side are on 31 points, eight behind leaders and champions Telkom Orange and two ahead of third-placed Sliders. Vikings and USIU Spartans are fourth and fifth with 20 and 18 points respectively.

JKUAT remain eighth with eight points after their ninth loss of the season.

Wazalendo had a successful weekend, collecting six points from two matches to displace Greensharks from third place.

Wazalendo beat Kenyatta University's Vultures 1-0 on Sunday after their 2-0 win over Kenya College of Accountancy of University on Saturday.

Wazalendo are on 30 points, 11 points behind leaders Kenya Police and 10 behind second-placed champions Butali Sugar Warriors.

Sharks, who lost 1-0 away to Nakuru, are in fourth with 28 points while USIU, also on 28, complete the top five clubs.

BOTTOM OF THE TABLE

At the bottom of the table, Parklands kept their hopes of remaining in the top-flight league after collecting four points from their weekend fixtures.

The league debutants are 12th with 11 points, two ahead second last Mvita and nine ahead of bottom-placed Mombasa Sports Club.

"It is now a fight to stay up and we are up to the challenge, if we keep playing like we did at the weekend, we have a good chance of staying in the league," Parklands coach Franklin Kiyondi said.

In the men's National League, Impala moved out of bottom place after a 2-1 win over Thika Rovers. Impala have eight points same as bottom placed University of Nairobi who could only manage a 0-0 draw against Karate Axiom.

Daily Nation


---

SSP-MSP Thunderbolts on steady climb

by Jugjet Singh

SSP-MSP-THUNDERBOLTS took a big gamble when they fielded a 15-year-old goalkeeper in Division One of the Junior Hockey League, but Hamiz Ahir has shown that he is made of sturdy stuff.

Hamiz, who turns 16 next month, was instrumental in the Pahang Sports Schools' 2-1 win over BJSS Thunderbolts on Sunday.

BJSS were the better team, but good goalkeeping by Hamiz denied them victory.

"Yes, our No 1 goalkeeper is just about to turn 16, but he has shown great determination in both our matches to date," said SSP-MSP coach Sufian Mohamed.

In the curtain raiser, SSP-MSP hammered Nur Insafi 11-1.

However, leg cramps seems to be a big problem among the Pahang Sports Schools youth brigade, as more than five players fell to cramps against Nur Insafi and the trend continued against BJSS.

"I'm perplexed on why many of my players started having cramps since trhe JHL started because before this we never had this problem in all the tournaments they played. Salt, a good warm-up and everything else has been done to the book, but too many of them suffered cramps during both the matches," said Sufian.

SSP-MSP has fielded four 16-year-olds, seven 17-year-olds, five 18-year-olds and only four 19-year-olds in the ongoing JHL.

"This is a team for the future, as many of them can play next season as well.

"But even though we have won both the matches, we will only know out true strength at the end of January when we take on tougher teams," said Sufian.

Their next match is against SSTMI Juniors and they should collect another three points.

"Yes, we should be able to beat SSTMI Juniors but after that we face UniKL Young Guns and PJCC (Petaling Jaya City Council) and if my players come out tops, I believe we will be among the top-three in Division One this season," said Sufian.

DIVISION ONE

                 P  W  D  L  F  A  Pts

SSP-MSP-TNDER'    2 2 0 0 13 2  6
SSTMI TNDER'  2 2 0 0 11 1  6
PJCC          2 2 0 0 5 1   6
BJSS TNDER'       2 1 0 1 7 3   3
POLITEKNIK  2 1 0 1 4 3   3
SMKDBL YOUNG GUNS 2 1 0 1 2 4   3
UNIKL YOUNG GUNS  2 1 0 1 5 8   3
OLAK TIGERS  2 0 0 2 2 6   0
SSTMI JRS         2 0 0 2 2 11  0
NURINSAFI         2 0 0 2 2 14  0

Jugjet's World of Field Hockey


---

Strathallan success at U18 Girls Indoor Cup finals




Strathallan School celebrated success last Saturday as their U18 girls side were triumphant at the U18 Indoor Cup finals at Bell's Sports Centre.

The Perthshire-based school edged their semi-final contest against Robert Gordon's College (3-1), progressing to a final against George Watson's College, who defeated Kelso High School (5-3) in the other last four encounter.

An enthralling final took place, with Strathallan narrowly winning the tournament with a 3-2 success over George Watson's College.




Kelso High School finished third after beating Robert Gordon's College 4-0 in the 3rd/4th play-off.

Craigholme beat Hutchesons' Grammar School 11-1 to finish in fifth place.

Results:

Pool A

Strathallan 3-2 Craigholme
Kelso High School 2-4 Strathallan
Kelso High School 4-3 Craigholme

Pool B

Hutchesons' Grammar School 2-3 Robert Gordon's College
Robert Gordon's College 1-3 George Watson's College
George Watson's College 4-2 Hutchesons' Grammar School

Semi-Finals

Strathallan 3-1 Robert Gordon's College
George Watson's College 5-3 Kelso High School

Final

Strathallan 3-2 George Watson's College

3rd/4th Play-Off

Kelso High School 4-0 Robert Gordon's College

5th/6th Play-Off

Craigholme 11-1 Hutchesons' Grammar School

Scottish Hockey Union media release