All the news for Wednesday 5 March 2014

SA men's hockey team meet Germany Wednesday

JONATHAN COOK



South Africa's Clinton Panther has University exams to take so is unavailable for the series. Photo: RODRIGO JARAMILLO

The big South Africa men's hockey squad are into the second day of their camp in Cape Town and will be looking both individually and as combinations to convince head coach Fabian Gregory that they are worth a place in the 18-player national team to take on reigning Olympic Games champions Germany in a three-Test series at Hartleyvale from 7pm Wednesday.

The first and second Tests between world number 12 South Africa and world number two Germany are at 7pm on Wednesday and Friday respectively, with the third Test match on Saturday at 4pm.

Due to injury, work and overseas club commitments there are several players who are not in Cape Town for either the camp or the series.

The SA side to take on Germany will be announced Wednesday; this after Gregory has had a good look at the players during the training sessions.

The new coach has an idea of the fitness and form of those players who did duty against Argentina in Mar del Plata last week. The players in Cape Town from outside that group have had to hit the ground running in their bids to convince Gregory of a spot in the team.

Those not picked to face the formidable Germans will remain in Cape Town for the duration of the series and will have separate training sessions during that time.

SA SQUAD
Goalkeepers: Rassie Pieterse (Southern Gauteng), Gowan Jones (KZN Coastal Raiders), Jacques le Roux (Western Province)
Defenders: Andrew Cronje (WP), Lloyd Madsen (Southern Gauteng), Matt Guise-Brown (Northern Blues), Robin Jones (KZN Inland), Dylan Swanepoel (WP), Mohamed Mea (KZN Coastal Raiders), Lance Louw (Southern Gauteng), Jethro Eustice (Southern Gauteng), Daniel Bell (WP), Francois Pretorius (Northern Blues)
Midfielders: Owen Mvimbi (Southern Gauteng), Wade Paton (WP), Nick Gonsalves (Southern Gauteng), Tim Drummond (KZN Coastal Raiders), Chad Cairncross (Eastern Province), Clive Terwin (WP), Cuan Burton-Moore (WP), Taylor Dart (Southern Gauteng), Craig Haley (WP)
Strikers: Pierre de Voux (WP), Ignatuis Malgraff (EP), Damian Kimfley (EP), Nick Spooner (Southern Gauteng), Winchester Scott (EP), Geowynne Gamiet (EP), Lungi Tsolekile (WP), Brandon Panther (Southern Gauteng), Dan Sibbald (KZN Coastal Raiders), Matt Botha (WP), Lloyd Norris-Jones (WP), Keenan Horne (WP)

FIXTURES
SA vs Germany at Hartleyvale
1st Test, Wed, at 7pm; 2nd Test, Fri, at 7pm; 3rd Test, Sat, at 4pm
Tickets – adults R40; children (age 4-18) R10; family (2 adults, 2 children) R70; series ticket (per person) R80
Gates open: 1 hour prior to start time

SA Hockey Association media release


---

Black Sticks to experiment during Japan series



Photo: www.photosport.co.nz

Black Sticks head coach Colin Batch has named an extended team of 20 players for the three game series against Japan which starts in Tauranga next week.

The series is an important part of the Black Sticks' preparation for the Champions Challenge in Malaysia at the end of April and June's Hockey World Cup in Holland.

There are 19 members of the New Zealand National Squad in the team, along with Capital's Jacob Smith who has been called up from the Development Squad.

"We have a lot of big events coming up like Champions Challenge, World Cup and Commonwealth Games so this will be an excellent opportunity to develop our team during this series." Batch said.

"We have George Muir and Jared Panchia available again, both played at the Junior World Cup in December and were rested for our last tournament in India. It will be interesting to see how they have progress after a busy 2013 with the national team."

Two players also hungry to impress in Tauranga are Andy Hayward and Cory Bennett, who both missed out on the Black Sticks' silver medal effort at the World League Final through injury.

Hayward hasn't played for the Black Sticks since the World League Semi Final in July last year after badly breaking his finger in a practice game.

"It's been a long recovery for me after what seemed like a pretty minor injury ended up needing surgery to heal properly," he said.

"I'm pretty happy to be back in action and this is a big series for us. It's really the last chance to have everyone together and show the selectors our potential."

The Black Sticks play Japan in the opening game of the series at 7.00pm next Wednesday with games two and three on Thursday and Saturday respectively.

As part of the series, a New Zealand Invitational XI is also playing three games against Japan in Auckland.

Tickets are on sale now through www.ticketdirect.co.nz

CLICK HERE for the full draw and more event information

BLACK STICKS MEN vs JAPAN
12-15 March, Mt Maunganui
| | | | |
| --- | --- | --- | --- |
| NAME | REGION | POSITION | CAPS |
| Joe BARTHOLOMEW | North Harbour | Defender | 26 |
| Cory BENNETT | North Harbour | Defender | 22 |
| Marcus CHILD | Auckland | Striker | 49 |
| Simon CHILD | Auckland | Striker | 189 |
| Dean COUZINS | Auckland | Defender | 296 |
| Steven EDWARDS | North Harbour | Midfielder | 165 |
| Nick HAIG | Canterbury | Defender | 129 |
| Andy HAYWARD | Midlands | Defender | 158 |
| Blair HILTON | Capital | Striker | 109 |
| Hugo INGLIS | Southern | Striker | 117 |
| Stephen JENNESS | Capital | Striker | 97 |
| Devon MANCHESTER | Auckland | Goalkeeper | 23 |
| Hamish McGREGOR | Southern | Goalkeeper | 24 |
| George MUIR | North Harbour | Midfielder | 11 |
| Arun PANCHIA | Auckland | Midfielder | 120 |
| Jared PANCHIA | Auckland | Striker | 22 |
| Kane RUSSELL | Southern | Defender | 24 |
| Alex SHAW | Capital | Defender | 36 |
| Jacob SMITH | Capital | Striker | 32 |
| Blair TARRANT | Southern | Defender | 91 |
 Hockey New Zealand Media release


---

It is comeback time for Vikram, Sandeep and Gurbaj



Sandeep Singh's hard work away from the limelight helped as he was named in the list of probables. Photo: PTI   

It was an emotional moment for Vikram Kanth, who returned to the National hockey camp after four years. For Sandeep Singh and Gurbaj Singh, it was reward for hard work away from the limelight.

The talented Vikram suffered during the transition phase, involving a tussle between the Indian Hockey Federation (IHF) and Hockey India (HI).

After being named among the 33 probables for the upcoming World Cup in the Netherlands, Vikram was thrilled. "Being part of the National camp itself is an emotional moment for me. I had been working towards it for a long time," Vikram told The Hindu on Tuesday.

"I always had the frustration of not being part of the National camp. After the Chile disaster, the players were divided between IHF and HI and there was a restriction on players participating in the World Series Hockey (WSH).

"Being part of my departmental team, Indian Oil, was an advantage as we played a lot of domestic tournaments. My performance in the Hockey India League (HIL) also helped."

The 28-year-old midfielder, who could also work as a defender, admitted that it would be a challenge for him to compete with the youngsters.

Sandeep, who was left out after India's lacklustre performance in the Hockey World League (HWL) semifinals in Rotterdam last year, and Gurbaj, who was out of favour after the country's forgettable 12th place finish in the 2012 London Olympics, used their time away from the National team to complete their training leading up to their employment with Haryana Police.

Sandeep, who scored 11 goals for Jaypee Punjab Warriors to emerge the top-scorer in the HIL, said, "I played for 60 to 65 minutes in most of the matches.

"I learned a lot while playing alongside Mark Knowles, one of the best defenders in the world. According to an analysis, my defending skills were 50 per cent better this time. I also worked on my drag-flicks."

With his superb passing and tireless work, right-half Gurbaj played a key role for HIL champion Delhi Waveriders. "I put in a lot of hard work. I improved my game, such as moving fast to defend as well as attack. My fitness was the main reason of my success in HIL," he said.

The probables: Goalkeepers: P.R. Sreejesh, Harjot Singh, Sushant Tirkey.

Defenders: Gurbaj Singh, Rupinderpal Singh, V.R. Raghunath, Birendra Lakra, Gurmail Singh, Kothajit Singh, Gurjinder Singh, Gurinder Singh, Sandeep Singh, Vikram Kanth.

Midfielders: S.K. Uthappa, Dharamvir Singh, Chinglensana Singh, Sardar Singh, Manpreet Singh, Danish Mujtaba, Satbir Singh, Devinder Walmiki, Vikas Pillay, Jasjit Singh.

Forwards: Nikkin Thimmaiah, Nithin Thimmaiah, S.V. Sunil, Mandeep Singh, Akashdeep Singh, Ramandeep Singh, Affan Yousuf, Yuvraj Walmiki, Talwinder Singh, Lalit Upadhyay.

The Hindu


---

Sandeep Singh among hockey World Cup probables

Sandeep, playing for the Jaypee Punjab Warriors in the Hockey India League, was the top-scorer of HIL 2 with 11 goals.



Sandeep Singh, playing for Jaypee Punjab Warriors, in action against Delhi Waveriders during the Hero Hockey India League match in New Delhi. Photo: R.V. Moorthy   

Following his impressive performance in the second edition of the Hockey India League (HIL), penalty corner specialist Sandeep Singh finds himself among India's 33 probables for the World Cup to be held in The Hague from May 31 to June 15.

The drag-flicker was dropped from the national squad before the Asia Cup in mid-2013. Sandeep, playing for the Jaypee Punjab Warriors, was the top-scorer of HIL 2 with 11 goals.

The training camp of the probables will be held at the Major Dhyan Chand National Stadium here from March 9 to April 10. The list was shortlisted by high performance director Roelant Oltmans, chief coach Terry Walsh and government observer Harbinder Singh Feb 25.

India is placed in Pool A of the World Cup with Australia, England, Belgium, Spain and Malaysia and will open their campaign against Belgium May 31 followed by England (June 2), Spain (June 5), Malaysia (June 7) and Australia (June 9).

The following is the list of probables:

Goalkeepers: P.R. Sreejesh, Harjot Singh, Sushant Tirkey

Defenders: Gurbaj Singh, Rupinder Pal Singh, V.R. Raghunath, Birendra Lakra, Gurmail Singh, Kothajit Singh Khadangbam, Gurjinder Singh, Gurinder Singh, Sandeep Singh, Vikram Kanth

Midfielders: S.K. Uthappa, Dharamvir Singh, Chinglensana Singh Kangujam, Sardar Singh, Manpreet Singh, Danish Mujtaba, Satbir Singh, Devinder Sunil Walmiki, Vikas Pillay, Jasjit Singh

Forwards: Nikkin Thimmaiah, Nithin Thimmaiah, S.V. Sunil, Mandeep Singh, Akashdeep Singh, Ramandeep Singh, Affan Yousuf, Yuvraj Walmiki, Talwinder Singh, Lalit Upadhyay.

The Hindu


---

Fresh legs for Indian hockey

by Mihir Vasavda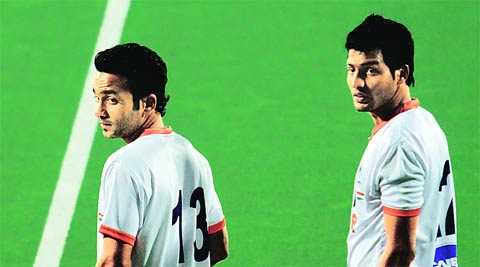 Affan Yousuf (L) and Yuvraj Walmiki (R) are two of the youngsters in the probables. Yuvraj's brother Devinder is also in the 33 man list. Affan Yousuf (L) and Yuvraj Walmiki (R) are two of the youngsters in the probables. Yuvraj's brother Devinder is also in the 33 man list.

Barely three months ago, Affan Yousuf, Devinder Walmiki and Lalit Upadhyay were not part for India's junior World Cup squad. The trio, who had been the pillars of the team till then, were surprisingly left out of the mega event at home by coaches Gregg Clark and Baljit Saini. Their absence was clearly felt during the tournament as India finished a dismal 10th.

Now, as the senior team prepares for their World Cup in a little over three months, chief coach Terry Walsh is making sure the mistake isn't repeated. Yousuf, Devinder and Upadhyay, on Tuesday, were among the 33 probables for the Holland event.

Since arriving here in October last year, the Australian has spoken about blooding fresh talents in the squad and it has reflected in his selection of the core group. Sixteen players out of the 33 summoned for the month-long preparatory camp in Delhi from March 9 are aged under 23. Thirteen of them also played in the junior World Cup.

"That's where the future of the game is. A lot of these players are showing improvement. I am really excited to have them and it should increase the competition level within the squad and put pressure on the seniors. Having worked from within the Hockey India League, we've been able to make a fair and decent assessment (of the young players)," Walsh told The Indian Express from Perth.

Upadhyay and Walmiki both played for Walsh-coached Kalinga Lancers in the HIL. So did Vikram Kanth, the defender who is back in fray after making his India debut eight years back. Kanth caught Walsh's attention during the Mumbai Gold Cup last October and continued to impress the 59-year-old during the HIL.

Also making a comeback are Sandeep Singh and Gurbaj Singh, who last played for India at the London Olympics. Gurbaj's return was expected. After several run-ins with former coach Michael Nobbs, the right half had been constantly overlooked despite being counted among the best players in the country.

His consistent performances in the domestic circuit and the HIL last month, however, could not be ignored. Known for his immaculate ball distribution, energy and aggression, Gurbaj stood out in the HIL for Delhi Waveriders. Sandeep, meanwhile, was the HIL's top-scorer for second consecutive season. While his drag-flicking abilities are beyond doubt, his defensive frailties can become his undoing. Unless he becomes quick on feet, it is unlikely that he will be on the plane to The Hague.

Those who've missed out include goalkeeper PT Rao, defender Amit Rohidas and injured forward Gurwinder Singh Chandi. The team selection is likely to happen towards the end of April. India will be travelling to Holland

Indian Express


---

Chhattisgarh beat Kerala 3-2 in Hockey India Sr Nationals

LUCKNOW: Chhattisgarh rallied from two-goal deficit to beat Kerala 3-2 in a thrilling match of the 4th Hockey India Senior Men National Championship on Tuesday.

Kerala started the match with great speed and they took the lead in the 18th minute when Sarin scored through a field goal. They doubled the lead just a minute before the end of first half with Jithu Sasi scoring another field goal.

Chhattisgarh regrouped themselves in the second half and Shakeel Ahmed managed to keep his cool and scored through a penalty corner in the 54th minute.

Eight minutes later, Chhattisgarh restored parity through a field goal by Mohd Erfan Khan. The team did not stop there and scored the match-winner in the 69th minute through Upendra Pillay.

In another match, Puducherry mauled Tripura 11-1. While Tripura's Arif Hussain started the goal scoring in the ninth minute, it was Puducherry who then rained with goals.

A Tamilarasan scored a hat-trick with all his goals coming in the second half. M Harikrishna, V Karthikeyan and N Kamalakannan scoring two goals each.

In the third match of the day, Odisha thrashed Mizoram 6-0.

The Times of India


---

UniKL sound confident

MILO CUP: Former champs believe they can stop in-form PJCC

By AJITPAL SINGH

IT'S make-or-break time  for four teams in the Milo Cup as they brace for a tight two-leg semi-final in the country's premier junior league competition.

In their quest for honours, the teams will not only battle the heat but also the haze as they face off in the first leg today followed by the return leg on Friday at National Hockey Stadium in Bukit Jalil.

Former winners UniKL take on in-form Petaling Jaya City Council (PJCC) while defending champions SSTMI play minnows Olak-KPT.

Despite having talented players, UniKL have not been playing to their ability but are nonetheless confident of denying PJCC a spot in the final.

"PJCC are favourites as they have been performing consistently. We can beat them, provided we play to our ability," said UniKL team manager Mohd Faiz Isa yesterday.

"We will play a tight game and hopefully, deny them early goals tomorrow."

As for Olak, former international and coach S. Sivabalan conceded SSTMI are favourites in the tie.

"We have nothing to lose but all to gain as our opponents are a class above.

"The pressure is on them to deliver. I have a game plan but my players must execute it effectively for a favourable result," said Sivabalan.

SSTMI have not shown any mercy to their opponents thus far and that was further emphasised in the 14-2 thrashing of Pahang Juniors in the recent two-leg quarter-final tie.

"Our target is to retain the title and to do that, we have to win matches. Scoring is part of the game and I want my players to net as many goals today," said SSTMI coach Wan Roslan Wan Rahman.

However, Wan Roslan said his players must treat Olak with respect.

"We will give due respect to Olak but that's about it as we want to finish off the semi-finals in the first leg itself.

"We plan to rest key players for the return leg as playing either PJCC or UniKL in the final will be tough," Wan Roslan added.

New Straits Times


---

UniKL, MBPJ in interesting semis match

By S. Ramaguru

KUALA LUMPUR: The two MHC-Milo-NSC Malaysian Junior Hockey League (MJHL) semi-final matches promise to be a study of contrasts.

One pits defending champions SSTMI-Thunderbolt against Olak-PKT while the other sees last year's runners-up Petaling Jaya City Council (MBPJ) taking on another former champion Universiti Kuala Lumpur (UniKL). Both matches will be held at the National Hockey Stadium in Bukit Jalil, with the first leg getting under way on Wednesday.

The Thunderbolt-Olak match is almost a foregone conclusion, with the champions in tremendous form.

Thunderbolt are unbeaten so far and they are not about to let up on their title charge, as promised by coach Wan Mohamed Roslan.

"It's all about winning ... it doesn't matter how many goals we score. We want to complete the double," he said.

"We respect all teams but we fear no one."

Their 22-2 aggregate win against MSP Pahang Juniors in the quarter-finals would have sent shivers down the spine of most teams.

The other tie promises to be an exciting game, with both UniKL and MBPJ having an equal chance of making the final.

In the group phase, UniKL defeated the PJ side 2-1 to finish second in the league competition.

But MBPJ have since improved and are now a more settled side.

UniKL may be inconsistent but they have pulled off wins over the fancied teams. In fact, their only loss was to Thunderbolt.

UniKL manager Mohamed Faiz Isa preferred to make MBPJ the favourites.

"We've been lucky at times ... right now, the only option is to go for the kill from the start," he said.

"I would say that MBPJ are the favourites as they've shown a consistent form and play well.

"But that doesn't mean we've given up. We are going to plan this game over two ties and ensure we have a settled line-up that can match them in all departments."

MBPJ team manager Zainal Abidin Ismail is confident they can overcome UniKL, although he feels that the form of the day will be the decider.

"Sometimes you can have the best players and still play badly. I think we both are evenly matched ... how the players react on game day will be crucial," he said.

The Star of Malaysia


---

Big plans for Oman hockey revival

by T.K. MOHANDOSS



OHA general secretary Mohammed Ridha Al Lawati. Photo – Times of Oman

Muscat: There is a sense of urgency and enthusiasm as far as Oman hockey is concerned.

There has been a buzz in the hockey circles since last week's visit of Tayyab Ikram, Director of Coaching and Secretary of High Performance at International Hockey Federation (FIH) and things are pointing in the right direction.

For certain Oman hockey national teams will have a busy year ahead and the Oman Hockey Association (OHA) is also happy that the nation is gaining points for all participations abroad and is currently ranked 23rd in the world by the FIH, and based on that they are ranked sixth in Asia.

But that apparently is not reflecting on the domestic tournaments where, for some time now, we have been witnessing lesser number of clubs playing the game.

The last edition of Oman's premier tournament, His Majesty's Cup, saw only eight clubs playing, really a poor record considering the game's immense popularity during the yesteryears.

However, Mohammed Ridha Taqi Al Lawati, the OHA general secretary, feels that this is just a bad phase and things will turn around rather quickly.

"We at the OHA have big plans to revive the game and take it to the highest level. The first plan is to develop 16 training centres spread across various regions in Oman," Ridha told  Times Sport.

 "These long term plans to develop players in different age groups will yield success in the coming years."

The OHA is on the right path, but Ridha Taqi minced no words in criticising the sports clubs for the poor state of hockey in the country.

"If we are finding only six to eight teams playing hockey now, the clubs must take the blame," he said.

"Most of the clubs are turning their backs on the game and the lack of support has led to the dwindling number of teams in the domestic tournaments," he explained. "It is for the clubs to encourage the players who play hockey."

When it was pointed out that most of the clubs hardly have enough facilities for hockey, Ridha refuted the claim, saying: "We at the OHA are always ready to help them and to provide them with practice facilities at a point nearest to them. But it is for the club administrations to show some interest."

Asian Games qualifiers

Meanwhile, Ridha said: "We will continue to be positive and our next focus will be the qualifying tournament for the 2014 Asian Games."

A recent report stated that the qualifiers have been reduced to an eight-nation meet after Afghanistan and Thailand pulled out. This has resulted in one of the groups being reduced to a three-team affair — Bangladesh, Singapore and Hong Kong. The other group features Oman along with Sri Lanka, Chinese Taipei, Qatar and Iran.

The qualifiers are scheduled to take place in Dhaka from March 15 to 23 and the six top teams are supposed to advance to the Asian Games to be held in September in Incheon, South Korea.

"Our aim is to qualify for the Games and we will work hard towards achieving that goal," said Ridha.  To recall, Oman had finished seventh in the 2010 Asian Games in Doha.

"A good performance in the qualifiers will boost our preparation for the World Hockey League (WHL), which we are going to host," said Ridha, who, however, did not confirm when the first round of the WHL will be held.

Ridha, however, said there could be nine teams playing in the WHL, though only Azerbaijan, Iran, Oman, Qatar, Turkey and the UAE have confirmed so far.

New hockey pitch

Meanwhile, FIH official Tayyab Ikram, responding to queries from Times Sport, said having new facilities for hockey in Oman is a good idea, but "we have not committed to offer full support. I do not think that is that simple and FIH cannot do that alone." Asked about the existing facility at the Sultan Qaboos Sports Complex, Ikram said: "It is good enough for the World League, but as for the possibility of hosting higher-ranked events, there should be two pitches and it is absolutely necessary."

Tayyab added that his meeting with the Oman Olympic Committee chairman, Sheikh Khalid Zubair, was excellent and fruitful.

"Mainly, we agreed that we can use the Olympic committee's support for accessing the International Olympic Committee's help for development. He was very supportive when it came to assisting hockey and I really appreciate his response to my requests."

Tayyab signed off by saying that a lot needs to be done for Oman hockey. "The whole purpose of my visit was to take Oman hockey to the next step and I agree that a lot needs to be done."

Times of Oman


---

Boost for U18 hockey tour

Arin Kumar



Fiji Sports Council Chairman Peter Mazey hands over the $20,000 cheque to Fiji U18 hockey coach Tai Smith and members of the U18 team at the Fiji Sports Council office yesterday. Picture: JONE LUVENITOGA

THE national under-18 hockey team now has more reasons to smile before departing for Vanuatu.

The team has received a $20,000 donation from the Fiji National Sports Commission as they prepare to participate in Youth Olympic Games (YOG) Oceania Qualifiers that will be held in Port Vila.

Both the boys and girls teams will compete in the event but the girls have a stronger chance of qualifying for the games.

The new development comes after Samoa and Australia pulled out of the tournament, meaning the girls will have to beat either New Zealand or Vanuatu to qualify.

Team coach Tai Smith said her players were ready to put their bodies on the line for the country.

"This (donation) is a big boost for not only us but for the youths of the country," she said.

"Our players have given up their time for almost half of the year to prepare for this event because it's for the country."

Commission chairman Peter Mazey said they were devoted to help the youths of the country when it comes to sports.

"The funding from the commission is all about developing the youths of the country so that they can become champions one day," he said.

"This is the first major funding for the year and it fits with everything that we have planned for the year."

He said their aim this year was to inject more funds into sports and teams or players that would be competing in qualifiers or ranking events.

"Anybody going overseas should have a really good reason to ask for funding and that is if they are either going to a qualifying event or where their ranking will improve."

The Fiji Times


---

Hockey World Cup heroes: Australia's golden girl

Two Hockey World Cups, two Olympic gold medals and a place in the Sport Australia Hall of Fame, no wonder Alyson Annan is a hockey legend.




In the first in a series on Hockey World Cup heroes, we catch up with one of Australia's most famous sporting exports. Now plying her coaching skills to great effect in the Netherlands, our first World Cup hero has a trophy cabinet full of gold medals.

There was a very good reason that Alyson Annan was voted the Best Female Hockey Player in the World in 1999. Two Olympic gold medals, two Hockey World Cups and four Champions Trophies, she played 228 times for the Hockeyroos and scored 166 goals. In total, nine gold medals from major international tournaments adorn the Australian's trophy cabinet.

The year after she was lauded as the best female player on the planet, things got even better for Alyson as she led the Australian team to gold in front of a home crowd at the 2000 Summer Olympics. Following that victory, she retired from international hockey and moved to the Netherlands where she played for HC Klein Zwitserland from The Hague. Three years later, she retired as a player but continued to coach at the club.

Her winning ways at major internationals continued however; in 2004 she was assistant to the head coach of the Netherlands women's team, Marc Lammers, helping to steer the Netherlands to silver at the 2004 Summer Olympics in Athens – losing out to Germany in the final.

In 2013, Alyson was inducted into the Sport Australia Hall of Fame, the highest national sporting honour in Australia.

Alyson now lives in Amsterdam with her partner, the former Netherlands captain Carole Thate, and the couple have two boys. She runs her own sports consulting company, Beyond the Limits, and last year became coach to AHBC Dames, a leading hockey club in the Netherlands.

FIH site


---

Lucky number seven for Malaysia?

After failing to qualify for the last two Hockey World Cups, the team ranked second in Asia are hoping to make an impact

Stockey's travels this week take the hockey mascot to a south-east Asian country that is a veritable melting-pot of races and religions. Malaysia is a country of contrasts. Towering skyscrapers look down upon wooden houses built on stilts; five-star hotels sit just metres away from ancient reefs; rugged mountains neighbour floodplains teeming with forest life; warm, sandy beaches are adjacent to rich, humid mangroves.

When it comes to hockey, Malaysia has a long, if sporadic, history in the Hockey World Cup. In 1975, it played host to the World Cup and finished a creditable fourth, but since then the team has failed to make the impact it would like to and has failed to qualify on a number of occasions. Malaysia is currently ranked 13th in the FIH world rankings and number 2 in Asia, a position that the national hockey confederation is hoping to build upon. In total, Malaysia has made six appearances in the Hockey World Cup and the team will be hoping to make it lucky number seven in the Hague this year.

As a nation on the trade routes, Malaysia has long played host to a number of visitors, many of whom have since settled. Nowadays Malays, Indians, Chinese and many other ethnic groups live together in the forward-looking nation. Since gaining independence from Britain in 1957, Malaysia has developed into a leading industrial nation and has the 29th largest market economy in the world.

Geographically, Malaysia is almost as diverse as its culture. 11 states and 2 federal territories (Kuala Lumpur and Putrajaya) form Peninsular Malaysia. This is separated by the South China Sea from East Malaysia, which includes two states – Sabah and Sarawak – and a third federal territory, the island of Labuan.

While the Malaysian people have a strong work ethic, the country is also a gastronomical paradise and home to hundreds of colourful festivals. It is not hard to imagine the celebrations that would break out following a Malaysian victory at the Rabobank Hockey World Cup.

FIH site