All the news for Saturday 28 April 2018

2018 Asian YOG Qualifier (M) - Day 3
Bangkok (THA)

Results 27 April 2018

SGP v CAM (Pool B) 12 - 2   
IND v HKG (Pool A) 21 - 0   
PAK v MAS (Pool B) 1 - 12   
JPN v KOR (Pool A) 4 - 6    
TPE v BAN (Pool B) 2 - 12   
KOR v IND (Pool A) 5 - 12   
MAS v SGP (Pool B) 7 - 1
TPE v CAM (Pool B) 26 - 0
THA v JPN (Pool A) 0 - 11   
BAN v PAK (Pool B) 3 - 3

Please click here for the latest results and standings

FIH Match Centre


---

2018 Asian YOG Qualifier (W) - Day 3
Bangkok (THA)

Results 27 April

CHN v HKG (Pool A) 15 - 2
MAS v JPN (Pool A) 4 - 3
KOR v SGP (Pool B) 6 - 2
THA v IND (Pool B) 0 - 9

Please click here for the latest results and standings

FIH Match Centre

---

Both Indian teams in the semis of AYOQ in Bangkok

s2h team

India's men's and women's team have entered the semifinals of the ongoing Asian Youth Olympic Qualifier at Queen Sikrit 60th Anniversary Sports Complex in Rangsit, Bangkok.

Both the teams are undefeated in the league.

Indian men will take on Bangladesh, who drew Pakistan 3-3 in their last pool match to make Bangkok memorable. Bangladesh has a Malaysian coach.

While the girls team trained by double Olympian Baljeet Singh Saini, who won Asian Games gold on the same turf, is making waves with good game all through, its men's team that is being the talk of the Asian hockey community assembled there. Captain Vivek Sagar Prasad is leading the team from upfront one great game to other, his all around capabilities are treat to watch.

Indian boys have started the campaign in style defeated the hosts Thailand 25-0, meaning a goal in each minute of play. It was followed by somewhat struggling show against Japan (6-2) where the rivals could contain Indians in the second and third sessions after conceding four unanswered goals in the first ten minutes of play.

India then steamrolled Hong Kong China 21-0 before outpacing their last rival South Korea 12-5. India played these two matches yesterday. That India conceded two goals to Japan and five to Korean will make semifinals and finals a worthy affair.

Anybody who watched the matches will vouchsafe that India's teams are far ahead of other rivals in Bangkok. Extremely fit, and with great bench strength, they are lions among the lambs. A smooth semifinal for both Indian teams are expected.

Girls too have a wonderful outing there. Captain Salima Tete is providing solidity at the back, leaving Mumtaz and Sangita to do the attacking part.

Goalie Bichu Kumari of Manipur is excellent in one to one situation, and saved many a tough times, especially when the Koreans were surging in the last session. India could put out a commanding 10-0 show due to her histrionics under the bar.

Like their male counterparts, the ladies have won all their pool matches, with Sangita Kumari leading the Indian scorer's pack with 12 goals followed by Mumtaz (9 goals). They will take on Malaysia who lost only to China in their pool and thus came second in the pool.

Vivek Prasad and Md. Alishan lead the top of chart with 13 goals each along with a Malaysian forward. Like India, Malaysia too established a heroic show winning all the five matches including 12-2 wash out of traditional tormentor Pakistan.

Both men and women of India are expected to win the title, and the first major challenge they face is today in the semis.

Stick2Hockey.com


---

Men and women in semis

By Jugjet Singh

KUALA LUMPUR: Both the Malaysian men's and women's hockey 5s teams qualified for the semi-finals of the Asian Youth Olympics Qualifier at the Queen Sirikit Stadium in Bangkok, Thailand.

The men beat Pakistan 12-1 and Singapore 7-1 yesterday to top Group B and will square off with South Korea in the last four Saturday.

And the women beat Japan 4-3, and their semifinal opponents are India.

The finalists in Bangkok will qualify for the Youth Olympics in Buenos Aries on Oct 6-18.

While the men were expected to reach the semifinals, the women were a revelation, as they proved themselves beyond their capabilities.

Coach Yahya Atan's angels were 0-2 down, but fought tooth-and-nail to edge Japan. The Malaysian goals were scored by Nor Asfarina Isahyifiqa, Siti Zulaika Hussin (two) and Elizaberth Epui Martin.

Yahya himself was amazed with the fighting spirit of his charges, who never gave up until the final whistle.

"I'm happy beyond words as my team played their hearts out to finish second in the group and qualify for the semi-finals. They showed great commitment and dedication to beat Japan, and seek glory for the nation and their family members," said Yahya.

On India as their semi-finals hurdle: "We are just a step away from the final and I believe if the girls play like they did against Japan and follow my strategy, it will be another wonderful experience for them."

The men's skipper Amirul Hamizan said: "I would like to thank my team mates who gave full commitment in all four group matches and will urge them to give their best again in the remaining two (knock-out) matches."

RESULTS:
Men -- Malaysia 12 Pakistan 1, Malaysia 7 Singapore 1.
Women: Malaysia 4 Japan 3.

Jugjet's World of Field Hockey


---

Malaysia stun Japan to reach semi-finals of qualifier

By Aftar Singh

KUALA LUMPUR: The Malaysian hockey girls upset fancied Japan to reach the semi-finals of the Asian Youth Olympics Games Qualifier.

Coach Yahya Atan's team came back from two goals down to stun 2014 semi-finalists Japan 4-3 in the last Group A match at the Queen Sirikit Stadium in Bangkok yesterday.

Malaysia finished Group A runners-up with nine points from three wins and one defeat while defending champions China topped the group with four wins.

Malaysia face Group B champions India in today's semi-finals while China meet South Korea for a place in the final.

Malaysia, who needed to beat Japan to reach the last four, were trailing 2-0 within the first two minutes through goals from Murakami Saera (1st) and Nishinaga Sora (2nd).

But Malaysia stormed back to score four goals in the space of 15 minutes through Nor Asfarina Isahyifiqa Isahhidun (10th), Siti Zulaika Hussin (16th), Siti Nur Arfah Mohd Nor (22nd) and Elizabeth Epui Anak Martin (25th) to take a 4-2 lead.

Japan narrowed the gap in the 28th minute through Murakami but Malaysia hung on to win.

Yahya praised his girls for their tremendous fighting spirit against Japan.

"They showed commitment and proved that nothing was impossible. They fought hard for every ball to score the goals," said Yahya.

Malaysia are just one game away from qualifying for the Youth Olympics Games in Buenos Aires, Argentina, from Oct 6-18.

The Malaysian boys squad maintained a 100% record in Group B by winning all five matches to top the group.

They thrashed Pakistan 12-1 before outplaying Singapore 7-1 and will face Group A runners-up South Korea today.

Skipper Muhd Amirul Hamizan Azhar said: "We have to play a cautious game as the Koreans never give up until the last second of the match."

The Star of Malaysia


---

Bangladesh end Pakistan hopes to qualify for Youth Olympics

LAHORE -Pakistan's dream to move into the semi-finals of qualifying round of the Youth Olympics Hockey Competition failed to come true when Bangladesh made a grand comeback in the dying stages of the match to stanch a 3-3 draw on Friday at Bangkok, Thailand.

Pakistan were leading 3-1 with just three minutes left but Bangladesh managed to score twice to make it 3-3. Their third goal came in the last minute, said the information made available to APP here. By ensuring a draw, Bangladesh made it to the semi-finals.

After losing 1-12 to Malaysia in the morning, Pakistan needed to beat Bangladesh in their last pool match to qualify for the semi-finals.

From the other pool, India and South Korea have qualified for the semi-finals.

The Nation


---

2018 Oceania Youth Olympic Games Qualifier (M) - Day 3 & 4
Port Moresby (PNG)

Results 27 April 2018

VAN v SOL (RR)     5 - 2
PNG v AUS (RR)     0 - 33

Results 28 April

VAN v PNG (RR)     3 - 2
SOL v AUS (RR)     0 - 10

Final Classification

SOL v PNG (3rd/4th Place)     4 - 3
AUS v VAN (1st/2nd Place)     16 - 0

Final standings

1. Australia - Qualify for Youth Olympics
2. Vanuatu - Qualify for Youth Olympics
3. Solomon Islands
4. Papua New Guinea

FIH Match Centre


---

2018 Oceania Youth Olympic Games Qualifier (W) - Day 3 & 4
Port Moresby (PNG)

Results 27 April 2018

SOL v VAN (RR) 1 - 4
PNG v AUS (RR) 1 - 26

Results 28 April

SOL v PNG (RR) 1 - 3
VAN v AUS (RR) 0 - 21

Final Classification

PNG v SOL (3rd/4th Place) 5 - 1
AUS v VAN (1st/2nd Place) 29 - 0

Final Standings

1. Australia - Qualify for Youth Olympics
2. Vanuatu - Qualify for Youth Olympics
3. Papua New Guinea
4. Solomon Islands

FIH Match Centre


---

Australia and Vanuatu qualify Youth Olympics in hockey



Vanuatu celebrate qualifying at the men's Inter-Continental Hockey 5's title. Photo: Hockey Australia

Australia and Vanuatu have qualified for the Youth Olympics in men's and women's hockey with a day to spare at the Oceania Qualifier in Port Moresby.

The Australian men thumped Papua New Guinea 33-0 on Friday to make it five straight wins, while Vanuatu outclassed Solomon Islands 5-2 to secure their spot in the gold medal match later today.

It was a similar story in the women's competition with Australia maintaining their unbeaten record with a 26-1 romp over hosts PNG and Vanuatu comfortable 4-1 winners against Solomon Islands.

All teams have one final round robin match this morning before the gold and bronze medal matches are held in the afternoon.

But with two Youth Olympics berths on offer in both the men's and women's events, Australia and Vanuatu have already secured their ticket to Buenos Aires in November.



The Vanuatu womens hockey team are heading to the Youth Olympics. Photo: Facebook/Vanuatu Hockey

Radio New Zealand


---

India coach Marijne sacked?

Harpreet Kaur Lamba

India's hockey coach Sjoerd Marijne of the Netherlands has been sacked just six months into the job, if sources are to be believed.

India's disastrous performance at the Commonwealth Games led to an outcry with players reportedly unhappy at the coach's methods, sending Hockey India into action mode. The 43-year-old Marijne thus becomes the 24th coach to be shown the door in the last two decades.

Marijne's absence at the national camp in Bengaluru on the day raised many questions, with news trickling in later in the day that the Dutchman has been "relieved of his duties" and "will not return".

Marijne, when contacted, said all questions should be directed to Hockey India. When asked if he would return to India, he said he had no comment to offer.

Earlier this week, Hockey India officials had held closed-door meetings with seven senior players and also a few former players to take stock of what had gone wrong at Gold Coast.

Another round of meeting is scheduled with high performance director David John and other support staff here on Saturday, with an official announcement set to be made soon.

Said an HI official, "The Gold Coast performance was unsatisfactory and the players too had raised a number of concerns. Be it the coaching methods or team selection, there were many shortcomings.

"With so much money and effort being put into the team, results are expected. Some changes were needed but wait for the final decision."

The development also reflects poorly on Hockey India, who had hired Marijne — who was initially with the women's team — last September. Questions were raised on Marijne's capability of coaching a national team, something he had never done before, besides his credentials to take up such a high-profile job.

At Gold Coast, the coach's inexperience came to the fore as the young team caved under pressure and were troubled even by lower-ranked teams.

The Asian Age


---

End of the road for coach Sjoerd Marijne?

Sreejesh named men's hockey team captain till 2018 World Cup

Uthra Ganesan



Sjoerd Marijne. 

While other sports federations play merry-go-round with their personnel, Hockey India prefers Russian roulette. This time, men's chief coach Sjoerd Marijne appears to be at the receiving end.

If sources are to be believed, a high-powered meeting of Hockey India in New Delhi on Saturday is likely to have serious discussions on continuing with Marijne after the team's disappointing result at the recent Commonwealth Games where India failed to win a medal for the first time since 2010. The federation bosses had met several senior players a couple of days back and sought their views on the team's performance in Gold Coast.

"It was always going to be difficult for Marijne after CWG but this is too quick. The general feeling was that he would be given one final chance at the Champions Trophy," a surprised official admitted. That might still happen, though.

What also seems to be going against Marijne is the players' discomfort with the player-led methods adopted by him. Team sources said players had told both the Dutchman and HI in meetings that it was not working in the Indian system.

The man rumoured to replace him happens to be women's coach Harendra Singh, who was denied this very job seven months back after Roelant Oltmans was sacked. Now, having exceeded expectations with the women's team at CWG, he is said to be the first choice to get the men's team. If that happens, he would be the first Indian in charge of the side since Joaquim Carvalho in 2008.

Hockey India had also announced P.R. Sreejesh as captain till the 2018 World Cup, replacing Manpreet Singh, earlier in the day, in itself a surprising move since the tradition is name the captain only on a tournament basis after team selections.

While everyone is tight-lipped on the development, Marijne himself said he knew nothing but was not sure when he would come to India. "I am supposed to join next week, I am waiting for my visa papers, I don't know when it will come. I don't know anything about this, best you call up Dr. Narinder Batra and ask," Marijne said from the Netherlands. Interestingly Batra, the FIH president, holds no official position in Hockey India.

The Hindu


---

Rani Rampal, PR Sreejesh to lead Indian hockey teams until end of year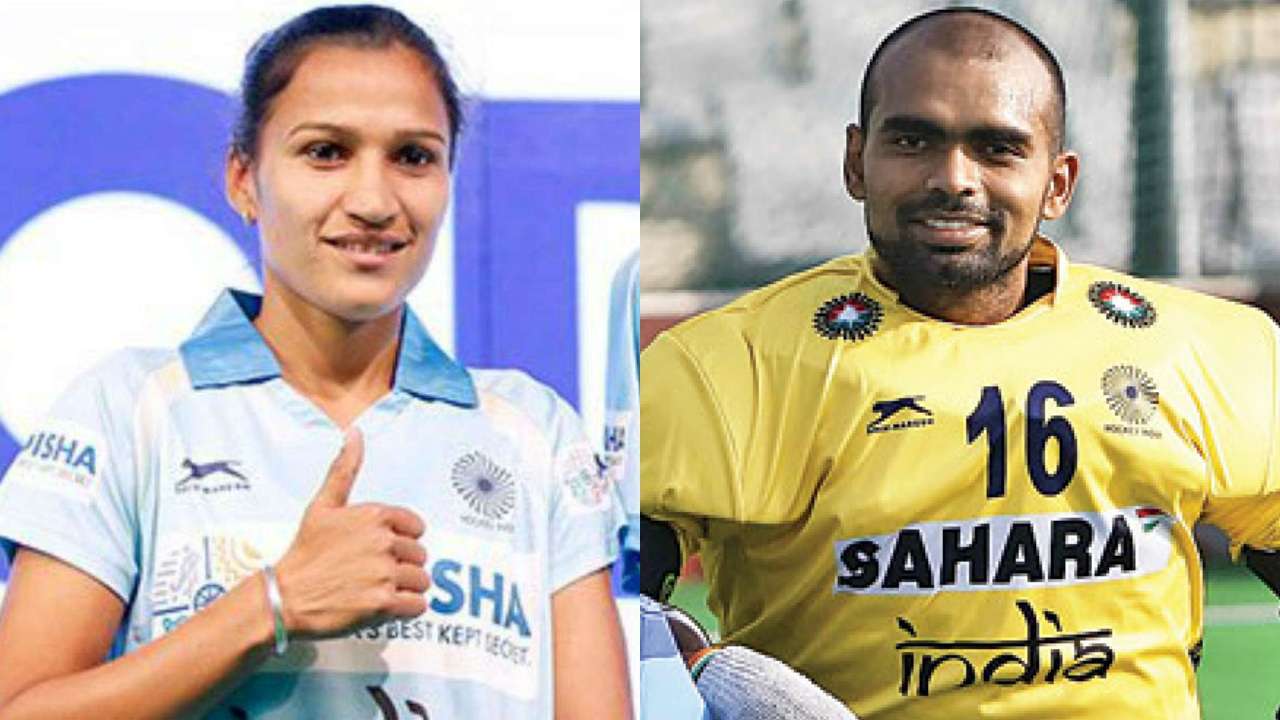 Rani Rampal and PR Sreejesh - File Photo, Twitter

Hockey India on Friday announced PR Sreejesh and Rani Rampal as captains of the senior men's and women's team, respectively, until end of the year.

Sreejesh returns to the leadership role after coming back from an injury break while Rani continues in her position for all the tournaments in 2018 including Hockey Women's World Cup London 2018 slated in July and 18th Asian Games in Jakarta.

Sreejesh was given the captaincy in 2016 for the FIH Champions Trophy where India, under his leadership, won a historic silver medal. He was entrusted the leadership mantle for the Rio Olympics. He also shouldered the responsibility of mentoring the junior men's team as goalkeepers Vikas Dahiya and Krishan Pathak put up excellent performances at the Junior World Cup in 2016 when hosts India won the title.

During the 2017 Sultan Azlan Shah Cup, the experienced goalkeeper tore his anterior cruciate ligament in his right knee. Sreejesh returned to action at the four-nation invitational hockey tournament in New Zealand in January 2018 putting up a strong performance where India finished second.

Rani, meanwhile, stepped up in to the role of captain guiding India to an Asia Cup win. Under her leadership, the team climbed from 12th to the 10th position. Always leading from the front, Rani also led the team to make a semifinal appearance, first in 12 years, at the Gold Coast Commonwealth Games.

"Besides being exceptional players, both Sreejesh and Rani command great respect. The two have led the country with great enthusiasm and we believe using their experience, they will continue to do that in this all-important calendar year where both the team's have important tournaments like World Cup and Asian Games to play in," said Mohd Mushtaque Ahmed, Hockey India's secretary general.

"The idea behind announcing one captain for all events until the end of the year was to bring stability to the core of both the teams."

Daily News & Analysis


---

South African Senior Womens IPT A-Section - Day 1 & 2
Durban

Results 26 April

NW v SGW (Pool A) 7 - 1
FS v EP (Pool B) 2 - 2
SG v KZNM (Pool B) 3 - 1
WP v WPP (Pool B) 5 - 1
NG v SA21G (Pool A) 2 - 0
KZNC v MPU (Pool A) 2 - 0

Results 27 April

FS v KZNM (Pool B)     6 - 2
WP v EP (Pool B)     5 - 1
NW v MPU (Pool A)     5 - 0
SG v WPP (Pool B)     5 - 0
NG v SGW (Pool A)     3 - 0
KZNC v SA21G (Pool A)     4 - 0

Pool Standings
Pool A
Pool B
---

South African Senior Womens IPT B-Section Day 1
Durban

SACDA v KZNR (Pool A)     4 - 2
SACDB v KZNI (Pool A)     2 - 0
NGB v BOR (Pool A)     9 - 0
SGN v SACDA (Pool A)     2 - 1
KZNI v KZNR (Pool A)     1 - 5

Pool Standings
Pool A
---

Polo on brink of title while Spanish playoff places almost confirmed



©: Frank Uijlenbroek/world Sport Pics

Real Club de Polo can take a big step closer to the Spanish Honor Division regular season title this weekend when they take on Club Egara on Saturday.

Their dramatic late winner over Atletic Terrassa last weekend – courtesy of a scrambled Alex Casasayas goal with four minute to go – earned a 1-0 win that ultimately put them 1-0 ahead of the three chasing sides.

With three rounds to go, another victory over one of their nearest rivals would put them on the brink of the title and a likely return to the EHL next season along with Copa del Rey champions Egara.

Second placed Club de Campo lost significant ground with a 4-1 defeat at FC Barcelona. It leaves them sharing second place on 31 points with Junior FC and Egara who shared a close-run 1-1 battle at Sant Cugat.

Both of the goals came in the final quarter of the tie with Sergi Enrique and Marc Recasens sharing the goals. It keeps both sides level on points going into the closing stages of the campaign, nine points clear of Atletic in fifth place.

Should Junior get a result at RS Tenis in Santander, they will break into the playoffs and ensure that the Spanish representation in the EHL next season will change. Atletic need at least one of the three sides above them to lose all of their remaining games to have any chance of reaching the playoffs.

Euro Hockey League media release


---

Scottish title chase goes down to final day between Kelburne and Grange



©: Frank Uijlenbroek/world Sport Pics

The destiny of the Scottish men's first division title will go down to the final weekend with Bromac Kelburne holding a two-point lead at the head of the table.

Kelburne are still in line for their 14th consecutive league title after seeing off Edinburgh University 3-1 at Peffermill last Saturday. The result leaves the Paisley side five points ahead of second placed Grange but with one game more played.

Despite the score line there was little between the teams in terms of possession and pressure, but a hat-trick of penalty corner conversions by Josh Cairns proved to be the catalyst that took the three points to Paisley.

Grange, though, kept their outside chances of the regular season title alive with an 8-2 win over Uddingston and, a day later, their 4-2 win over Hillhead last Sunday in a catch-up fixture reduced the margin to two points.

Although Frank Ryan opened for the Edinburgh side in the second minute, the jitters seemed to take over as it was Hillhead who reached the interval 2-1 ahead.

However, Grange dominated the second half, Luke Cranney equalised with a direct shot at a penalty corner, then James Nairn put Grange 3-2 in front with an open play strike. In the closing stages, Grange keeper Nathan Doherty saved from the spot, then Joe Waterston secured the crucial three points with a fourth goal.

Grange will now hope Uddingston can cause an upset and get a result against Kelburne and then they can take advantage when they play Inverleith later in the day.

Euro Hockey League media release


---

Top and bottom playoff places all up for grabs on final day of Irish EYHL



Alan Sothern has scored a massive 29 goals in the EYHL so far. Pic: Adrian Boehm

The battle for the final EY Champions Trophy place and the division of the relegation playoff and automatic relegation spot are the chief points of interest across the final EY Hockey League weekend of the 2017/18 season.

For the women, Belfast Harlequins midweek 1-1 draw with Pegasus means it's a straight tussle between Railway Union and Loreto for the fourth and final spot in the end of season playoffs.

Railway face the tough trip down to Cork to play second placed Harlequins, going south with a three-point advantage which they will hope to maintain.

Chasing them, Loreto have two games to go, starting off on Saturday against Trinity whom they beat 4-0 a couple of weeks ago before facing third placed Pegasus on Sunday at 3pm in Beaufort.

As such, it is very much game on with both sides having reasonable grounds for hope. Should Railway get the win, they start the weekend with 10 goals in the tank on goal difference but any other result could well unlock the door for Loreto. For their part, they are in great form of late with Sarah Torrans providing a dynamic forward presence.

At the bottom, meanwhile, Pembroke, Trinity and Hermes-Monkstown's chances are all intertwined. Pembroke travel north to face a Belfast Harlequins side who were without 10 panelists on Wednesday – including Jenny McAuley, Claire Kilpatrick and Rhiannon Coulter – but still got the draw with Pegs.

A win ensures their safety; another outcome and they will be looking to their phones to see how the other ties are getting on. Trinity's game to Loreto is a tough one but they showed plenty of fight in Cork last week to suggest they can snatch something.

Hermes-Monkstown face UCD for the second time in the last fortnight and need a win to have any chance of getting off the bottom rung of the ladder. In the first meeting, they kept things tight for the first half and will look to do something similar against the champions with the intention of breaking out from there.

On the men's side, Banbridge came from 1-0 down on Tuesday night to beat Lisnagarvey 2-1 with Owen and Eugene Magee scoring. It lifted them to 26 points and fifth place, above Monkstown on goal difference and one point behind Pembroke.

As such, Pembroke have the box seat when it comes to the race for fourth and they meet a Cork C of I side with not much to play for in terms of the table. Alan Sothern's recent scoring feats have brought his tally up to 29 in the league – almost double the next best of Shane O'Donoghue on 15 – thus far, pretty much assuring him of top spot on that front.

Keith O'Hare has also played a key role in the injured absence of Harry Spain, stepping through from defence. C of I, though, will have plenty of motivation against a side that features eight Munster men and more of whom have come through the Garryduff club's youth system than Pembroke's own.

Bann and Monkstown will hope for a slip-up and then garner wins of their own from away ties at Glenanne and Annadale, respectively.

In the relegation shake-up, anything other than an away win for Railway Union over Lisnagarvey will see the Dubliners relegated. Three points, though, could see them overhaul Cookstown in the relegation playoff place.

The Co Tyrone side conceded 12 times last weekend and face a Three Rock side who have beaten them twice already this term. Cookstown, though, will look to their meeting on the final day of the 2015/16 campaign when they raided Grange Road in a similar situation and they will hope Rovers will take their eye of the game in similar fashion.

Hugely experienced goalkeeper Ian Hughes lined out for Cookstown last weekend and he is included on their team list along with Josh McCabe.

After a long hard provincial season, the promotion series reaches a rapid-fire conclusion in Cork with the winners of each competition promoted while the runners-up will gain a playoff shot.

UCC fly the Munster flag once again on the women's side with the additional boost of home advantage at the Mardyke where they will host a five-team round-robin across Saturday and Sunday.

Top spot earns automatic promotion while second gets a playoff game against the ninth place finisher in the EY Hockey League, making the stakes particularly high.

Denis Pritchard's side meet plenty of familiar faces, meeting wildcard qualifiers Old Alex and Ulster Premier champions Lurgan in this competition for the second successive year.

Muckross – winners in Leinster – provide something of an unknown quantity to the others while NUIG are on this stage for the very first time having landed the Connacht title last week.

Lurgan coach Robbie McMinn will not be in situ as he is part of an Ulster delegation in Rotterdam, upskilling with high quality training from the likes of Dutch netminder Pirmin Blaak.

McMinn reckons UCC, especially on home turf, are the favourites but the key factor will be how their lengthy preparations have gone.

UCC's last competitive match was over a month ago meaning they could well be fresher compared to Alex played a tough qualifier two weeks ago and Lurgan are coming off the back of four games in eight days.

The men's playoffs are a simpler process with semi-finals on Saturday and a final on Sunday at the Mardyke. Bandon face Bangor – the Ulster runners-up – on Saturday at Garryduff in a repeat of their Irish Hockey Trophy semi which the west Cork outfit won 3-2.



Muckross will look to crown an excellent season with EYHL promotion. Pic: Adrian Boehm

If Ali Smith can hit form, it would put them in line for a date with YMCA or Instonians. Inst have the experience, winning this process two years ago with the likes of Stephen Kelso, Chris Kirk and John Watson among many to experience that success.

YM will look to the serious firepower from Ben Campbell and Grant Glutz – combining for over 60 goals this term – and have a strong squad that could well see them prevail.

Finally, there is a Division 1/2 playoff between Weston and Portrane for a possible place in next season's Leinster Division One. It takes place at 2pm in Sutton Park on Saturday.

Men
EY Hockey League (Saturday): Annadale v Monkstown, 3pm, Strathearn School; Glenanne v Banbridge, 3pm, St Andrews; Lisnagarvey v Railway Union, 3pm, Comber Road; Pembroke Wanderers v Cork C of I, 3pm, Serpentine Avenue; Three Rock Rovers v Cookstown, 3pm, Grange Road

EYHL Provincial Play-offs – semi-Finals (Saturday): Bangor v Bandon, 12pm, Garryduff; YMCA v Instonians, 2pm, Garryduff.
Final (Sunday): Bangor/Bandon v YMCA/Instonians, 2pm, The Mardyke

Leinster Division 1/2 playoff: Weston v Portrane, 2pm, Sutton Park School

Women
EY Hockey League
Saturday: Belfast Harlequins v Pembroke Wanderers, 2.30pm, Deramore Park; Cork Harlequins v Railway Union, 2.30pm, Farmers' Cross; Pegasus v Ards, 2.30pm, Queens; Trinity v Loreto, 2.30pm, Santry Avenue; UCD v Hermes-Monkstown, 2.30pm, Belfield, 2.30pm.
Sunday: Loreto v Pegasus, 3pm, Beaufort.

EYHL Provincial Play-offs (all at the Mardyke)
Saturday: Lurgan v UCC, 10.15am; NUIG v Muckross, 11.45am; Old Alexandra v Lurgan, 1.30pm; UCC v NUIG, 3pm; Muckross v Old Alexandra, 4.45pm.

Sunday: NUIG v Lurgan, 9.30am; Muckross v UCC, 11am; Old Alexandra v NUIG, 12.30pm; Lurgan v Muckross, 4pm; UCC v Old Alexandra, 5.30pm.

The Hook


---

Michelsen and Tarrant take top awards



Photo: Karl Periam

Vantage Black Sticks stars Stacey Michelsen and Blair Tarrant have taken supreme honours at the annual Hockey New Zealand awards dinner.

The awards recognised high performance athletes as well as various members of the community for their outstanding contributions to hockey during the 2017 calendar year.

Vantage Black Sticks captain Stacey Michelsen was named Women's Player of the Year while fellow captain Blair Tarrant took out Men's Player of the Year.

Central midfielder Hayden Phillips won Men's Under 21 Player of the Year while Midlands defender Frances Davies accepted Women's Under 21 Player of the Year.

The Players' Player of the Year was selected by other squad members to acknowledge contributions both on and off the turf, with Arun Panchia and Stacey Michelsen taking out the awards.

Along with community awards, the evening was highlighted by the acceptance presentation to Ramesh Patel who was voted in as a Life Member of Hockey New Zealand at last year's AGM.

North Harbour's Merv Huxford was honoured with the Pakistan Trophy to acknowledge his outstanding contribution to hockey.

LIFE MEMBERSHIP
Ramesh Patel

PAKISTAN TROPHY
Merv Huxford

HIGH PERFORMANCE AWARDS
Women's Player of the Year – Stacey Michelsen
Men's Player of the Year – Blair Tarrant
Women's Under 21 Player of the Year – Frances Davies
Men's Under 21 Player of the Year – Hayden Phillips
Women's Players' Player of the Year – Stacey Michelsen
Men's Players' Player of the Year – Arun Panchia

COMMUNITY AWARDS
Administrator of the Year – Lyndal Marshall
Volunteer of the Year – John Turner
Performance Coach of the Year – TBC
Community Coach of the Year – Cathy Baker
Community Umpire of the Year – Anton Paulin
Men's Most Promising Umpire of the Year – Gareth Williams
Women's Most Promising Umpire of the Year – Rachel Murphy
Men's Umpire of the Year – Simon Taylor
Women's Umpire of the Year – Amber Church

BRONZE SERVICE AWARDS
Lindsey Jones

SILVER SERVICE AWARDS
Buck Rogers

GOLD SERVICE AWARDS
Kathy Norman
Natasha Hey
Lee Munt
Gary Wilson
Jannette Wilson
Lorna Johnson
Alex Duley
Gavin Hawke
Colin French

Hockey New Zealand Media release


---

Stacey Michelsen and Blair Tarrant take top honours at Hockey NZ awards



Black Sticks captain Stacey Michelsen celebrates during the Commonwealth Games. PHOTOSPORT

Black Sticks stars Stacey Michelsen and Blair Tarrant took out the top honours at the Hockey New Zealand awards dinner.

Both won their respective player of the year awards on Friday night, while Michelsen was also voted women's players' player of the year. Men's Black Sticks captain Arun Panchia took out the men's players' player award.

The awards covered the 2017 calender year, so Commonwealth Games gold medal winner and closing ceremony flagbearer Michelsen remains a strong chance to do the double again next year given her heroics on the Gold Coast.



Stacey Michelsen was named women's player of the year at the Hockey New Zealand awards. PHOTOSPORT

She captained the women's Black Sticks to their first-ever Commonwealth title when they beat Australia 4-1 in the final.

Tarrant missed the Games due to a back injury, but was honoured for his strong form in 2017.



Blair Tarrant missed the men's Black Sticks Commonwealth Games campaign due to injury, but was honoured for his play in 2017 by Hockey New Zealand. GETTY IMAGES

The other elite awards went to Central midfielder Hayden Phillips for men's under-21 player of the year and Midlands defender Frances Davies for women's under-21 player of the year.

Stuff


---

Hockey final cut short, Punjab win title

Rachna Khaira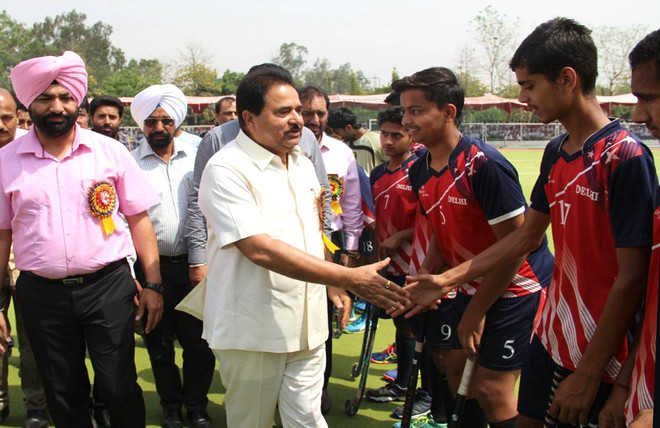 Punjab Education Minister OP Soni greets players after the hockey final was halted at the 63rd National School Games in Jalandhar. Malkiat Singh

The boys category hockey final in the National School Games was interrupted today so that the new Punjab Education Minister, O.P. Soni, could greet the players. Astonishingly, the match was not resumed at all. Punjab beat Delhi 3-0 in the truncated match at Burlton Park here to take the title.

It was around 10:35am and around 15 minutes of play had taken place in the second half. Trailing Punjab by three goals, the Delhi players were trying their best to register their first goal of the match. It was then that an announcement was made from the dais, asking that the match be stopped.

The sudden stoppage confused the players, but then another announcement welcomed Soni to the turf. The sweating, breathless players then formed a queue to shake hands with the minister. After this, the minister was taken to the dais to address the gathering present in the stadium. The minister also extended an apology to the players from the dais, saying that he interrupted the match as he had to depart to attend an important meeting called by Punjab Chief Minister Amarinder Singh at 3pm. A quick presentation ceremony was followed by a cultural show and the minister departed.

No resumption

The match, with roughly 15 minutes left to play, was not resumed at all. The officials announced the match as closed, with Punjab winning 3-0. When this correspondent inquired with Soni about the match being called off before full time, he said he was informed by the officials that the match was over. "I was told that the match was finished and Punjab had won 3-0," said Soni.

However, when this correspondent inquired with the officials present on the dais as to who had informed the minister about the match getting over, no one could give an answer.

When asked as to why the final was stopped abruptly and not resumed, Paramjit Singh, Director Public Instructions (Secondary Education), did not offer a reply. The tournament was held under the aegis of the School Games Federation of India and was offered to Punjab for the first time.

Surprisingly, despite the presence of the Punjab Education Minister, three incumbent MLAs and other dignitaries from the sports fields, Delhi team in-charge, DP Singh, refused to accept the fact that the match was not played for full 60 minutes.

"Two halves were played for 30 minutes each and it was completed," Singh told The Tribune.

The Tribune


---

Sutton Coldfield girls march unbeaten in memorable Midlands run

By The Hockey Paper



The Sutton Coldfield under-10 teams produce a victory jump

Performance of the month must surely go to Sutton Coldfield's under-10 girls who won a brace of local youth Championships.

The Midlands club entered two teams in the under-10 category, with both sides qualifying for the final, a Championship first.

The two budding outfits scored a combined 25 goals, without conceding, while Sutton 1 beat Sutton 2 by 3-0 in the county final.

But that was only the start of more success when the club went to Beeston HC for the Midlands under-10 Championships.

The girls' side won all their group games to top their pool, beat hosts Beeston in a nervy semi-final 1-0 thanks to a goal-line clearance with 10 seconds to go, before beating Repton 2-0 in the final.

The side is overseen with star appeal, with Tim Beeton, husband of Olympian Jane Sixsmith, as lead coach.

Dave O'Brien, who THP featured recently as an inspirational club volunteer, and Ian Randell, chief executive of the European PGA Golf, also work as assistant coaches to Beeton.

"We have continued to train since April 2017 every week, unless weather and holidays have got in the way," O'Brien told THP. "So most weeks the girls have put in nearly five hours of practice a week and it really has paid off.

"Our keeper Phoebe McLeish hasn't conceded a goal all season, perhaps a new Maddie Hinch in the making!"

The Hockey Paper


---

Bulgarian boost for aspiring officials



Bulgaria have been working closely with EHF to boost the development of their officials

In all the furore about promoting hockey to players of all ages and abilities, there is always the risk that one crucial element is neglected – namely ensuring the quantity and quality of umpires that are so necessary to ensure the matches run safely and smoothly.

Bulgaria is one nation that is paying heed to all elements of the game. To this end, the Bulgaria Hockey Federation has teamed up with the European Hockey Federation (EHF) to run a course entitled 'Supporting National Growth, Umpiring, Bulgaria'.

The course, which was run by the EHF, was hosted for umpires from across Southeastern Europe at an indoor competition in SOK Kamchia-Varna, Bulgaria in March this year.

The timing was perfect as the aspiring umpires were able to take inspiration from the action on the pitch. It couldn't get much better as the competition was the Bulgaria National Men's Indoor Hockey Championship Finals, so the best of the best from Bulgaria were showcasing the sport.

The course itself comprised a mixture of active and experienced umpires, as well as a healthy number of young people who were interested in finding out about umpiring. The course came on the back of an exciting Indoor Hockey season across Europe and many of those present on the course had a specific interest in learning more about umpiring the indoor game. In total, there were 10 active umpires and 14 young umpires, aged between 16-18.

There were four parts to the seminar: a theory-based session which looked at specific situations that can occur during competition and problem solving. As is often the case when there is a room full of umpires, this session developed into a lively debate between the course leader, Tomas Holek and the participants.

Holek, who is EHF Education Committee Member and Czech Republic Umpiring Lead, then introduced the course participants to video analysis of previous matches. This was hugely successful as it was able to relate theory to actual situations, which the participants could look at in close detail. This is a powerful tool to help umpires understand context and make the correct decisions. It also helps umpires understand what the video umpires are looking for in review situations.

The third part of the course involved a rules test, which was successfully completed, much to everyone's delight.

Finally, the umpires were split into groups and given tasks related to decision-making and clear feedback on situations that arise during a game.

As the course wound down, Tomas Holek said "I have a really good feeling about the progress of the attendee and hope they enjoyed it as much as I did."

Umpire training is vital to the continued growth in the game, it aligns with the FIH 10-Year Strategy, the Hockey Revolution, particularly when it comes to increasing professionalism within the game.

#GlobalProjects

FIH site


---

Every Club Needs Someone Like Wedderburn's Carlie Turnbull

Alexie Beovich




Throughout National Hockey Week we will be highlighting a number of different people who keep hockey clubs thriving.

Our next worthy nomination for the Pride of Hockey 2018 is Carlie Turnbull who has been heavily involved with Wedderburn Hockey club for the last 14 years.
"Carlie moved to Wedderburn in 2004 and started playing hockey for the Wedderburn Hockey club in 2005.

She played in the mixed competition, has been a member of the men's team and is a current player in the Women's team.

Since arriving at the club, Carlie's dedication to the club has been unmatched, something clearly highlighted by her achievements:

    Runner up club best and fairest in 2010, 2011
    Club best and fairest in 2013
    Recognised as a Hockey Victoria - Hero of Hockey by the club in 2012
    Coached the Underage team to a premiership in 2011 and runner up in 2012
    Played in the Men's premiership team in 2011
    Coached the Under 13s team in 2009 and 2010
    Coached the Under 13 and Men's team in 2013 and 2014
    Coached the Underage team in 2014
    Currently coaching the women's team
    President of the club since 2006 to 2017
    Competent umpire of junior and senior grades

Carlie has taken an active role in all aspects of the club both on and off the field. Outside of playing she regularly attends league, football and recreation reserve meetings on behalf of the Club.

Carlie is an enthusiastic person who encourages everyone in doing their very best and she continually strives to improve her playing skills and knowledge. She also enjoys the social aspect of the game and encourages other people to do the same.

Always contributing to the development of hockey within her community, Carlie regularly attends coaching and facility training opportunities, umpires and plays the sport we all love. Carlie sets the standard for hockey at our club.

Carlie has been willing to take on various roles and duties over a lengthy period of time and is passionate about the sport of Hockey. She is a consistent and reliable worker who encourages all members to take an active part in the club.  

Off the field, Carlie and her husband Clinton run a large farming operation in the district and she is mother to Brodie and Nate."

Congratulations to Carlie and her commitment to hockey, she truly represents the Pride of Hockey.

Hockey Australia media release


---

Indian hospital offers free heart transplant to Pakistan's hockey legend



Fortis Group of Hospitals has offered to register Mansoor Ahmed for the transplant. PHOTO: AFP/FILE

A private hospital in India has offered to perform a free of cost heart transplant surgery to Pakistan's World Cup winning hockey goalkeeper Mansoor Ahmed.

Fortis Group of Hospitals has offered to register him for the transplant less than a week after the 49-year-old legend made an appeal to the Indian government to grant him visa on medical grounds, The Times of India reported.

Ahmed has been a sporting icon in Pakistan since helping the country wins the 1994 World Cup in Sydney with his penalty stroke push against the Netherlands in the final.

"I may have broken a lot of Indian hearts on the field of play by beating India in the Indira Gandhi Cup (1989) and in other events but that was sport … now I need a heart transplant in India and for that I need support from the Indian government," he said in an interview earlier this week.

Pakistan's hockey World Cup winner looking towards India for heart transplant

Ahmed — who played 338 international matches, participated in three Olympics and various other high-profile events in a career spanning from 1986 to 2000 — said the visa could be a lifesaver.

"Humanity is paramount and I too would be obliged if I get a visa and other help in India," said Ahmed.

Ahmed has already made it clear that he was not looking for financial assistance and all he wanted was an Indian visa on medical grounds after his doctor, Choudhry Pervez, advised him to seek treatment in the neighbouring country.

"Once he gets a clearance from the government, we can get an assessment done to confirm whether he is fit enough to travel," Dr S Narayani, zonal director Fortis Mumbai told an Indian media outlet.

Many Indian athletes including hockey greats have shown their support for the Pakistani legend's medical treatment in India. Former India captain V Baskaran was quoted as saying that everyone concerned "needed to act fast".

Ahmed would have brace for a long wait even if he is granted a medical visa, as a heart can be donated to a foreign national only when there are no Indians on the waiting list.

The Express Tribune


---

Ailing Pak hockey legend receives offer of support from Chennai

Krishna Kanta Chakraborty and Pushpa Narayan

CHENNAI: A day after former Pakistan hockey team captain Mansoor Ahmed sought a heart transplant in India, the Chennai Hockey Association volunteered help, and leading surgeons in Chennai confirmed they had been contacted by his doctors.

"Mansoor Ahmed's doctors have sent me his medical records and have asked me to help. We are looking into it," Dr KR Balakrishnan, a senior city-based heart transplant surgeon told TOI on Tuesday. Dr Balakrishnan is currently in Palestine helping local doctors carry out heart procedures on children there.

Ahmed was Pakistan's hockey captain in the 1990s, leading his team to World Cup triumph and Champions Trophy title in 1994. A heart patient for close to a decade, doctors had recommended a transplant for the 49-year-old following complications.

The former Pakistan skipper is being treated at the Jinnah Postgraduate Medical Centre in Karachi by Dr Choudhry Pervez, who has advised him to go for a heart transplant and referred his case to the clinics in the US and India.

If Ahmed's wish is granted, it would still take a lot of waiting. It takes anywhere between four to six months for an overseas patient to get a heart in Chennai. A heart can be given to a foreigner only when there are no Indians on the waiting list. As per the new rules, the hospital carrying out the transplant on a foreigner has to give an undertaking that they are not overlooking any Indian in need of a heart.

It isn't just Chennai's medical fraternity that is extending support to the Pakistani legend. Former India captain V Baskaran, who has personally known Ahmed for years, said he was shocked when he read about his ailment.

"We lost touch over the years. Mansoor was very gutsy under the bar. From the time I got to know about his condition I have been trying to reach out to him through Shahbaz Ahmed, their former captain and current secretary of the Pakistan Hockey Federation," Baskaran, who led India to gold in Moscow Olympics in 1980, told TOI on Tuesday.

Ahmed has made it clear that he doesn't need any kind of financial help, all he wants a visa (on medical grounds) granted by the Indian government. According to Ahmed, chief minister of Punjab Shahbaz Sharif has already allocated $100,000 for his treatment, and his current hospital expenses are being borne by the former Pakistan allrounder Shahid Afridi's foundation.

"It's good that he has received financial support from the Punjab CM and Shahid Afridi. Even without that, we would have managed his expenses here since there are many people who have already expressed their desire to help Mansoor. Now everything depends on how smooth the visa process is. His heath is deteriorating fast and we need to act immediately. I hope Mansoor returns to normal life very soon," Baskaran added.

The Times of India