All the news for Sunday 20 November 2016

Kookaburras win 2 - 1 at Trans Tasman

Hockeyroos defeated 2- 0

Holly MacNeil



Photo courtesy of Planet Hockey

It was a win and a loss for the Kookaburras and the Hockeyroos respectively on day two of the Trans-Tasman Trophy in Auckland, New Zealand, with the Kookaburras and the Black Sticks Men up first.

The Black Sticks pushed hard in the first quarter with something to prove following game one's defeat. They had chances on goal early in the quarter, but were unable to convert the opportunities to goals and the game went into quarter time with no goals on the board.

At minute 17 it was Australia who managed to get on the scoreboard first, with Daniel Beale giving the ball a tap into goal from directly in front of the net after a quick tussle in the circle.

Six minutes into the second quarter and Stephen Jenness went to level the score with a hard flick across the circle but the shot went wide of goal as Tyler Lovell went to defend. New Zealand followed it up with the first chance on a penalty corner for the game but Lovell showcased his skills again, knocking the ball clear of the net.

Black Sticks captain Nick Haig went in for a tackle tripping Josh Pollard and resulting in a penalty stroke chance for the Kookaburras. Chris Bausor took the shot and it flew into the top right of the net, doubling Australia's lead to 2 – nil going into the half time break.

Six minutes into the third, and New Zealand play some skilful hockey with a few excellent passes allowing them to get past the Australian defence including goalkeeper Lovell, as Kim Kingstone scored the Black Sticks first goal of the game.

The Kookaburras made an impressive start in the fourth quarter with the ball immediately down to their scoring circle, however it was the Black Sticks who had the first shot at a penalty corner at minute 52. The ball went wide of the net and the fight to dominate the final quarter was back on.

With a minute and 40 left on the clock, the Kookaburras were up for a penalty corner. Beale injected, Flynn Ogilvie trapped and Bausor went for the flick, but George Enerson knocked the ball clear. New Zealand followed up making a break for it, but Lovell again knocked the ball clear leaving Australia with the 2 – 1 win.

Kookaburras interim head coach Paul Gaudoin said: "We didn't start well today; consistency is something that's important and we weren't quite there at the beginning of the game. New Zealand started strongly and it took us time to get to the level that was needed.

"At the end of the day it was great to get away with the win, even though we did get off to a slow start."

The Hockeyroos were next up against the Black Sticks women and the fight to take control of the match began immediately. New Zealand were the first to be rewarded for their efforts with a chance for a penalty corner seven minutes in, but the shot by Olivia Merry went wide.

The Hockeyroos were up next with their first chance on a penalty corner, but the set play fell just short of converting. After a quarter of scrappy hockey, the first break fell with the score at nil all.

A small error by the Aussies saw the Black Sticks with the ball and within seconds Olivia Merry scored a field goal, sneaking it in past goalkeeper Audrey Smith. Only minutes later and Rachel McCann tackled Kirsten Dwyer brilliantly to steal the ball in the New Zealand circle, flicking it into the net with ease and giving the Black Sticks a 2 – nil lead going into half time.

42 minutes in and the Hockeyroos were up for a chance on a much-needed penalty corner. Brooke Peris injected, Georgia Nanscawen trapped and Anna Flanagan went for the drag flick, but New Zealand keeper Sally Rutherford cleared the ball.

Going into the final quarter, the Hockeyroos were trailing the Black Sticks 2 – nil and needed to fight back. The Black Sticks had more to give, and with four minutes to go they were up for a penalty corner but the delivery went just wide of the net.

Australia fought back with their own penalty corner chance with under two minutes on the clock, but it wasn't to be and the Black Sticks came away with the 2 – nil victory.

Hockeyroos interim head coach Jason Duff said: "We started slowly and New Zealand made some changes in their strategy and press. We got caught turning the ball over in our half consistently and we weren't able to find a pass forward. Eventually that pressure resulted in New Zealand goals in the second quarter.

"We upped our tempo in the second half and we moved the ball better to turn the match around and give ourselves a chance, but we just missed opportunities and that gave away the game. We're going to have to be better tomorrow physically and with our skills to give ourselves a chance at the win."

The Kookaburras and the Hockeyroos will play the final round of the Trans-Tasman Trophy against the Black Sticks Men and Women Sunday at the Lloyd Elsmore Hockey Stadium in Auckland.

Kookaburras v Black Sticks men
KOOKABURRAS 2 (2)
Daniel Beale 17 (FG)
Chris Bausor 25 (PS)

BLACK STICKS MEN 1 (0)
Kim Kingstone 35 (FG) 

Hockeyroos v Black Sticks women
HOCKEYROOS 0 (0)

BLACK STICKS WOMEN 2 (2)
Olivia Merry 24 (FG) 
Rachel McCann 27 (FG)

Trans-Tasman Trophy Fixtures
Sunday 20 November
Kookaburras v Black Stick Men: 11.30am AWST / 2.30pm AEDT - Fox Sports 5
Hockeyroos v Black Stick Women: 1.10pm AWST / 4.10pm AEDT - Fox Sports 5

Kookaburras squad v Black Sticks
Daniel Beale (Brisbane, QLD) 89/16
Robert Bell (Brisbane, QLD) 2/0
Scott Boyde (Brisbane, QLD) 2/0
Ben Craig (Lane Cove, NSW) 2/0
Matthew Dawson (Killarney Valley, NSW) 55/8
Casey Hammond (Bundoora, VIC) 2/0
Jeremy Hayward (Darwin, NT) 62/18
Aaron Kleinschmidt (Melbourne, VIC) 2/1
Tyler Lovell (Perth, WA) 71/0
Trent Mitton (Perth, WA) 96/36
Dylan Wotherspoon (Murwillumbah, NSW) 25/6
Aran Zalewski (Margaret River, WA) 99/14

Used Substitutes
Chris Bausor (Perth, WA) 16/1
Flynn Ogilvie (Wollongong, NSW) 36/12
Josh Pollard (Melbourne, VIC) 2/0
Matthew Willis (Tamworth, NSW) 9/1

Unused Substitutes
Tristan Clemons (Ferndale, WA) 27/0

Hockeyroos' squad v Black Sticks
Murphy Allendorf (Mount Gravatt, QLD) 2/0
Laura Barden (Kew, VIC) 17/4
Edwina Bone (Orange, NSW) *plays for ACT  123/2
Mathilda Carmichael (Willoughby, NSW) 27/1
Jane Claxton (Adelaide, SA) 110/10
Jacqui Day (Mountain Creek, QLD) 3/0
Anna Flanagan (Canberra, ACT) 168/34
Gabrielle Nance (Kingscliff, NSW) *plays for SA 44/2
Georgia Nanscawen (Melbourne, VIC) 184/36
Kathryn Slattery (South Stirling, WA) 64/23
Ashlee Wells (Morwell, VIC) 79/0

Used Subsitutes
Kalindi Commerford (Canberra, ACT) 2/1
Kirstin Dwyer (Mackay, QLD) 116/2
Ashlea Fey (Sunshine Coast, QLD) 2/1
Jordyn Holzberger (Yamanto, QLD) 35/3
Georgina Morgan (Armidale, NSW) 54/11
Brooke Peris (Darwin, NT) 103/13
Audrey Smith (Brisbane, QLD) 8/1

Hockey Australia media release


---

Stunning turnaround from Black Sticks Women



Photo: www.photosport.nz

The Black Sticks Women put together a terrific performance to down the Hockeyroos 2-0 in game two at the Ford Trans-Tasman Trophy in Auckland.

Following Thursday night's heavy 6-0 loss to the same side, the Kiwis reversed their fortunes and executed a superior game plan particularly on defence.

An excellent second quarter saw the Black Sticks race out to a two goal lead, which proved enough to seal the result and keep the battle for the overall series trophy alive.

Striker Olivia Merry opened the scoring in the 24th minute when she hit home following a silky pass from Kirsten Pearce.

Fellow Cantabrian Rachel McCann then doubled the lead just three minutes later when she smashed a reverse stick shot into the back of the goal.

Head coach Mark Hager said the pain of game one helped spark a resurgence in the group.

"The embarrassment from the other night I think was enough to turn it around for us. We were more aggressive and put pressure on their back four which set us up nicely in the first half," he said.

"We know we were better than that and thankfully we rebounded and showed that tonight, so we need to come out again tomorrow and play well to make sure we stay on the right track."

Earlier, the Black Sticks Men were narrowly defeated 2-1 by the Kookaburras in what was a high quality contest from start to finish.

World number one Australia opened the scoring in the 17th minute when Daniel Beale ran across the face and slipped a ball past goalkeeper George Enersen.

Five minutes out from halftime the Kookaburras extended their advantage to two goals after being awarded a penalty stroke for a judged obstruction in the circle, which Chris Bausor flicked into the roof of the net.

The Black Sticks struck back soon after halftime with impressive young striker Kim Kingstone slotting a fine finish on a great pass across goal from Jacob Smith.

New Zealand fought hard to find an equaliser throughout the remainder of the second half but Australia's defence held firm.

Head coach Colin Batch said while another loss was disappointing, his side made a big improvement from game one on Thursday.

"I think we put in a much better performance than game one. They were chasing us more and the added value of that was we created a lot more chances," he said.

"The new players have coped well and I think by in large have shown they can foot it at this level and are playing with confidence.

"We're coming for a win tomorrow there's no doubt about it. We've shown some progress and we want to carry that over into game three for sure."

Teams are back in action Sunday with the Black Sticks Men up against the Kookaburras at 4:30pm before the Black Sticks Women take on the Hockeyroos at 6:10pm. Both games will be broadcast live on SKY Sport.

The Ford Trans-Tasman Trophy is proudly supported by Ford, Polytan, Qantas, Educare, Trillian Trust and NZCT.

BLACK STICKS WOMEN 2: (Olivia Merry, Rachel McCann)
HOCKEYROOS 0
Halftime: Black Sticks 2-0

BLACK STICKS MEN 1: (Kim Kingstone)
KOOKABURRAS 2: (Daniel Beale, Chris Bausor)
Halftime: Kookaburras 2-0

Hockey New Zealand Media release


---

Hockey women win in huge form reversal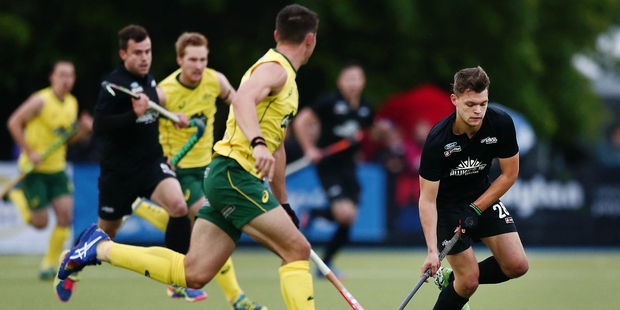 Dominic Newman charges ahead against Australia last night. Photo / phorosport.nz

The New Zealand women's hockey team staged a remarkable turnaround in fortunes, beating their Australian counterparts 2-0 in Auckland last night.

The result came two days after a 6-0 hammering by the Aussies.

Mark Hager's side led 2-0 at halftime on the back of a more aggressive approach and, despite coming under pressure in the second spell, deserved their victory. It was their fourth win over Australia in seven games this year.

Olivia Merry opened the scoring with Rachel McCann adding a second when she capitalised on a mistake in the Australian defence. The two sides meet again today in their third and final test.

"It was the embarrassment of how we played [the other night]," Hager said of the turnaournd. "I thought we were soft as the other night. We capitulated.

"I told them to get in there and give it a crack. It will be tough tomorrow but I would like to think we can do it. That's the mark of a good player, to do it again."

The New Zealand men's team couldn't turn things around in their series with Australia, going down 2-1 last night. It meant Australia claimed the inaugural Trans-Tasman Trophy series.

The world No 1 Australians prevailed in the opening match 4-2 after being 2-1 down against the eighth-ranked New Zealanders, who are debuting eight players this series. Several hundreds caps of experience are absent including Simon Child, Shea McAleese, Ryan Archibald, Hugo Inglis and Blair Hilton. Injuries, post-Rio Olympic breaks and European playing commitments have taken their toll.

Two second-quarter goals helped the Kookaburras sew up the match, with striker Daniel Beale glancing the ball into the net beyond goalkeeper George Enersen's desperate lunges.

That was followed by defender Chris Bausor stepping up five minutes before halftime to drill a regulation penalty stroke as rain fell on the hockey faithful at Pakuranga's Lloyd Elsmore Stadium.

The goals came after New Zealand earned the first penalty corner of the match. A Cory Bennett drag flick, which was headed for the top left-hand corner, was tipped over the goal via lightning reactions from custodian Tyler Lovell.

The hosts responded in the third quarter with some masterful weaving between defenders and threading of the ball to reduce the deficit to one goal through Kim Kingstone, who was playing his second test.

A penalty corner with nine minutes to go gave the Black Sticks a chance to equalise but captain Nick Haig's shot shaved the right of the goal mouth. A similar chance was squandered in the final minute of the third quarter.

The New Zealand Herald


---

Black Sticks women bounce back to set up series decider against Australia



Rachel McCann helped New Zealand to a memorable win over Australia with a stunning goal in the second quarter. HEATH JOHNSON/PHOTOSPORT

The Black Sticks women have produced a remarkable turn around by stunning Australia in the second test to square the trans-Tasman series in Auckland.

Two days after being thumped 6-0 by the Hockeyroos, goals from Olivia Merry and Rachel McCann handed New Zealand a 2-0 victory to set up a series decider on Sunday.

It was a different story for the Kiwi men's team, however, who went down 2-1 to the Kookaburras to concede the series with a game to spare.



Daniel Beale opened the scoring for Australia in the second test against New Zealand. GETTY IMAGES

The Black Sticks women resembled a completely different team to the one that was embarrassed in the series opener on Thursday.

They made all of the running in the opening 15 minutes and had the visitors under the pump on several occasions, only to be denied by some composed Australian defence.

The crucial moment in the match came midway through the second quarter when Australia lost a player to the sin bin. And the Black Sticks didn't waste any time in making them pay, not once but twice.

Olivia Merry latched on to a great ball by Kirsten Pearce in the 24th-minute to break the deadlock before Rachel McCann produced a stunning individual effort, dispossessing Kirstin Dwyer and finding the net with a powerful finish.

The third quarter was where the Kiwis fell apart on Thursday, conceding four goals, so the jury was well and truly out as to whether they could go the distance.

They were given a leg-up by the Hockeyroos' ill-discipline, who remained a player down at the start of the second half after Jacqui Day received the team's second yellow card.

New Zealand failed to add to the score on this occasion but, equally as important, their goal remained intact heading into the fourth quarter.

And it remained that way as they confidently closed out the contest to seal a memorable result.

In the earlier game, the young Black Sticks men's team took the fight to Australia but their experience showed through in the end as the world's top-ranked side held on for a gritty result.

Despite the wet conditions at Lloyd Elsmore Stadium, it was an open first first quarter, albeit one with few genuine scoring opportunities at both ends of the field.

The Black Sticks did well to survive until the break after losing a player to the sin bin. However, all that hard work was undone just two minutes into the second period when Daniel Beale capitalised on some sloppy defence to open the scoring for Australia.

The visitors then doubled their lead five minutes from the break when the Kiwis committed a foul inside the circle and Chris Bausor calmly converted the penalty stroke.

If the Black Sticks were going to get back into the game it was imperative they be the next to score. And that is exactly what happened five minutes into the second half.

A beautiful interchange of passing caught Aussie keeper Tyler Lovell out of position and Kim Kingstone fired home to reduce the deficit.

While let down by some poor finishing, New Zealand finished the third quarter with all the momentum as they laid siege to Australia's goal in the final few minutes.

They certainly had their chances to equalise in the final period but Australia always had an answer and head into Sunday's third test with the series safely in the bag.

AT A GLANCE

WOMEN

New Zealand 2 (Olivia Merry, Rachel McCann) Australia 0. Q1: 0-0. Q2: 2-0. Q3: 2-0.

MEN

Australia 2 (Daniel Beale, Chris Bausor) New Zealand 1 (Kim Kingstone). Q1: 0-0. Q2: 2-0. Q3: 2-1.

Stuff


---

Australia win Trans-Tasman Trophy despite double defeat on day 3

Holly MacNeil




It was the decider of the Trans-Tasman Trophy at the Lloyd Elsmore Hockey Stadium in Auckland today with Australia taking out the inaugural Trans-Tasman Trophy, even although they suffered a double defeat by the Black Sticks on the final day of competition.

The Kookaburras were again up first against the Black Sticks men, and within minutes Stephen Jenness knocked one in past Australian goalkeeper Tristan Clemons giving the Black Sticks a much-needed boost and an early lead.

Right on the quarter time buzzer and the Kookaburras were up for a penalty corner opportunity, however the flick from Jeremy Hayward was deflected wide by goalkeeper Richard Joyce.

The Black Sticks were up for a penalty corner first in the second term, and after New Zealand managed a couple of cracks at goal, Kookaburras goalkeeper Tristan Clemons deflected the ball away from goal.

Australia came back towards the end of the quarter, but they couldn't quite lift to convert any goals. Scott Boyde had a chance right on the half time buzzer but the New Zealand goalkeeper deflected the ball and Boyde suffered a knock to the head in the process.

Coming back from half time and the Kookaburras gave it their all taking more control of the game, but they still struggled to convert opportunity to goal. The Black Sticks didn't have as many opportunities in the third quarter but they maintained their lead over the Australians.

Minutes into the final quarter and Sam Lane scored a cracker of a field goal, with a reverse shot sneaking in past Tristan Clemons. Australia were back on it straight away with a penalty corner from Jeremy Hayward flicking into goal.

With just over four minutes to go, the Kookaburras replaced goalkeeper Clemons with an extra field player in Jeremy Hayward to give themselves as much of a chance as possible. It wasn't to be and New Zealand beat the Kookaburras on home soil for the first time in almost 50 years.

Kookaburras interim head coach Paul Gaudoin said: "Look we started slowly again when we really needed to put it to the New Zealanders. The Black Sticks started strongly again, but we managed to get back into the match and we did have had a lot of chances.

"We need to improve our penalty corner conversions for the Melbourne tournament, but this has been a great opportunity to expose some new players to the rigors of international competition."

The Hockeyroos next took on the Black Sticks women in the deciding match of the series, with each team already having had a win in the competition.

Just three minutes in to the game, and Kirsten Pearce scored a cracker for the Black Sticks, giving them an early lead over the Hockeyroos and mirroring the Black Sticks v Kookaburras game from earlier in the day.

With 15 seconds to go in the first quarter, the Hockeyroos were up for a penalty corner. Gabi Nance injected, Georgia Nanscawen trapped and Anna Flanagan went for the drag flick, but it was knocked clear by Black Sticks goalkeeper Amelia Gibson.

Four minutes into the second quarter and a pass across the circle landed directly in front of the New Zealand net, with Sam Harrison taking a spectacular dive to knock the ball into goal and extend the Black Sticks lead.

Two minutes into the second half and Georgie Morgan got Australia onto the board with a slick drag flick on a penalty corner flying straight into the top of the net. The Black Sticks fought back and within a minute were up for a penalty corner themselves, however it was saved by Australian goalkeeper, Ashlee Wells.

New Zealand were awarded a penalty stroke chance at 48 minutes into the game, but Audrey Smith in goal easily saved the shot by Natasha Fitzsimons. The Black Sticks were not happy about it and came back to score immediately, with Sam Harrison passing the ball across the circle to Olivia Merry who tapped the ball in over Smith.

After a tussle in the circle with the ball going back and forth between the Australian attack and New Zealand defence, Brooke Peris scored a goal for Australia from a deflection to bring the Hockeyroos back into contention. With only six minutes to go in the game both teams rallied, but the game came to an end with New Zealand defeating Australia 3 -2.

Hockeyroos interim head coach Jason Duff said: "All round I'm not unhappy with the way the girls went in the competition today. The way we really need to move forward, is to look at how we go about scoring goals, we've been a bit cavalier about how we go scoring goals when we need to be pressing. We need to fight for our goals, and the second in the match was one of those that we fought for.

"We moved the ball around well from the start, we were pushing and we out pressure on the Black Sticks. We had momentum, and even at 2 - nil we were going OK, but you can't let a team get that score and then try to chase them down.

"We need to re-group from here, look at some footage, and go into the International Festival of Hockey in Melbourne next week looking to win"

The Hockeyroos and Kookaburras will now head to Melbourne to take part in the International Festival of Hockey beginning on Wednesday.

KOOKABURRAS 1 (0)
Jeremy Hayward 49 (PC)

BLACK STICKS MEN 2 (1)
Stephen Jenness 3 (FG) 
Sam Lane 48 (FG)

HOCKEYROOS 2 (0)
Georgie Morgan 32 (PC)
Brooke Peris 54 (FG)

BLACK STICKS WOMEN 3 (2)
Kirsten Pearce 3 (FG) 
Sam Harrison 19 (FG)
Olivia Merry 48 (FG)

Kookaburras squad v Black Sticks
Chris Bausor (Perth, WA) 17/1
Robert Bell (Brisbane, QLD) 3/0
Scott Boyde (Brisbane, QLD) 3/0
Tristan Clemons (Ferndale, WA) 28/0
Ben Craig (Lane Cove, NSW) 3/0
Jeremy Hayward (Darwin, NT) 63/19
Trent Mitton (Perth, WA) 97/36
Flynn Ogilvie (Wollongong, NSW) 37/12
Josh Pollard (Melbourne, VIC) 3/0
Matthew Willis (Tamworth, NSW) 10/1
Aran Zalewski (Margaret River, WA) 100/14

Used Substitutes
Daniel Beale (Brisbane, QLD) 90/16
Matthew Dawson (Killarney Valley, NSW) 56/8
Casey Hammond (Bundoora, VIC) 3/0
Aaron Kleinschmidt (Melbourne, VIC) 3/1
Dylan Wotherspoon (Murwillumbah, NSW) 26/6

Unused Substitutes
Tyler Lovell (Perth, WA) 71/0

Hockeyroos' squad v Black Sticks
Murphy Allendorf (Mount Gravatt, QLD) 3/0
Edwina Bone (Orange, NSW) *plays for ACT  124/2
Kalindi Commerford (Canberra, ACT) 3/1
Jacqui Day (Mountain Creek, QLD) 4/0
Kirstin Dwyer (Mackay, QLD) 117/2
Ashlea Fey (Sunshine Coast, QLD) 3/1
Jordyn Holzberger (Yamanto, QLD) 36/3
Georgina Morgan (Armidale, NSW) 55/12
Brooke Peris (Darwin, NT) 104/14
Kathryn Slattery (South Stirling, WA) 65/23
Ashlee Wells (Morwell, VIC) 80/0

Used Subsitutes
Laura Barden (Kew, VIC) 18/4
Mathilda Carmichael (Willoughby, NSW) 28/1
Jane Claxton (Adelaide, SA) 111/10
Anna Flanagan (Canberra, ACT) 169/34
Gabrielle Nance (Kingscliff, NSW) *plays for SA 45/2
Georgia Nanscawen (Melbourne, VIC) 185/36
Audrey Smith (Brisbane, QLD) 9/1

International Festival of Hockey Fixtures
Wednesday 23 November
Malaysia v New Zealand Men: 1pm AWST / 4pm AEDT
Hockeyroos v India: 3pm AWST / 6pm AEDT
Kookaburras v India: 5pm AWST / 8pm AEDT

Thursday 24 November
India v Malaysia Men: 3pm AWST / 6pm AEDT
Kookaburras v New Zealand: 5pm AWST / 8pm AEDT

Friday 25 November
Hockeyroos v India: 4pm AWST / 7pm AEDT

Saturday 26 November
Kookaburras v Malaysia: 12pm AWST / 3pm AEDT
India v New Zealand Men: 2pm AWST / 5pm AEDT 

Sunday 27 November
FINALS SESSION
Hockeyroos v India: 11am AWST / 2pm AEDT
Men's 3rd v Men's 4th: 1pm AWST / 4pm AEDT
Men's 1st v Men's 2nd: 3.30pm AWST / 6.30pm AEDT

Hockey Australia media release


---

Black Sticks Men break drought at home



Photo: www.photosport.nz

The Black Sticks Men have powered to their first win against the Kookaburras on home soil since 1967 in this evening's 2-1 victory at the Ford Trans-Tasman Trophy.

The Kiwis played an up tempo match against world number one Australia and scored a goal in each half which proved enough to seal the result.

It was a fast start from the Black Sticks Men who lit up the scoreboard after just three minutes when Stephen Jenness finished nicely from in front of goal.

Canterbury's Sam Lane then doubled the advantage in the 48th minute when he delivered a crushing reverse stick shot which beat the keeper.

Australia pulled one back soon after with a penalty corner flick from Jeremy Hayward but the Black Sticks defence held tough as time expired.

Head coach Colin Batch said the progression across the three games has been very pleasing.

"We have had three pretty consistent games, there were patches we didn't play well in first two games but today we got in front early and did well to hold on," he said.

"It's been a good development experience for the guys and it's great to see a lot of young exciting kids coming through who are happy to front the challenge and are playing with no fear."

The Black Sticks Women made it a winning night for New Zealand following up with a 3-2 result over the Hockeyroos.

Striker Kirsten Pearce sparked the crowd with a goal in the first five minutes before Samantha Harrison pulled the Kiwis out to a two goal buffer early in the second quarter.

Australia lifted coming out of the halftime break and pulled one back with 32nd minute penalty corner from Georgie Morgan.

Olivia Merry earned the Black Sticks back a two goal buffer early in the fourth quarter after a diving effort on a nice pass across goal.

The Hockeyroos kept themselves in the game following a Brooke Peris field goal but the Kiwis refused to concede any further goals.

It was an evening to remember for Northland's Samantha Polovnikoff who made her Black Sticks debut during the match.

Head coach Mark Hager said it was a positive way to end the series.

"That first game we hadn't had much game time and came in thinking it was probably going to be a bit slower, and Aussie gave us a lesson. Unfortunately that 6-0 loss probably cost New Zealand the Trans-Tasman Trophy, but to lose by that margin in the first game and be able to bounce back is pretty pleasing," he said.

"The series as a whole has been perfect for us. We would have liked to have had our best players, but in one way you find out about others because you are forced to play them and they get an opportunity. From my point of view it's answered some questions about players I'm looking at for next year.

"I thought tonight was a scrappy affair, but we hung in there scored some good goals. We found out about a few players and it's pleasing, they've kept themselves in the selection frame for the future."

The Ford Trans-Tasman Trophy concludes with New Zealand and Australia taking away three goals each while the Kookaburras and Hockeyroos take the silverware home thanks to a superior goals scored for record.

With the inaugural event done and dusted, Hockey Australia are set to host the Trans-Tasman Trophy in Canberra next year.

The Ford Trans-Tasman Trophy is proudly supported by Ford, Polytan, Qantas, Educare, Trillian Trust and NZCT.

BLACK STICKS WOMEN 3: (Kirsten Pearce, Sam Harrison, Olivia Merry)
HOCKEYROOS 2: (Georgie Morgan, Brooke Peris)
Halftime: Black Sticks 2-0

BLACK STICKS MEN 2: (Stephen Jenness, Sam Lane)
KOOKABURRAS 1: (Jeremy Hayward)
Halftime: Black Sticks 1-0

Hockey New Zealand Media release


---

Black Sticks claim historic win over Australia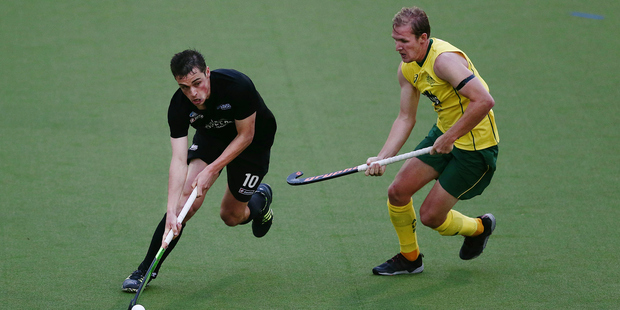 The Black Sticks have claimed their first win on Australian soil in more than 50 years. Photo / Photosport

The Black Sticks have battled to their first home win over Australia in nearly 50 years with a 2-1 victory in the third and final trans-Tasman men's hockey in Auckland.

The Kookaburras won the first two Tests 4-2 and 2-1 to secure a 2-1 series win, but the young Black Sticks team showed plenty of fight to record their first win over Australia on New Zealand soil since 1967.

The Kiwis showed good strength on the ball early on, and were able to build pressure right through the opening quarter.

They used the width of the field well, with Stephen Jenness and Leo Mitai-Wells combining well in creating a couple of sharp chances.

It took only three minutes for the Kiwis to open their account, Jenness guiding the deflection home for his second goal of the series and his 61st in the black shirt.

Australia's timing through the midfield was off, and they struggled to get in behind the Kiwi defence, but they slowly worked their way back into the match through the second quarter.

Striker Trent Mitton's pace and creativity continued to trouble the New Zealand defence, and his combination with Josh Pollard came close to securing the equaliser five minutes into the third quarter.

Strong defensive midfield pressure continued to generate turnover ball for the Australians into the final 15 minutes but it was the Kiwis who found the net two minutes into the last quarter.

Harry Miskimmin fired a searching ball from out wide into the circle, finding Sam Lane momentarily unmarked and the 19-year-old striker slammed home a powerful reverse shot to double New Zealand's lead.

It took barely a minute for the Kookaburras to reduce the deficit, Jeremy Hayward finally finding the mark with a stinging drag-flick from yet another penalty corner.

The final five minutes were a hectic blur for the Kiwis as Australia pulled their keeper in favour of an extra man up front, pressuring without success right to the final whistle.

The New Zealand Herald


---

New Zealand men's and women's hockey team both claim Australian scalps

Logan Savory



Black Sticks women's player Jordan Grant in action against Australia. Photosport

The Black Sticks women's team has capped off a golden day for New Zealand hockey in Auckland.

The New Zealand women's team has beaten Australia to clinch a 2-1 Trans Tasman Trophy series win.

It is an impressive comeback considering they lost the opening game of the series 6-0.



Black Sticks women's hockey player Samantha Harrison celebrates with teammate Felicity Reidy after scoring a goal against Australia. Photosport

The 3-2 win in the third test followed a famous New Zealand men's victory earlier in the day.



Goal Keeper Richard Joyce and David Brydon of New Zealand defend against Dylan Wotherspoon of Australia in front of the goal. PHOTOSPORT

It was the men's team's first win on home soil over Australia since 1967.

The win came in the third and final test against Australia in the  Trans Tasman  Trophy showdown at the Lloyd Elsmore Hockey Stadium.

In the women's game Kirsten Pearce scored for New Zealand after just three minutes and then in the 19th minute Sam Harrison showed an impressive level of commitment and skill to make it 2-0.



New Zealand hockey player Stephen Jenness celebrates with teammate Nick Haig after scoring a goal. PHOTOSPORT

From a pass across the face of the goal Harrison dived head first and nudged the ball in to score.

Australia grabbed a goal back in the third quarter through Georgina Morgan and continued to control the ball well and press forward.

New Zealand did have an ideal opportunity to go two clear early in the final quarter when Natasha Fitzsimons had a penalty stroke which was blocked.

However, minutes later Olivia Merry scored to push it out to 3-1 with 12 minutes to play.

With six minutes to play Brooke Peris returned the margin to one again when she scored setting up another exciting finale. 

Australia continued to attack but came up short with New Zealand winning 3-2.

In the men's test, Australia had already wrapped up the series at 2-0 heading into the game but New Zealand still had pride to play for and also the chance to break a 49-year drought.

It took just three minutes for the New Zealand men's team to open the scoring.

It was Stephen Jenness who hit the goal and it came via a nice pass from Leo  Mitai -Wells.

He sent the ball into the circle and found Jenness right in front of the goal.

For the remainder of the  half  Australia created plenty of opportunities but the New Zealand  defence  remained tight with Richard Joyce leading the way in front of the goal.

The third quarter took a similar path but again the score remained 1-0 heading into the final period of play.

Just minutes into the last quarter Sam Lane scored for New Zealand.

It was the Timaru teenager's first goal for the Black Sticks and what a time for him to strike.

New Zealand had found themselves in a comfortable position at 2-0 up.

However, that comfort only lasted minutes as Jeremy Haywood responded for Australia to make it 2-1 and set up a tense final 10 minutes of play.

Australia threw plenty at New Zealand in the final stages, which included taking out their goalkeeper and sending another player forward.

An Australian leveler felt inevitable but it didn't come as a gutsy New Zealand team hung on for victory.

It will be a confidence boosting win for the young team as they look to build for the future.

Not surprisingly captain Nick Haig was delighted for what is largely a young group of players.

"I'm really stoked for how the boys went. I'm really proud of the boys."

The team has improved throughout the series which was encouraging, Haig said.

"After the first game the boys  realised  they could match it with them, and then there has been a lot of learnings. So watching the video and understanding what we can do better and  putting  it out in action on the field."

The overall Trans Tasman series for both men and women was locked up at three wins apiece, but it was Australia who won on goals, set up by their women's 6-0 win in the first test.

Hockey New Zealand and Hockey Australia have agreed to run annual Trans Tasman Trophy event for the next four years.

The series will alternate between countries with New Zealand hosting in 2016 and 2018 and Canberra set as the venue for 2017 and 2019.

At a glance

(Women)

New Zealand 3 (Kirsten Pearce, Sam Harrison, Olivia Merry), Australia 2 (Georgina Morgan, Brooke Peris)

1stQ: 1-0, HT: 2-0, 3rdQ: 2-1.

(Men)

​New Zealand 2 (Stephen Jenness, Sam Lane), Australia 1 (Jeremy Haywood).

1stQ: 1-0, HT 1-0, 3rdQ 1-0.

Stuff


---

Watton hat-trick as Holcombe win again



Surbiton's Rebecca Middleton in action against Clifton Robinson's Joie Leigh. Credit: Peter Smith.

Ellie Watton hit a hat-trick in the first half as Holcombe kept up the pressure on leaders Surbiton with a 3-1 win over the University of Birmingham in the Investec Women's Hockey League Premier Division.

The 3-1 home win leaves Holcombe just three points behind table-topping Surbiton, who secured a 2-1 win at Clifton Robinsons.

Holcombe captain Steph Elliott missed a penalty stroke in only the second minute but Watton opened the scoring just six minutes later, tucking away from a penalty corner.

She then doubled her side's lead in the 20th minute before completing her treble in the 30th. Amy Costello hit a consolation for Birmingham after the break.

Surbiton preserved their unbeaten run with a 2-1 win at Clifton Robinsons.

Sarah Page got the visitors off to a good start with a third minute opener. Laura Bridge levelled for the hosts on 24 minutes, but Giselle Ansley hit what proved to be the winner two minutes later.

East Grinstead drop to third after being held to a 2-2 draw at Leicester.

They had to come from behind to earn the point after Holly Payne and Elizabeth Honarmand had put Leicester two up at the break.

Second half goals from Bridget Blackwood and Zoe Burrell earned East Grinstead a share of the spoils.

Canterbury picked up their third win of the season with a 2-1 victory over Bowdon Hightown. Eliza Brett and Tinesha Carey put Canterbury 2-0 up before Nat Wray hit what proved to be a consolation for the visitors.

Investec Women's Conference East

West Herts picked up their first win of the season in the Investec Conference East with a 3-1 defeat of fellow strugglers Northampton Saints.

Goals from Rebecca Perry, Jenny Morris and Helen Humphrey saw them secure what could turn out to be a vital three points.

Cathy Gilliat-Smith and Jess Denniff both scored their seventh goals of the campaign as Sevenoaks won 2-0 against Southgate to stay top.

Meanwhile, Wimbledon kept up the pressure beating Harleston Magpies 2-1 with goals coming from Laura Bevan and Nicola Lloyd either side of the break.

Cressida Grant scored two second half goals to see Hampstead and Westminster to a 2-1 win over Cambridge City whilst St Albans beat Chelmsford by the same margin.

Investec Women's Conference North

Brooklands Poynton remain top of the Investec Conference North after beating bottom of the table Belper 3-0.

Belper held their own for the first half but were undone in the second half when Helen Turner, Jess Bestall and Ellen Lockhart all converted penalty corners to claim the points.

Beeston are just two points behind Brooklands in the table as they also won 3-0 in their game at Wakefield, with Sophie Robinson hitting all three goals.

Two other teams in the Conference North also recorded 3-0 victories, with Ben Rhydding putting three past Liverpool Sefton and the University of Durham doing the same against Timperley.

Elsewhere, a Vicky Woolford goal nine minutes from time handed Sutton Coldfield a 3-2 win over Loughborough Students.

Investec Women's Conference West

It's tight at the top of the Investec Conference West where Stourport remain top of the table on goal difference.

Lora Symonds was the star of the show as she bagged a hat trick in their 3-1 victory at Exe.

But Buckingham are breathing down their necks – they are level on points and just two goals behind them after a comfortable 4-0 win over Trojans.

Olton and West Warwicks are in third just one point behind the leaders. They had to survive a Gloucester City fightback but held on for a 4-3 victory.

Swansea City beat Oxford Hawks 2-1 and Bristol Firebrands drew for the third successive game, this time 1-1 at home to Isca.

Investec Women's Hockey League (Saturday, November 19, 2016):

Investec Women's Premier Division: Holcombe 3, University of Birmingham 1; Clifton Robinsons 1, Surbiton 2; Canterbury 2, Bowdon Hightown 1; Leicester 2, East Grinstead 2.

Investec Women's Conference East: St Albans 2, Chelmsford 1; Hampstead and Westminster 2, Cambridge City 1; West Herts 3, Northampton Saints 1; Wimbledon 2, Harleston Magpies 1; Sevenoaks 2, Southgate 0.

Investec Women's Conference North: University of Durham 3, Timperley 0; Loughborough Students 2, Sutton Coldfield 3; Liverpool Sefton 0, Ben Rhydding 3; Wakefield 0, Beeston 3; Belper 0, Brooklands Poynton 3.

Investec Women's Conference West: Swansea City 2, Oxford Hawks 1; Trojans 0, Buckingham 4; Olton and West Warwicks 4, Gloucester City 3; Bristol Firebrands 1, Isca 1; Exe 1, Stourport 3.

England Hockey Board Media release


---

Goals against the freeze in National League



Kelburne v Edinburgh. Photo by Duncan Gray

The weather has played a big part in National League this weekend but the games that survived the freeze delivered great hockey, and goals aplenty.

Bromac Kelburne moved into pole position in Men's National League 1 after seeing off Edinburgh University 5-1 at Glasgow Green. They moved two points above Grange whose fixture against Western Wildcats became a victim of the weather.

It was ominous for the students when the champions created a gilt-edged chance to take the lead in only 20 seconds; Lee Morton was completely through on the goalkeeper but the chance was spurned when he had two fresh air shots at the ball.

The Paisley side did take the lead in five minutes, the Edinburgh defence failed to clear the danger and the ball fell kindly to Johnny Christie who fired home a fierce low reverse stick shot. The visitors had the chance to level but Ross Jamieson`s powerful low shot cannoned off a post.

Aussie Ryan Holding doubled Kelburne`s lead with a simple tap-in after a penetrating cross from Nick Finlayson. The latter added the third himself - the Kiwi picked up the ball in midfield, waltzed into the circle and unleashed an unstoppable reverse stick shot past Dave Forrester.

The students were back in the mix early in the second half, a well-worked penalty corner routine was finished with a clever deflection by Moodie for 3-1. The goal ushered in Edinburgh`s best spell of the game, Antonis Efthymiou had the chance for another goal at a set piece but his effort was blocked by Rory Kerr in the Kelburne goal.

Two goals in as many minutes killed off the game as a contest, at Kelburne`s first penalty corner of the game Josh Cairns sent the goalkeeper the wrong way with a low drag flick. Almost immediately after, Christie found Lee Morton in space and his vicious shot went in off the goalkeeper.



Kelburne v Edinburgh. Photo by Duncan Gray

A Mohammed Faeez hat-trick was the catalyst in Uddingston Riva`s 6-2 victory over bottom side Gordonians. The result lifts the Lanarkshire side out of the relegation zone - they sit in eighth on eight points. The other goals came from Gordon Anderson and Steven Percy.

Grove Menzieshill might have moved up to third in the table as they led Watsonians 4-0 six minutes into the second half, but the umpires considered the pitch unplayable and the result is now void. Clydesdale versus Hillhead was also a victim of the weather.

In the women`s first division on Friday evening, Edinburgh University moved to within two points of leaders Milne Craig Western and Grove Menzieshill after defeating Dundee Wanderers 6-0 at Peffermill. Sophie Maunder was top scorer with a brace while the other goals came from Amy Brodie, Kirsten Peters, Sarah Robertson and Louise Campbell. The result leaves Wanderers stuck in mid-table, a long way from a top four place. Edinburgh University however have now clocked up 16 points, just two shy of Grove Menzieshill and Clydesdale Western who both now have a game in hand.

The game between Western and Wildcats was abandoned just after half-time due to frost with the former a goal ahead when a penalty corner shot went in off defender Lucy McArthur.

The other games in Edinburgh hosted by Watsonians and CALA failed to begin, also due to the frost.

Scottish Hockey Union media release


---

Technical University win Hockey's National League

By BRIAN YONGA



Technical University of Kenya players celebrate after they won the 2016 Kenya Hockey Union men's National League title after a 5-0 win over Daystar University at the City Park Stadium on November 19, 2016. PHOTO | MARTIN MUKANGU |  NATION MEDIA GROUP

Technical University of Kenya (TUK) are the 2016 Kenya Hockey Union men's National League champions.

The students achieved this feat on Saturday after they thrashed Daystar University 5-0 in their penultimate match of the season at a rain soaked City Park Stadium. The win moved TUK to 24 points and they cannot be overtaken even if they lose their final match.

They will now gain promotion to next year's Premier League.

Goals from Gideon Kimuge, Nimrod Bisonga, Leonard Marwa, Luckie Mwendwa and skipper Moses Obushuru handed TUK the deserved win and maiden spot in next season's top flight league.

TUK coach Alex Nyawira was elated after the final whistle vowing to light up the Premier League next season.

"Our target at the beginning of the season was a top five finish and this has totally surpassed our expectation. The lads should savour the moment because they fully deserve it after their impressive performance this season," Nyawira said on Saturday.

"Discipline, hard work and endurance carried as all season and we can now plan for the big league."

Scheduled for a 12 noon kick, the match started one hour later due to the heavy downpour that made it impossible to play on the City Park surface.

Once things had settled, TUK went ahead in the second minute when Kimuge finished off a sweeping move, firing past Daystar keeper Dennis Amadi.

The goal buoyed TUK and they doubled their lead in the 11th minute when the team's top scorer Bisonga, fired a brilliant field goal past a hapless Amadi.

Two more goals were scored before the half time break, as the Daystar defence crumbled to the shock of coach Moses Kagochi.

Daystar offered little going forward and were punished for it again in the 41st minute when Obushuru, robbed Daystar defender Timothy Onyango the ball, before he rounded Amadi to slot the ball into an empty post.

The final whistle drew wild celebrations from the TUK players before they did a lap around to appreciate their fans. Daystar coach Moses Kagochi was left fuming at his players' casual approach in the encounter.

"I think we never really got going and the early goal unsettled us. We have got to fight more and not show the opposition so much respect," he charged.

TUK face Impala in their final match of the season on Sunday and are set for coronation next weekend when the 2016 season comes to an end.

With one slot gone, the race for the remaining slot for promotion is now down to Wazalendo Youth, Impala, Multimedia University and Parkroad Tigers.

Kenyatta University and Western Jaguars have been relegated from the top flight league.

Daily Nation


---

Technical University earn promotion to top league

By Elizabeth Mburugu



Technical University Charles Abande fight for the ball Thika Rovers Albert Mbagara when they played National Men at Citypark on 02/07/2016.Thika Rovers scored 1-0. PHOTO: JENIPHER WACHIE

Technical University of Kenya (TUK)'s wait for a promotion to Kenya Hockey Union men's Premier League ended yesterday.

The students thrashed their Daystar University counterparts 5-0 at City Park Stadium. That win saw them grab the second division tier trophy and with it came the elevation to play in the country's top league.

The victory put their tally to 24 points with a match at hand and regardless of the outcome of their last fixture, none of their opponents can surpass them.

Four first half goals from Gideon Kimuge, Nimrod Bisonga, Leonard Marwa, Luckie Mwendwa and one in the second from captain Moses Obushuru gave TUK the coveted trophy.

Team coach Alex Nyawira was delighted with his charges this season. "We had initial set out for a top five finish and I am impressed because my players surpassed my expectations. They deserve the trophy because they fought for it," Nyawira said.

He added that their secret to success was discipline, hard work and dedication blended with endurance and the will to keep fighting.

Not even an hour's delay could stop the students from accomplishing what they started at the beginning of the season. The match that was set to be played at noon was delayed due to the soggy pitch occasioned by the heavy rains.

But when it started, it took TUK only two minutes for them to score when Kimuge outwitted the Daystar defense to hit the board behind a helpless Daystar goal Dennis Amadi.

Nine minutes later TUK's goal machine Bisonga added a second and Marwa and Mwendwa slotted in the third and fourth before the break.

The Standard Online


---

Field Hockey Falls in NCAA Semifinals

3-2 loss to Delaware ends Princeton's postseason run



Cat Caro '17. Office of Athletic Communications

When the Princeton field hockey team trailed Delaware, 2-1, in the second half of its Final Four semifinal in Norfolk, Va., Nov. 18, the Tigers got a lift from a familiar source: Cat Caro '17, the Ivy League Offensive Player of the Year, who scored her 18th goal of the season, tying the game and keeping Princeton's national championship hopes alive.

Less than two minutes later, the Blue Hens scored to regain the lead, 3-2, and held on to earn a spot in the NCAA championship game. While the tying tally would prove to be Caro's last goal for the Tigers, the senior does have more hockey ahead. She'll join the U.S. national team in Chile for the Junior World Cup, which begins next week.

Princeton, making its third Final Four appearance since 2009, finished the season with a 12-8 record that included wins over four nationally ranked teams. The Tigers were outshot by the Blue Hens, 12-9, but put six of their shots on goal. "I thought overall we played a great game," head coach Carla Tagliente said on GoPrincetonTigers.com. "We chased the game a little bit because we were down 1-0 and 2-1, but I think we did a great job in responding and coming back."

Ryan McCarthy '18 scored Princeton's other goal, her 14th of the year, and Sophia Tornetta '19 had two assists, raising her team-leading total to 10.

In the NCAA round of 16, Princeton upset No. 6 Penn State 2-1 on the Nittany Lions' home turf Nov. 12. The Tigers stunned No. 7 Virginia with a game-winning goal by Tornetta as time expired in the quarterfinals Nov. 13.

Princeton Alumni Weekly


---

Sabah, KL start title defence in contrasting fashion

by S. Ramaguru



Sabah's Muhamad Salman (right) attempts to block a shot from a Perlis player during the MHC-1MAS-Milo-KPM Under-14 Boys hockey championships match at the Education Ministry Turf in Jalan Pantai.

KUALA LUMPUR: Defending champions Sabah (boys) and Kuala Lumpur (girls) endured mixed fortunes on the opening day of the MHC-1MAS-Milo-KPM Under-14 hockey championships.

Sabah began theirs with a convincing 5-0 win over Perlis in a Group A match at the Education Ministry Turf in Jalan Pantai on Saturday.

Goals by Mohamed Salman Sudirman (eighth, 46th), Muhammad Daniel Hakim Yusaini (19th, 41st) and Noor Izzul Rahman (50th) were enough to please Sabah manager Avtar Singh Bal.

"The big win will give the players greater confidence in the coming matches," he said.

Sabah will play Selangor in their second match on Sunday.

In another Group A match, a 17th-minute field goal was enough to give six-time winners Kuala Lumpur all three points in their 1-0 win against Selangor.

KL will play fancied east coast side Kelantan today.

In the girls' category, Kuala Lumpur were given a rude awakening after losing 1-0 to Perak in their opening Group A tie at the KL Hockey Stadium.

KL were done in by Dewi Natalya Edi Sumatra's 41st-minute penalty corner goal.

Malacca also got off to a winning start in Group A when they defeated Kedah 2-0, courtesy of field goals by Afzan Nazrein Ishak (30th) and Nur Shafiqa Ahmad Kamil (42nd).

Johor and Kelantan were also opening-day winners in Group C. Johor beat Singapore 2-0 and Kelantan routed Sarawak 5-0.

The Star of Malaysia


---

Hockey team gets NOC to compete in India




ISLAMABAD: The Pakistan government has given the NOC for the national team to participate in the upcoming Junior Hockey World Cup to be held in India from December 8. The junior hockey team had been training for the mega event for months and had momentum on their side having claimed silver at the recently concluded Sultan of Johor Cup in Malaysia, and the news came as a huge relief for the team who did not know whether they could participate in the event or not because of the current political situation between the two countries. "The government has given the NOC for the team to participate in the Junior Hockey World Cup, for which they have been training for months, including their tours to Malaysia and Europe," a spokesman for the Pakistan Hockey Federation said Saturday. "Now they will leave as per the schedule on December 4." He further added: "I have informed Director General Pakistan Sports Board Akhtar Nawaz Ganjera about the NOC. The team will have to reach Lucknow, India on December 4 so they can take part in practice matches against Canada and Germany."

He also revealed the team would be provided full security during the event by the Indian government. Meanwhile, junior team head coach Tahir Zaman expressed his delight at the news. "This is great news indeed. It will certainly help the PHF arrange for our departure on time." Zaman further said that the development, while extremely relieving, had no bearing on the team's training with the camp in full swing at the Johor Town Hockey Stadium in Lahore. "We have been working continuously to improve on our mistakes since the Sultan of Johor Cup ended. We do physical exercises in the morning; video sessions in the afternoon and match practice in the evening." The head coach also praised the PHF for arranging the tours to Malaysia and Europe which have helped in boosting the players' confidence. "The players have gained a lot of experience from these tours and hopefully that will help them at the World Cup," he said.

The Daily Times


---

Hockey Stars 2016 - Women's Rising Star of the Year




With voting now open for this year's Player, Goalkeeper and Rising Star of the Year awards, we look at the contenders.

Today we look at the achievements of the athletes shortlisted for women's Rising Star of the Year.

Remember, you can vote right up until midnight (CET) on 2 December by clicking here.



Maria Granatto (ARG)
Scored three times during Argentina's title success at the Hockey Champions Trophy in London, striker Granatto was named as the Best Junior player at that event and looks to have a huge future ahead of her.



Lily Owsley (GBR)
The FIH Rising Star of 2015 was in sparkling form with Olympic gold medalists Great Britain at Rio 2016, with her goal against the Netherlands in the competition final being one of four open play strikes in the tournament for the forward.



Nike Lorenz (GER)
A talented defender who was pivotal to Germany's bronze medal success at the 2016 Olympic Games, Lorenz started every match in Rio and is likely to be part of the Germany set-up for many years to come.



Kathryn Slattery (AUS)
Scored four times at both the Hockey Champions Trophy in London and the Rio 2016 Olympic Games, continuing to enhance her reputation as one of the best strikers around.



Florencia Habif (ARG)
Another great year for the player named Hockey Stars Rising Star in 2014, Florencia was a driving force behind Argentina's title winning success at the Hockey Champions Trophy in London.

#HockeyStars2016

FIH site


---

Hockey Stars 2016 - Men's Rising Star of the Year




With voting now open for this year's Player, Goalkeeper and Rising Star of the Year awards, we look at the contenders.

Today we look at the achievements of the athletes shortlisted for men's Rising Star of the Year.

Remember, you can vote right up until midnight (CET) on 2 December by clicking here.



Arthur van Doren (BEL)
An Olympic silver medallist with Belgium, Arthur van Doren has show throughout 2016 that he is a truly world class defender with composure beyond his years.



Christopher Rühr (GER)
Already a two-time winner of the Rising Star Award, it has been another outstanding year for attacker Rühr, who played a central role in Germany's Olympic bronze medal at Rio 2016.



Jorrit Croon (NED)
The breakthrough name of 2016, Croon celebrated his 18th birthday with the Netherlands national team in Rio, where his combination of speed and guile in attack won him fans the world over.



Harmanpreet Singh (IND)
20-year-old defender Harmanpreet has been a revelation for India since breaking through into the senior squad this year, greatly impressing at the Rio 2016 Olympic Games with his strength, skill and on-field intelligence.



Timm Herzbruch (GER)
This attack-minded, hugely-gifted 19-year-old scored 21 times in his first 30 senior international appearances for Germany, securing a place in the squad that would go on to win the Olympic bronze medal at Rio 2016.

#HockeyStars2016

FIH site


---

After Serving Two-Terms, Zelkin Concludes Her Service as Umpire Director on Board of Directors




COLORADO SPRINGS, Colo. - You can often see her just behind the benches as a technical official at many U.S. Men's and Women's National Team test series or running the sidelines with a whistle in mouth officiating a match. With a clear depth of knowledge revolving around the game and more than 25 years experience, USA Field Hockey celebrates Rene' Zelkin as she concludes her service as the Umpire Director on the Board of Directors.




"Rene' has made a significant contribution during the past 8 years serving on the Board of Directors, volunteering countless hours to help guide the organization and the sport," said Simon Hoskins, USA Field Hockey's Executive Director. "Her passion for field hockey and her broad perspectives of the game enabled Rene' to add make a positive difference in her role as a Board Member, her service on a number of committees as well as her time as Board Chair."

"As an outgoing senior board member, Rene' is a workhorse who repeatedly demonstrates a calm demeanor and steady leadership to USA Field Hockey," commented Susan Notthingham, fellow Board Member. "She's a problem solver who is never afraid or unwilling to roll up her sleeves to accomplish a task. She has given unselfishly for the greater good of the sport, going far beyond her role as Umpire Director. Having served with Rene' for 6 years, I've watched her mentor others in the on-boarding process and still seek her guidance from time to time. Rene's dedication and presence on the board will be greatly missed in the months and years to come."

After serving two-terms, Zelkin saw the highs and lulls of the sport in the United States while also making a direct impact. She had a hand in updating and implementing many bylaws within USA Field Hockey as well as the overall strategic plan of the organization. Of the committees within the Board of Directors she has served on the finance, member services, philanthropy and foundation ultimately leading the organization as Board Chair. With the title of Umpire Director, she was instrumental in supporting and developing the USA Field Hockey's Director of Umpiring position. This position is vital in growing and developing the pool of umpires within the the United States.

When Zelkin first joined the Board of Directors, the financial situation within USA Field Hockey was unstable. The organization had no reserves. As a Board Member, she worked to help turn that around to make the organization financially sound. While the process was lengthy and ongoing, Zelkin is pleased with the outcome.

"I am proud to have helped make USA Field Hockey stronger financially throughout all different departments," commented Zelkin. "There were many challenges but long hours and good Board teamwork helped bring the organization to a new level of health."

In addition to improvement in overall liquidity, Zelkin supported the hiring process of the new coach and support staff post London 2012 Olympic Games. She embraced the change as the organization was headed in the right direction. With the transition of Craig Parnham into the Director of Coach Education and Learning position in 2017, she is excited for what will be put into place for coaches in the United States. She believes that this move within the organization will strengthen field hockey across all platforms especially with the fundamental development now available to all levels of coaches from a successful international coach.

Zelkin joined the Board of Directors in 2008 as the Umpire Director. As a USA Field Hockey Member she has held several roles within the organization including players, coach and umpire. She holds a Level III indoor and outdoor officiating certification and is still an active umpire at all levels of play including high school and college. She has and still continues to sits on many committees including the National Federation of High Schools Rules Committee (2011-2014), the Pan American Hockey Federation Competitions Committee (2014-2017), International Hockey Federation Competitions Committee as the Pan American Hockey Federation Representative (2014-present) and is an International Technical Delegate as a Judge, Technical Officer and Tournament Director. She also is Virginia's field hockey rules interpreter and serves on her local high school's umpiring board as treasurer and rules interpreter.

As a dedicated technical delegate and official she has had the opportunity to travel and see different parts of the world. She most recently was a judge at the 2016 Women's Champions Trophy in London, England and the Rio 2016 Olympic Games. Though the Olympic Games are the pinnacle and best of all sports, she claims that working Champions Trophy was one of her favorite field hockey related events.

"England is such an amazing hockey nation and to be a part of this event was fantastic," said Zelkin. " It's interesting to see how other organizations structures events and how everything is so well coordinated. On these trips, I not only attend to my duties but have the opportunity to learn different educational processes from the other international technical delegates and bring those back to the United States. I have the opportunity next August to work behind the scene while serving on the organizing committee for the Pan American Cup which USA Field Hockey will be hosting at Spooky Nook Sports in Lancaster, Pa. I look forward to being a part of this premier event."




Another achievement that Zelkin is proud of is having been a USA representative umpire at the 2014 Master's World Cup in Rotterdam, The Netherlands. The venue had 6 field hockey pitches, both water and sand based. She umpired both the men's and women's in all age group and was selected to officiate the Final of the Women's Over-40 group which was The Netherlands against Australia.

"The level of play was stellar as many of these player were retired international players," commented Zelkin. " It was a dream come true to be on the pitch with such elite athletes. I was so proud to be a USA umpire!"

Although Zelkin has completed her time on the Board of Directors, she isn't stepping away from field hockey. She wants to remain involved in the education to help teach the next generation of umpires and technical staff.

"I hope the U.S. continues to be a strong force in the hockey world not only on the pitch but behind-the-scenes," commented Zelkin. "I want to continue to see USA Field Hockey have umpire and technical official representatives at international matches. More U.S. members are getting appointments to big events and this will continue to grow."

Zelkin attended Penn State University where she played field hockey and earned a degree in Bachelor of Science in Nursing and a Master of Arts in Organization Management from the University of Phoenix. She currently lives in Northern Virginia and is a registered nurse.

USFHA media release