All the news for Monday 8 February 2016

Indian eves pound Nepal 24-0 in SAG hockey

GUWAHATI: Indian women's hockey team began their campaign in the 12th South Asian Games with a 24-0 mauling of a hapless Nepal in a completely lopsided round robin league match, here on Sunday.

The opening match of the Games looked like a practice match with the Indian players scoring goal at will and the home team players appeared to be competing in registering their names in the score sheet at the Moullana Tayabullah Stadium.

Strikers Soundarya Yendala (15th, 52nd, 62nd and 64th minutes) and Poonam Barla (7th, 472nd, 43rd and 51st) scored the most with four strikes each.

Four players - Rani (2nd, 46th and 48th), Jaspreet Kaur (4th, 35th and 56th), Neha Goyal (14th, 22nd and 70th) and Deepika (53rd, 62nd and 67th) - scored three goals each while Gurjit Kaur (21st and 41st) and Preeti Dubey (23rd and 29th) got the other goals for India.

India, who have qualified for the Olympics after a gap of 36 years, are ranked 13th in the world while Nepal are not even included in ranking charts of the world governing body of the game, the FIH.

India play their next league match against Sri Lanka, another minnows, tomorrow. Only three teams are competing in the Games and India are expected to walk away with the gold.

The Times of India


---

Indian eves set the Asian record by thrashing Nepal 24-0

By B.G.Joshi

Guwahati: Indian women started their campaign in South Asian Games Hockey by thrashing Nepal 24-0. It is new record of biggest wins in Asian women hockey, Indian eves have broken their own record, previously India defeated Hong Kong 22-0 on November 20, 1982 in New Delhi Asian Games. Canada has the World record as they beat Guatemala in World League round 1 in Guadalajara (Mexico) on Sept 11, 2014. Details of 6 top victories of Indian women are:
| | | | | | |
| --- | --- | --- | --- | --- | --- |
| Score | Date | Venue | Tournament | Opponent | Match |
| 24-0 | Feb 7,2016 | Guwahati | South Asian Games | Nepal | League |
| 22-0 | Nov 20,1982 | New Delhi | Asian Games | Hong Kong | League |
| 16-0 | Sep 5,2007 | Hong Kong | Asia Cup | Singapore | Pool |
| 16-0 | Sep 3,2007 | Hong Kong | Asia Cup | Thailand | Pool |
| 15-0 | Oct 31,2009 | Bangkok | Asia Cup | Thailand | Pool |
| 14-0 | Jul 28,2014 | Glasgow | C'wealth Games | Trinidad-Tobago | Pool |
Fieldhockey.com


---

City girl in national hockey team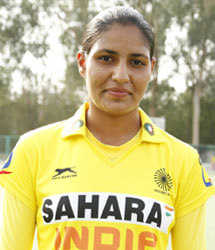 Gurjit Kaur

Jalandhar: Adding yet another feather to the glorious sports heritage of Punjab, four girls got selected into the national hockey team for the South Africa tour.

Hockey's Punjab secretary Pargat Singh said Gurjit Kaur, Navpreet Singh, Manpreet Kaur and Yogita Bali would be representing India for the forthcoming tour that would begin from February 13.

While Gurjit Kaur is from Jalandhar, Navpreet Kaur and Manpreet kaur are from Guru Granth Sahib Hockey Academy at Fatehgarh Sahib and Yogita Bali is an employee of rail Coach Factory at Kapurthala.

The women hockey team will also try to secure a berth in the Olympics to be held later in this year at Rio. Gurjit Kaur and Yogita Bali are playing in the South Asian Games presently being held at Guwahati.

The Tribune


---

Warriors halts Lancers, wins 4-1

J. R. Shridharan




Punjab Warriors succeeded in stopping the dream run of Kalinga Lancers, winning 4-1 in a HIL tie that saw many twists and turns at Kalinga Stadium here on Sunday.

It was disappointing for the holiday crowd to watch the home team go down but they witnessed rich hockey entwined with aggression and persistence.

Though Lancers drew the first blood in the second half through a penalty corner (Moritz Fuerste-Glenn Turner) it was a renewed Punjab Warriors which scored two field goals, one by Australian Simon Orchard and the other by Jasjit Singh in the final quarter.

Warriors got four back-to-back penalty corners but failed to convert as the Lancers defence and custodian Andrew Charter looked too good. In all, Warriors got five penalty corners but none was converted.

Pressing hard, Lancers dominated the first half but later the Sardar-led Warriors got their act together through some fine midfield excellence. An angling cross from a forward saw Simon Orchard skidding towards the box and tapping the ball in. Later Jasjit Singh swelled the lead to four by sending a rasping shot into the box away from the circle.

Both Warriors and Lancers have 22 points each after this match.

Excellent ball possession

Lancers excelled in ball possession in the first quarter as Gurjinder Singh, Dharamvir Singh, Turner and Quirjin Caspers tried their best to score. The second quarter saw Turner pressing hard for the elusive goal and best part of the game was played close to the Warriors' circle. A tackle involving Fuerste and Sardar didn't materialise into a penalty corner for Warriors as the third umpire negated in the referral.

Warriors looked more focussed, accelerated the pace, and increased circle penetrations to prevent the host from making a comeback. Lancers too failed in penalty conversion when it mattered the most.

In the dying minutes of the game, Lancers tried to convert penalty corners into field goals but the efforts backfired.

Lancers will play defending champion Ranchi Rays on Monday here and a victory will take it to the semifinals.

Warriors will clash with Uttar Pradesh Wizards at Lucknow on February 10.

The result:

Punjab Warriors 4 (Simon Orchard 2 FG, Jasjit Singh 2 FG) bt Kalinga Lancers 1 (Glenn Turner PC).

The Hindu


---

Punjab defeat Lancers 4-1

Bhubaneswar: Simon Orchard and Satbir Singh scored a field goal each as Punjab Warriors registered a 4-1 victory over Kalinga Lancers to propel to the second position in the fourth edition of the Hockey India League.

The visitors emerged victorious through field strikes from Orchard (48th minute) and Satbir Singh (58th) after the Lancers took the lead through a penalty corner conversion by Glenn Turner in the 42nd minute.

By virtue of this win, Punjab Warriors have moved to the second spot in the standings with 22 points from seven games. Lancers too have similar points from as many matches but they are on top the table because of superior goal difference. Lancers will host defending champions Ranchi Rays tomorrow, while Punjab Warriors will travel to Lucknow to face Uttar Pradesh Wizards on Wednesday.

The Tribune


---

Punjab Warriors End Kalinga Lancers' Winning Streak

Punjab Warriors emerged victorious through field strikes from Orchard (48th minute) and Satbir Singh (58th) after the Lancers took the lead through a penalty corner conversion by Glenn Turner in the 42nd minute

http://s.ndtvimg.com/images/content/2016/feb/806/sardar-singh-hil-new.jpg?downsize=764:573&output-quality=80&output-format=jpg
PUnjab Warriors' Sardar Singh vies for the ball with a Kalinga Lancers players. (Image credit: HIL)

Bhubaneswar: Simon Orchard and Satbir Singh scorted a field goal each as Jaypee Punjab Warriors registered a 4-1 victory over Kalinga Lancers to propel to the second position in the fourth edition of the Hockey India League, here on Sunday. (Read more hockey stories here)

The visitors emerged victorious through field strikes from Orchard (48th minute) and Satbir Singh (58th) after the Lancers took the lead through a penalty corner conversion by Glenn Turner in the 42nd minute.

By virtue of this win, Punjab Warriors have moved to the second spot in the standings with 22 points from seven games. The Lancers too have similar points from as many matches but they are atop the table because of superior goal difference.

The first quarter of the match started with attacking intent from the Lancers but Punjab Warriors showed good defensive skills to keep the hosts at bay as both the teams looked dangerous on counter attacks.

The second quarter started with the home team getting defensive as the visitors raised their pace in the game. Punjab Warriors started pressing hard but the possession was still majorly controlled by the Lancers who were looking very strong in the midfield.

The Punjab outfit came close on many occasions including four failed back-to-back penalty corners, which were beautifully saved by Andrew Charter leading to a goal less first half.

The third quarter saw both the teams pushing hard for a goal. The Lancers finally managed to break the deadlock in the 42nd minute when star Turner made no mistakes in converting a penalty corner, giving the home team a much needed 1-0 lead.

The final quarter started with the Lancers trying hard to capitalise on their lead in the early moments but an excellent interception by Sardar Singh foiled the home team's ambitions and the visitors scored a field goal through Simon Orchard in the 48th minute handing the visitors a 2-1 lead.

The Lancers pressed really hard after this but the Punjab defence was way too strong for them to break. In the process Punjab Warriors scored their second field goal in the 58th minute through Satbir to propel their lead.

The Lancers will host defending champions Ranchi Rays at the same venue tomorrow, while Punjab Warriors will travel to Lucknow to face Uttar Pradesh Wizards on Wednesday.

NDTV Sports


---

Bachmann leads Uhlenhorst to German indoor title




HTC Uhlenhorst Mülheim won the Germany indoor championship for the third time this afternoon, beating Rot Weiss Köln 8-4 in front of a crowd of 1,500 in Lübeck.

In so doing, Tina Bachmann became the first female coach to lead a men's team to the title. Speaking afterwards, Bachmann said: "The team have come together incredibly well over the past few weeks and months.

"We have worked hard and achieved a great deal. The fact I am the first female coach of a German men's champions is only incidental. I am much more proud that we won the title  with this team.

Mülheim's Benedict Fürk, who was named the best player of the tournament, praised primarily his teammates:" I am very proud of this very young team. We had a very good run and hope that we can carry this on into the field season."

Uhlenhorst raced into a 3-0 lead with Tobias Matania opening the scoring on five minutes from a corner. Ferdinand Weinke added the second before Jan Schiffer got the third.

Christopher Rühr got Rot Weiss on the board before Lukas Windfeder made it 4-1 on the half hour. Marc Miltkau reduced the gap to 4-2 at half-time.

But another burst of Uhlenhorst goals soon put them out of reach with Thilo Stralkowski, Windfeder and Matania stretching the lead to 7-2. Timm Herzbruch grabbed another one with five minutes to go as they closed out the victory with plenty to spare.

Euro Hockey League media release


---

Irish Men's EY Hockey League – day 10 round-up



 
Mikey Watt's 39th minute goal saw Lisnagarvey claim a crucial 1-0 win over Monkstown, building a significant seven-point lead at the top of the table after ten rounds of matches in the men's EY Hockey League.
 
Indeed, the top two sides produced a high quality match in which the pace never relented. Paul Gleghorne and Jonny Bell were excellent at the back for Garvey to deny Monkstown's much vaunted frontline.
 
The decisive moment came when Watt latched onto a miscued overhead pass out of the Monkstown defence and played a one-two with Timmy Cockram before striking home the only goal. It gives Errol Lutton's side a large lead in the table going into the closing eight rounds of matches.
 
Banbridge produced an incredible comeback from 2-0 down to defeat Railway Union – their conquerors in the Irish Senior Cup – 4-2 with Eugene Magee playing a pivotal role. Simon McKeever and James Dick had Railway two up in the first quarter and they led until the third quarter.
 
But Owen Magee's effort gave Bann confidence and they romped home with three goals in quick succession in the last 15 minutes with Eugene Magee netting twice, augmenting a penalty stroke won and converted by Stephen Dowds.
 
Annadale recorded their first win of the campaign with a 3-2 success against Three Rock Rovers at Grange Road with Matthew Allister popping up with a late winner. Matthew Crookshanks had given Dale the lead before James Cox made it 2-2 after Rovers' goals from Luke Madeley and Ross Canning.
 
Shannon Boucher's trio of corner goals in the first 17 minutes saw Glenanne ease to a 6-1 win over Cork C of I. Boucher ended the tie with four goals to his name, bringing his seasonal total to 21.
 
On Sunday, Pembroke held their nerve to beat Cookstown 3-2 in a hugely important tie. Mark Ingram saved a penalty stroke with six minutes to go to secure the win after Alan Sothern had put them ahead for a third and final time.
 
It lifts Pembroke to 11 points, six clear of Annadale in the relegation playoff place in ninth with Cookstown falling to the bottom of the table.
 
Results

Saturday: Cork C of I 1 (P Sweetnam) Glenanne 6 (S Boucher 4, D Keogh, G Shaw); Banbridge 4 (E Magee 2, S Dowds, O Magee) Railway Union 2 (J Dick, S McKeever); Monkstown 0 Lisnagarvey 1 (M Watt); Three Rock Rovers 2 (R Canning, L Madeley) Annadale 3 (M Crookshanks, M Allister, J Cox)
Sunday: Pembroke 3 (K Shimmins, J Ryan, A Sothern) Cookstown 2
 
Extended day 10 match reports

Cork C of I 1 (P Sweetnam) Glenanne 6 (S Boucher 4, D Keogh, G Shaw)
Shannon Boucher added another four goals to his massive haul of 21 already this season as his devastating corner flicking saw the Glens ease to victory in Cork. His hat-trick came inside the first 17 minutes, all from set pieces, and the results was never in doubt after that point. It was some turnaround from the initial meeting of the sides when John Jermyn's corner prowess won the game for C of I in Tallaght.
 
Sam O'Connor's mazy run drew the first corner on 10 minutes when he was halted by a mis-timed Philip Smith tackle that also incurred a 10-minute yellow card. Boucher duly netted and added another one two minutes later. Two minutes into the second quarter, he again found the backboard with a hard flick. C of I got back into the match when a fine break down the right got the ball to Philip Sweetnam whose high shot deflected into the top corner.
 
But such hopes of a comeback were short-lived a minute before half time when Boucher's stick was hooked when shooting for goal and David Keogh put away the resulting penalty stroke. C of I dominated the third quarter and had five good chances spurned with Glenanne's goalkeeper Lukasz Domachowski somehow keeping out chances from Stephen Sweetnam, Julian Dale, Alex Burns and Philip Sweetnam. He also saved two corners, one with his head, before Glenanne broke quickly and three passes later Shannon Boucher was at hand to score his fourth and Glenanne's fifth.

The hosts continued to press and Glenanne continued to absorb the attacks until the 51st minute when, following another break from defence, Gary Shaw was on hand to score a rebound from a Boucher shot. The result lifts Glenanne to fourth place.
 
Banbridge 4 (E Magee 2, S Dowds, O Magee) Railway Union 2 (J Dick, S McKeever)
Banbridge produced a stunning second half comeback to get a modicum of revenge over Railway Union had ousted the Co Down club from the Irish Senior Cup earlier this season.
 
Railway had led 2-0 very early on, an advantage they held until half-time, before Bann battled back to secure their fifth win of the season, closing the gap to second placed Monkstown.
 
Simon McKeever got Railway off to a lightning start, scoring on the reverse from mid-circle. James Dick doubled the lead with a close range tap-in.
 
Bann came more into the game in the second quarter and started to boss possession and territory. They created several good scoring opportunities but were unable to find a way past Stephen O'Keefe in the visitor's goal who was inspired throughout.
 
Following a stern half time team talk Bann started the third quarter in determined fashion. Once again, they pressed Railway into defending deeper and deeper. They finally breached the visitor's defence when Owen Magee was on hand to slam home a penalty corner rebound.
 
Much of the home teams attacks started with Matthew Bell who had a composed performance at the centre of the home defence. Bann then turned the game on its head in the closing quarter, scoring three times without reply.
 
Eugene Magee levelled the scores with a high flick from a penalty corner. This was quickly followed by a penalty stroke from Stephen Dowds which he had won himself from a blistering run down the right flank.
 
The scoring was completed two minutes from time when Eugene Magee smashed home a reverse from a penalty corner variation.
 


Credit: Rowland White/PressEye
 
Monkstown 0 Lisnagarvey 1 (Mikey Watt)
Mikey Watt's 39th minute goal saw Lisnagarvey claim a crucial 1-0 win over Monkstown, building a significant seven-point lead at the top of the table after ten rounds of matches in the men's EY Hockey League.
 
Indeed, the top two sides produced a high quality match in which the pace never relented. Paul Gleghorne and Jonny Bell were excellent at the back for Garvey to deny Monkstown's much vaunted frontline. The first chance after six minutes came via Peter Caruth who picked up a loose ball and was instantly chopped for a short corner. Town's switch was not smooth and a weak shot was easily saved.

Garvey, meanwhile, drove at Monkstown's defence with Watt, Neal Glassey and Daniel Buser lively but their snap crosses were flashing across the D with nobody on the end. Lee Cole tackled well with Richard Sykes marshalling the defence as it stayed scoreless in the first half.

The decisive moment came in the second half when a loose, bobbled overhead by the Monkstown defence never became airborne and was picked up by the lively Watt. He played a neat one-two with Timmy Cockram on the 23-metre line before he raced in the right hand channel of the circle and fired a low shot past Dave Fitzgerald.

With both sides enduring sin-binnings, Jonny Bruton's tantalising cross somehow evaded a glut of players waiting for the tip in while a diagonal ball to Gareth Watkins earned a corner which Sykes dragged on to the cross-bar.

On 52 minutes, Geoff Cole was shown yellow but Monkstown continue to press without creating any clear cut chances as Garvey's defence remained rock solid. With 55 minutes gone, Monkstown remove their goalie but Garvey's half court press stifled most attacks and they held on for their eighth win in succession.



 
Three Rock Rovers 2 (R Canning, L Madeley) Annadale 3 (M Crookshanks, M Allister, J Cox)
Annadale raided Grange Road for their first win of their EY Hockey League campaign, coming back from a 2-1 deficit to grab the win with Matthew Allister's late goal.
 
It lifts Andy Smyth's side off the bottom of the table for the first time since November and gives them hope of escaping the relegation zone. Matthew Crookshanks – as part of a player of the match performance – found the roof of the net to give Dale the lead in the first half but Luke Madeley's high drag-flick tied things up at 1-1 at the big break.
 
Ross Canning's finish gave Rovers the lead but James Cox equalised for a second time. Allister then got in front of Jamie Carr to guide home the winning goal in the closing minutes.

Irish Hockey Association media release


---

Irish Women's EY Hockey League  - week 12 round-up

Railway Union, Pegasus and UCD progressed their claims for a playoff place from this season's EY Hockey League with battling wins on Saturday as they seek to earn a top three place.

Hermes look to have one of those places all but done and dusted after their 12th successive league win, striking late to beat Ards 2-1. Sally Campbell struck with just 10 seconds remaining to nick the result after Kerry Harvey and Nikki Evans had traded goals.

It leaves a battle royale just below them with Railway on 24 points, Pegasus on 22 while UCD and Pembroke are both on 19 and Cork Harlequins are also in the mix on 18 points.

Railway beat UCC 2-1 in a much tougher than anticipated tussle given the prior meeting had ended 4-0 in Cork before Christmas. Michelle Carey and Hannah de Burgh Whyte made it 2-0 before half-time for the Dubliners before Kate Harvey made things tight in the third quarter but the students could not find the equaliser.

UCD avoided a shock defeat with a five-star second half against Greenfields. Orla Callanan's goal against the run of play gave the Galway side the lead at half-time – the first time they have been in such a position this season.

Deirdre Duke's double in the third quarter along with a goal from Hannah McKay, however, quickly saw dreams of a first win ebb away. Emily Beatty and Leah Ewart's late efforts made it 5-1 in the end.

Alex Speers was the Pegasus heroine as she scored the late winner over Pembroke in a 2-1 success. It was their seventh win in eight games to take third place on their own. Rosie Henderson had earlier given Pegs the lead only for Caroline Hill to equalise with 15 minutes remaining.

Cork Harlequins' topsy-turvy season continued as their 3-1 win over Ulster Elks made their record six wins and six losses from 12 games. Cliodhna Sargent opened the scoring before Jessica McMaster levelled.

A nasty injury to Rebecca Barry, requiring an ambulance and an hour's delay to proceedings, stalled the Elks' momentum and Quins took advantage with Yvonne O'Byrne and Lesley-Ann Daunt scoring the crucial goals in quick succession.

Results: Pembroke 1 (C Hill) Pegasus 2 (R Henderson, A Speers); Greenfields 1 (O Callanan) UCD 5 (D Duke 2, H McKay, E Beatty, L Ewart); Ards 1 (K Harvey) Hermes 2 (N Evans, S Campbell); Railway Union 2 (M Carey, H de Burgh Whyte) UCC 1 (K Harvey); Ulster Elks 1 (J McMaster) Cork Harlequins 3 (C Sargent, Y O'Byrne, L-A Daunt)

Extended reports

Pembroke 1 (Caroline Hill) Pegasus 2 (Rosie Henderson, Alex Speers)
Alex Speers produced a final quarter goal to edge this key battle in the race for the women's EY Hockey League playoff places, winning their seventh game in their last eight outings. It lifts them to third place on their own with Pembroke dropping to fifth place with a game extra played.

Pembroke had the slight edge in the early stages and saw more of the ball than Pegasus. Both teams had a player green carded but neither side took advantage of the extra player.

Pegasus upped the pressure in the second quarter and Stella Davis was proving much the busier goalkeeper, crucially keeping out a corner in the 19th minute.
She was beaten, however, in the 41st minute when Rosie Henderson popped home from the second phase of a corner. Steph Quinn was instrumental in winning the ball and scrambling the ball Henderson's way.

Caroline Hill replied quickly with a goal from open play in the 45th minute to make it 1-1 going into the final phases.

But Pegasus upped the tempo once again and while a corner shot was taken off the line by Rachel Scott, the Ulster side took the lead when Speers made a thrust away from Davis to the left of the circle before slotting home.

Greenfields 1 (Orla Callanan) UCD 5 (Deirdre Duke 2, Hannah McKay, Emily Beatty, Leah Ewart)
UCD produced a five-star second half comeback to avoid a surprise defeat in Galway after Greenfields had held a 1-0 lead at the break.

That advantage owed much to Sinead Collins' goalkeeping and last-ditch defending while Brenda Flannery – against her former club – was the key playmaker, ably assisted by Ellie Noone.

After that initial barrage, play began to swing from end to end with Deirdre Duke, Elaine Carey and Aisling Naughton testing the Greenfields' defence. UCD were stunned on the counter, however, when Carmel Heery's cross in from the right hit the post and Orla Callanan was first to react, her shot finding the bottom right corner. The students, though, turned the game in the third quarter with a pair of Deirdre Duke goals and one from Hannah McKay. Duke picked up the pieces from a Collins' save to level matters early in the second half, making no mistake from close range.

Five minutes later Duke was in for her and UCD's second goal when good play down the right saw Duke eventually pick up the ball on the penalty spot and she finished well to the right corner. 

Greenfields lost the influential Flannery during this quarter through a back injury which had limited her playing time in the two preceding quarters Hannah McKay added the third goal that put UCD in a far more comfortable position. And UCD continued to dominate and were rewarded with two further goals. Leah Ewart netted after some fine work again down the right which resulted in a cross which found Ewart free on the far post and she scored from close range. UCD scored their fifth goal from a  well-worked short corner which was deflected in by Emily Beatty.

Ards 1 (Kerry Harvey) Hermes 2 (Nikki Evans, Sally Campbell)
Hermes got the best of an explosive final quarter, getting the best of a flurry of three goals in the closing seven minutes to maintain their perfect run of wins to move ever closer to the regular season title and a European spot. The first two quarters were especially tight with most of the tie played between the 23-metre lines. Ards' Ashley McIlroy made a double save from the pick of the chances while Tamara MacLeod broke into the circle at the far end but her last pass was turned wide by Scarlett Holdsworth.

Into the second half, Chloe Brown's crash ball was turned goalward by Naomi Grundie, forcing a smart save from Emma Gray as the scoring blank continued. Hermes eventually broke that deadlock in the 52nd minute when Nikki Evans got the finishing touch.

Kerry Harvey's equaliser came within two minutes when she deflected home a penalty corner. Ards then came close to taking the lead moments later when Sara Alexander's strike went inches wide.

But Hermes broke Ards' hearts with less than 10 seconds remaining when Sally Campbell forced home after a scramble in front of goal to nick the winner.

Railway Union 2 (Michelle Carey, Hannah de Burgh Whyte) UCC 1 (Kate Harvey)
Railway Union strengthened their hold on a playoff place with results elsewhere meaning they have five points in the bank over fourth placed UCD and Pembroke in the race to be one of the top three sides in the league.

The win was much tighter than when the sides met before Christmas at the Mardyke when Railway won 4-0. The Dubliners did most of the damage in the first half with Michelle Carey scoring early on. It came from a nice interchange with fellow youngster Nina Heisterkamp which led to a shot that was initially saved by Kat Murphy but Carey snapped up the rebound.

Railway continued to press but were frustrated when Hannah de Burgh Whyte's penalty stroke went wide from a great chance. No matter, she wasted little time in making amends when she intercepted a pass, stormed up the pitch and shot home for 2-0.

UCC picked up their game in the second half and were rewarded when a quick break from midfield was clinically finished by Kate Harvey. Their high, energetic pressing saw UCC look for an equaliser with Riona Norton called into action on a number of occasions.

But it never came in a scrappy closing quarter in which Murphy tipped away a rasping shot while UCC went close to a tip-in at the back post but no further goals accrued.

Ulster Elks 1 (Jess McMaster) Cork Harlequins 3 (Cliodhna Sargent, Yvonne O'Byrne, Lesley-Anne Daunt)
Cork Harlequins's topsy-turvy season hit an up-note to reignite their interest in the playoff places as Ulster Elks fell to a fifth successive loss in the league. Goals from Lesley-Ann Daunt and Yvonne O'Byrne late in the third quarter proved the difference for Quins who made it six wins and six losses from their 12 games this season.

Cliodhna Sargent started the scoring with the only goal of the first half with a bang from a penalty corner hit. Elks started the second half strongly and were back on terms via Jessica McMaster.

But the Jordanstown side suffered a big blow when Rebecca Barry added to their injury woes, requiring an ambulance with the game delayed by an hour. On the restart, Elks had a corner goal chalked off after an umpire's consultation before Quins got their key goals – O'Byrne scored from a corner before Daunt netted from play. A final quarter of broken play for the most part saw no advance on the scoring and Quins had the win.

Irish Hockey Association media release


---

Inverleith and Dundee Wanderers retain indoor crowns




Inverleith and Dundee Wanderers were the winners of the main prizes on what was a fantastic spectacle of hockey at the Indoor Gala Day at Bell's Sports Centre, Perth.

A full round-up of the day's action follows.

Grove Menzieshill v Inverleith - Men's Division 1 Grand Final

A fearsome battles between Grove Menzieshill and Inverleith in the Men's Division 1 Grand Final saw the Edinburgh side claim their third title in a row with a captivating 5-4 win over their great indoor rivals

After a tense opening period, it was Inverleith who registered first, Dan Coultas' penalty stroke giving his side a 12th minute lead.

However, the Taysiders hit back right on the stroke of the half-time hooter, Mike Ross' strike at the penalty corner making it 1-1.

A prolific five minutes of goal-scoring followed; Gavin Tomlinson put Grove Menzieshill 2-1 up in the 24th minute, only for Coultas to respond in kind for Inverleith two minutes later. Gordon Amour made it 3-2 to the capital outfit straight after the re-start, but Duncan Riddell pegged back the 'Robes to 3-3.

A brilliant penalty corner set-play enabled Coultas to seal his hat-trick, with Amour on target with a near finish to make it 5-3 to Inverleith.

Chris Wilson pulled Grove Menzieshill to within one goal with two minutes remaining but it was sadly too late for the Dundonians, another runners-up spot the consolation prize.

Dundee Wanderers v Milne Craig Clydesdale Western - Women's Division 1 Grand Final

Dundee Wanderers retained their indoor title for a fourth straight season after a 5-3 win over Milne Craig Clydesdale Western in the Women's Division 1 Grand Final.

Vikki Bunce was the stand-out performer, scoring four of Wanderers' goals.




The Scottish indoor captain broke the deadlock with a field goal in the second minute, only for Heather Howie to equalise for the Glasgow side shortly after.

Amanda Maxwell put the Dundonians 2-1 up sixty seconds later, a lead that stood up until the half-time hooter.

Clydesdale Western hit back three minutes after the break, Jen Eadie putting her side back on parity from open play.

A tight second half battle ensued with end to end action, although both Nicki Cochrane and Carmin Dow kept their goals excellently with key saves.

Nevertheless, a penalty corner opportunity was seized in the 34th minute when Bunce fired home low and hard to make it 3-2, and her hat-trick goal four minutes later looked to have settled the tie.

Millie Steiger had other ideas though, reducing the lead to 4-3 in the 39th minute, but with Clydesdale Western attacking with a kicking back, it was inevitable that Wanderers would get another chance to finish off the match, which Bunce duly took with almost the last strike of the ball.

Grove Menzieshill II v Hillhead - Men's NIL Division 2 Grand Final

Grove Menzieshill II were crowned Men's Division 2 champions with a 5-2 win over Hillhead.




Ben Cosgrove opened the scoring in the 10th minute after a swift counter-attack and finish from the right of the circle.

Nevertheless, Scotland international Callum Duke had the Hornets back on level terms shortly after with a well struck penalty corner low down the middle of the goal.

After the sides headed into half-time all square, Ben Cromar put the 'Hill back in front three minutes after the re-start, but again, Hillhead struck back almost immediately from Andrew Black.

Two goals inside two minutes shortly before the second half mid-point proved to be vital for the Taysiders; Cromar rifled the ball high into the net for his second goal in the 27th minute, before Cosgrove grabbed his second of the match sixty seconds later after great individual play.

David Petrie's bobbling penalty corner put the icing on the cake for the Dundonians.

Grange v Uddingston - Men's NIL Division 1 3rd / 4th Play-Off

Forty minutes were unable to seperate both Grange and Uddingston in the Men's Division 1 3rd/4th place play-off. The match finished 1-1 in regulation time.




The Stags' Callum Milne opened the scoring only for Barry Platt to equalise for the South Lanarkshire side.

Uddingston prevailed in the shoot-out 2-0 to seal third place.

Aberdeen Bon Accord MBC v Hillhead Ladies - Women's NIL Division 1 / 2 Play-Off

Aberdeen Bon Accord MBC retained their place in Women's Division 1 after a dramatic 1-0 penalty shoot-out win.




An Amber McFarlane finish in the fourth minute had given the Glasgow outfit an early lead, one that they retained until the end of a nervous first half.

However, Ruth Cox was on hand to pull the Aberdonians back into the contest in the 31st minute, and with defences clearly on top the match fizzled out towards a penalty shoot-out.

With neither side able to convert their opening three penalties, sudden death followed, with Cox proving the match-winner courtesy of coolly taken penalty after Bon Accord MBC goalkeeper Siobhan Cowie had saved her fourth penalty in a row.

Harris Academy FP v Edinburgh University - Men's NIL Division 2 / 3 Play-Off

Edinburgh University dramatically won promotion to Men's Division 2 after overcoming Harris Academy FP in a penalty shoot-out.




A solitary first half goal from Albert Rowling had given the former pupils at slender 1-0 lead at the half-time break, although the students hit back through Antonis Efthymiou shortly after the interval.

A thunderous Rowling penalty corner in the 25th minute restored his side's lead only for Efthymiou to match his efforts with his second goal of the match shortly after.

Tom Kemsley gave the scholars the lead for the first time in the match following a penalty corner set-play, only for Rowling to peg back the university with his hat-trick goal three minutes from full-time.

vWith scores deadlocked at full-time, it was Edinburgh University who held their nerve in the shoot-out to win 2-0 on penalties.

Alpha Data Carnegie v Watsonians - Men's Division 2 Play-Off

Alpha Data Carnegie earned the opportunity for a crack at promotion to Men's Division 1 with a Division 2 play-off win over Watsonians.




Following a goalless first half, it was the capital outfit who opened scoring with a field goal from Andrew Harris-Fraser in the 25th minute, only for Carnegie to respond immediately through Gary Clark.

Watsonians then manufactured a two-goal cushion for themselves courtesy of two Blair Wynd penalty corners inside two minutes at the mid-point of the second half.

With two minutes to go, and the game seemingly out of sight for the Fifers, Andrew Doyle dramatically levelled the scores with a field goal and penalty corner in the 39th and 40th minute.

Penalties look inevitable until Carnegie striker Martin Daw popped up in the centre of the circle to divert a cross into the net to the delight of his team-mates, leaving the Watsonian contingent crestfallen.

Western Wildcats v Alpha Data Carnegie

A hat-trick from Western Wildcats striker Scott McCartney ensured a comfortable win for the Glasgow side over Alpha Data Carnegie in the Men's Division 1/2 play-off.

Andrew Sinclair and Rhury Smith were also on target for the Wildcats.

The Fifers' consolation came from Gary Clark.




All Photo Credits: Duncan Gray

Scottish Hockey Union media release


---

Greensharks maul Mvita XI in men's hockey league match

By BRIAN YONGA



Brian Murunga of Mvita XI (left) and Kevin Simiyu of Greensharks during their Kenya Hockey Union Premier League match at City Park Stadium on February 7, 2016. Greensharks won 2-0. PHOTO MARTIN MUKANGU   NATION MEDIA GROUP

Greensharks beat visiting Mvita XI 2-0 in a Kenya Hockey Union men's Premier League match at City Park Stadium, Nairobi on Sunday.

The goals, scored in either half by Kevin Simiyu and Kenya international Leon Magomere, were enough to hand the home side all three points.

It was a good result for Sharks who on Saturday drew 2-2 with two-time league champions Strathmore University Gladiators at the same venue.

COLLECTED FOUR POINTS

Greensharks coach Nixon Nyangaga said: "It was a good weekend, four points from two matches is alright but we need to kill off games much earlier and also score more goals."
In an earlier match, Mombasa Sports Club upset hosts Daystar Falcons 4-0 in the women's national league.

MSC winger Olypa Chepchaluga scored a first half hat-trick to set her team on the way to victory and Alice Dsotsti added the fourth in the 47th minute.

The result came as a relief to MSC coach Saidi Okwemba whose team had lost 0-5 to Strathmore University Scorpions on Saturday.

Daily Nation


---

SA hockey men to face Olympic champs

By Jonathan Cook



SA head coach Fabian Gregory is looking to rebuild.

The South African men's hockey team has been named to meet reigning Olympic champions Germany in a three-Test series in Cape Town on February 26, 27 and 29.

Head coach Fabian Gregory said the SA team was a mixture of youth and experience. The coach said it was also a reward for the SA U21 Junior World Cup players who did well for the SA senior team during the recent Test matches in Cape Town.

"It's an opportunity to test themselves against Olympic champions Germany, who will be much more challenging than the teams we played last month."

Gregory said South Africa's focus would be on the players as individuals and as part of a team.

"No Rio Olympics this year has given us an opportunity to rebuild and see which senior players are able to improve their own level and become better players than what they currently are. Only improved and consistent performances will earn places in the squad going forward.

"We have quite a few new senior faces in the squad for the Germany series, which was the plan all along - to give as many players as possible an opportunity to show that they still have a role to play in the senior team going forward."

Gregory said he was excited to have the SA juniors who performed well last month back in the senior squad. "It gives them another chance to develop and compete at the highest level prior to the Junior World Cup Qualifier."

The SA U21 team are set to take part in the Junior World Cup Africa Qualifier tournament in Windhoek, Namibia from March 18 to 28.

Gregory said players from last month's squad not available for the Germany series were Jonty Robinson, Robin Jones, Owen Mvimbi and Taine Paton.

The coach said that other national squad members not available to face the Germans were Austin Smith, Clinton Panther, Brandon Panther, Matt Guise-Brown and Julian Hykes.

"New face Stephen Cant [Northern Blues] gets an opportunity after a string of really impressive and consistent performances in 2015," Gregory added.

SA TEAM
Goalkeepers: Gowan Jones (KZN Raiders), Rassie Pieterse Southern Gauteng)
Defenders: Dylan Swanepoel, Daniel Bell, Rhett Halkett (Western Province), Tyson Dlungwana (SA U21), Mohamed Mea (KZN Raiders), Gareth Heyns (Southern Gauteng)|
Midfielders: Dan Sibbald, Tim Drummond (KZN Raiders), Charlie Bowren, Ryan Julius (SA U21), Reza Rosenberg, Miguel da Graca (Southern Gauteng), Wade Paton (Western Province)
Forwards: Pierre de Voux, Lloyd Norris-Jones, Keenan Horne (Western Province) Bili Ntuli, Tevin Kok, Ryan Crowe (SA U21), Ross Hetem (KZN Raiders), Stephen Cant (Northern Blues)

SA Hockey Association media release


---

Young stars set to shine in Tacarigua and Toronto

Sarah Juggins, for PAHF

The Junior Pan American Championships are set to burst into life this spring-time. At the end of March (29th March to 10 April), the women's event will get underway in Tacarigua, Trinidad & Tobago, while in May (20-28th May) the men are off to Toronto in Canada.

At stake? A place for the top two teams at this year's FIH Junior World Cup. The women's Junior World Cup will take place in Santiago, Chile, from 24 November to 4 December, while the men's event takes place in India from 1-11 December.

The importance of the Junior Championships was reiterated by Pan American Hockey Federation president Alberto 'Coco' Budeisky, who said: "The PAHF considers the junior tournaments, both women and men, to be vital for our sport. These two tournaments, apart from the fact they are qualifiers for the FIH Junior World Cup, are the basis for the development of future national teams among the PAHF member countries.

"Through these tournaments, we can see how the national teams are growing and improving. The PAHF, along with host nations, Canada and Trinidad & Tobago, will be doing its utmost to ensure these events are a huge success."

In the whole scheme of international hockey events, the Junior Pan Am Championships are a relatively new phenomenon but, as you can see by taking a look at tournaments of the past as well as the forthcoming events, these Championships are viewed as serious markers for the state of the nation's hockey teams and can be reliable predictors for how the senior team may fare in future years, as well as how individual players can perform under pressure.

The Junior Pan American Championships started in 1978 for the men, with the women's event commencing 10 years later. The Championships take place every four years, with qualification for the Junior World Cup the ultimate prize. In that time, it has been an almost total Argentinian domination. The men have won every edition of the tournament, the women have been beaten only once, by the USA.

Argentina's dominance of the Pan American competition doesn't translate so readily onto the subsequent Junior World Cup competitions; since 1979 when the first men's Junior World Cup was held, Argentina has won the competition only once, in 2005, after picking up silver in 2001. The men's competition at junior world level has been dominated by Germany, who has won six of the last 10 editions.

The Argentina women's team has enjoyed more success, they have also only won the Junior World Cup once, in 1993, but they also won silver on three occasions, in 2001, 2009 and at the last edition in 2013.

For this year's events, excitement and anticipation surrounding the sport generally will create an intense atmosphere.  With Argentina's senior men and women, the USA women, Canada's men and the Brazilian men's team all competing at the Rio Olympics, excitement and interest in hockey across the continent will be high. This will be reflected in these Junior Pan Am Championships, particularly as some of those young stars may well be playing on the most prestigious stage of all just a few weeks later and hockey fans will be eager to see the players in action.

Nine women's teams and eight men's teams will be competing at this year's Junior Pan Am Championships. The figure is slightly down on the previous edition as 13 men's teams lined up to do battle in 2012, but even with Guatemala, Brazil, Venezuela, Jamaica and Uruguay missing from the competition, there is bound to be an intensity to the matches as the teams battle to qualify for the Junior World Cup.

Some familiar names emerged from the previous edition of this competition, which was held in Guadalajara, Mexico, in 2012. For the men, it was the "Gonzo show", as Gonzalo Peillat of Argentina was crowned top scorer and also named as player of the tournament. His counterpart for the women was Florencia Habif, who was player of the tournament, with Manuela Urroz of Chile taking the top goal-scorer award. All three players, plus several of their peers are now in their senior sides.

For all the teams, the Pan Am Championships are clearly a nurturing ground for talent. Take the current Canadian men's and women's teams. From the 2012 event in Guadalajara, nine of the players are now regulars in the men's senior squad and recently competed in the Pan Am Games and Hockey World League Final (Matthew Sarmento, Keegan Pereira, Brenden Bissett, Adam Froese, James Kirkpatrick, Paul Wharton, Gabrial Ho-Garcia, Gordon Johnston and Taylor Curran, with both Froese and Ho-Garcia named to the 2015 Pan Am Elite Team). Among the Canadian women's team, seven members of the 2012 Junior squad are now regulars on the women's senior squad (Karli Johansen, Hannah Haughn, Abigail Raye, Sara McManus, Holly Stewart, Maddie Secco and Nathalie Sourisseau, with Haughn, Johansen and Raye striking PAHF Elite honors).

The importance of the Junior Pan Am Championships for future individual success within the international team is something that will be discussed further in a later article, but as chief executive of the International Hockey Federation, Kelly Fairweather points out, it is not just the success of the individual that is at stake, it is the very future of the sport: "These events provide the platform which feeds our senior national teams and are therefore key in achieving our ambition to make hockey a global game that inspires the next generation."

So let's take a quick look back at some of the previous Junior Pan Am Championships, starting with the men's competition. While the gold medal has gone to Argentina on every occasion, the runner-up spot has been more varied. Chile has always performed well at these games and has taken the silver medal in the men's event on four occasions. The Chile team has also finished in third place three times. The very first edition, held in Mexico City back in 1978, was a match between Argentina and Chile – a match that signaled the first of Argentina's unbeaten run.

Canada has appeared in three finals, most notably in the last edition of the event in 2012, when the North American side pushed Argentina all the way in a tense 3-2 match. Goals from Gordon Johnston and James Kirkpatrick gave the Canadian side hope, but goals from Joaquin Menini, Joaquin Coelho and Peillat were enough to seal the Argentinian victory.

The other side to appear in the final on three occasion is Cuba, although the last time they did so was 1996 and the team seems to have lost its way since then, finishing out of the top four spot ever since. One team that has teetered on the edge of the medals has been the USA men's team. They took bronze in 2008, after beating Canada on a penalty shoot-out. Until that year, the USA side had been perennial fourth place finishers.

The women's event began in 1988 with a match between Argentina and the USA. It is a fixture that has been repeated on two more occasions, with Argentina emerging victorious both times – by a 5-0 and 3-1 margin. Despite this, the USA is the only other team to lift the trophy. They did so in 2008 when they beat Chile 2-1 after extra time. Argentina had to settle for bronze on that occasion.

Canada has also taken silver twice, losing out to Argentina by a 7-1 scoreline back in 1997 but then nearly causing an upset when they took them to a tense 2-1 scoreline in the 2012 edition. Two goals from Julia Gomes – now a key part of the senior Las Leonas team – was enough to break Canadian hearts in that final. Karli Johansen was the Canadian goal scorer.

The players, coaches and team staff are now in the final stages of preparation for these tournaments. In what is a huge year for hockey, the Junior Pan Am Championships is perhaps one of the most important events for hockey in the Pan Am region because it provides a signpost for the future of the sport. Who will emerge as heroes, who will make their mark on the game? When the players line-up for the matches in Tacarigua or Toronto, all thoughts of their future will be far from their minds, but how they perform on that platform could be crucial for both their own international careers and the future of hockey in their country.

Continuing his ringing endorsement for the Junior Pan Am Championships, Fairweather, says: "Junior hockey plays a hugely important role in the development of our sport. It's a major stepping stone for young athletes as they move up from playing at a national level to the international stage. It is here that their development really progresses as they learn both on and off the pitch. From dealing with life on the road to learning from all of the different playing styles and tactics used by their opponents, tournaments such as the Pan American Nations Junior Championships are incredibly beneficial to our young athletes."

FIH President Leandro Negre added: "The Pan American Junior Championships are always a fantastic platform for the up and coming athletes from across the continent to showcase their talent. As a result there is always a huge amount of action and excitement, which will be even more evident this year as the teams battle for a place in the 2016 Junior Hockey World Cups being held in Chile and India. It is always very inspiring to watch young talent break through and perform well in competitions like this, as we witness rising stars emerge and new heroes born."

Pan American Hockey federation media release


---

Crucial weekend for SSTMI Thunderbolt

by S. Ramaguru

KUALA LUMPUR: This weekend will be pivotal to SSTMI-Thunderbolt's hopes of retaining the Division One title in the Malaysian Junior Hockey League.

The MJHL will resume on Friday – after a 12-day break – and SSTMI have two important matches awaiting them.

They play BJSS-Thunderbolt on Friday and Politeknik Malaysia on Saturday. Win these two matches, and SSTMI are virtually assured of the league title.

SSTMI lead the 10-team Division One standings with a perfect 15 points from five matches, while second-placed SSP-MSP-Thunderbolt (Pahang Sports School) have 12 points from five matches.

It won't be easy for SSTMI against BJSS.

That's because BJSS, having lost just once so far, know that a win will boost their own title challenge.

SSTMI team manager Adam Izamry Idrus admitted that his players will have to step up to the plate and get the job done as early as possible.

"Every match is crucial for us. It puts a lot of pressure on the players, so we have to pace ourselves and make sure we're ready for every game," he said.

Adam admitted that facing three of their title challengers – including last year's runners-up UniKL – would be a daunting task.

"BJSS and Pahang Sports School are still title contenders. We also have to meet last year's runners-up UniKL ... they can act as spoilers," he said.

"The 12-day break has given all the teams the chance to train and rectify their mistakes. All the teams will be refreshed and ready."

After BJSS and Politeknik, SSTMI two remaining matches against Pahang Sports School (Feb 19) and UniKL (Feb 21).

"We are injury-free and we have been focusing on scoring in training. We need to convert more of our penalty corner chances. We're happy with the number of field goals we've scored," said Adam.

SSTMI have scored 26 goals for a +22 goal difference. Only Pahang Sports School have scored more goals – 28.

But the Pahang side have let in seven goals and have a +21 goal difference.

The Star of Malaysia