All the news for Tuesday 9 February 2016

Indian Men go down 2-1 to arch rivals Pakistan; Women defeat Sri Lanka




Guwahati: Hockey men's event witnessed encounter between India and Pakistan in Moullana MD. Tayabullah Hockey Stadium, Bhetapara, Guwahati, Assam in which the latter came out victorious by 2-1. The win in the match takes Pakistan to top of the points table in the pool stage.

undefined The Pakistan team started the match in an attacking manner putting the young Indian team on the defence in the initial moments of the game. The attacking play was duly rewarded in the 11th minute for the Pakistan team with a goal from Arslan Muhammad Qadir who scored a field goal to put the team in the lead. The Indian team regrouped and started pressing hard in order to get the equalising goal but the Pakistan defense held strong to keep the Indian attackers at bay. The first half ended with Pakistan leading by 1-0.

The start of the second half increased the problems for the Indian team. Arslan Muhammad Qadir again found a loop hole in the Indian defense within to score the second goal for Pakistan within 2 minutes of the second half. The Indian team 2 goals behind pressed hard to close the gap. The breakthrough came from the Indian Captain in the Mandeep Antil in the 53rd minute to reduce the goal deficit to 1 goal. India made numerous attacking moves but none of them converted into a goal. The match ended with a win for Pakistan by 2-1.

Indian Men will play their next match against Sri Lanka on 10th February, 2016 in a must win match.

Indian Women's hockey team continued their winning run defeating Sri Lanka 12-1 in their second encounter of SAF Games. The 12th South Asian Games which are being hosted in Guwahati, Assam will see the Indian men's and women's hockey teams in action from 7th – 12th February 2016.

http://stick2hockey.com/photo/image1992.jpg

India started on an attacking note and scored early in the 4th minute through a field goal from Rani, giving the hosts a 1-0 lead in the match. The Indian eves kept pressing hard, pushing into the opponents circle often. Their circle penetration was soon rewarded with a penalty corner, which was duly converted by Jaspreet Kaur in the 8th minute giving India a 2-0 lead.

The Sri Lankan defence seemed helpless against the Indian attack, which extended their lead in the game by another four consecutive field goals in the 13th, 14th, 19th and 27th minute through Sonika, Soundarya Yendala (14th and 27th) and Jyoti Gupta respectively. The Indian eve added on to the damage for the Sri Lankans with another penalty conversion in 32nd minute from Jaspreet Kaur taking the score to 7-0 in their favour at the end of the first half.

The second half began with the Sri Lankan girls trying hard to stop the Indian forwards from penetrating into their circle, but their efforts failed as Jaspreet Kaur struck a field goal in the 38th minute and followed it up with a penalty stroke conversion in the 42nd minute taking the Indian goal tally to 9 goals in the match.

Vice-Captain Deepika added to the Sri Lankan woes scoring another field goal in the 47th minute taking the score to 10-0 in India's favour. Jaspreet Kaur was in unstoppable form today as she scored her fifth goal of the day in the 57th minute through a penalty corner, taking the score board to 11-0 in India's favour.

The Sri Lankan's were trying hard to keep possession of the ball and were lucky enough to get a solitary field goal to their kitty through P.A.C.D Premasiri in the 58th minute. The Indian girls finished the match with another penalty corner conversion from Gurji Kaur in the 65th minute. The match came to an end with India winning the match 12-1 against Sri Lanka.

Indian women team now leads the points table with six points to their kitty and will take on the winner from tomorrow's round robin match between Sri Lanka and Nepal in the gold medal match on 11th February 2016.

Stick2Hockey.com


---

Purposeful Pakistan outsmarts India

Amitabha Das Sharma



Lone bright spot: Captain Antil Mandeep (center) celebrates India's goal against Pakistan. Photo: Ritu Raj Konwar

Pakistan played with purpose and organisation to outplay host India 2-1 in a men's round-robin pool match here at the Maulana Tayabullah Stadium, Bhetapara on Monday. Muhammad Arslan Qadir scored both the Pakistan goals once in each half while Indian captain Mandeep Antil reduced the margin in the second half.

Pakistan executed its plan well taking control of the midfield right from the start. India, defending on most of the occasion, lacked direction and its weakness was exposed when Fareed Ahmed set up Qadir in the 11th minute with a pass inside the semicircle and the latter, who was left unchallenged, used the free space to place the ball home past a hapless Vikas Dahiya in the Indian goal.

India was not able to breach the better-coordinated Pakistan defence. The only good chance, a penalty corner in the 27th minute, was wasted by India as there was no one to make use of the push by Gagandeep Singh.

Pakistan continued its dominance after the change of ends and doubled the lead two minutes into the second half when it exploited the confusion in the Indian defence once again.

Qadir was located, again unmarked, by a smart pass from the midfield and the Pakistan forward made no mistake with his finishing.

India won back-to-back penalty corners in the 42nd minute but Manpreet Singh was not sharp enough with his drag-flicks to beat the Pakistani goalkeeper Imran Butt.

Indian captain Mandeep Antil finally put a diving effort to guide home a snap reverse shot from the left by Abhay Ekka, to make it 2-1 in the 53rd minute.

India failed to take the ahead the momentum and find the equalizer in the remainder of the action as Pakistan consolidated its defence effectively.

The result: Pakistan 2 (Muhammad Arslan Qadir 11, 37) bt India 1 (Mandeep Antil 53).

The Hindu


---

Arslan Qadir scores twice as Pakistan defeat India



Aslan Nadir (c) celebrates one of his two goals. - AP

Arslan Qadir scored two spectacular goals as Pakistan edged India 2-1 in a fierce 2016 South Asian Games encounter in Guwahati on Monday.

In a match which produced thrilling runs and end to end hockey, Qadir put Pakistan in front in the 11th minute after repeated incursions by the Greenshirts into the Indian half.

Qadir doubled the lead with another field goal in the 37th minute and though hosts India hit back with a goal through Mandeep Antil in the 53rd, the Pakistan back line ensured there were no last minutes disasters.

With the win, Pakistan won its second game on the trot at the Games and will go into their remaining matches with renewed confidence.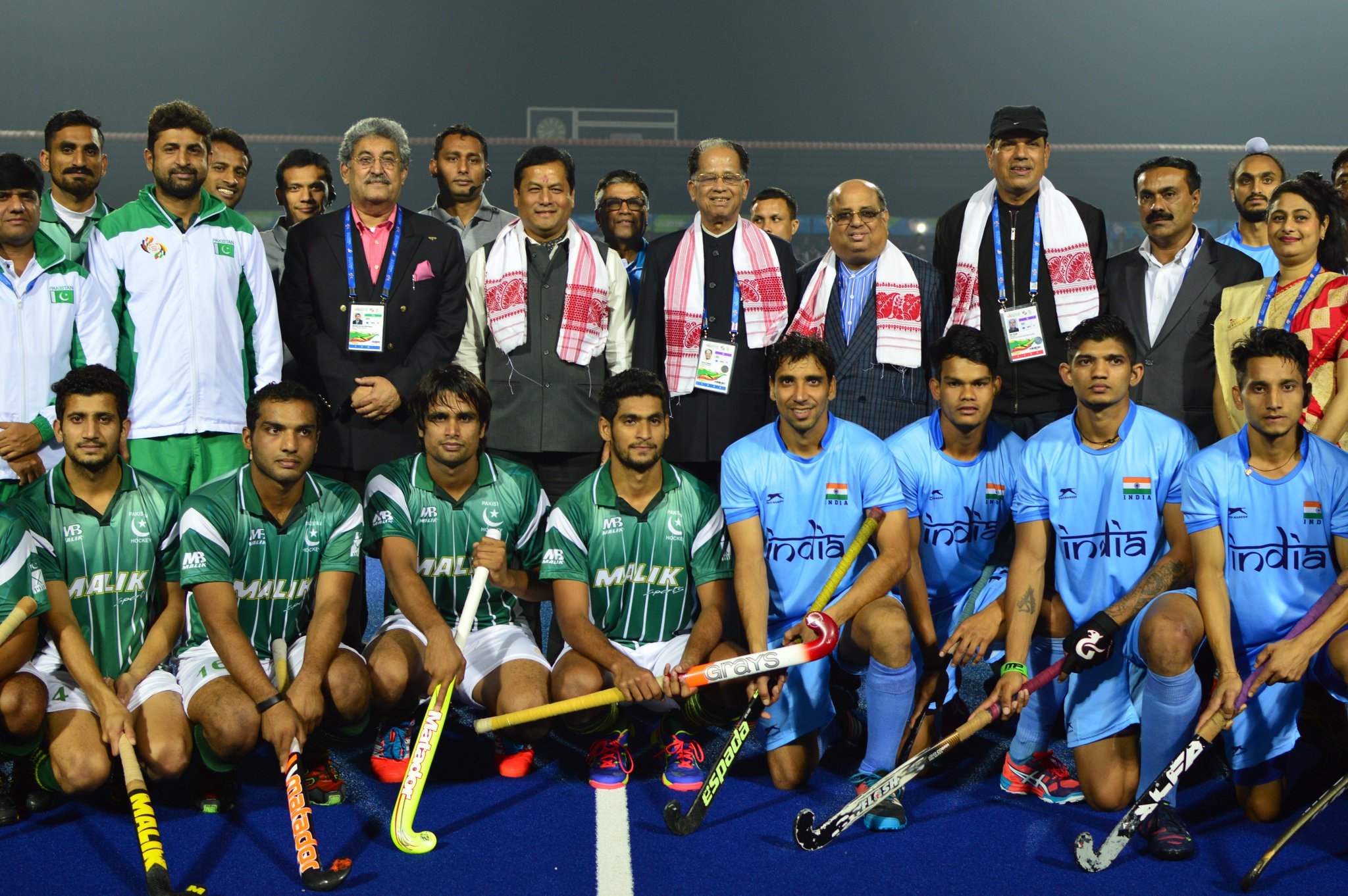 Dawn


---

All rise for Pakistan hockey stars

Pakistan defeat India 2-1 in South Asian Games hockey match, get standing ovation as North-East laps up rivalry.

by Nihal Koshie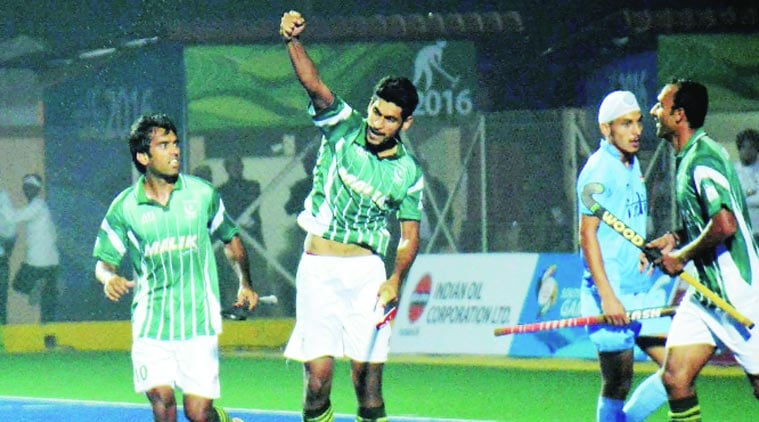 Pakistan's Arslan Muhammad Qadir (centre) after scoring the winner against India. (Source: PTI)

Talk about hockey and here are some facts which highlight the disconnect between the game and the North-East.

No Indian senior men's team has played a match in this part of the country. No player from Guwahati, or from Assam has ever played for a senior Indian women or men's team. The most recent achievement of a hockey team from Assam has been the 'B Division' title its senior women's team won in Bhopal two years ago. The All-India sub-junior women's hockey championship was one of the biggest tournaments hosted here in recent time.

As far as the sport of hockey goes, Assam and most of the North-East can be called a backwater though Kothajit Singh and Chinglensana Singh from neighbouring Manipur have donned India colours.

In this context, the India versus Pakistan pool match at the Moullana MD Tayabullah Hockey Stadium in Bhetapura was a watershed day for the game in the North-East. The two teams are bound to clash in multiple sports during the 12th South Asian Games, but a hockey match brings with it a history of rivalry which is matched only when the cricket teams of both nations play each other.

On Monday night, a full house turned up to watch the meeting between the two sides. Tickets were priced at Rs 10 and Rs 20 and had been sold out days ago, and those who realised the significance of this game later were left stranded outside the stadium entry gates. In the black market, the last going rate for a ticket was Rs 500.

And like any India-Pakistan clash of significance, this match was also hijacked by politicians. Inside, on the newly-laid blue astro-turf and under the floodlights two political rivals, BJP's Sarbananda Sonowal and chief minister Tarun Gogoi of the Congress, greeted the players. If there was one place to be seen at, after the opening ceremony, it was this clash and both the politicians couldn't afford to miss the occasion.

The anticipation was unmistakable as the Indian and Pakistan players warmed-up on either side of the field of play. Almost all of India's star players are currently engaged in the Hockey India League and Pakistan weren't at full strength either. But in rivalries like these, players tend to raise their game, especially when they receive home support or want to prove a point while playing away.

Pakistan's Arslan Muhammad Qadir proved to be the difference between the teams, scoring in the opening field goal in the 11th minute and two minutes after the break in this two-half game. The Pakistanis constantly put the Indians under pressure and only a diving field goal from Mandeep Antil gave India a glimmer of hope before they went down 2-1.

North-East's date with India-Pakistan hockey did not have a popular result and yet there was a standing ovation for the Pakistan team which undertook a victory lap.

Indian Express


---

India lose to Pakistan 1-2 in men's hockey

GUWAHATI: A lacklustre India suffered a 1-2 defeat at the hands of arch-rivals Pakistan in their much-anticipated group match of men's hockey event at the 12th South Asian Games here on Monday.

Muhammad Arslan Qadir scored both the goals for Pakistan in the 11th and 37th minutes while Indian captain Mandeep Antil pulled one back in the 55th minute of the match at the Moullana Tyabulla Stadium.

The much-awaited match of the Games played between second string sides of the two countries did not rise to any heights as there were few very goal-scoring chances.

There was not much spark either on the field as both sides lacked creativity for most of the time. This was the first time both sides were playing against each other after the controversy in the 2014 Champions League match in Bhubaneswar.

The Indian side, without a host of top stars, lacked coordination and had mispasses galore as they have not played together often and the defence was vulnerable.

The two sides are though expected to play in the final again on February 12 as they should finish first and second after the round robin league of the four teams taking part in the Games.

There was not much to differentiate between the two sides in the first half, though Pakistan had slight edge. The inexperienced Indian defence gave space to the Pakistan forwards especially at the right flank.

From one such early raid, Pakistan took the lead in the 11th minute. In a fast build-up deep from Pakistan half, Fareed Ahmed sent a pass to Muhammad Arslan Qadir whose push on the run beat Indian goalkeeper Pankaj Rajak.

India had a chance to equalise three minutes from the first half as they got a penalty corner but leave along taking a strike, Umar Mohammad did not even take the push properly to the penalty corner stopper and thus wasted it.

Pakistan made it 2-0 within two minutes of resumption with the Indian defence once again found wanting. Muhammad Arslan Qadir was left to take a free strike for Pakistan's second goal in the 37th minute.

India forced one penalty corner very soon but failed to score from that as Gagandeep Singh's strike was blocked by the goalkeeper.

It was left to captain Mandeep Antil to pull one back for India as he connected an Abbay Ekka long hit with a diving effort. India made some last-ditched efforts to find the equaliser but the attack lacked teeth against a Pakistani defence well manned by captain Muhammad Irfan.

The Times of India


---

Player crisis: Coach Rehan takes to the field

By Nabil Tahir

KARACHI: In a surprising move, the Pakistan Hockey Federation (PHF) asked Pakistan Whites coach Rehan Butt to take to the field as a player after Samiullah was not granted the visa by the Indian authorities for the South Asian Games.

"We do have 15 members in the squad but to execute our strategies, for which we have trained strenuously in the last month, we have to have 16 members," said Rehan. "We want to do well in the competition. I was asked to fill in and was happy to oblige. No other standby player could receive a visa on such short notice, hence my name came up."

PHF secretary Shahbaz Ahmed Senior, meanwhile, vented his frustration. "The Games are taking place after being delayed many times and when they are finally happening, the Indian authorities are refusing visas for our players," said Shahbaz. "This is mismanagement on their part."

Rehan played in the Greenshirts' opener, winning 3-0 against Sri Lanka.

The Express Tribune


---

Pakistan hockey coach Rehan Butt turns out as player in SAG

KARACHI: Pakistan's retired hockey international Rehan Butt, who was appointed coach of the national team taking part in the 12th South Asian Games, has turned out as a player in the team's first two matches, including Monday's game against India.

"The Pakistan Hockey Federation (PHF) asked me to enter my name as a player because one of the selected player's Samiullah was not granted visa for India," Rehan Butt said over telephone.

"I was forced to take the field as a player but I have enjoyed the experience," Butt said after Pakistan's 2-1 win over India in the Games in Guwahati today.

A spokesman for the PHF said that the squad was made up of 15 players but head coach Muhammad Saqlain had requested us to allow him to use Butt as the 16th player to execute his plans properly in the Games.

"According to Saqlain he had prepared the team for the games with 16 players in mind and he couldn't change that strategy now so we permitted Butt to play in the event," he said.

Butt said since no other standbye player could get a visa at such a short notice he had agreed to enter as a player.

"But it is a great experience being coach and player and has allowed me to look at the game from a new dimension," he added.

PHF secretary Shahbaz Ahmed however told the Pakistani media that he was not happy with the refusal of visa for Samiullah.

He noted that Pakistan had agreed to take part in SAG after clearance from the government and still visas were being denied to some players.

Butt also played in Pakistan's 3-0 win over Sri Lanka.

The Times of India


---

SAF Games Hockey: 21 years and 2 months ago

K. Arumugam




As India takes on Pakistan today in Guwahati, I cannot but reminisce what transpired 21 years and two months ago: in fact everything good happened. Pargat Singh led and Cedric D'Souza trained India, then known for boring defensive strategy, came out of the chrysalis for once and went for goals spree, took five goal lead, which it maintained till five minutes before the hooter to enthral capacity crowd of Chennai 's newly built Mayor Radhakrishnan stadium, to defeat reigning World Cup champions Pakistan 5-2 to win the first ever South Asian Federation Games hockey gold.

Pakistan then were having legends such as Shahbaz Ahmad Sr. -- now Secretary General of Pakistan Hockey Federation – Shabhaz Ahmad Jr, Tahir Zaman, Kamran Ashraf, Mansoor Ahmad (goalie) and in its side, and were also World Cup Champions.

It was just a year for KPS Gill who has taken over the Indian Hockey Federation on popular demand, and the SAF games gold was the icing on the cake for him, for, the year 1995 saw Indian hockey winning many titles from Indira Cup in January to SAF Games in December with interregnum gold at Sultan Azlan Shah Cup in Kuala Lumpur.

1995 in many ways was memorable year for Indian hockey.

Coming back to SAF Games, Nepal, Sri Lanka, Bangladesh were in the fray besides India and Pakistan.

The tournament was played on round robin basis, but everyone knew it's the last match between the foes India and Pakistan will decide the goad, and it was.

Pakistan defeated Bangladesh 3-2, Sri Lanka 12-0, Nepal 22-0 before succumbing to India in the pressure cooker atmosphere.

However, India started badly just defeating Sri Lanka 2-0 with goals each from Mukesh Kumar and Dhanraj Pillay. Sri Lankan team was trained by Chennai's Jayasekaran, elder brother of Vasudevan Baskaran.

India managed a good show against Bangladesh 7-0 which included four penalty corner conversions. India's win over Nepal 16-0, which scored only a goal in the entire tournament.

There was a rage going on outside the newly built stadium before the Pak match. All tickets were sold out. Double the crowd waited outside. Atmosphere was terrific and the home team stood to the task. Cedric D'Souza's team, known for rigid, boring, dull backpasses ridden defensive game was not there, instead free flow one.

The forward line of Dhanraj Pillay, Sanjeev Kumar and Mukesh Kumar was in fantastic form, with good help coming from midfield maestro Harpreet Singh, Mohd Riaz and Sandeep Somesh. Pargat Singh and Anil Aldrin manned the defence with Dilip Tirkey on the bench.

Dhanraj Pillay, already a hero in this part of the world, struck the first goal in the 17th minute, right winger Mukesh Kumar followed it up within next two minutes. Dhanraj Pillay again struck after lemon time, not once, but twice. Mukesh Kumar, who was the hero on that day, added another one.

Pakistan came out with two goals in the last five minutes, but it made no difference to the crowd who were already dancing to 'Silk Smitha' numbers.

Today India takes on Pakistan, but the latter is no World Cup Champions, but not even qualifying for it. India also slipped many ladders with many defeats on the international for a since then.

Their feat may not create a hype now, but it was true it was so once.

This writer has seen both the highs and will always long for the same.

SAF Games gold winning Indian Team: Pargat Singh, Anil Aldrin, Dilip Tirkey, Sandeep Somesh, Baljit Singh Saini, Baljit Singh Dhillon, Sanjeev Kumar, Edgar Mascarenhas Jr, AB Subbaiah, Mukesh Kumar, Dhanraj Pillay, Dilip Tirkey, Md. Riaz, Ramandeep Singh, Hasrat Qureshi, Sarabhjit Singh Sr. Coach: Cedric D'Souza, Asst Coaches: Mercellous Gomes & Divnain Singh, Manager: P. Krishnamurthy.

Stick2Hockey.com


---

USWNT Athlete Katie Bam Adds to USA's First Victory of Series with 200th Cap

CHULA VISTA, Calif. –  With less than 6 months until the Rio 2016 Olympic Games, the U.S. Women's National Team (USWNT) transitioned to the West Coast of the United States to compete in their first capped match of the year. Team USA defeated Canada with a 8 -1 win at the Chula Vista Olympic Training Center, marking the first contest of a four-match event.

"This is a really important series for us," said Craig Parnham, USWNT Head Coach. "It's one of the several we have incorporated into the buildup of the Champions Trophy and the Olympics. It's good for us to have an international opponent that we can continue to work and develop our own game so that we can keep learning about ourselves with a view to the summer Olympic Games."

Dashing off of the midfield line and into the think of the action, USA kept great communication in their defensive end to find Jill Witmer (Lancaster, Pa.) in the middle of the pitch. She ran with speed on the right sideline to locate Michelle Vittese (Cherry Hill, N.J.) for a give-and-go pass combination. Canada interfered with the advance to redirect play but it wasn't long until Team USA drove into their attack circle again. Caitlin Van Sickle (Wilmington, Del.) with clever stick work dished a ball to Michelle Kasold (Chapel Hill, N.C.) who sent a backhanded shot to the backboard to change the score USA 1, Canada 0 in the 7th minute. The red, white and blue wasted no time to make their way back into the offense end, earning a penalty corner. Off of Lauren Crandall's (Doylestown, Pa.) direct hit, Julia Reinprecht (Perkasie, Pa.) was able to place a touch on the ball to change the score USA 2, Canada 0 during the 8th minute. Continuing the scoring frenzy, Katie Bam (Blue Bell, Pa.) slammed a sharp strike past Canada's goalkeeper to successfully convert a chance into a goal and keep Canada scoreless. USA maintained a strong and consistent attack presence within their offense circle until a quick redirection of play, gave way to Canada's Hannah Haughn's shot on cage to secure the team's first goal in the 13th minute. Team USA kept good pressure up front for Bam to capitalize on a goalmouth scramble, her second goal of the game to change the score USA 4, Canada 1. In the 23rd minute, Witmer got a shot off at close range to convert on the chance. In the 30th minute, Crandall finished USA's scoring in the first half when she crushed a straight shot past the Canada defense and goalkeeper off of a penalty corner to develop a halftime score of USA 6, Canada 1.

The scoreboard saw no movement in the third quarter with both teams vying to cross the goal line until the fourth and final 15 minutes of the game. Keeping an aggressive attack mindset until the very last second, Crandall again picked up the ball to slide it past the goal line solidifying a final score of USA 8, Canada 1

Also today, USWNT veteran forward Bam reached a landmark achievement within the sport of hockey by earning her 200th cap.

"I'd like to dedicate this cap to all of my past and present teammates," said Bam. "They're awesome. I couldn't have done this without them."

The series continues with the USWNT competing against Canada tomorrow at 2:00 p.m. PST. Follow live match updates by following @USAFieldHockey on Twitter.

USFHA media release


---

Canadian women drop first of four games with U.S.

Shaheed Devji




In their first match since winning bronze at the 2015 Pan American Games in Toronto last summer, the Canadian women's field hockey team took to the field in Chula Vista, California Monday dropping an 8-1 decision to North American rival the United States.

It was not only the first game action for the Women's National Team since last summer but also the first time they faced the seventh ranked, and 2011 and 2015 Pan Am Games champion, U.S. since falling 3-0 to the States in the Pan Am Games semifinal.

Hannah Haughn, playing in her 99th senior international match for Canada, scored the lone Canadian goal in Monday's match.

The United States got on the board early in the match with Michelle Kasold and Julia Reinprecht scoring in the seventh and eighth minutes respectively.

Katie Bam added a third American goal in the tenth minute and the Canadians quickly found themselves behind.

Haughn, however, was able to get Canada on the board before the quarter was out, as she put one by American keeper Alesha Widdal in the thirteenth minute.

The deficit would be too much for the Canadians to overcome and the Americans would go to take game one of the four game series by a score of 8-1.'

Of note for the Canadians, Nikki Woodcroft and goalkeeper Rowan Harris – who came in in relief of Kaitlyn Williams in the 31st minute – played in their first senior international matches for Canada.

It is expected that Haughn will play in her 100th match on Tuesday (2:00pm PT/5:00pm ET) and become the youngest Canadian women ever to reach that mark.

Field Hockey Canada media release


---

Woodcroft sisters set to represent Canada together for first time

Shaheed Devji




When forward Nikki Woodcroft steps on to the field during the Canada-United States series in Chula Vista, California this week, not only will it be her first time playing with the senior Women's National Team, it will be the first time she dons the red-and-white on the same team as her older sister Amanda.

The three-year age gap is not large enough to have precluded the Woodcroft sisters from playing sports on the same teams growing up; the two played field hockey, ice hockey and soccer as teammates in high school in Kitchener-Waterloo and even represented the University of Toronto Varsity Blues field hockey program at the same time.

But when it comes to Canada, they have only represent their country separately.

But Nikki, one of a handful of junior players who will make their senior debuts in the four game series with the United States, now gets her chance with the senior women.

"I've been working so hard," she says. "I'm so excited to finally represent Canada at the senior level."

The junior Woodcroft is coming off a successful tour representing Canada's Under-21 team in Chile and she – along with Alexis de Armond and Rowan Harris – is expected to make her first senior appearance this week.

Amanda, the older of the two siblings, has been playing at the senior international level since late 2013 and in the summer of last year represented Canada at the 2015 Pan American Games in Toronto, Ontario, where she not only played in front of family and friends in her home province, but did so on her University's home turf.

It was a special experience and one she won't soon forget. Suiting for Canada alongside her sister will likely be one of those same memorable moments.

"Playing for Canada for the first time, that's going to be an experience to remember for sure," Amanda says. "I don't think many people get that chance."

"Hopefully moving forward, we can be every time we play together, in every game no matter what tournament or competition it is."

As many younger siblings do, Nikki has looked up to Amanda and wanted to follow in her footsteps representing Canada. That was most evident to her when she watched her sister at the Pan Am Games last summer.

"Watching them at the Pan Ams last year was one of the most exciting and inspiring things to watch," Nikki says.

And as they both chase the common goal of becoming Olympians, with the hope that they can do it together, like many sibling combinations, they share something that has been in the making for years and cannot be taught.

"They comfort and just knowing each other so well and knowing how each other plays," Nikki adds. "I think we push each other too, to do better and be the best that we can be."

Field Hockey Canada media release


---

Ranchi Rays overcome gritty Kalinga Lancers




Bhubaneswar: Defending Champions Ranchi Rays came back from behind to beat Kalinga Lancers 3-2 at the Kalinga Stadium in Bhubaneswar today. With this win Ranchi Rays go to the top of the points table with 27 points in the 4th Coal India Hockey India League.

The first quarter of the match between the table toppers Kalinga Lancers and defending Champions Ranchi Rays started on an attacking note with both the teams pressing hard to take the early advantage. Kalinga Lancers drew first blood in the 9th minute with a field goal from Dharamvir Singh taking the home team 2-0 up.

The visiting team made a comeback in the next minute with an excellent penalty corner conversion from the Ranchi Rays Captain Ashley Jackson making the score 2-1. The second quarter started with the Ranchi Rays building up pressure on the home team with lots of passes and strong midfield play. The away team put together some good attacking moves but failed to get the right deflection to equalize. The score at half – time stood at 2-1 in favour of Kalinga Lancers.

Ranchi Rays started the third quarter on an attacking note in search for the equalizing goal. Kalinga Lancers were put on the back foot from the start of the quarter and weren't allowed to go past the half line. The end of the third quarter saw some nice attacking moves from the home team but none were converted into a goal. The away team was in full attacking flow leaving no stones unturned and giving no space to the Kalinga Lancer players.

The third quarter ended with the score still at 2-1 in favour of the home team. The fourth quarter started with the home team looking energised and playing with a new strategy of pressing hard to score. The pressing game soon gave the opportunity to the away team to counter attack and they scored in the 49th minute through Mohd Amir Khan which gave Ranchi Rays a one goal lead at a critical juncture of the game. Kalinga Lancers started pressing hard in order to equalise and got an opportunity to score in the 53rd minute but failed to convert the penalty corner. The last moments of the game saw numerous attacking moves but none of them were converted into a goal and Ranchi Rays won the match with a score line of 3-2.

The Man of the Match award of INR 50,000 - Mohd. Amir Khan from Ranchi Rays
The Coal India Goal of the Match of INR 50,000 - Ashley Jackson from Ranchi Rays
Hero Emerging Player of the Match award of INR 25,000 - Matthew Dawson form Kalinga Lancers
The Most Entertaining Player of the Match award - Moritz Fuerste from Kalinga Lancers

The next match of the 4th edition of the Coal India Hockey India League will be played between Delhi Waveriders and Dabang Mumbai H.C on 9th February, 2016 in Shivaji Stadium in Delhi.

Stick2Hockey.com


---

Amir's field goal gets Rays past Lancers

J. R. Shridharan




Ranchi Rays' Mohammad Amir Khan broke the hearts of the opponents and also thousands of home fans as he helped his team defeat Kalinga Lancers 3-2 in the Hockey India League fixture at Kalinga Stadium here on Monday.

With Lancers leading 2-1, Amir showed great urgency in the last quarter and, swiftly positioning himself to execute a reverse hit, caught the rival custodian on the wrong foot.

Lancers looked menacing with Glenn Turner and Aran Zalewski in full flow, and used all the tricks in the book to try and score another goal. But their poor penalty conversions proved costly.

With this win Ranchi leads the pack with 27 points while Lancers are at 23.

A few minutes before half-time, Gurjinder Singh exhibited poor execution hitting his drag flick straight to the goal-keeper.

Though Rays made the early forays, it was the Lancers who drew first blood when Dharamvir Singh scored a field goal by finishing the pass generated by Zalewski.

However, the fleet-footed Ashley Jackson pulled one back by converting a penalty corner to open the account for Rays.

The second quarter witnessed midfielders of the both the teams getting busy and they kept feeding the ball to their forwards. Lancers made several circle penetrations but Turner was not available when some crisp passes were executed.

Rays' Barry Middleton made a brilliant effort but his run-and-hit went straight to goalie Andrew Charter.

Lancers suffered a setback as M.G. Poonacha was given the marching orders for two minutes reducing the host to ten.

After that Rays marked Zaleswski and Turner astutely, ensuring that there was no threat to their lead.

Lancers will now travel to Chandigarh to play Punjab Warriors on February 15 while Ranchi Rays will clash with Delhi Waveriders at Delhi on February 11.

The result: Ranchi Rays 3 (Mohammed Amir Khan 2-FG, Ashley Jackson) bt Kalinga Lancers 2 (Dharamvir Singh 2-FG).

The Hindu


---

Rays sharper than Lancers

Ranchi come back from behind to beat Kalinga Lancers 3-2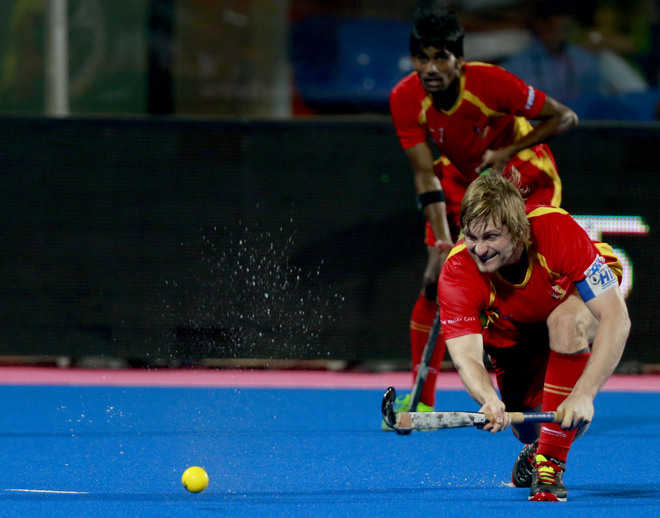 Ranchi Rays are on top of the points table with 27 points. Tribune photo

Bhubaneswar: Defending champions Ranchi Rays came from behind to eke out a 3-2 victory over Kalinga Lancers in the Hockey India League match. With this win, Rays go top of the table with 27 points.

Lancers drew first blood in the ninth minute with a field goal from Dharamvir Singh. The visiting team made a comeback in the next minute with an excellent penalty corner conversion from the Rays captain Ashley Jackson. The score at half time stood at 2-1 in favour of Lancers.

Rays started the third quarter on an attacking note. Lancers were put on the backfoot from the start of the quarter and weren't allowed to go past the half line.

The end of the third quarter saw some attacking moves from the home team but none of them were converted.

The third quarter ended with the score still at 2-1 in favour of the home team.

Mohd Amir Khan's goal in the 49th minute gave Rays a one-goal lead at a critical juncture of the game. Lancers started pressing hard in order to equalise and got an opportunity to score in the 53rd minute but failed to convert the penalty corner.

The last moments of the game saw numerous attacking moves but none of them were converted into a goal and Rays won the match.

The man of the match award was given to Mohd. Amir Khan of Ranchi Rays.

Waveriders desperate to snap losing streak

On a three-match losing streak, Delhi Waveriders would be desperate to return to winning ways when they take on Dabang Mumbai in a round-robin league match tomorrow. Having lost four out of seven games they played so far Waverriders are languishing at the fifth spot in the six-team event.

The Tribune


---

HIL 2016: Matches 18 to 20 recap

Match No 20: Jaypee Punjab Warriors vs Kalinga Lancers

7th February, 2016, Bhubaneswar: Spectators at the Kalinga Stadium, Bhubaneswar witnessed an exciting encounter where the visiting team the Jaypee Punjab Warriors ended Kalinga Lancers winning run, by defeating the home team 4-1. The visitors emerged victorious through strikes from Simon Orchard and Satbir Singh respectively. This was the first loss for Kalinga Lancers after four consecutive wins in the 4th Coal India Hockey India League.

The first quarter of the match started with attacking intent straightaway from the home team but Jaypee Punjab Warriors showed good defensive skills to keep the hosts at bay as both the teams looked dangerous on the counter attack. The second quarter started with the home team getting defensive as the visitors raised their pace in the game. Jaypee Punjab Warriors started pressing hard but the possession was still majorly controlled by the Kalinga Lancers who were looking very strong in the midfield. Punjab came close on many occasions including four failed back to back penalty corners, which were beautifully saved by Andrew Charter leading to a goal less first half.

The third quarter saw both the teams pushing hard for a goal. The away team looked dangerous in the initial minutes, but the home team were equally dangerous on the counter attack. Kalinga Lancers finally managed to break the defensive deadlock of the Jaypee Punjab Warriors in the 42nd minute, when star striker Glenn Turner made no mistakes in converting a penalty corner, giving the home team a much needed 1-0 lead in the game.

The third quarter ended with the scoreboard reading 1-0 in favour of the home team. The final quarter started with Kalinga Lancers trying hard to capitalise on their lead in the early moments of the quarter but an excellent interception by Sardar Singh foiled the home team's ambitions and the visitors scored a field goal through Simon Orchard in the 48th minute giving a 2-1 lead to Jaypee Punjab Warriors. The Lancers pressed really hard after this but the Punjab defence was way too strong for them to break. In the process Jaypee Punjab Warriors scored their second field goal in the 58th minute through Satbir Singh to take the score to 4-1 in the favour of Jaypee Punjab Warriors. The match ended with the score board reading 4-1 in the favour of Jaypee Punjab Warriors.

The Coal India Goal of the Match award of INR 50,000 - Simon Orchard from Jaypee Punjab Warriors Most Entertaining Player of the Match award - SV Sunil Man of the Match award of INR 50,000- Simon Orchard from Jaypee Punjab Warriors Hero Emerging Player of the Match award of INR 25,000- Mathew Dawson from Kalinga Lancers The next match of the 4th Coal India Hockey India League will be played between Kalinga Lancers and the defending Champions Ranchi Rays at Kalinga Stadium in Bhubaneswar on 8th February 2016.

Match No 19: Dabang Mumbai H.C. vs Uttar Pradesh Wizards

6th February 2016; Lucknow: Major Dhyanchand Stadium, Lucknow today witnessed another loss for its home team Uttar Pradesh Wizards against Dabang Mumbai H.C. The visitors who won their second consecutive match after a series of losses defeated Uttar Pradesh Wizards 2-1 in the 19th match of the 4th Coal India Hockey India League.

The Coal India Goal of the Match award of INR 50,000- Johan Bjorkman from Dabang Mumbai H.C.
Most Entertaining Player of the Match award - Affan Yousuf
Man of the Match award of INR 50,000- Matthew Swann from Dabang Mumbai H.C.
Hero Emerging Player of the Match award INR 25,000 - Gurjant Singh

Match No 18: Kalinga Lancers vs Delhi Waveriders

5th February 2016; Bhubaneshwar: Kalinga Lancers did not disappoint the crowd at the Kalinga Hockey Stadium today as the hosts registered their fourth win in the 4th Coal India Hockey India League. The Lancers defeated Delhi Waveriders 4-0 through two brilliant strikes from star forward Glenn Turner.

The Coal India Goal of the Match award of INR 50,000 - Glenn Turner from Kalinga Lancers
Most Entertaining Player of the Match award- Dharamvir Singh
Man of the Match award of INR 50,000- Moritz Fuerste from Kalinga Lancers
Hero Emerging Player of the Match award INR 25,000- Matthew Dawson

Stick2Hockey.com


---

Injured Lakra may miss Olympics




Indian hockey continues to struggle in an Olympic year. After the recent controversy surrounding Sardar Singh, the team has now suffered a blow with key defender Birendra Lakra being ruled out of action with a serious knee injury.

Lakra, who was named Hockey India's Player-of-the-Year last year, suffered a ligament tear in his right knee during his team Ranchi Rays' match against Dabang Mumbai on February 3. He will stay on the sidelines for the remainder of the Hockey India League and will be consulting renowned orthopaedic surgeon Anant Joshi later this month.

While the Ranchi team management is hopeful of a quick recovery, sources said the next 15-20 days would be crucial for the 24-year-old.

"We have to see. He started swimming today so we are hopeful, but, to be honest, the next two weeks will be critical for his recovery.

"Knowing Lakra, we know he will do everything to get back on his feet soon but a ligament tear is not something to be taken lightly," the source said.
Halappa to replace Lakra

Lakra has been replaced by former India player Arjun Halappa in the HIL. Interestingly, the 35-year-old Halappa is also a National selector and last played briefly for the Mumbai franchise in the last season.

Also, he wasn't part of the reserve list of players following the HIL player auctions last year, which did not figure any Indian player above the age of 30. In fact, Delhi Waveriders has also called up veteran 34-year-old Vikram Pillay, to replace an injured Amith Gowda.

Rays coach Harendra Singh said the team wanted an experienced player as replacement.

"There is no one of Lakra's calibre now among his contemporaries in India so we thought of getting someone experienced. We were asked to name any player we wanted and so we picked Arjun. In fact, we realised we could go out of the reserve list after we got to know that Vikram had been approved for Delhi by the organisers," Harendra told The Hindu.

Sources said both Delhi and Ranchi franchises had also sought the services of Gurbaj Singh, but the player is currently with the Indian team at the SA Games.

The Hindu


---

Halkett can't wait for hockey Tests against the best

JONATHAN COOK



SA defender Rhett Halkett relishes German challenge. PHOTO ACTION PIX

Experienced South African defender Rhett Halkett is relishing the opportunity of playing against Olympic champions Germany in a three-Test series in Cape Town at the end of the month.

Halkett has played 131 Test matches for South Africa and faced the world's best teams and strikers.

"I made my debut against Germany and have played them on numerous occasions," Halkett said Monday. "They are a very well organised team with world-class individual players.

"Germany are defensively sound and very good in one-versus-one situations both in defence and offence. They have efficient ball and game control in combination with the ability to attack at speed from anywhere."

For Halkett, competing and testing his ability against the best in the world is what drives him on.  "These upcoming Tests will be no different. The German league is the toughest European league I have played in to date."

The Capetonian said the fans can expect slick, exciting hockey with an exceptionally high skill level, while they will also be able to witness strong defensive structures.

"Well, to be honest, when you have won the last two Olympic gold medals, everyone in your team has the potential to be dangerously effective," Halkett said of the Beijing 2008 and London 2012 Olympic Games champs.

"Personally, I am feeling good. We had a good summer series at the end of January and we managed to secure some good results against three Rio Olympic teams, but playing Germany is always different."

SA TEAM
Goalkeepers: Gowan Jones (KZN Raiders), Rassie Pieterse Southern Gauteng)
Defenders: Dylan Swanepoel, Daniel Bell, Rhett Halkett (Western Province), Tyson Dlungwana (SA U21), Mohamed Mea (KZN Raiders), Gareth Heyns (Southern Gauteng)|
Midfielders: Dan Sibbald, Tim Drummond (KZN Raiders), Charlie Bowren, Ryan Julius (SA U21), Reza Rosenberg, Miguel da Graca (Southern Gauteng), Wade Paton (Western Province)
Forwards: Pierre de Voux, Lloyd Norris-Jones, Keenan Horne (Western Province) Bili Ntuli, Tevin Kok, Ryan Crowe (SA U21), Ross Hetem (KZN Raiders), Stephen Cant (Northern Blues)

SA Hockey Association media release


---

Moving forward: Pakistan set to launch pro hockey league in November

ISLAMABAD: Pakistan is set to launch its very own Pro Hockey League in November which will also involve foreign players, Pakistan Hockey Federation (PHF) Secretary Shahbaz Ahmed Senior revealed on Monday.

The former Olympian believed development and growth of young hockey players will rely on the success of the league which will help Pakistan regain its historic aura as a hockey-playing nation.

"Work to start country's first pro league is in progress and hopefully it will be given final touches by the end of this month or at the start of next month," Shahbaz told APP.

Pakistan have not won a major title since claiming the last of their three men's Olympic gold medals at United in 1984.

"The league will prove a landmark in regaining the glory of hockey and will help rebuild our supremacy in the game internationally," Shahbaz added.

Shahbaz, since his appointment as the PHF secretary in September last year, has expressed his belief that Pakistan hockey can go through a successful transition if young players are provided with better opportunities to showcase their talent.

"We have to start rebuilding and that can be done by providing a platform to our young players to play in an active league with some of the best players in the world. This will help hone their talent," he said.

The former Olympian avoided revealing details regarding financial aspects of the league but was very optimistic about the prospects of foreign players' participation.

But Shahbaz had some reservations about the participation of players from Europe. "We will invite the best players from all nations but I don't think European players are going to feature in the inaugural edition," he said.

He also hinted at the possibility of inviting Indian players to the league. "I'm confident that besides India, the league will see participation from players belonging to Malaysia, Korea and other Asian countries."

Dawn


---

Holcombe move clear at head of English table




Wimbledon's hopes of reaching the playoffs in the English Premier Division took a double blow over the weekend as they fell 3-1 to Holcombe who have opened up a three-point lead at the top of the table.

Nick Catlin fired home to give Holcombe the lead on 18 minutes, and Stephane Vehrle-Smith made it 2-0 at half time with a 33rd minute penalty corner. Chris Gregg halved the deficit for Wimbledon on 53 minutes, only for Vehrle-Smith to find the net in the final minute.

Wimbledon drop out of the top four after the weekend's action after Brooklands MU produced a surprise win over former leaders Surbiton.

Surbiton went into the game level on points with leaders Holcombe but were soon a goal down after Ross Hall struck inside five minutes. Just a minute later, Surbiton levelled through Dave Beckett but goals from Peter Friend, Aidan Khares and Peter Cornell made it 4-1 to Brooklands with time running out.

A brace from Alan Forsyth was too little too late for Surbiton and Cornell's second of the game sealed a fine 5-3 win.

Reading further strengthened their grip on a top four place by beating Beeston 3-2 away from home. Chris Newman gave Reading the lead before Harry Martin equalised through a penalty stroke.

Goals from Ben Boon and Simon Mantell made it 3-1 to Reading but Martin still had time to grab another consolation, once again tucking home a penalty stroke.

A goal in each half from Andy Piper helped East Grinstead to a 5-2 win over Cannock, despite being two-nil down early in the game. Cannock's Jayshaan Randhawa scored in the first minute and Thomas Morris doubled their lead two minutes later, but East Grinstead soon hit back.

Goals from Piper and Tony Wilson levelled at 2-2 at half time, only for Piper to add another and Simon Faulkner and Wes Jackson also scored second half goals to snatch victory.

Euro Hockey League media release


---

Turf luck for hockey

Girls forced to play on bumpy ground as MSSA fail to arrange an astroturf for U-14 tournament.

By Rufus Vedanayagam

The MSSA conducts the interschool hockey tournament every year but whether it has taken the game forward is the moot point.

Yesterday, it held the Under-14 matches on a muddy and bumpy ground with uneven bounce rather than on an astroturf, a pre-requisite for hockey. The Stanislaus High School ground in Bandra was, surely, not a suitable venue to host the hockey games.

These matches reminded one of the primitive days of Indian hockey when the game of sticks used to be played on grass.

There are two astroturfs in the city - at MHA in Churchgate and at SAI complex in Kandivli. The MHA ground is being used for HIL but the MSSA authorities could not explain why they could not hire the Kandivli turf. They cite the problem of watering in the SAI complex.

"We could not use a turf because Dabang Mumbai have booked the MHA ground for the Hockey India League and there is no one at the SAI ground to do the watering. Since we have been organising the tournament for all these year, I wanted the sport to carry on. Otherwise, we would have had to cancel it this year," MSSA President Fr Jude Rodrigues said.

No one would say this but the MSSA would have to pay to use the SAI turf, if not the MHA ground, and the talks is that the association is not ready to spend. Watering issue is just an alibi.

The schools and coaches, predictably, were not happy at being asked to play on a bumpy surface. "It is not fair for the kids to play on such a surface. The shots are not going in the right directions. Instead of moving smoothly, the ball changes it course as it get interrupted because of the stones and mud on the field," Neil Fernandes, the coach of St Joseph's school in Malad.

Sheldon Fernandes, coach of St Elias High School (Khar), expressed helplessness. "We cannot do anything. The organisers book the ground and we hardly have a say in it. They should understand that such surfaces can result in serious injuries to the kids," he said.

Mumbai Mirror