All the news for Thursday 11 February 2016

India Defeat Sri Lanka in Hockey to Set Up Final Against Pakistan

Gaganpreet Singh's two goals helped India crush Sri Lanka 3-0 to set-up a final clash against Pakistan in the South Asian Games

http://s.ndtvimg.com/images/content/2016/feb/806/india-hockey-sag-1002.jpg?downsize=764:573&output-quality=80&output-format=jpg
Gaganpreet Singh struck twice as India outclassed Sri Lanka 3-0 to set up a dream final against Pakistan.

Gaganpreet Singh struck twice as Indian men's hockey team spanked Sri Lanka 3-0 to set up a mouth-watering clash with arch-rivals Pakistan in the finals of the 12th South Asian Games (SAG) on Wednesday. (South Asian Games: Shooters, Athletes Ensure India's Domination)

Gagandeep Singh (11th minute) produced a superb field goal to earn the first blood for India but it was Gaganpreet (34th, 64th) who showed his skills, converting two penalty corners to inflict a crushing defeat on the islanders.

Early in the day, Pakistan mauled Bangladesh 6-0 to enter the summit clash. Umar (2nd minute), Shah (7th), Qadir MA (34th), Rehman (43rd, 65th) and Abbas (58th) were the scorers for Pakistan.

The Indian hockey team had lost to arch-rivals Pakistan in the last edition of the Games in Dhaka in 2010 and the hosts will look to regain their glory at the M Tayebulla Hockey Stadium pitch

NDTV Sports


---

India start favourites in women's hockey summit clash

GUWAHATI: Having entered the final after mauling their opponents mercilessly, India are expected to comfortably walk away with the gold when they take on Sri Lanka in the summit clash of the women's hockey on Thursday.

India are the overwhelming favourites to win the gold in the Games as they are ranked 13th in the world, while the two other teams - Sri Lanka and Nepal - are not even included in the FIH ranking charts.

Expectedly, the home side walloped their two rival teams in the league stage, thrashing Nepal 24-0 in their opening match before beating Sri Lanka 12-1.

Sri Lanka on Tuesday thrashed Nepal 15-0 to set up a title clash against India in the competition, which had just three teams.

India had come here with a reasonably strong team as the team management wanted to play as many international games as possible in the run up to the Rio Games.

Indian women's hockey team had qualified for the Olympics after a gap of 36 years.

Neil Hawgood, chief coach of the women's team, had said that the SAG was of key importance in the scheme of things as the team needs to play as many international games as possible ahead of the Olympics and try out new players to give a wider spread of talent to choose from for the Rio Games.

In the first match against Nepal, it was an exhibition of India's goal-scoring prowess as the home players found the target almost at will in the 24-0 mauling at the Moullana Tayabullah Stadium.

The match looked like a practice match with the Indian players competing in registering their names in the score sheet.

Strikers Soundarya Yendala (15th, 52nd, 62nd and 64th minutes) and Poonam Barla (7th, 472nd, 43rd and 51st) scored the most with four strikes each. Four players - Rani (2nd, 46th and 48th), Jaspreet Kaur (4th, 35th and 56th), Neha Goyal (14th, 22ndand 70th) and Deepika (53rd, 62nd and 67th) - scored thrice each, while Gurjit Kaur (21st and 41st) and Preeti Dubey (23rd and 29th) got the other goals for India.

In the second match against Sri Lanka, India had thrashed Sri Lanka 12-1 to make it to the final.

The Times of India


---

Hockey team going down south for Sultan Azlan Shah Cup preparations

by S. Ramaguru

KUALA LUMPUR: The Malaysian hockey team have lined up 10 matches in Australia and New Zealand as part of their preparations for the Sultan Azlan Shah Cup in April.

The playing tour will start on March 3 in Auckland and end on March 24 in Perth.

The 20-man team will play four Test matches against New Zealand from March 6-10 and two against South Korea in Auckland on March 12-13.

The team will move to Perth, where they will play two matches each against the Australian national team and the Western Australia Institute of Sports.

National coach Stephen van Huizen said that the tour would provide them with a good workout.

"Our players have not had an international match since last July, when they played in the World Hockey League Semi-Finals in Antwerp, Belgium," he said.

"Playing against the Kiwis, South Koreans and Australians will expose our players to various styles of play as well as facing some very tough oppositions.

"We need to let the core players get some games under their belt and also for the new faces to blend in with the seniors.

"The tour is also the final platform to select the 18 players who will play in the Sultan Azlan Shah Cup."

There are 40 players in the training squad but, with Mohd Shahrun Nabil still undergoing rehabilitation for his injured knee, only 39 will vie for the 20 places in the tour team.

"We will shortlist 25 players for the training squad by the end of the month, but only 20 will go on the tour," said Stephen.

The Malaysian Hockey Confederation (MHC) will hold trials over four days to trim the training squad to 25.

The first trial will be in Malacca (Bukit Serendit Hockey Stadium) on Saturday at 5pm and the second in Seremban on Sunday at 7pm.

"The third and fourth trials will be in Bukit jalil on Feb 16 and 17, when they will play against the Inner Mongolia team, who are here on a playing tour. They have eight players from the Chinese national team," said Stephen.

Both the matches will be held at the National Hockey Stadium in Bukit Jalil at 5pm.

The Star of Malaysia


---

Malaysia to play friendlies to prepare for Sultan Azlan Shah Cup

The national men's hockey team will play a series of friendly and test matches against New Zealand and Australia to prepare for the 2016 Sultan Azlan Shah Cup.

Malaysian Hockey Confederation (MHC) Chief Executive Officer K. Logan Raj said, 25 players will be shortlisted from the 40 players attending training camp currently, before selecting 20 players for the tour of Oceania countries by end February.

"We will divide the team into two and play two friendlies, one in Melaka on February 13 and in Seremban the next day. After that, we will be back to Bukit Jalil to play another two friendly matches against Inner Mongolia, a team comprising nine players from the Chinese squad, on February 16 and 17.

"We will be in New Zealand from March 3 to 14 and play four test matches against their Olympic squad and two against South Korea (national team who will also be in New Zealand).

"From there we will fly to Perth to play one friendly match against Western Australia and three matches against their national team from March 14 to 25," he told reporters at the Bukit Jalil National Hockey Stadium, today.

Logan Raj added that the tour was very important for the national squad to strengthen the team before the invitational tournament to be held at the Sultan Azlan Shah Hockey Stadium, Ipoh from April 16-25.

The national senior squad which last played at the Hockey World League Semi-Final in Antwerp, Belgium, will face stiff challenges from the 2016 Rio de Janeiro Olympic qualifiers New Zealand, Australia, India and Canada as well as Asian powers Pakistan and Japan at the annual Sultan Azlan Shah Cup.

Meanwhile, Coach Stephen Van Huizen confirmed that the only player to miss the selection for the tour will be Mohamad Sharul Nabil, who is still undergoing rehabilitation.

"The rest of the players will be given a chance to vie for a place and we will pick the best combination. During the tour, I'm going to focus more on the tactical parts as well as penalty corners and defensive set up but the boys have to work hard to prove their worth," he said.

MHC Technical Director, Terry Walsh on the other hand advised the team to come up with their own set of style and skills.

"They are going to play against two good teams, great measure to see where the team stands. Historically, Malaysia can do better but should try to produce the style of play which can compete with the rest of the world. Adopting the style of others will be nice, but the reality of 'copy' is never as good as original," he said.

In the last edition of the Sultan Azlan Shah Cup, Malaysia finished at the bottom of the table (sixth place) while New Zealand won their second title after defeating eight-time champions Australia 3-1 in a penalty shoot-out after both teams were tied 2-2.
 
Malaysia has yet to win the title despite hosting the annual tournament since 1983 (was biennial from 1983 till 1998) but finished in runner-up spot five times (1985, 2007, 2009, 2013 and 2014) and third in 1999.

Malaysian Insider
---

UP Wizards hammer Punjab Warriors 4-1 in HIL

LUCKNOW: Uttar Pradesh Wizards finally recorded their first win in their last game on home turf defeating Jaypee Punjab Warriors 4-1 in a Hockey India League (HIL) match on Wednesday.

With this win, Wizards now are placed third in the league table with 23 points to their kitty, keeping their hopes alive for a place in the semi-finals to be played in Ranchi on February 20.

The first quarter began with Jaypee Punjab Warriors pressing hard to take an upper hand in the match, but the hosts were well prepared to handle the pressure, not allowing the visitors any chances to score.

Uttar Pradesh Wizards, who have so far lost all their home games were playing carefully, but the visitors kept pressing hard and their efforts were finally rewarded through a penalty corner in the 10th minute.

Mark Gleghorne from the Jaypee Punjab Warriors made no mistakes in converting the penalty corner giving the visitors an early lead of 1-0 in the match.

The rest of the quarter saw Uttar Pradesh Wizards trying to equalise but Jaypee Punjab Warriors held on to their lead successfully. The second quarter saw Uttar Pradesh Wizards entering the field charged up and making a few good moves.

Their efforts finally saw results as Argentine Gonazlo Peillat scored the equaliser through a penalty corner in the 19th minute. The second quarter thereafter was majorly played on the midfield, and came to an end with one goal to both the sides.

The second half began with Uttar Pradesh Wizard entering the field charged up and that was visible through their attacking play.

The hosts made some good moves and moved into the opponents circle and were awarded with another penalty corner within two minutes of play in the third quarter.

Gonazlo Peillat made no mistakes in converting the penalty corner giving the hosts a much needed lead of 2-1 in the game. Uttar Pradesh Wizards seemed hungry for more and kept on pressing hard breaking through Jaypee Punjab Warriors defence line very often.

After a series of unsuccessful attempts to score Uttar Pradesh Wizards finally scored again in the 43rd minute through a field goal from Agustin Mazilli, taking a comfortable lead of 4-1 in the game.

The final quarter of the match began with the energised Uttar Pradesh Wizards attacking to score. Most of the game now was taking place around the Jaypee Punjab Warriors circle but some missed traps and some good saves from Clemons Tristan ensured the hosts did not add on to their lead.

The Times of India


---

UP beat Punjab 4-1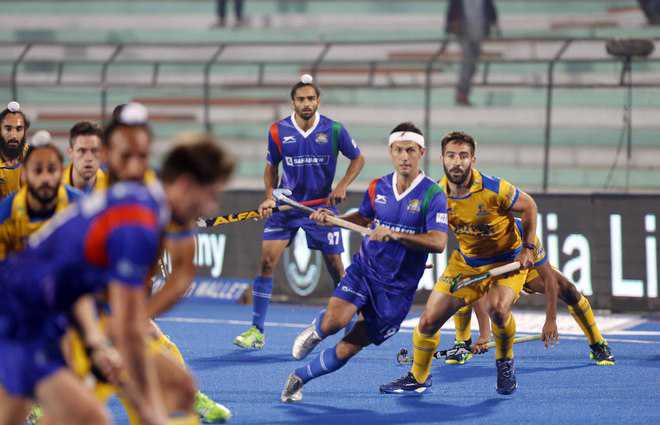 Punjab Warriors and UP Wizards in action during their match on Wednesday.

Argentines Gonzalo Peillat and Agustin Mazzilli helped Uttar Pradesh Wizards record their first home win in the Hockey India League (HIL) here today.

Peillat (19th, 32nd) converted two penalty corners to make it 2-1 for the hosts after Mark Gleghorne had given Punjab the lead with a drag-flick goal in the 10th minute.

Mazzilli then stole his compatriot's thunder with an incredible field goal in the 43rd minute that brought the supporters to their feet. Mazzilli scored from one of the tightest angles possible with a fierce reverse-stick strike, making it 4-1 for the Wizards.

The UP team climbed to the third spot with 23 points, pushing Punjab to the fourth with 22 points.

The Tribune


---

Polo welcome Top Hockey tournament to Barca



Picture: José Mari Llorens

Real Club de Polo will play host to Oranje Zwart, HC Rotterdam, Atlètic Terrassa, Den Bosch and Club de Campo for a high quality Top Hockey tournament this weekend.

Now in its fourth year, Top Hockey Barcelona has already become one of the most important and biggest pre-season tournaments in Europe.

Honouring its name, the event will gather six of the best club teams in the world, featuring three current Euro Hockey League teams, dividing them in two groups – the Spanish and the Dutch side.

Polo, the host team, is currently top of the Spanish #LaLigaHockey. They have been the champions for the past three years and also played the last two editions of the EHL KO16.

Now, the club from Barcelona wants to go further in the European Championship, and will use this as the best possible test this weekend.

Together with them, Atlètic Terrassa and Club de Campo from Madrid complete the Spanish side. They are currently third and fourth in #LaLigaHockey, just behind Club Egara.

Atlètic is the current Spanish King's Cup champion, after they won the final against RC Polo in a shoot-out last March.

On the Dutch side, Oranje Zwart, the current EHL and Dutch champions, are probably one of the favourites to make some noise again this season. The team from Eindhoven is second in the Hoofdklasse, four points off leaders, Amsterdam.

HC Rotterdam are fifth in the Dutch league with Den Bosch eighth will complete the pool.

The format sees each game pitting a Spanish club against a Dutch team across nine matches.

The team that wins each game will get one point for its group, so we will see if the #LaLigaHockey's teams or the Hoofdklasse's teams win the tournament on Sunday.

Also, the event will be completed with an official dinner for all the players on Saturday. This year's Spanish King's Cup draw will also take place on Saturday and a round table with the six head-coaches of the teams will form part of Friday's schedule.

At this Round Table, the main issue will be a discussion on the importance of clubs in the future European hockey.

Euro Hockey League media release


---

Canterbury prepare for Surbiton battle



Surbiton's Becky Herbert being tracked by Canterbury player-coach Jen Wilson. Credit: Tim Reder.

First face third in the Investec Women's Hockey League Premier Division on Saturday as leaders Surbiton travel to third-placed Canterbury.

It's tight at the top and if Canterbury win, they will go level on points with their opponents. But it'll be no mean feat with Surbiton still unbeaten in 12 games.

"We know that Surbiton are a strong team and well organised," said Canterbury coach Jen Wilson. "They may be missing a few players but that won't weaken them at all.

"We lost our last game to them so we want to turn that around, but it won't be easy.

"We had a solid display last weekend and I've been pleased with the quality of hockey we've been playing this week in the match and in training."

Depending on the outcome of the Surbiton match, the University of Birmingham could go top if they beat strugglers Bowdon Hightown.

They are just one point behind the leaders but lost to them 3-0 last weekend. They'll be hoping that they can return to form.

Bowdon could do with picking up points; they are three adrift of safety after losing to Canterbury by the odd goal last time out.

Bottom side Buckingham picked up their first win of the season, beating Reading 2-1 and they'll be hoping to take another step towards survival as they take on Clifton.

Mid-table Holcombe and Reading both lost last weekend and will be aiming to bounce back and revive their push for fourth place as they meet.

East Grinstead currently sit in fourth and will look to cement their position as they travel to Leicester.

In the Investec Women's Hockey League Conference East, it's a top of the table clash as runaway leaders Slough take on second-placed St Albans. With an eight-point gap realistically St Albans need a win to keep their title hopes alive.

At the other end of the league, Ipswich continue their search for a first win of the campaign at Wimbledon.

Investec Women's Hockey League Conference North also sees first take on second as top of the table Wakefield host Brooklands Poynton. Brooklands really need a win to put pressure on the leaders.

In the Investec Women's Hockey League Conference West, Sutton Coldfield are looking over their shoulders at Stourport who are just one point off their pace.

Sutton Coldfield face fourth-placed Gloucester City and Stourport are away to seventh-placed Trojans.

FIXTURES – Saturday, February 13

Investec Women's Hockey League

Investec Premier Division
Buckingham v Clifton 12:00
Holcombe v Reading 12:00
Bowdon Hightown v Univ of Birmingham 13:45
Leicester v East Grinstead 14:00
Canterbury v Surbiton 16:00

Investec Conference East
Sevenoaks v Cambridge City 12:00
St Albans v Slough 13:00
Hampstead and Westminster v Maidenhead 13:30
Wimbledon v Ipswich 14:00
Harleston Magpies v Chelmsford 14:00

Investec Conference North
Loughborough Students v Beeston 12:30
Whitley Bay and Tynemouth v Springfields 12:30
Univ of Durham v Ben Rhydding 12:00
Liverpool Sefton v Belper 12:30
Wakefield v Brooklands Poynton 13:30

Investec Conference West
Bristol Firebrands v Swansea City 12:00
Gloucester City v Sutton Coldfield 12:00
Trojans v Stourport 12:00
Olton and West Warwicks v Isca 12:00
University of Bristol v Oxford Hawks 13:00

Investec Women's Cup, quarter finals
Buckingham v Ben Rhydding 12:00
Holcombe v Bowdon Hightown 12:00
Clifton v Univ of Birmingham 12:30
Barnes v Brooklands Poynton 13:00

England Hockey Board Media release


---

It's make or break weekend for BJSS-Thunderbolt

by S. Ramaguru




KUALA LUMPUR: Former Malaysian Junior Hockey League (MJHL) kingpins Bukit Jalil Sports School (BJSS)-Thunderbolt will face their toughest Division One test yet when they line up against defending champions Tunku Mahkota Ismail Sports School (SSTMI)-Thunderbolt on Friday.

The match will either put them in the title mix or leave them fighting to stay in the top four.

"This match will more or less define our league ambitions," said BJSS coach K. Rajan.

"We've lost one match earlier (to Pahang Sports School). We can't afford another defeat.

"If we lose to SSTMI, then it will become a matter of survival to finish either second, third or fourth since only the top four qualify for the knockout stage."

Rajan is also thankful for the two-week break for the Chinese New Year.

"We had several players either injured or down with fever. The long break has given them ample time to recover and now we are back to our best. But we will not under-estimate the champions," he said.

"They have a good team and are full of confidence."

SSTMI lead the standings with 15 points from five matches. BJSS have nine points from four matches and are in fourth place.

Rajan admitted that they cannot play an open game against SSTMI.

"We have to be very tactical and hit them on the counter. Playing an open game against them will be suicidal," he said.

"I have faith in my players ... we need to stick to the game plan."

Besides BJSS, the Pahang Sports School are also in the title mix and have a game against SSTMI on Feb 19.

"All the matches this weekend are crucial. I believe that the real title contenders will be known once the dust settles. We hope to be one of teams vying for the title," Rajan said.

The Star of Malaysia


---

Pakistan Junior hockey next month

ISLAMABAD: About 16 departmental and provincial teams will feature in the National Junior Hockey Championship, scheduled to take place in Lahore from March 1.

The tournament is part of Pakistan Hockey Federation's (PHF) efforts to promote the game at the grass-roots level, PHF secretary Shahbaz Ahmed said.

He said the federation would strictly ensure that no overage player participated in the tournament.

Dawn


---

Craig Fulton - Hockey Stars 2015 Men's Coach of the Year




Men's Hockey Stars 2015 Coach of the Year is the South African-born coach to the Irish men's team, Craig Fulton. Appointed as head coach to Ireland in 2014, Fulton was the mastermind behind Ireland's successful Hockey World League campaign – the team's fifth place finish at the Semi-Finals in Antwerp, Belgium qualifying Ireland for the Olympic Games for the first time in over 100 years.

If qualifying for Rio 2016 was not enough, Fulton also led his team to bronze in the EuroHockey 2015 Championships, defeating England in the process. This was the first major medal won by the team in modern hockey history. Under Fulton's leadership, Ireland men have also climbed to 12th place in the world rankings.




On receiving the award, Fulton said: "It's an honour and a privilege to accept this award from the FIH. We had an amazing year and pushed as hard as we could and got the just rewards in qualifying for Rio and a bronze in the Euros.

"This is a collective award for all the players and staff that sacrificed as much as they have over the past 18 months. What an amazing honour to lead this team!"

Fulton himself is a double Olympian, having represented South Africa in Atlanta and Athens so, when he says: "it will be a challenging year ahead", he certainly knows what is in store.

As well as 191 caps to his name, Fulton has a wealth of coaching experience, not just with Ireland but also with the South African men's and women's teams. He will undoubtedly be bringing all that experience to bear when the Green Machine take their place in the 2016 Rio Olympic Games.

FIH site


---

School's out, it's time for hockey camp

Sarah Juggins, for PAHF

Summer hockey camps and regular after-school clubs are a great way for young players to get an intensive burst of hockey training and enjoy some coaching from top quality coaches, elite level players and even the occasional Olympian. In the USA, hockey camps are thriving with, it seems, every university and college offering hockey camps in the vacation periods and regular weekly clubs after the school day ends.

The camps vary in every aspect of their being. Some are open to all, with the intention of introducing new players to the sport; others are aimed at students who show potential to become good players; others still are camps that develop the very best talent.

While the audiences may vary, the content tends to follow a similar pattern. Much of the time is dedicated to skills and game play, with the students learning new skills and techniques and then getting the chance to put them into operation in game situations. These might be 3v3, 4v4 or any variation – it is only occasionally that the session will involve 11v11 – smaller games equals more time for each student on the ball.

There are also specialist camps – goalkeepers will often get specific training, usually with a goal-keeper coach or a current goalkeeper. Quite often, particularly in the higher ability groups, there will also be specialist coaching for specific positions or specific techniques – training for forwards, defensive practices and practices for penalty corner specialists.

Caroline Nichols is a double Olympian who represented USA at the 2008 Beijing Olympics, London 2012 and the Hockey World Cup in The Hague in 2014. She retired from international hockey in 2014 with 165 caps to her name. She is now head field hockey coach for Columbia University but she also takes up the role of camp director for CN19, a program of summer hockey camps at the University.

"Our camps consist of skill development, game play to develop game understanding – these are two important parts of the game, so we try to allot a good amount of time to these. We do touch on general fitness, but the expectation is that the athletes will manage their own fitness." Alongside the physical aspect of the course, the camps at Columbia also offer video training, team building, question and answer sessions and relationship building. The last of these elements is something that Nichols stresses is an important part of a young person's experience at a sports camp.

"Camps offer an opportunity for young athletes to develop relationship building skills, group work skills, and leadership skills as well as hockey specific training, these are all invaluable life skills."

At Columbia, the camps are open to all players of all abilities and, depending upon the field size and facilities available, the camps can cater for anywhere from 50 to 150 athletes. The students tend to be younger students who are at school, rather than current college students.

"We find we attract all types of player," says Nichols. "Young athletes who are interested in becoming better in their sport, young athletes who want to be a part of an experience with their high school team, and young athletes seeking playing opportunities at the next level (college). We cater to all age levels and skill levels."

Hockey and hockey camps are widespread and highly popular on the east coast of America. Over on the other side of the country, the sport is not so popular. However, in San Diego, members of the USA men's national team are working hard to change that.

The scene is a hockey match at the local stadium, being watched by a number of interested, but not yet converted youngsters and their parents.

As they watch the action a ball is crossed just off the post and in a split second the forward has to make the decision: "Do you dive for that ball and risk turf burn just totally a goal for your team?" Without hesitation, absolutely.

There are 'oohs' and 'aahs' from the youngsters watching from the stand. Before the game is over, some of the young audience might have already asked his or her parent if they can 'have a go'.

Without knowing it, the athlete that scored that goal made an impact on a child's perspective of sport. This athlete has now become an influential spark in the eyes of this child and possibly many more.

In recent years, there has been a concerted effort on the part of the USA men's team to grow the sport in the local communities, as USA team member Alex Grassi explains: "With so many of the USA men's national team (USMNT) athletes based in San Diego, we have a tremendous opportunity to work together to help grow the game.

"Unlike the East Coast where field hockey is well known, some people in San Diego don't even know what field hockey is," adds the 24-year-old midfielder.

The members of the USMNT have found different avenues through which to make their own impact on the game. Grassi, who plays his club hockey for DC Dragons, is an assistant coach for the Poway Mystix, a club team based just north of San Diego with U-14, U-16 and U-19 age divisions.

Striker Manny Martinez spends a lot of time on the coaching field. He currently coaches on the US Futures program – aimed at athletes with the potential to become elite players – as well as coaching regional groups such as Coastal Clash and East County Gators. He also blows the whistle at high school leagues and tournaments.

Just recently Martinez, who converted from soccer to hockey when he was a teenager, has started to help coach the Chula Vista Chupacabras, a club team comprised of fourth and fifth grade students from various Chula Vista elementary schools. This after-school program runs from late September up until the National Hockey Festival at the end of November.

With a view to growing the game in his area, USA hockey star Kevin Barber started the Chula Vista program a few years ago. He traveled to local elementary schools in the Chula Vista area and gave free lessons to students during recess once a week. As well as Martinez, other members of the US-MNT joined in on Barber's efforts to help the program run smoothly.

At the end of the fall (autumn) in the first year, all the young players gathered at the 155 acre Olympic Training Center (OTC) in Chula Vista and the local schools had a tournament. Hundreds of boys and girls participated and had a great time. It was clear that through the efforts of Barber and members of the USMNT, field hockey was an up and coming sport in the Chula Vista/San Diego community.

Since then, an after school program has been introduced for the children so they could practice more regularly. Barber has since moved from San Diego but members of the USMNT have continued his vision of growing the game in the local community.

"I took over the after school program and, with the help of my teammates have kept it going over the last year," says Grassi. "This fall we will be doing introductory sessions at Olympic View Elementary School where there are over 400 students in fourth, fifth and sixth grades. We aim to build interest and enroll students in the after school program, which runs twice a week for two-hour sessions on the turf at the Olympic Training Centre (OTC)."

"I think it's great to have the kids practice at the OTC because they get to see how far field hockey can take them," continues Grassi. "Once they start playing, the kids truly enjoy hockey and as a coach it's an awesome feeling to share the sport I love with so many young athletes. Maybe a couple of the players we are coaching today will one day play on the USA men's or women's national teams."

Providing quality coaching to current middle and high school athletes is a great opportunity to continue sport growth. In addition to the ever evolving grassroots efforts, many Team USA athlete's coach in USA Field Hockey's Olympic Development Program, Futures, in the Spring at the Olympic Training Center.

Dedication, training and a real love of the game has driven these members of the U.S. Men's National Team to give back to the local communities and continue to grow the sport.

"I love this game and I feel honored to help inspire the next generation of elite athletes to share in this incredible sport," adds Martinez.

Pan American Hockey Federation media release


---

Council defends moving hockey clubs for football pitch

Council chiefs have defended a decision to force hockey teams to be relocated from a Black Country sporting venue, saying football is more popular.



The Dell Stadium, where a new £500,000 3G football pitch is planned

The announcement comes after the plans to create a new £500,000 3G floodlit football pitch at The Dell Stadium in Brierley Hill were revealed. The plans have now been submitted to the Football Foundation.

It will leave Dudley Ladies' Hockey Club and Kingswinford Hockey Club, who have used The Dell for over 30 years, looking for a new base, with the 3G pitch not being suitable for hockey and not permitted for league use through the All England Hockey Association.

But Councillor Khurshid Ahmed has justified the need to create a state-of-the-art pitch and said football clubs use the The Dell nearly seven times more than hockey clubs throughout the week.

He said: "Hockey clubs train on the site for three hours a week and play one or two games each Saturday, while football clubs use the existing facilities for over 20 hours each week.

"This is a difficult situation where we have to balance the need for investing in the site in sports which are most popular there, and helping sports teams who may be affected by the proposal. We are continuing to work with the local hockey clubs to make sure they are catered for elsewhere in the borough.

"We want to take every opportunity to invest in our sports facilities wherever possible, in line with our commitment to help people lead happy and healthy lives.

"This proposal will invest in a sport which is very popular at the Dell Stadium by improving the playing surface which will attract significantly more clubs.

"The new facility would increase levels of use significantly as both training and matches for all age groups can be accommodated on the third generation pitch and the likelihood of postponement is limited."

But Dudley Ladies' Hockey Club chairman Sharon Mason said the club felt anger over the council's decision and is planning further meetings with them.

Express & Star


---

Rajasthan: This village is obsessed with hockey but in a good way

Ratanpura, a village in the Bhilwara district of Rajasthan echoes with Chak De India! every time a hockey match is played in the area. Not only children but even parents are equally passionate about the national sport. Interestingly, families in this village prefer to give hockey sticks to their kids instead of cricket bats.

Their passion for the sport is so strong that every household in the village contributed Rs 100 to organise a district level hockey competition. "We are surviving on agriculture but we are ready to provide all sort of assistance to keep Ratanpura ahead in the state when it is about hockey," said Ram Dev, a local.

Home to 150 families, Ratanpura boasts of hockey field which lies adjacent to the school. Few residents helped in preparing the field suitable for hockey while others worked for free as labourers.

Meanwhile, the head of the village, Shankar Lal, donated 11 hockey sticks to the team. One person donated a sports kit while few others made monetary donations.

Shabbir Ali, the physical education teacher of the upper primary school in the village is the man responsible for spreading the passion for hockey amongst the children.

Ali, who has been teaching in the village from the last eight years, described the reaction of children when they encountered hockey for the first time four years ago.

"Initially, it was difficult to think about the sport as a career option but now children dream of being a hockey player. At that time, there was no facility for hockey or any other sport in the village. I felt like doing something for the village as well as the national hockey team," said Ali.

In order to retain the charm of the sport, school teachers are playing their part too. Shivaji Ram, principal of the school says, "We have a special 'Hockey Bank' for which every member of the school staff contributes almost Rs 200 to Rs 300 per month to promote the sport."

Almost every child in the village is associated with hockey, not barring girls as they are equally enthusiastic towards sports. As many as seven kids from the village have played hockey at the national level while 33 have shown their calibre at the state level.

Catch News


---

Tata Trusts to start hockey academy in Jamshedpur

MUMBAI: With a view to help India rediscover its glory days in hockey, philanthropic organisation Tata Trusts has partnered with Dutch great Floris Jan Bovelander to set up a world class hockey academy in Jamshedpur.

"Tata Trusts aims to bring back the erstwhile glory of Indian field hockey through professionalising grass-root level hockey and bringing the global best to train domestic coaches," said a media release on Wednesday.

The Tata Trusts' project, in partnership with Bovelander and Bovelander B V (founded by the Dutch Olympian) and One Million Hockey Legs, Netherlands, "will touch 50,000 school boys and girls and aims at generating 200 high quality players at the end of a three year period," the release said.

"Setting up a world-class Tata Hockey Academy "will create the necessary institutional structure to continue to nurture Indian talent for hockey leagues and international tournaments," the release added.

"At the Trusts we view sports as a vehicle for social change. Often we look at all the developing sector as a supply driven area but sports is on the contrary generating demand which unites people. It is indeed a great honour to partner with a legend of the sport," said R Venkataramanan, Executive Trustee, Tata Trusts.

"We are currently working with a lot of schools around Jharkhand and across the country in more traditional areas such as health and education and hope to enhance our programmes with what this partnership has to offer," he added.

Tata Trusts are also developing a school hockey programme focusing on building training aptitude of coaches through comprehensive training by international experts and coaches.

Within a span of three years, One Million Hockey Legs will provide the technical expertise to train 50,000 school boys and girls in hockey to raise overall expertise of players at the preliminary level, the release said.

"This initiative will promote hockey and sustain the helm of hockey as a national sport in India. We aim to train from the grass root level and our goal is to reach the million hockey legs in the 2018 World Cup which is scheduled to take place in India," said Bovelander.

The Times of India