All the news for Saturday 2 April 2016

Black Sticks defeat India in opener




The Black Sticks Women have opened their Hawke's Bay Cup tournament with a 1-0 win over India this afternoon.

New Zealand held all the possession and had their fill of chances on attack throughout the game, but desperate defence from the Indians held the hosts to a lone goal from Olivia Merry.

Black Sticks defender Liz Thompson brought up her 100th international cap at just 21 years of age.

Head coach Mark Hager said it was pleasing to open with a win but they needed to be more clinical in finishing their attacking chances.

"We had lots of chances and it really highlights if you don't put away the chances you create it makes it a lot harder to win games," he said.

"I thought we were ok defensively but it was probably our own fault that we turned over a fair bit of ball in crucial situations."

Captain Sam Charlton said it was good to be creating chances but disappointing to only capitalise on one of them.

"We weren't clinical enough with our opportunities up front so that's something to work on for the next game.

"We're pretty disappointed with our penalty corner conversion, not getting any from the five we earned is something we need to improve.

"It was an ok start but it's about making sure we're more clinical, because against some tougher teams we won't get as many opportunities so we need to put them away."

The Black Sticks were hot on attack from the opening whistle and earned two penalty corners and a stroke in the first quarter, but failed to convert their chances.

In the 16th minute the pressure finally told when Merry put together a skilful one-two pass with Charlotte Harrison before hitting into the back of goal.

That proved the end of the scoring with the Black Sticks having plenty of opportunities to extend their lead but India pushed players behind the ball while goalkeeper Savita had an outstanding game.

The Black Sticks are back in action at the Hawke's Bay Cup against China at 3pm tomorrow, with the game live streamed at hockeynz.co.nz/Video

In earlier results today Canada defeated Korea 2-1 while defending champions Australia were held to a 1-1 draw against Japan.

BLACK STICKS 1: (Olivia Merry)
INDIA 0
Halftime: Black Sticks 1-0

Hockey New Zealand Media release


---

Parker goal earns draw with Japan

Hockeyroos' Hawke's Bay title defence opens with 1-1 draw




Georgie Parker's late goal secured a point as the Hockeyroos got their title defence underway with a 1-1 draw against Japan at the Hawke's Bay Cup in Hastings, New Zealand.
  
Despite their clear dominance for large spells of the match, Australia's women found themselves behind for much of the contest after Mie Nakashima lifted the ball over goalkeeper Ashlee Wells to open the scoring in the 13th minute.
  
The Hockeyroos created the bulk of the chances with Japan most dangerous in the opening period when they broke quickly on the counter attack.
  
"We were a little slow to start and I thought Japan played well in the first quarter but once we got into the game we played well for the next three quarters and created plenty of chances. Japan scrambled at times and cleared a couple of our chances off the line," said Hockeyroos coach Adam Commens.
  
"It was a good start. I thought they struggled to get out of our press but we can still improve how we play against packed defences and control their counter attacks.

"This group hasn't played a lot of hockey together; we rotated our players against GB recently, so I think we'll continue to improve game by game."
    
Looking ahead to Sunday's match against Korea, Commens added, "Korea will be fired up after losing to Canada today and I anticipate a really good match."
    
Prior to Parker's 53rd minute strike, Jodie Kenny came close during a series of third-quarter penalty corners, all of which were expertly denied by the acrobatic goalkeeping of Sakiyo Asano. Asano's defensive colleagues did well to scramble clear the resulting danger.
   
With the game entering its final stages and the Japanese defence retreating deeper, it was the close skill of Emily Smith that created the opening in the circle for the Hockeyroos' equaliser. Smith collided with Asano as the latter came to meet her and the ball broke to Parker, whose first time shot found the backboard.

ACT defender Eddie Bone made her 100th appearance for the Hockeyroos in the match. The 27 year-old made her senior international debut less than three years ago, against Korea in Perth in April 2013.
   
The Hockeyroos' second Pool A fixture is against Korea at 11am AEST on Sunday. The Koreans went down to Canada in the opening match of the tournament.

Hawke's Bay Cup - Pool A
                                                             
HOCKEYROOS: 1 (0)
Georgie Parker 53 (FG) 

JAPAN: 1 (1)
Mie Nakashima 13 (FG) 
            
Results & Fixtures, today
Canada 2-1 Korea
Australia 1-1 Japan
New Zealand 1-0 India
China 4-0 Ireland

Standings, Hawke's Bay Cup
Pool A
1. Canada (3 points)
2. Australia (1 point)
3. Japan (1 point)
4. Korea (0 points)

Pool B
Matches to be played later today.                                                                   

Hockeyroos' squad v Japan, Hawke's Bay Cup
Started
Madonna Blyth (Brisbane, QLD) 325/70
Anna Flanagan (Canberra, ACT) 161/34
Jodie Kenny (Wamuran, QLD) 165/93
Karri McMahon (Berri, SA) 89/9
Georgina Morgan (Armidale, NSW) 31/5
Georgie Parker (Berri, SA) 92/28
Brooke Peris (Darwin, NT) 80/13
Kathryn Slattery (South Stirling, WA) 41/11
Emily Smith (Crookwell, NSW) 143/59
Ashlee Wells (Moe, VIC) 70/0
Mariah Williams (Parkes, NSW) 39/5
  
Used Substitute
Edwina Bone (Evatt, ACT) 100/2
Jane Claxton (Adelaide, SA) 87/9
Ashleigh Nelson (Wagin, WA) 201/68
Casey Sablowski (South Coast, NSW) 237/44
Grace Stewart (Gerringong, NSW) 8/2

Unused Substitute
Rachael Lynch (Melbourne, VIC) 142/0
Gabrielle Nance (Kingscliff, NSW) [SASI] 25/2
   
Hockeryroos' Hawke's Bay Cup fixtures
Sunday 3 April – Hockeyroos v Korea – 11am AEST / 9am AWST
Tuesday 5 April – Hockeyroos v Canada – 12pm AEST / 10am AWST
Thursday 7 April – Quarter Finals
Saturday 9 April – Semi Finals
Sunday 10 April - Finals        

Hockey Australia media release


---

Second half surge lifts Canadian women past Olympic-bound Koreans

Shaheed Devji



PHOTO: Canada celebrates victory against Korea (Courtesy Hawke's Bay Cup)

The Canadian women's field hockey team upset World No.9 Korea by a score of 2-1 in the opening match of the Hawke's Bay Cup Saturday in Hastings, New Zealand.

After falling behind 1-0 in the first half, a strong second half during which Canada scored both its goals led the World No.19 Canadians past the Olympic-bound Koreans.

The match started off with Korea possessing most of the ball. Canadian keeper Kaitlyn Williams was forced to make a couple of saves confident earlier, but looked comfortable in goal. And so did the defence in front her.

Canada didn't give up many opportunities in the first quarter and got an offensive opportunity of its own when Thea Culley fired a shot on goal from in close in the 14th minute.

Neither team was able to score in the first fifteen minutes, and it wasn't until the first penalty corner of the game in the 22nd minute that Korea was able to break the deadlock.

Standing at the side of the Canadian goal, Kiju Park got a stick on the Korean attempt on goal and deflected it from a sharp angle past Williams to give Korea the 1-0 lead.

After going down, Canada showed signs of life late in the half but the wasn't able to find a hole in the Korean defence.

It was in the second quarter when the Canadians really began to assert themselves.

In what is becoming a hallmark of the Ian Rutledge coaching style, Canada began to press harder. This resulted in more possession and more opportunity around the Korean goal.

Canada earned its first penalty corner of the game in the 35th minute, but the flick by Danielle Hennig was turned away by Korean keeper Soo Ji Jang, who made a diving save.

But Canada kept pressing, and a strong play by Hannah Haughn in the Korean circle resulted in another corner for Canada in the 42nd minute.

Karli Johansen's dragflick was stopped, as was Kate Gillis' rebound attempt. But Gillis's dive for a rebound forced the ball loose and Brienne Stairs was on the doorstep to put it in the net for Canada's first goal.

Canada kept pressing over the next ten minutes but wasn't rewarded. Korea sensed an opportunity and picked up two penalty corners of its own. Both were put wide and Canada went back on the offensive.

After the ball was played in to the Korean area, Natalie Sourisseau forced her way forward, through three Korean defenders. The ball came loose to Holly Stewart, open at the side of the net. She put it by Jang to give Canada the 2-1 lead.

Korea had chances to tie in the dying moments when Canada conceded back to back penalty corners but they couldn't find the net and Canada went on to win.

The Canadians are back in action on Sunday in New Zealand (Saturday, 3:00pm PT/6:00pm ET in Canada) against World No.10 Japan. The game can be watched live

Field Hockey Canada media release


---

Green Army Undone By China




A clinical, fast paced first half by China was the undoing of Ireland as all 4 goals hit the backboard in the opening 30 minutes.

The opening 10 minutes didn't offer many indications of the eventual score-line as both teams were patient and controlled with few chances falling to either side. The first opportunity of the game came at the hands of a Chinese reverse strike that was well saved by McFerran, in fine form throughout, that led to a penalty corner. Wang Mengyu scored on the first time of asking and 2 minutes later Song Qingling doubled the lead with a powerful reverse strike into the far corner. Zoe Wilson was the initiator for the best Irish chance of the quarter as she fired a pin point aerial to the waiting Watkins. The pass found Evans in the circle but the eventual strike didn't connect.

2 minutes into the second quarter and China had earned their second penalty corner; they would finish the match with a total of 8 penalty corners. Sargent stopped the ball on the line with her foot and a penalty stroke was duly awarded and dispatched into the top corner by Liang Meiyu to make it 3-0. The pace of the Chinese passing unlocked the Irish a few too many times and another break into the circle led to Li Jiaqi scoring China's fourth, and final, goal just before half time.

The Green Army looked to have gotten a better grip on the speed and precision of the world number 5 as the second half began. Pinder darted down the right wing on more than one occasion and Daly was a spark of creativity in the mid field as she routinely evaded several out stretched defenders. However it was the final pass that seemed to be missing for the girls in green as the experienced Chinese defence always looked ready to pounce and intercept. O'Flanagan had two well-worked chances in the second half, one of which was saved off the line, and Sinead Loughran, winning her first cap, showed no signs of jet-lag, having arrived in New Zealand yesterday, injected more urgency into the game.

Despite the improved second half performance by Ireland, the game had been won in the opening 30 minutes and Shaw's team must now turn their focus to tomorrow's match against India (5am GMT). Watch live here!

Hawkes Bay Cup, New Zealand

Ireland 0

China 4 (Wang Mengyu, Song Qingling, Liang Meiyu, Li Jiaqi)

Squad:

McFerran (GK), O'Byrne, Watkins, Daly, Frazer (Captain), Sargent, Wilson, O'Flanagan, Duke, Evans, Smithwick (GK), Matthews, Tice, Pinder, Loughran, Carroll, Beatty, Mullan

Irish Hockey Association media release


---

Women's Black Sticks defeat India 1-0 at Hawke's Bay Cup



Olivia Merry was on target for the Black Sticks at the Hawke's Bay Cup. Photosport

The Black Sticks Women have opened their Hawke's Bay Cup tournament with a 1-0 win over India on Saturday.

New Zealand held all the possession and had their fill of chances on attack throughout the game, but desperate defence from the Indians held the hosts to a lone goal from Olivia Merry.

Black Sticks defender Liz Thompson brought up her 100th international cap at just 21-years-old.

Head coach Mark Hager said it was pleasing to open with a win but they needed to be more clinical in finishing their attacking chances.

READ MORE: Black Sticks get injection of experience

"We had lots of chances and it really highlights if you don't put away the chances you create it makes it a lot harder to win games," he said.

"I thought we were OK defensively but it was probably our own fault that we turned over a fair bit of ball in crucial situations."

Captain Sam Charlton said it was good to be creating chances but disappointing to only capitalise on one of them.

"We weren't clinical enough with our opportunities up front so that's something to work on for the next game.

"We're pretty disappointed with our penalty corner conversion, not getting any from the five we earned is something we need to improve.

"It was an OK start but it's about making sure we're more clinical, because against some tougher teams we won't get as many opportunities so we need to put them away."

The Black Sticks were hot on attack from the opening whistle and earned two penalty corners and a stroke in the first quarter, but failed to convert their chances.

In the 16th minute the pressure finally told when Merry put together a skilful one-two pass with Charlotte Harrison before hitting into the back of goal.

That proved the end of the scoring with the Black Sticks having plenty of opportunities to extend their lead, but India pushed players behind the ball while goalkeeper Savita had an outstanding game.

The Black Sticks are back in action at the Hawke's Bay Cup against China at 3pm on Sunday.

In other results on Saturday, Canada defeated Korea 2-1 while defending champions Australia were held to a 1-1 draw against Japan.

Stuff


---

Siblings have two shots at Rio

By David Leggat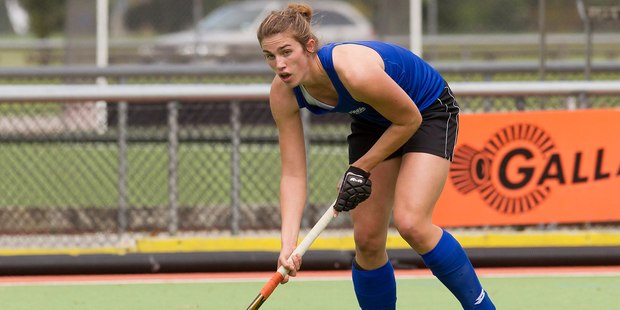 Brooke Neal, Black Sticks hockey. Photo / Christine Cornege

Apart from the obvious, Shay and Brooke Neal have a couple of things in common.

The Northland brother and sister play hockey for New Zealand, have had their share of battles with injury, and are eyeing trips to the Rio Olympics.

They also have the habit of finishing each other's sentences.

And they have set aside work for the all-consuming target of making Rio. Attacker Shay is a lawyer; defender Brooke has a communications degree and works at a marketing agency.

They have the dream, you suspect nurtured on the sports fields of Whangarei where they grew up five minutes from Kensington Park, hockey HQ for the region - "world class, one of the best in the world", says Brooke, who is in New Zealand's squad for the eight-nation Hawkes Bay Cup starting in Hastings today.

Parents Peter and Leone were heavily involved in sport, which filled their young lives.

Shay made it to the national team first, in 2009 against India at the Punjab Gold Cup in India and he's up to 66 caps.

In a sport where it seems ridiculously easy to quickly rack up a pile of caps, he would surely have had more but for his injury breaks. Brooke made it two internationals in the family four years later against Australia in the Oceania Cup and has 71 caps.

Shay had a knee operation in 2006, a hip operation in 2013 and got back in time for the Commonwealth Games in Glasgow two years ago, where he popped his AC joint and played five games with injections before each match.

Then last May, his knee went again. Now, fingers crossed, he's good to go if selected for Rio. Shay is in the New Zealand squad which flew to Malaysia yesterday for the Black Sticks' defence of the Azlan Shah trophy.

He calls his career "a bit of a roller coaster" because of the injuries.

"You come back (from injury) and you're not quite where you were. Those bad performances play on your mind."

He is hoping to stay clear of injuries until Rio - assuming coach Colin Batch picks him - and his sights are on medalling.

That's a big call considering New Zealand just made it into the Games field through a back door, having twice missed chances to qualify on their own merit, and needing the withdrawal of South Africa to get the 12th and final spot.

Brooke has had ongoing battles with a wonky knee - chronic patella tendonopathy. Her attitude towards her injury has changed with time.

"For a start I was trying to look for cures, or fixes," she said.

"When that was not working I had a mental switch where I accepted it was just going to be something that's always going to be painful.

"But if I managed it right, did all the rehab right then I can play through it. It's pretty messy in there, but the good thing is it's not doing long term damage," she said.

The pair bounce thoughts off each other - "more in general life, coping with the high performance environment. We do talk a lot," Brooke said.

"He's a striker, I'm a defender, so we do give advice but it's more about making sure you're in the right frame of mind. All about the top two inches."

The men, ranked eighth, will be long shots for a medal, but opponents their higher ranked rivals would view as dangerous.

The women are ranked fourth and very much podium contenders.

A series win against world No 2 Argentina in Mar del Plata a few weeks ago, with a below full strength squad, certainly didn't hurt.

Brooke Neal is adamant the women's squad are a big chance in Rio. "It's our time."

The New Zealand Herald


---

Azlan Shah Cup: Kumar and Baljit out

By Jugjet Singh



SELECTED: JOEL SAMUEL VAN HUIZEN

NATIONAL coach Stephen van Huizen named his final 18 for the Azlan Shah Cup in Ipoh on April 6-16, and the mission is not to finish seventh in the 25th Edition.

Malaysia finished at the bottom of the six-team pool in the last edition, and looking at the opponents, it will be another battle to keep afloat in Ipoh.

Missing from the list was No 1 goalkeeper S. Kumar who tore his adductor muscle, around his left groin, while playing in the last Test against Australia in Perth 10 days ago.

Also absent was stalwart defender Baljit Singh.

"Five minutes into the match against Australia i suffered a pull around my left thigh area and later found out it was a tear which needed at least four weeks to recovery to heal.

"It is better I sit out the tournament and allow our two younger goalkeepers to play and go through my recovery programme. I will definitely miss the tournament, but this is not the first time," said Kumar.

In 2014, Kumar suffered a similar team and it was on his right thigh.

The two goalkeepers selected by Stephen are Hairi Abdul Rahman and Hafizuddin Othman.

"Not having Kumar for the tournament is a big blow as he has been training hard for it and played well in the Australian and New Zealand Tours.

"However, looking at the bright side, I will get to test my other two goalkeepers in this tournament as we prepare to qualify for the World Cup and Olympics -- which are the bigger agenda," said van Huizen.

Malaysia will be playing against defending champions New Zealand, world No 1 Australia, India, Canada, Pakistan and Japan. The first four teams have qualified for the Rio de Janeiro Olympics.

Van Huizen will also be trying out defender Najib Abu Hassan, midfielder Joel Samuel van Huizen and forward Nik Aiman Rozemi.

"These are the new faces who will be tried out in the tournament while we give some old hands a rest.

"We already know the strength of players like Baljit, and that's why he has been rested while we give others a chance to play. This is a team for the future as we strive to qualify for the 2018 World Cup and the 2020 Olympics," said van Huizen.

MALAYSIA -- Goalkeepers: Hairi Abdul Rahman, Hafizuddin Othman; Defenders: Najib Abu Hassa, Shukri Mutalib, Razie Rahim, Faiz Helmi, Izad Hakimi; Midfielders: Marhan Jalil, Fitri Shaari, Joel Samuel van Huizen, Nabil Fiqri, Meor Azuan; Forwards: Ramadan Rosli, Haziq Samsul, Firhan Ashaari, Nik Aiman Rozemi, Shahril Saabah, Rashid Baharom.

Jugjet's World of Field Hockey


---

Without goalkeeper Kumar, Malaysia bank on two rookies in Ipoh

by S. Ramaguru



Mohd Hafizuddin Othman (right) will be one of the rookies to play at the Sultan Azlah Shah Cup in Ipoh. - AZHAR MAHFOF/The Star

KUALA LUMPUR: For the first time in more than a decade, the national hockey team will have no proven goalkeeper to bank on.

Instead, all they have to man the post are two rookies – Mohd Hafizuddin Othman and Hairi Abdul Rahman.

With veteran S. Kumar ruled out through injury, these two Project 2013 goalkeepers were named in the final-18 squad for the Sultan Azlan Shah Cup, which begins in Ipoh on Wednesday.

Kumar, who suffered muscle problems on one of his legs during the friendly against Australia in Perth last month, failed a last-minute check-up on Friday.

Another player with medical problems, Mohd Izad Hakimi Jamaluddin, managed to find a place in the squad after receiving treatment over the last week.

The only surprise omission from the list of 18 is that of senior defender Baljit Singh, whose place is taken by Project 2016 player Mohd Najib Hassan.

Najib's inclusion was widely expected as he had performed well in the recent Oceania Tour.

Two other Project 2016 players – Joel van Huizen and Nik Mohd Aiman Nik Rozemi – also got the nod to don the senior team jerseys for the first time.

National coach Stephen van Huizen described the selection as being "straight forward" and that the only down side was the injury to the experienced Kumar.

"The two youngsters played well in the recent tour. The only thing is that they've always played second fiddle to Kumar. So, this gives them the chance to step up to the plate and show what they are capable of under pressure," said Stephen.

The Sultan Azlan Shah Cup is the first assignment for Stephen since taking over as chief coach in October last year.

The Malaysian Hockey Confederation (MHC) just want the team to do better than last year's dismal performance in the Sultan Azlan Shah Cup.

Malaysia finished last in the six-team tournament last year after losing to Canada in a penalty shoot-out in the playoff match.

Although some of the players had spoken of going for a top-four finish, Stephen was quick to play down expectations.

"That is okay as long we stay focused on our task. It's not just the top-four target that we should be looking at ... but also improvement in performance from last year's tournament," said Stephen.

The Malaysian team

Goalkeeper: Mohd Hafizuddin Othman, Hairi Abdul Rahman.

Defenders: Mohd Razie Rahim, Mohd Shukri Mutalib, Mohd Najib Hassan, Faiz Helmi Jali, Mohd Izad Hakimi Jamaluddin.

Midfielders: Mohd Marhan Jalil, Fitri Saari, Nabil Fiqri Mohd Nor, Joel van Huizen, Meor Mohd Azuan Hassan.

Forwards: Mohd Haziq Shamsul, Mohd Firhan Azhaari, Nik Mohd Aiman Nik Rozemi, Shahril Saabah, Ramadhan Rosli, Mohd Rashid Baharom.

The Star of Malaysia


---

Sultan Azlan Shah Cup: Need to create more striking opportunities says Sardar Singh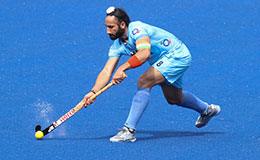 Sardar Singh Indian Hockey Captain

Bengaluru: With the 25th Sultan Azlan Shah Cup just around the corner, the preparations of the Indian Men's hockey team has entered the final stretch at the training-cum-conditioning camp currently underway at the SAI Centre in Bengaluru.

While the team is preparing with the immediate target of winning gold at the annual tournament to be played in Ipoh from April 6-16, the larger goal is to come up with a medal-winning performance in the Champions Trophy that will be hosted in London from June 10-17. Both these tournaments will serve as very important preparatory pit-stops before embarking on the 2016 Rio Olympics campaign.

The packed schedule of the Senior Men's Hockey team for the next few months means that the Men in Blue have to maintain their peak performance and fitness levels for a sustained period of time. To achieve these two objectives, the ongoing preparatory camp in Bengaluru is focusing on further strengthening the core group of players besides adding more depth to the Indian team for more options in the months to come.

"We have a very busy schedule over the next few months. So, we need a very strong core group of players around which the team will revolve. Though, the immediate focus of our preparation is the Sultan Azlan Shah Cup, but we are also looking ahead at the Champions Trophy that will be played in June," said Sardar Singh, Captain of the Indian team.

This year, besides India, defending Champions New Zealand, 2012 Olympic bronze medallist, Australia, Pakistan, Japan, Canada and hosts Malaysia will be taking part in the tournament.

India has enjoyed considerable success in the Sultan Azlan Shah Cup winning the tournament on five occassions in 1985, '91, '95, 2009 and 2010. In 2015, the Indian team led by Sardar finished in third place beating Korea on penalties. "We have a good record in the Sultan Azlan Shah Cup. Our target is to do better than last year when we won bronze. We lost some close matches against New Zealand and Malaysia. But this year our aim is to come back with gold," said Sardar.

The Captain feels that the preparations are in the right direction to win the Sultan Azlan Shah Cup. "The core group of players are shaping up very well. This team has the right balance of experience and youth and the youngsters are willing to stand up to be counted. We have a great Chief Coach in Roelant Oltmans, who is a very astute reader of the game. I can confidently say that the team is working in the right direction and is making 100 percent effort to win the tournament," said the veteran of 236 international games.

The Sultan Azlan Shah Cup will also be a test to see if the Indian team has been successful in eliminating its weakness of conceding early and late goals that have extracted a heavy price in close games. Another area of concern is the inability to create more scoring opportunities by earning penalty corners inside the opponent's striking circle.

"We are conscious of the weak areas. We are working to eliminate the flaws that have plagued the Indian team in the past like conceding early and late goals. We felt that these two problems can be solved with better communication on the field. For better communication the boys need to spend a lot of time together off the field. We have been focusing on this particular aspect at the camp by spending a lot time doing things together off the field. Also, in modern hockey the result is determined by how a team plays inside the two striking circles. In our training we are working on some new strategies and tactics how to create more opportunities inside the opponent's striking circle by earning more short corners and not to concede any early or late goals," said Sardar.

India opens its campaign in the Sultan Azlan Shah Cup against Japan on April 6.

The Sultan Azlan Shah Cup will be telecast live on Star Sports.

Indian Sports News


---

10 weeks to go, 10 reasons to go!




There are just 10 weeks to go before some of the world's best hockey players take to the pitch for the men's Hockey Champions Trophy in London. Here are 10 reasons why you should be getting excited about this showcase event.

The 2016 men's Hockey Champions Trophy begins in London, England in 10 weeks time. Make sure you don't miss out on any of the action.

1. Kookaburras seek 14th win
The world's number one side Australia will be seeking their 14th victory at this event. Australia, ranked number one in the FIH World Rankings, are the team to beat at the moment. Coach Graham Reid and captain Mark Knowles will be eager to reclaim the trophy they lost to Germany in 2014.



Australia captain Mark Knowles will be looking to continue the Kookaburra's success Photo: FIH/Getty Images

2. It's London
In Olympic year, we can also look back to London 2012. That was the event that hockey gained a new generation of fans and we are back there for more! The packed stands from morning to evening, the faces painted in national colours, the heat, the excitement, the energy. And then there's the city itself – cool, iconic, easily accessible and with a multi-cultural population that means every nation has a home crowd.



Fans during the Unibet EuroHockey Championships last summer Photo: England Hockey

3. Best of the best
Australia, Great Britain, Germany, Belgium, India and Korea – six of the 10 best teams in the world, playing fiercely competitive hockey just eight weeks before the 2016 Olympics. What can get better than that? The event is a round-robin format with the finals based on placings after every team has played each other.



Korea and Germany will be looking for good performances in London Photo: World Sports Pics

4. Heroes on display
While it is a team game, there are undoubtedly some players that the crowds will flock to see in action. Belgium's Tom Boon is always a popular draw with his uncanny ability to score from any angle and any time; Ashley Jackson's darting runs through the midfield will have the home fans on their feet; Jamie Dwyer is quite simply mesmerising to watch; while the experienced Sardar Singh will be like a magician controlling the highly skilled Indian side.



Belgium's Tom Boon will be one of the stars to watch in London this summer Photo: FIH/Getty Images

5. Volunteers
If there is one thing that London 2012 gave the world then it was a template for volunteering. As you travel to the Queen Elizabeth Olympic Park, be certain that you will never get lost of wonder where you are. From the train station at Stratford, the International station at Westfield, all along the roads into the Park and around the ground itself – the unfailingly cheerful army of volunteers are all part of the 2012 legacy.

6. Styles of play
For hockey lovers, the gathering of the world's best teams is a great chance to see a variety of playing styles on display. For Australia's Kookaburras, it is all about attack. The attack begins with the defence, who will seize any opportunity to turn over the ball and initiate a counter-attack. Germany plays a structured style, very much influenced by the indoor game, but with devastatingly talented players such as Christoph Ruhr on hand to capitalise in front of goal. Korea soak up pressure and then use their speed to counter-attack, while Great Britain are happy to soak up pressure before strong-arming their way forward. India can bring a number of strategies to the table and usually have the advantage of surprise.



India have continued to impress in recent tournaments Photo: FIH/Getty Images

7. The side shows
Anyone who visited the EuroHockey Championships in August 2015 cannot have failed to be impressed by the array of hockey merchandise, activities and food and drink on offer. Stalls selling food from every nation, plus a large refreshment tent where people could gather between games made the whole experience for the spectators really enjoyable. Expect even bigger and better from the Champions Trophy.



Photo: England Hockey

8. Epic encounters
For the sports fans of Australia and Great Britain, any competition from croquet to cricket can set the patriotic fervour alight and the final match on day one will be no different. While the host nation will have numerical advantage, the vast Australian community of London will turn out to back their boys.



The match between the hosts and the world's top team will be the highlight of the opening day Photo: FIH/Getty Images

9. Drag flick specialists
Chris Ciriello, Yang Jihun, Tom Boon, Rupinder Pal Singh – there is a glut of drag-flicking talent on display at this Champions Trophy and fans will be able to watch their hockey heroes in action either live or through the various media channels.



Rupinder Pal Singh's drag flicking skills are a site to be seen Photo: FIH/Getty Images

10. Hottest players on the planet
George Pinner and Harry Martin of Great Britain have both dabbled in modelling in the past for a charity photo shoot; Jamie Dwyer has been named as one of the hottest male sports players on the planet by Buzzfeed while Sebastien Dockier and Moritz Fuerste both have film star looks.




FIH site


---

Will the public answer Ireland's call?




2015 was a year of contrasting fortunes for Ireland's senior international hockey teams. For the men, history beckoned as they qualified for the summer Olympics for the first time since 1908. For the women, a flying start to the Hockey World League Semi-Finals saw them topping their pool and heading for Olympic qualification, until defeat in the quarter finals left them devastated and dreaming of what could have been.

"We were just inches from having two teams at the Olympics," rues acting chief executive of Hockey Ireland, Rob Johnson, referring to the 3-4 loss in the shoot out against China. "But, when you look at what we have achieved – we are the first team sport to qualify for the Olympics since 1948 – we are a sport that is punching well above its weight."

With Olympic qualification being the defining achievement, Ireland men's team enjoyed a fantastic 2015. A fifth place finish at the Hockey World League Semi-Finals proved to be enough to secure a place on the plane to Rio, before the team claimed a superb bronze medal at the European Championships in London. That bronze medal was made all the more special as it came at the expense of the host nation, England. The result also moved Ireland men to 12th in the FIH world rankings, their highest ever position.

All of which is going some way to raising the profile of hockey in Ireland. In a land where the team sports of rugby, hurling and soccer take the headlines, Ireland's hockey players hope they can take a portion of the limelight this summer and turn it into something more sustainable. Player Alan Sothern is hoping that the public will get behind the squad in the way the Irish cricketers were supported in recent World Cups: "We can draw inspiration from what the cricket team did and all the publicity they got," he said. "I've heard from people who weren't even aware that Ireland had a men's side. We want people to get behind us now and back us all the way to the Olympics."




It is a point that Johnson whole-heartedly agrees with. "As a people, Ireland will get behind a team in an event, so we need to maximise that engagement during the Olympics. To that end, we are launching a project to increase the public's engagement within the next few weeks – watch this space!"

The major problem that Hockey Ireland faces, and one it shares with many other sports, is a lack of funding. While the elite programme receives state funding, it falls short of what is needed to meet the demands of international sport. While sponsors are showing a lot of interest, they have yet to firmly commit. And with a few exceptions, the players are not professional hockey players, so a large financial burden falls on them. "Apart from the few who play in the European leagues, most players are in work, so training and participation means taking unpaid leave," says Johnson.

Currently, Ireland men are taking on fourth ranked Great Britain in a three-test match series, while the women have travelled to New Zealand to compete in the prestigious Hawke's Bay Cup. The men are busy raising funds to finance the travel they will need to do as part of their Olympic preparation, but these are efforts that Johnson believes are worth making in order to keep Ireland on an upwards trajectory. He explains where he feel both teams are.

"The men failed to qualify for London 2012 by just seconds and they channelled that pain in a positive way to reach new levels. The women are going through that process now. They will learn a lot from Hawkes Bay, where they are competing against some top ranked nations. By Tokyo 2020, the team will be coming to maturity. Right now, the men are making history and the women are moving forwards at pace; we need to educate the public and the media to recognise our achievements."

#LoveHockey

FIH site


---

U-21 USMNT Concludes Euro Tour with Reigers

HOOFDDORP, The Netherlands - Heading into the fifth and final match of the European tour, the U.S. U-21 Men's National Team was extremely intent on playing a full 70 minutes of hockey and rebounding from a tough loss in the previous night against Xenios. Team USA played Reigers first men's team, who is at similar level of hockey as the previous two matches and who are all within three points of each other in the first class division, fighting for a playoff berth.

From the start whistle, Team USA put the pressure on Reigers defenders and created opportunities in the circle from the start. Consistent hockey was played by striker Amar Khoker (Valencia, Calif.) who was able to get in and behind their defensive line to penetrate the circle to keep Reigers's goalkeeper on edge early and often. The U-21 USMNT's defense was able to keep the ball from entering their defending circle for almost the entirety of the first half. Around 11 minutes into the first half, Reigers was able to counter and smash a ball through our midfield line to a cutting striker who rolled out to his left and entered the circle a half step in front of the a USA defender. From here, the Reiger player was able to punch a hard shot under the dive of Nate O'Lari (Orange, Mass.) and take a 1-0 lead at halftime.

A simple halftime adjustment from the USA staff was to direct the strikers to cut off Reigers' outlet from key players in the defensive back four. This adjustment helped kick off what was Team USA's most dominant play of the tour. Minute 44 into the match,  Reigers lead an attack down the right side of the field, gaining entry into USA's circle and dumping a ball to the top, where a midfielder was able to gather the ball and finish with a strong backhand into the far side board of the net. This was only one of a few chances Reigers had in the second half as Team USA continued to dominate the play, but struggled to convert on multiple chances inside the circle.

Down 2-0, Team USA faced an obvious uphill battle if they wanted to pull out a victory. While having three games in three days, it would take commitment and energy to continue to dominate ball possession and goal scoring opportunities. Striker Stuart Kentwell (Spring City, Pa.) was able to convert from a great piece of skill and pass from his teammate Khoker off the right baseline to bring the score to USA 1, Reiger 2.

With a renewed sense of urgency, the U-21 USMNT tightened the screws and continued to string together passes, apply pressure and create turnovers in advantageous areas of the field that would give them a penalty corner opportunity. USA Captain Sean Cicchi (Thousand Oaks, Calif.) took the penalty corner but could not convert his flick into a goal. As time ticked down to zero, Team USA fell to a strong hockey club, 2-1. Though the outcome was not what they project, the team came off the field feeling victorious as massive strides were made in the teams development as they move closer to the Junior Men's Pan American Championship in Toronto, Canada.

"Tours like this are of crucial important for the development of this team and the overall program, along with the future of this program," said Rutger Wiese, U-21 USMNT Head Coach. "Anywhere in the Americas, we do not get these opportunities to play this level of competition. All of the teams we have played had players who have played in the top level, even the European Hockey League. Ten days in this type of environment of high performance training and matches away from home is teaching us more than we would have taught ourselves training back in America; not only hockey skill but mental toughness, character, team identity and dealing with adversity as an individual and as a team."

"This tour was a huge success for what the program needed," said Chris Clements, U.S. Men's National Team Head Coach. "Elite level competition that extends the players in every element of play, and immersion in one of the greatest hockey cultures in the world. The schedule of matches and trainings was not easy, but one where the squad has made obvious strides. Many thanks to the staff for putting together a tremendous tour and to the players for soaking up everything that was thrown their way.

The U.S. U-21 Men's National Team is extremely grateful for all the support they have received so far from The USA Field Hockey Men's Foundation and Booster Club, families and friends of the players, and those who have also contributed to their Journey to Qualify for the Junior World Cup campaign.

USFHA media release


---

Club play keeps National Team members sharp ahead of big competitions

Shaheed Devji




With Canada's men's and women's senior field hockey teams ready to play in their biggest and toughest tournaments of the year so far – the Azlan Shah Cup and Hawke's Bay Cup respectively – it is important the teams stay as sharp as possible in the lead up.

While each team has made one trip out of country for training and matches since the start of the year – the men to South Africa Training in Vancouver in January and the women to San Diego in early February – the better part of the last two month has ben spent training in Vancouver.

Practice is great – and necessary – but players love playing games.

"Games are really important," says Women's National Team and West Vancouver Millionaires goalkeeper Kaitlyn Williams. "It's an opportunity to work on things you need to work and in a different setting. It's always unpredictable; you don't really know what's going to happen. Bounces happen, touches happen. It's a good way to stay sharp."

Staying sharp is one reason a large contingent from the men's and women's Canadian National Teams have been playing in Vancouver's men's and women's field hockey leagues.

This year's Vancouver Women's Field Hockey Association Premier Division consisted of a sizeable group of Women's National Team Players.

In fact, on semifinal weekend alone the four teams in the playoff featured 12 current Canadian internationals. And some retired ones too.

Safe to say bragging rights are on the line.

"Definitely some smack talk going on," says Holly Stewart, who has been playing for West Vancouver since she was a kid and started up again after her university career.

"It's definitely competitive, but at the end of the day we're all still teammates."

The West Vancouver Millionaires and the Vancouver Meralomas went on to the final, with Stewart's Millionaires coming out on top.



2016 Vancouver Womens Field Hockey Association Champions: West Vancouver Millionaires

And while winning a championship – and against your friends and teammates to boot – is certainly a point of pride, as Men's National Team captain Scott Tupper notes, it's important look at the bigger picture.

"I'm a firm believer that players progress and develop through a club system," says Tupper, a member of the West Vancouver Millionaires men's team which made it to this year's finals. "Clubs are integral to the development of the sport and to the development of players, and the pool that you want to put into the National Team."

Tupper, who has played club hockey across the world – in Germany and Belgium – says for Canada to continue progress as a field hockey nation, a healthy the club system is essential.

"Every great country in the world has a good club system behind it," he adds. "It's really important for us to play in it and take it seriously."

And they do.

"It's always good to play games," says Canadian defender Ben Martin. "No matter what the level, playing an actual match does give you something different that practice can. And also what's nice with playing with clubs is that you get a chance to maybe to do bit more."

Since his childhood hockey days., Vancouver's Martin has been playing for the Vancouver Hawks – a team also chalk full of current and former National Team players, and which also made it to this year's finals and were the eventual winners.

Over the years, club hockey has definitely helped Martin – and his teammates and competitors – develop, and in recent years, stay sharp when not on tour.

But it's not all about winning, tactics, or development.

"First and foremost, it's a lot of fun," Martin says. "It's fun playing with your friends and playing games is always awesome. I enjoy it."

Field Hockey Canada media release


---

A close contest for England U16 Girls

England U16 Girls hosted their Dutch counterparts over the Easter period to test their skills in a three-match series which, for some, would be their first experience of International hockey.

The girls started off with some strong attacking play and were quickly rewarded with a penalty corner in the first 5 minutes of the game. Rachel Greenwood calmly managed to convert this into England's first goal to see them take the lead.

This lead continued into half time with neither team being able to convert their chances, along with a great performance in goal from England. Holland came back from the break with a vengeance and managed to convert two open play chances 10 and 20 minutes after the break. England remained unable to score that elusive second goal and the game ended 2-1 to Holland with the home side looking to work on their composure in the circle in the remaining games of the series.

Match two started in a similar fashion to the first, with both teams competing strongly and showing great one on one defence. Holland were first to score with a penalty corner strike midway through the first half, and the score remained at 1-0 going into the break.

As with the first half, the game remained tight thanks to a strong defence from both sides. This deadlock was broken by Holland 10 minutes from the end with a well taken penalty corner to give the visitors their second. England were quick to respond just a minute later, with Rachel Greenwood scoring her second goal of the weekend from open play to bring the score to 2-1.

Last minute efforts for England to achieve a draw were thwarted by a late goal from Holland in open play minutes from the final whistle to win the game 3-1.

The final game of the series got off to a slower start than the first, with the first goal coming late in the first half from a well taken Dutch penalty corner. This was the only goal of the first half and meant Holland led again going into the break.

Holland came into the second half with some purpose, converting a penalty corner in the first few minutes to lead 2-0. England were quick to respond however with a penalty corner of their own converted by Lorna Mackenzie to bring the score to 2-1.

Both teams continued to battle with some good attacking play and strong defence meaning neither could maintain the upper hand. England were next to score with a field goal from Vicki McCabe to bring the scores level with not long left on the clock. Holland managed to retaliate however, with a field goal moments after the England score to end the game 3-2.

Head Coach Marc Bourhill commented on the series, "The girls competed well with the Dutch in every area of our game. Our 1v1 defending was outstanding at times and had we a little more composure in the circle we could have scored a few more. This was the first international series for the majority of the group and this gives us a lot of optimism for the rest of the year and the future beyond that."

England Hockey Board Media release


---

Investec Women's Hockey League Promotion Playoffs



Bowdon Hightown's Sally Walton in full flow

This weekend is the start of a crucial run of games for four teams in the Investec Women's Hockey League. Sunday is the first of the round robin matches to determine who from Wakefield, Sutton Coldfield, Slough and Bowdon Hightown will compete in the Investec Women's Premier Division next season. With only two places up for grabs a good start is imperative for all of these teams. Who will get those all-important points on the board? We take a look at the competitors.

The first of the matches pits Wakefield, the winners of the North Conference against Sutton Coldfield, triumphant in the West.

Wakefield of course competed in the playoffs last season, but missed out to East Grinstead and Buckingham who earned the top flight status instead. They have had an impressive campaign, winning the North by two points ahead of Ben Rhydding who pushed them all the way.

Wakefield have netted 41 times across the 18 games with Rosie Tootell helping herself to nine of those goals. What is impressive about the North Champions is the spread of goalscorers with Heather Stafford contributing eight goals, Cat Horn seven and Georgie Byas six, meaning Wakefield when on song can score goals from all over.

Their opponents first up are Sutton Coldfield who have been in blistering form in the West, scooping the title by six points from Stourport and plundering 69 goals in 18 games on their way. Sutton competed in this tournament in 2014 becoming the first side to be relegated from the top flight via the playoffs since their inception in 2009. Now, the free-scoring Mighty Pinks are right back in the mix to regain top flight hockey. The return of Vicky Woolford has galvanised them, with the striker bagging 16 goals this season ably assisted by the combative Emma McCabe (12 goals), Susan Wood (nine) and of course Jane Sixsmith (8). Sutton's all out attack approach could well pay dividends and their clash with Wakefield promises to be an exciting one.

The other opening game of the promotion tournament pits Slough against Premier Division side Bowdon Hightown.

Hightown have had a tough season in the top flight, almost slipping through the trap door via the automatic relegation place, a fate they were spared thanks to a heroic 5-3 win over Reading on the last day of the season. Undoubtedly there is an abundance of talent in their ranks, with goalkeeper Amy Tennant one of the finest stoppers in the top flight being a good example of that. Sally Walton too has played her part scoring ten times including a double in that all-important Reading win. The Seahorses have handed themselves a lifeline and will be desperate to capitalise on it.

Their first opponents are Slough. The Pink and Blacks competed in the playoffs last year after winning the West but were edged out in their quest for Premier Division hockey. A move to the East Conference did not deter them and they promptly won that, scoring 51 times on the way with Amy Sheehan netting 19 of those. Sheehan's feat is even more impressive when you consider 18 of those goals have come from open play. They have a corner threat too, as Dilly Newton (7 goals) proves whilst Charly Brydon continued her good form in front of goal by contributing six strikes herself. Slough were bitterly disappointed last season, with a feeling they didn't do themselves justice in the playoffs. They will hope to ensure that doesn't happen again.

Two massive games. Four teams battling it out to reach the Investec Women's Premier Division. It all starts this Sunday. Who can hold their nerve and get the points on the board?

Sunday 03 April – Nottingham Hockey Centre

1330 Investec Women's Hockey League Play-Offs: Wakefield vs. Sutton Coldfield
15:30 Investec Women's Hockey League Play-Offs: Slough vs. Bowdon Hightown

England Hockey Board Media release


---

O60s Cup & Plate Finals



Masters at Lee Valley

This Sunday sees the finals of the Men's Over 60s Cup and Plate finals at Nottingham Hockey Centre, featuring an array of ex Olympians.

Indian Gymkhana are the holders of the Over 60s Cup and include former internationals Kulbir Bhaura, Manjit Flora, Suti Khehar and Imtiaz Sheikh in their line up with another ex GB player, Mark Precious in the Surrey side.

The matches will precede the Investec Women's Hockey League and Men's Hockey League play-off matches at Nottingham later in the day.  

These matches are being played prior to the other men's knockout finals on the 1st May as a number of the teams' players will be away at that time participating in the Grandmasters World Cup in Australia.

The competitions are open to both club and county teams with over 25 teams entering in 2015-16 season.

Men's Masters Over 60s Plate Final
Khalsa v Warwickshire & Worcestershire

Men's Masters Over 60s Cup Final
Indian Gymkhana v Surrey

Both games will push back at 11am at Nottingham Hockey Centre, the home of Beeston Hockey Club. 

Venue

Nottingham Hockey Centre
Nottingham
NG7 2PS

Entry to the ground will be £5 per car or £3 for spectators on foot.

England Hockey Board Media release


---

English Club named Euro Club of the Year 2015



Sevenoaks at Lee Valley

 Sevenoaks Hockey Club have been named Euro Hockey Club of the year 2015.The Kent club have been awarded large club of the year after winning club of the year at last year's England hockey awards 2015.

President Iain Pearson and Chair of the ladies section Janine Nicholls are over the moon being named the top club in Europe; 'This is fantastic news for everyone connected with the hockey family in Sevenoaks.'

We know just how much inspiring work is being done by clubs and individual volunteer's right across our sport, so to receive this award is truly humbling. We are very grateful to the EHF for this recognition and to England Hockey for their support across all our activities'

It has been a real team effort both across the Club and over generations who have given so much to our hockey over many years. Inspired by this award, we look forward to building an even better Club for the future – both on and off the pitch and with our local community.'

The club boast over 800 members and over 150 volunteers and have gone from strength to strength over the years. Euro Hockey was particularly impressed with their Back to Hockey initiative and their close ties with the local community and council.

This is the second English club to win this award as Old Silhillians won Euro Club of the year in 2014. 

England Hockey Board Media release


---

2015 EHF Club of the Year winners: Uddingston HC and Sevenoaks HC!




We are proud to announce the 2015 EHF Club of the Year Winners

Large Club of the Year 2015: Sevenoaks Hockey Club, England

Sevenoaks Hockey Club has been steadily growing its membership and its teams for the past years, growing its membership to 892. It consistently plays at the highest English leagues in both men and women. It has run 'Back to Hockey' initiatives to bring people back to the sport, and it has very strong ties to its community and council.



2015 Club of the Year Seven Oaks HC, ENG

Sevenoaks HC President  Iain Pearson and Ladies' Chair Janine Nicholls said: "We are absolutely thrilled to be recognised as European Club of the Year 2015. A wonderful accolade for all our energetic volunteers, coaches and players who make Sevenoaks Hockey Club what it is today. We are so proud of them all and couldn't be happier that their hard work and achievements are being recognised in this way. Thank you EHF!"

Small Club of the Year 2015: Uddingston HC, Scotland

Having overcome many difficulties to obtain their own pitch, Uddingston HC have managed and have the first club in 5 years to build their own pitch in Scotland. Their commitment to improving their facilities, including indoor facilities planned for 2017. Uddingston have also made growing their women's section a big part of their development plan. Moreover, having obtained a pitch, the club offer it for free to their community at selected times every week. Uddingston Hockey Club said: "We are honoured to be recognised for our work and feel its a fantastic award for the volunteer of our club!"



2015 Club of the Year Uddingston HC, SCO

Marijke Fleuren, EHF President, extends her warm congratulations to both winning clubs and said: "I am proud to congratulate both clubs on their efforts, and this well-deserved award. Both clubs show us what it means to be truly successful: hard working, inclusive and community centered." Marijke also extended her thanks to the EHF Development Projects Committee for their work.

Do you think your club has what it takes to become EHF Club of the Year? Find our more information by emailing us at This email address is being protected from spambots. You need JavaScript enabled to view it.

EuroHockey media release


---

Butali Sugar Warriors Butali out to reclaim top spot

Butali face Kenya College of Accountancy University (KCAU) on Saturday at the City Park Stadium.



Billy Mollah of Butali Sugar Warriors clears the ball during their Kenya Hockey Union Premier League match against Nairobi Sikh Union at City Park Stadium on January 24, 2016. PHOTO | MARTIN MUKANGU |   NATION MEDIA GROUP

Champions Butali Sugar Warriors will be out to regain top spot in the Kenya Hockey Union (KHU) men's premier league with victory in their two league matches this weekend.

The lakeside club face Kenya College of Accountancy University (KCAU) on Saturday at the City Park Stadium before playing Nakuru Hockey Club on Sunday at the same venue.

Victory in both matches will see them displace leaders Kenya Police from top spot with a total of 64 points. Police lead the standings with 63 points from 24 matches, five more than the champions who have played 21 matches.

With the title race seemingly a two-horse race between the two and only two months left until the league ends, neither team can afford any slip ups. Police, who are not in action this weekend, have four matches left while Butali have seven left and one of those matches is against Police.

Butali scrapped to a 1-0 win against Greensharks in their league match last Friday and coach Cliffe Okello has called for an improved performance this weekend.

"We are almost at the end of the season and every win counts at this stage. We didn't play at our best last weekend and I hope the real Butali will turn up this weekend," Okello told Saturday Nation Sport.

"We are up against two unpredictable teams but our target is the six points and I believe I have the players to get the job done," he added.

Former national team captain Zack Aura, who led Butali to the title in 2014, midfielder Frank Wanangwe and forward Barnabas Odhiambo will be tasked with ensuring Butali claim maximum points.

SHOW NO RESPECT

The champions won the first leg fixture 3-0 and will be out to complete the double on the students. However, KCAU skipper Godfrey Oduor has challenged his teammates to show no respect for the champions.

"We are a decent side capable of beating any team in the league and that is how we will approach the match," he said. The students went down 2-3 to USIU in last Sunday's university derby.

In another men's premier league encounter, Nakuru take on Wazalendo and a win will see them move above the latter in the standings. The Rift Valley based club have impressed in their second season in the top flight with some impressive displays.

Two-time league champions Strathmore University Gladiators will be away in Mombasa to take on taking on relegation candidates Mombasa Sports and Mvita XI this weekend.

League debutants Parklands travel to Kakamega to face Western Jaguars as they seek to move further away from the relegation zone. On Sunday, Greensharks take on Kenyatta University Vultures seeking to bounce back from last weekend's double losses to Butali and Parkroad.

FIXTURES (All matches at City Park Stadium unless stated)

Saturday

National men: TUK v NYS (12pm), Kabarak v Impala (Kabarak) – 2pm
National women: USIU v Daystar (2pm)
Premier men: MSC v Strathmore (Mombasa)- 3pm, Nakuru v Wazalendo (4pm), Jaguars v Parklands (Kakamega) – 4pm, Butali v KCAU (6pm)

Sunday

Premier men: Butali v Nakuru (9am), Mvita v Strathmore (Mombasa)- 9am, Greensharks v KU (3pm)
National women: JKUAT v KU (11am)
National men: Thika Rovers v Parkroad Tigers (1pm)

Daily Nation


---

Furious parents demand refund for hockey trip

By Calistus Kolantsho



Taken for a ride: Hockey players feel cheated over the Namibian trip

Parents whose children were part of the Under-21 team, which travelled to Namibia for the Africa Hockey Championships, are demanding a refund from the Botswana Hockey Association (BHA).

Parents contributed P5,000 each towards the trip. The Botswana team returned last Friday after withdrawing from the competition, which ran from March 18 to 24, 2016.

One of the parents said they feel cheated after paying the money and their child ending up not playing.  Players who travelled to Namibia have also accused BHA of mistreatment. The parents want the BHA to refund them.

According to a source who spoke to Mmegi Sport, most of the players do no want to play hockey again as a result of the treatment they received.  She said the girls' team was withdrawn because half of the players did not have Botswana passports while some in the boys' team did not make the trip due to transport challenges.

"We were there for a few days and came back before the end of the competition. We were not happy about the food. They fed us sandwiches everyday. We expect them to refund us," said a disappointed player.

Responding to the allegations, BHA president, Unaswi Matebu said the  Botswana National Sport Commission (BNSC) wrote to them on March 16 ordering the association to withdraw from the competition.

"I then withdrew the teams before the competition began on the morning of March 18. They (BNSC) claim to have not been informed of the competition although they are the ones who entered the

teams into the competition," Matebu said.  "BNSC paid the entry fees for the teams and also paid for the training field that was used for the weekend training camp for the teams. I wonder how they got to pay for something they don't know about. They say it contravened the BNSC Act and it attracts a penalty," she said.Matebu said BNSC, in their letter, said they did not have the BHA report (from last year's seniors tournament). She said they had sent all the reports including the annual report. Matebu said they tried to appeal the decision, but the BNSC chief executive officer through the BNSC chairperson did not get any response from him.  Regarding the issue of reimbursement, Matebu said BHA is addressing the issue.

Meanwhile, BNSC chairperson Solly Reikeletseng said BHA's appeal did not succeed. He said the association was advised by the commission not to go, but they decided to on their own. He said as a way forward, BHA would answer to the BNSC.

"They have acted against our instructions. They had put the lives of children at risk. The embassy was not aware of their presence in Namibia. Sometime people have to take responsibility and avoid such things," said Reikeletseng. He said the contributions that parents made has nothing to do with the BNSC.

Mmegi Online