All the news for Sunday 5 June 2016

New Zealand defeat Australia 2 - 0

Black Sticks win International Hockey Open

By Holly MacNeil




The Hockeyroos and the Black Sticks competed in the gold medal match at the International Hockey Open at the Marrara Hockey Stadium in Darwin tonight, with New Zealand edging the home team out to take the win.

Kathryn Slattery of Australia celebrated her 50th cap for the Hockeyroos, while Sophie Cocks played her 100th for the New Zealand Black Sticks.

The first quarter saw both teams attacking the ball in an attempt to gain an early lead, with Edwina Bone, Brooke Peris and Emily Smith running lengths of the pitch to get the ball for the Hockeyroos.

The score going into the second quarter was tied with both teams yet to convert opportunities to goals. Twenty four minutes into the second quarter and Kelsey Smith of New Zealand scored a field goal giving the Black Sticks an early edge.

Australia answered with a shot on a penalty corner, but just missed the connection for goal. The Black Sticks quickly responded by scoring a penalty corner chance of their own, with Olivia Merry converting the shot to a goal giving New Zealand a two nil lead going into the half time break.

Three minutes into the third quarter and the Black Sticks won a chance at a penalty corner, but Australian goalkeeper Rachael Lynch was too quick and knocked the ball away from goal. Australia came back to gain opportunities to score in their circle, but the New Zealand defence was too good.

The final quarter continued to see both sides battle to get control of the ball. The Hockeyroos fought hard and came through with a penalty corner attempt in the ninth minute of the quarter but missed the opportunity.

Head Coach Adam Commens said: "It's disappointing to lose a final against New Zealand, we know they're a good quality opponent and you need to take your chances. We had a lot of chances in the third quarter and it's unfortunate that we didn't score; that's why tonight they got the result."

Earlier in the evening Japan defeated India to take away the bronze medal from the tournament.

The Hockeyroos next head to London to compete in the Champions Trophy from 18 – 26 June.

Results today
IND 1 - 2 JPN
AUS 0 – 2 NZL

HOCKEYROOS 0 (0)

NEW ZEALAND 2 (2)
Kelsey Smith 24 (FG) 
Olivia Merry 30 (PC)
                                                                                    
Hockeyroos' squad v New Zealand
Edwina Bone (Evatt, ACT) 109/2
Jane Claxton (Adelaide, SA) 96/9
Jodie Kenny (Wamuran, QLD) 174/96
Rachael Lynch (Warrandyte, VIC) 147/0
Karri McMahon (Berri, SA) 98/9
Georgina Morgan (Armidale, NSW) 40/8
Brooke Peris (Darwin, NT) 89/13
Casey Sablowski (Albion Park, NSW) 246/44
Kathryn Slattery (South Stirling, WA) 50/13
Emily Smith (Crookwell, NSW) 151/61
Grace Stewart (Gerringong, NSW) 16/7

Used Substitute
Laura Barden (Kew, VIC) 15/4
Kirsten Dwyer (Mackay, QLD) 102/2
Gabrielle Nance (Kingscliff, SA) 34/2
Georgia Nanscawen (Melbourne, VIC) 177/35
Kaitlin Nobbs (Newington, NSW) 4/0
Kellie White (Crookwell, NSW) 97/31

Unused Substitute
Ashlee Wells (Morwell, VIC) 74/0

Hockey Australia media release


---

Black Sticks Women win gold in Darwin



Photo courtesy Tim Nicol

The Black Sticks Women have won gold at the International Hockey Open in Darwin after an impressive 2-0 result over hosts Australia in the final.

Edged by the Hockeyroos in Wednesday's round robin match, the Kiwis came out firing in the final and were resolute on both sides of the ball.

The Black Sticks were fuelled by goals from Kelsey Smith (24th minute) and Olivia Merry (30th minute) while staunch defence ensured the rare feat of keeping Australia scoreless.

It was the perfect ending to the tournament for Canterbury striker Sophie Cocks who brought up her 100th international cap.

Head coach Mark Hager said it was an impressive performance with every player stepping up to the high pressure challenge.

"It was a good solid effort from us, especially given the calibre of some of the players we were missing but it just shows we have some really good depth," he said.

"Our defence played a terrific game – they peppered us in the second half but both Amelia Gibson and Georgia Barnett played well in goal.

"We didn't have a bad player out there tonight and that's what you need to win big games. We're not getting ahead of ourselves though, we have big ambitions for the Champions Trophy in a few weeks and then our pinnacle the Rio Olympics."

The Black Sticks played at a high intensity from the opening whistle, and finally cracked the Australian defence in the 24th minute when Smith collected a bouncing ball and drove into goal to give her side the lead.

Canterbury striker Merry doubled the advantage right before halftime with a strong forehand shot from the top of the circle off New Zealand's first penalty corner of the match.

Australia created some dangerous scoring opportunities in the third quarter but the Black Sticks defenders held strong, especially goalkeeper Georgia Barnett who made an outstanding one-on-one save after Emily Smith received a long range ball in the circle.

The victorious Black Sticks now head home for final preparations ahead of the Champions Trophy in London from 19-27 June, with the team to compete at the tournament to be named this week.

BLACK STICKS 2: (Kelsey Smith, Olivia Merry)
AUSTRALIA 0
Halftime: Black Sticks 2-0

Hockey New Zealand Media release


---

Black Sticks learning how to win the big one

By David Leggat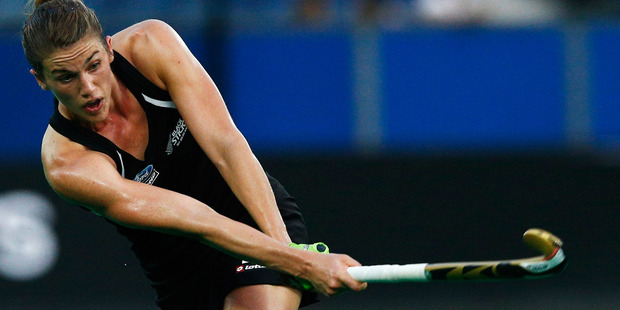 Defender Brooke Neal impressed in the Black Sticks' win over Australia. Photo / Getty

At just the right time, with the Rio Olympics looming, the women's Black Sticks are learning how to win the big games.

Having won the Hawkes Bay Cup final in April against the industrious world No 10 Japan, the fourth-ranked Black Sticks beat Australia 2-0 in Darwin to clinch the Four Nations cup, further evidence that the gulf between the transtasman rivals has disappeared.

Australia, world No 3, won the round robin game 2-1, when New Zealand were left kicking themselves after a game they should have won. In the final, after also having beaten India 4-1 and Japan 2-1, they made no mistake, courtesy of goals from Kelsey Smith and Olivia Merry.

''It's a real stepping stone for us," impressive defender Brooke Neal said today.

''We've always talked about winning the big games against quality teams like Australia.

We're really happy with our performance, the way we stuck it out. It wasn't pretty hockey all the time, but we did the job in the end."

Neal is a part of a highly impressive defensive operation. On the basis of the old line about defences winning matches, the Black Sticks are in good shape.

Neal, veteran Emily Gaddum, Liz Thompson, Rose Keddell, Julia King and Ella Gunson, along with both goalkeepers Amelia Gibson and Georgia Barnett, had strong tournaments at the defensive end of the field.

''It's been awesome to have Emily back in the team," Neal said of New Zealand's most capped international Gaddum, who had taken time out after the Commonwealth Games two years ago.

''We've been training for a big six-week block and it's showing in the way we're working together. We understand each other's roles better and we can sort out our defence a lot more efficiently than we have in the past."

The squad to travel to the Champions Trophy in London will be named on Tuesday.

That's the final event before the chosen 16 head to Rio. The Darwin tournament showed coach Mark Hager and his selectors have some difficult decisions ahead.

Senior pair Kayla Whitelock and Gemma Flynn, who add punch and organisation to the attacking operation, are sure to come back in after missing Darwin. First choice goalkeeper Sally Rutherford also sat out Darwin.

Assuming all return for London they'll come back into a team bolstered by a strong streak of self belief.

''It's testament to the girls putting in a lot of hard yards and showing dedication to the programme and trusting our coaches and structures and the efficiency of game plans," Neal said.

The New Zealand Herald


---

Black Sticks women take revenge on Australia to win International Hockey Open final

Clay Wilson



Young striker Kelsey Smith scored the opening goal in the Black Sticks 2-0 win over Australia to clinch the International Hockey Open title in Darwin. PHOTOSPORT

The New Zealand women's hockey team have continued their positive build-up towards the Rio Olympics by claiming another tournament title.

Winners of the Hawke's Bay Cup in April, the Black Sticks took out the International Hockey Open in Darwin on Saturday with a 2-0 victory over hosts and arch-rivals Australia.

World No 4 New Zealand were not only able to avenge their 2-1 loss to their third-ranked trans-Tasman neighbours in round-robin play with the result, it also means the Kiwi side will head to the Champions Trophy in London at the end of this month in an optimistic mood.

That tournament, which runs from June 19-27, includes the world's top four nations, plus 2012 Olympic bronze medallists Great Britain and is the last chance for the Black Sticks to press their case for Rio selection before the squad is named in early July.

After a scoreless opening quarter in the Northern Territory capital on Saturday, New Zealand pounced in the second stanza to score the only two goals of the match.

Young striker Kelsey Smith opened the visitors account, collecting a loose ball in the circle and shooting through traffic to put her side in front.

The goal that doubled the lead was more straightforward, Olivia Merry hammering the ball home from a penalty corner to send the Black Sticks into the break with a handy buffer.

Australia applied ever-increasing pressure in the second half as they attempted to get back into the match, but the Kiwi defence scrambled well and goalkeeper Georgia Barnett pulled off several fine saves to keep the clean sheet intact.

Barnett made a particularly impressive stop in the final quarter, blocking the ball away from goal after an Australian striker found herself alone with an abundance of space in the circle.

Black Sticks coach Mark Hager singled out Barnett and his other goalkeeper Amelia Gibson for praise after the victory, also noting the depth the squad were building as a key factor to their improved consistency in the past six months.

New Zealand 2 (Kelsey Smith, Olivia Merry) Australia 0. Halftime 2-0

Stuff


---

Indian eves lose to Japan in bronze medal game

DARWIN (Australia): Indian eves returned empty-handed from the four-nation invitational tournament here after losing 1-2 to Japan in the bronze medal play-off match on Saturday.

India started the game on a bright note, pushing Japan onto the backfoot immediately, and penetrated the opponent circle several times in the first five minutes.

Japan rallied back and slowly got control of the proceedings as the Indians dropped back.

Japan got the first real chance of the game but were denied by a brilliant diving save from Savita in front of the Indian goal.

Japan secured their third penalty corner in the second quarter but India defended stoutly as both the teams failed to break the deadlock at half time.

India came out stronger after the change of ends and pressed hard which resulted in the opening goal with Vandan Katariya scoring from a field play in the 37th minute.

A long cross field drive from Deepika, seemed to be headed towards safety, before Katariya pounced on it behind Japan's Nagisa Hayashi and flicked in the ball to give India the lead.

Japan equalised soon through Motomi Kawamura and then took the lead in the 42nd minute through Minami Shimizu.

India earned a penalty corner in the dying minutes of the game, but failed to convert as Japan held on to the lead to emerge winners.

Speaking after the match, India's chief coach Neil Hawgood said, "The entire tournament has been a great test for us. It taught us about our strengths and weaknesses as well as the opponents we will face in Rio. As a team, our defensive work has been solid and now we can build from there."

The Times of India


---

Black Sticks keeping a lid on things despite International Hockey Open victory



Sophie Cocks brought up her 100th international cap for the Black Sticks in their win over Australia. John Cowpland/PHOTOSPORT

New Zealand women's hockey coach Mark Hager is trying to keep a lid on his team's International Hockey Open win in Darwin on Saturday night.

The Black Sticks continued their positive build-up towards the Rio Olympics by claiming another tournament title, beating Australia 2-0 in the final.

Edged by the Hockeyroos in Wednesday's round-robin match, the Kiwis came out firing in the final and were resolute on both sides of the ball.

The Black Sticks were fuelled by goals from Kelsey Smith, in the 24th minute, and Olivia Merry, six minutes later, while staunch defence ensured the rare feat of keeping Australia scoreless.

It was the perfect ending to the tournament for Canterbury striker Sophie Cocks, who brought up her 100th international cap.

Hager said it was an impressive performance in a high-pressure setting but it was important the remain grounded.

"It was a good solid effort from us, especially given the calibre of some of the players we were missing but it just shows we have some really good depth," he said.

"Our defence played a terrific game – they peppered us in the second half but both Amelia Gibson and Georgia Barnett played well in goal.

"We didn't have a bad player out there ... and that's what you need to win big games.

"We're not getting ahead of ourselves though, we have big ambitions for the Champions Trophy in a few weeks and then our pinnacle the Rio Olympics."

The Champions Trophy, which runs from June 19-27, includes the world's top four nations, plus 2012 Olympic bronze medallists Great Britain and is the last chance for the Black Sticks to press their case for Rio selection before the squad is named in early July.

The Olympics are in August.

After a scoreless opening quarter in the Northern Territory capital on Saturday, New Zealand pounced in the second stanza to score the only two goals of the match.

Young striker Smith opened the visitors account, collecting a loose ball in the circle and shooting through traffic to put her side in front. The goal that doubled the lead was more straightforward, Merry hammering the ball home from a penalty corner to send the Black Sticks into the break with a handy buffer.

Black Sticks coach Mark Hager singled out goalkeeper Georgia Barnett and his other goalkeeper Amelia Gibson for praise after the victory, also noting the depth the squad were building as a key factor to their improved consistency in the past six months.

Result: New Zealand 2 (Kelsey Smith, Olivia Merry) Australia 0. Halftime 2-0.

Stuff


---

The weirdest trophies in world sport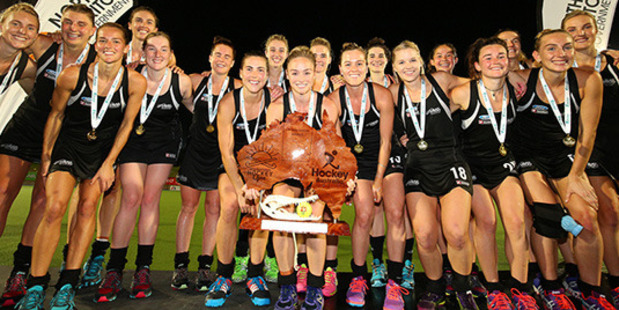 Black Sticks holding aloft the International Hockey Open trophy in Darwin, Australia. Photo / Tim Nicol

The Black Sticks Women received a sneaky surprise at the International Hockey Open in Darwin after defeating the hosts Australia 2-0 to claim gold in the final.

For their efforts, the Kiwis, perhaps reluctantly, received a large wooden plaque - carved in the shape of Australia. Uh, thanks a lot guys...

It's not the first time a sport's weird creative side has triumphed over tradition, with a variety of trophies - for golf in particular - taking form in all shapes and sizes.

The Tiger Woods Hero World Challenge trophy, for instance, is one of the more unusual trophies dished out to that tournaments winners.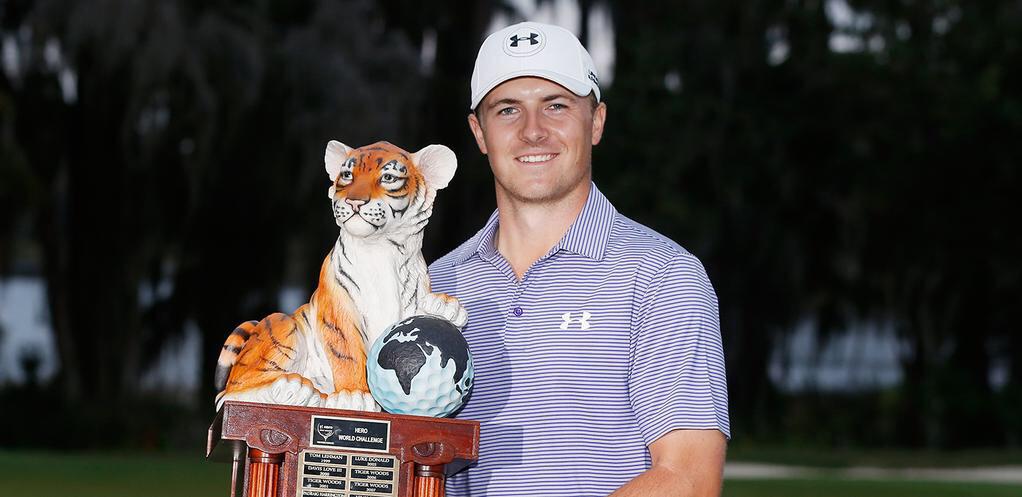 The trophy looks more appropriate in a children's bedroom, but the tournament itself is for a good cause, with funds from the tournament raised for the Tiger Woods Foundation to help improve health, education and welfare of children in America.

The Sanderson Farms Championship also provides a bizarre trophy to its champion, with the award taking form in a bronze rooster.

The most recent winner was Peter Malnati, winning the odd trophy in November last year in Jackson, Florida.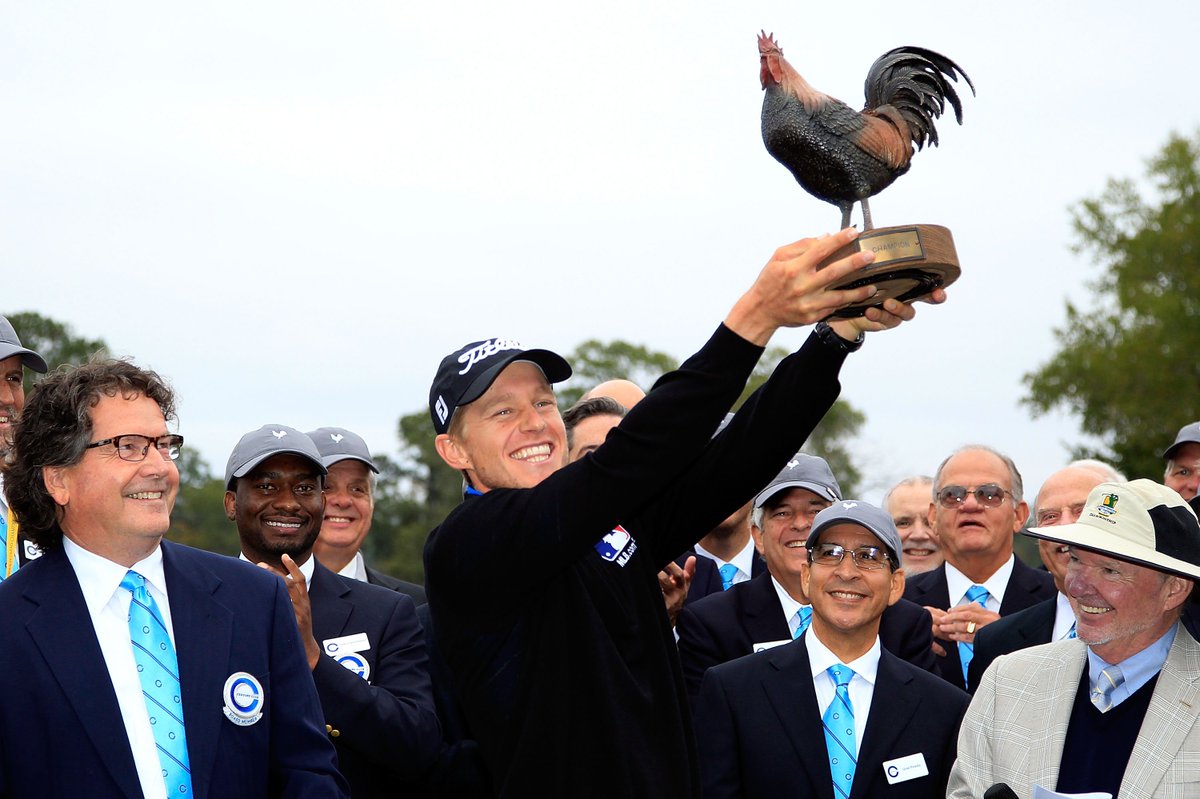 Similar to the International Hockey Open trophy, the Africa Open award is simply a large wooden plaque, carved into the shape of the continent the tournament is set in, which in this instance is Africa.

The current champion is Trevor Fisher Jr, one of the six South Africans to have won the trophy, with no other golfer of a different nationality having the honor of lifting the unique trophy.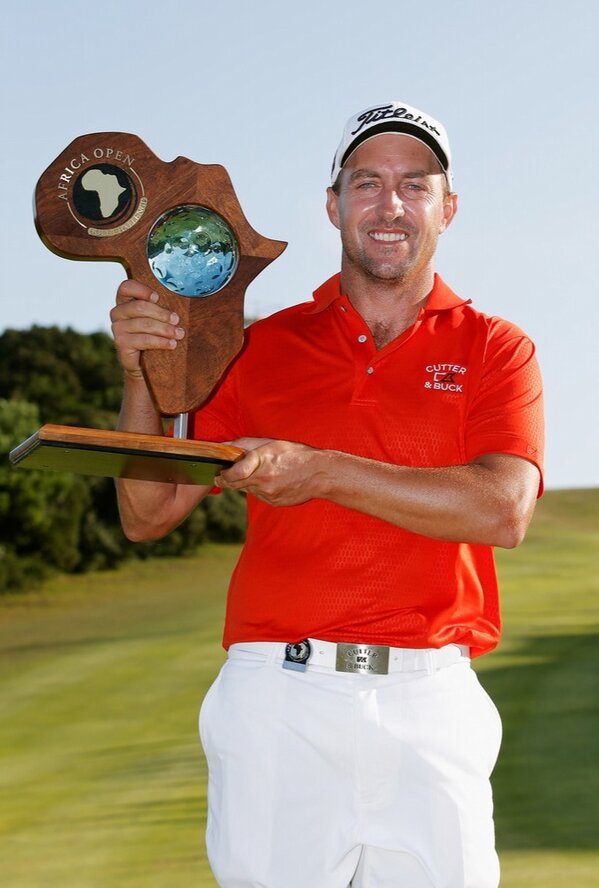 The New Zealand Herald


---

Ballsbridge energie Fitness 3rd Test Ireland v Korea



John Jackson was named 'Ballsbridge énergie Fitness Club' Man of the Match

In glorious sunshine at the Merrion Fleet Arena, in Rathdown School, Ireland chalked up their second win against Korea, World Ranked No. 9, in the third of the Ballsbridge énergie Fitness Club four match series

The game started at great pace with both teams creating early chances.  Ireland forced the first PC after good work by Watt & Sothern but Korean defence cleared.  Two further corners to Ireland, showed their dominance, but again the Korean defence was strong.  In the 13m Alan Sothern gave Ireland the lead finishing nicely after good ball across the circle by Caruth. 

Ireland continued the 2nd quarter at a high tempo but two further PC's lead to nothing.  Korean created a good opportunity at the end of the quarter but David Harte saved.

Korea had their first PC early in the 3rd quarter but Harte made a fine save.  Alan Sothern won Ireland their 4th PC but Lee Cole flick was well saved by Korean Keeper Hong and another PC awarded this time Shane O Donoghue struck to give Ireland a two goal lead in the 38m.

Ireland continued to have a lot of possession in the 4th quarter but struggled to break down the Korean defence.  Korea did get one back in the 57m a lovely deflection by Jung Jun Lee.  Ireland finished the game on the attack with some stunning forward play.  After the game Irish Coach Craig Fulton said 'We showed good phases of control in both halves today but failed to convert the opportunities we created.  We need to improve on that in tomorrow's final test match against Korea

John Jackson was named 'Ballsbridge énergie Fitness Club' Man of the Match

The fourth and final test, between Ireland and Korea, is at 2pm Sunday 4th June at the Merrion Fleet Arena, Rathdown School.

Ireland 2 (Alan Sothern 13m, Shane O Donoghue 38m)
Korea 1 (J.J. Lee 57m)

Ireland: D Harte, J Bell, R Gormley, C. Harte, J. Jackson, S O Donoghue, M Robson, K. Shimmins, M watt, A Sothern, K Good
Subs: E Magee, P Caruth, T Cockram, D Fitzgerald, P Gleghorne, L. Cole, S Cole

 Korea: D-P Hong, J Seo, S You, N Lee, D Y Lee, J Yang, M Kang, J-J Lee, J-S Bae, H You, M Jung, T I Hwang, J-H Kim, J Kim, Y Lee, W-H Seo, H-J Kim, J Kim

Irish Hockey Association media release


---

England Hockey Mixed Finals 2016: Day 1



Sevenoaks Mixed

Plate Semi Final 1:

Sevenoaks 8-0 Sutton Coldfield

The first twenty minutes of the game could have been anyones; good chances for either side and solid defending for both kept the scoreline even in the first 15 mins.

The first goals came from Sevenoaks in the 23rd minute from Tim Warrington. This opened a barrage of goals to close the half.

Max Denniff taking a field goal and captain Duncan Parnis finishing the half by expertly converting penalty corner.

Sutton Coldfield came back a more determined side in the second half however the attacking from Sevenoaks was relentless.

Parnis added another to his tally, whilst Jet Van Zalen and Susie Finlayson added another making the score 6-0.

Not to be outdone Katy Warrington put a penalty corner into the net, with Parnis getting his third of the game to sign off his hattrick, and seal Sevenoaks' place in the final.

Plate Semi Final 2:

Havering 3-1 Reading

This game was set to be good from the off with Reading returning to defend their plate title and Havering looking to stamp their authority and defy the odds.
A goaless first half was still entertaining with some quality hockey on show from both sides.

An inspiring half time team talk for Havering led to some aggressive attacking with captain Harry Andrews kicking off the scoring.

This opened the gates and in quick succession Sue Harwood and Connor Poulain made it 3-0.

A last minute rebuttle and consolation goal from Rob Farrow for Reading wasnt enough and Havering denied the reigning champions to secure their place in the final.

Trophy Semi Final 1:

Banbury 3-1 Bristol Firebrands

Looking to build on their previous Knockout success in the 2XI Plate, Banbury took an early lead from a Josh Nunneley goal catching Bristoloutfit off guard after just two minutes.

Plenty of end to end hockey made the game easy on the eyes. Plenty of attacking intent saw Banbury double their lead with a goal from Charlotte Matthews despite the brave efforts of Firebrands.

And they started the second half fighting, with James McCrea smasing in a penalty corner andhalving the deficit.

With it all to play for Banbury had to hold firm to keep their lead after weathering a storm from Firebrands.

However Barney Williams secured their win with a goal from a penalty corner to make it 3-1 to Banbury and secure their place in the Trophy Final.

Trophy Semi Final 2:

Harleston Magpies 0-0 Formby
Harleston won 6-5 on penalty strokes.

One of the most highly anticipated games of the day, to see the current Trophy holders defend their title. Both teams gave it their all. Chances and close misses from both sides made for a very entertaining game.

Solid defending kept the score line at nothing a piece throughout. A last chance from Harleston going in just after the final whistle meant only one thing.

Barrage of five each left both teams level pegging at 3 strokes in and 2 misses each. Sudden death was next - some fantastic saves from both goalkeepers; John Livings and Kiefer Gallagher.

Formby stepped up to the plate for the first sudden death and it went straight in the net thanks to James Meek. Alot of hope rested on Connel Capper for Harleston.

John Livings made a spectacular save to give Formby the place in the final.

England Hockey Board Media release


---

Go-to man sitter for Rio rigours

By David Leggat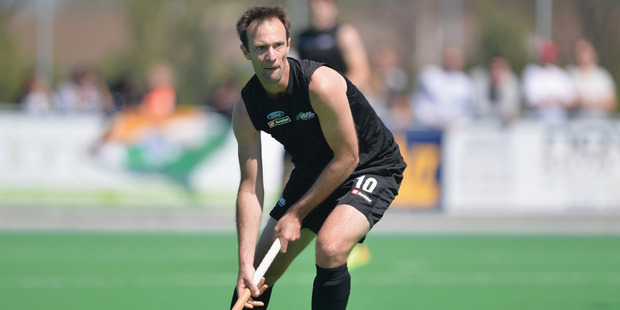 Ryan Archibald is off to his third Olympics. Photo / Getty Images

There was more riding on the Azlan Shah tournament in Malaysia in April for Ryan Archibald and Colin Batch than merely retaining the title.

Seven games in serious heat and draining humidity awaited the veteran midfielder. For coach Batch, it would be a proving ground.

If Archibald, one of the finest players the country has produced, could show he had the fitness to go with the skill and appetite, it would solve an Olympic-sized dilemma for Batch. If he couldn't, then it would be curtains on an outstanding career. The Rio Olympic programme calls for potentially eight games in 13 days.

"That was always Colin's main challenge to me, proving as a 35-year-old I could last the demands of a tournament," Archibald said. "It was hugely important not only to be a good hockey player but to have the physical capabilities to withstand the rigours of game after game.

"That challenge was quite refreshing and gave me a bit of extra motivation to make sure I got there. At Azlan Shah, I felt really happy, thought I played well there and felt great at the end, so I ticked that box."

Batch liked what he saw and leaves no doubt why he wanted Archibald in the squad of 16 named on Friday for Rio in August.

"He's a pretty astute person. He's a very clever hockey player," Batch said. "Technically, he's very good and I think it's in the crunch situations that we see the best of him. When we're under pressure, he's a bit of a go-to man. He wants the ball in those situations."

"He was pretty good for us at Azlan Shah all the way through. That resolved a few issues for us."

But Archibald has made it clear his third Olympics will be the end. When the tournament finishes, so will his 19-year career in black.

"Rio will, 100 per cent, be it for me. It's a great event to finish on.

"I'm very excited for Rio but also looking forward to life after it. It'll be time to step aside and let others have their opportunity."

Injury and unavailability has cost Archibald about 80 international appearances. If not for those, he'd be sailing past 400, uncharted territory for a New Zealand player.

Amid the various injury setbacks and work obligations, only once did Archibald, who made his national debut while at Auckland Grammar in 1997, seriously consider retirement.

It was after the London Olympics in 2012, when New Zealand won just two games and finished ninth.

That rankled for a man whose father Jeff is New Zealand hockey royalty, a member of the gold medal-winning 1976 team in Montreal.

But he did not want to walk away on that note. Instead, he took just over two years off, "got on with a few other things" and pondered whether to return. That would involve re-proving himself to a new coach and show team-mates he still had the game.

"Then I came to the realisation I still had motivation and plenty in me to offer," he said. "I'm happy I never made the clear-cut decision and I still have fire in the belly to carry on a bit longer."

Captain Simon Child, for one, is grateful for that.

"He's a pretty quiet sort of guy who just gets the job done. He's an incredibly reliable performer and still one of the most skilful.

"He doesn't speak a whole lot but when he does you certainly sit up and listen. He's a perfect guy to have around for the younger players to share some of that experience."

Like Hayden Phillips, who wasn't born when Archibald made his debut. Phillips, an 18-year-old midfielder from Levin, has a bit about his game, even though he's only played 11 internationals.

"He reminds me of myself when I was a 17-year-old and playing with a couple of guys who'd played for New Zealand with my father," Archibald said.

As high praise goes, that will do nicely.

The New Zealand Herald


---

David Jameson: A Q-and-A with the Olympic field hockey player



David Jameson has more than 130 caps for Canada. Postmedia

David Jameson has competed at Pan American Games, Commonwealth Games and the World Cup, but he's never competed at an Olympics Games. That will change come Rio, when Canada will once again enter a men's field hockey team after not qualifying for the 2012 Olympics in London.

Jameson, the most-capped player on the national team, spoke to Postmedia recently about his upbringing in Vancouver, his athletic family and more.

Q: How did you get into the sport?

A: I got into field hockey at a very young age. My mom played for the national team back in the 70s, ending off late '78, '79, and as soon as I was born, as soon as I could hold a stick, I was holding a stick , playing on the sidelines of games for my older sister Stephanie. Ever since then, I got into the game pretty early and then started playing in leagues about age 7, under-8 field hockey for the Vancouver Hawks.

Q: What drives you to compete?

A: What drives me to compete is just my chase of that Olympic dream. I've been playing for 13 years now on the national team and I still have not gone to the Olympics, and that's my life goal so far. So it's very easy for me to have that drive and that motivation to go to training every day, to go to the gym every day, and reach that goal.

Q: What is your main strength as an athlete?

A: I'd say my biggest strength as an athlete is my grit. I'm really hard-nosed out there, I play defence, so I get in the way of the forwards and make sure they can't even get a shot off, not even touch the ball. That's the key thing. They always know I'm there, I always have that elbow in their ribs, or, you know, they know I'm there.

Q: Who is your biggest inspiration or role model?

A: My mom is my biggest inspiration. Having that role model of someone who's played for Canada really inspired me to go after that Canadian dream. But my whole family. My dad played high-level sport also and my older sister has also played on the national field hockey team and it's just a sporting family. My younger sister played for UBC with the T-Birds. They both won multiple national titles so it's just a very sporting family.

Q: When you were a kid was field hockey always your choice or were there other sports?

A: When I was a kid field hockey at the younger ages was not always my first choice. I played baseball in the spring and I kind of got to a higher level of baseball earlier on. So I played for the Dunbar Little League in Vancouver and we went to two provincials, so I got onto the all-star team, played into the summer in baseball. We won provincials when I was 10 and then we came third when I was 12. That was just the first glimpse into a higher level of sport, so I was really into baseball. I was like this is really cool. I'm at a high level in this, I'm really enjoying this, I'm good at this game. I wasn't not good at field hockey, either, there just wasn't that high level that there was in baseball so I figured that, you know, if I was going to play a baseball game over a field hockey game, that was my choice. But things changed a little bit as you go on. I became more standout in field hockey as I grew older and baseball kind of fell by the wayside, we'll say.

Q: It must have been interesting for you. A lot of families put hockey sticks in kids hands as they grow up, but for you it was a field hockey stick.

A: So, I do remember at very early ages passing the ball back and forth with my older sister Stephanie on the sideline of my mom's games, so it was a very early age. But I also did play ice hockey. I am Canadian. I played ice hockey just as much as I played field hockey, I played from tyke all the way through midget, until I was 17, 18. So all the way through I was playing ice hockey in the winter and field hockey in the spring. And baseball until, you know, that fell by the wayside.

Q: Let's talk about your experience. You're the most capped member of the men's team, with more than 230 appearances. You haven't played in the Olympics yet, but there must be some pride in that?

A: Absolutely … When you play for that long and you have that experience it's really important to the team. Guys can look up to me and I can give them all the wisdom I've gotten over 13 years of playing the sport at a national level. I'm really proud of it. It's not something that I'm going to play until I've broken the record of 346 probably, but I am very proud that I've played that many games for my country and I love doing.

Q: You've also had pretty good success in Rio.

A: Yes, absolutely. In Rio in 2007, the Pan Am Games were held there and we won in a shootout to qualify for Beijing. It was awesome. It was one of the coolest experiences of my life.

Q: It must be a lot of wear and ear on your body, after all those games over all those years.

A: Ya, there's quite a bit of wear and tear I'd say, but you learn over that long of a period to maintain your health and your strength. You learn how to kind of maintain yourself more so than say your coaches and other people. They put programs on you and you learn how to adapt them to your abilities.

Q: 2015 was a great year for the team. How was it to win silver at the Pan Am Games in Toronto?

A: The Pan Am Games in Toronto were really, really great. That was my fourth Pan Am Games and by far the best, logistically, playing on home soil, being in a Canadian city, it was just amazing. You could walk outside the village down the street and you were downtown Toronto, what's better than that, right? We won silver. It wasn't quite the goal we wanted, we wanted to get gold as any team would, but in the end it still got us to qualifying for the Olympics, so amazing, right? It was really awesome.

Q: Can you explain how different field hockey is from ice hockey?

A: Quite a bit. It's not the most easy game to understand if you've never seen it before. It's very fast-paced and there's kind of very small intrinsic things that you don't really pick up on unless you know the game. It's kind of like cricket in a way, too. You have to explain it to a lot of people. But in the end, it's putting that ball in the net and keeping the ball out of the net, just like hockey or soccer. So it's just the small details you've got to explain to them, but once that's done it's a really good sport, I think the No. 2 team sport worldwide, and no one in Canada knows that, so that's really cool.

National Post


---

German final four hits Mannheim

Germany's battle to be national champions begins this afternoon as regular season champions Mannheimer host UHC Hamburg at 4.45pm (CET) before Rot-Weiss Köln take on Harvestehuder THC at 7pm in the second semi-final.

For UHC, despite all their success in the EHL, they have yet to win the German championship but will be hoping to break that record this weekend.

But Mannheimer have been the form team this season and their coaching team of Michael McCann and Matthias Becher are looking forward to the challenge,.

"We are incredibly pleased to play the Final Four after a great season in front of our home crowd in Mannheim to push us to the title," McCann said ahead of the weekend but adds that he does not feel his side is a clear favourite.

"The team is prepared and in very good shape but I think each side's form on Saturday will play a crucial role."

His side has not lost since September and have not been beaten at home since April 2015 but they drew with UHC when the sides met during the season and so a shoot-out cannot be discounted.

A special focus will be on the goalkeeper duel with Mannheim's Andreas Späck and UHC's Nicolas Jacobi both fighting for places for Rio.

For Rot-Weiss and HTHC, the former are reigning champions but coach André Henning says his side are not going into the weekend to defend the title, more to attack for glory.

"We want to win the title! For this, we will attack which is much closer to our style of play."

They are the league's top scorers with 87 goals to date but have been a little bit shaky in defence, something Harvestehuder will hope to exploit.

Whoever wins the tie is assured of a place in the Euro Hockey League next season. HTHC's captain Tobias Lietz is hopeful his team's experience will carry them through.

"We have played many important playoffs in the last four years and, actually, we are largely unchanged in the squad."

He adds, though, that all of the semi-finalists have a big chance to claim glory.

"All four have had a bright regular season. You can see the scores which have rarely been so high. But I think that the league has nothing to do with this weekend. It all counts for nothing."

Euro Hockey League media release