All the news for Monday 6 June 2015

Ballsbridge energie Fitness Match 4 Ireland v Korea




Korea won the final match in the Ballsbridge energie Fitness Club test series with a 4-3 win at a sun drenched Merrion Fleet Arena this afternoon.  In the opening quarter Korea has a lot of possession but good defending by Jackson & Lee Cole kept the Korean attack at bay.   Before the game Irish Coach presented Michael Robson with his 50th cap.  The first PC of the game went Ireland's way after good work by Sothern and Watkins who won the PC.  Conor Harte drag was expertly finished to give Ireland a 1st quarter 1-0 lead.

Korea were level in the 20m after the initial shot was well save by Jamie Carr but the follow was driven home on the reverse by Jung Jun lee.  Ireland regained the one goal advantage when after lovely work by Watkins on the base line he set up Alan Sothern for the finish and a 2-1 lead.  Carr was called into action to make a great save and moments later Gormley took a PC off the line.

In the 35m an Korean PC, from a Gormley infringement, but Good charged down but another PC was awarded and this time a switch to the ejector Namyong Lee who tapped in at the near post.  Korea took the lead after a turnover and counter attacked at pace for a lovely finish by Manjae Jung in the 37m.  They stretched their lead from a penalty stroke, Jihun Yang duly dispatching, in the 44m after a PC had been stopped by Gleghorne on the goal line.

Ireland threw everything at Korea in the final quarter and got one back from a Shane O Donoghue drag from a PC in the 50m but failed to get the equaliser.  Watt, who was later named Ballsbridge énergie Fitness Man of the Match, won Ireland a PC but this time the switch at the top was charged down by the Korean defence.

Ballsbridge énergie Fitness

Ireland 3 (Conor Harte 13m, Shane O Donoghue 50m, Alan Sothern 27m)
Korea 4 (Jung Jun Lee 20m, Namyong Lee 35m, Janjae Jung 37m, Jihun Yang 44m)

Ireland: J. Carr, J. Jackson, R. Gormley, M. Watt, A. Sothern, K. Shimmins, S O Donoghue, T. Cockram, P. Gleghorne, C. Harte, S. Cole

Subs: D. Harte, G. Watkins, N. Glassey, M. Robson. K. Good, L Cole, S Loughrey

Korea: D-P Hong, J Seo, S You, N Lee, D Y Lee, J Yang, M Kang, J-J Lee, J-S Bae, H You, M Jung

T I Hwang, J-H Kim, J Kim, Y Lee, W-H Seo, H-J Kim, J Kim

Irish Hockey Association media release


---

Champions Trophy will be our mental test: Sreejesh

NEW DELHI: The Indian hockey team's stand-in captain and goalkeeper PR Sreejesh says the Champions Trophy in England and the following six-nation hockey tournament in Spain will give his side the opportunity to test players' mental strength ahead of the Rio Olympic Games.

The Indian hockey team is leaving for England on Sunday to compete in the Champions Trophy. The team's month-long tour will culminate in Valencia with the Six Nations Tournament.

"We are getting back-to-back matches in London and Spain and that's how the schedule will be like in Rio Olympics also. This will be a mental test for us as we play world's top four teams in London and we play the five teams we will face in Rio at the Six Nations Tournament. It will come down to how we succeed in executing the plans we have been working on at the training camp," Sreejesh said.

Playing high intensity matches almost two months prior to the Rio Olympics will not only give the team sufficient time to improve on certain aspects but will also ensure the team is mentally fresh for Rio, feels Sreejesh.

"Almost a month before the London Olympics , we were in Europe playing matches and directly went for the Olympics. This time, some of the senior players spoke to coach Roelant (Oltmans) after the New Zealand Tour and told him that we wanted to do things differently.

"We felt that being away for so long, playing 13-15 high intensity matches just before the Olympics made us exhausted mentally. But this time we will be fresh as we return early July, and we get a week's break before we rejoin the final national camp. The feeling of leaving from Delhi to the play the biggest event of our lives, with one billion people's wishes backing us will certainly boost our confidence and this works well psychologically for the team," he said.

As a stand-in captain for Sardar Singh , who has been rested for the Champions Trophy, Sreejesh said his priority will be to ensure the youngsters in the team stay motivated.

"As a youngster, playing against teams like Australia can add extra pressure. My aim as a captain will be to keep them high-spirited and bring them to that level. Right from the highest capped player for the team to the junior most in the team we all have responsibilities to fulfill and our realistic expectation will be to play consistently throughout the Champions Trophy," he said.

India will open their Champions Trophy campaign with a match against Germany on June 10.

The Times of India


---

Lucknow to host Junior Hockey World Cup

LUCKNOW: The Capital city of Uttar Pradesh , Lucknow will host this year's FIH Junior Men's Hockey World Cup, a official said on Sunday.

The official said the venue for the event was decided after Hockey India President Narendra Batra met UP Chief Minister Akhilesh Yadav who accepted the national federation's invitation to host the tournament.

The FIH Junior World Cup will be held between December 8 to December 18 and would be the first international hockey competition to be hosted in Lucknow.

The official said that Batra met Yadav at his official residence.

The Chief Minister said hockey is the national game and many masters of the game from the state like legendary Dhyanchand, K D Singh Babu along with other men and women players have made their place in the national team.

Batra said Junior World Cup was one of the most prestigious tournament and best 16 teams of the world would participate in it.

The countries that will participate in the Junior World Cup, include hosts India, Argentina, Australia, Austria, Belgium, Canada, Egypt, England, Pakistan, Germany, Japan, Korea, Netherlands, New Zealand, South Africa and Spain.

The competition would be aired live in 100 countries of the world.

The Times of India


---

Black Sticks men dreaming of Rio gold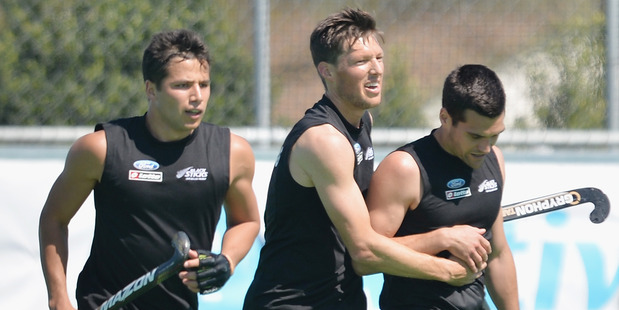 George Muir, Simon Child and Nick Ross celebrate scoring a goal. Photo / Getty Images

After qualifying through a back street, and surviving dark times, the men's Black Sticks are ready to make a bold statement at the Rio Olympics.

New Zealand initially failed to qualified for the Rio Olympics, though earned a spot after South Africa withdrew, believing they weren't a medal chance.

Captain Shea McAleese says as a result of the struggles, they've built a strong team culture.

He says the eternal optimist in him has constantly thought it would be a wonderful fairy tale story if they go from barely qualifying to winning gold.

Captain Simon Child, who'll attend his third Olympics says after string of close tournaments, says they think they've cracked the key to gold.

He says it's a matter of putting a string of winning games together, before backing themselves come knock out time.

Radio Sport


---

Van Huizen: wait your turn Faizal

By Jugjet Singh

HE was once listed among the most talented players in the world by the International Hockey Federation (FIH) but Faizal Shaari loaded his ego gun and shot himself in the foot real bad.

And he is still limping around, waiting for his ban to play in international matches to end on June 20, while his team-mates played in the Azlan Shah Cup and will be going on a Tour of Japan on June 5-16.

Fazial was banned from playing in international matches after he skipped training without any reason, and the Malaysian Hockey Confederation (MHC) executive board even came up with a new code-of-conduct in their meeting in December.

MHC president Datuk Seri Subahan Kamal had said then: "Under the new code of conduct, players who skip national training without valid reasons will be suspended for six months. This is a warning to all the players in the national set-up, from the juniors to the seniors at all levels."

This came about after the MHC Disciplinary Committee had only let him off with a warning, together with Syamin Yusof, for indiscipline.

National coach Stephen van Huizen watched Faizal play in the Razak Cup where he top-scored with seven goals to hand Terengganu only their second title in Division One. The first was won in 2012. He scored two goals in their 3-0 win over Police in the final.

"Firstly, his ban only ends on June 20, while we will be travelling to Japan on June 5 for two Test and four friendlies. And then, his fitness was also not up to mark as he has been out of training since December.

"It will not be fair to select him immediately after the ban ends, as he needs to prove himself further... especially show that he will not become a problem in the team once we select him.

"He has not spoken to me about making a comeback, and I have only read in the newspapers about his intent to re-joing national training.

"If he is really interested, work on his fitness, and then come and meet us (coaching set-up) and have a talk. We will need to underline certain criteria and rules for him to follow, if it is agreed that he returns to national training," said van Huizen.

The coach also believes other youth have overtaken him by giving their best in training.

"We can't just bring him in and drop other players who have been giving their best in training over the months. Hockey is a team sport where discipline is utmost, and if he returns and starts to behave the same way like he did before the ban, it would be disruptive for the national team."

For now, it looks like even though Faizal door into the national team is not closed, as Subahan said earlier, but its not wide open for him to just walk in. There is just a crack of an opening, and he will have to prove himself on his own, by working on his fitness -- and attitude as well.

Jugjet's World of Field Hockey


---

Top seven coaches for Under 12 programme

By Jugjet Singh



COACHES: Amin Rahim, K. Embaraj, S. Velappan, M. Nadarajan, Yahya Atan and Terry Walsh.

SEVEN top coaches in Malaysia gathered over the weekend to train a lucky group of 30 Under-12 hockey players at the grass pitch of Universiti Putra Malaysia.

The 1Mas-Milo programme ran over the weekend, and the participants, some of them who just learned the basics like holding a hockey the right way, received a certificate each.

Each participant paid RM30 for the programme.

Malaysian Hockey Confederation (MHC) Technical director Terry Walsh, 1Mas Director Tai Beng Hai, 1Mas development coach K. Embaraj, goalkeepers coach M. Nadarajan, MHC development coach S. Velappan and former No 1 penalty corner specialist Amin Rahim and veteran coach Yahya Atan were literally on their knees teaching the kids.

These are the future of the country, and we need to get down to their level to coach them so that there is continuity leading up to the top level in 10 years time," said Walsh.

The next programme will be held in August, and for a longer period.

"The plan is to have a longer period of raining in August, like eight days, where the participants will be exposed a little more to the sport. We are also conducting similar programmes for soccer and gymnastics," said Nestle Malaysia Sports Marketing Director Ng Ping Loong.

The programme is expected be held in many other states.

"We need to go to the grassroots and watch, as well as train these kids more often. This is the only way to keep a healthy hockey culture in the country," said Walsh.

Jugjet's World of Field Hockey


---

England Hockey Mixed Finals 2016: Day 2



Action from the Mixed Finals 2016: Day 2

Mixed Plate 3rd/4th Playoff:
Reading 5-2 Sutton Coldfield

Reading started the game strong scoring the first three goals. A brace from Rob Farrow and the third from Tommy Alexander.

Sutton Coldfield had to come out strong after half time to stay in with a chance. the response was actioned by Tom Nicholls with a penalty corner.

Reading quickly replied with a completed hattrick for Farrow. Huw Kimber shortly added to their impressive haul through a field goal. Sutton Coldfield could not come back but were awarded a consolation goal from Sam Phipps.

Mixed Plate Final:
Sevenoaks 3-1 Havering

Sevenoaks took the lead early and kept it going into half time 2-0. Max and Jess Denniff potted both of these away through open play.

Keen to keep their lead at the start of the second half LIv Sherwen put another past the Havering keeper to put them 3-0 up.

The hope of a comeback nearly came for Havering with a goal from Sue Harwood, however the Sevenoaks defence were too hard to crack and they go home plate champions.

Mixed Trophy 3rd/4th Playoff:
Harleston Magpies 6-2 Bristol Firebrands

Both keen to claim pride after their losses yesterday meant for a feisty match from both sides.

A good game from both teams it was a goal fest. Harleston taking the lead with goals from Maria Andrews and Lucy Whiting. A quick response for Bristol from Tom Instone kept both teams in it.

Harleston firmly took the lead before the break with an open goal from Whiting to make her tally a double.

The second half provided a lot of excitement. Whiting put her third away for Harleston; this lead to a wake up call for firebrands and Instone responded well with an open play goal.

Robbie Kinsella, and Lauren Barber took advantage of firebrands kicking back with two more goals to confirm their third place.

Mixed Trophy Final:
Banbury 4 - 3 Formby

The most anticipated game of the day got underway under the blazing sun at Lee Valley.

Formby kicked off the scoring with a converted penalty corner from Connel Capper.

Banbury retaliated with a hattrick from two penalty corners and a stroke for Josh Nunneley.

Not to give up that easily Formby came out fighting in the second half and an open goal for Nick Giles kept them in the running.

Max Grossmith extended Banburys lead, and Stephen Wright could only get a consolation goal for Formby.

A brilliant game of hockey from both teams. Congratulations to the new Mixed Trophy Champions 2015-16 - Banbury.

England Hockey Board Media release


---

So close, yet so far for Invercargill in Ian Smith hockey tournament

SCOTT DONALDSON



The Invercargill men's hockey team that finished second in the Ian Smith Tournament. INVERCARGILL HOCKEY/FACEBOOK

Two goals straight after halftime proved to be crucial as South Canterbury defeated home team Invercargill in the Ian Smith men's minor associations hockey tournament in Invercargill.

Entering the deciding final game on Monday morning, the home side and the green and blacks were tied on points in the six team competition with three wins a draw, before a second half blitz by the visitors gave them the victory.

The score ended up 4-1, with Invercargill player and coach Dean Ritani disappointed after being in the match at halftime.



Invercargill striker Cody McKenzie lines up another shot in the Ian Smith hockey tournament. INVERCARGILL HOCKEY/FACEBOOK

"We played some good hockey and created some good opportunities but two soft goals straight after halftime changed it," Ritani said.

"They got a stroke right on the full time buzzer, so the score doesn't really reflect the game."



Eastern Southland player Anton Hurley challenged by Daniel Rae of Central Otago at the Ian Smith Tournament in Invercargill. John Hawkins

The Invercargill combination defeated Central Otago 5-0, Mid Canterbury 1-0, drew with North Otago 3-3 and edged Eastern Southland 4-3 in their other games.

Ritani was pleased by the effort of his team and reserved special mention for one of the young guns in the side.

"Some of the young guys stood up for us, Cody McKenzie scored five goals for us as a striker in the tournament, he played really well," Ritani said.

"He was the top goal scorer for the team, so he is still under-18 and a good prospect for the future."

"It was just a good solid team effort really, everyone stood up."

Eastern Southland finished mid-table with three wins and two losses.

Stuff


---

Albury-Wodonga stars go on show

Xavier Mardling

EIGHT of Hockey Albury-Wodonga's brightest young stars will compete at the Australian championships in Launceston next month.

Will Karaffa, Andrew Nixon and Curtis Stephens have been selected in the under-18 Victorian men's team with Eryn Norie to represent the state on the women's side from July 8-17.

Grace Ronnfeldt earned selection in the ACT team, along with Matt Mills and Shaun Moore in a strong show of faith in the talent within Hockey Albury-Wodonga and its academy program, which helped build skills over the summer break in readiness for selection trials.

"Hockey Albury-Wodonga has had a strong contingent of players making state teams for the past four years," director athlete development Sharyn Norie said.

"There's a strong talent pool here."

It comes after Hockey Albury-Wodonga was well represented at the indoor Australian championships in Wollongong in January.

Macey Sutherland, Riley Sutherland and Cory Norie lined up for Victoria with Hugh Cullen and Nathaniel Conlan playing for ACT.

Border Mail